In this peculiar universe, creativity knows no bounds, but good taste sometimes takes a backseat. Welcome to the realm of "Awful Taste, Great Execution," where creativity knows no bounds and good taste is a distant cousin! From sofas adorned with giant hands to toilets that double as fish tanks, we're diving headfirst into a world where taste knows no boundaries. It's a place where eccentricity and artistry hold hands! So, grab your sense of humor and prepare for a journey through the bizarre and brilliant! You may be left wondering, "Why didn't I think of that?"
This Boring Old Phone Got the Makeover It Needed!
Picture this: an old-school house telephone is getting all dressed up for the chilly season. It's wrapped in a cozy, rainbow-colored sweater that's like a warm hug for the phone. But it's not just a plain old sweater; it's a super funky one! And guess what? The part you talk into and the earpiece where you listen—they've got faces! It's like they're having a funny conversation when no one uses the phone!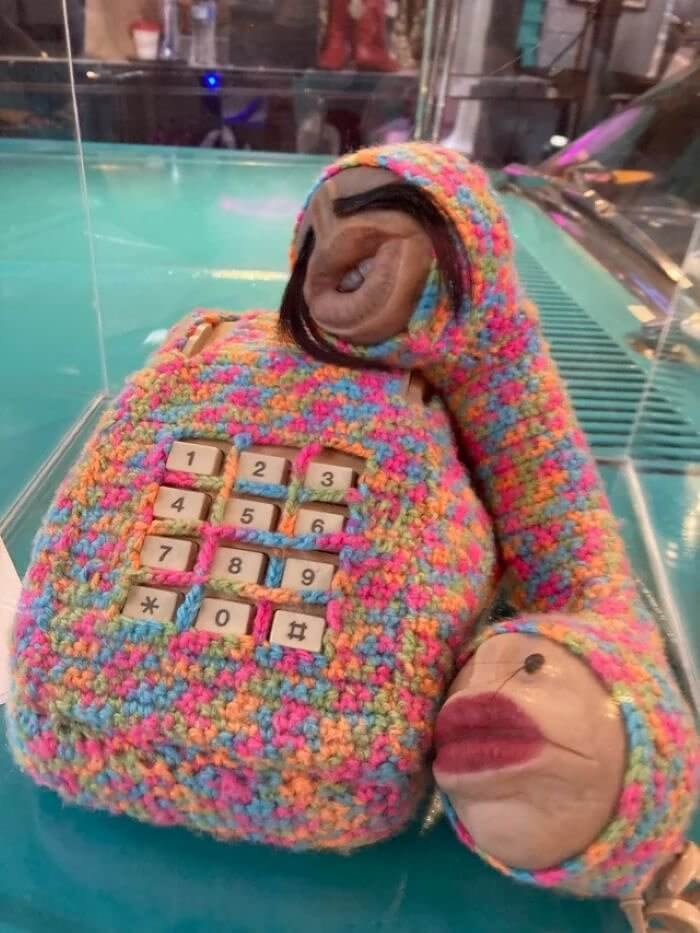 On one side, there's a comical man's mouth with a twirly mustache, and on the other, a woman's mouth. Who knew a telephone could have such a sense of humor?

So, That's Where You Keep Your Carrots!
Well, hop on over to this next pic because we've got some hip-hop bunnies, and they're not your average, carrot-munching kind! These porcelain rabbit pals are rocking some serious ink. They're like the coolest bunnies in town. But hold on a minute! The man-bunny has a new tattoo, and he's showing it off in a very, uh, "cheeky" way. He's lifting the top of his shorts, and the girl-bunny can't help but peek!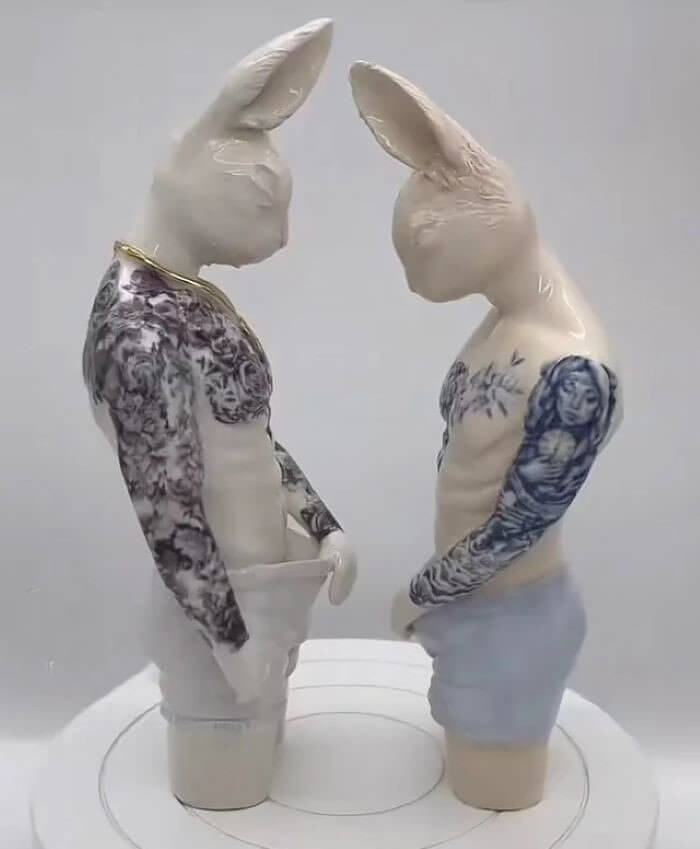 It's like a rabbit version of a secret reveal—what's going on down there, Mr. Bunny? This bunny business just got a whole lot more interesting. He's like, "Check this out!"
We Prefer Traditional Cacti!
This pink porcelain cactus is unlike any cactus you've ever seen! It's got a vibrant, rosy hue that's as cute as a button. But here's the twist: instead of those usual prickly spines, this cactus has teeth! Yep, this toothy cactus is here to make you cringe while reminding you to floss your teeth! It's a plant with dental hygiene on its mind, and it certainly has some bite to it!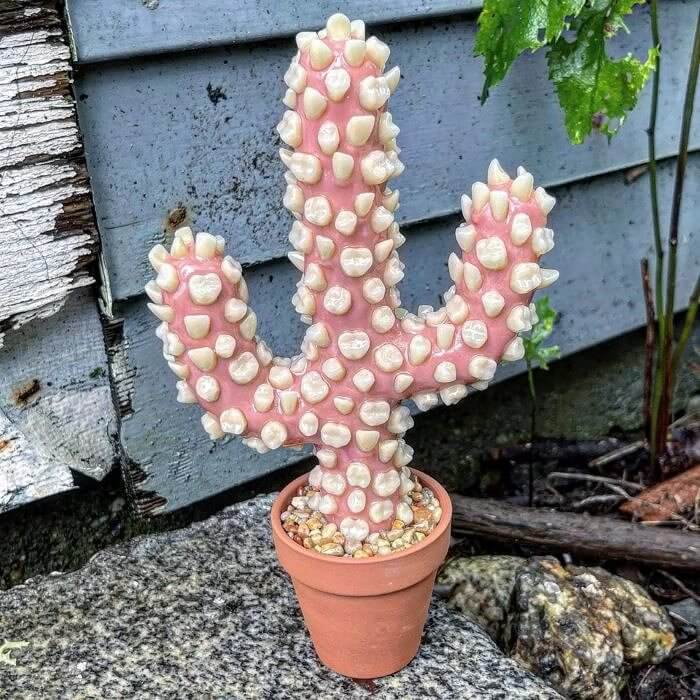 It is like the dentist's favorite plant, adding a new meaning to the phrase "bite-sized beauty." There's a sign hanging on this person's gate that reads, "Beware of the cactus!"
This Wouldl Give Your Child Nightmares!
Yikes! Get ready for a twisted teddy bear tale! So, from the back, this teddy bear looks like your regular, huggable buddy. It's all fluffy and cute, like something you'd want to cuddle up with at night. But when you flip it around – it's got a human face staring right at you! Whoa, that's some creepy ventriloquist teddy bear action going on there. And for some reason, this teddy bear decided it needed nipples!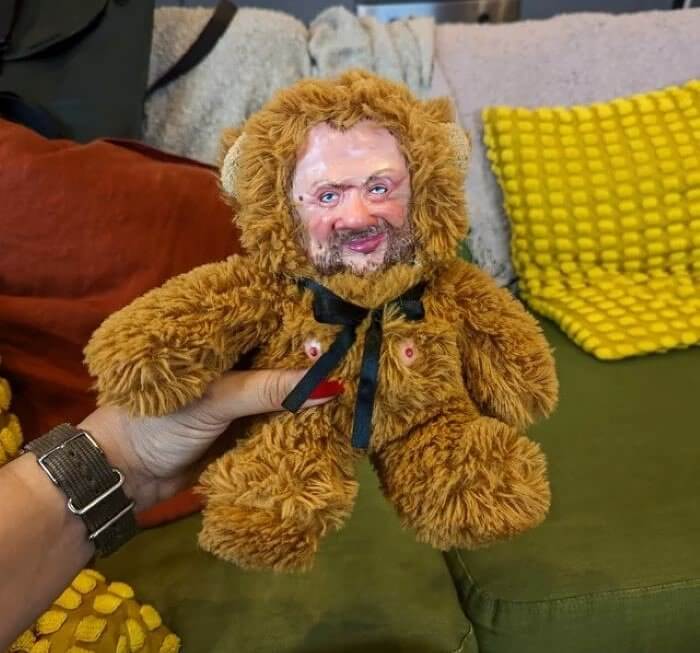 It's like a stuffed animal surprise package, with a face that says, "I'm watching you," and nipples that, well, who knows what they're for!
Need a Hand?
Here's a sofa that's gone completely overboard with the bizarre! Instead of being a comfy place to sit, this sofa is smothered in enormous, eye-colorful hand cushions. It's like a psychedelic hand invasion, and there's no escaping it. We're scratching our heads, trying to figure out why anyone thought this was a good idea. Maybe it's some kind of misguided attempt to make the world's most uncomfortable piece of furniture!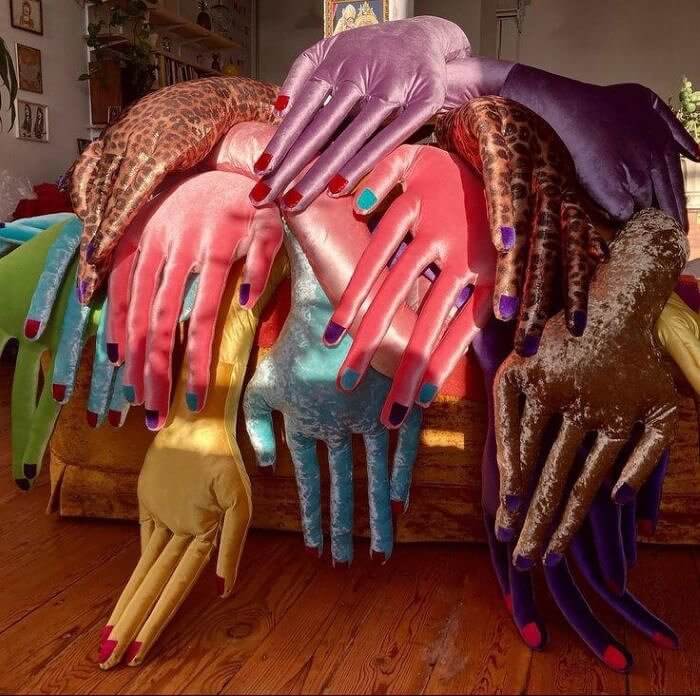 If you ever wanted a sofa that makes your living room look like a palm reader's nightmare, you've found it here. This sofa is the definition of over-the-top, and not in a good way!
Her Poor Husband Looks Embarrassed!
This lady is taking the term "keeping an eye on your luggage" to a whole new level. She's standing in line, waiting to get her boarding pass, and right at her feet is her suitcase. But her suitcase is not just any suitcase; it's got a full-size picture of her face plastered on it! Talk about making sure her baggage stands out! There's no chance of her losing this bag in the sea of look-alike suitcases!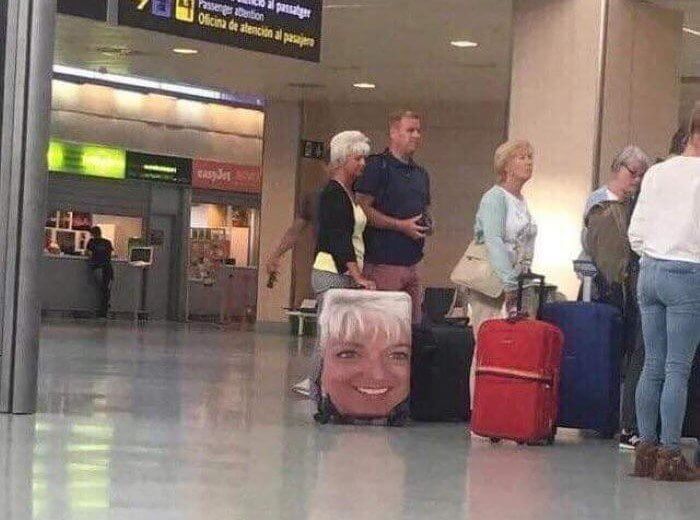 Whether it's a stroke of genius or a touch of vanity, this suitcase is sure to turn heads at the luggage carousel. It is an airport selfie on wheels!
A Recipe for Disaster
This guy has taken his costume game to the extreme, and not in a good way. He is dressed up as an Arab, with Jagermeister and Red Bull bottles strapped around his waist. It is a "Jager-Bomb!" This outfit is like a recipe for controversy, mixing cultural stereotypes and booze in a way that's more cringe-worthy than cool. It's like he's trying to turn himself into a walking Molotov cocktail!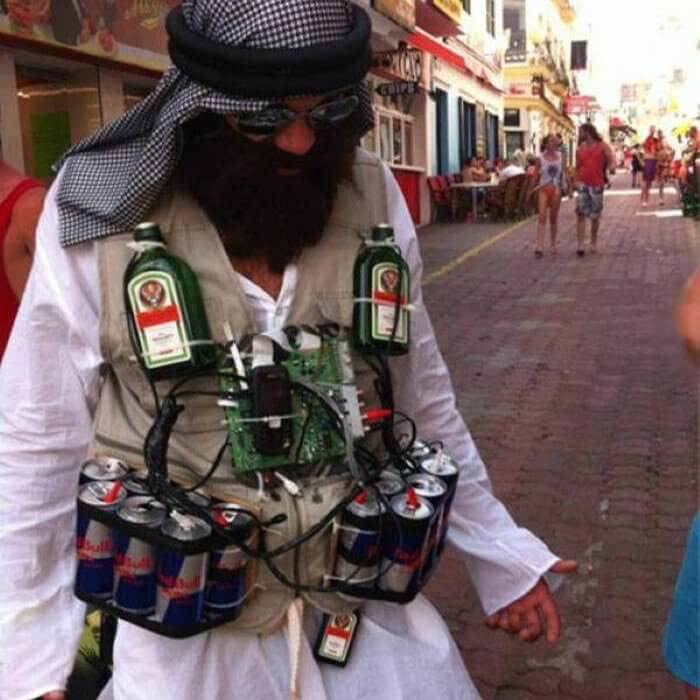 While he might think it's all in good fun, it's important to remember that costumes like these can be hurtful and offensive to others. Keep celebrations respectful and fun for everyone!
We Blame His Parents!
Hold the phone! This mobile phone cover is a whole new level of crazy. His phone case is a fake handgun, but when it's in his pocket, it looks just like a real gun. That's a recipe for disaster! Carrying a phone firearm can easily lead to misunderstandings and panic. Imagine this guy reaching for his phone in public and people around him thinking he's pulling out a real gun!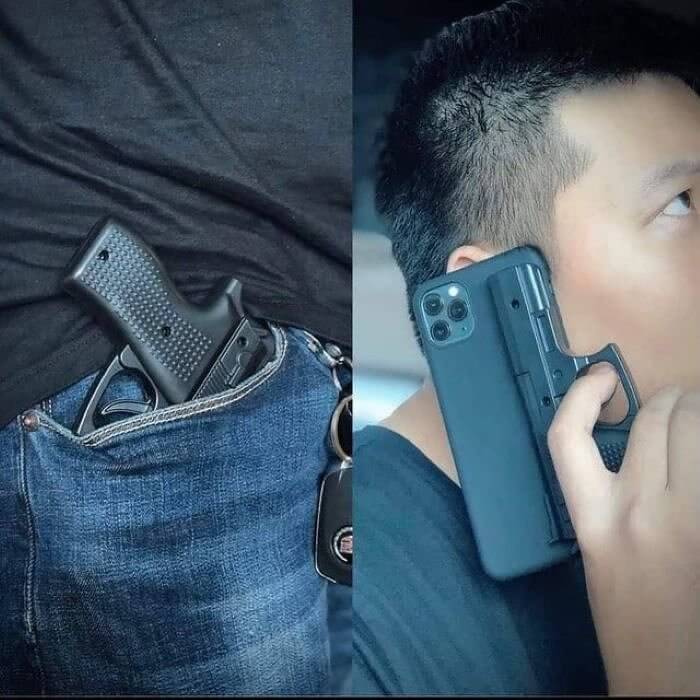 It's a dangerous mix of humor and potential danger that no one should be messing with. Let's keep our phone cases fun and safe. Safety and common sense should always come first!
Your Guess Is as Good as Mine!
Imagine rolling the dice in a game, but instead of numbers, you've got plastic cubes with actual spaghetti hoops inside. It's like a bizarre blend of board games and Italian cuisine. Now, the big question is: why? Why would anyone put spaghetti in dice? Maybe it's an attempt to add a bit of "al dente" excitement to game night. These dice are taking the term "food for thought" to a whole new level!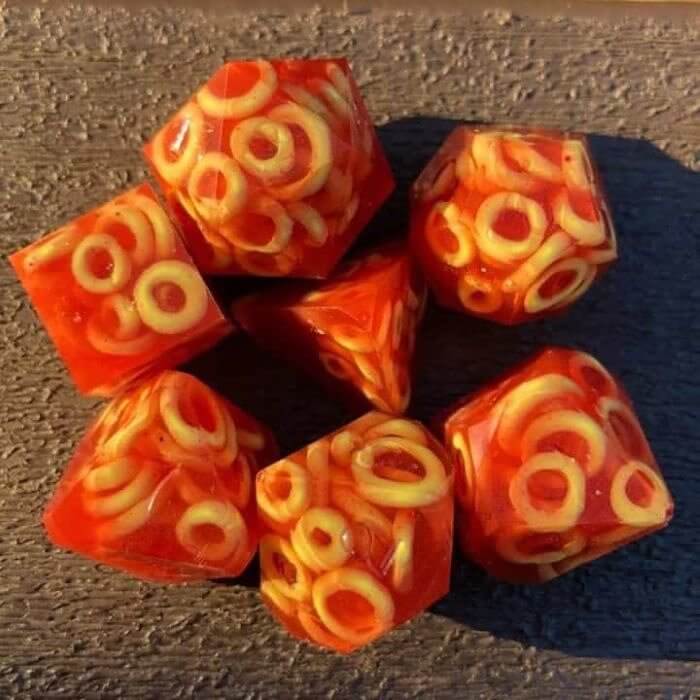 It is a playful twist that is sure to leave players wondering, "What's next, macaroni chess pieces?" This is one game you won't want to play on an empty stomach!
Combining Work and Snacks!
Is this a computer keyboard or a cheeseboard? This keyboard has a deliciously cheesy twist. Instead of regular keys, each one is made from actual cheese. It is like a blend of work and snacking that's hard to resist. This keyboard might not be the best choice if you're trying to get some serious work done. You could be missing some crucial letters by the end of the day!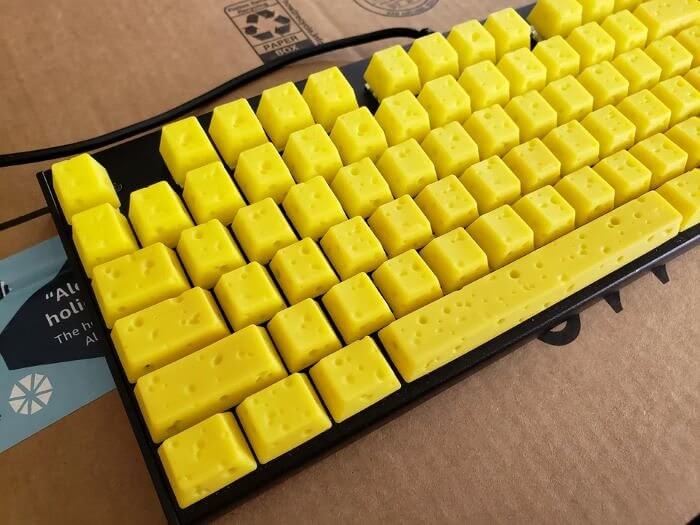 Still, it's a fun and quirky idea that combines technology with everyone's favorite dairy delight. So, the next time you're typing away, remember: is it a keyboard or a cheeseboard? Why not both?
Why Have One When You Can Have Them All?
Talk about a ceiling with an identity crisis! In this house, it's like the family just couldn't decide on one style of ornate coving, so they decided to have them all! The result? A ceiling that's a bit of a design party, with all sorts of decorative trim going around the room. It's a mix-and-match masterpiece that is sure to leave guests looking up and thinking, "Well, that's... unique!"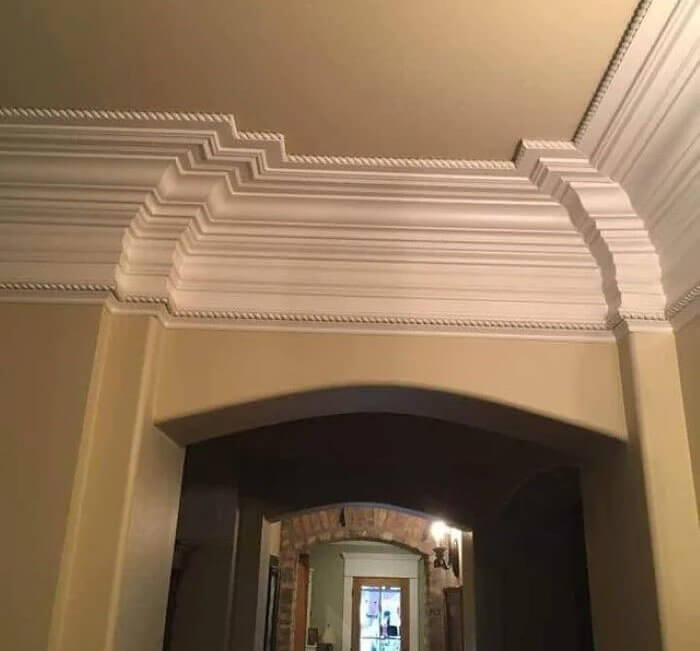 So, if you ever visit this house, prepare for a ceiling that is a true design chameleon, showcasing the art of "why choose one when you can have them all?
Now You See It, Now You Don't!
Hold on to your carpentry tools! At first glance, this might seem like a stack of wooden planks, but it's actually playing the ultimate game of hide-and-seek. It's a chest of drawers in disguise! This clever piece of furniture is like a master of deception. You think, "What's going on here?" But when you take a closer look, you'll discover that those planks are actually drawers waiting to store your socks!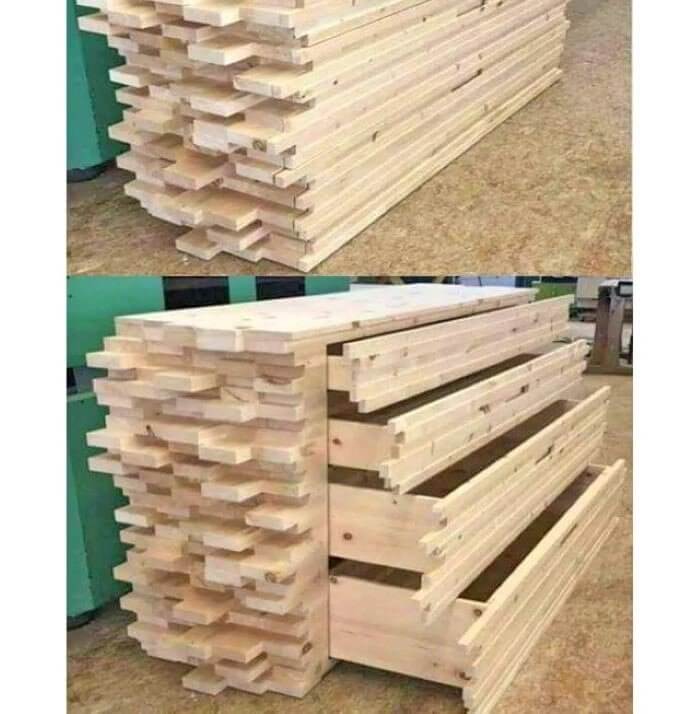 It blends into the room until you reveal its true identity. So, don't be fooled by appearances; sometimes, things are more than meets the eye, like this sneaky chest of drawers!
It Seems to Be Winking at Everyone!
Meowza! This wooden cat carving is a real head-scratcher. It's beautifully carved, no doubt, but for some reason, it's super focused on the rear end of the cat – the cat's butt! It's like the artist said, "I must make this cat's backside the star of the show." Now, we all know cats are quite proud of their tails, but this takes it to a whole new level. Maybe it's a comical tribute to the car's brown eye!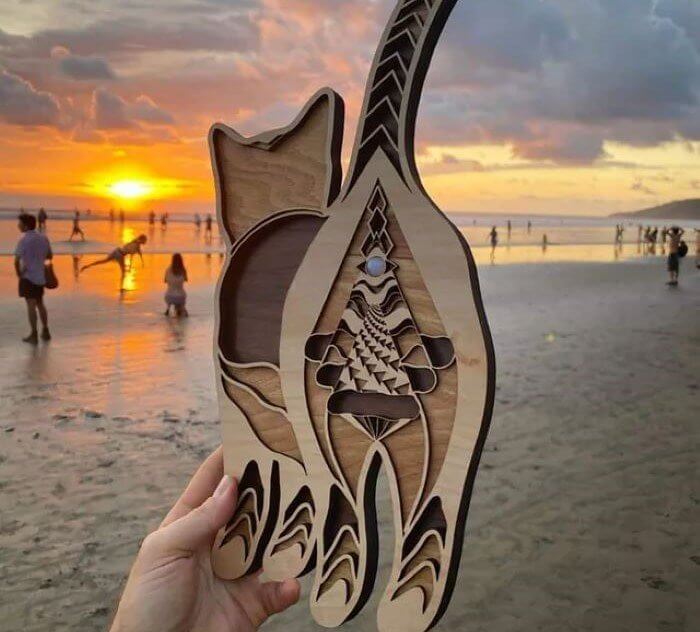 It's quite literally a head-turner because you're left staring at the cat's behind. Give this cat's tushie the appreciation it apparently deserves!
In Japan, You Should Expect the Unexpected!
Well, that's one toilet experience you won't find every day! Picture this: a lady takes a seat on a toilet in Japan, and what's in front of her? An enormous head of an Asian man starts moving toward her. Just when it seems like she's about to be crushed, the head plants a huge kiss on her knees! Talk about a toilet with a surprising twist and a dash of humor!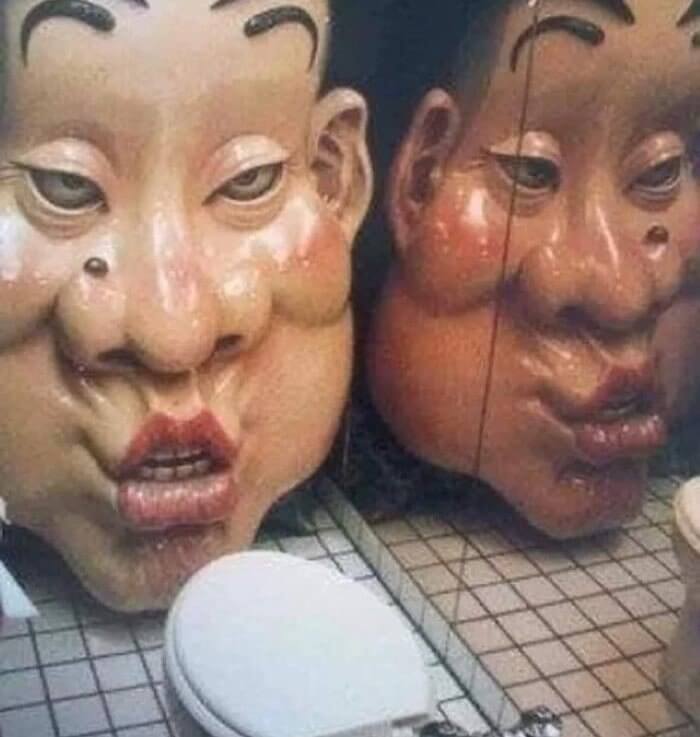 This toilet is not just for taking care of business; it's here to give you a surprise smooch on the knees. But it might leave you wondering, "What on earth did I just experience?"
He Told Us, "The Chicks Love It! "
Well, this guy certainly has a knack for turning everyday objects into mini works of art! He had a lightbulb moment and realized that if he put a picture of himself wearing a hat on his flip cigarette lighter, he could create a charming illusion. When you flip the lighter open, it looks like he's tipping his hat to you! It's a small, simple trick, but it works well with the ladies!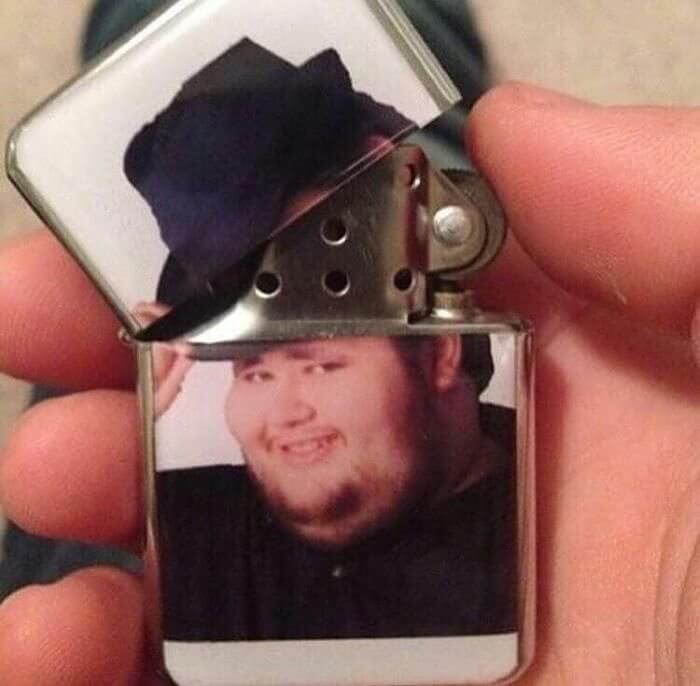 It's like he's saying, "Good day, m'lady!" in the most unexpected way. This is proof that a little imagination can turn the ordinary into something quite extraordinary!
I Wonder What The Conversation Was Like!
Talk about an unexpected trio! Here, we have a bronze statue featuring some famous figures from history and pop culture. It's a unique blend of Lenin, Mickey Mouse, and Jesus, and they're walking together while holding hands. Now that's an eclectic lineup! It's a head-scratcher, for sure. We might never know why someone decided to bring these three icons together, but one thing's for sure – it's a conversation starter!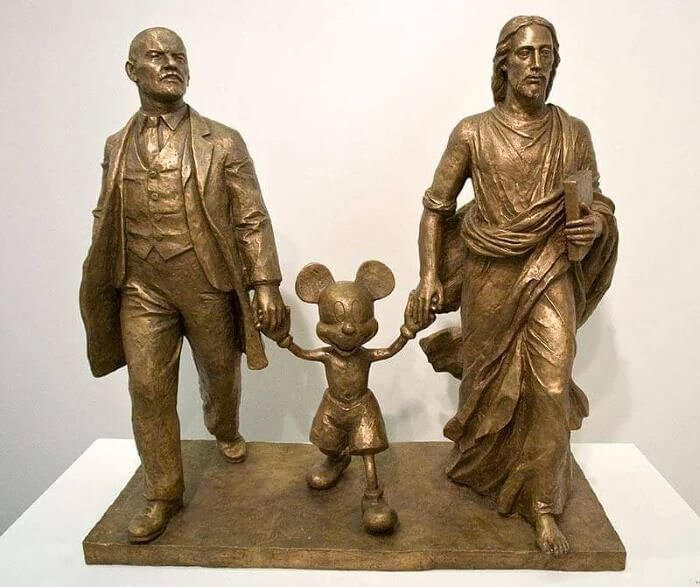 Whether it's meant to symbolize unity, diversity, or just pure artistic whimsy, this statue is a memorable sight that will leave people wondering about the story behind it!
He Must Really Love Fishing!
Now, that's what you call a dedicated fisherman! This angler had a brilliant idea – he got a measuring scale tattooed right up the outside of his leg. It's like having a built-in measuring tool wherever he goes, perfect for sizing up the fish he catches. No need to carry around a separate ruler or measuring tape; this fisherman is always ready to size up his catch in style!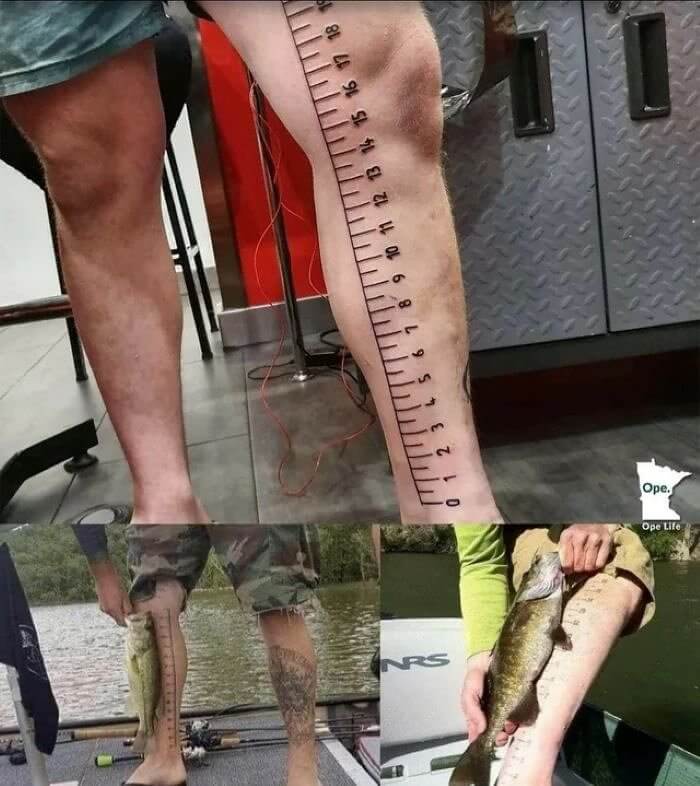 It's a clever fusion of passion and body art, ensuring he never misses the opportunity to measure a big one. This fisherman is ready to reel in the fun and the fish!
Not Very Appetizing!
Hold the gravy boat! This scene takes outdoor dining to a whole new level of bizarre. Imagine sitting at a table with chairs that are all carved out of frozen meat! Yes, you heard that right. This isn't your regular dining set; it's a feast for your eyes and maybe even your taste buds (if you're sick in the head). And if that wasn't enough, they're set up in front of a massive meat sculpture!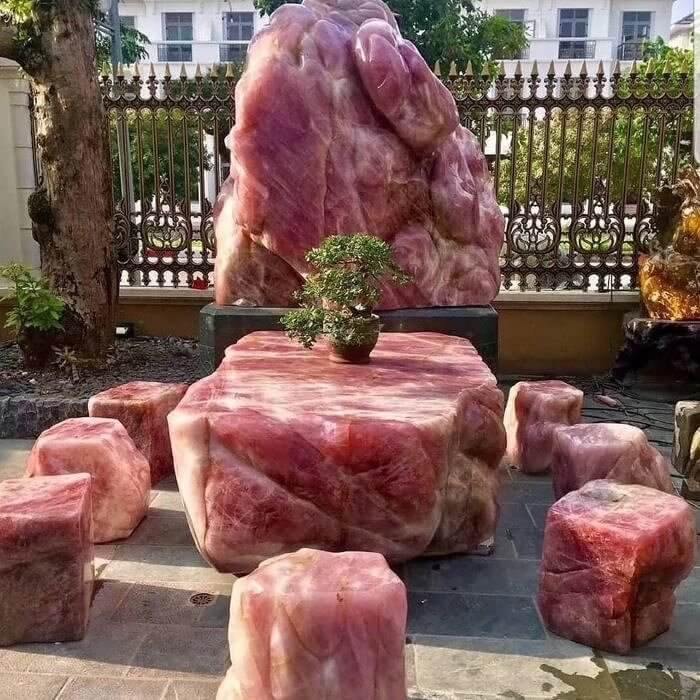 This might be the ultimate test of your appetite because, while the sculptures look pretty cool, you'll need a strong stomach to enjoy your meal when dining here!
A Happy Hairy Christmas to Everyone!
Well, it seems like this guy took the holiday spirit to a whole new level. He wants everyone to have a very hairy Christmas! It's like a DIY Christmas decoration that's a bit more personal than the average ornament. You've got to admire his dedication to spreading holiday cheer, but it's definitely a unique way to celebrate. Imagine the reactions when he takes off his shirt at the family Christmas gathering!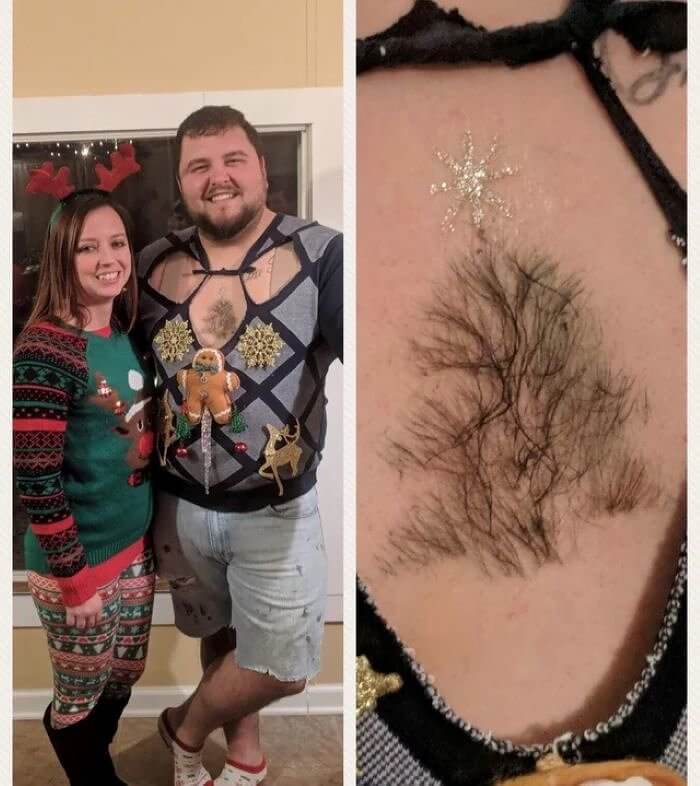 It's a bold move, and while it might not be the most traditional way to get into the holiday spirit, it's certainly a conversation starter. After all, it's the thought that counts, right?
We Bet This Joke Never Gets Old!
Talk about a handful of sunshine! This guy decided to do something a little unusual and got a bunch of sunflower seeds tattooed onto the palm of his hand. The reasons behind it might remain a mystery, but one thing's for sure – he's carrying a pocketful of sunny vibes wherever he goes! Maybe he's a big fan of sunflowers, or perhaps he simply wanted to carry a touch of nature with him!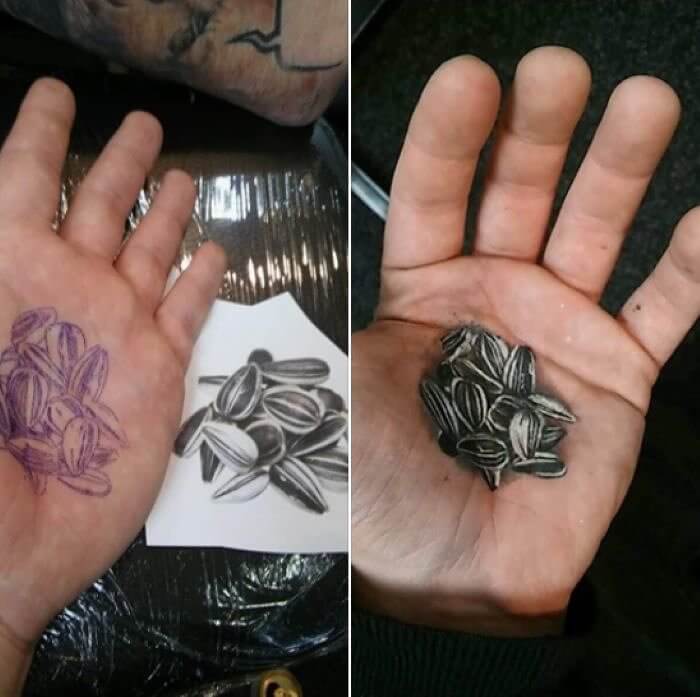 After all, who needs to plant sunflower seeds when you can have them in the palm of your hand? It's an idea that's as unique as it is interesting!
Conquering the Americas One Ball at a Time!
These folks are taking their love for pool to a whole new level – quite literally! They decided to up the ante by creating a pool table in the shape of the Americas. It's like turning the continent into a giant game board for billiards! Whether it's the thrill of sinking balls in South America, this pool table is all about adding an exciting twist to a classic game!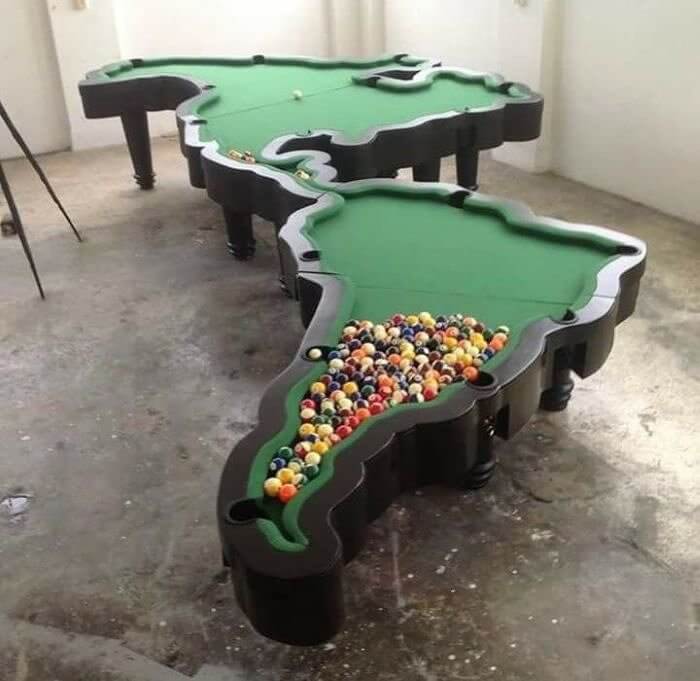 Who knew that geography and pool could go hand in hand? So, the next time they're playing, it's not just about sinking balls—it's about conquering the Americas!
Pure Sci-Fi Style!
Buckle up for a blast from the past with some serious style! In the 1981 American science fiction action film 'Escape from New York,' the Duke of New York is the epitome of cool, and his car is no exception. He rolls around in a 1977 Cadillac Fleetwood Brougham that's been decked out with fender-mounted chandeliers! This car is pure '70s glam, and those chandeliers take it to a whole new level of luxury!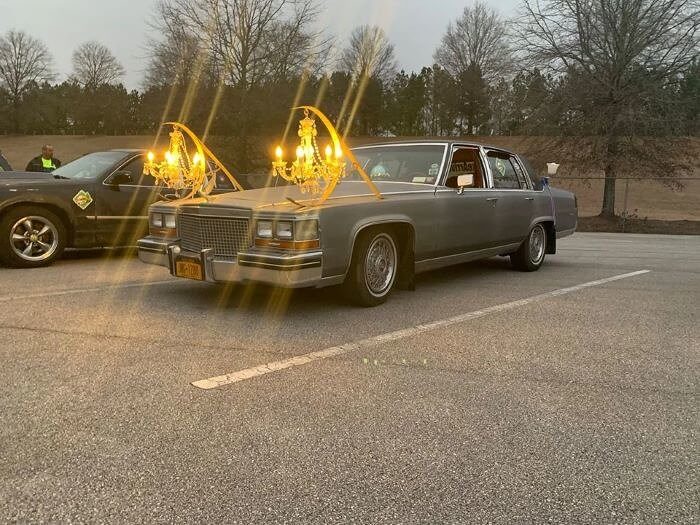 In a world where New York City has become a maximum-security prison, the Duke of New York's car is a nod to the days of classic American automobiles and over-the-top elegance!
When You Have Some Spare Time on Your Hands!
Well, this is some next-level toilet artistry! Imagine someone spending so much time on the throne that they transformed the toilet roll into a girl's head with perfectly plaited pigtails. It's like they turned their bathroom into a creative haven for when you're bored on the throne. The next person in line was both surprised and amused. Who knew that a simple toilet roll could become a canvas for quirky and fun creations?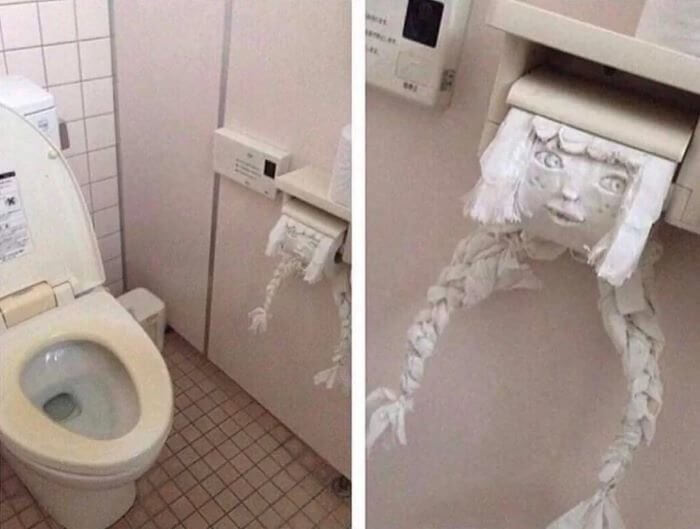 So, while you're answering nature's call, don't forget to appreciate the unexpected artistry that can be found in the most unlikely places. Great job! We like this one!
It's Twentytwo Minutes Past Three Hairs!
Now, here's a wristwatch that's redefining the concept of "see-through" technology! This timepiece might have a gaping hole where you can see the wearer's hairy arm, but that doesn't stop it from being completely functional. It's like a watch that gives you a peek into the mysteries of its inner workings while showcasing its owner's arm hair. It's a reminder that even with a hole in your watch, time keeps on ticking!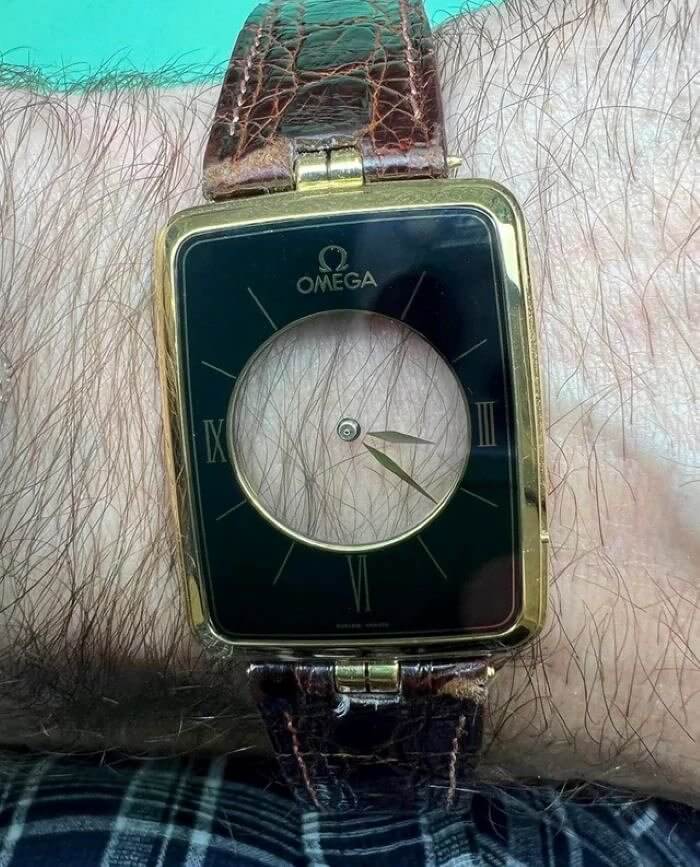 Whatever you think about it, it's definitely a conversation starter and a unique accessory that proves that in the world of wristwatches, there are no rules, just creativity!
From Riches to Rags!
Well, here is a guy who's taking the idea of "vintage vibes" to the next level! He bought a brand new VW van and decided to give it a makeover that makes it look like an old, rusty piece of junk. It's like a disguise for his modern wheels. Perhaps he enjoys the surprise factor when people see his ride transform from beat-up to brand new on the inside!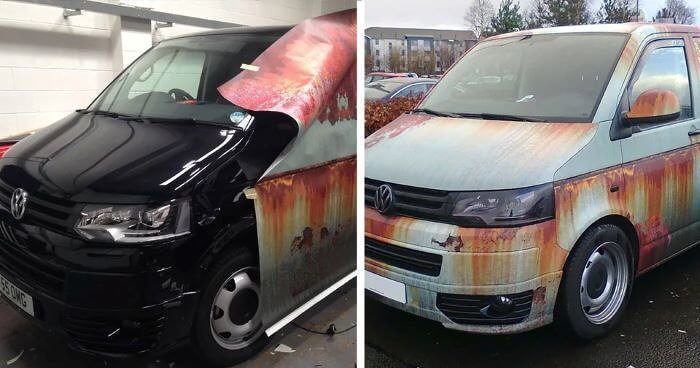 It's an interesting choice in a world with no limits. So, when you see this guy driving around, don't let the rusty exterior fool you—it's all about the modern engine under the hood!
This Guy Was Hit by a Meteorite While Out Stargazing!
Talk about an out-of-this-world fashion statement! This cool-looking guy has a crater sunken into his head, and while we might not know the reason behind it, it is definitely a striking feature. Whether it's an artistic choice, a unique hairstyle, or simply a form of self-expression, one thing's for sure – it's hard to miss. It's like he's carrying a piece of the moon's surface right on his head!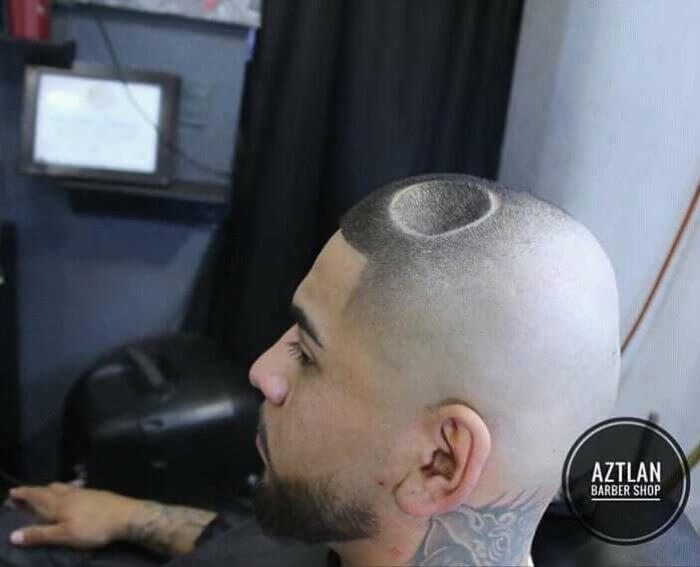 Sometimes, in the world of style and fashion, it's all about being bold and daring to be different. So, here's to the guy with the lunar-inspired look—he's truly one of a kind!
This One Should Be in the Worst Tattoo Fails Article!
Now, that's what you call a connection with nature taken to a whole new level! This guy got the natural wood grain tattooed up his legs, bringing the great outdoors wherever he goes. Maybe he wants to be a pirate! Whether he is a tree lover or simply appreciates the beauty of nature's patterns, this tattoo is complete nonsense. Why would anyone want to go around looking like Pinocchio?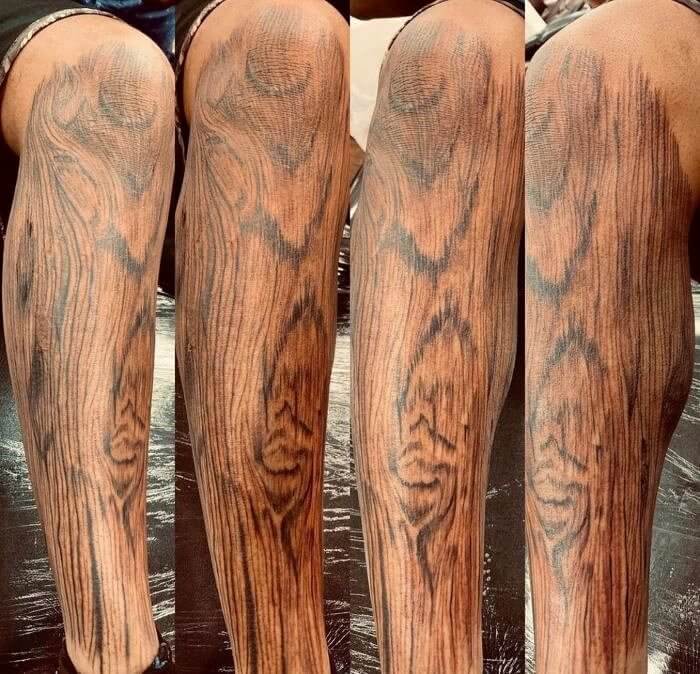 So, when you come across this guy with wooden legs, just remember that not all tattoos are created equal. At the end of the day, this guy just looks like a real plank!
Not Quite the Earworm We Were Expecting!
Well, that's a unique way to listen to music! This girl's earphones are far from ordinary; they've got a small octopus tentacle attached to them, making it look like a little sea creature is invading her head. It's a quirky and somewhat creepy fashion statement. While we might not know her exact reason for choosing such earphones, it's certainly a head-turner. The rest of the octopus clearly has a grip on her brain!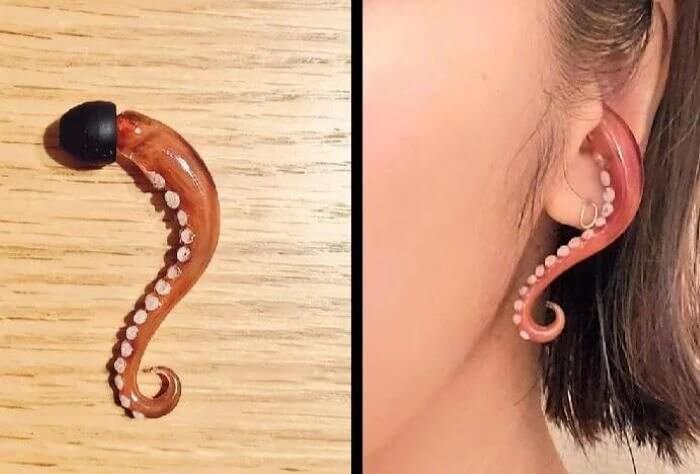 These earphones are a bold way to stand out in a sea of typical earbuds. So, when you see her, just remember, she wants you to find her disgusting, so oblige her!
When Life Gives You Lemons… Get Rid of Them Before They Spoil!
Get ready for a twist in the world of sewing and crafting! This might be hard to believe, but that moldy-looking lemon is actually a pin cushion. It is like a lemon that's seen better days but has found a new purpose. Instead of being cute or creative, it's more like a "why on earth would someone make this?" moment. I bet it's the joke that never gets old!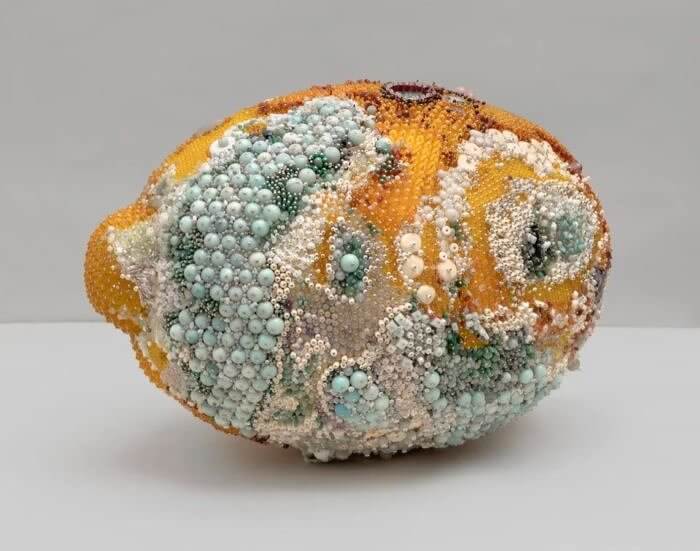 So, if you ever come across this peculiar pin cushion, you might find yourself questioning the choices people make in the name of craftiness. Or maybe this person should update their jokes!
Get Back on Your Cart, Mario!
It's like a "bad tattoo" moment in the world of wristwatch design! The creator of this otherwise beautiful timepiece decided to throw a curveball by including Super Mario right in the middle of their elegant design. It's as if they couldn't resist adding a dash of pop culture to an otherwise refined look. This choice might leave you wondering why they decided to mix elegance with video game nostalgia!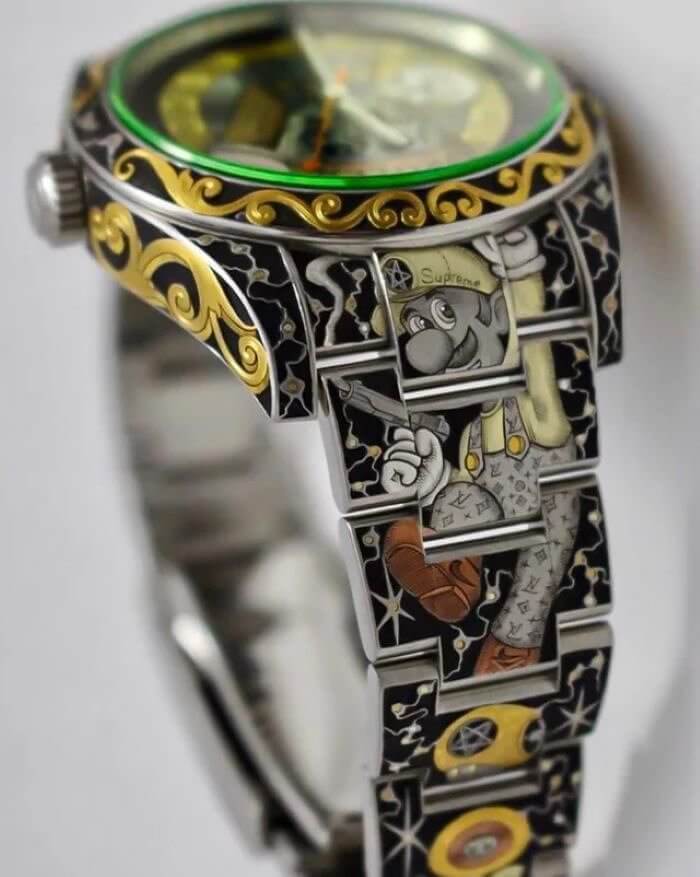 It's like getting a classy suit and then throwing on a pair of bright, mismatched socks. Some design choices leave you scratching your head, and this one might just be one of them!
Spreading Joy "and" Disease!
Well, this old lady took pandemic mask-making to a whole new level of creativity! While crafting her own protective face mask, she didn't stop at the basics. Instead, she added a big pair of lips with a rose nestled in between! It's like she's not just protecting herself; she's making a fashion statement. With those lips and that rose, she's showing that even in challenging times, there's room for a touch of style!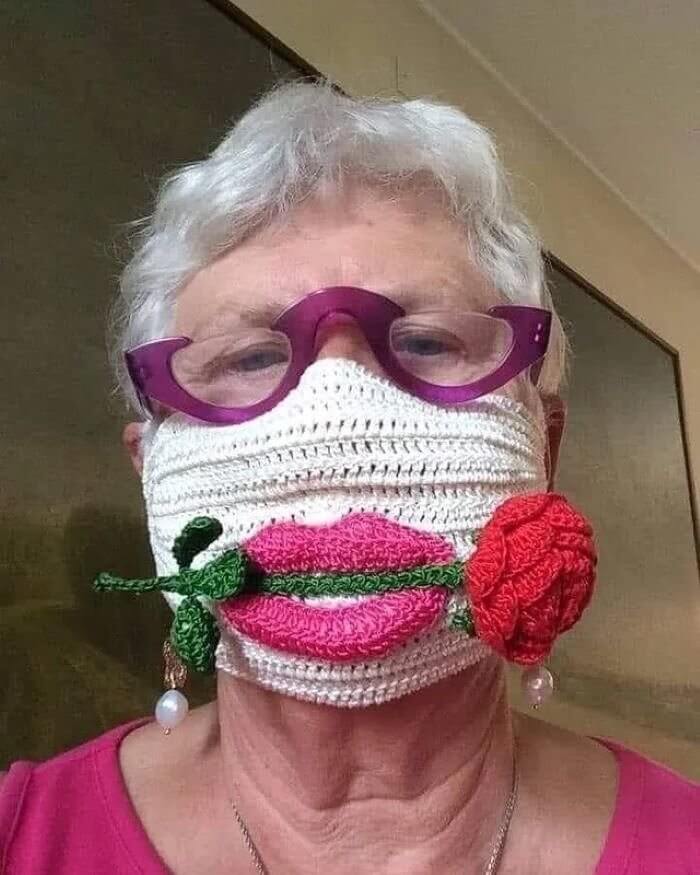 People can find ways to smile and spread joy, even when most of their face is covered. Give her a nod of appreciation for bringing a bit of beauty to a challenging time!
Here's One That Slipped Through the Cracks!
I'm not even sure what this picture is doing in here, and I'm writing the damned article! It's a glass table with a load of drugs on it. It's like the ultimate bad-boy table, I suppose! One thing is for sure: it's a stark contrast to the fun descriptions that fill the rest of the article.
Sometimes, even in the world of curiosities, some elements stand out for all the wrong reasons!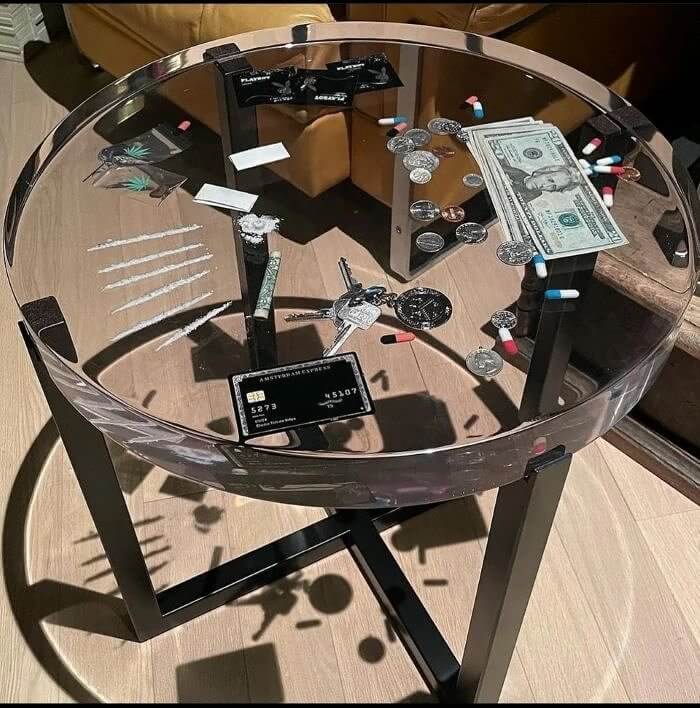 Maybe this is a celebrity living room table that has been leaked to us, and we're supposed to subtly expose them for being bad boys. Or maybe it's just some young guys messing around!

Poor Pigeons!
This street advertisement is like a slice of dark humor. It's a massive sign for razor blades, and it's shaped like a giant razor blade. To add to the quirky factor, fake pigeons are placed nearby, and they've been "chopped" in half. It's like a scene straight out of a surreal comedy sketch. While it's certainly unusual and might provoke a few laughs, it also carries a touch of darkness!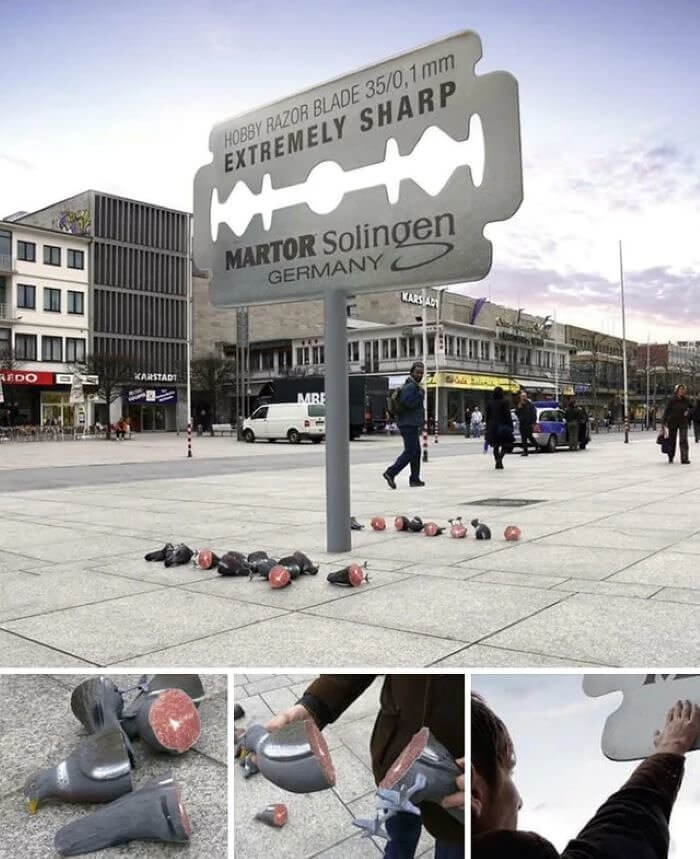 So, if you ever spot this ad, you'll probably do a double-take and then have a good laugh about the wild creativity behind it. They must be some seriously sharp blades!
Ear We Go Again!
This Van Gogh necklace is definitely not your average piece of jewelry. It is a little bit grim, featuring the legendary artist's head on one side and his infamous ear on the other! It is like a wearable art history lesson with a dash of darkness. It is a nod to one of the most iconic stories in the art world—the tale of Van Gogh and his self-mutilated ear!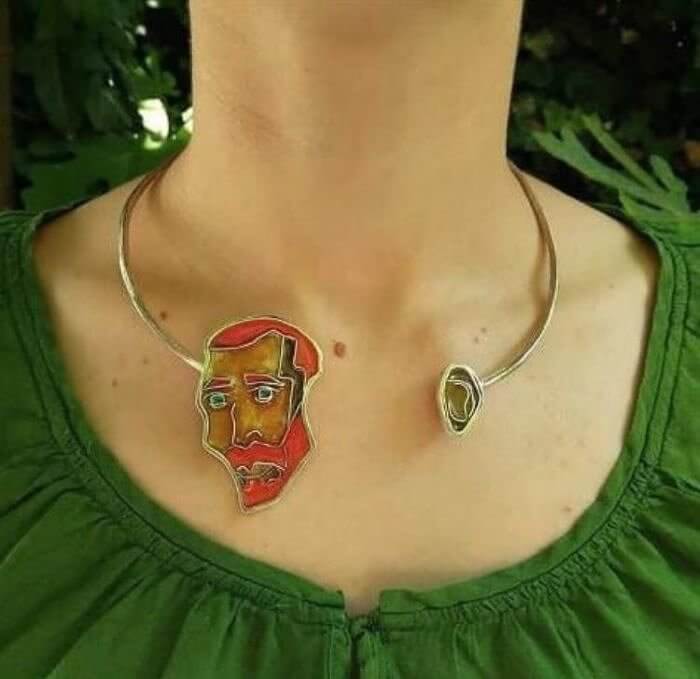 It's a conversation starter, for sure. So, the next time you see someone wearing this necklace, just remember they've got a unique piece of history hanging around their neck!
It's Nice to Put Your Horse's Feet Up From Time to Time!
These pony seats in the bar are a real hoot! Just take a look at this guy sitting on one—he's like a human-horse hybrid. It's like the bar decided to host a little "centaur" night of its own. While they might not be the most comfortable seats in town, they're certainly a unique addition to the bar's decor. This guy is unaware he's making a horse's ass of things!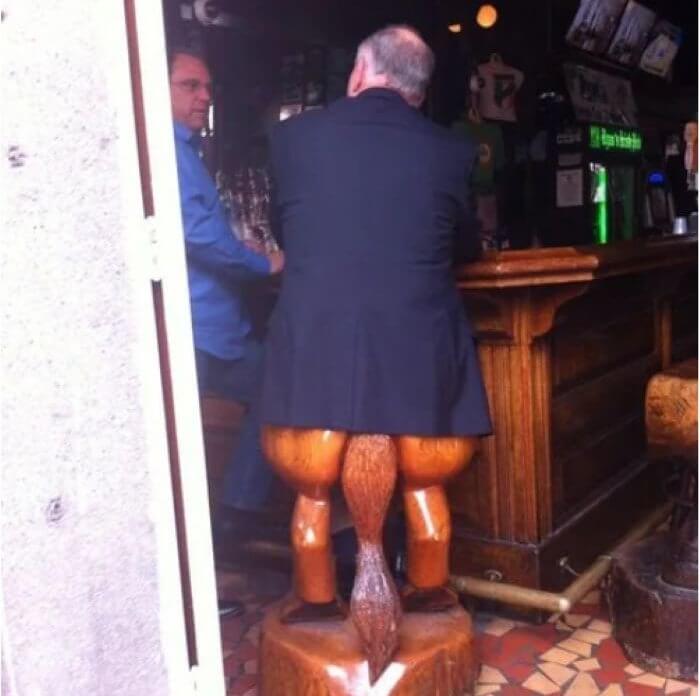 So, if you ever visit, don't be surprised if you end up sharing a drink with half a man and half a horse—all in good fun, of course!
Can I Have a Side of Fries With That?
These Nike McDonald's trainers are something else! They're a colorful tribute to the fast-food brand, featuring all the vibrant shades of the iconic golden arches. But that's not all—the pièce de résistance is the serving of fries on the tongue of the shoe. It's like a fast-food feast for your feet! These kicks are a unique fusion of fashion and fast food, proving that style can take inspiration from the most unexpected places!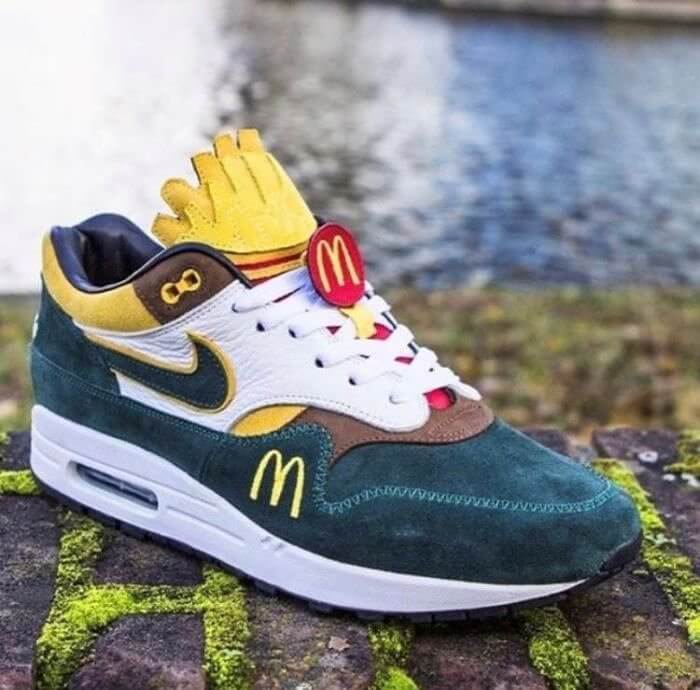 Whether you're a fan of McDonald's or just appreciate a bold and fun design, these sneakers are sure to make a statement. Strut your stuff in style!
Poor Bambi Should Be Set Free From This Crazy Lady!
Well, this lady's pandemic mask isn't exactly a fashion-forward choice; it's just plain weird. She decided to attach a snow globe with Bambi inside to her mask and to make matters even more puzzling, she surrounded it with mini pom-poms. It's an odd combination that leaves you wondering what she was thinking. While masks can be an opportunity for personal expression, this one takes the cake for being downright bizarre!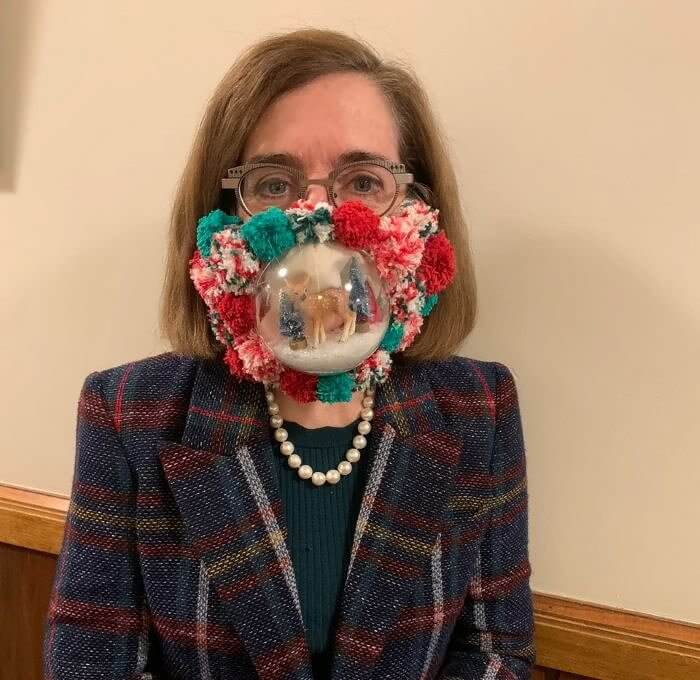 It's like she's turned her face into a mini carnival, and not in a good way. When it comes to quirky fashion, sometimes there's a fine line between creative and simply perplexing!
Pimp My Ride!
This Rolls Royce is a sight to behold, but not necessarily in a good way. It's covered in purple velvet, which is quite an unconventional choice for such a luxurious car. It's like they've taken luxury to an extreme but in an unexpected and perhaps weird direction. Velvet is usually reserved for plush furniture or high-end clothing, not for a car exterior. Someone should tell this guy to keep it that way!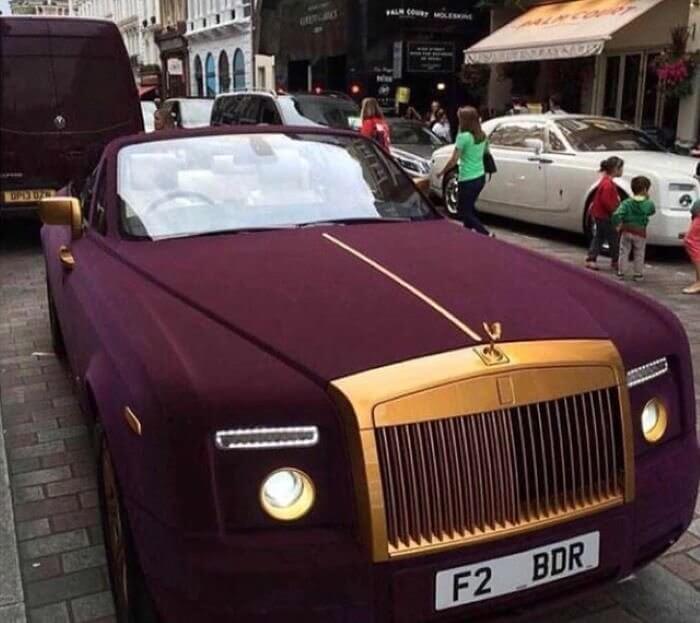 So, if you come across this velvet-clad car, it's sure to leave you with mixed feelings about luxury and style. The owner probably has enough money to try out new, expensive ideas!
Batface!
Now, that's a mustache with a heroic twist! This guy has taken grooming to the next level and trimmed his mustache to look just like Batman's iconic bat signal. It's like a mini superhero symbol right under his nose. Whether he's a huge Batman fan or just enjoys a quirky style, this mustache is sure to turn heads and maybe even summon the Dark Knight. Either that or people will just laugh at you!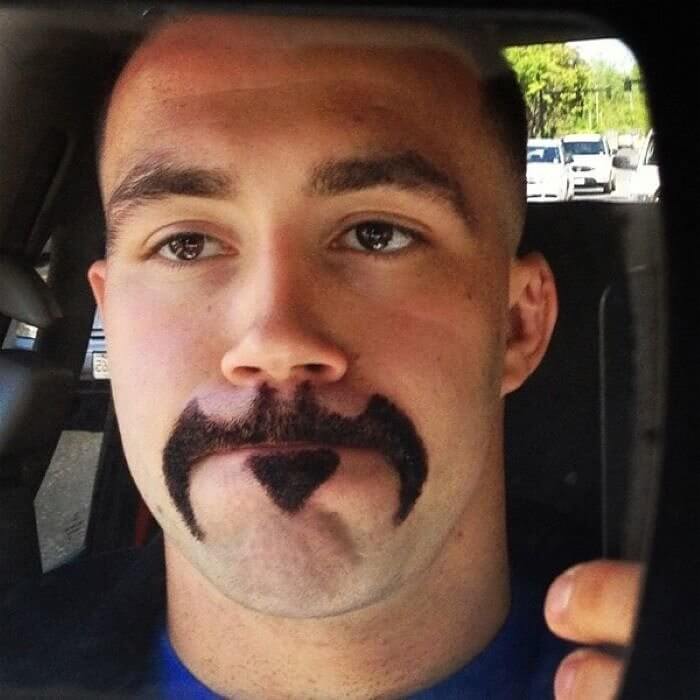 It's a creative way to express your fandom and sense of fun all in one, and it's bound to put a smile on faces everywhere. Or maybe it will get you a beatdown!
Barbie Must Live Here!
Well, here's a toilet and washbasin that have taken a colorful journey into the realm of iridescence. They're like the unicorn of bathroom fixtures, for some reason! Instead of your typical porcelain white, these bathroom essentials shine with a mesmerizing play of colors.
It's a unique choice that's sure to make the bathroom a bit more magical. Maybe the owner just wanted to add a touch of fancy to their daily routine!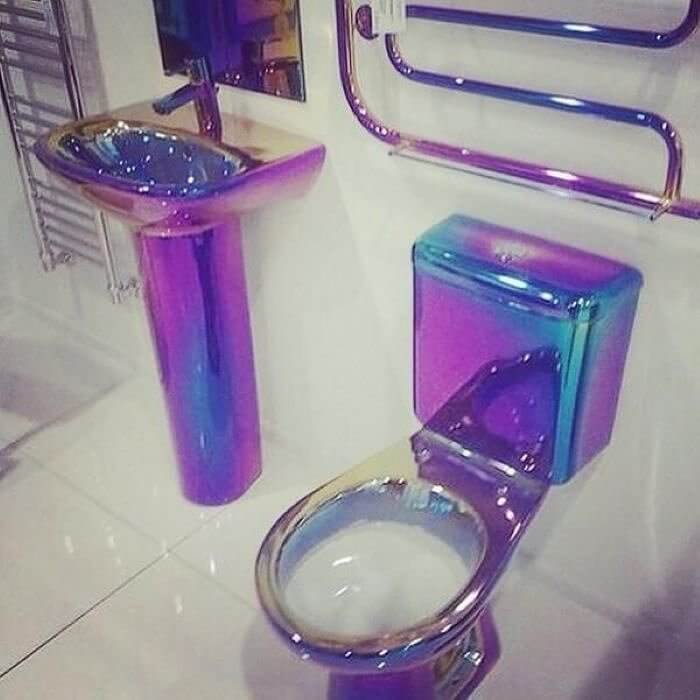 They felt like a little extra sparkle in the washroom was in order. So, if you ever find yourself using these iridescent fixtures, remember to embrace the unexpected beauty in the everyday!