Step into a world where the boundaries of imagination meet the realm of real estate. Join us on a captivating journey through some of today's most outlandish and extraordinary home listings! From mansions made of mirrors to homes that could easily have been designed by "Barbie," these listings challenge the ordinary and celebrate the extraordinary! In this tour of the real estate world, we'll explore homes that transport you to different eras, properties that embrace the wild and wacky, and dwellings that redefine the very concept of 'home!'
A Fabulous '50s Time Capsule - $524,899
In the heart of Phoenix, Arizona, where the present meets the past, a vintage-obsessed dancer has transported her fixer-upper home back in time to the fabulous 1950s era. With a keen eye for nostalgia and a budget of $50,000, this 25-year-old homeowner has turned her residence into a stunning time capsule, complete with a tiki-themed bar, a retro sauna, and a bold turquoise exterior that screams mid-century modern charm!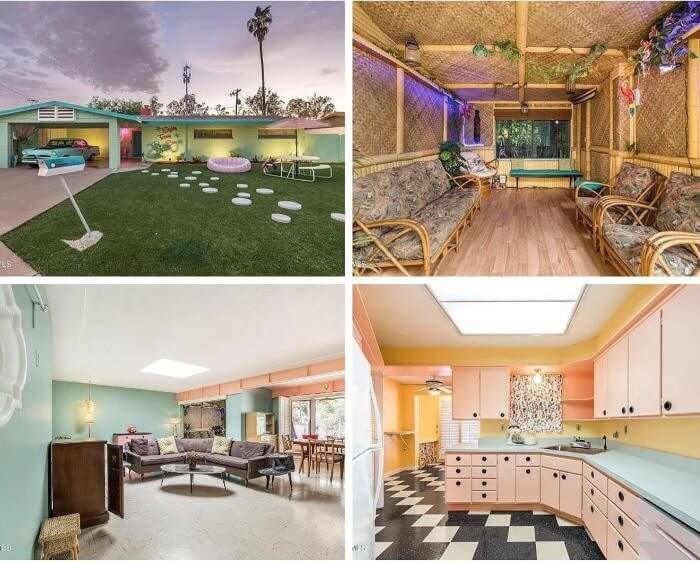 As you step into this remarkable property, you're instantly whisked away to an era of poodle skirts, rock 'n' roll, and Elvis on the radio. It's like a 1950s time warp!
An Artistic Retreat - $579,500
A truly remarkable property lies among the rolling hills of Vershire, Vermont. "High-Haven" is a whimsical home that was lovingly crafted by a local artist and her engineer husband, resulting in a one-of-a-kind masterpiece. Set on approximately 39 acres, it offers awe-inspiring views to the east, with the White Mountains as your backdrop. This enchanting property is a dream come true for those seeking an artist's retreat, a yoga sanctuary, or a writer's haven!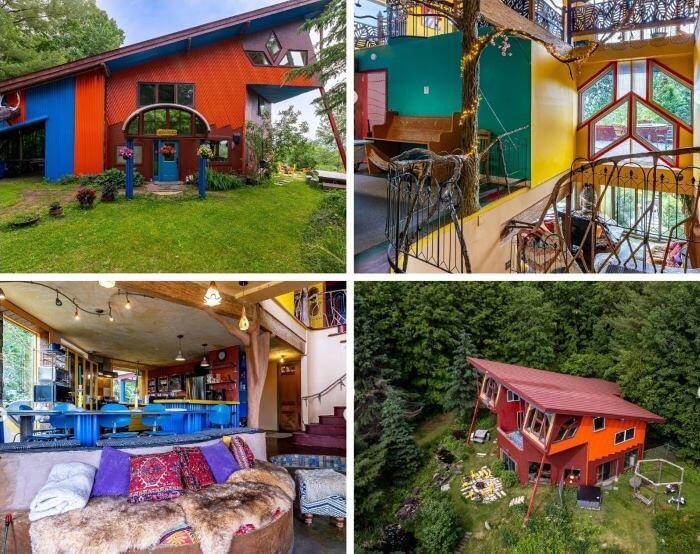 As you approach High-Haven, you'll immediately notice the artistic touch that sets it apart. The house is a work of art that brings the beauty of the surrounding landscape indoors!
A 'Brutalist Modern' Marvel - $584,900
Nestled among the trees on a sprawling half-acre plot in Rolling Meadows, Illinois, this circular property has achieved quite the online celebrity status. After just a year since being snatched up by an online fan, this unique custom-built "brutalist modern" home is back on the market, listed at a tantalizing $584,900. This extraordinary residence is a testament to architectural innovation, boasting a striking circular design that challenges conventional norms!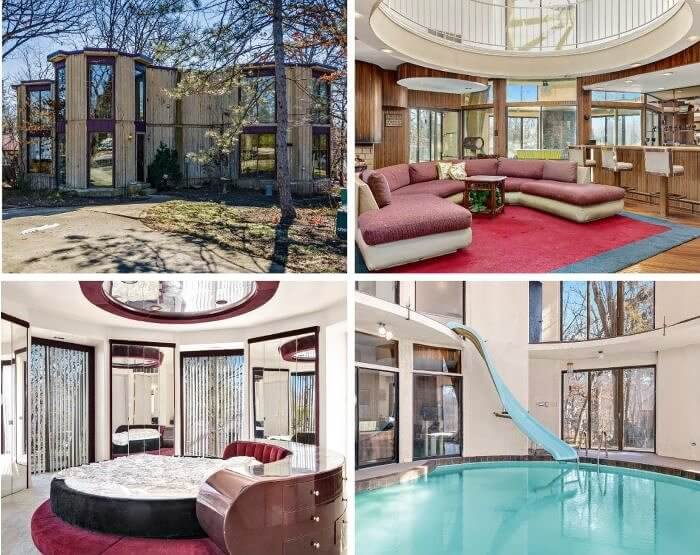 A bold departure from the ordinary, the property's unique interior has earned it a special place in the hearts of internet enthusiasts. Anyone from James Bond to Hugh Hefner could live here!
A Quirky 'Sims-Inspired' Surprise - $650,000
At first glance, the single-family house at 3010 W. Fullerton Ave. in Chicago, Illinois, may seem like your typical residence, but step inside, and you're in for an unexpected treat. This unassuming exterior hides an interior filled with a playful mix of black-and-white patterns, carpeted floors, mirrored walls, and quirky glass accents, creating an aesthetic reminiscent of a vintage glamor pack from "The Sims" or a set straight out of the 1988 movie "Beetlejuice!"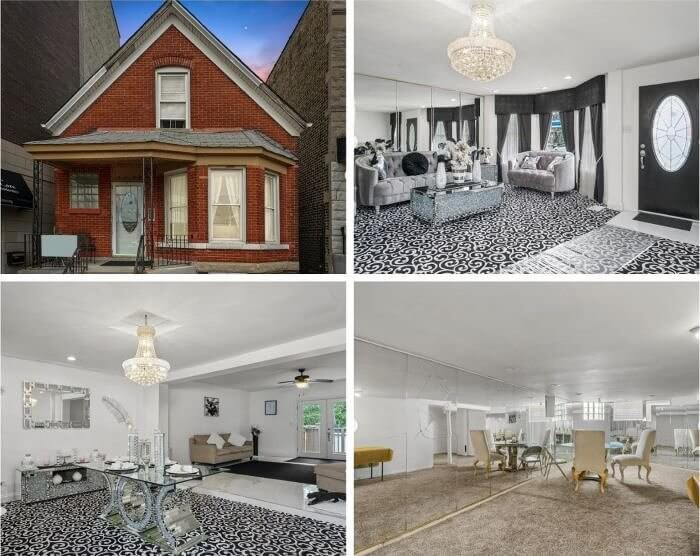 As you cross the threshold, you'll find yourself in a whimsical design wonderland. It's a house that refuses to conform to conventional norms, and that's part of its charm!
A Time Capsule From 1970 - $695,000
Perched high in Bellevue, a suburb of Omaha, Nebraska, this architectural wonder stands as a testament to the dedication and creativity of its builder, architect Willis Regier. In 1970, Regier embarked on a research project that would become his family's unique home. The result? A striking thin-shell concrete structure that took a staggering 6 1/2 years to complete. This hyperbolic paraboloid masterpiece boasts an intriguing exterior and offers panoramic views of the Missouri River!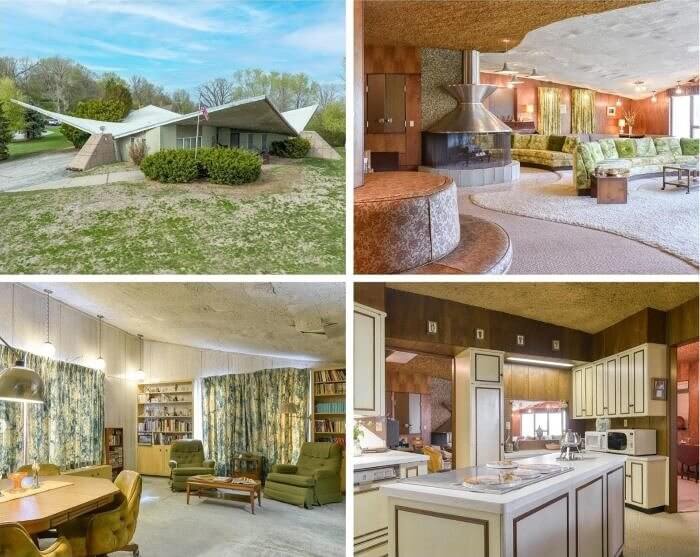 Inside, the mid-century modern interior has remained virtually untouched, providing a mesmerizing glimpse into the aesthetics of the 1970s. The fixtures, furniture, and decor that transport you back to a bygone era!
The House of Mirrors - $899,000
Prepare to embark on a journey of self-discovery like never before with this intriguing property in Pittsburgh, Pennsylvania, affectionately known as the "Mirror House." This residence will truly reflect its new owner, offering an experience like no other. Built in 1969 and discreetly hidden behind high bushes along Field Club Road in O'Hara, it's a structure that seems to disappear into its surroundings. You truly have to see it to believe it!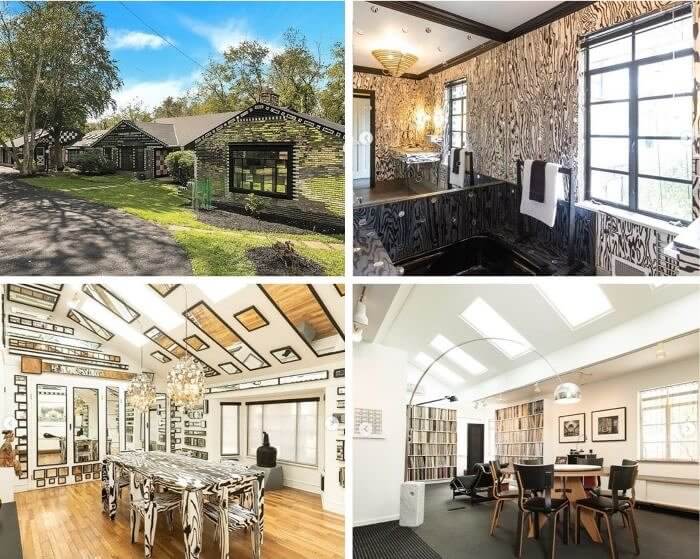 But the magic doesn't stop there. Once inside, you'll find that the mirrors continue, adorning walls, ceilings, and almost every surface imaginable. Everywhere you look, you will see yourself!
Dome on the Range - $1,000,000
Tucked away on a sprawling 4-acre parcel of land in Castle Rock, Colorado, this magnificent home offers more than just a place to live. It's a gateway to breathtaking views of the Front Range Mountains, stretching from the majestic Longs Peak to the iconic Pikes Peak. This remarkable residence boasts over 3,000 square feet of living space. But what truly sets this home apart is its striking dome-shaped design!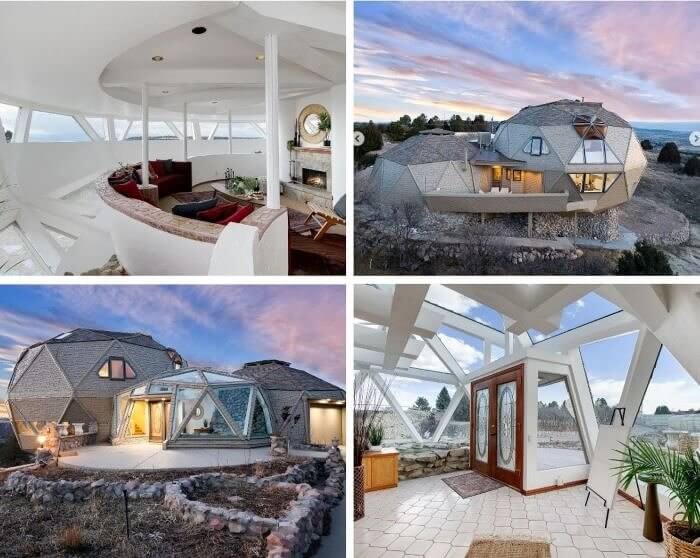 The dome's architecture is not just visually stunning; it's also environmentally conscious. Its energy-efficient construction ensures that the interior remains comfortable year-round, keeping you warm in the winter and cool in the summer!
Come On, Barbie, Let's Go Party- $1,100,000
Step into the world of "Barbiecore" in this enchanting home located just outside of Hudson, Wisconsin, where the iconic Mattel doll's aesthetic takes center stage. This house is a true testament to the vivid and playful trend characterized by all things pink, much like the timeless Barbie herself, who has graced pop culture since 1952. Pink hues extend seamlessly into the interior, covering walls, window treatments, furnishings, and even bathroom sinks!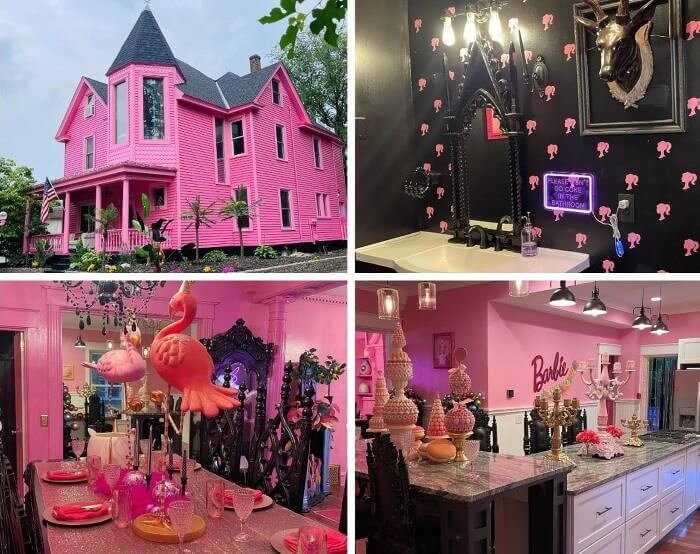 So, if you're ready to dive headfirst into the "Barbiecore" trend and live your life in shades of pink, this Pink Dream Palace in Hudson is the perfect canvas for your colorful imagination!
A Pirate's Cove in Las Vegas - $1,150,000
In the heart of Las Vegas, where the glitz and glamour of the Strip reign supreme, one home dares to be different. This West Valley residence may seem unassuming from the outside, but once you step inside, you'll find yourself transported to a pirate-themed paradise. This home is a treasure trove of nautical adventures and rustic charm. The living room has a coffee table that boasts a ceiling-high mast and sail!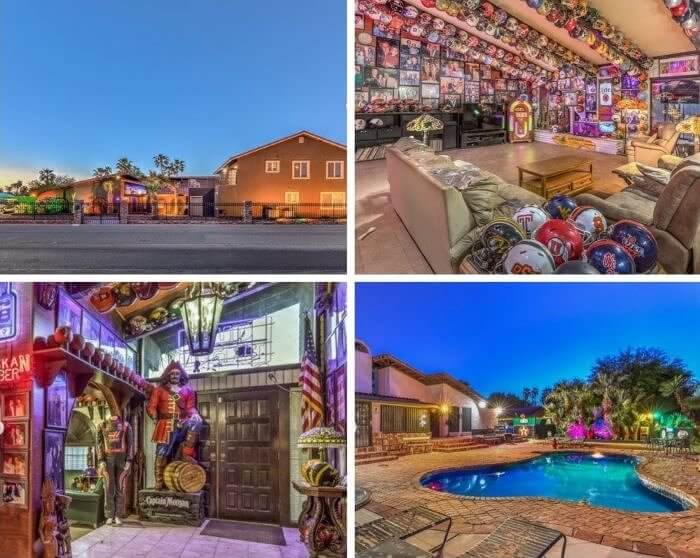 Rustic wood accents create a warm, inviting ambiance that feels straight out of a pirate ship's cabin. But the pièce de résistance is the DJ booth, where you can spin some sea shanties!
A Stilted Stunner on Vilano Beach - $1,199,000
An enigmatic beach house has emerged in the charming coastal community of Vilano Beach, Florida. This three-story home, perched on stilts, promises a unique seaside living experience that's as intriguing as it is unconventional. However, there's a twist to this tale—it's a mystery how you get inside. This architectural marvel that offers captivating views of the beach and the ocean appears to be missing one crucial element: the stairs!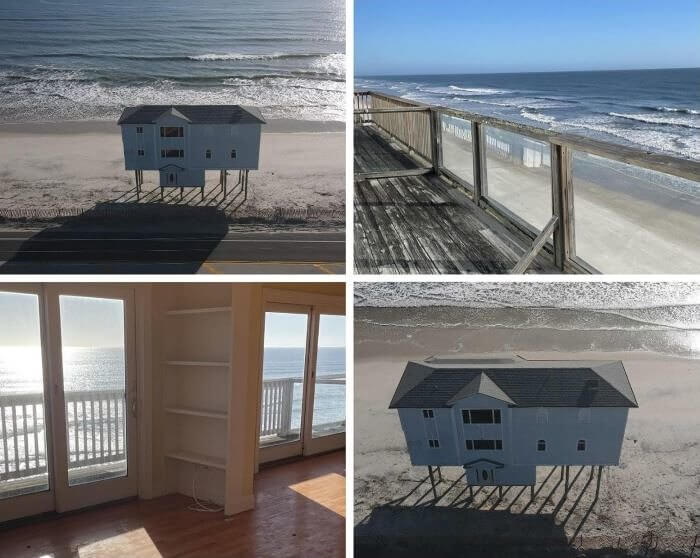 It seems this beachside abode may have weathered a hurricane or two, as the means of entry are mysteriously absent. It's a puzzle waiting to be solved and an adventure waiting to be discovered!
A Mountain Dwelling Masterpiece of Vernal - $1,350,000
Nestled in the breathtaking landscapes of Vernal, Utah, this home defies conventional architecture by seamlessly blending with its natural surroundings. Built right into the side of the mountain, this remarkable residence is a testament to harmonizing modern living with the beauty of nature. As you step inside, you'll immediately notice that the main living room walls, tucked beneath the stairway and surrounding the master bathroom tub, comprise the natural rock of the Dry Fork mountain!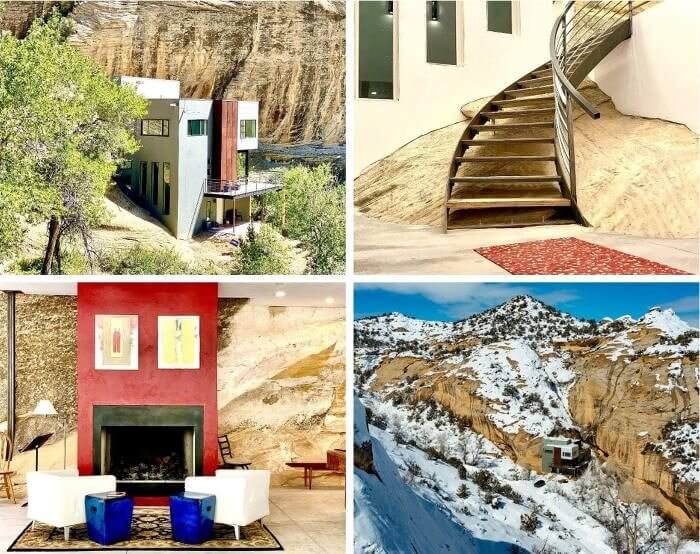 This design choice brings the rugged beauty of the mountain indoors, creating a striking living space. The panoramic views from this mountain retreat are nothing short of magnificent!
A Whimsical Wonderland - $1,475,000
In the vibrant Boston suburb of Somerville, a property that seemed to have sprung straight from Barbie's wildest dreams captured the hearts of homebuyers. This eccentric home is a true kaleidoscope of color and creativity, offering an imaginative living experience like no other. As you step into this enchanting residence, you'll be greeted by a hot-pink-painted exterior that immediately sets the tone for the fun and flamboyant design choices that lie within!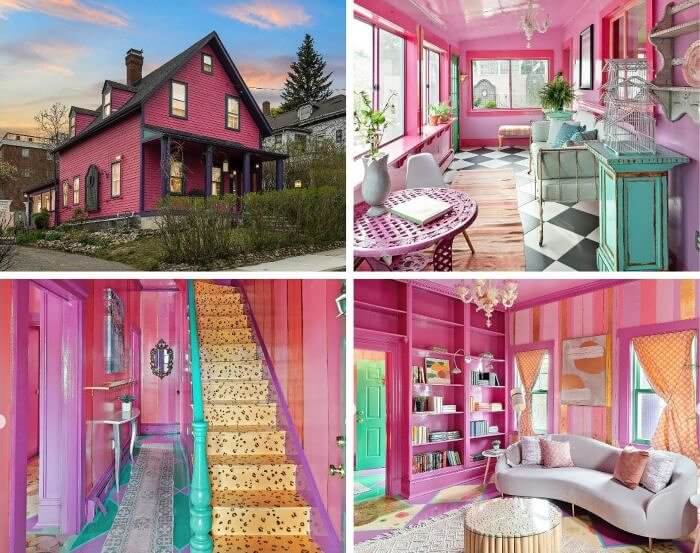 Throughout the house, you'll find walls adorned with bold stripes of gold and pink against a cotton candy-colored ceiling and a vibrant turquoise fireplace that radiates a sense of warmth and whimsy!
The Paradise of Palmdale - $1,499,000
Nestled in the picturesque landscape of Palmdale, California, this residence is not just a home; it's a sanctuary that promises a lifestyle of unparalleled luxury and exclusivity. From the moment you begin your ascent up the private road to the hilltop, a sense of grandeur envelops your senses, setting the stage for an extraordinary living experience. As you arrive at the summit, an indoor swimming pool welcomes you with open arms!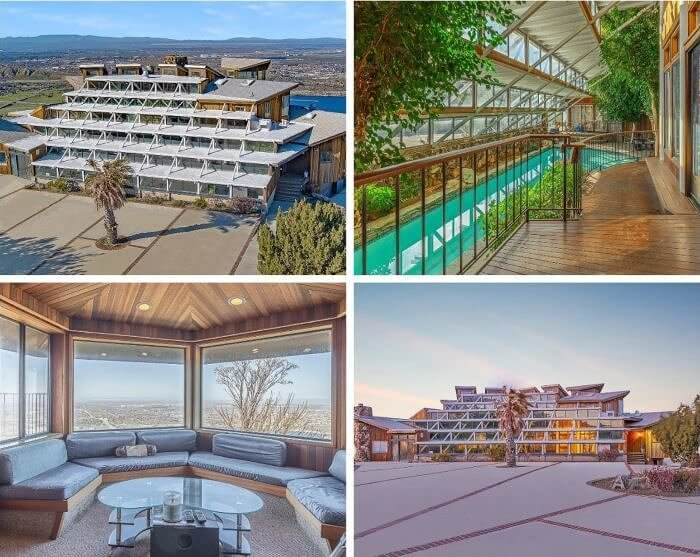 The pool is not just a feature; it's a testament to the luxury that defines this residence, offering a year-round oasis that allows you to swim in the lap of luxury, no matter the season!
A Divine Transformation - $1,649,000
In the heart of Cincinnati, Ohio, a former Gothic church has undergone a divine transformation, now emerging as a remarkable five-bedroom, six-bathroom house. This extraordinary property marries the timeless grandeur of its exterior with a modern, chic interior that's equally fabulous. The moment you lay eyes on this residence, you'll be captivated by the striking Gothic architecture that has stood the test of time. But it's inside where the true magic happens!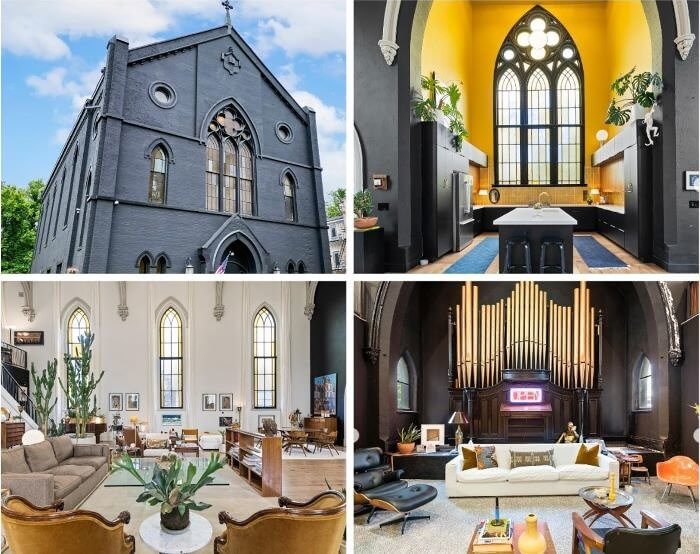 The soaring ceilings are the perfect backdrop for modern living. The stained glass windows now bathe the space in a warm and colorful glow, adding a touch of ethereal beauty!
A Towering Marvel - $1,711,900
Prepare to be awestruck by the architectural wonder known as the "Falcon Nest!" This 6,200-square-foot home near Thumb Butte in Prescott, Arizona, proudly boasts the title of the 'tallest single-family home in the world.' This 10-story structure stands tall at a staggering height of 124 feet, offering unparalleled views of the Arizona mountains. Inside, you'll find three bedrooms and four bathrooms, but the glass ceilings and walls truly steal the show!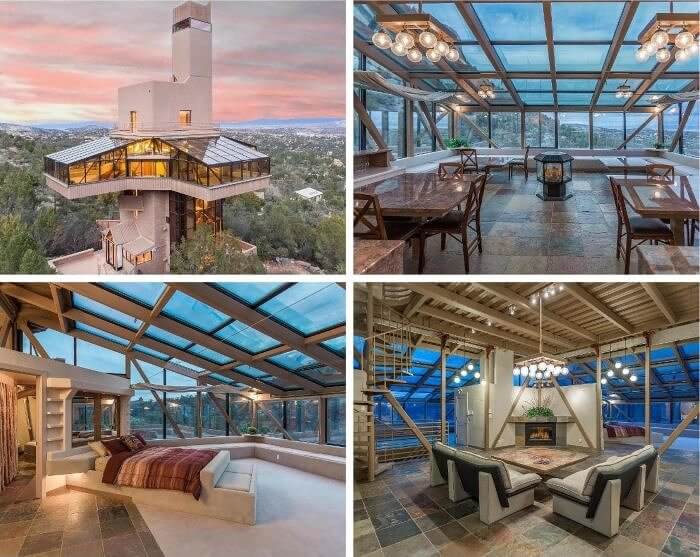 They offer panoramic views that stretch as far as the eye can see, capturing the beauty of the San Francisco Peaks, Thumb Butte, Humphrey's Peak, and Bill Williams Mountain!
A Castle on a Hill - $1,900,000
Nestled in the serene enclave of Barrington Hills, Illinois, this home is not just a residence; it's a castle that promises a life of regal luxury and grandeur. This 7,500-square-foot masterpiece boasts five bedrooms, five full bathrooms, and an array of amenities that would make any royal envious. As you approach this enchanting castle, a wrought iron gate opens onto a winding driveway, inviting you into a world of fairy-tale splendor!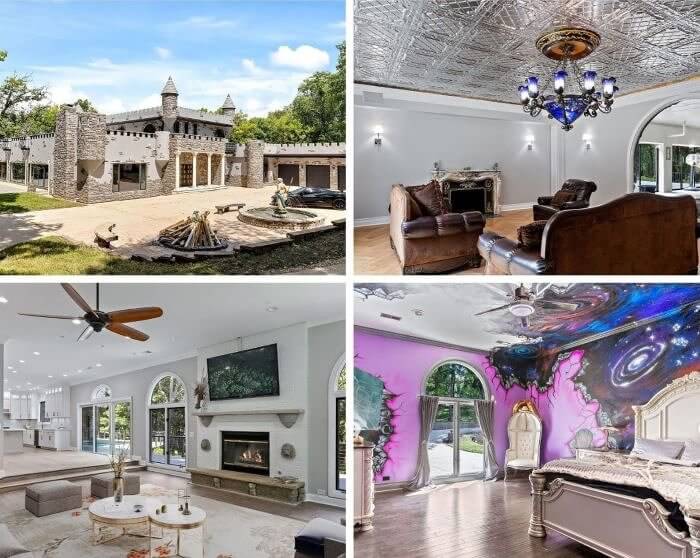 The exterior exudes a sense of timeless charm, with turrets and stone accents that create an air of nobility. Inside, the home is a regal sanctuary featuring spacious living areas and elegant finishes!
A Mansion For Music Lovers - $1,997,000
In the vibrant San Francisco Bay Area, a melodious mansion has hit the market, and it's music to the right buyer's ears. This unique residence, known as the Saxophone House, is a symphony of design and creativity, paying homage to the world of music. Built for an amateur jazz player in 1996, this California gem is a tribute to the woodwind instrument it's named after. The mansion's facade boasts enormous saxophone-like golden towers!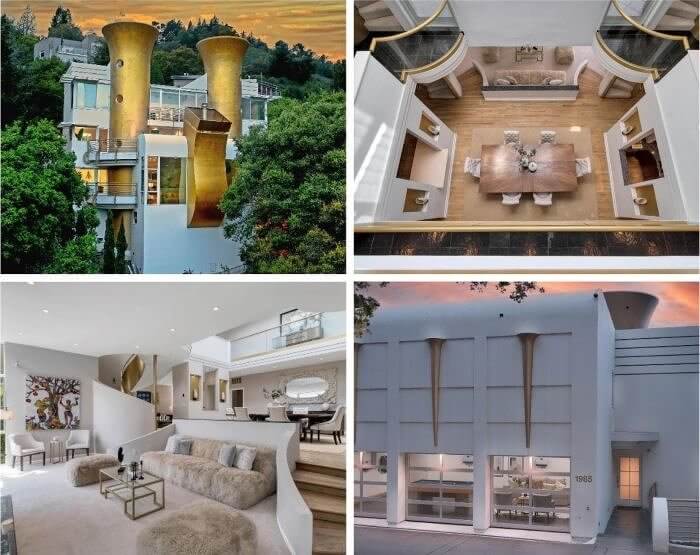 As you step inside, the harmonious theme continues with a "swirling" golden staircase that seems to dance like a melody. Curved balconies adorned with treble-clef railings complete the jazzy ensemble!
Timeless Elegance at Albert H Beach House - $2,250,000
In the quaint town of Escondido, California, the Albert H. Beach House stands as a timeless testament to the beauty of history. This four-bedroom, 2.5-bathroom home may not boast an extravagant size, but it's the exquisite details that truly make this property shine. Built in 1896, this Victorian jewel is a living piece of history, constructed from 125-year-old redwood that tells the story of a bygone era. The inside will take your breath away!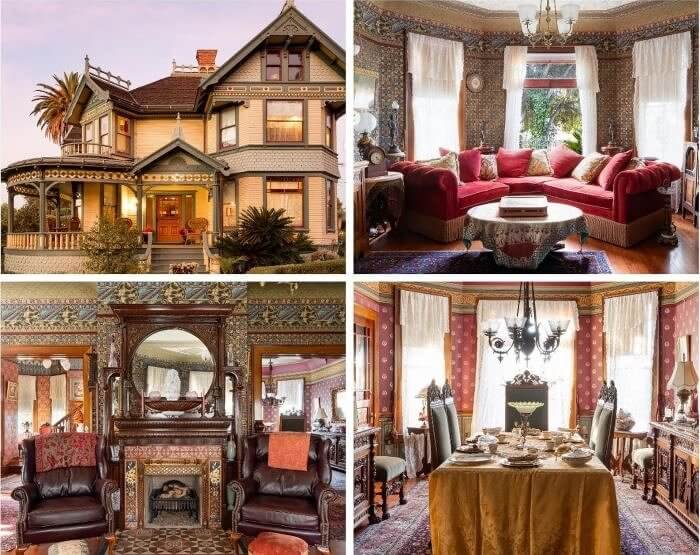 The living room is a treasure trove of historic charm, featuring an original cove ceiling, a fireplace, and a period-correct mantel that transports you back in time!
The Technicolor Time Capsule of Palm Springs - $2,299,000
Step into a technicolor fever dream with a home that feels straight out of an"Austin Powers" movie! Nestled in the desert resort city of Palm Springs, this stunning midcentury-modern residence has remained virtually untouched for 54 years. This rainbow-themed three-bedroom, three-bathroom property was constructed in 1969 and has managed to preserve the essence of that era with remarkable authenticity. From its vibrant colors to its groovy vibe, this home is a true time capsule!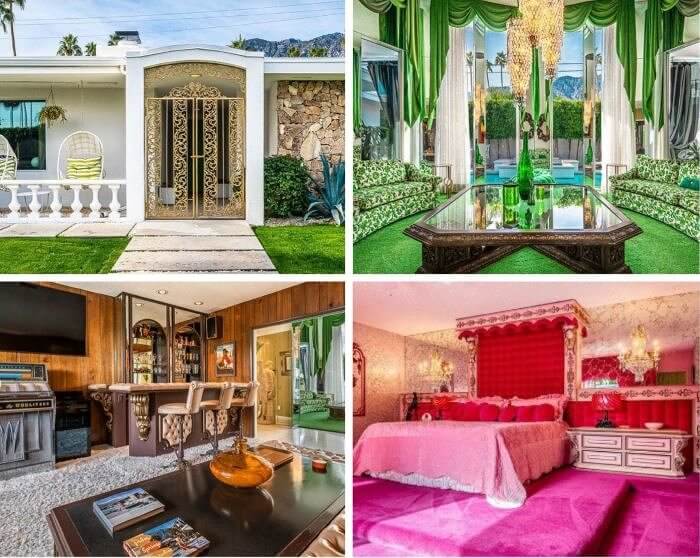 The allure of this property lies not only in its retro charm but also in its ability to capture the spirit of an era that embraced bold colors!
 
The Coastal Haven of Sneads Ferry - $2,400,000
​Embrace the tranquil coastal lifestyle in this waterfront paradise at 400 Waterway Drive in Sneads Ferry, North Carolina. This luxurious 5-bedroom, 4-bathroom home is a dream come true for those who long for the serenity of waterfront living. Situated on the private 4+ acre Iconic Waterway Island, this residence offers more than just a home; it offers a sanctuary with breathtaking views of the Bay, Intracoastal Waterway, and the majestic Atlantic Ocean!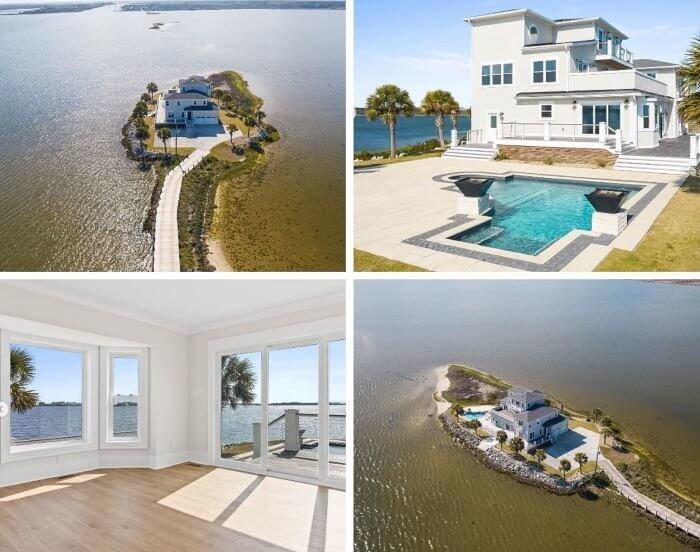 The exterior of this property is a true showstopper, boasting a modern coastal design that harmonizes perfectly with its surroundings. An inviting wrap-around deck offers a front-row seat to the wonders of the water!
This One's an Acid Trip - $2,700,000
In the heart of Edmond, Oklahoma, a property has emerged that defies conventional taste and style. This residence is, in the eyes of some, an ADHD acid trip of a monstrosity. But taste and style are subjective, and this home has certainly captured the attention of many. Owned by Oklahoma native Jarrad Hewett, a well-to-do individual born into the OKC Golf and Country Club aristocracy, this property is as enigmatic as its owner!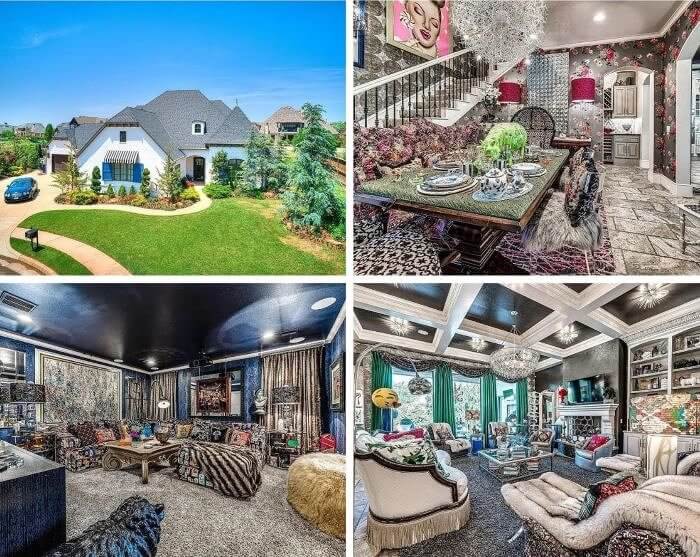 Hewett is known as a "bestselling" author, medium, and multi-dimensional energy expert who offers metaphysical-based books and self-help courses online. The house is a visual spectacle and a symphony of colors!
Having a Whale of a Time - $3,250,000
Nestled in the enchanting Mission Canyon suburb of Santa Barbara, California, the "Whale House" is more than just a home; it's a fantasy hideout come to life. This stunning residence is a true masterpiece of design. The name "Whale House" is aptly chosen, as the exterior of the home is reminiscent of a majestic whale swimming through a sea of greenery. Its whale-shaped silhouette is crafted from rows of gray cedar shingles!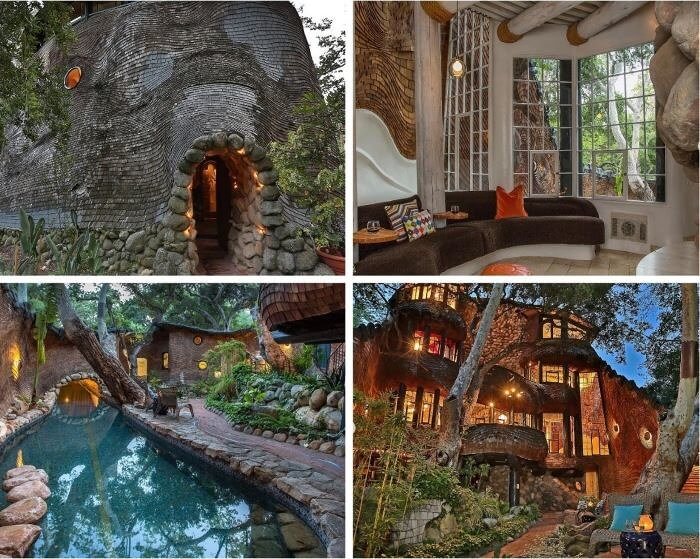 The unusual abode was the brainchild of architect Michael Carmichael and was completed in 1978 after three years of meticulous work involving the dedication of 20 skilled craftsmen!
A Dream Farm on Falk Hill - $3,600,000
Nestled in the serene landscapes of Vinninge, Sweden, this farm for sale promises a dreamlike living experience that captures the essence of countryside tranquility. This property offers the opportunity to turn your dreams into reality. From the pictures you see, it's clear that this farm will leave a lasting impression on you. It's a place that beckons you to immerse yourself in the natural beauty and charm of the Swedish countryside!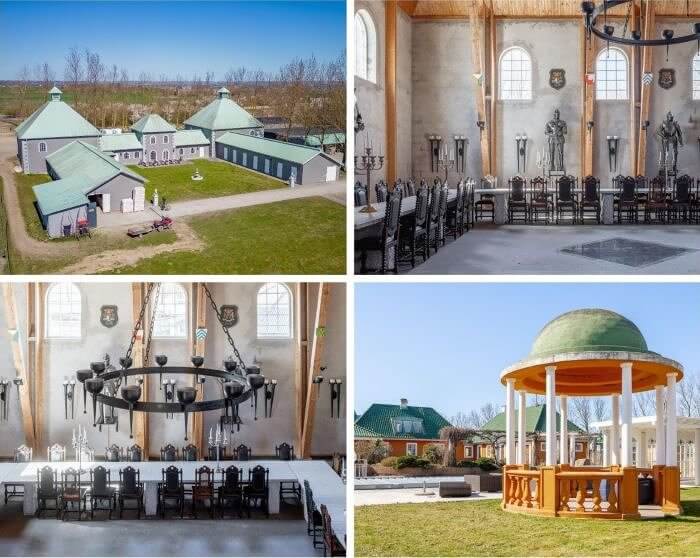 Owned by the renowned horse owner and entrepreneur Göran Falk, the property carries with it a legacy of equestrian excellence and a deep connection to the land!
A Regal Icon at Allains Creek - $3,795,000
This landmark estate stands as an icon of Annapolis Royal, one of Nova Scotia's most historic towns. The elegance and grandeur of this property have been a testament to time, enriching the town's heritage. American industrialist Edwin Stanton Fickes constructed this mansion, a labor of love that spanned six years, commencing in 1929. With unwavering dedication, Fickes insisted on engaging only local tradesmen for the estate's construction, a testament to his commitment to the community!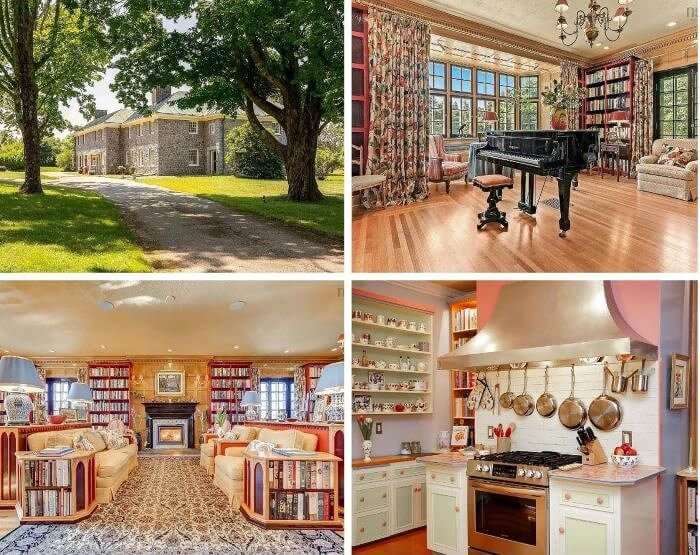 This effort results in a residence that is more than just a home; it's a living piece of history. It stands as a reminder of an era gone by when craftsmanship was paramount!
A Hillside Oasis in Newcastle - $3,900,000
Perched atop a picturesque 10-acre hillside in Newcastle, Oklahoma, this striking contemporary residence stands as a statement house of luxury and impeccable taste. This property seamlessly marries nature's beauty with modern living comforts. As you approach this hillside oasis, you'll be struck by the captivating blend of sky and land, artfully brought indoors through thoughtful design. The floor plan of this residence is tailored for both comfortable daily living and grand-scale entertaining!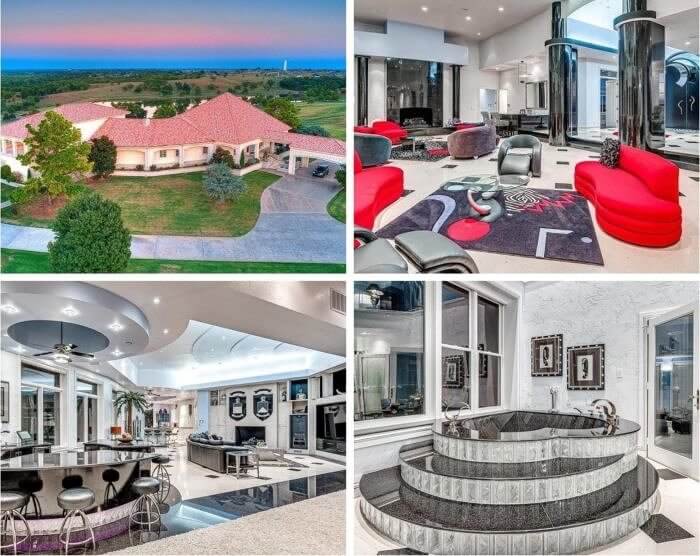 One of this property's crowning features is its breathtaking views. From almost every room, you'll be treated to fantastic vistas of the South Canadian River and 360-degree skylines!
A Royal Retreat at Smith Lake - $4,900,000
Prepare to live like royalty in the enchanting "Castle at Smith Lake," a breathtaking waterfront residence located in Bremen, Alabama. This majestic abode, built in 1980, offers a lifestyle that combines regal elegance with the tranquility of waterfront living. Situated behind a gated entry, this home boasts panoramic views and a sense of privacy that envelops you in a world of serenity. The four-bedroom, four-bathroom house spans an impressive 4,974 square feet!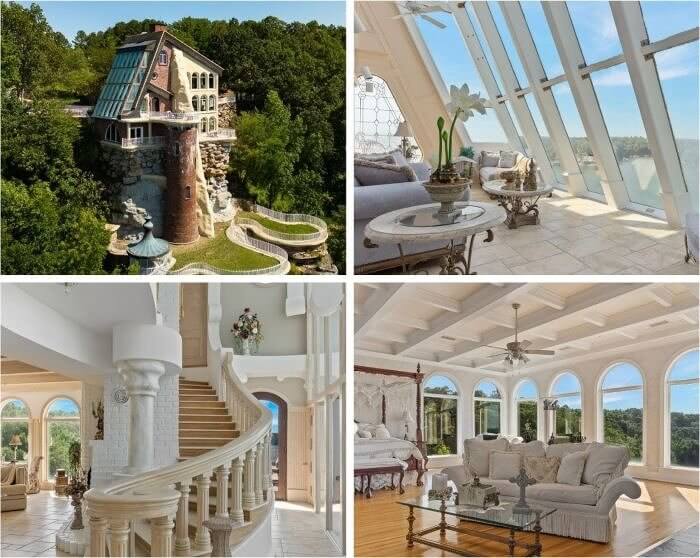 It's adorned with a host of amenities, including three fireplaces, a jetted tub, 9-foot ceilings, walk-in closets, hardwood and stone floors, a butler's pantry, and a magnificent stone staircase!
A Home to Be Proud Of - $4,995,000
This residence stands as a testament to the timeless elegance of a bygone era in the heart of Birmingham, Alabama. This property is a masterful preservation of architectural splendor. As you step into this gem, you'll be greeted by the original floors crafted from oak, a material renowned for its durability and exquisite grain patterns. The living room features an original cove ceiling, a fireplace, and a period-correct mantel from a different time!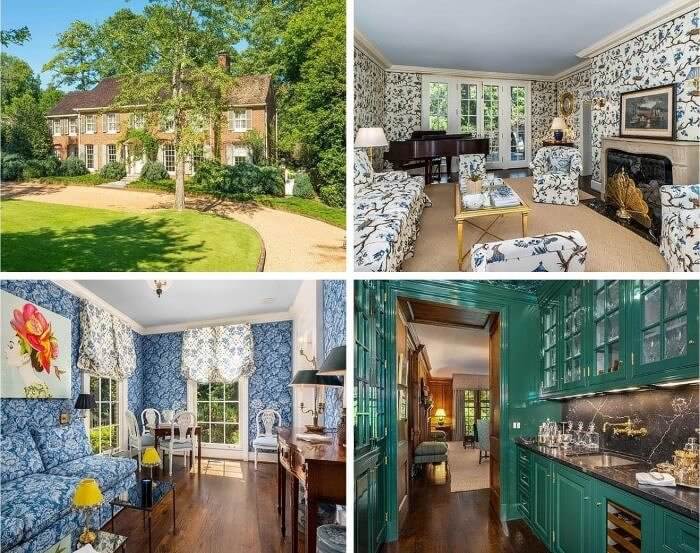 The entire interior is wrapped in original fabrics, furnishings, and light fixtures. But perhaps one of the standout features is the bottle green kitchen in all its splendid glory!
The Marvel of Modern Living - $5,300,000
Prepare to be awestruck by a property that defies convention and redefines the boundaries of luxury living. This unique residence in San Diego, California, stands as an architectural marvel, showcasing an extraordinary combination of luxury, functionality, and technological advancements. This property features a one-and-a-half horsepower motor that allows the second floor to spin. Yes, you read that correctly—this home can rotate. A full rotation can be completed in as little as 33 minutes!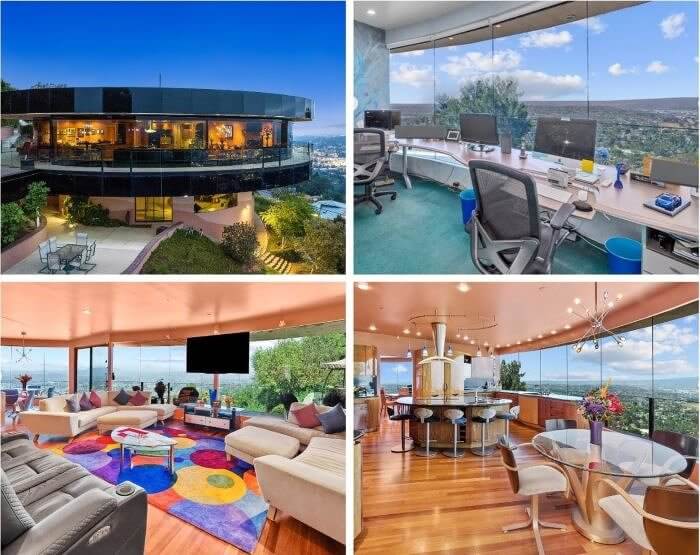 What's more, you have the freedom to choose the direction of rotation, adding a touch of customizable luxury to your daily living experience. It's a testament to the power of imagination!
The Elegance of Winter Park - $5,400,000
Discover the epitome of elegance in this stunning Winter Park home, thoughtfully curated with exquisite designer details. This transitional French provincial residence graces a spacious elevated corner lot in the quiet and secluded areas of Winter Park. The current owner has transformed this designer home inside and out and is in pristine "brand new condition." It spans 5,100 square feet and offers a luxurious and comfortable lifestyle that leaves no detail overlooked!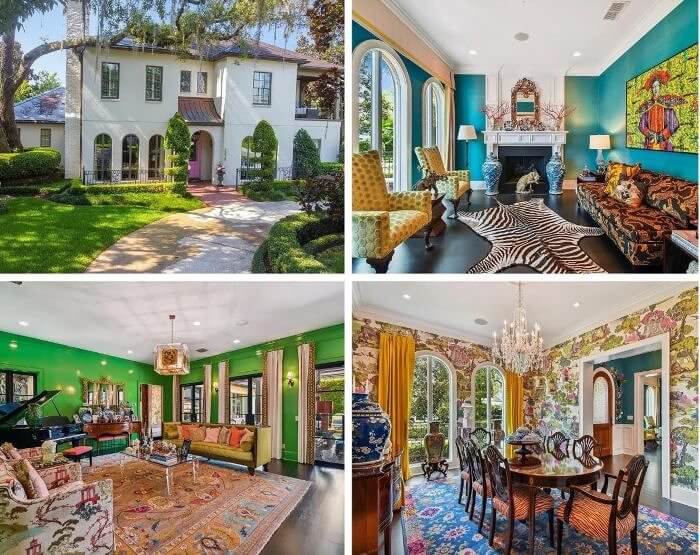 With 800+ square feet of outdoor space, it boasts five bedrooms, five bathrooms, one-half bathroom, a 3-car garage, a sparkling pool, a patio, and an outdoor shower!
The Restored Legacy of Frank Lloyd Wright - $7,995,000
Step into the world of architectural genius with Westhope, a Frank Lloyd Wright house that has recently been listed after a painstaking restoration that lasted two years. Designed by Wright in the late 1920s for his cousin, Richard Lloyd Jones, a publisher for the Tulsa Tribune, this residence is not just a home; it is a testament to the unparalleled genius of one of the greatest architects of the 20th century!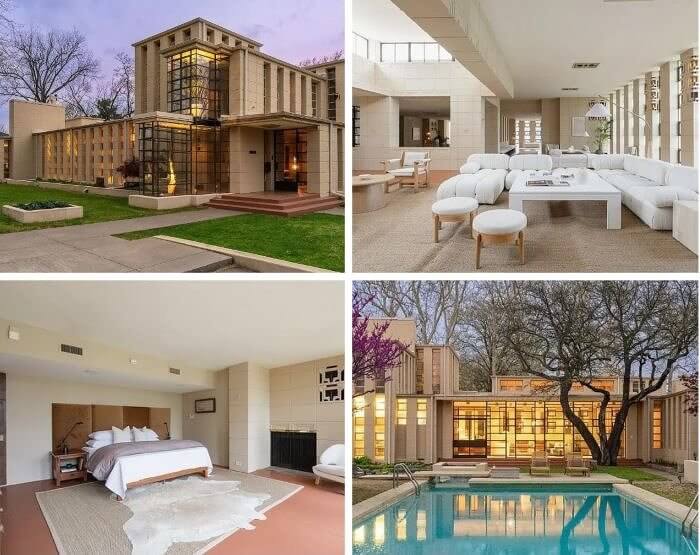 Spanning an impressive 10,000 square feet, this architectural marvel is constructed from cement "textile" blocks, a signature Wright style, and features alternating piers of square glass windows—over 5,000 pieces of glass were used!
You Will Never Grow Old in This Home - $8,500,000
Prepare to be transported to a world of wonder in Alaska's priciest pad, which spans an astonishing 17,000 square feet and boasts themed rooms that seem to have been plucked straight from the pages of a fairytale. This home was christened "Second Star" for its enchanting influences drawn from the "Peter Pan" books. In the beloved fairytale, Neverland is accessed through the iconic phrase, "second star to the right and straight on till morning!"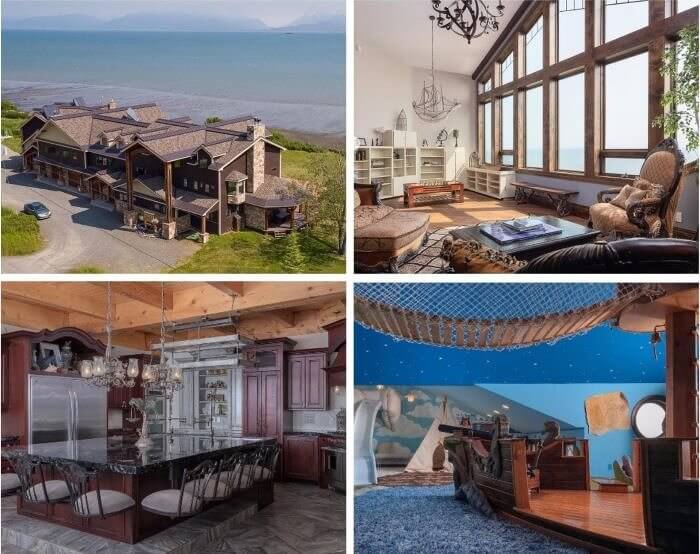 In the real world, Alaska's "Second Star" is nestled near Homer, Alaska, on 2.5 acres of oceanfront property that overlooks the breathtaking Kachemak Bay and the majestic surrounding mountains!
A Castle With a Bowling Alley - $8,916,900
Experience the pinnacle of grandeur in the heart of Billings, Montana, where a 30,843-square-foot castle reigns supreme on 100 acres of captivating land. This extraordinary estate is a true masterpiece of architectural splendor, replete with all the features one would expect from a castle: a majestic turret, a moat, and a drawbridge. But this Montana castle is far more than a mere historic relic; it's a modern marvel designed for contemporary living and entertainment!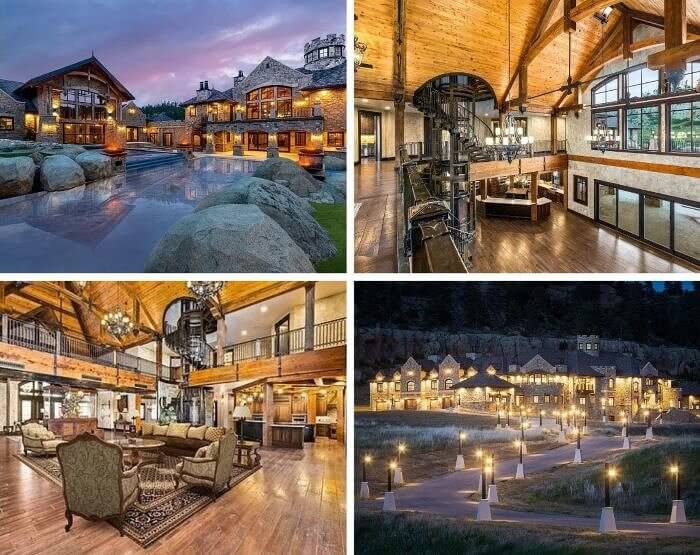 Perched on top of a hill, this castle offers panoramic views over the city, inviting you to savor the beauty of the Montana landscape. There's even a private bowling alley!
Living the Hollywood Dream in Davenport - $11,750,000
Prepare to enter Hollywood's dazzling world right in the heart of Central Florida, where an outlandishly themed mansion has hit the market. This larger-than-life shrine to Tinseltown, nestled in Davenport, is a testament to the glitz and glamour of the silver screen. This mansion is a true Hollywood-inspired spectacle, with 20 silver screen-themed bedrooms and 25 bathrooms sprawled across 14,297 square feet. The over-the-top nature of the property extends throughout!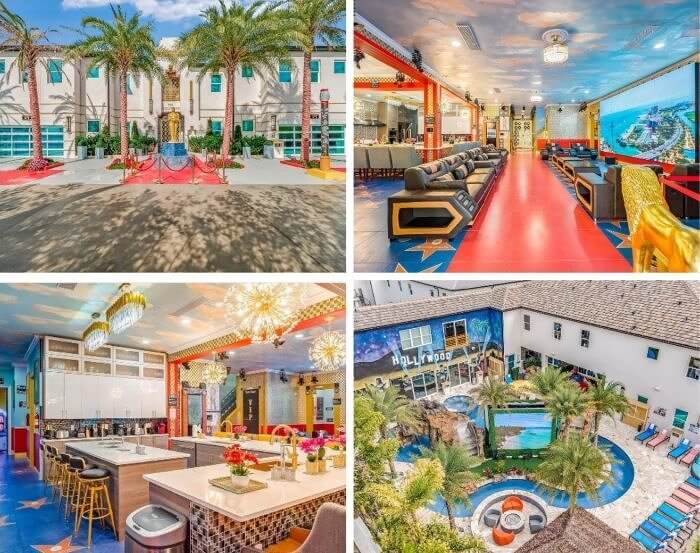 There is a resort-style pool complete with a lazy river and a volcano, a bowling alley adorned with Oscars and red carpet scenery, and a private theater where you can enjoy the magic of cinema!
Bentley Hall: A Central Oasis in Florida - $12,888,000
In the heart of Central Florida, just minutes away from Walt Disney World and Universal Studios, lies an incredible estate known as "Bentley Hall." This property offers a lifestyle combining world-class amenities with the privacy and tranquility of your oasis. Situated on a massive 2-acre lot, this estate is a testament to luxury living in one of the most sought-after areas of Central Florida. "Bentley Hall" is a world away from the bustling attractions!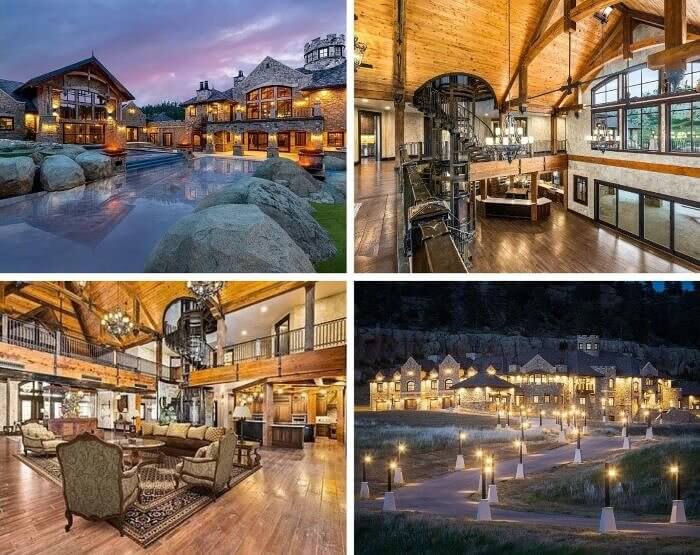 Located within the prestigious Bentley Park community in the Bay Hill area of Dr. Phillips, this estate offers the allure of a luxurious home and the assurance of secure living!
A Modern Camp Home in Bigfork, Montana - $17,500,000
Discover a modern masterpiece nestled in the heart of nature, where the majestic mountains form the perfect backdrop to an extraordinary home overlooking the pristine shores of Flathead Lake in Bigfork, Montana. This remarkable camp home is a true testament to the harmony between contemporary living and the natural world. This residence is perched on the flanks of a long hill, slowly revealing its master house, lodge, and guest house!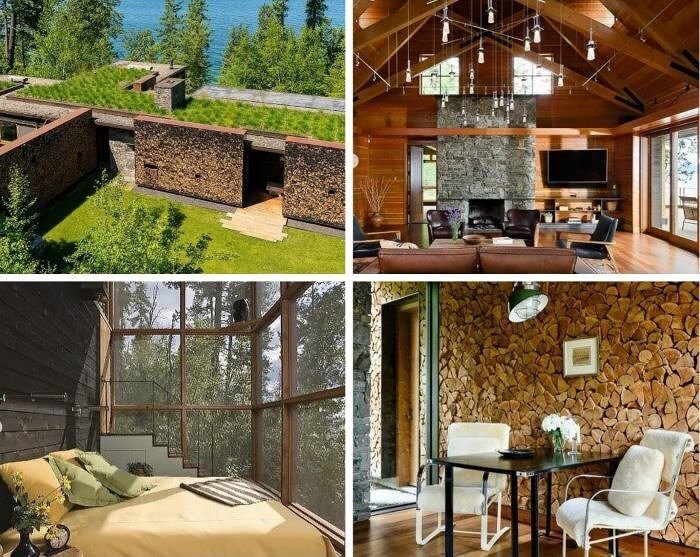 The architecture seamlessly blends various materials—stone, wood, glass, and grass—creating a harmonious connection with nature. The house doesn't just sit within the landscape; it becomes a part of it!
The Mirrored Oasis of Joshua Tree - $18,000,000
Prepare to be mesmerized by a home that seamlessly blends into the breathtaking landscape of Joshua Tree National Park, where the concept of desert living is redefined. This remarkable residence boasts a fully mirrored exterior that reflects the beauty of its surroundings. The sleek 5,500-square-foot house is a marvel of modern design. It's an all-electric residence with a carbon footprint that is virtually zero, a testament to its commitment to eco-friendliness!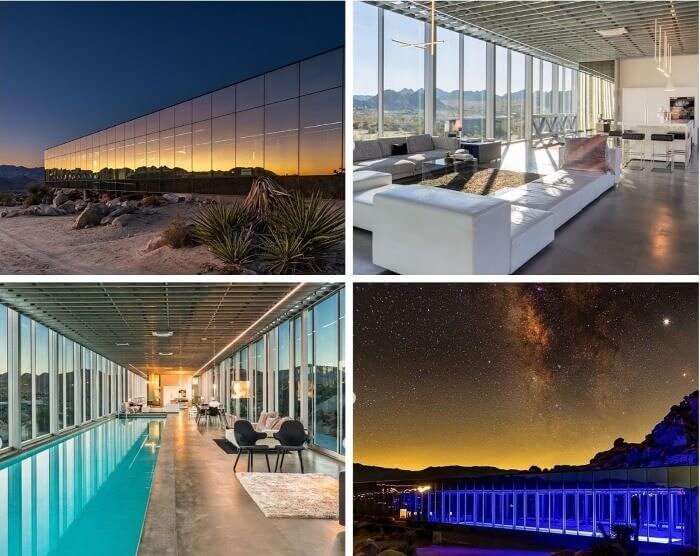 A 100-foot LED-rimmed pool beckons you to take a dip while floor-to-ceiling glass doors invite the natural beauty of the desert indoors. Even the shower stalls are crafted entirely from glass!
Entrelagos: The Artistry of Windermere - $19,500,000
Step into a realm of exquisite artistry and unparalleled luxury at Entrelagos, an extraordinary estate situated on a private peninsula on the prestigious Butler Chain of Lakes in Windermere, Florida. This three-story mansion spans an impressive 14,706 square feet, and every detail has been meticulously crafted with exceptional attention. From its inception, Entrelagos was envisioned as a masterpiece, and it took almost a decade and $8 million to bring this vision to life!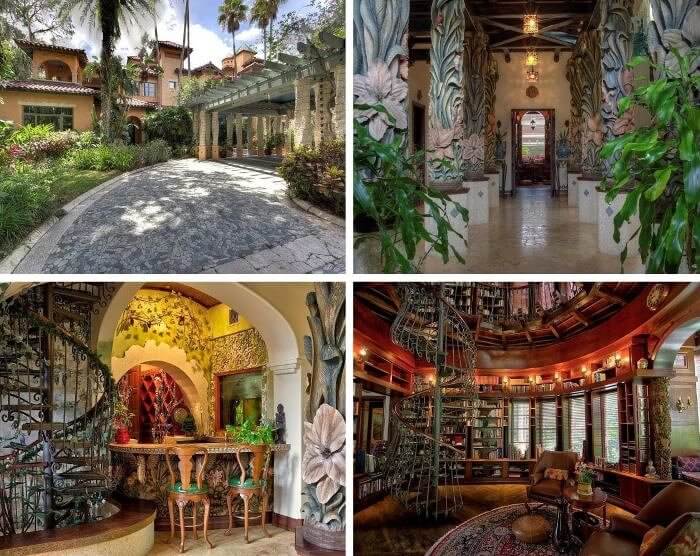 Massive wooden columns and interior doors are hand-carved and painted, transforming them into works of art. The main entry door itself is a custom creation, inlaid with mother of pearl!