Do you become frustrated because your kitchen counters are always cluttered or you have nowhere to store extra blankets or cushions? Well, you've come to the right place! When dealing with limited space in your home, we understand that every square inch is important. But by using these effective storage solutions, your home will instantly feel lighter, and you will have the space to breathe again.From sofa beds with storage to broom and mop organizers, we have everything you need to make your house feel like home again.Here are 30 clever storage hacks that will instantly make your home feel bigger!
Sofa Bed With Storage
Sofa beds are multipurpose furniture that can be used as seating and a bed for overnight guests. Consider purchasing a model that has storage space hidden in the base of the seat. This storage space is great for packing away items like extra pillows, blankets, or even smaller items like board games, books, or electronics. So check the dimensions and depth of the storage compartment before you purchase your sofa bed.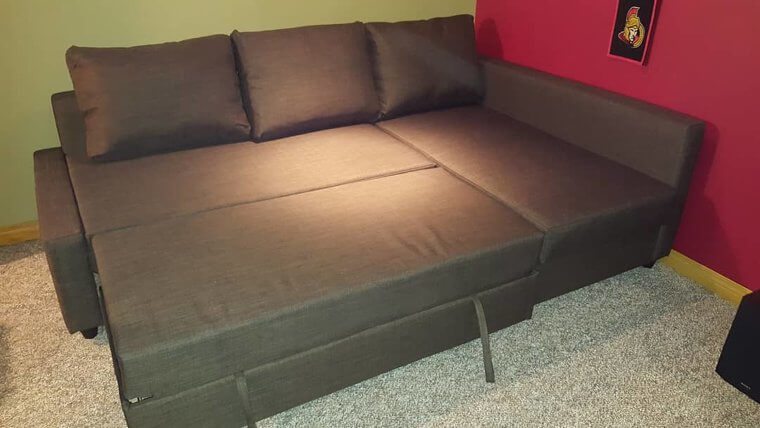 Look for a sofa bed with storage that offers easy access to the storage area. Smooth gliding mechanisms or hinges make it convenient to open and close the storage compartment without any hassle.

Put a Sponge Holder in Your Fridge To Keep It Neat and Tidy
A sponge holder can be a useful tool for organizing your refrigerator. It's perfect for keeping small items such as sauce packets and seasoning sachets organized. Place them neatly in the holder to avoid losing them or clogging your refrigerator shelves. You can stick plastic sponge holders to the interior of your fridge or any other flat, smooth surface; just look for a holder that has a strong adhesive backing.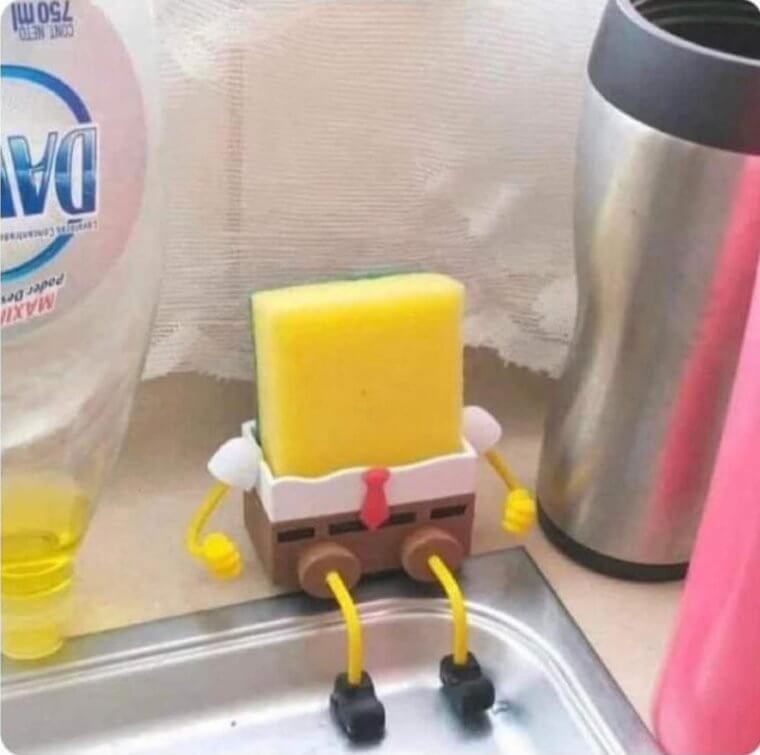 Place the sponge holder in your refrigerator so it is easily accessible and doesn't hinder other items. Consider placing it on a shelf, on the door, or in the vegetable drawer.

Lazy Susan
Lazy Susans are a fantastic solution for maximizing the use of any corner space and preventing dead zones where items can be difficult to access. Lazy Susans come in various sizes and shapes, including round, square, and kidney-shaped. Consider the shape and dimensions of your corner space when selecting one for yourself. Round or kidney-shaped ones are often preferred for corner cabinets, as they make better use of the available space.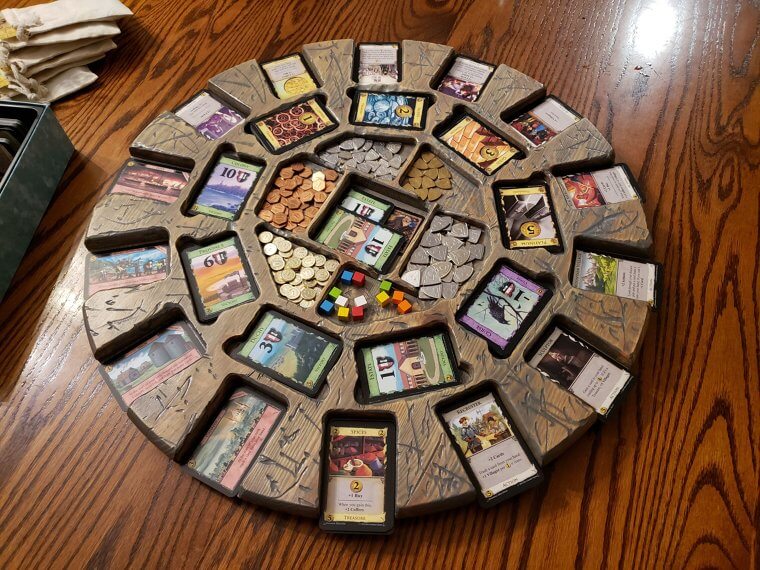 Being able to turn your Lazy Susan around to access things in the back is a great advantage. Simply spin the Lazy Susan to bring the desired item into view and reach.

The Clever Use of Shower Rings for Belt Storage
Belts can be a real challenge to keep organized and untangled. Using shower curtain rings to organize and hang belts is a practical solution to keeping them easily accessible. You will need shower curtain rings (preferably with a larger opening), a wardrobe rod, or wall curtain rod, or a simple clothes hanger. Hook the shower rings onto the rod, and once they are in place, you can hang the belts on them.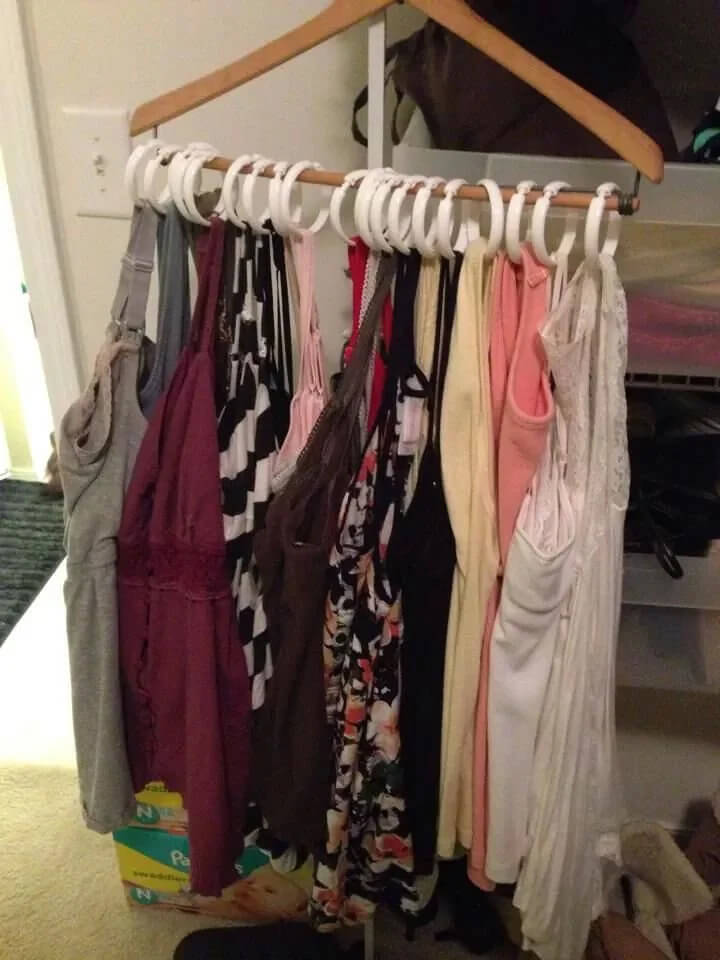 Open each shower curtain ring and thread it through the belt buckle. If your belts have a double-loop design, you can pass the shower ring through one of the loops.

Coffee Table With Storage
If you're looking for a chic and functional way to declutter your living space, a coffee table with hidden compartments is a great option to consider. Coffee tables with storage typically come with drawers, shelves, or lift-top compartments. Drawers are great for hiding smaller items like remote controls or coasters. Shelves provide open storage for books, magazines, or display items. Lift-top compartments can be used for larger items like blankets or board games.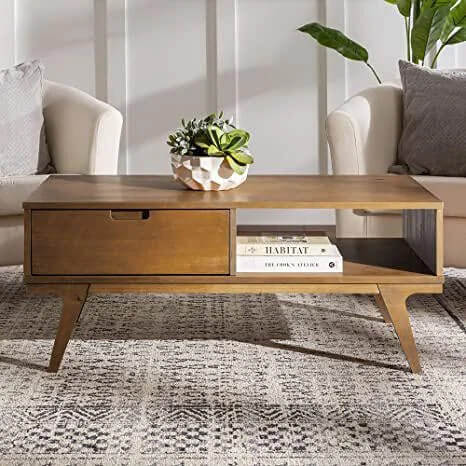 Adjustable height, power outlets, and magazine holders are just a few of the optional features that may be found on some tables. They may be perfect for your wants and preferences.

Storage Bins Inside Bathroom Cabinet Doors
To begin, you should measure the inside of your bathroom cabinet doors to find out how much room there is for storage containers. Take measurements of the area you intend to use, including its width, height, and depth. Based on your measurements, look for storage bins or containers that fit the available space. Consider using clear plastic bins or wire baskets, as they allow you to see the contents easily.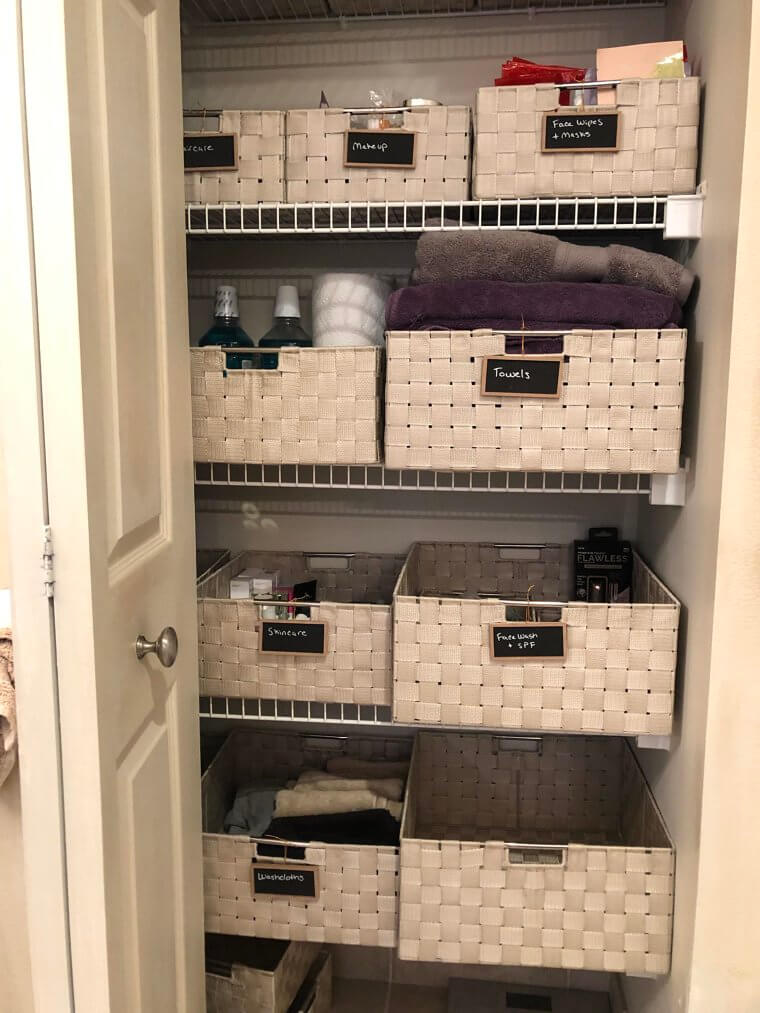 Appropriate mounting hardware depends on the type of storage bins. For plastic bins, you may use adhesive hooks or clips, while wire baskets can be hung using brackets and hooks.

Hanging Closet Organizer to Store Board Games
A hanging closet organizer is a space-saving solution for storing board games. Choose a hanging organizer with multiple shelves. Some hanging organizers have extra pockets or compartments on the sides or at the bottom. Utilize these spaces to store game accessories, such as rulebooks, score sheets, playing cards, or small game components. You can also use adhesive hooks on the sides to hang bags or pouches for storing dice or tokens.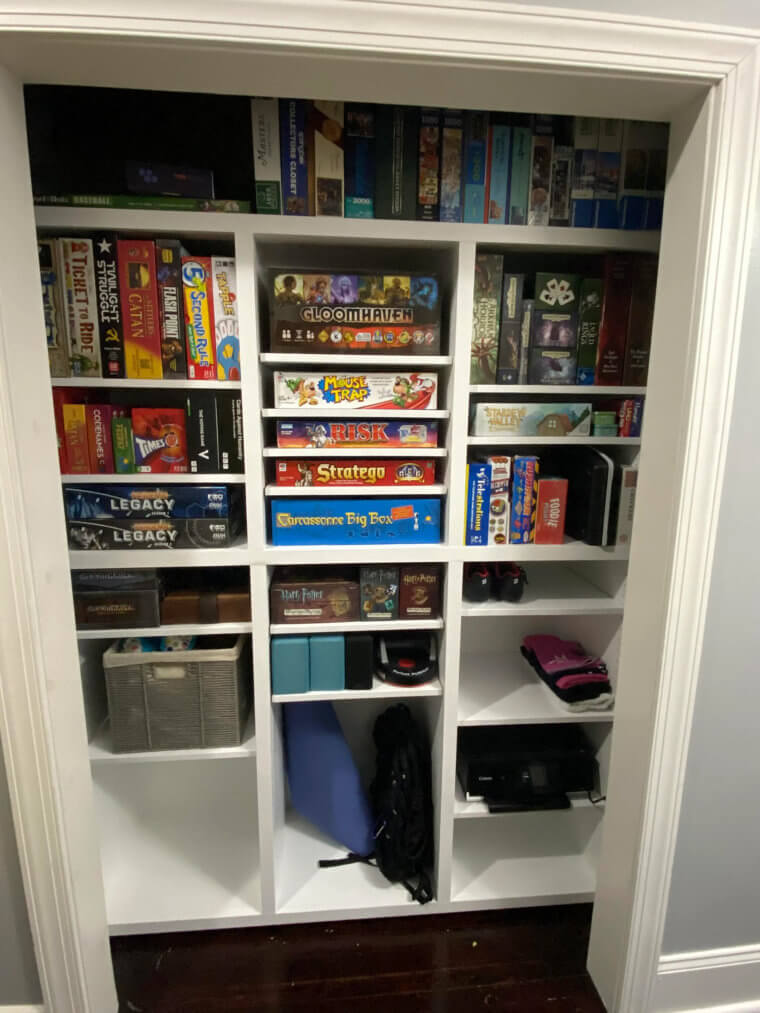 To make life easier, consider labeling or tagging each compartment or shelf. You can use sticky notes, adhesive labels, or even create your own small tags to attach to the organizer. 

A Bed Frame With Built-In Drawers
If you want to create extra space, a bed with drawers is a smart purchase. Determine the number of drawers you require based on your storage needs. These bed frames typically have two to four drawers. When shopping for a bed with drawers, it's important to get one that will last a long time and is sturdy. Check that the drawers can be opened and closed without much effort.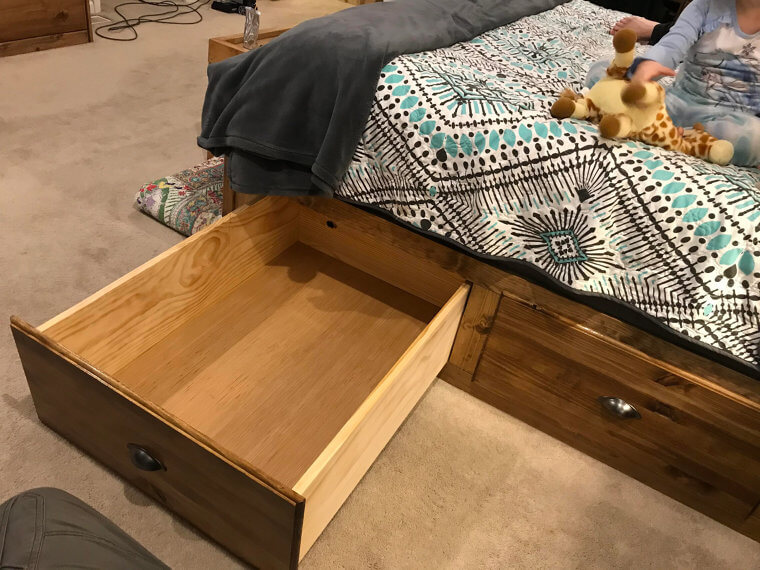 Bed frames with drawers need space to be opened fully, so check the dimensions of your bedroom. Take into account the location of other pieces of furniture and any doorways or hallways.

Organize a Charging Station in a Drawer
Creating a charging station in a drawer is a great way to keep your devices and cords neat and accessible. Choose a drawer that is spacious enough to accommodate your devices and charging equipment. It should be easily accessible and close to a power source. After organizing the cables from the devices to the power source, use cable clips, ties, or Velcro straps to keep the cables organized and prevent them from tangling.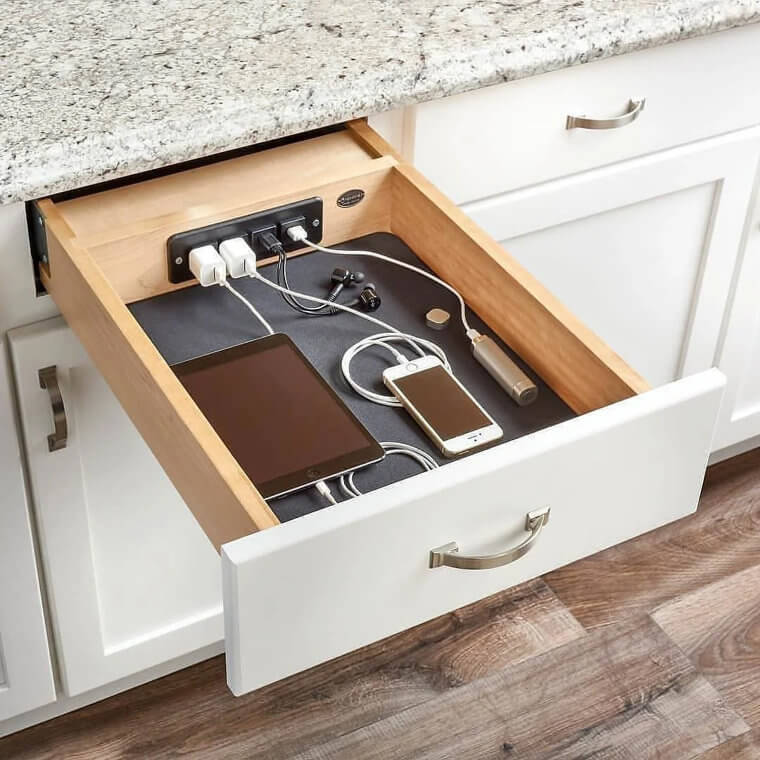 Place your devices in the charging dock or organizer, ensuring they are properly connected to the chargers. Arrange them in a way that makes it easy to access and identify each device.

Shoes Over-The-Door Organizers
Shoes over-the-door organizers are versatile storage solutions that can be used in various areas of your home. Hang a shoe organizer on the back of your closet or bedroom door to keep your footwear neatly organized and easily accessible. You can also use the pockets to store accessories like belts or scarves. Before placing your shoes in the organizer, sort them and categorize them based on style, season, or frequency of use.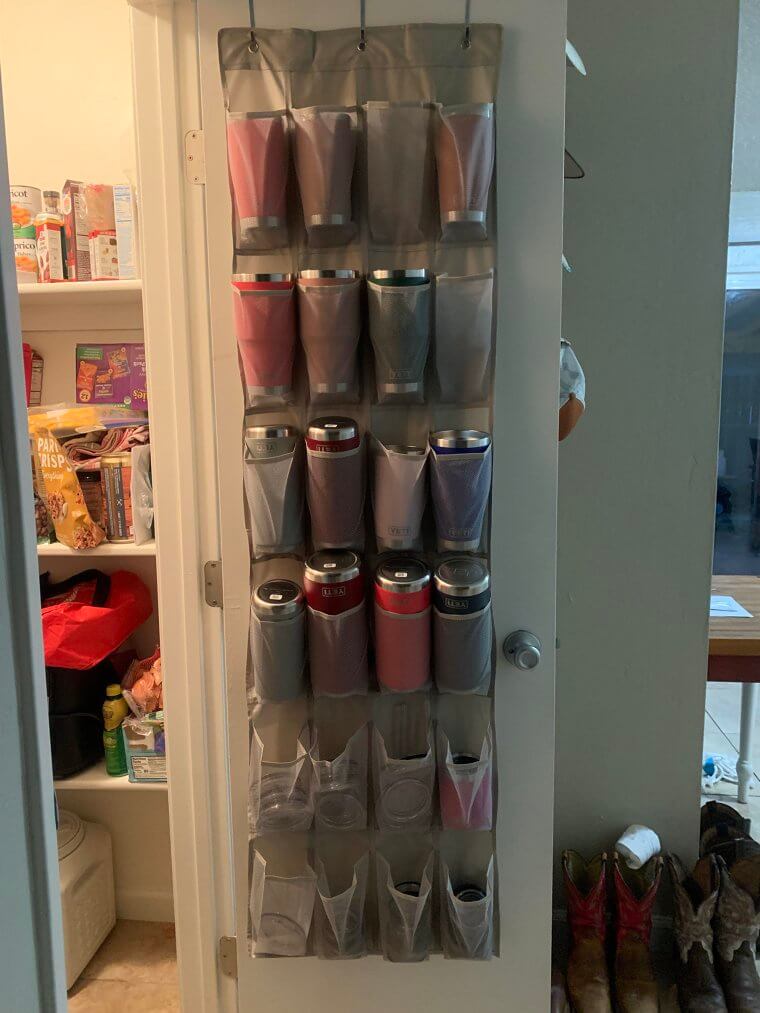 Over-the-door shoe organizers often have small compartments in addition to larger ones for shoes. These can be used to store accessories like shoelaces, shoe inserts, or small shoe care items.

Magnetic Spice Jars
The use of magnetic containers is a fantastic space-saving trick for the kitchen. Of all the magnetic containers, the most common ones are metal jars or tins with a magnet on the back. You may stick them to your metal backsplash, magnetic spice rack, or refrigerator. The idea behind this is to make better use of the vertical space in a kitchen, freeing up room on the counter or in a cupboard.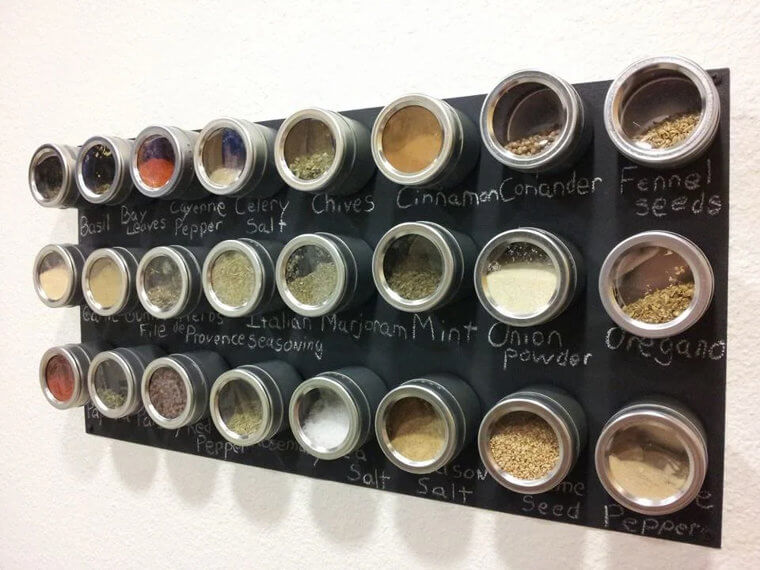 Magnetic jars are great for keeping snacks and other small objects neat and easily accessible. This is a smart way to make the most of the space in your kitchen.

Organize Your Jewelry
Organizing your jewelry can help prevent tangles and ensure that you can find what you need quickly. Divide your jewelry into categories such as necklaces, bracelets, earrings, rings, and watches. This will make it easier to store and locate specific items, as well as save some space. Invest in a jewelry box or tray with compartments and dividers. These are specifically designed to keep your jewelry organized and prevent tangling.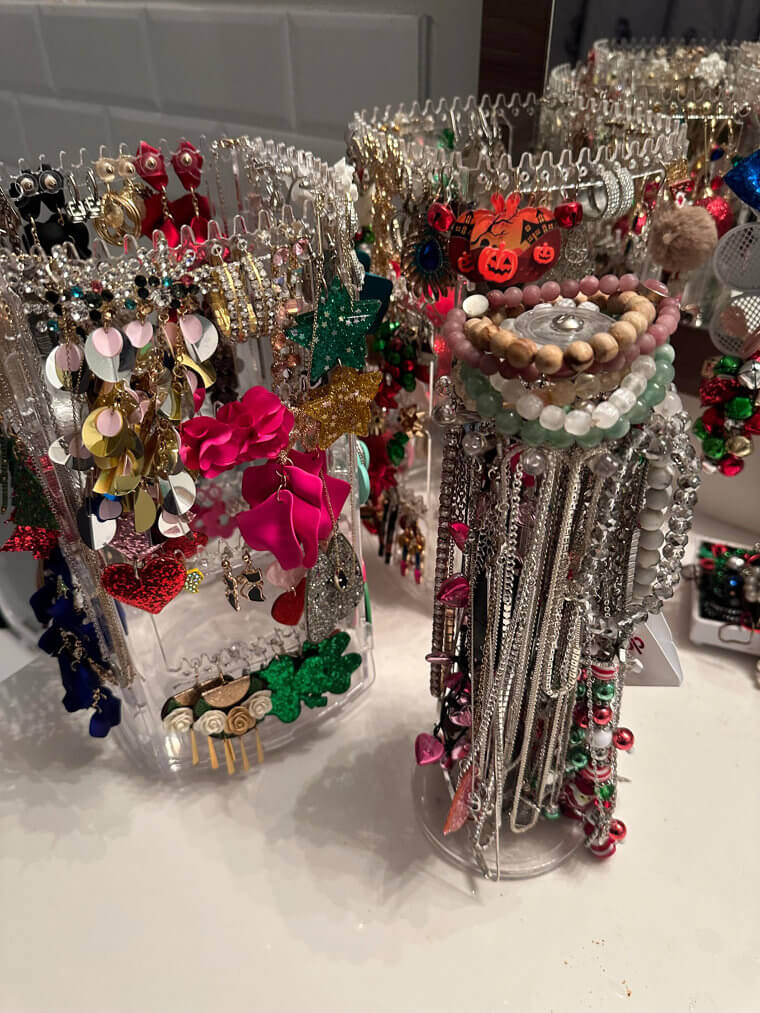 Hang necklaces on hooks or a jewelry tree to prevent them from getting tangled. You can use adhesive hooks on the wall or purchase a decorative jewelry organizer with hooks.

Shelf Dividers
Shelf dividers are practical tools used to separate and organize items on shelves, making it easier to keep things neat and accessible. They help maximize storage space by preventing items from toppling over or mixing together. Dividers also make it easier to locate and access specific items quickly. Whether you are organizing a retail space, a pantry, a closet, or a bookshelf, shelf dividers can be a valuable organizational tool.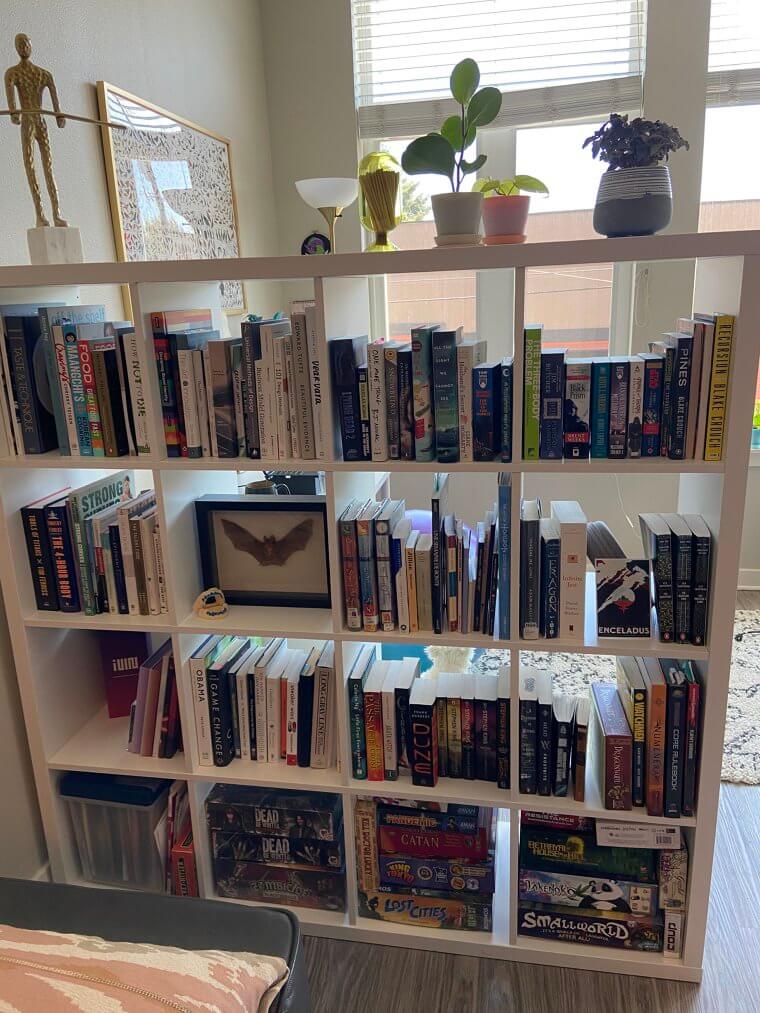 Shelf dividers come in different sizes and materials to meet a wide range of requirements and tastes. Metal, plastic, and fabric dividers are available, as well as freestanding and clip-on varieties.

Stack Baking Sheets Vertically Using Tension Rods
By making slots in your cabinet with tension rods, you can store baking sheets or platters vertically, making them easier to see and reach without having to take them out of a stack.  Check the height and depth of the cabinet to make sure that the tension bars will fit. Put the bars in the cabinet in pairs along the same line to make as many sections as you need.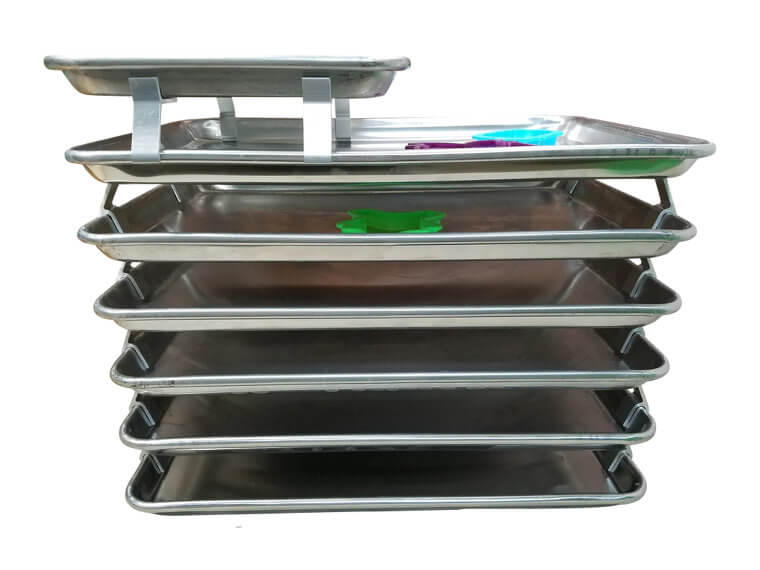 Place your baking sheets, muffin tins, or platters vertically between the tension rods, utilizing them as dividers. Slide each item into its designated slot, ensuring it is secure and won't topple over.

Vacuum Storage Bags
Vacuum storage bags are a space-saving option for storing bulky textiles like bedding and cushions. These bags are ideal for maximizing closet space, suitcase capacity, and other storage options. To depressurize the bag, use a vacuum cleaner or a manual pump, as most vacuum storage bags have one-way valves or airtight seals. Compressing the contents of the bag is as simple as attaching the vacuum cleaner nozzle or pump to the valve.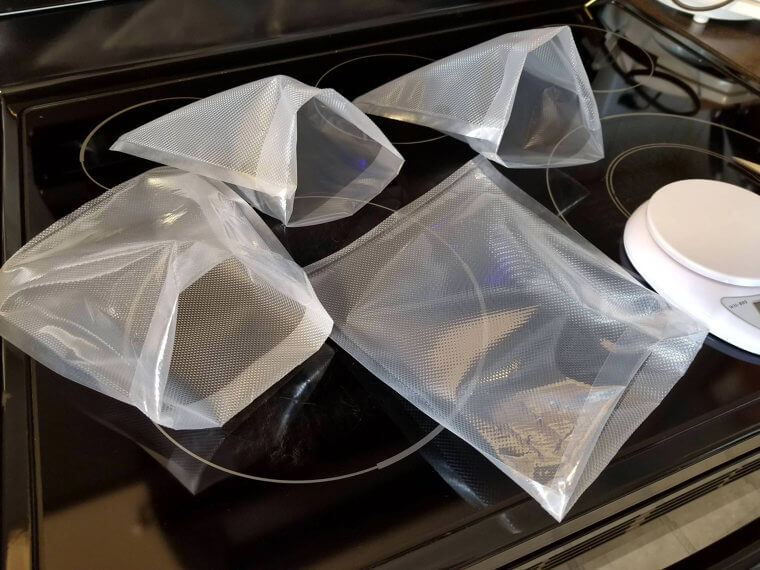 Vacuum-sealed bags can reduce the volume of stored items by up to 50%. This can be especially useful when storing bulky items like winter clothing or bedding during the offseason. 

DIY Hat Hanger
Take the plastic clips, like clothespins or binder clips, and arrange them evenly along the clothes hanger you have chosen. Leave some space between each clip to accommodate your hats. If the clips have hinges, open them and position them perpendicular to the hanger so that they can hold the hats securely. Once you have the desired arrangement, use adhesive or a hot glue gun to attach the clips to the hanger.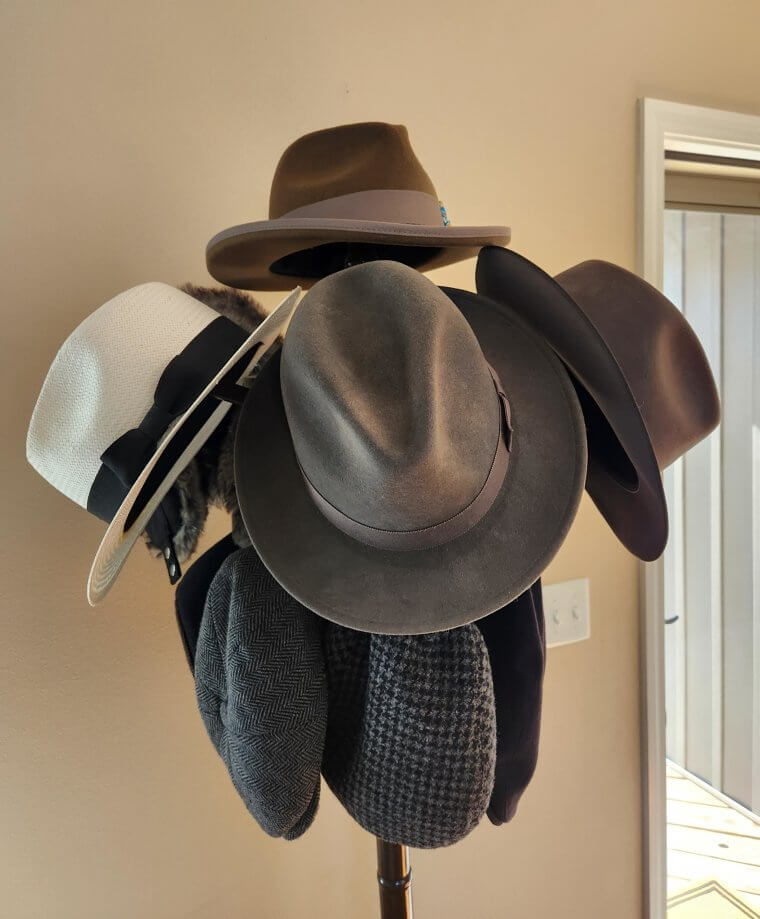 You can spray-paint the hanger to give it a new look. Pick a shade that meshes well with the rest of your furnishings or your taste, and display your hats in style!

Macrame Hammocks
Macramé hammocks are not only visually appealing but also practical for keeping your kitchen countertops decluttered. You can use hooks or nails to secure the dowel to the wall or underneath a kitchen cabinet. Once it's securely in place, you can start using the hammock to store your produce, such as fruits, vegetables, or even herbs. The hammock will hold the items and keep them off your countertops, freeing up valuable space.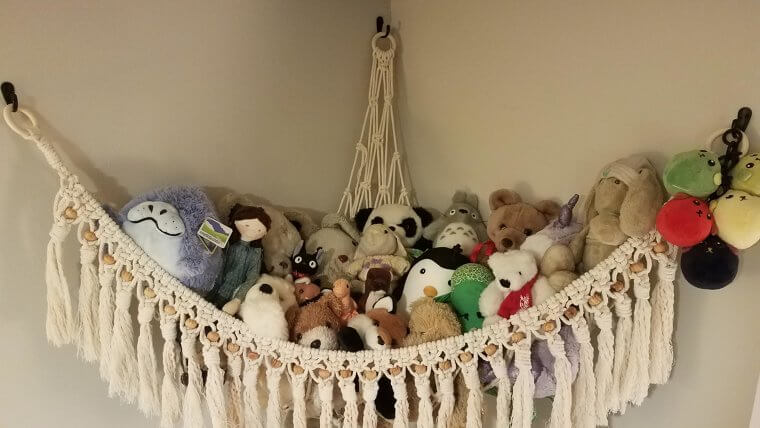 Enjoy the space-saving benefits of your homemade macramé hammock in your kitchen! Just remember to consider the weight capacity of your macramé hammock and avoid overloading it with heavy items.

Socks and Underwear Storage
 A sock and underwear organizer is a handy storage solution for keeping socks and underwear neat and organized. It typically consists of compartments or dividers that allow you to separate and store your socks and underwear in a tidy manner. There are several options available on the market designed specifically to maximize space in your dresser. One possibility is drawer dividers, which can be adjusted to the appropriate size to accommodate any drawer.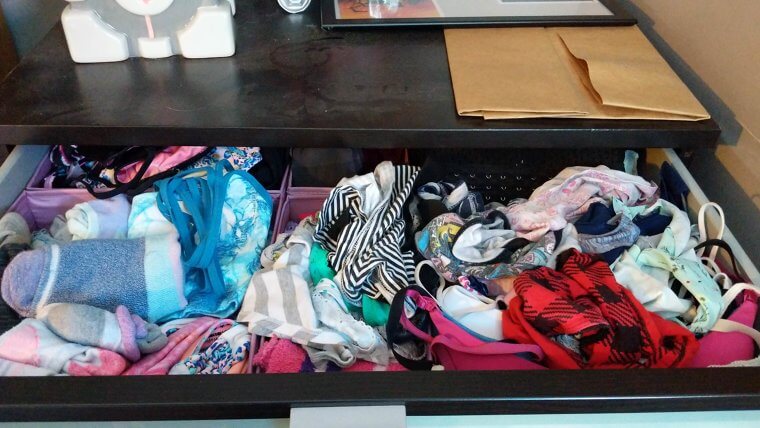 As an alternative, cubby organizers provide individual cubbies for stowing a variety of objects. For easy and efficient access, look for organizers with smaller cubbies designed specifically for socks and underwear. 

A Mesh-Pocketed Shower Curtain
A shower curtain liner with built-in mesh pockets is a practical solution for organizing your shower and keeping all your shampoos, conditioners, and other bath products in one place. These mesh pockets provide separate compartments for your various items, preventing them from cluttering the limited space in your shower and making them easily accessible. The mesh material allows for water drainage, preventing the formation of mold or mildew in the pockets.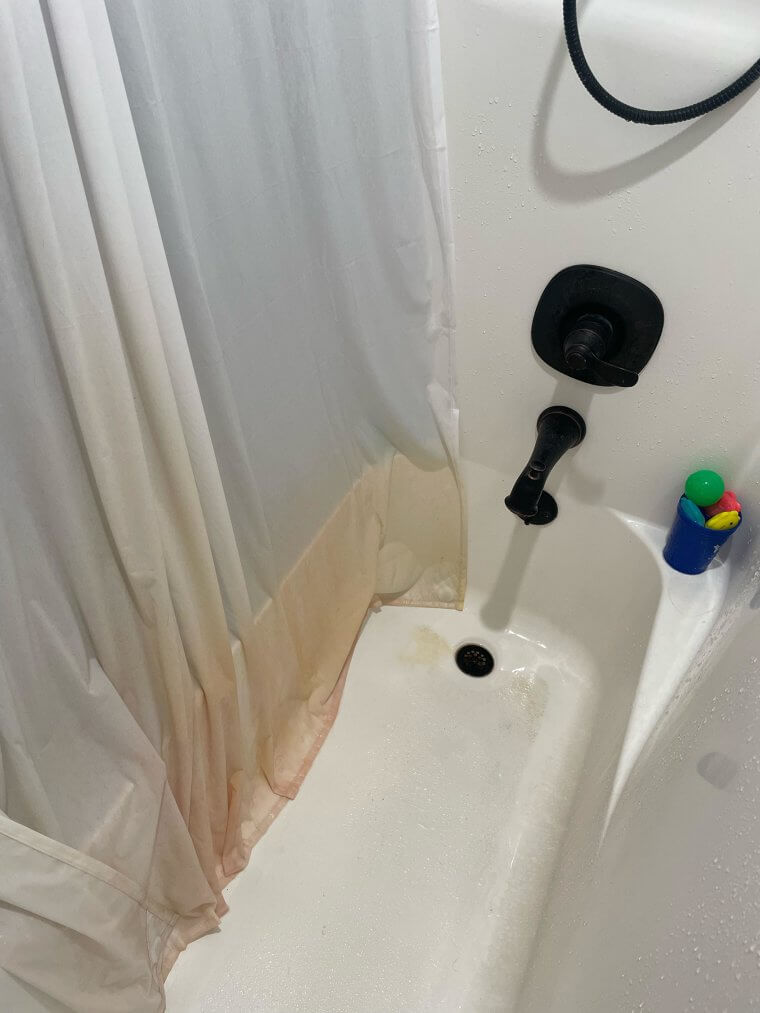 Most mesh-pocketed shower curtain liners can be washed in the washing machine for convenience. After detaching the liner, toss it in the washing machine for a quick and easy cleanup.

Cascading Hangers
Cascading hangers, or cascading closet organizers, are specially designed hangers that allow you to hang multiple garments vertically from a single hook. The idea behind them is to increase storage capacity in your closet. Instead of using individual hangers for each item, you can use a cascading hanger to hang several items, one below the other. This method optimizes space, so you can store more clothing without installing extra racks or rods.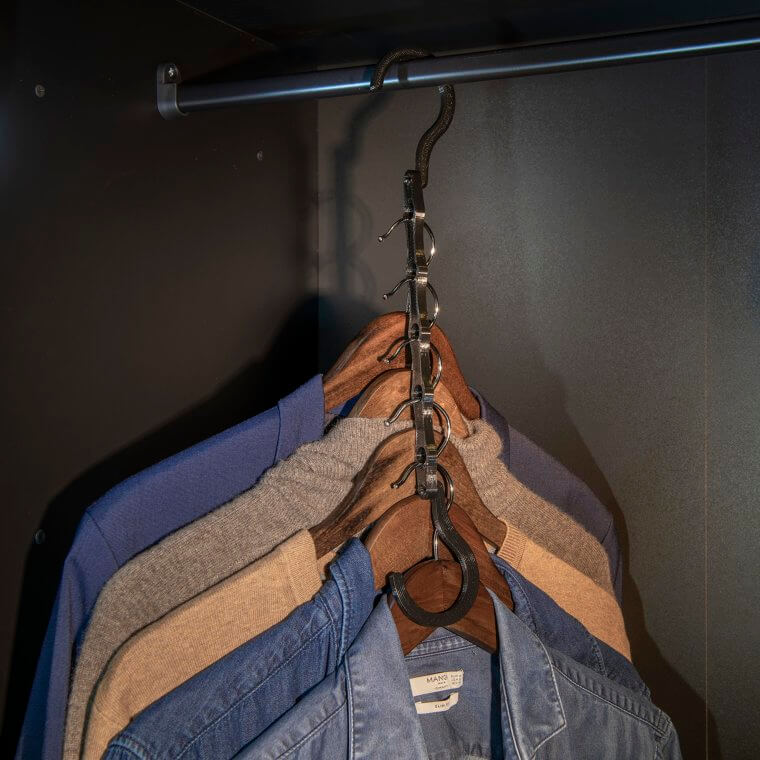 Some cascading hangers have adjustable hooks or clips that can accommodate different sizes and types of clothing, while others have built-in hooks or slots for specific items such as pants, skirts, or ties.

Towel Holder
A towel holder is a device used to hang towels and keep them organized. Look for a towel holder with an elegant and modern design. It can be made of high-quality materials such as stainless steel, chrome, or brass to give your bathroom a luxurious feel. Opt for a size that can accommodate your towels comfortably. It can be mounted on the wall near the sink or shower for easy access.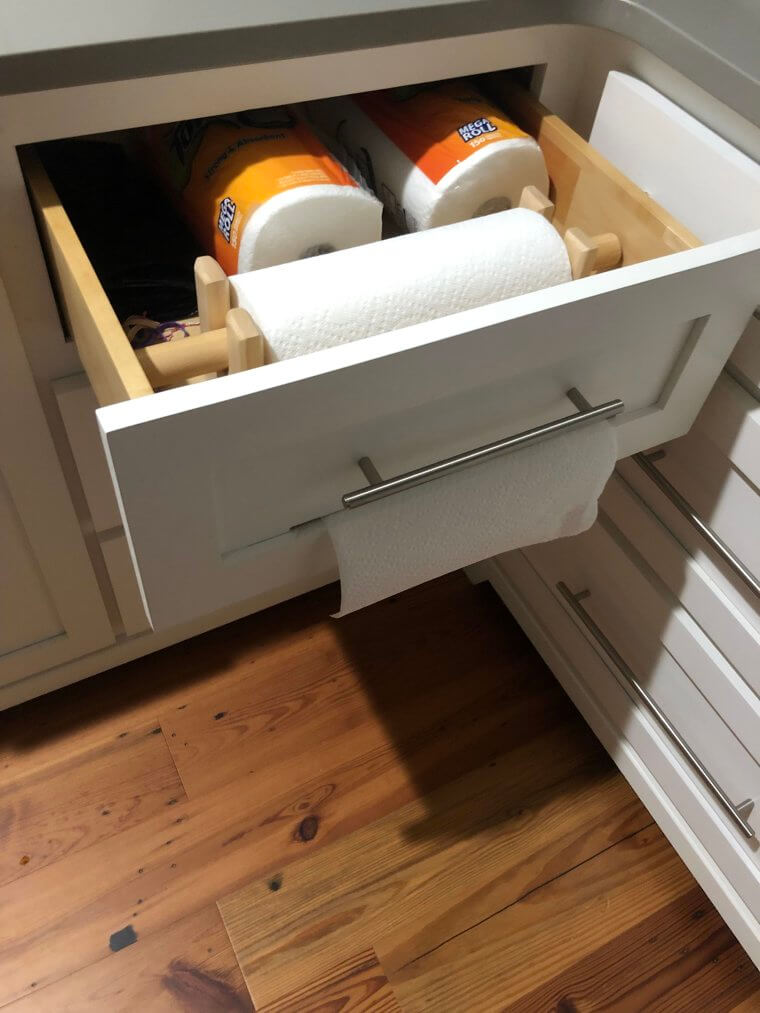 To maximize bathroom storage space, these holders can be arranged in a row or individually mounted at different heights, creating a visually appealing display while providing functional towel storage.
Optimize Under-The-Bed Storage
Utilizing under-the-bed storage is an excellent way to maximize space in your bedroom. Use storage containers or rolling bins to make the most of the space under your bed. This is a great place to store out-of-season clothing, extra bedding, or shoes. By measuring the height, width, and length of the area under your bed, you can find containers that fit perfectly and make the most of the available space.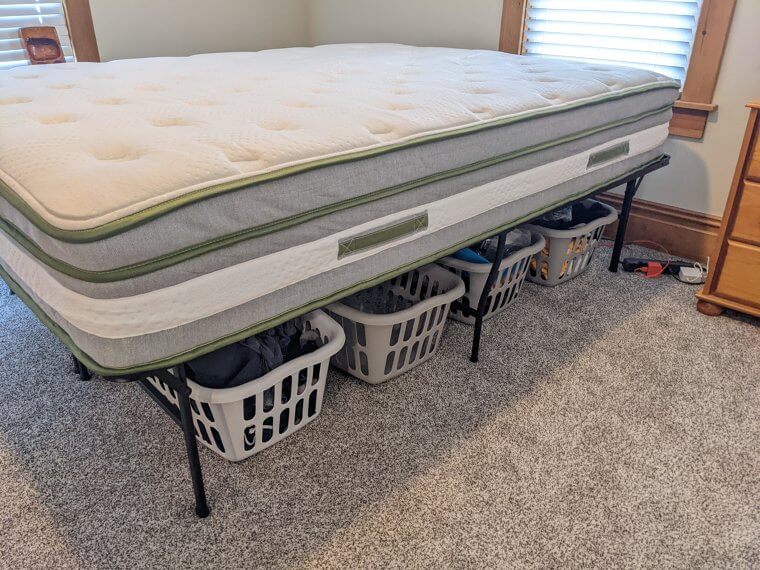 Sort your items into categories such as out-of-season clothing, extra bedding, shoes, or accessories. Use labels or clear containers to easily identify the contents of each one without having to open them.

Storage Ottomans
Storage ottomans are multipurpose pieces of furniture that can be used as a footrest, extra seating, or extra storage. They look like standard ottomans but have a padded top for sitting comfort, and they have a secret storage space inside. Some storage ottomans have extra features, like built-in trays on the other side of the cushioned top, that can be used to set drinks or snacks on a stable surface.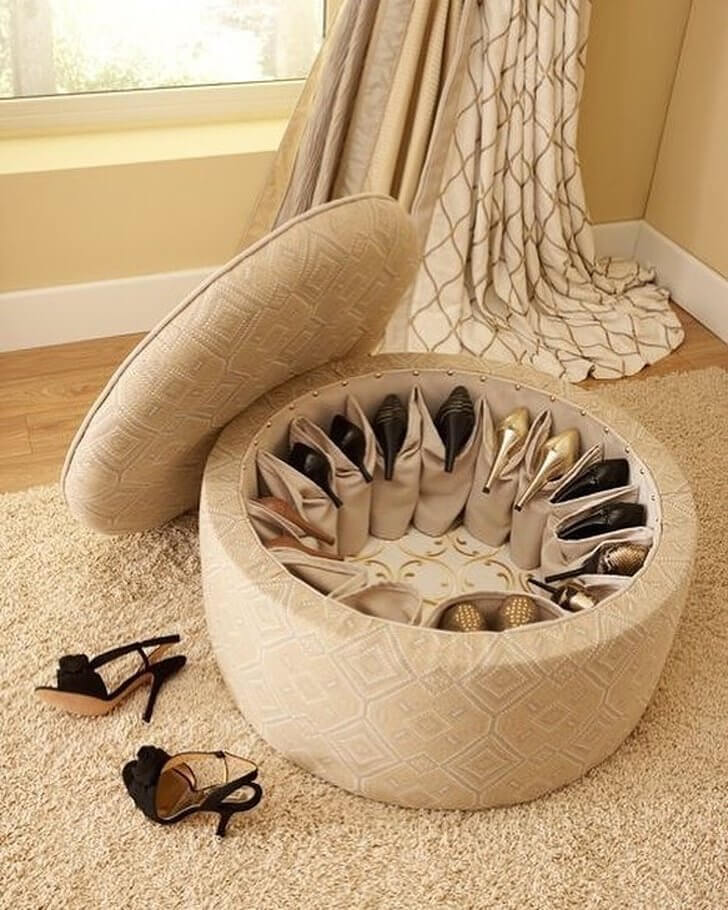 The extra space provided by storage ottomans is ideal for hiding and organizing a wide range of items, from blankets and pillows to magazines and remote controls, as well as games, toys, and books.

Pegboard
Install a pegboard on a wall in your garage, kitchen, or workspace. Select a wall in your desired area that is easily accessible. It should be close to where you typically use the items you plan to hang on it. Attach various types of hooks, shelves, and baskets to the pegboard. Use sturdy hooks for heavier items like tools and smaller hooks for lighter objects such as keys or crafting supplies.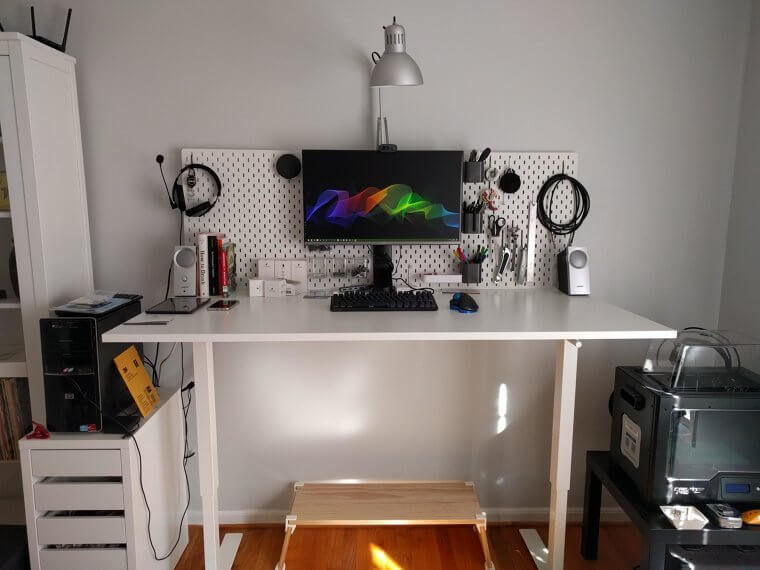 Depending on your requirements, you can enhance the functionality of the pegboard by adding accessories like magnetic holders, clips, or wire baskets. These can provide extra storage options for specific items.
Bedside Caddy
Bedside caddies won't hog any more of your floor space and will make your bedside table or nightstand look neater and more organized. This is particularly helpful if your bedroom is on the smaller side or if you're short on closet space. Magazines, books, glasses, and even a water bottle can all find a home here. You won't have to worry about them getting tangled up in the sheets anymore.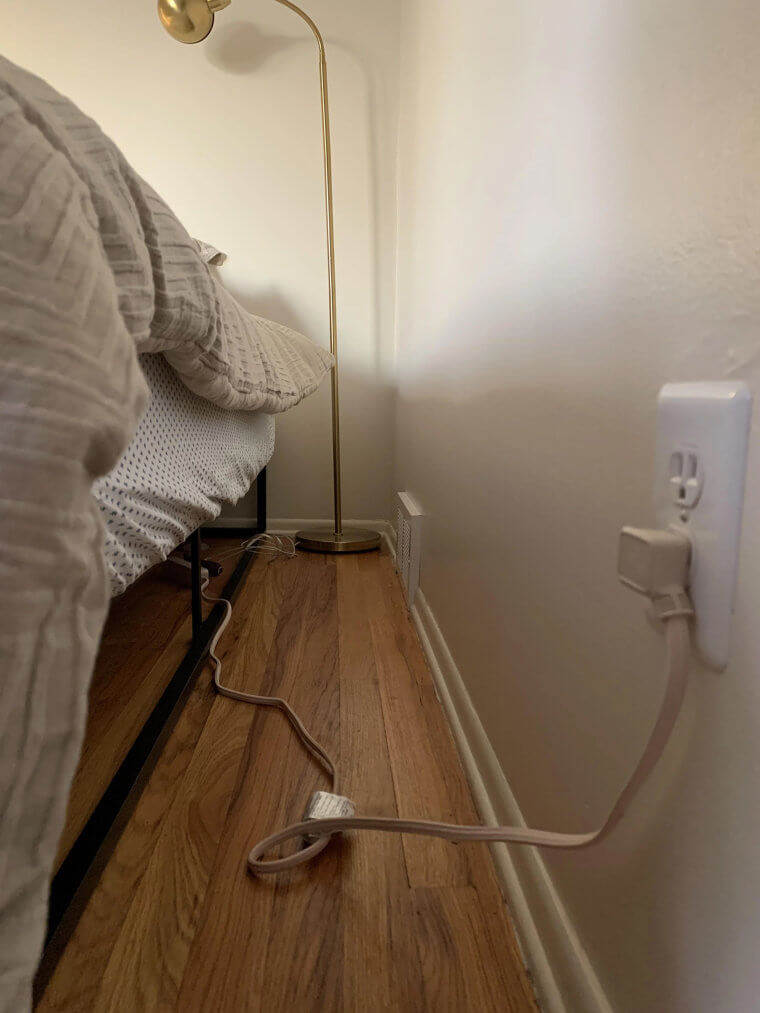 Many bedside caddies are lightweight and portable. If you frequently move between different beds or stay in hotels, you can easily fold or roll up the caddy and take it with you.

Floating Shelves
Floating shelves are a shelving system that creates the illusion of shelves floating on the wall without any visible brackets or supports. They're common because of their versatility and the fact that they look great. You may put these shelves anywhere, from your home to your office to your bedroom or your kitchen. Vases, picture frames, books, and souvenirs are some of the most popular items to be displayed on them.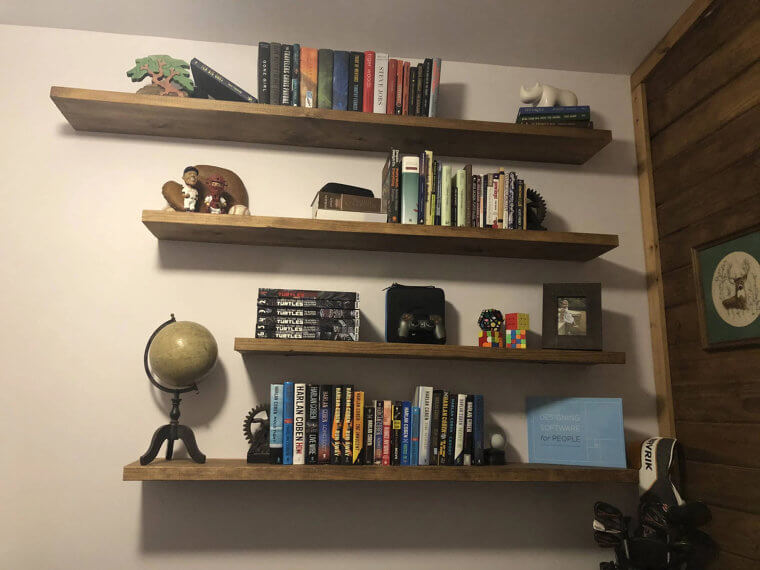 Floating shelves can also be used for storage and organization, such as displaying kitchen products. They are a chic and flexible storage option that may improve the look of your home.

Broom and Mop Organizer
Brooms are a must in any home, but they can be difficult to store. Just shutting the door and leaving them there is the easy way out. However, they still manage to poke their heads out, making the area look unkempt. When it comes to storing brooms, mops, and other household tools, broom holders are perfect. They make your home look neat by keeping all of your essentials in one location.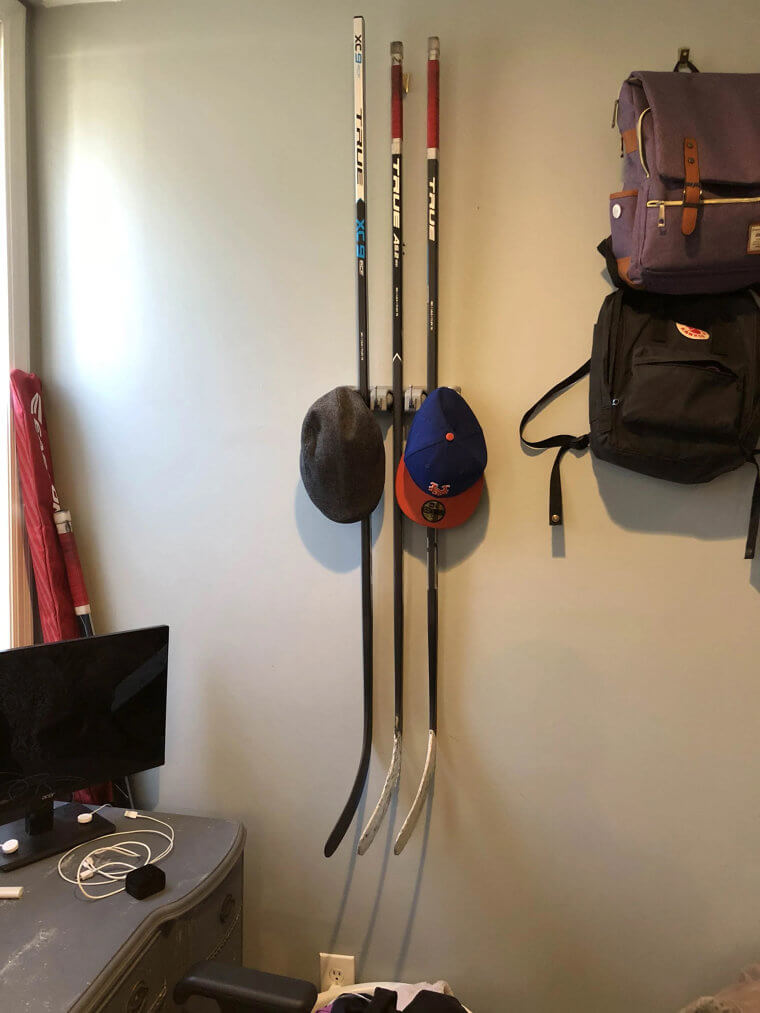 Brooms and mops should be kept off the floor for the sake of cleanliness. If you invest in a sturdy holder, it's useful for storing things like hammers or power tools.

Storage Carts
If you need more room for storage but have a limited amount of space, you might want to think upward rather than outward. To make the most of the tiniest storage areas, hunt down a slim cart unit that is specifically designed to fit in narrow spaces. They are usually compact and feature a narrow profile, making them ideal for storage in small areas such as between furniture or in tight corners.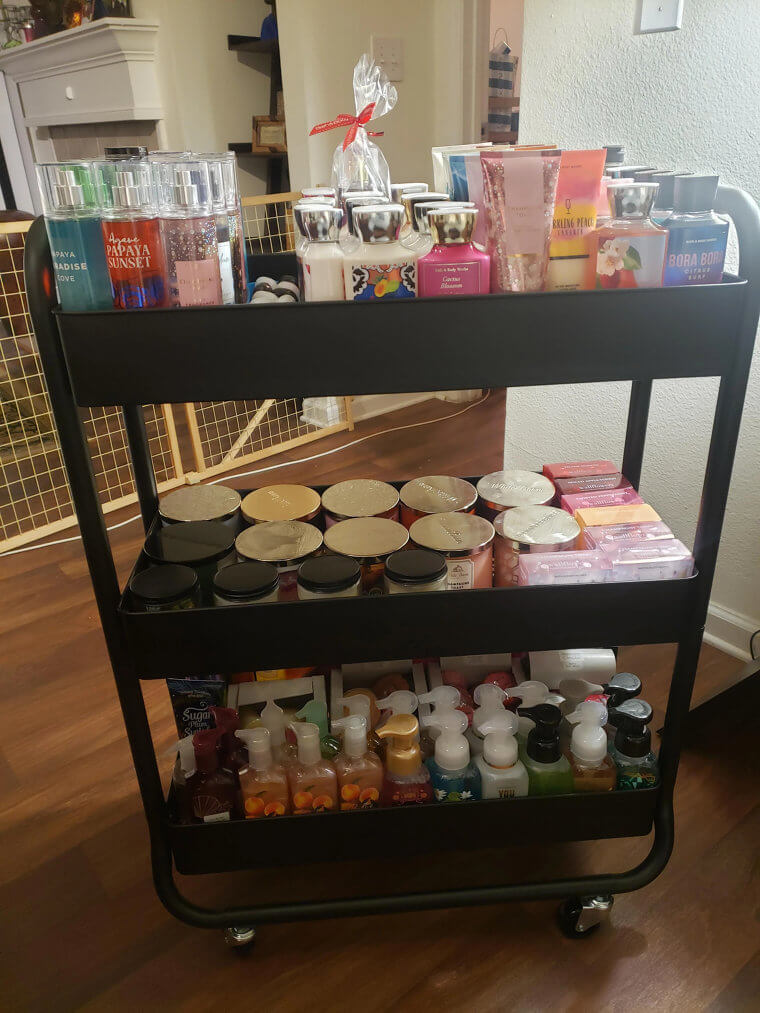 These carts may feature shelves, baskets, or drawers for storing various types of products. In addition, they may have wheels, which make them easy to move and accessible even in limited spaces.

Storage Space For Pot Lids
We've all experienced the frustration of trying to store too much cookware in too few cabinets. This idea for lids of pots and pans can effectively double your storage space. To begin, form a diamond shape with a wire hanger by stretching it from the hook. Then make an umbrella shape by bending the two bottom sides up toward the hook. Insert the lid so that both sides of your hanger grip it.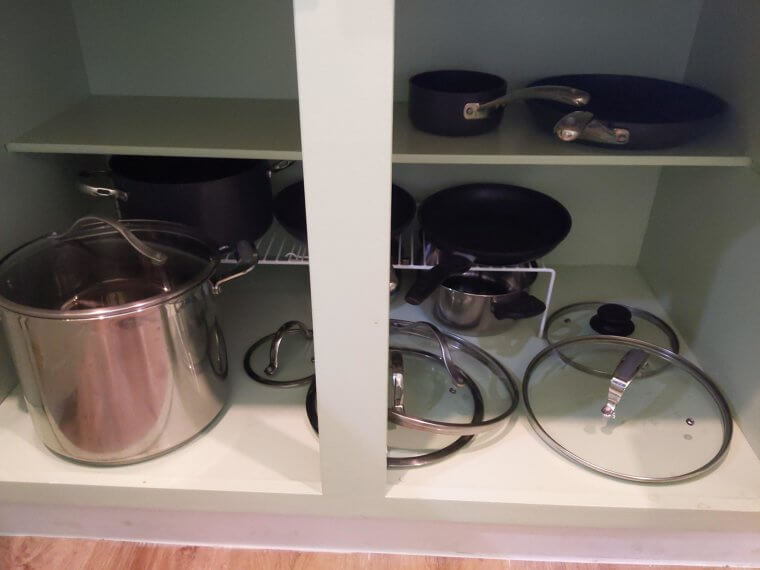 When you do this, not only will you have a kitchen that is roomier and less cluttered, but you will also have pot lids that are neatly organized and easy to access.

Organize Your Cooking Spices on a Tray
Salt, an olive oil bottle, a pepper grinder, and balsamic vinegar are all items that a cook should keep on hand in the kitchen, but it's easy to let them get out of hand and clutter up your workspace. Instead of scattering them around the counter, put them in a neat stack on a tray. This is one of the greatest kitchen decluttering tips since it keeps kitchen surfaces tidy.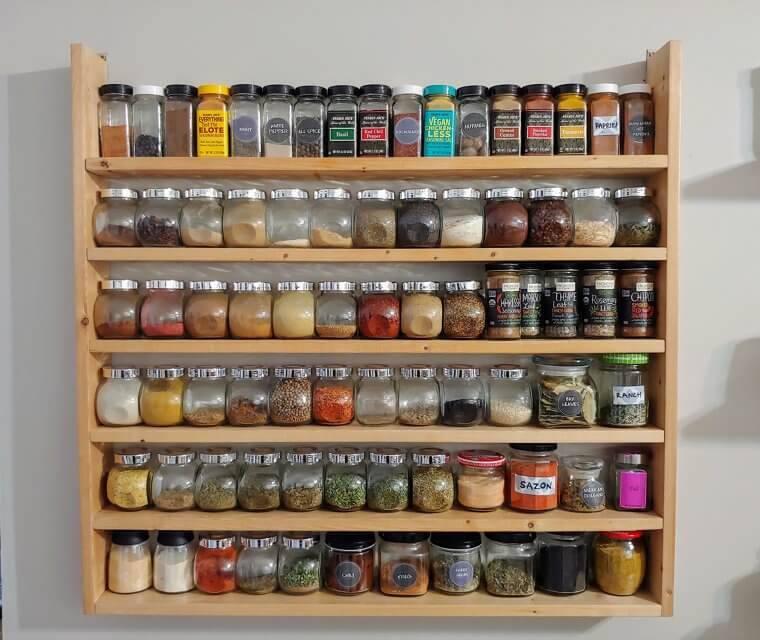 All of your essentials should be placed on a tray in front of you, so you can effortlessly push the tray to the side in order to clean your workspace without any hassle.