Welcome to the wild world of bathroom aesthetics, where every design decision can either make you feel like royalty or leave you scratching your head!
In this article, we're diving into the misadventures of bathroom design, where even the smallest missteps can turn your private sanctuary into a set from a low-budget sci-fi movie. 
We'll unravel why that "vintage" avocado-green sink isn't as cool as you thought and what to do with those flickering fluorescent lights that are more chaotic than calm!
But don't worry; we're not here just to point out your bathroom's shortcomings; we're here to save the day with practical advice and alternatives that will turn your loo into a place you'll be proud of!
Leave Plastic Shower Curtains in the Past Where They Belong!
Imagine you've just stepped into your bathroom, expecting a serene oasis, but instead, you're met with a plastic shower curtain from the '80s! These plastic sheets, often adorned with eye-popping colors or cringe-worthy patterns, do little to inspire feelings of relaxation. They hang there, stiff and lifeless, like a discount store clearance item that never quite found its purpose. Do yourself a favor and swap this eyesore for a fabric shower curtain!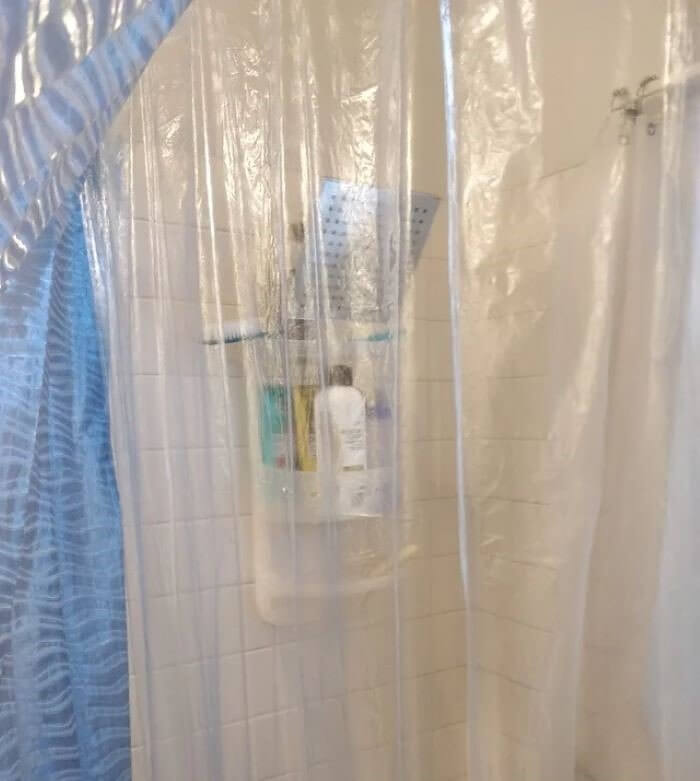 It will instantly add a touch of sophistication and eliminate that annoying crinkly noise every time you draw it closed. It's time to say goodbye to that 'dollar-store' vibe!
Don't Give Your Restroom a Roadside Gas Station Vibe!
Your bathroom is your sanctuary, your private oasis where you escape the chaos of the outside world. Yet, there it is... A toilet seat cover that transports you straight to the sterile, soulless confines of a public restroom! These disposable, paper-thin covers do more harm than good. They tend to slip and slide, leaving you in a precarious balancing act as you try to take a seat. Bid farewell to these flimsy nuisances!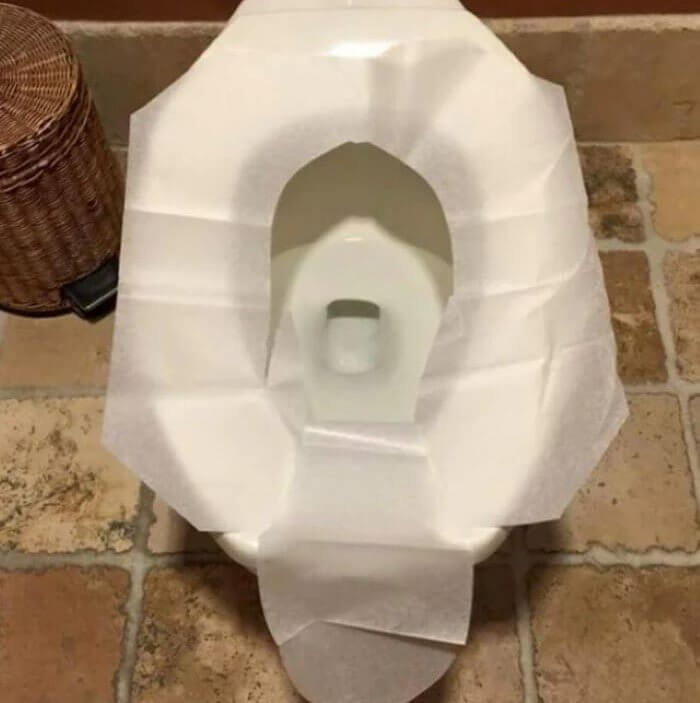 Your butt and your bathroom's reputation would both appreciate an upgrade. Then, you can finally leave behind that roadside gas station toilet feeling for a well-kept home restroom!
Your Grandma Doesn't Live Here!
The fuzzy toilet seat cover—it's like someone took your grandma's old bathmat and stuck it to your toilet. While the intention might be comfort, usually, they end up doing more harm than good. Let's talk hygiene. These covers are notorious for trapping moisture, creating a haven for bacteria and germs. It's like offering an open invitation to the microbial community to set up shop right where you do your business!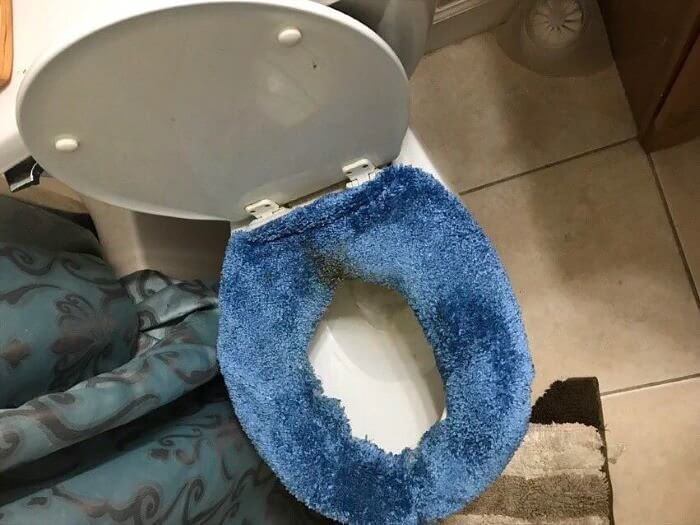 And if that's not enough to make you cringe, these covers slip all over the place when you sit down. Save yourself the trouble and opt for a sleek, easy-to-clean toilet seat!
It's Time to Grow Up!
Imagine walking into a bathroom and spotting a lineup of plastic toothbrush holders, each one displaying your toothbrush like a prisoner in a lineup. Often adorned with cutesy cartoon characters or flashy designs, these holders scream "childhood nostalgia" or "I haven't updated my bathroom decor in a decade." It's time to break free from the plastic prison and invest in something sleeker and more adult. Your guests notice every little detail!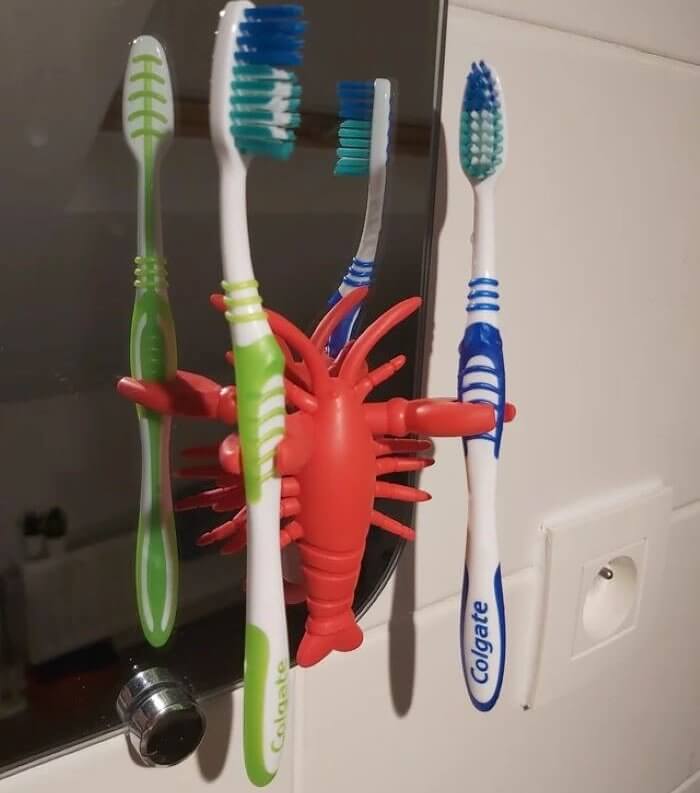 Upgrade to a minimalist, ceramic toothbrush holder that not only holds your toothbrushes securely but also adds a touch of sophistication to your bathroom. Your toothbrush doesn't belong in a kid's playroom!
These Days, Only Your Grandma Disguises the Toilet Paper!
You enter the bathroom, and there it is—the toilet paper cover that thinks it's auditioning for a role in a Shakespearean drama. These over-the-top, decorative covers come in all shapes and sizes, from doll-like figures to crochet masterpieces, and they often serve as a not-so-subtle distraction from the fact that they're concealing plain, white toilet paper. While the intentions are good, the result is often creepy! Does your toilet paper really need mittens?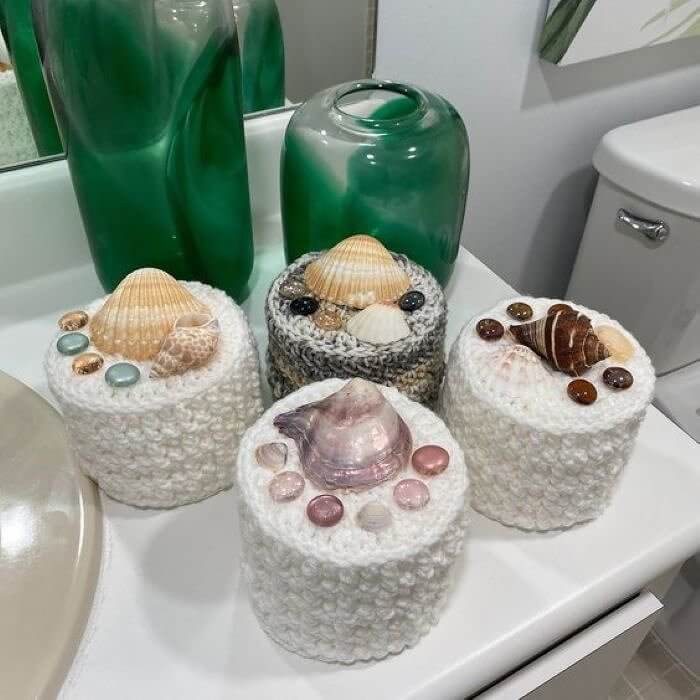 Instead of hiding your toilet paper in a frilly gown, let it be what it is—a practical necessity. Keep your bathroom decor simple, and your guests will give you a thumbs-up!
Plastic Is Not Always Fantastic!
Plastic soap dispensers seem to have taken over bathrooms, like an invasion of the mundane. These awful eyesores often come in flashy colors with generic labels, and they scream "budget buy" louder than a car alarm in the dead of night. Every time you reach for that soap pump, it's like a reminder of how uninspiring your bathroom decor can be. Swap out the plastic for something more stylish!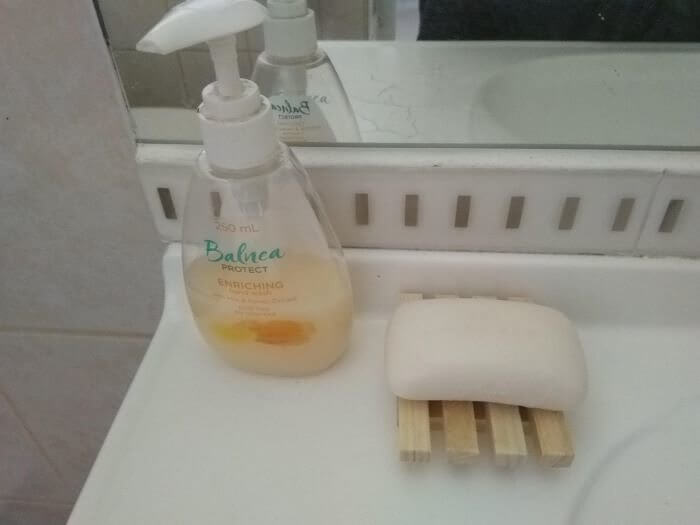 A sleek glass or ceramic soap dispenser with a sophisticated design will be so much better. Your guests will appreciate the upgrade, and your bathroom will finally escape the clutches of the ordinary!
A Little Effort Goes a Long Way!
Walking into a bathroom with a jumble of mismatched towels and mats is like stumbling upon a fashion disaster in progress. These hodgepodge collections of colors and patterns can make your bathroom feel like it's caught in a never-ending game of mix and match gone wrong. Say goodbye to the days of hunting for a matching set and invest in coordinated towels and mats that tie the room together!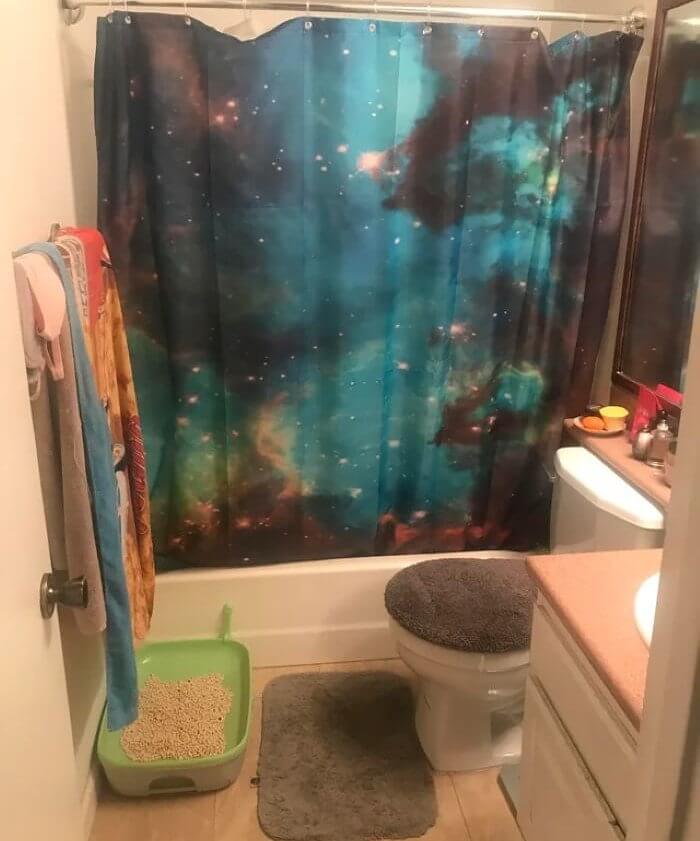 Your bathroom will thank you for the harmonious upgrade, and your guests will appreciate the newfound sense of bathroom fashion sensibility. It's time to take some pride in your restroom!
Using the Restroom Should Be a Peaceful Experience!
Elaborate, oversized wall decals in your bathroom can make it feel like you've entered a theme park ride instead of a place for personal hygiene! Those larger-than-life images of seashells, palm trees, or quirky quotes might have seemed like a fun idea at the time, but they can quickly overpower the room and make it look more like a novelty shop. Swap out these eye-catching items for more subtle wall art or simple paint colors!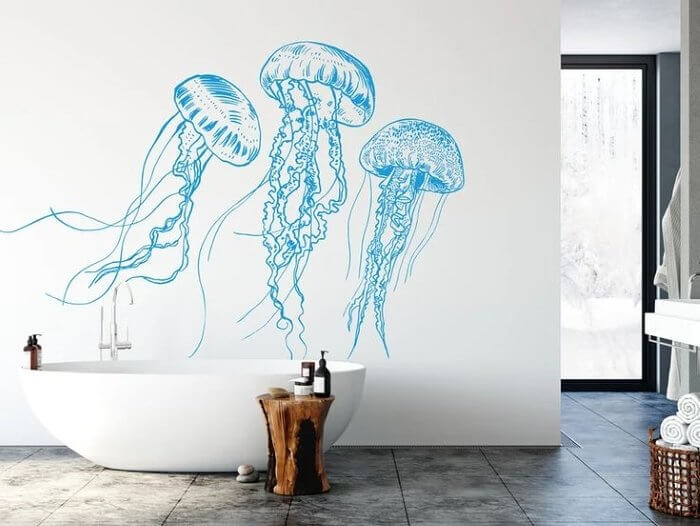 Your bathroom will become a serene oasis of relaxation instead of an overwhelming circus of design. Say goodbye to the visual chaos and say hello to balance and taste!
Why Make Things Complicated?
You know those shower caddies that cling desperately to your showerhead, like a koala clinging to a eucalyptus tree? While their intentions are noble—to keep your shampoo, conditioner, and body wash within arm's reach—they often end up being more of a nuisance than a help. These overbearing shower organizers can obstruct your water flow, making it feel like you're showering under a leaky roof. They're like an overbearing houseguest who just won't leave!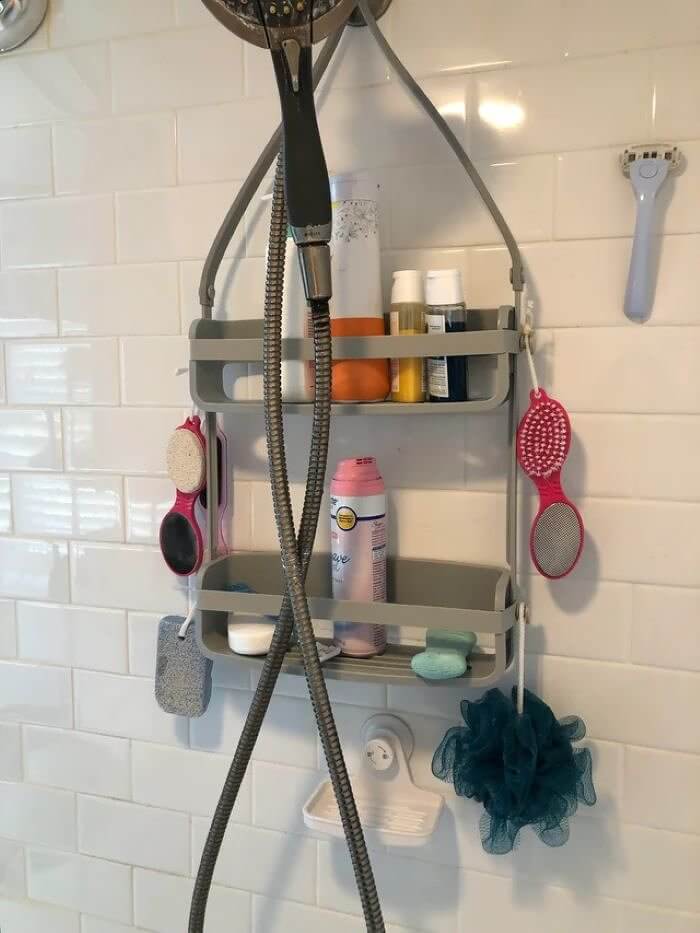 It's time to set your showerhead free and opt for a sleek, wall-mounted shower shelf. Not only will it keep your essentials organized, but it'll also give your bathroom a cleaner, more spacious look!
It's a Bathroom, Not a Padded Cell!
Picture this: You walk into a bathroom, and it's like navigating a minefield of rugs. There's a rug in front of the sink, another one by the toilet, and maybe even a third just because! While these rugs can add warmth and comfort, they often overdo it. Instead of going overboard with rugs, strategically place one or two in key areas, like in front of the sink or the shower!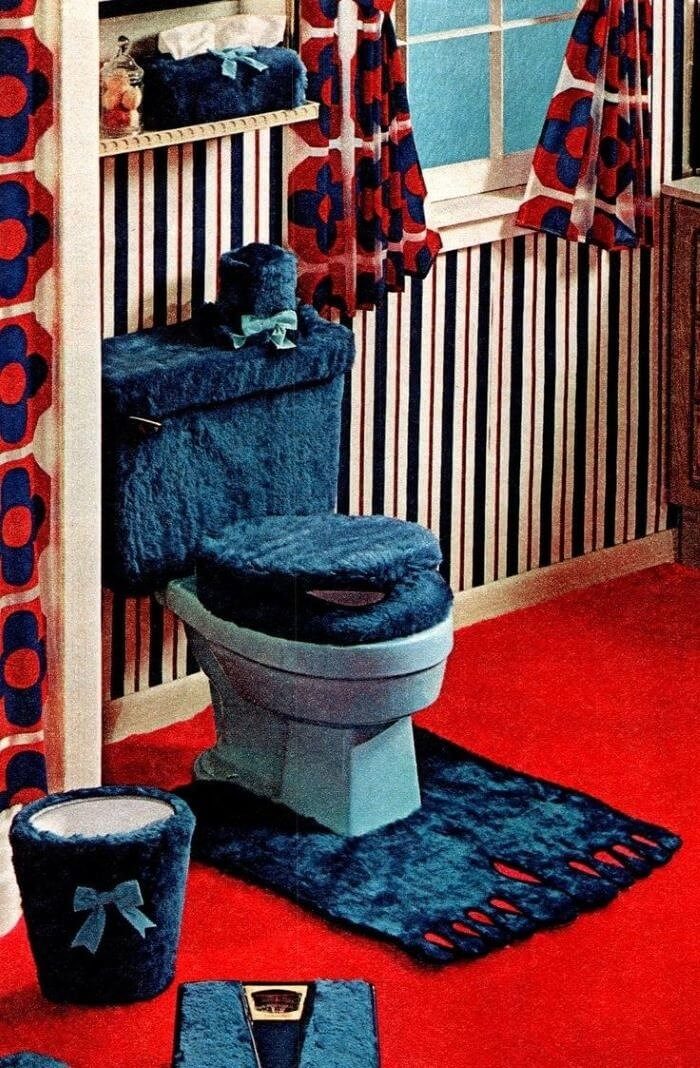 Opt for quality over quantity. Choose rugs that are easy to clean and won't turn into soggy sponges after a shower. Say goodbye to the rug jungle and say hello to a more practical bathroom design!
Get Rid of the Serial Killer Vibe!
Entering a bathroom with dated wallpaper is like stepping into a time machine set for the 1970s. Whether it's floral patterns that remind you of your grandmother's living room or faux wood paneling that belongs in a serial killer's basement, these wallpaper choices can make your bathroom feel like a blast from the past. It is time to bid farewell to the nostalgia and embrace a more modern look!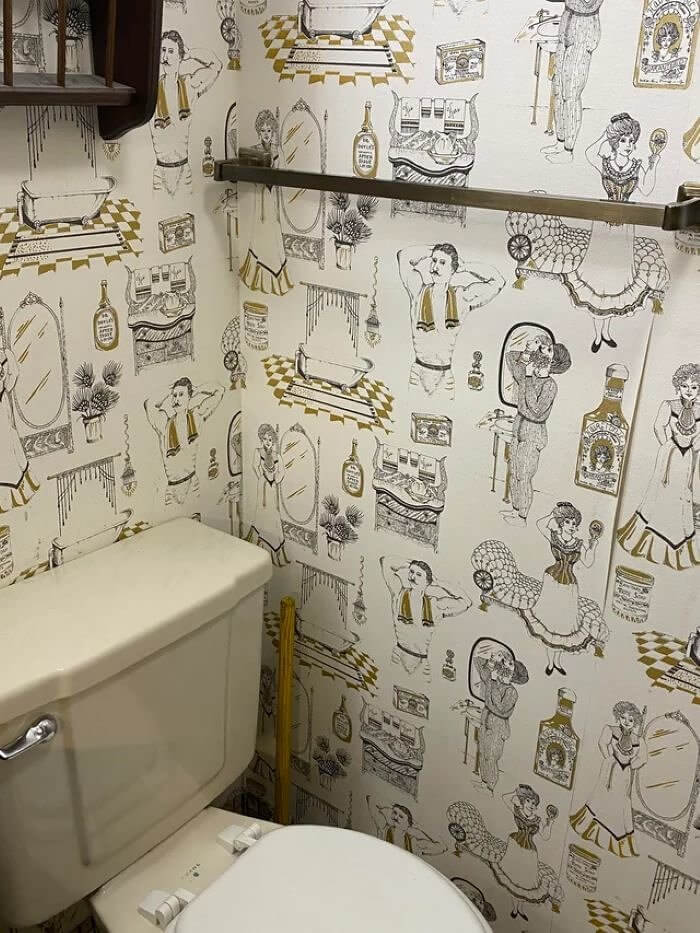 Consider repainting your bathroom with a fresh, neutral color or choosing a chic, contemporary wallpaper design. Your bathroom will become a stylish space where you won't feel the need to break out your bell-bottoms!
You Have the Best Seat in the House!
While art can undoubtedly enhance a space, an overload of artwork in your bathroom can feel like you've stumbled into an avant-garde gallery rather than a place of personal hygiene. Too many framed prints, paintings, and sculptures can overwhelm the eye. Instead, curate a thoughtful selection of artwork that complements your bathroom's style and color scheme. Less is often more when it comes to bathroom decor, so choose pieces wisely!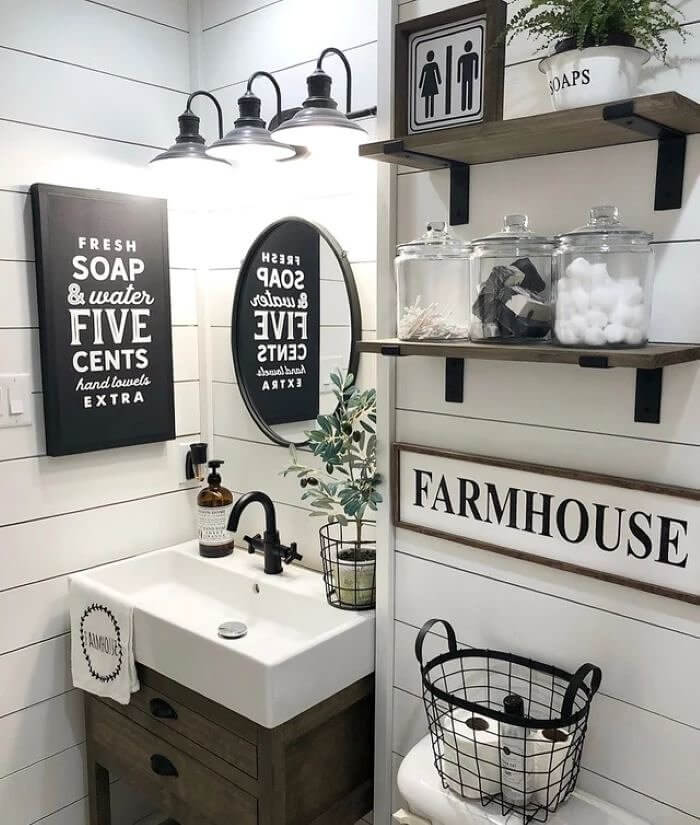 Strike the perfect balance between style and serenity. Your bathroom will transform into a gallery of refined taste, allowing you to appreciate each piece as you sit on the throne!
Your Bathroom Doesn't Have to Be Boring!
Imagine entering a bathroom where every towel hanging is a generic, single-color bath towel. It's like experiencing a total eclipse of style. These bland towels lack personality and can make your bathroom look as exciting as a blank canvas. Instead of settling for a sea of monotone, opt for a variety of tastefully coordinated towels in different colors and sizes. Mix in some patterns or textures to add visual interest.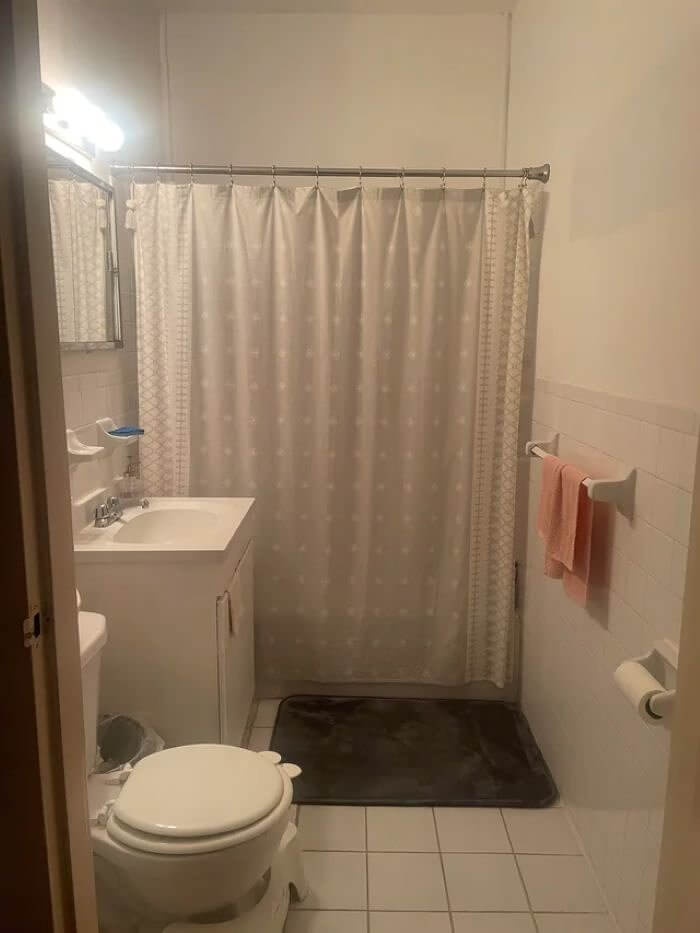 Not only will this breathe life into your bathroom, but it also allows you to express your personality through your choice of linens. Say goodbye to towel monotony!
You Might As Well Scream, "I've Just Taken a Poop! "
We get it; nobody wants their bathroom to smell like a locker room after a workout. But going overboard with air fresheners can be just as bad. Entering a bathroom that reeks of an overpowering, artificial scent is like getting a punch in the nose. These heavy-duty air fresheners may mask odors, but they also assault your senses! Opt for a more subtle approach. Your nostrils will thank you for it!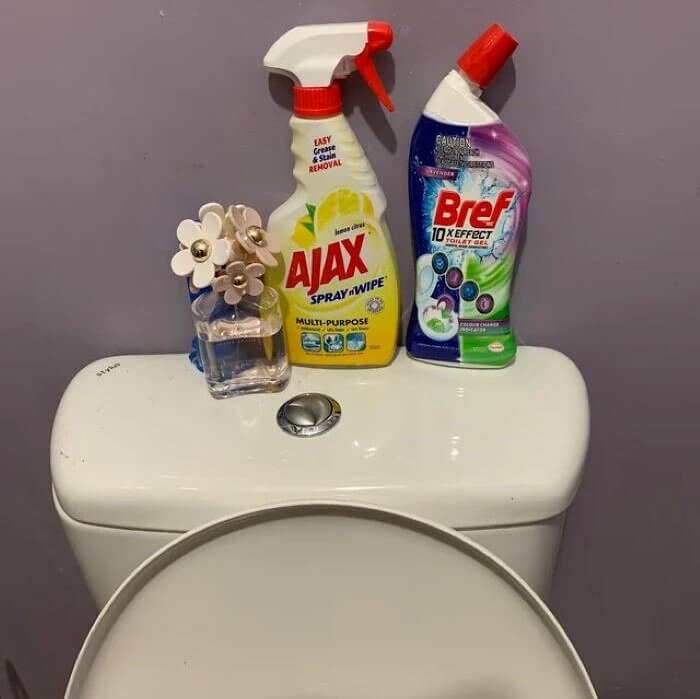 Your bathroom will feel fresher and more inviting without making your guests feel like they've walked into a room where a bad smell has been disguised by an even worse one!
They Just Look Childish… Especially if You Have No Children!
Stepping into a bathroom with a tacky novelty toilet seat cover can be an assault on your sense of style. These covers often feature bizarre and cringe-worthy designs, from fake grass to animal prints or even holiday-themed atrocities. While they may attempt to inject humor into your bathroom, they typically achieve the opposite effect, making your space feel more like a bad stand-up comedy set. It's time to bid farewell to the bathroom comedy show!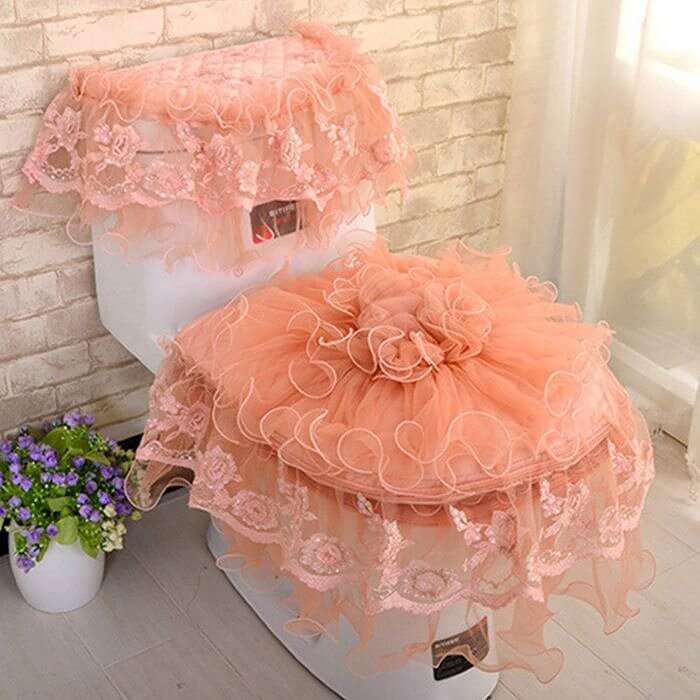 Invest in a plain, easy-to-clean toilet seat. Your bathroom will instantly shed its "clown car" vibe and take on a more sophisticated tone. Say goodbye to the tacky toilet seat circus!
Why Would You Want to Look Broke?
Mismatched or faded hardware can make your bathroom look cheap and tacky. Chrome faucets clash with antique brass cabinet knobs or faded towel bars that have seen better days. These contradictions can make your bathroom look like a mishmash of design decisions made at different times and with little coordination. To remedy this, consider a bathroom hardware overhaul. Opt for a unified theme and finish for all your bathroom fixtures and accessories!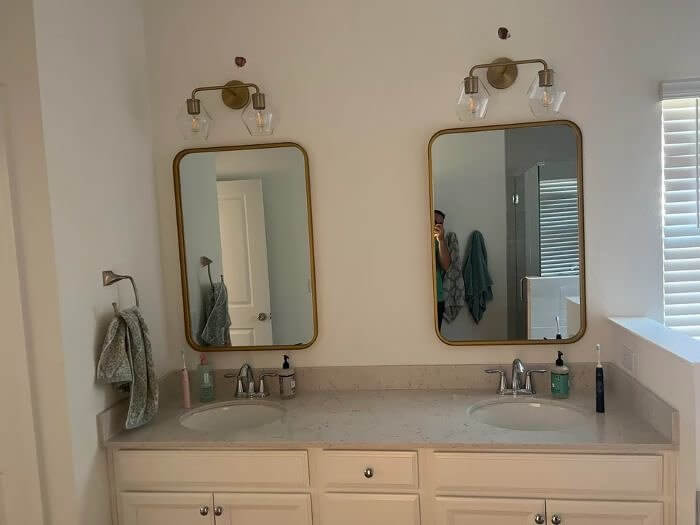 Whether it's brushed nickel, matte black, or polished chrome, sticking to a consistent style will bring harmony and a polished look to your bathroom. And don't forget to replace any worn or faded hardware!
It's a Restroom, Not a Pirate Ship!
You've likely encountered bathrooms with over-the-top decorative themes that are so intense they make your head spin. From nautical-themed bathrooms with lifebuoy mirrors to overly rustic restrooms boasting wagon wheel light fixtures, these choices can take bathroom decor to the extreme. While themed bathrooms can be fun, they often end up feeling more like a Hollywood movie set than a place for personal hygiene. It just looks so cheesy!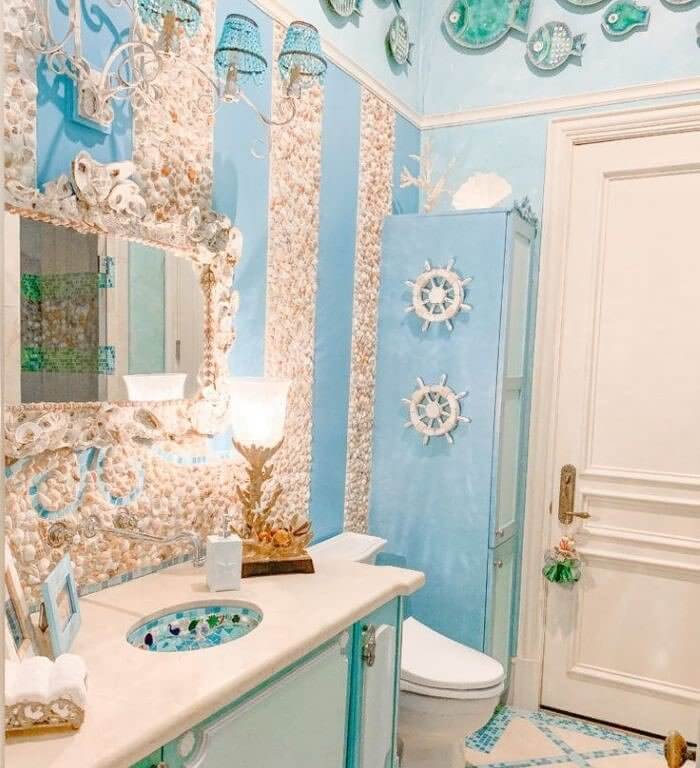 Instead, consider incorporating subtle nods to your favorite theme without going overboard. For example, if you adore the beach, opt for beachy artwork or seafoam green tiles instead of a full-blown shipwreck!
Leave All the Noise for the Outside World!
Another common bathroom faux pas is the choice of busy and distracting shower curtains. These curtains often feature bold, chaotic patterns that can leave you feeling like you're trapped in a kaleidoscope. While they may aim to make a statement, they frequently overwhelm the space, making it difficult to find a sense of serenity during your shower time. Instead, consider shower curtains with simple designs or solid colors that complement your bathroom's overall aesthetic!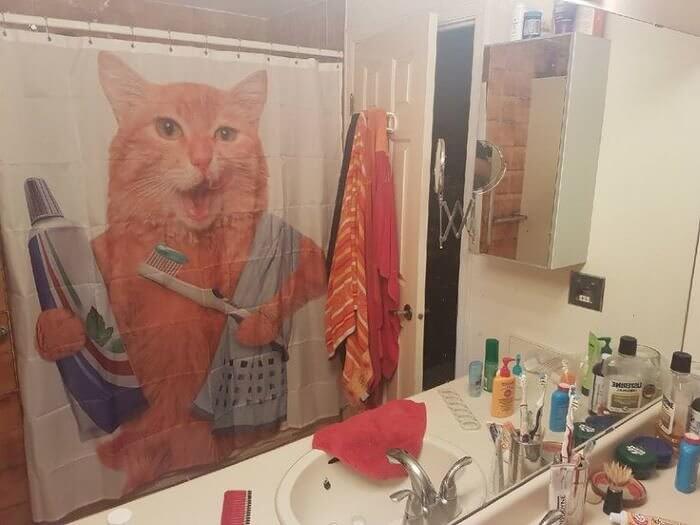 Opt for materials that provide privacy without feeling suffocating, such as soft fabric curtains or frosted glass alternatives. By choosing a more subdued approach, your bathroom will become a place of relaxation!
Grout Is a Magnet for Dirt and Grime!
One of the most underestimated but glaring bathroom fails is neglected grout and tile. Over time, grout lines can become discolored and grimy, while tiles may lose their luster due to soap scum and hard water deposits. This gradual deterioration can turn your once pristine bathroom into a dingy, uninviting space. Fortunately, addressing this issue doesn't require a complete renovation. Invest in a quality grout cleaner and a stiff brush to revitalize those grout lines!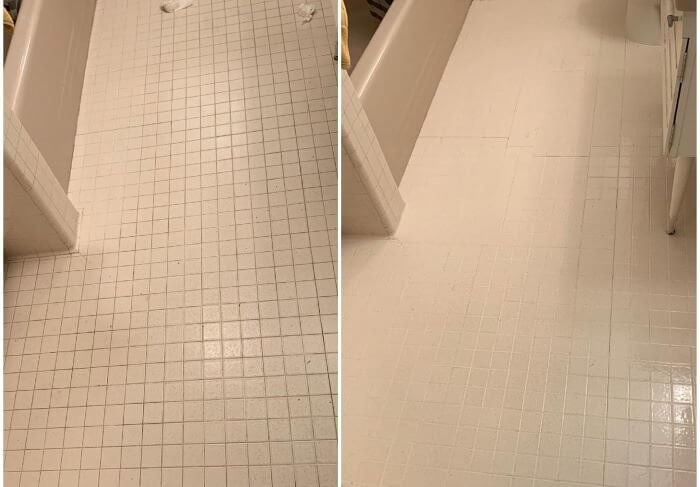 For tiles, a mixture of vinegar and water can work wonders, restoring their shine without resorting to harsh chemicals. Alternatively, consider regrouting or retiling select areas to give your bathroom a fresh, rejuvenated look!
Consider Other Options if You're Running Out of Space!
In one fell swoop, bulky, outdated vanities can steal space and style from your bathroom. These vanities often boast heavy, ornate designs that make your bathroom feel cramped and dated. Beyond their aesthetics, they can also be impractical, with limited storage space and inadequate functionality. To modernize your bathroom, consider replacing your vanity with a sleeker, more streamlined option. Wall-mounted vanities provide the illusion of more floor space, making your bathroom appear larger!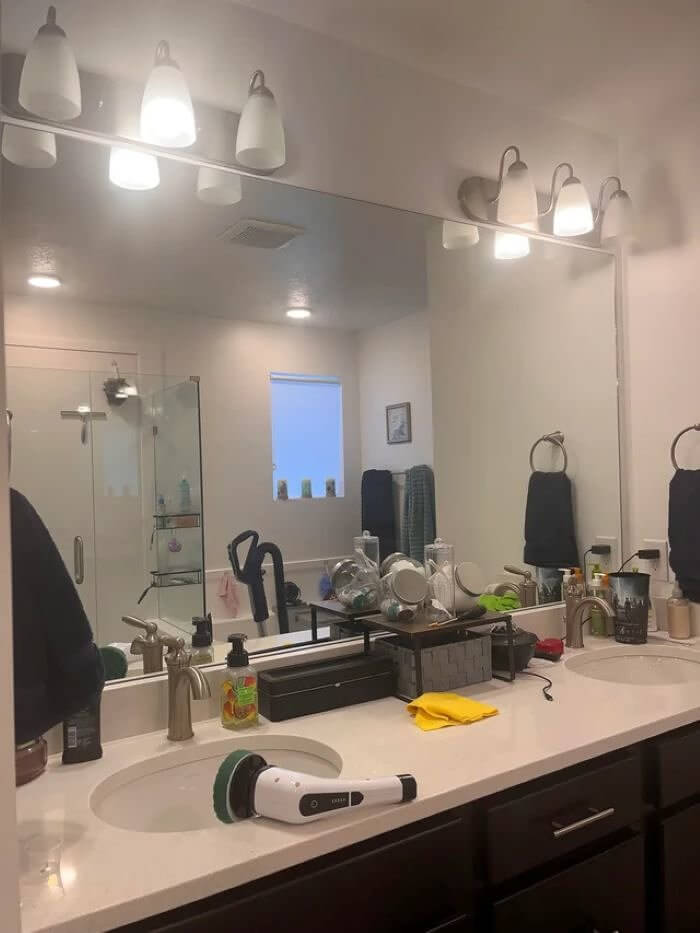 Opt for vanities with storage solutions that cater to your needs, such as drawers, shelves, or built-in organizers. By doing so, you'll refresh the look of your bathroom and improve its functionality!
Hot Tub Time Machine!
A bathroom filled with clunky, outdated fixtures can feel like a trip back in time. Bathtubs with a bulky, avocado-green cast-iron exterior or a clashing assortment of mismatched faucets and showerheads, for example, not only do these relics of the past diminish the visual appeal of your bathroom but they can also hinder functionality and water efficiency. To bring your bathroom into the modern age, consider upgrading your fixtures!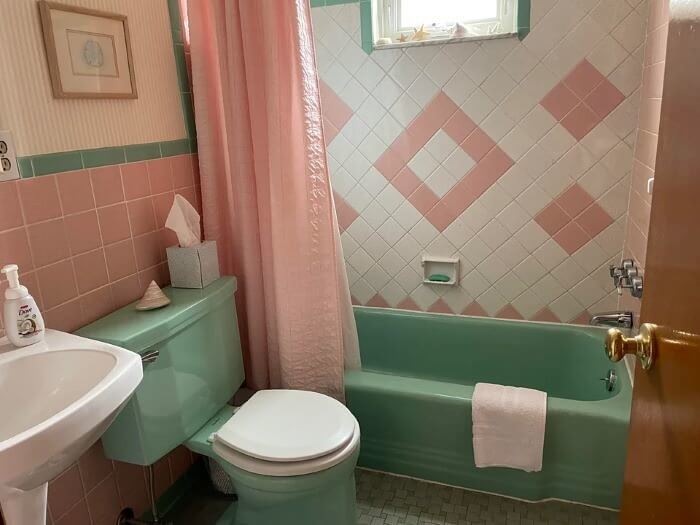 Sleek, minimalist faucets and showerheads look contemporary and often come with water-saving features, which can be eco-friendly and cost-effective. As for your bathtub, a refinishing or reglazing treatment can give it a fresh, modern appearance!
It's Time to Clean Up the Clutter!
A bathroom overrun with excessive clutter and knick-knacks can make even the most spacious bathroom feel cramped and disorganized. From an overabundance of candles, potpourri, and figurines to an array of mismatched towels and baskets, these items can quickly turn your bathroom into a cluttered storage room. To reclaim your bathroom's sense of serenity and order, remove items that serve no practical purpose or don't contribute to the overall decor!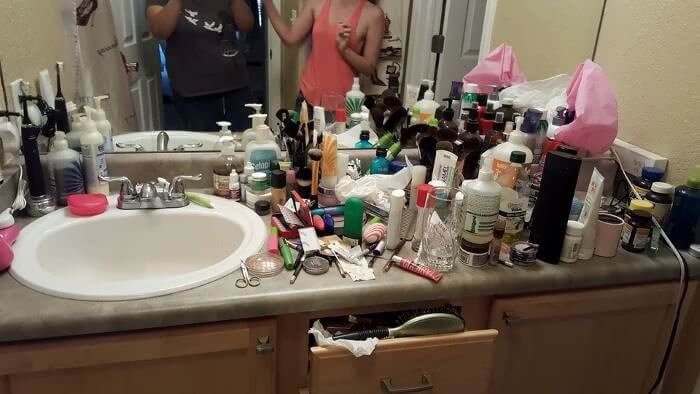 Invest in stylish storage solutions like wall-mounted cabinets, floating shelves, or under-sink organizers to keep your essentials neatly tucked away. And adopt a "less is more" mentality when it comes to decorative accents!
Don't Let Your Own Spotlight Blind You!
One bathroom design mistake that often goes unnoticed until you step inside is the use of harsh overhead lighting. Traditional single-bulb fixtures or overly bright fluorescent lights can create a stark, unflattering atmosphere that's more reminiscent of a hospital than a soothing space. Instead of bathing your bathroom in an unforgiving light, consider layering your lighting to achieve a more balanced and pleasant ambiance. Say goodbye to the clinical glare!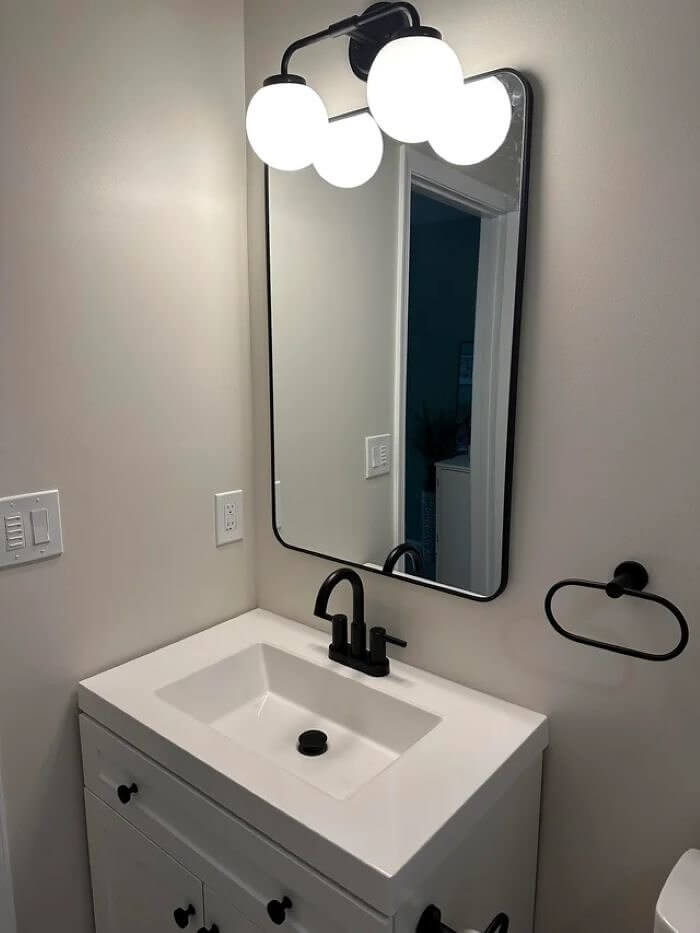 Add task lighting, such as wall-mounted sconces or vanity lights, to provide even illumination for grooming and daily routines. And for a relaxing atmosphere, incorporate soft, warm-toned fixtures!
Don't Let Unwanted Smells Linger!
Ventilation is often a bathroom feature that doesn't receive the attention it deserves. Neglected or inadequate ventilation can lead to many issues, including mold growth, moisture damage, and unpleasant odors that linger long after your shower. To address this problem, ensure that your bathroom has proper ventilation through an exhaust fan or a well-placed window. An efficient exhaust fan will remove excess moisture and prevent the growth of mold and mildew!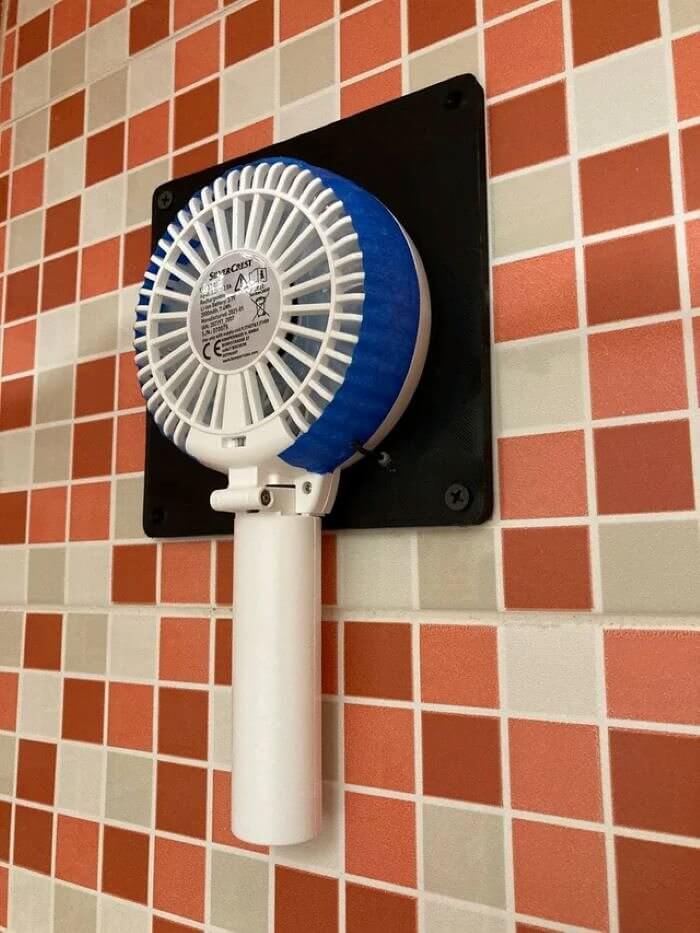 Additionally, it aids in eliminating unpleasant odors, creating a fresher and more comfortable environment. Say goodbye to the damp, stagnant air and say hello to a bathroom that breathes fresh life into your daily routine!
Maybe It's Time for a Refresh!
The choice of tiles can significantly impact your bathroom's overall look and feel. Outdated tile choices, such as heavily patterned or discolored tiles, can leave your bathroom stuck in a design time warp. Whether it's gaudy floral motifs from a bygone era or faded pastel shades that have lost their luster, these tiles can make your bathroom look depressing. Instead of living with the visual discomfort, consider renovating your bathroom's tilework!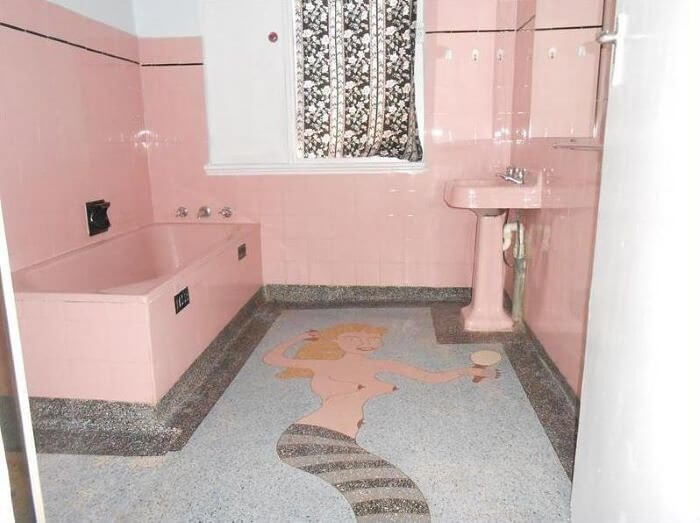 Opt for timeless, neutral tiles or subtle patterns that can withstand changing design trends. Classic options like subway tiles or marble-inspired ceramics provide a clean, sophisticated backdrop that can complement various decor styles!
Say Hello to the March Hare for Me, Will You?
Mirrors are a staple in any bathroom, but an overuse of mirrors can lead to an overwhelming and disorienting experience. Bathrooms that feature wall-to-wall or ceiling-to-floor mirrors may seem like a good idea in theory, but in practice, they can create a sense of visual chaos. Excessive mirrors can reflect light excessively, causing glare and multiplying every angle, making the space feel cramped and dizzying, like you're in Alice's Wonderland!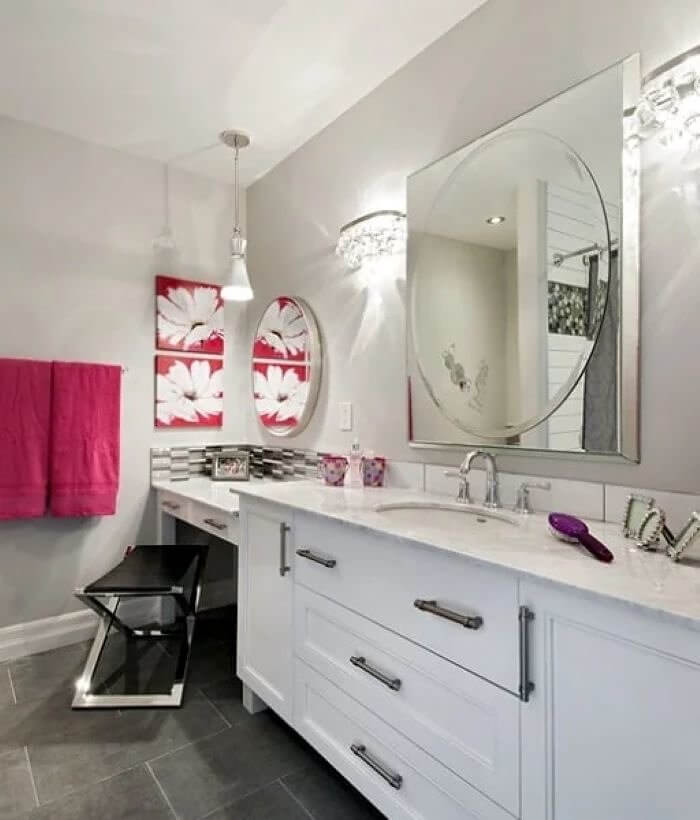 Opt for strategically placed mirrors that enhance your bathroom's functionality and aesthetics. A well-placed vanity mirror or a tastefully framed mirror above the sink can serve their purposes without overwhelming the space!
Say Hello to a Stylish Bathroom!
Shower doors play a crucial role in keeping your bathroom dry, but opting for the wrong style or material can lead to several bathroom fails. For example, bulky, framed shower doors can make your bathroom feel cramped and dated. They're aesthetically unappealing and notorious for collecting soap scum and grime in their metal frames, making cleaning a constant chore. On the other hand, faulty glass shower doors can cause damage, too!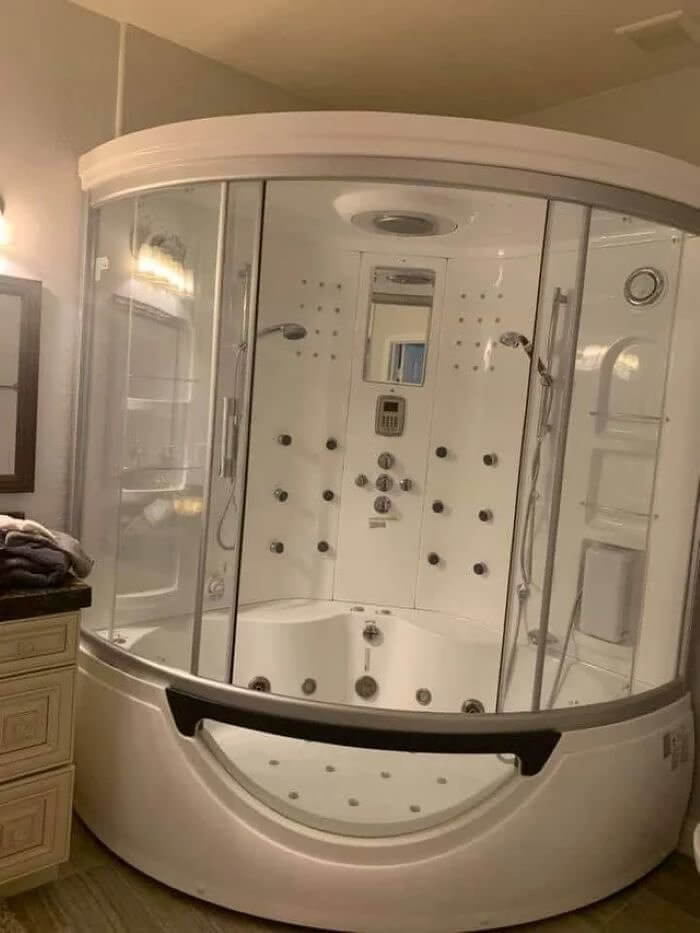 To remedy these issues, consider switching to frameless or semi-frameless glass shower doors that offer a sleek, modern appearance and are easier to clean. Just ensure that the doors are properly installed!
There's Nothing Wrong With Some Color Here and There!
While a pop of color in the bathroom can be a refreshing departure from neutral tones, overuse of bold colors can have the opposite effect. Overwhelming the senses and making the space feel cramped and visually very busy. Bathrooms with walls, fixtures, and accessories all screaming for attention in bright, vibrant colors can make it challenging to achieve a serene and cohesive atmosphere. You must strike the right balance!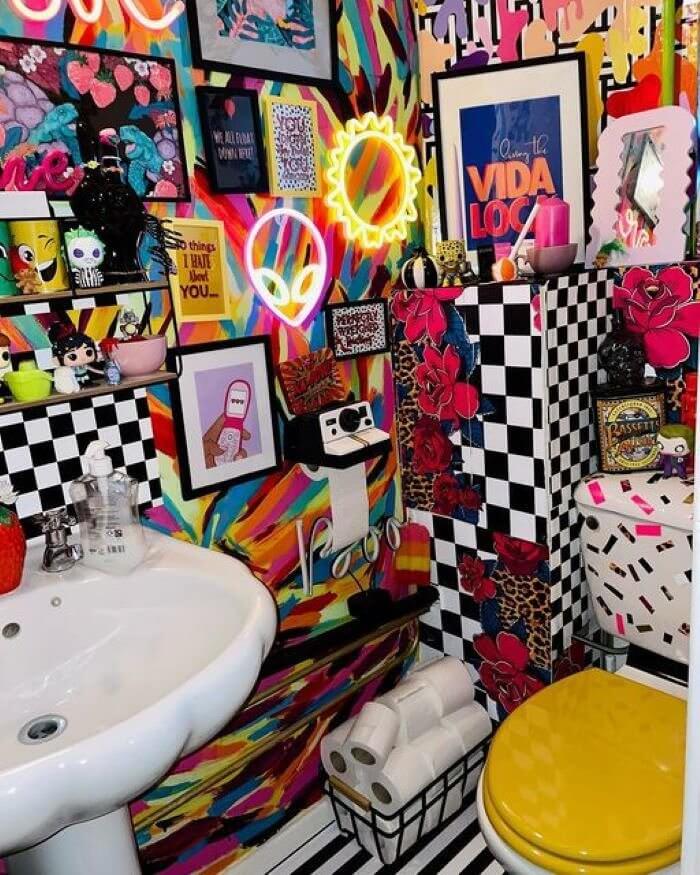 Consider using bold colors as accents rather than dominating the entire space. Opt for a colorful vanity, a statement wall, or colorful accessories that add character without overwhelming the room!
Work From the Ground Up!
Bathroom flooring often gets overlooked when it comes to design decisions, which can result in uninspiring choices that fail to elevate the space's overall aesthetic. Bland, outdated flooring, such as plain linoleum or generic ceramic tiles, can leave your bathroom lacking character. To remedy this, consider upgrading your bathroom flooring to something more stylish and inviting. Elegant marble or warm hardwood tiles can transform your bathroom into a visually striking and inviting space!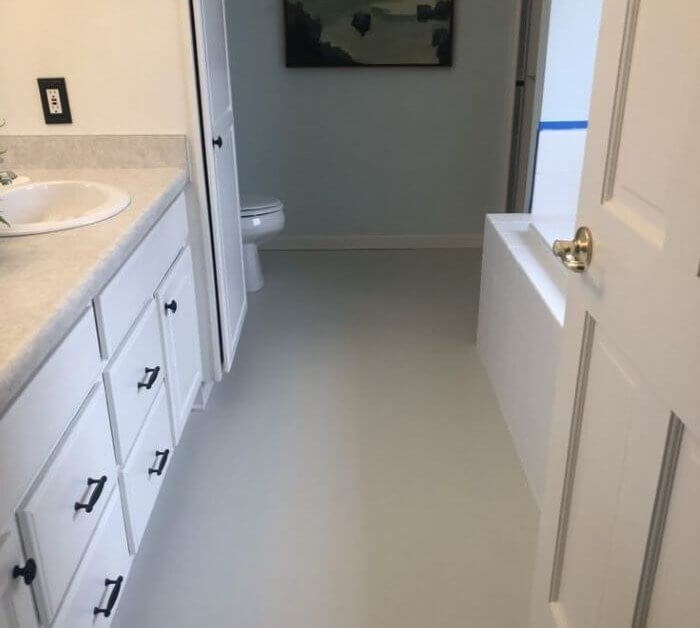 Make sure to choose flooring materials suitable for a bathroom's moisture-prone environment. Say goodbye to the uninspiring flooring and say hello to a bathroom that exudes personality from the ground up!
Fixtures and Fittings!
Lighting can make or break the ambiance of a bathroom, and outdated or uninspiring fixtures can leave your space feeling lackluster. Traditional single-bulb sconces or ceiling fixtures may cast harsh, unflattering light that does little to enhance your bathroom's overall appeal. Consider upgrading your lighting fixtures to transform your bathroom into a well-lit oasis. Opt for fixtures that provide even, warm lighting with the right color temperature, enhancing the space's comfort and style!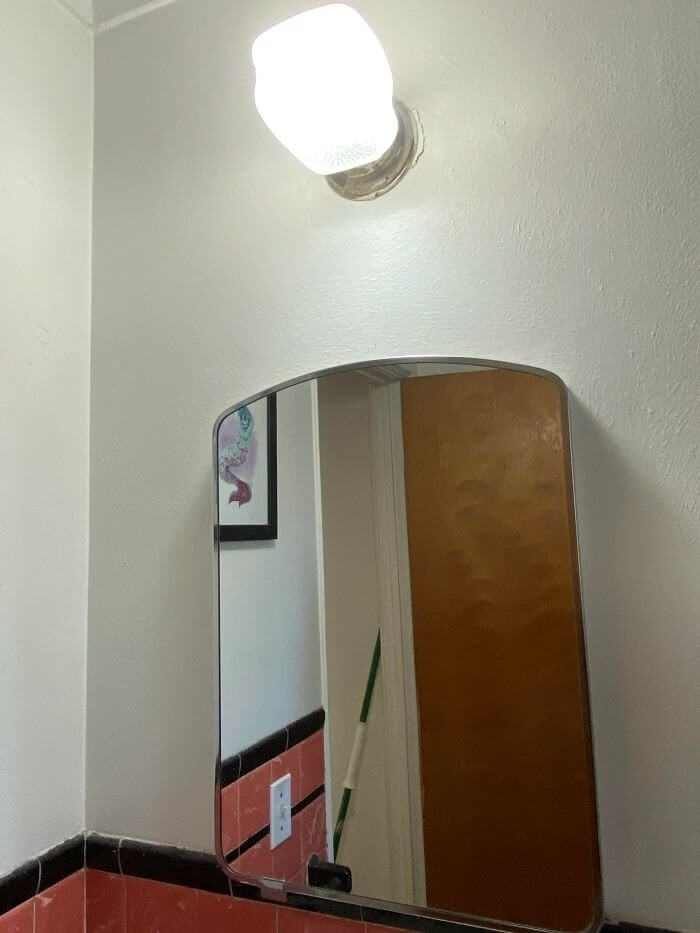 Vanity lighting is particularly crucial for grooming tasks and should be strategically placed to minimize shadows. Don't forget to incorporate energy-efficient LED bulbs to reduce energy consumption and improve longevity!
It's Your Time to Shine!
One common bathroom mistake is creating a sterile space devoid of personal touches. Bathrooms that lack personality can feel more like clinical environments than extensions of your home's character. To infuse your bathroom with warmth and individuality, consider adding personalized elements. Strike a balance between functionality and aesthetics. Hang artwork that resonates with you, choose decorative accents that reflect your style, and incorporate unique fixtures or accessories that tell a story!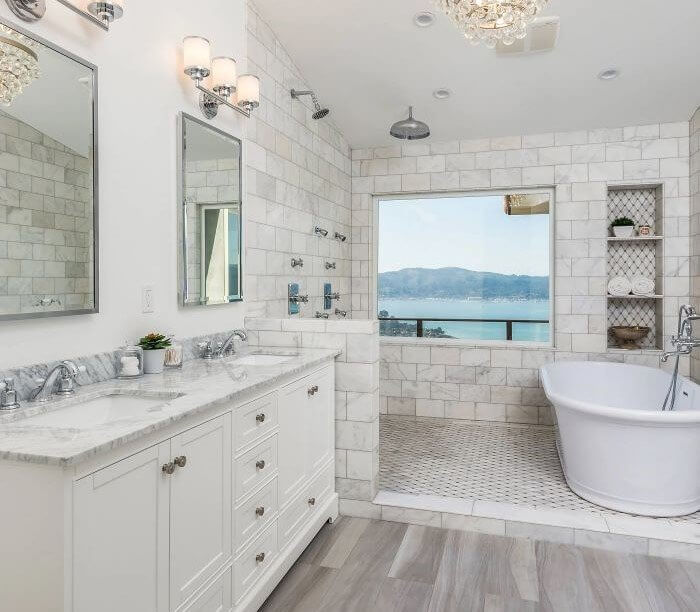 Whether it's vintage mirrors, handcrafted ceramics, or family photographs, these personal touches can turn your bathroom into a space that feels distinctly yours. Ensure that your personality shines through!
Neglecting Maintenance Is a Slippery Slope to Disaster!
A bathroom that suffers from neglect in terms of maintenance can quickly become an eyesore and a functional disaster. Over time, plumbing issues, worn-out fixtures, and peeling paint can diminish the overall appeal of your bathroom. To keep your bathroom looking its best, establish a regular maintenance routine. Fix leaks promptly to prevent water damage; replace worn out faucets and showerheads; and touch up paint or grout as needed!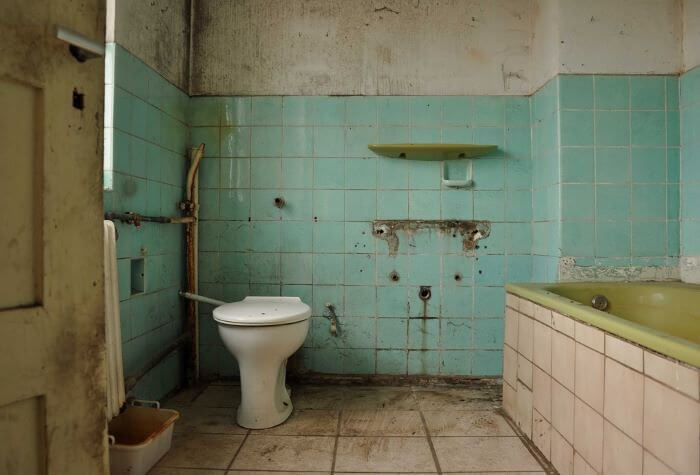 Routine cleaning and maintenance extend the lifespan of your fixtures and finishes and ensure that your bathroom remains a welcoming and hygienic space. Neglecting these essential tasks can lead to costly repairs!
Be Considerate. You Never Know Who Might Come to Visit!
A frequently overlooked aspect of bathroom design is its accessibility. Failing to include accessibility features can limit the bathroom's functionality and usability for people of all ages and abilities. Common oversights include narrow doorways, lack of grab bars, and slippery flooring. To rectify this, consider incorporating accessible design elements. Wider doorways, zero-threshold showers, and strategically placed grab bars can make the bathroom more user-friendly for individuals with mobility challenges or those aging!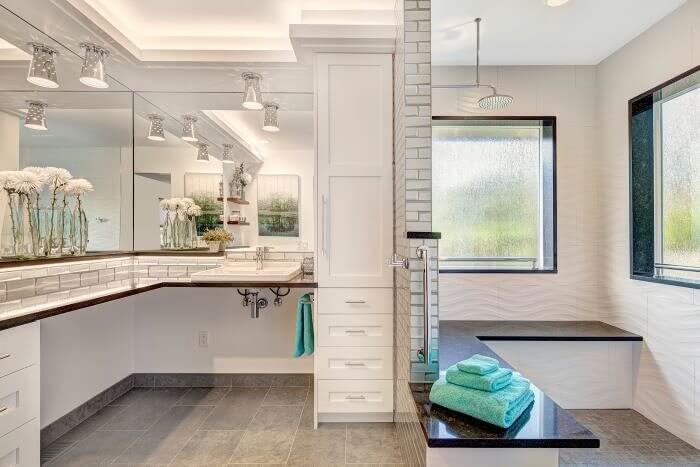 Non-slip flooring options, like textured tiles or mats, ensure safety for everyone. These modifications not only enhance the bathroom's functionality but also demonstrate a commitment to inclusivity and universal design!
So You Can Do Your Business in Peace!
Privacy is a crucial consideration in bathroom design that is often underestimated. Neglecting privacy can result in discomfort and awkwardness, especially in shared households or open-concept bathroom layouts. One common mistake is placing toilets in direct view of entryways or high-traffic areas. To address this issue, carefully plan the layout and consider privacy screens or partitions. Frosted glass or decorative screens can obscure the view while allowing natural light to filter through!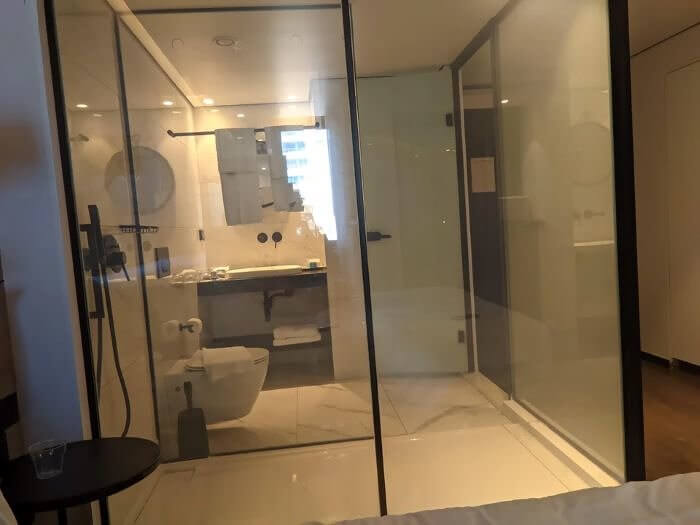 Ensuring privacy in your bathroom design ensures a more comfortable and relaxed atmosphere, fostering a sense of sanctuary rather than unease. Say hello to a bathroom that respects personal boundaries!
Let the Sun Shine Through!
Many bathrooms suffer from a lack of natural light, making them feel dark and unwelcoming. This common mistake occurs when homeowners prioritize privacy over illumination. However, inadequate natural light can affect the overall ambiance and functionality of the space. To address this, explore ways to introduce more natural light into your bathroom. Installing larger windows can be an effective solution, allowing sunlight to flood the room while maintaining privacy through frosted or textured glass!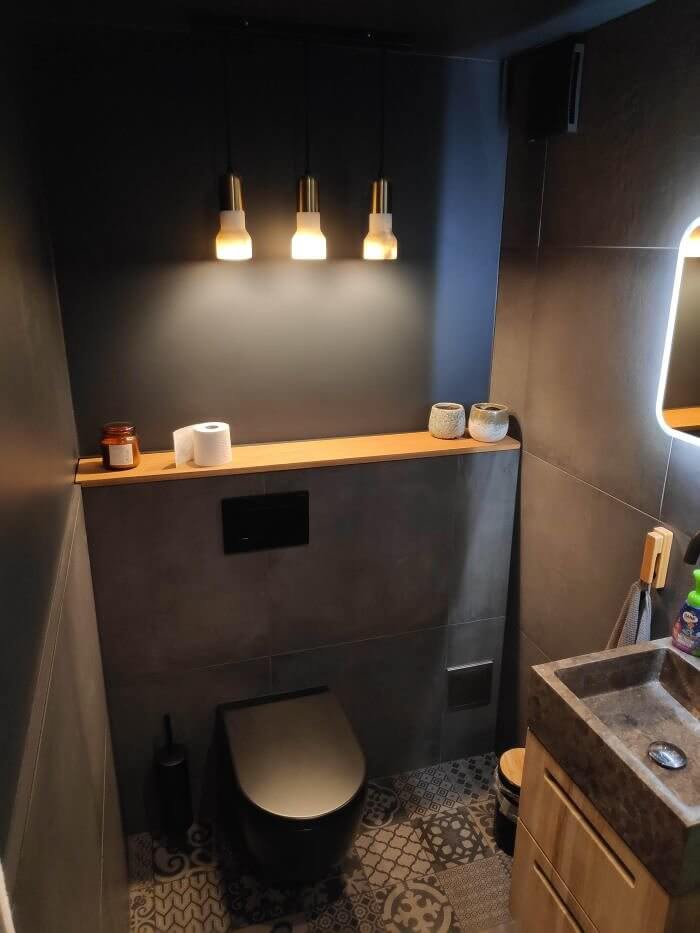 Skylights or sun tunnels are another option to consider, especially for bathrooms without exterior wall space for windows. These additions not only brighten the space but also create a more cheerful and inviting atmosphere!
How Big Is Your Energy Footprint?
In an era of environmental consciousness, overlooking eco-friendly design options in the bathroom is a significant oversight. Many traditional bathroom fixtures and materials are not sustainable and can have a negative impact on the planet. Consider making eco-conscious choices during your bathroom design or remodel. Opt for low-flow toilets and faucets to conserve water. Choose energy-efficient LED lighting to reduce electricity consumption. When selecting materials, explore sustainable options for cabinetry and countertops!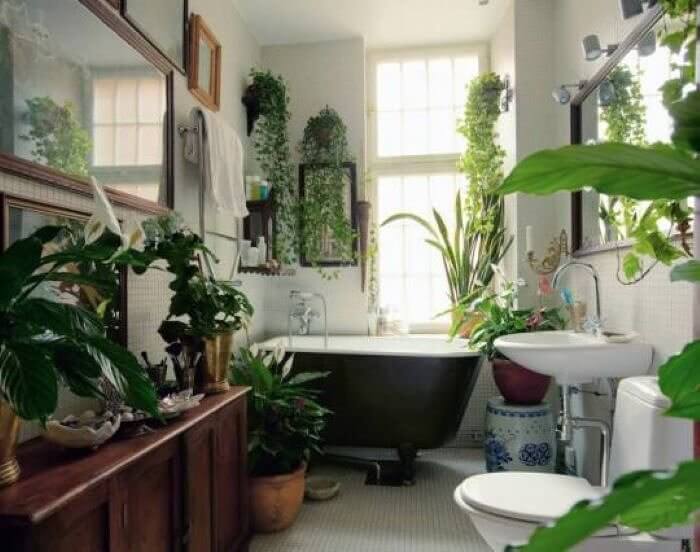 By embracing eco-friendly design principles, you not only contribute to a greener future but also create a bathroom that aligns with modern sustainability values. Make a positive impact on your home and the planet!
Don't Forget to Take Care of the Structure!
One of the most critical but often overlooked aspects of bathroom design is proper waterproofing. Bathrooms are inherently wet spaces, and failure to waterproof adequately can lead to serious structural issues, including water damage, mold growth, and even compromised structural integrity. To prevent this, invest in high-quality waterproofing materials and ensure they are installed correctly. Waterproof membranes, sealants, and waterproof backer boards are essential in wet areas like showers and tub surrounds!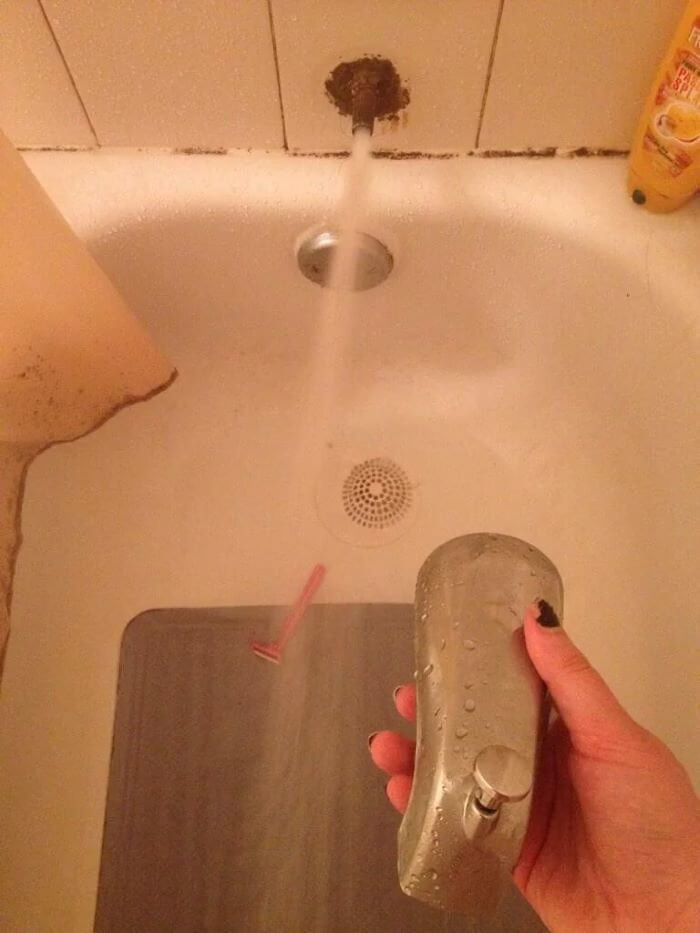 Pay close attention to seams, corners, and transitions, as these are vulnerable points for water infiltration. Your bathroom will remain pristine and structurally sound for years to come!
You Will Appreciate This One if You're Fond of Spicy Curry!
Soundproofing is often an afterthought in bathroom design, yet it can significantly affect your comfort and privacy. Bathrooms can be noisy places, with running water, flushing toilets, and conversations audible throughout your home. Neglecting soundproofing can lead to disruptions and discomfort for both you and other household members. To address this issue, consider incorporating soundproofing elements into your bathroom design. This can include installing soundproof drywall or adding acoustic insulation to walls and ceilings!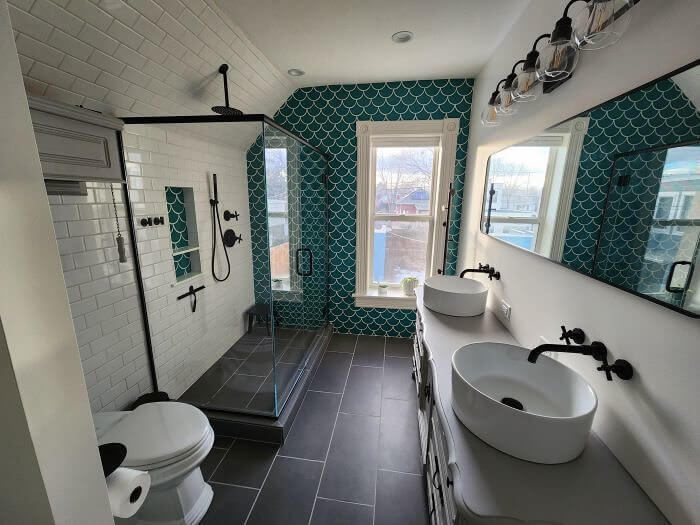 Additionally, choose solid-core doors and weatherstripping to minimize sound transmission. Properly sealed windows and gaps around pipes can also help reduce noise so no one has to listen to you!
Flow and Functionality!
Ineffective space planning can lead to a cramped and inefficient bathroom layout. This often occurs when fixtures and elements are haphazardly arranged without carefully considering flow and functionality. To avoid this mistake, assess the available space and consider your daily routines. Ensure adequate clearance around fixtures so you can move comfortably and safely. Prioritize a logical flow in your bathroom with easy access to the shower, toilet, and sink!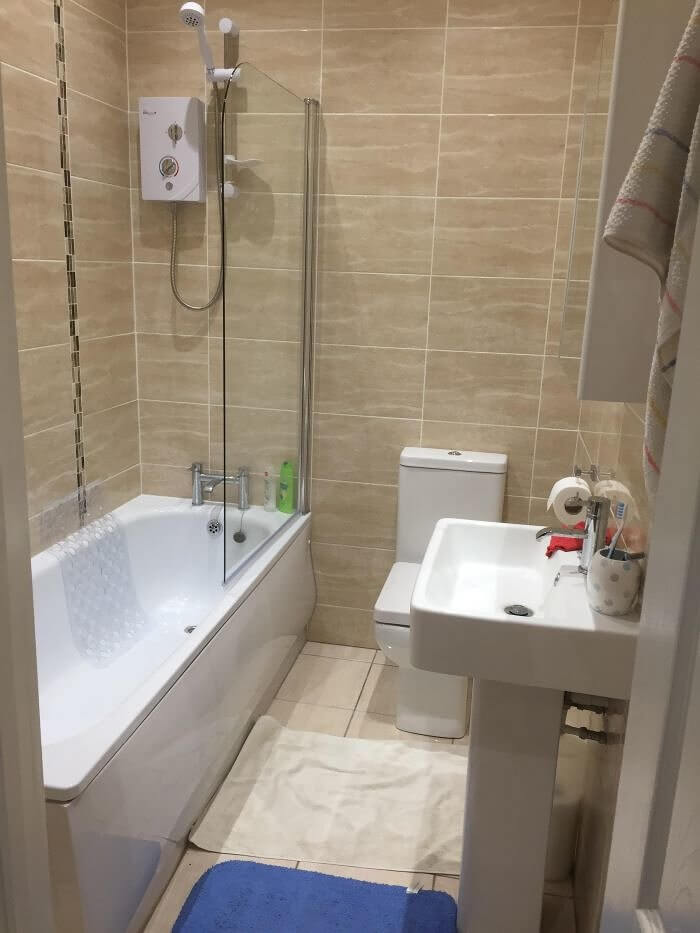 Pay attention to door swings so they don't obstruct paths or fixtures when open. Additionally, think about storage solutions that maximize vertical space to keep clutter at bay!