It can be pretty amusing when you come across someone who bears a striking resemblance to a well-known celebrity. These lookalikes pop up from time to time and make you do a double-take. It may even trigger a sense of familiarity or even excitement! While some individuals actively embrace their celebrity resemblance, others just wish you would stop pointing your cameraphone at them and leave them in peace. From a Jimmy Fallon lookalike, who looks more like Jimmy "Felon," to a news reporter who is a clone of Kanye West, these funny photos will make your day. Here are 30+ hilarious photos of common people who are carbon copies of celebrities!
So That's How Wolverine Gets Around!
We all know that Superman can fly and Batman has his batmobile, but have you ever wondered how Wolverine gets from place to place? Well, we have finally found hard evidence that the star of X-Men actually takes the bus! Yes, here he is in all his glory, ready to spring into action at the first sign of someone misbehaving. When downtown traffic is bad, the bus is the perfect solution!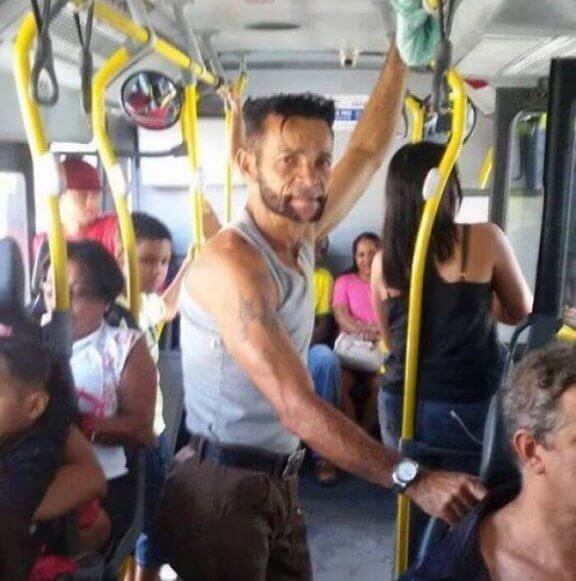 Although this guy looks a little worn out, he has done a great job imitating the muscle-bound superhero. From his hair to his outfit, we think he looks very convincing.
Anthony Hopkins In Disguise!
As she sits there minding her own business, we bet this is actually Hannibal Lecter from "Silence of the Lambs" in disguise, dreaming about Chianti and fava beans. It's like Hannibal himself decided to retire from his cannibalistic escapades and spend his golden years as a sweet old granny. This Anthony Hopkins doppelgänger had nailed every detail without even realizing it. Hannibal Lecter dressed as an old lady would be a hilarious comedy sketch!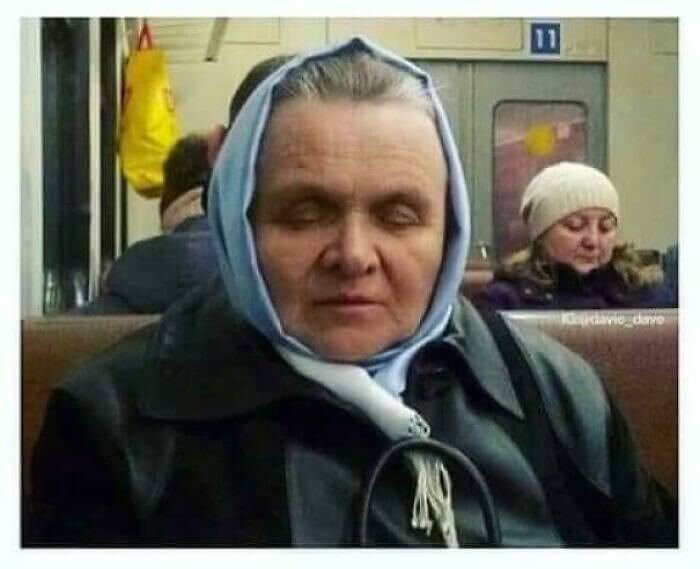 This poor old lady has to walk around looking like Hannibal Lecter. I mean, she's probably very sweet until you find her book of recipes for liver pâté!
Acquaintances!
In these mind-bending photos, you'll find six people who look exactly like the iconic cast of "Friends." It's like the Central Perk gang multiplied and decided to invade the real world with their doppelgängers in tow. As you examine the photo, you can't help but marvel at the uncanny similarities. There's Joey Tribbiani, flashing his signature smirk; a spot-on Rachel Green, her hair perfectly styled; and a Ross Geller look-alike with his bewildered expression!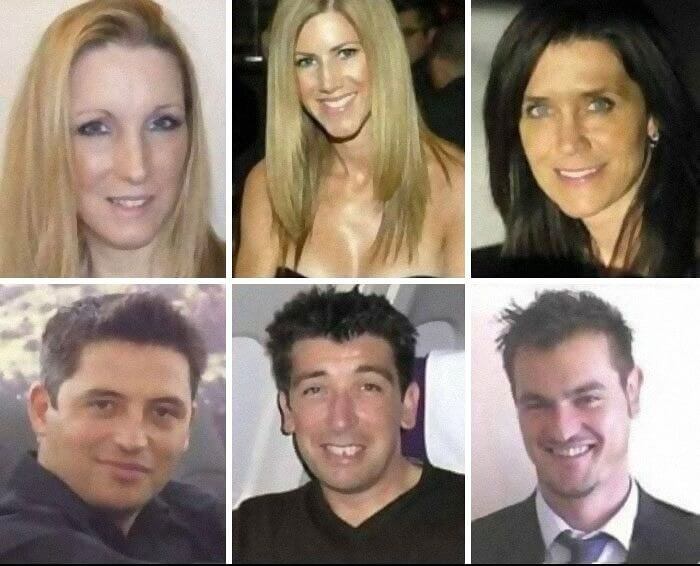 Then there's a Monica Geller carbon copy, ready to tackle any cleanliness challenge, and let's not forget Chandler Bing's doppelgänger, equipped with a quick wit and sarcastic comebacks!
Breaking Wind!
Imagine strolling through your local mall when you spot Walter White, the infamous meth-cooking crime mastermind from "Breaking Bad." This Walter White doppelgänger is lounging on a bench, seemingly taking a break from the illicit drug trade to enjoy some alone time in the food court. In this twisted blend of reality and fiction, stumbling upon a Walter White lookalike adds an extra dash of excitement to your shopping excursion.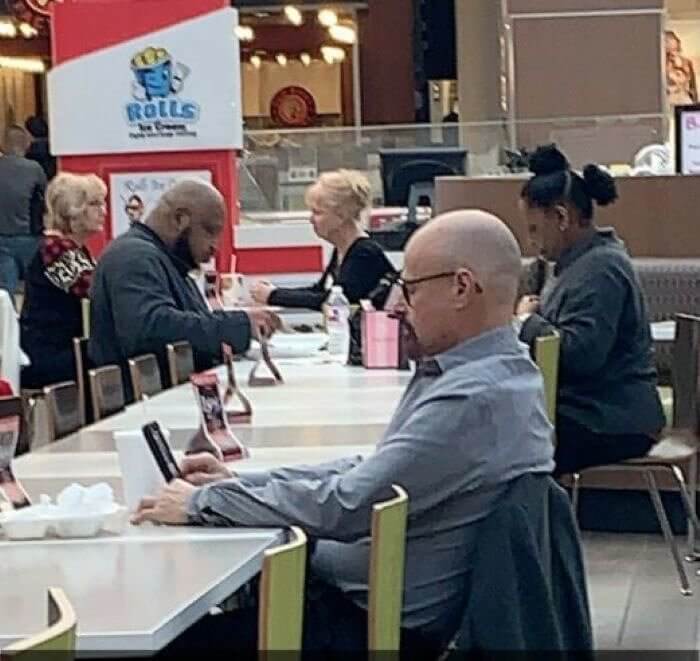 This Walter White lookalike is a reminder of the power of television and the sheer joy of encountering unexpected and amusing moments in everyday life. "Breaking Bad" was an iconic show.
Tincan Man!
This poor guy could easily be mistaken for a budget version of Tony Stark, the ingenious billionaire playboy and alter ego of Iron Man. While Tony Stark may rock sleek, tailored suits and state-of-the-art gadgets, this lookalike has a slightly less glamorous appeal. Security would throw him out if this guy tried to enter Stark Industries. He probably has an iron suit made from recycled soda cans and duct tape.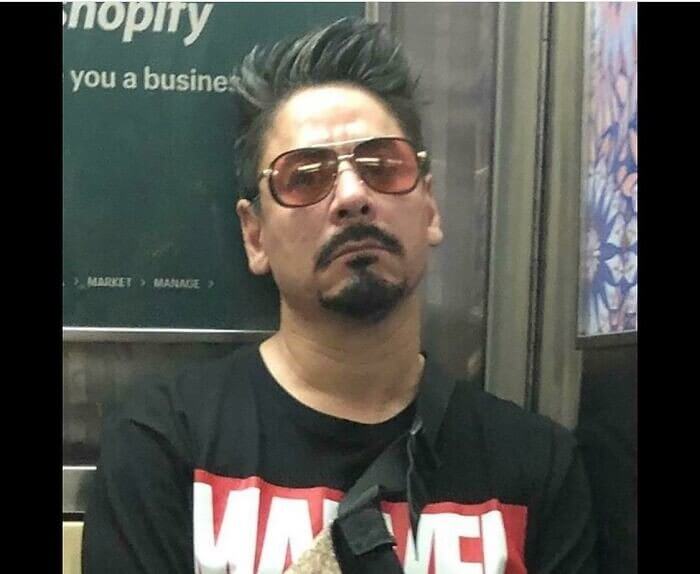 Instead of a luxurious mansion and a high-tech lab, this doppelgänger probably has a cluttered garage and a collection of mismatched tools. He doesn't look very happy to be in this photograph!
Yippee-Ki-Yay!
It's more common to see famous people ride the bus nowadays than in Hollywood. Here we have Bruce Willis seated on a bus and staring coldly out the window, thinking about his next Die Hard movie. The plot involves a runaway bus full of celebrity lookalikes! This man's striking resemblance to Willis could land him many acting jobs without ever having to attend an audition. He looks exactly like the Hollywood hardman!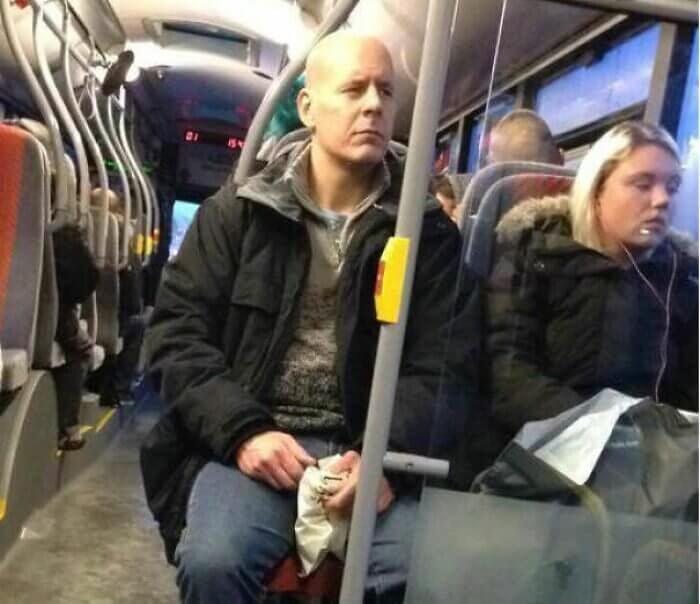 Maybe he could go to Hollywood and make the most of his looks. After all, Bruce Willis can never have too many stunt doubles. "Die Hard with a Doppelganger!
Kanye South-West!
Hold onto your seats, folks, because the news just got much more entertaining. Imagine tuning in to the evening news and being greeted by a news reporter who is a dead ringer for the one and only Kanye West. Yes, you heard right! This Kanye doppelgänger had all the swagger and confidence of the famous rapper, but when he reports the latest headlines, it's hard to focus on the actual news.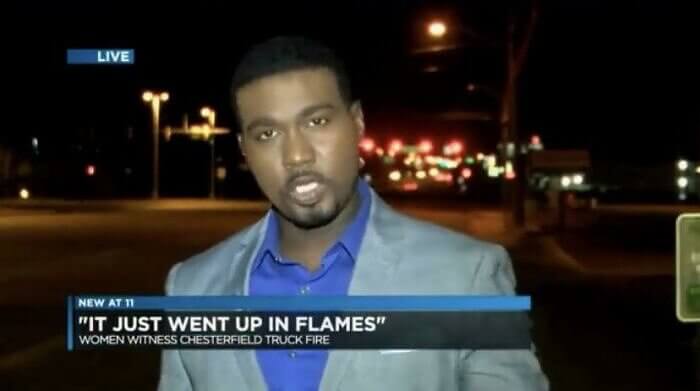 This Kanye West lookalike injected a much-needed dose of excitement and unpredictability in a world where news reporting can sometimes be predictable and monotonous. Thanks to Ye, we'll be tuning in more often!
The King of Pop Returns!
This girl looks so much like the King of Pop that you would be forgiven for thinking that he never really died. And while she has certainly styled herself to look like Michael Jackson, there is no denying that her nose, lips, and eyebrows are very similar to the deceased megastar. Her hair may not have as much curl as MJ's, but the rest of her face is a dead ringer.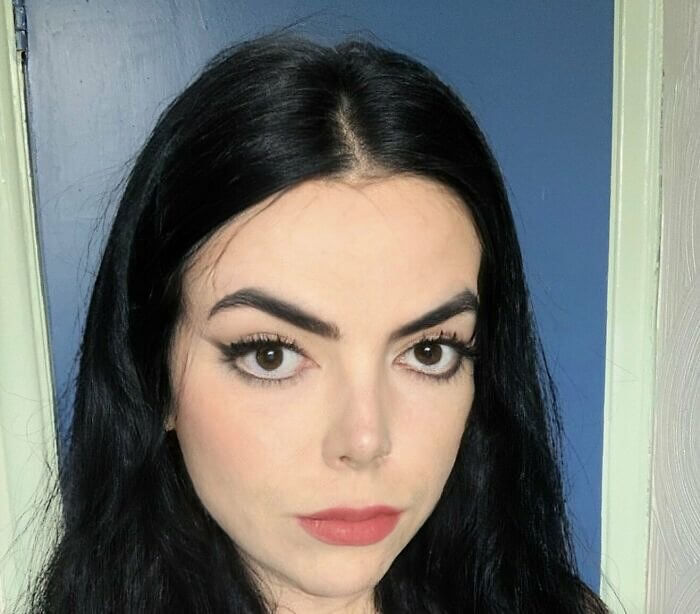 Before the singing and dancing sensation died, he had very feminine features. One too many plastic surgeries left him looking frail and weak, but he never lost his legendary dance moves!
Is That Jimmy Felon or Jimmy Fallon?
No need to panic; Jimmy Fallon has not been incarcerated. This inmate just looks extremely like the famous talk show host. With an appearance that is a carbon copy of Jimmy's, this guy's cellmates may believe they have a celebrity visitor. And who knows, maybe that will work in his favor. However, this individual does not appear to have the same positive outlook on life as the lovable American comic does.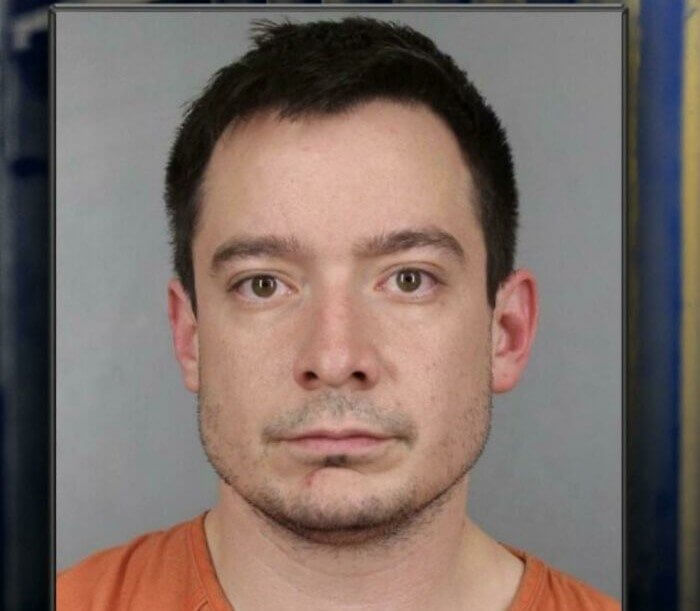 Having a criminal lookalike when you're a high-profile celebrity can lead to all kinds of confusion. Poor Jimmy Fallon could be left red-faced in a case of mistaken identity!
Einstein Looks Good for His Age!
Einstein appears to have returned from the past, but he looks confused. He's left scratching his head, wondering how he ended up trapped in a supermarket. The man's mustache and haircut are so convincing that he could easily receive yet another Nobel Prize. And while it doesn't appear to be a deliberate impersonation, this guy really is a carbon copy of the man responsible for the theory of relativity.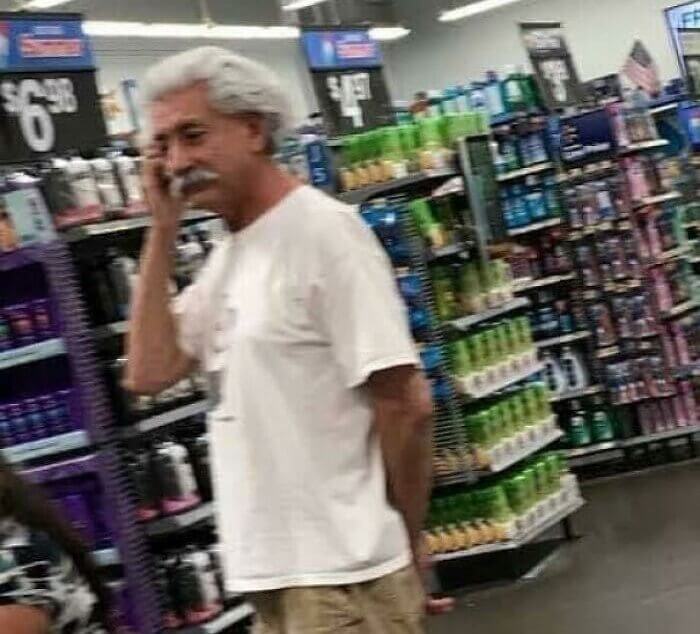 Every time this guy misses his appointment at the barber, he probably gets confused for Albert Einstein. I wonder what Einstein would think of the planet now if he did return.
Game of Clones!
As you watch this version of Tyrion Lannister striding confidently down the sidewalk, you can't help but wonder if he possesses the same strategic mind and sharp tongue. Will he launch into a monologue about the importance of wine or start delivering witty one-liners about the current political landscape of the neighborhood? We loved Peter Dinklage's character from "Game of Thrones. Let us hope his doppelgänger is as memorable.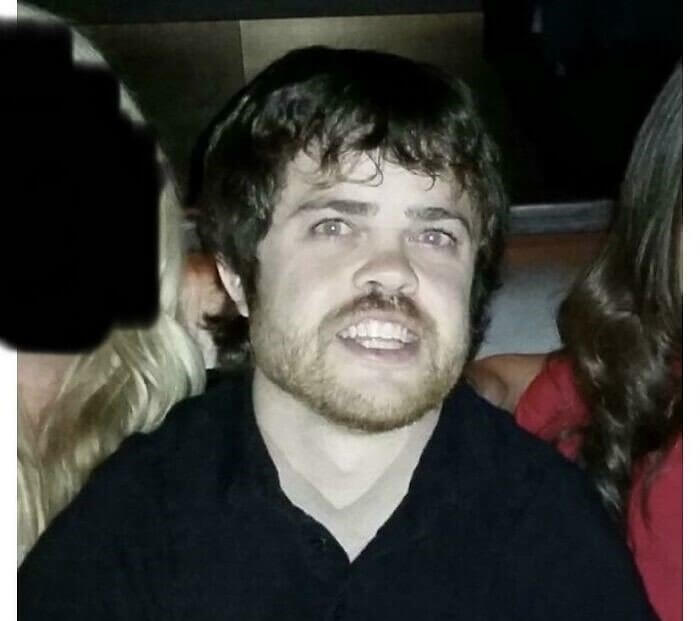 Meeting someone resembling Peter Dinklage would add a layer of delight to anyone's day. Cheers to a world where we can all embrace our inner Game of Thrones characters, no matter our stature!
Morgan Free-Bus Pass!
It looks like all those years spent in Shawshank Prison really did take their toll on Morgan Freeman. He should have tunneled through the walls like his good friend Andy Dufresne! But really, the resemblance between this actor and Morgan Freeman is striking. His half - closed eyes, gray hair, and shallow mustache must have had the people on the bus whispering behind their hands, "Is that really Morgan Freeman?"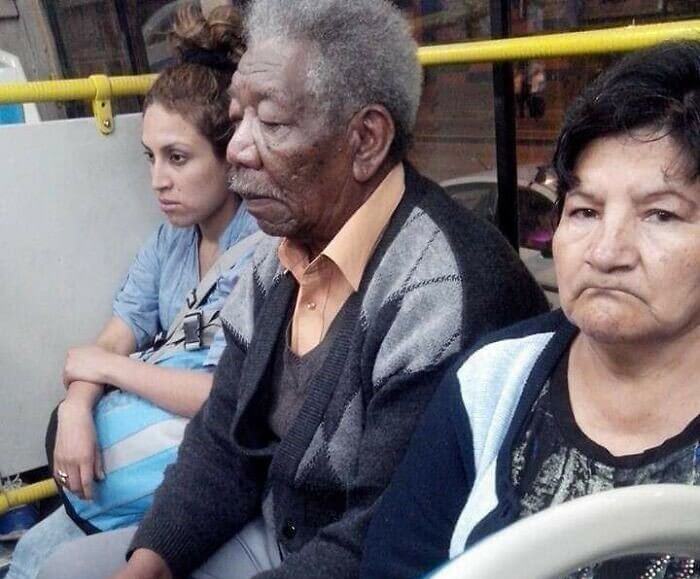 In a situation like this, the best way to tell whether it's the iconic actor is to hear him talk. Morgan Freeman's voice is one of the most famous things about him!
Sorry, Ms. Jackson!
It looks like Samuel L. Jackson is starring as an undercover security guard in his next movie. He is disguised as a woman while trying to catch shoplifters at a 7-Eleven! If you were a kid thinking of stealing some candy, just one look from this superstar would definitely make you think twice. But really, if Sam Jackson wore a wig, this is exactly what he would look like!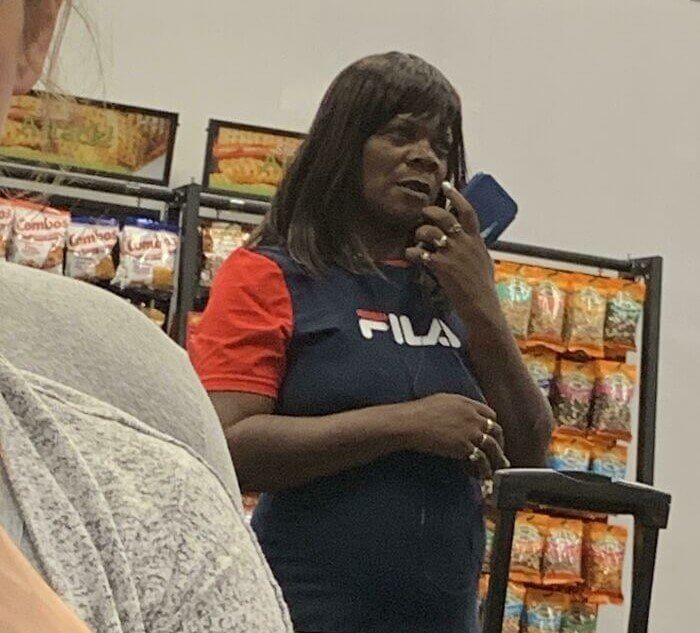 She looks so much like the megastar that she could easily be his twin sister. But as far as we know, this lady and the star are not related to each other.
Vin Diesel Has Some Explaining to Do!
This baby looks like he's about to climb into his 1970 Dodge Charger and leave his mom in the dust! With his bald head and similar facial features, this fast and furious-looking toddler is the spitting image of Vin Diesel. And with the same fearless expression as the action star, this kid could go a long way. Maybe he could become the star of a spinoff for kids, "Friendly and Furious!"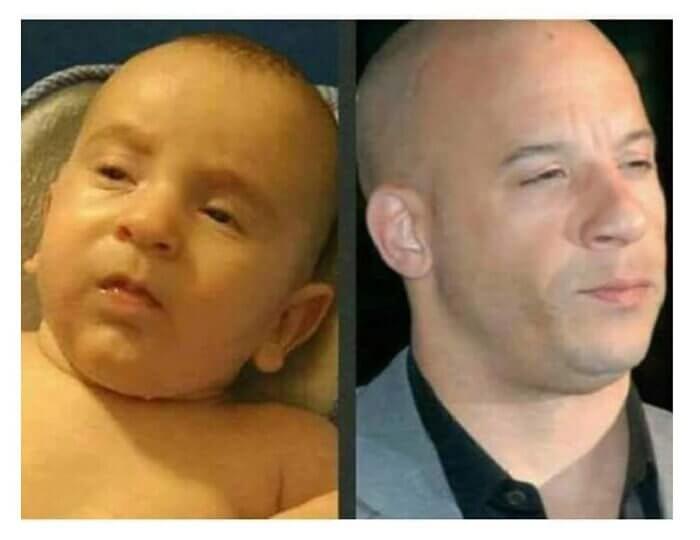 Believe it or not, this baby is not related to the action hero. Still, there's no denying the similarities between the two. Baby Deisel certainly has us fooled!
Ron Purr-Lman!
As it turns out, even animals can become superstar lookalikes these days. The resemblance between this ginger cat and Ron Perlman is priceless. If you look at the two pictures side by side, it is hard to deny their similarities. If you can look past the cat's pointed ears, their eyes and other facial features are very similar. The cat even looks like he is wearing a wooly jacket!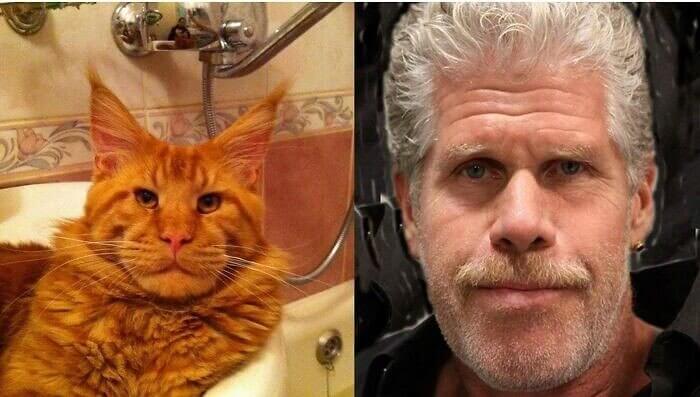 But maybe we have it backward. Maybe it's Ron Perlman who looks like the cat. He is quite famous for his unusual good looks. I wonder whether he has nine lives too!
Van Gogh Is Looking Good!
These days, Vincent Van Gogh is well recognized as one of the greatest artists that ever lived. Before his untimely demise, he created several masterpieces, including "Starry Night" and "Sunflowers." This metro rider is the spitting image of Van Gogh. His hair color, chiseled chin, and beard are carbon copies of the master artist. But there's only one way to find out if it's him. You would have to check his ears!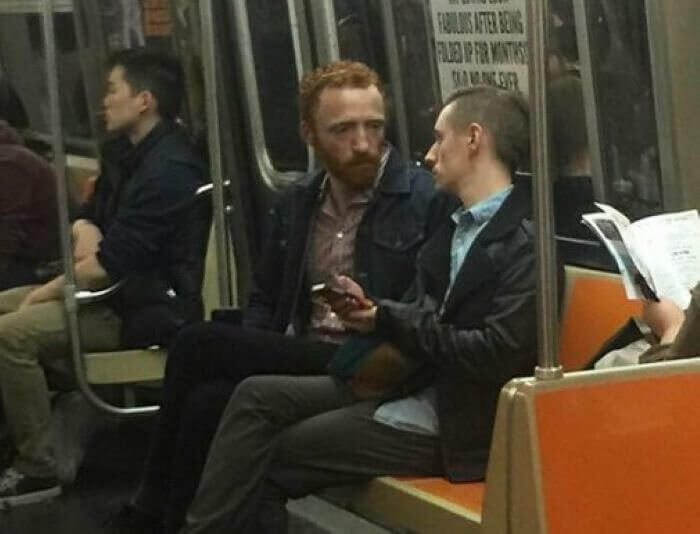 Van Gogh was a very unwell man and cut off his left ear when he was in an argument with fellow artist Paul Gauguin. Can you see his left ear?
Thrill Smith!
The guy on the left looks like Will Smith after receiving a few too many slaps from Chris Rock! This doppelgänger possessed not only the physical attributes but also the undeniable charisma that has become synonymous with the Fresh Prince. I mean, just look at that smile, and his ears are exactly the same. This guy could easily pass as Will Smith's twin brother, and we think he knows it too!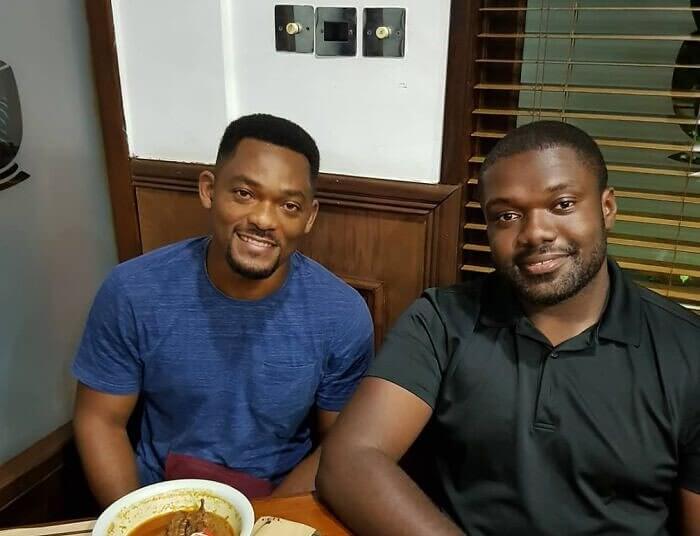 If his friend looked more like Carlton from The Fresh Prince of Bel-Air days, these two could make an absolute fortune. I wonder if he laughs like Smith too!
Wesley Yikes!
Picture this: you're casually strolling through the produce section of your local supermarket, minding your own business, when suddenly, out of the corner of your eye, you spot a familiar face. It takes a moment for your brain to process what you're seeing, but there's no denying it—you've stumbled upon a real-life Blade right there among the apples and oranges! He doesn't quite have the fierce intensity of the vampire-slaying superhero.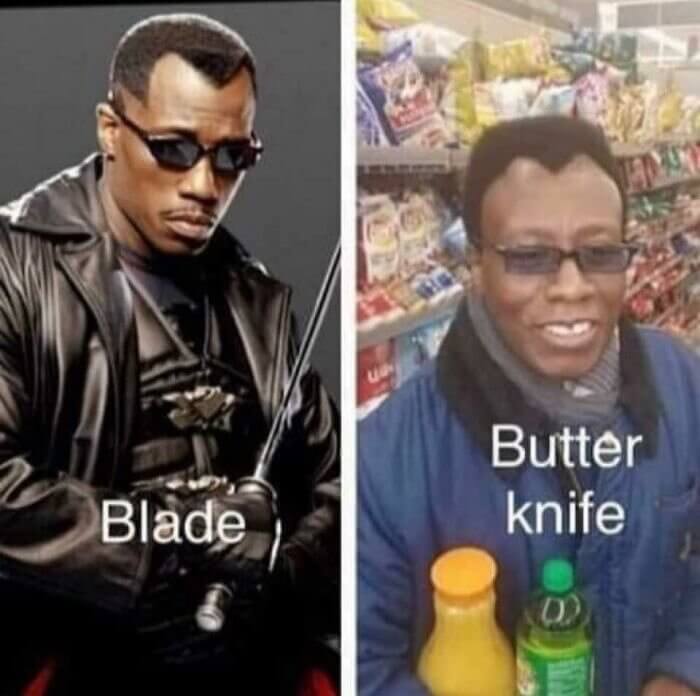 In a world where the mundane and extraordinary intersect, encountering a real-life Blade at the supermarket would be an unexpected treat. Unfortunately, this guy looked more like butter-knife than Blade!
Lincoln Looks Fed Up!
With his tall stature and unmistakable beard, this Lincoln lookalike has all the iconic features. Yet, while the real Abraham Lincoln had a dignified and wise presence, this doppelgänger seems perpetually weighed down by the world's problems, both past and present. You can't help but wonder if he is silently mourning the state of modern politics or the lack of top hats in today's fashion trends as he exits the plane.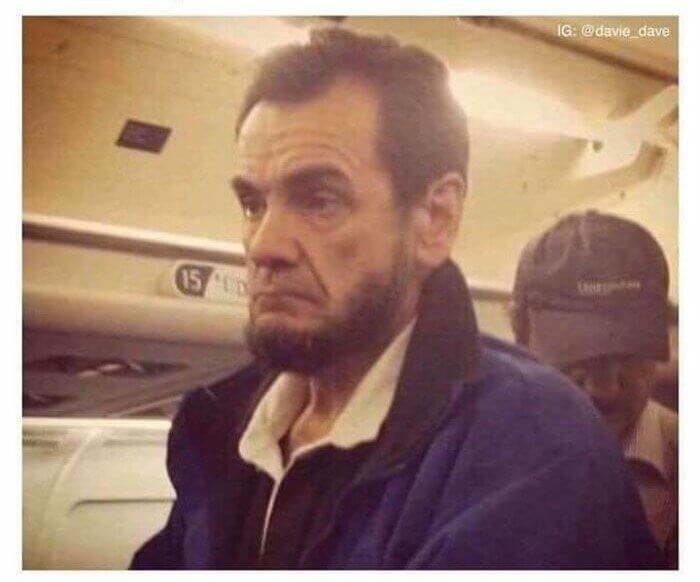 It's not every day you come across a historical figure trapped in an eternal state of misery. You can't help but wonder how he would react if you asked for a selfie!
Conan O' Time-Travel!
Hold onto your late-night laughter because we stumbled upon an old black-and-white photo guaranteed to tickle your funny bone! This vintage snapshot captures a scene straight out of a time-traveling comedy sketch. It's not hard to imagine Conan O'Brien striking a hilarious pose with his signature fiery hair perfectly intact, even in monochrome. It's like he stepped into a time machine and decided to rock a snazzy suit from yesteryear.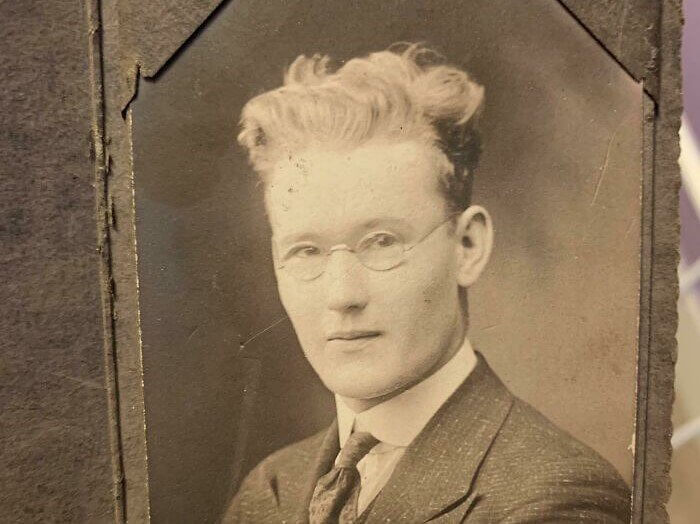 With his trademark grin and a mischievous glint in his eyes, this vintage Conan look-alike is a priceless reminder that laughter truly transcends time. You'll never look at Conan the same again!
Tom Lose!
This looks like Tom Cruise if he had an allergic reaction after being stung by a bee! Or maybe this guy would pass as the action star's older brother. His rounded features are the only giveaway that it's not the Top Gun star himself, but with the same big blue eyes and broad white smile, he'd be right at home in Hollywood. He could go a long way with those looks!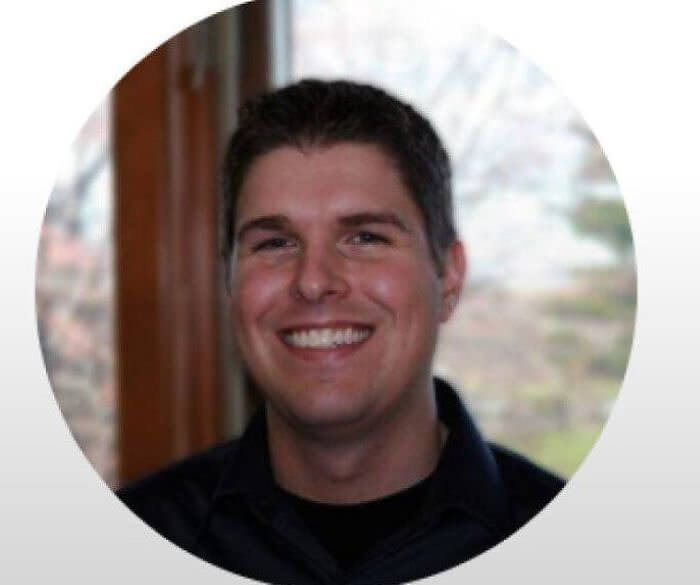 If you looked like an A-list celebrity, would you tell people you were a relative of the star so that you might get VIP access to clubs and restaurants?
Chubby Reynolds!
This law school grad looks suspiciously like Hollywood actor Ryan Reynolds. He has Ryan's smug grin and prominent upper teeth, making him look more like Ryan than Ryan does. The likeness is so accurate that you would be forgiven for thinking he is a younger Ryan Reynolds, perhaps in his college years. His plump face does give it away, though. Maybe Ryan was carrying an extra few pounds back then!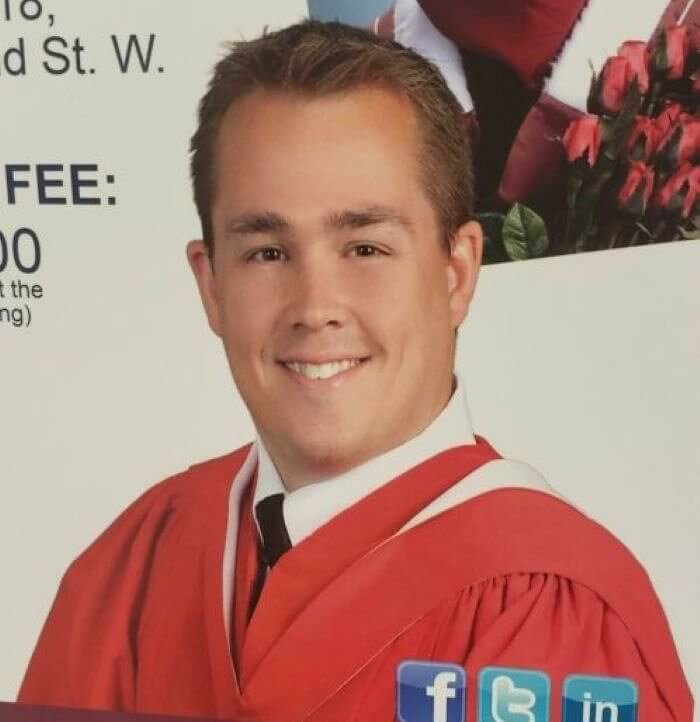 While Ryan Reynolds is well known for having a great sense of humor, I wonder if he would appreciate being compared to this guy. They really are very similar!
We Found Edward Snowden!
Imagine walking into your local 7-Eleven, ready to grab a snack, when you come face to face with Edward Snowden, the infamous whistleblower. This Snowden doppelgänger has gone from exposing government secrets to working the late-night shift at a convenience store. As you approach the counter to pay for your goodies, you can't help but wonder if this look-alike is secretly transmitting classified information through the store's security cameras!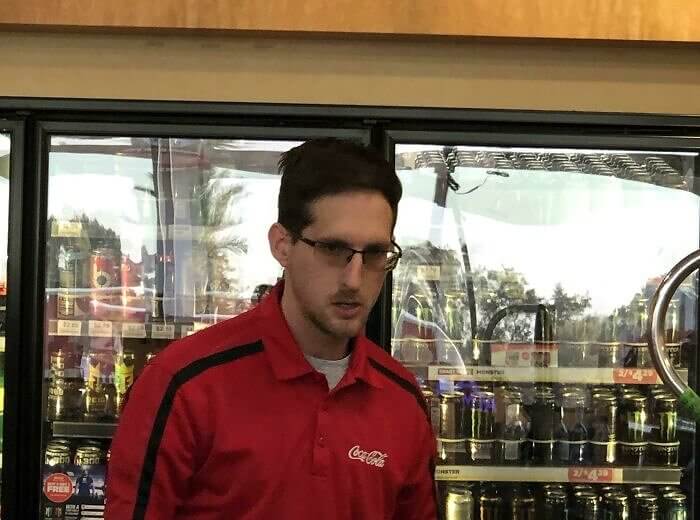 From exposing mass surveillance to ringing up your nachos, hot dogs, and beer, this Edward Snowden look-alike proves that even the most infamous whistleblowers need a day job.
DeVito Doppelgänger!
Hold onto your sushi rolls, folks, because we have found the Asian doppelgänger of the legendary Danny DeVito! This pint-sized powerhouse had all the distinct features that make DeVito so unmistakable. From the iconic bald head to the mischievous grin, this look-alike has a hilarious blend of DeVito's charisma but with an Asian flair. Imagine him recreating some of the classic scenes from "It's Always Sunny in Philadelphia," hilarious!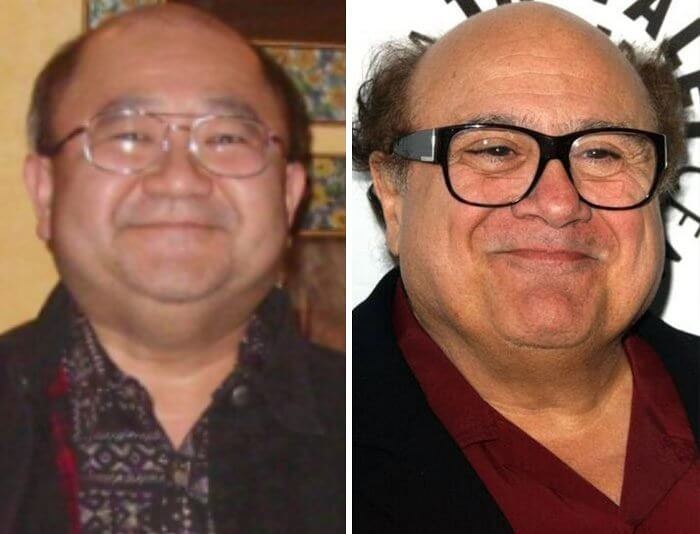 So, if you happen to spot this Asian DeVito doppelgänger around town, brace yourself for a hilarious ride. It's DeVito with a dash of soy sauce, and it's comedy gold!
Pam Winfrey!
Pam Oliver, the renowned football commentator, looks like she could be Oprah Winfrey's long-lost twin! As you watch her expertly analyze the game, you can't help but imagine her introducing her "Favorite Plays" segment or inviting the winning team to join her in an emotional post-game interview. Imagine Pam hosting her own version of "Oprah's Book Club," but with a football twist, recommending must-read titles about strategy, teamwork, and touchdown triumphs!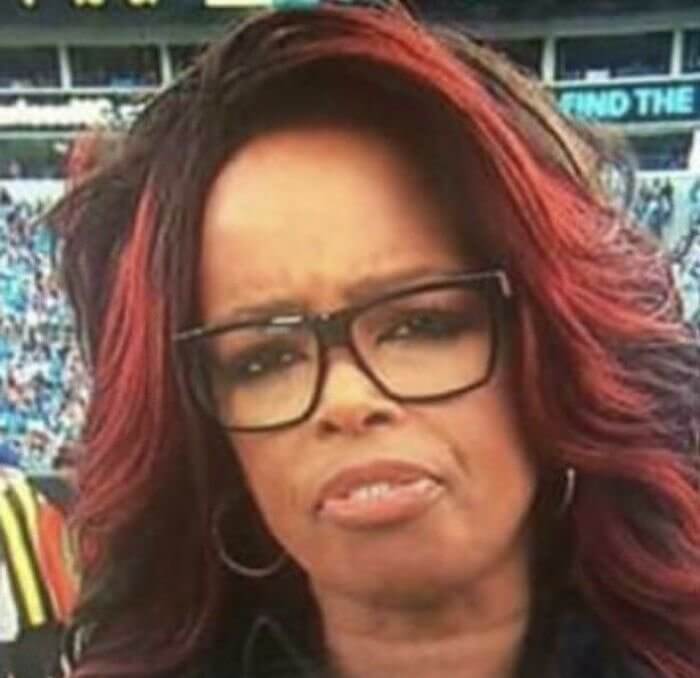 It's important to remember the incredible achievements of both of these extraordinary women. Pam Oliver's expertise in football commentary and Oprah Winfrey's groundbreaking contributions to media and women's empowerment are unparalleled.
Budget Billie Eilish!
This lady looks like a worn-out version of the very talented Billie Eilish. It's like a glitch in the Matrix, where the glamorous superstar's doppelgänger has fallen on hard times. In this perplexing photo, you'll see a person sporting Billie's signature neon-colored hair, but instead of fierce confidence, her worn-out expression mirrors the struggles of everyday life. Maybe she blew her budget on countless lottery tickets hoping for a life-changing win!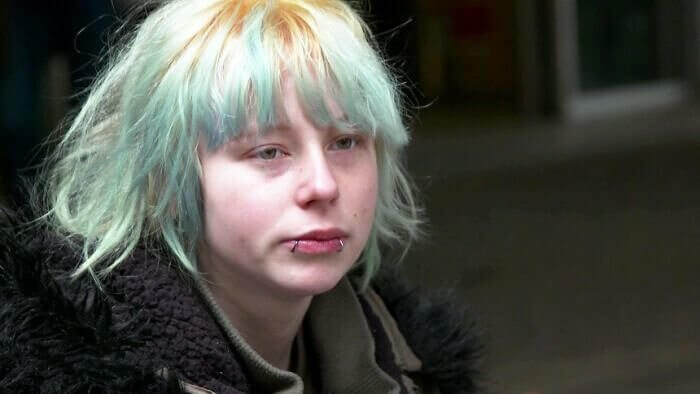 Let's hope this budget Billie Eilish gets her life together. It can't be easy having the looks of a millionaire superstar while struggling to make ends meet. We wish her good luck!
Baby Ed Sheeran!
How cute is this pint-sized version of the chart-topping sensation, complete with rosy cheeks and a head full of ginger curls? You can almost picture her cooing sweet melodies in perfect pitch. As you gaze at this mini Ed Sheeran look-alike, you can't help but wonder if she's already writing her first chart-topping nursery rhymes or practicing "Shape of You" with her baby babble remix. This photo is hilarious!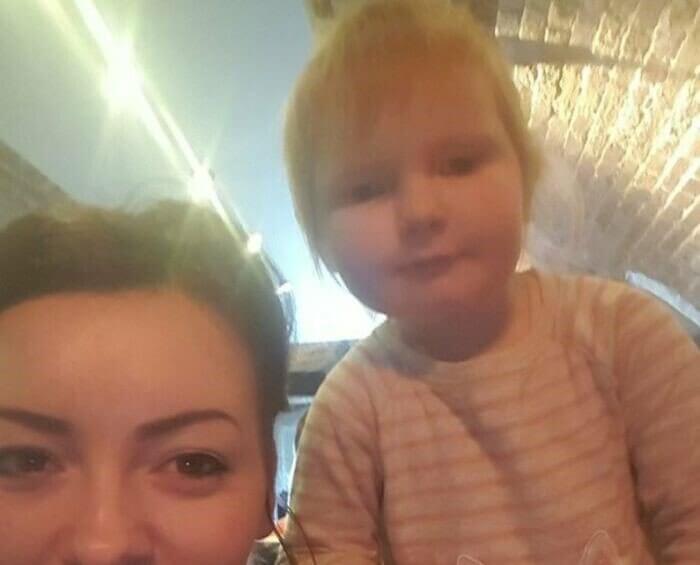 With her tiny fingers and big personality, this baby girl may just become the youngest singer-songwriter to top the charts, trading lullabies for sold-out stadium concerts. And her mom looks so proud!
An Overweight Leo DiCaprio!
If this guy lost a few pounds, he would bear an uncanny resemblance to none other than Leonardo DiCaprio. As you picture this overweight gent, you can't help but imagine the possibilities. Will he channel his inner "Wolf of Wall Street" and embark on a dieting spree rivaling any Hollywood workout regimen? Maybe he'll be spotted jogging through the streets, recreating iconic scenes from "Catch Me If You Can!"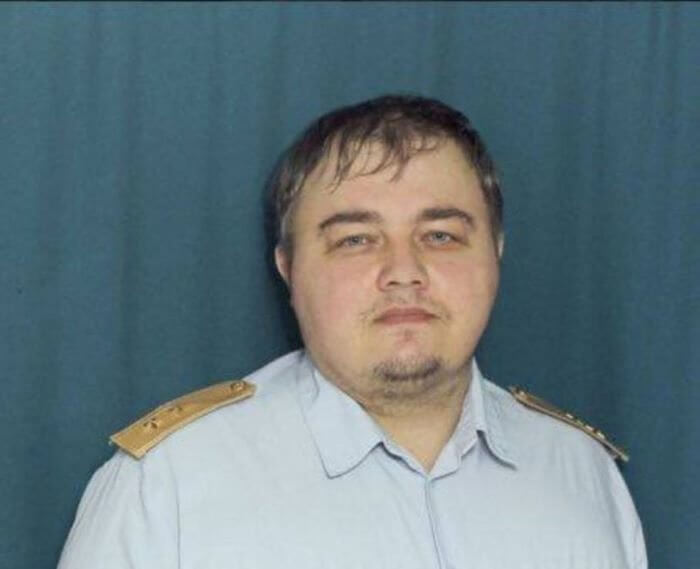 With every slice of pizza sacrificed, and every gym session endured, this potential Leo doppelgänger inches closer to the Hollywood dream. Fans who believe him to be the real deal might swarm him!
Shrek Has Gone Back To School!
This Shrek look-alike might have fellow students questioning their reality. Is he secretly a swamp-dwelling hero, defending his classmates from evil knights and rescuing them from towers? With each passing day, this Shrek look-alike is bound to encounter his own version of Lord Farquaad. Will they engage in a battle of wits and height, with the Shrek doppelgänger using his ogre - sized humor to triumph over any challenge?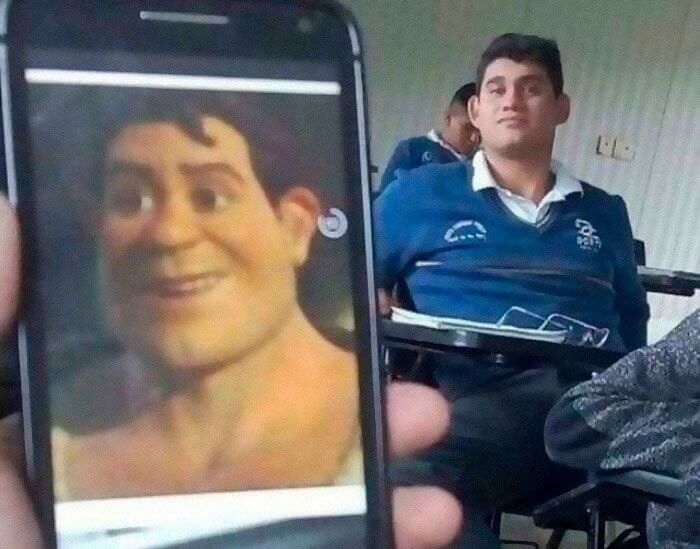 The beloved animated character has sprung to life and decided to enroll in high school. And who knows, maybe this real-life Shrek will find his own Fiona and live happily ever after!
Jurassic Train!
Imagine spotting a guy who looks exactly like the legendary John Hammond from Jurassic Park. It's like the eccentric billionaire himself has escaped from Isla Nublar and decided to trade in his amber-encased mosquitoes for a ride on the railway. With every word he utters, you half-expect him to announce a sudden detour to a hidden dinosaur theme park. Will he reveal a pocket-sized T-Rex that has conveniently escaped its enclosure?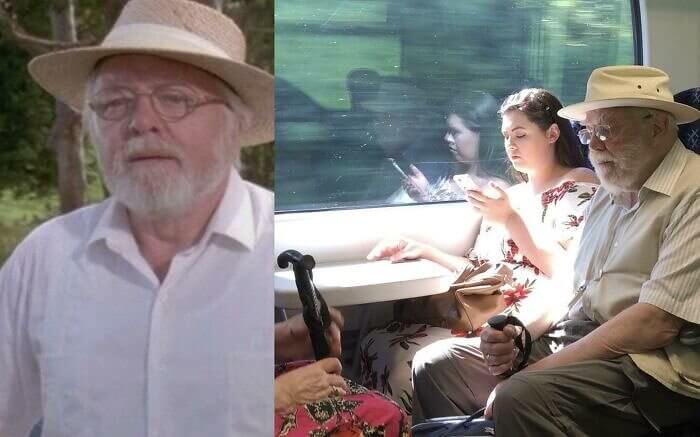 As you observe this uncanny doppelgänger, you can't help but wonder if he's on a secret mission to resurrect extinct species right there in the train compartment!