A home should be the one place where you get to relax and feel peace. After spending most of the day among the hustle and bustle of public spaces like your workplace or the shops and supermarkets, your home should welcome you with open arms and make you feel whole again. That is why your home's interior design is so important. Unfortunately, too many people surround themselves with tacky items and loud home decor that give off an uneasy, uncomfortable feeling. From cluttered kitchen racks to futons and glass furniture, here are 35 decor items that you should throw away to make your home more inviting!
It's Time to Forget the Futon!
It wasn't that long ago that your home looked cool and trendy because you had a futon in the living room. And let's be honest, they are still perfect for people who are decorating a new home with limited square footage and financial resources. But otherwise, if you want to improve your space, get rid of the futon. Replace it with something appealing and functionally comfy to prevent your space from seeming tacky.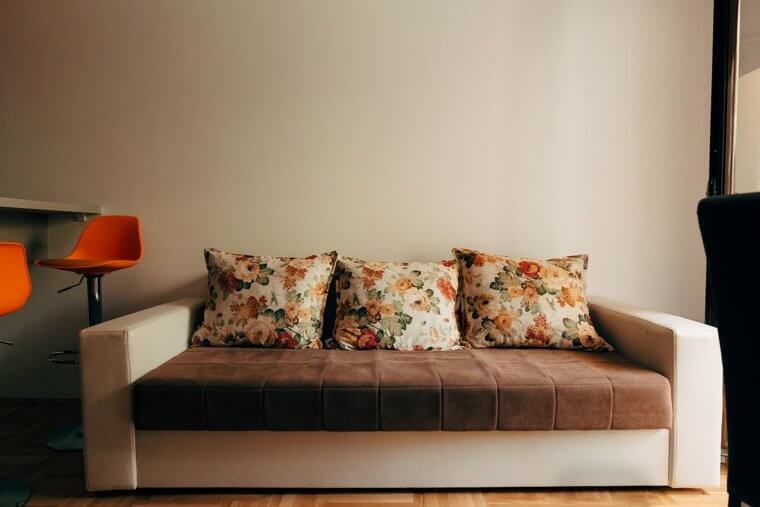 Futons look cheap and are not very comfortable. They're just a product that most people outgrow once they reach their twenties and their college days are over!
Move Your Plastic Storage Containers Out of Sight
See-through plastic storage containers were all the rage for years, and I don't mean hidden away in the attic or garage. No, it was quite normal to have them out in the open for all to see! And whatever they were full of, it was usually forgotten about. But these days, making your home look like a kindergarten classroom is a no-no. If you must use these tacky containers, do yourself a favor and put them out of sight.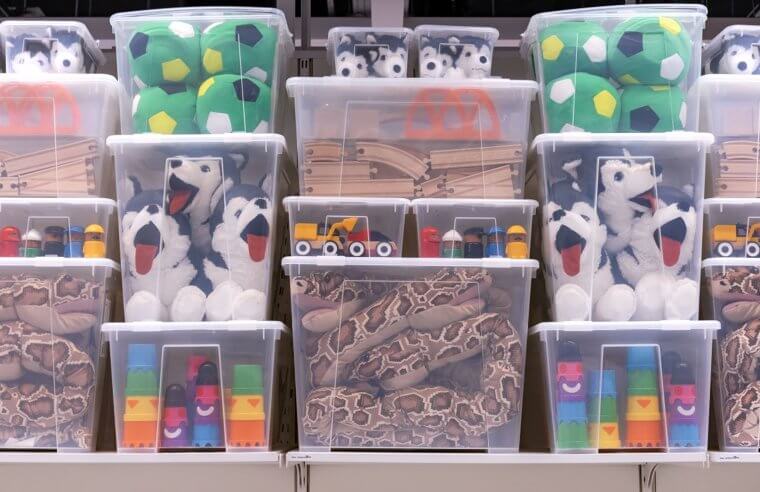 ​Apart from making your home look cheap, plastic storage containers encourage hoarding. Eliminating clutter is one thing, but simply moving it into a cheap plastic box is a headache for another day.
Avoid "Inspiring" Cliche Catchphrases
Enough with the cliches, guys! It's time to move on from decorating your home furnishings with cheap-looking, tacky expressions. "Live, laugh, love" was everywhere for years: homes, doctors' waiting rooms, and even restaurants. Yes, this reminder to be more positive is just cringeworthy these days. Avoid cheesy, overused, "inspirational" catchphrases, as they will just end up making your home decor look uninspiring and cheap! It's time to personalize your home with a more unique approach.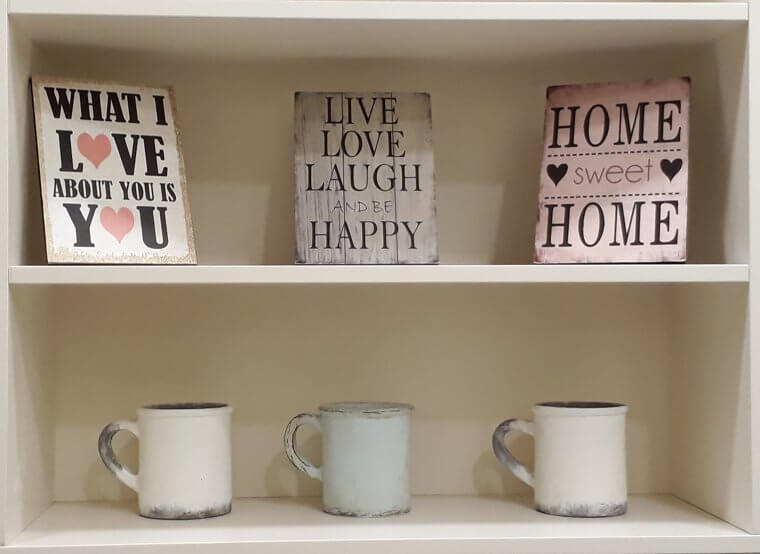 If you want to actually design your house tastefully, ignore this décor item entirely. And remember, sometimes less is more. You don't need to fill every space!
Loose Cables Are a Real Eyesore
Cables have always been a problem when it comes to home decor. When I was growing up, having untidy cables everywhere was just commonplace. Honestly, no one really knew what to do with them, so people didn't pay much attention to them. But these days, there are no excuses for untidy and disorderly cables hanging everywhere. Your home will instantly look brighter and feel lighter when you hide those wires!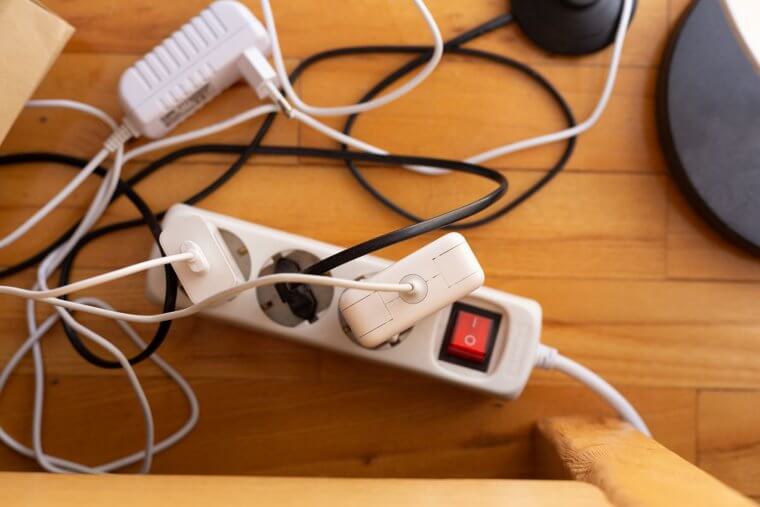 If you have problems concealing loose cables, at least wrap them up with cable ties or tuck them away behind the sofa so no one ever sees them.
Shag Rugs Should Be Shunned
Home furnishings from the 1970s and '80s, such as shag rugs and carpets, may seem odd to us now, but they were hip and happening in their day. Now they're just a throwback to a different era of interior decoration. It's not a smart idea to use a shag rug in your living room since it can make the entire space seem dusty and tasteless. Try something more contemporary if you want to modernize your living room.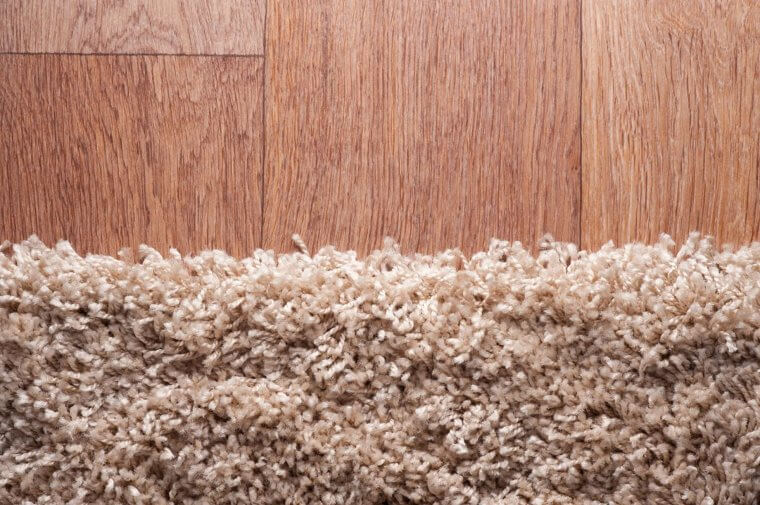 You should get rid of such carpets as soon as possible if you want your home to seem chic and sophisticated instead of like an allergy paradise.
It's Time to Release Your Sofa!
When you have expensive sofas that you are desperate to keep looking beautiful, plastic sofa covers may seem like a fantastic idea, but they're not. They're awful! I mean, what's the point of buying something you can admire and enjoy if you can't admire and enjoy it? Okay, it will look perfect in ten years, so will you take the plastic cover off then? Come on, people, take off the plastic cover and enjoy the furniture as it was intended.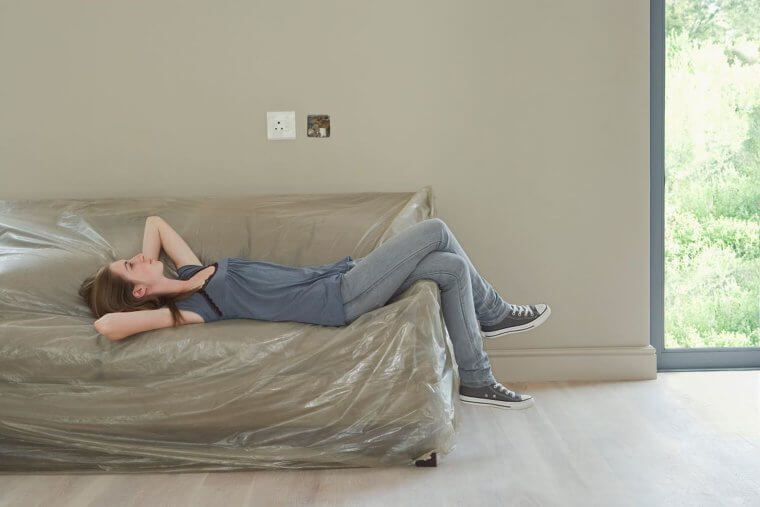 Taking off the plastic coverings from your couches is a step in the right direction. Make your home feel warm and comfortable again. You won't regret it!
Rustic Pallets Are Only Good for Parties!
Making your own furniture can be a rewarding pastime and an excellent way to add special touches to your home that really make it your own. It may seem like a good idea at the time to use stacked wooden crates to give a charming rustic appearance, but unless you are a DIY master, these pallets won't be very reliable or sturdy. They will just leave an unfinished look that feels cheap.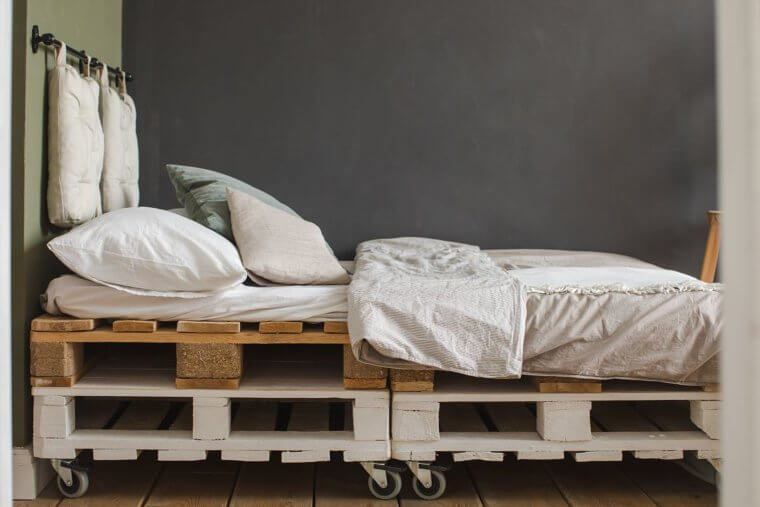 Wooden crate furniture you build yourself looks great at parties and other special events. But they're not something you should consider if you can afford more permanent fixtures.
Kitchen Racks Look Cluttered
Because the kitchen is the centerpiece of every home, its layout deserves careful consideration. If your kitchen is on the smaller side or lacks sufficient storage space, of course, you should improvise. But while racks for storing pots, pans, and other kitchenware may seem like a good idea at the time, packing your kitchen full of unnecessary items will only make it look cheap, cluttered, and even smaller than it actually is.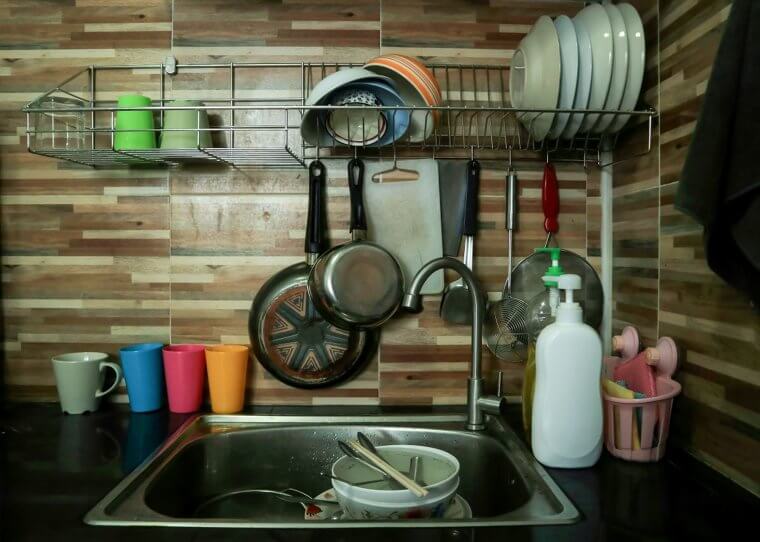 Avoid having anything in the kitchen on display. It's fine if it's hidden away in a cabinet or a box, but hanging it as the kitchen's focal point is a bad idea.
Matching Sofas and Curtains Belong in the Past!
If you lived in the '80s, curtains and furniture with the same color or design were formerly considered trendy interior decor. But not anymore! This fad belongs in the past and should stay there. If you're planning a redesign project, curtains are a great place to start. Instead of spending a lot of money on a new sofa, try updating your curtains. Do some research online to find colors that complement the style of your sofa.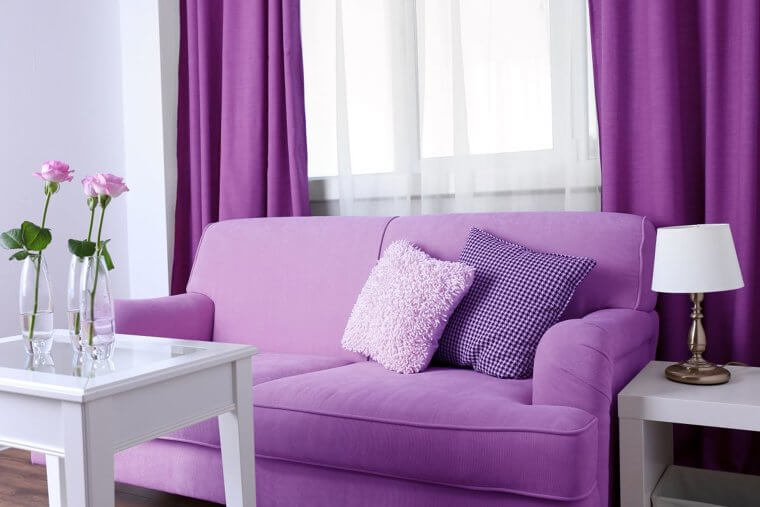 Just make sure they're not a perfect match to your sofa. It just looks tacky. Too much uniformity in the living room gives the appearance of tastelessness.
Animal Skulls Are Just Grim!
Maybe it's just me, but does decorating the walls of your home with animal skulls not seem a little grim? Animal skulls have long been popular wall hangings for home decor, but that's a thing of the past.
They don't look good, whether they are a hunting trophy or a keepsake from a trip to the American Southwest. They have a tendency to make a location seem unsettling, out of place, and odd.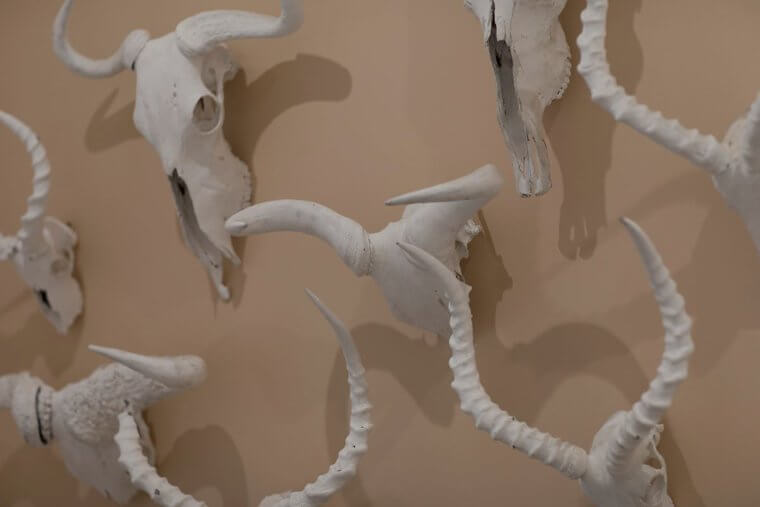 Many interior designers agree that the best course of action is to completely avoid using this item in your décor. Try hanging framed prints or art instead.
If It's Style You're After, Don't Look to the French Countryside!
French countryside style has been a very popular theme in house design throughout the years. The decor should be a blend of rustic and vintage, along with softer elements. Although this common fashion can seem very feminine and pretty, it is out of date with today's design trends. It may give your house a very shoddy or unkempt appearance, which is not the greatest impression for people trying to update their homes.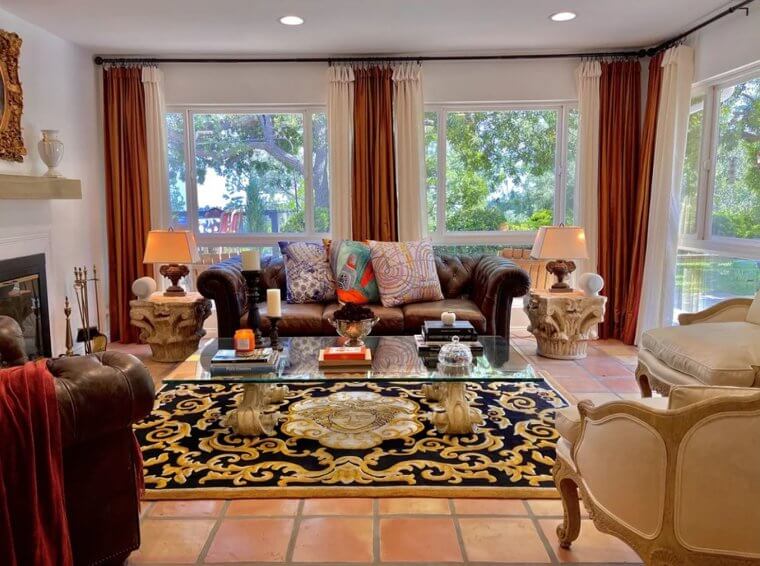 French country-inspired home design makes sense for people who live in France's countryside. But even if that's not the case, modern homes would look tacky with this traditional interior design style.
Artificial Plants Have No Place in Your Home
Decorating your home with plants can be a bit of a challenge if you're not willing to give them the care and attention they need to thrive. But if you don't want to put in the time and care required for real plants, you can always decorate with artificial ones. Unfortunately, fake plants that pass for genuine are hard to come by and may easily make your home look tacky.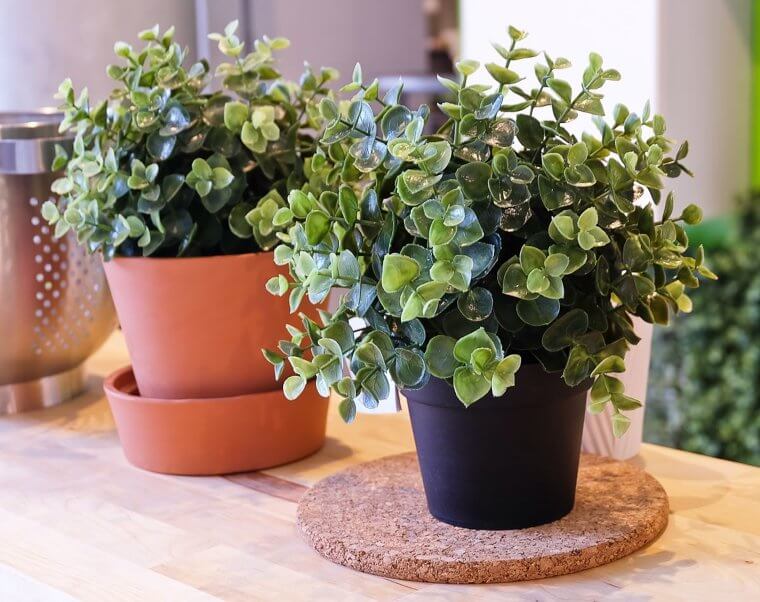 Most decorators will tell you that using artificial plants is a terrible idea, but decorating with natural plants may be a fun endeavor if you're up for it.
Try Not to Be Too Loud!
It might be tempting to decorate your walls with colors and patterns that reflect your personality if your style is loud, vibrant, and exciting. But if you go over the top, your home can end up looking more like a circus tent. There are ways to decorate your house to seem like a playful reflection of who you are without going overboard. Neon hues and complex wallpaper designs will only overpower and totally dominate the room.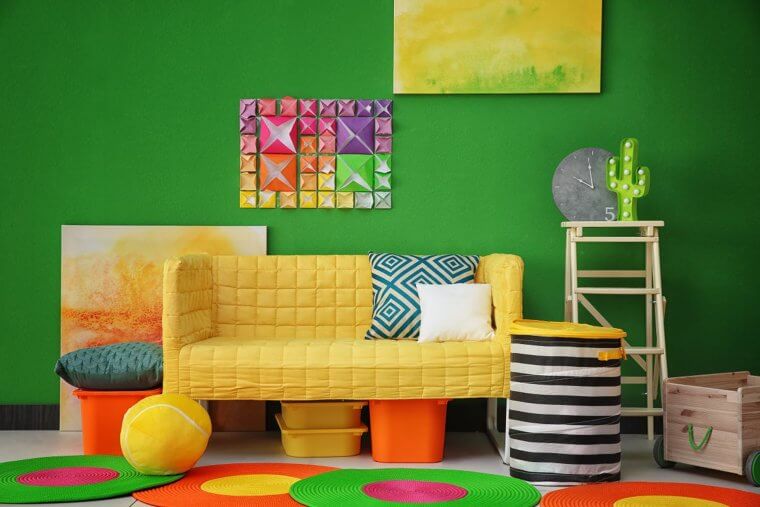 Keep your walls basic and go for bold design objects instead if you love all that is daring. Your home will be more adaptable and simpler to renovate if your taste changes over time.
Is a Lot of White Alright?
A white rug or couch is unquestionably a bold but elegant choice, as white is a classic color that shows wealth. But at what point does it get too much? If your room is all white, it may come across as sterile and low-end. Your home should seem cozy, warm, and welcoming. Fill your home with colorful accents to make it appear more fashionable and upscale. You don't want it to look empty.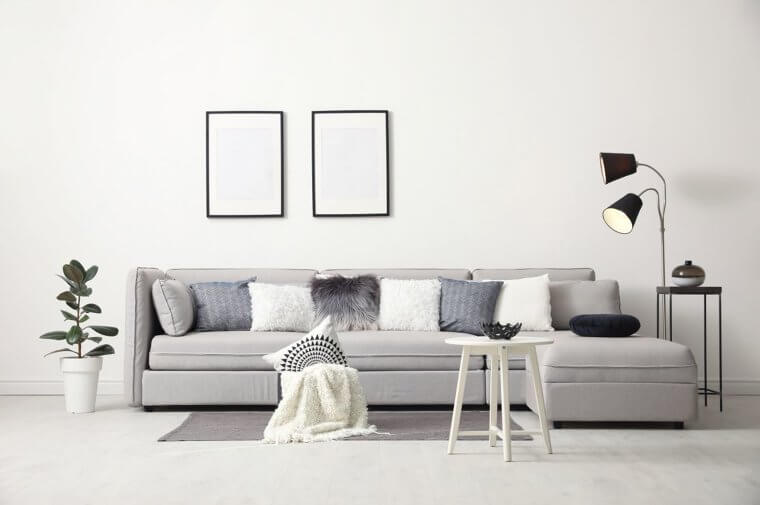 Only include one or two white items in your space, such as a coffee table, if you want people to recognize your sense of style. Use accent colors for the remainder of your furnishings.
Mason Jars Should Only Be Used for Special Occasions
Repurposing objects is a terrific way to be artistic, benefit the environment, and save money. Decorating with mason jars for parties, festivals, and other occasions may be imaginative and enjoyable, especially if you have kids. However, displaying them as your primary decor year-round is not the most stylish option. They might just make your home look cheap and tacky. Mason jars can feel right some of the time, but not all the time. 
Although mason jars are great for storing a variety of items, they can quickly make your home look like a kindergarten. Avoid them to keep your house looking upscale!
Copies of Works of Art Are Too Commonplace
Monet, Van Gogh, and Picasso are well known for their iconic works of art. Millions of copies and recreations of their work have been made, and it's not uncommon to see reproductions printed on everything from pillows to tapestries and poster boards. Giving in to this trend and using their well-known masterpieces to adorn your house may at first seem like a wonderful idea, but it's actually extremely kitschy and can have a cheap appearance.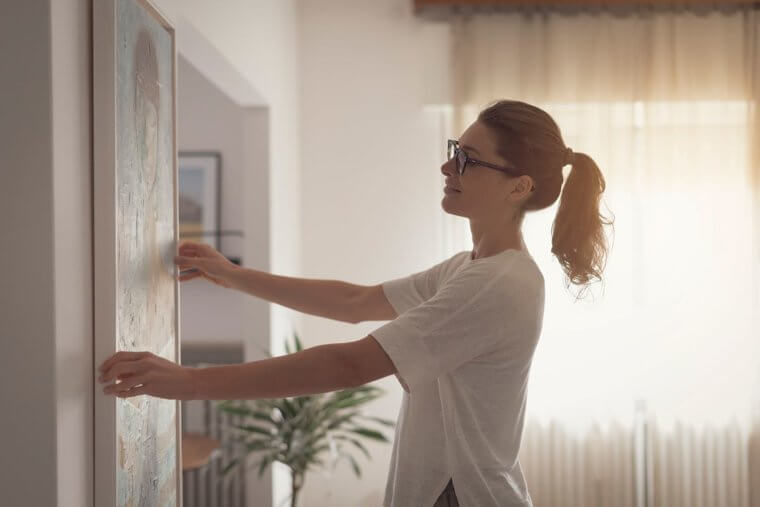 Why is this a poor design decision? Because so many people own these copies of famous works of art, they have started to look too commonplace.
One-Of-A-Kind Lamps Can Come Off As Creepy!
Most people are unaware of how important lighting is or how it can significantly change how your home feels and looks. On that point, though, some individuals go too far and concentrate on the incorrect aspects of lighting. Specifically, investing in odd lamps that might make your entire home appear less valuable. It is preferable to spend money on attractive lighting so that your living area seems elegant rather than cheap and tacky.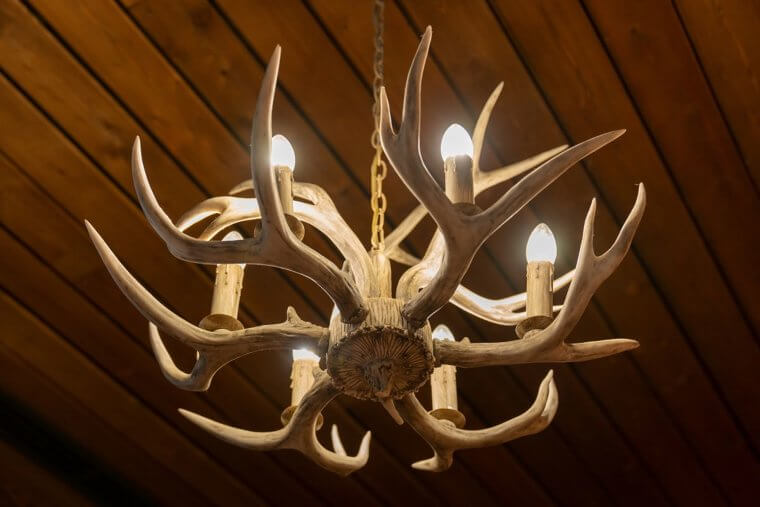 It's great to showcase your personality when choosing a lamp, but be careful not to pick something creepy. Also, when you have the correct lamp, think about using a warm lightbulb.
It's Time to Rip Off the Ruffles!
Ruffled furniture skirts should be avoided at all costs. Once upon a time they were all the rage, but now is as good a time as any to modernize and redesign your home furniture. They can give your home an out-of-date appearance. It's the kind of thing you'd find at your grandma's, and even if you are a grandma yourself, it's best you get this news from us. It's time to rip off the ruffles.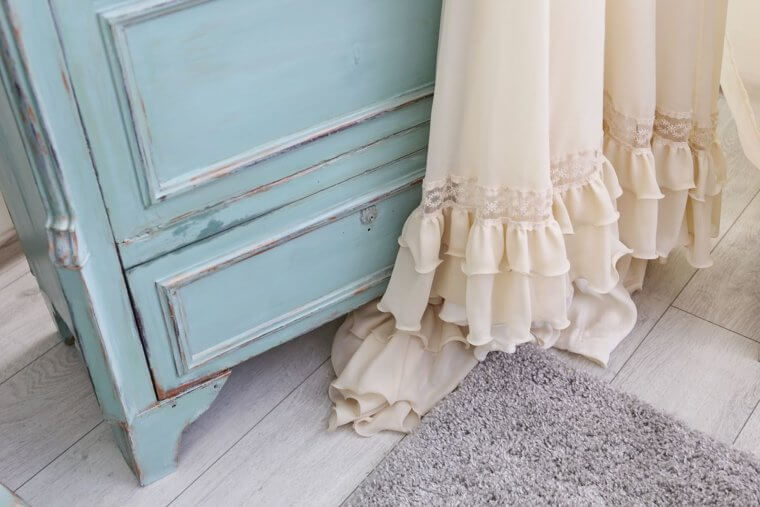 If you want to be taken seriously as an interior designer, ditch the notion that furniture skirts have any place in your living room or kitchen.
Glass Furniture Has Gone From Hero to Zero!
Glass furniture was extremely fashionable from the 1970s through the 1990s, and you couldn't enter a home without seeing it all over the place. Glass cabinets and tables seem incredibly old-fashioned and outdated now. Suppose you're currently redecorating and replacing any large furniture. In that case, it might be wise to refrain from purchasing any items made of glass. They require a lot of upkeep and can be easily soiled or damaged.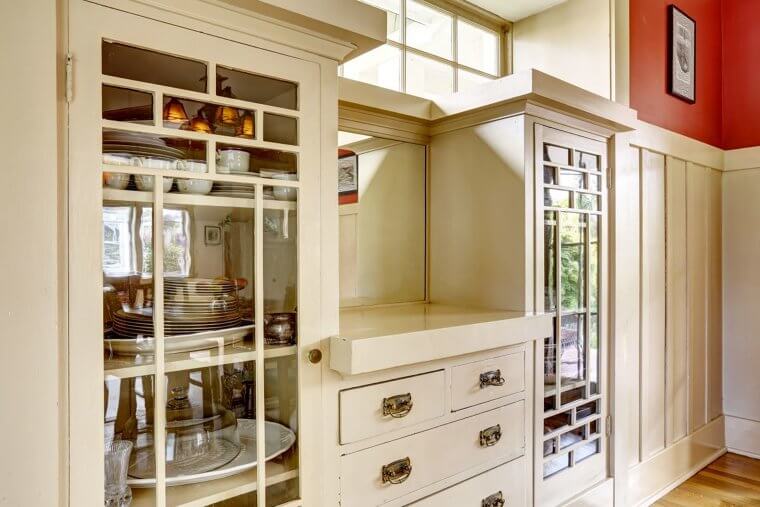 Glass is known for smearing, and that's never a nice look. What was once the centerpiece of the room is now outdated and tacky. It's time to move into the modern world!
Small Rugs Are a Big No-No!
The most effective way to improve any space and transform it into an interior designer's dream is often to add rugs. But selecting a rug can be challenging. Overall, your home will have a warmer feel after selecting a rug that is the ideal size for the space. However, if your rug is too small for the space, it will just look odd and out of place. Yet many people frequently fall straight into this trap.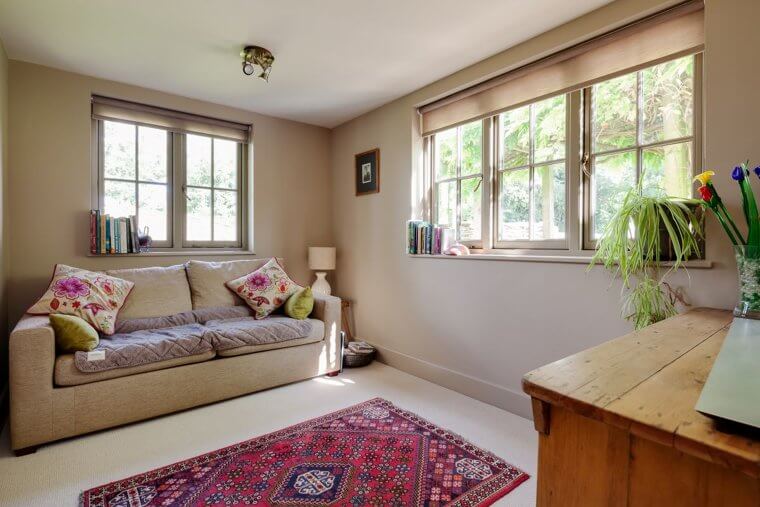 Your entire couch should fit on the rug in your living room while also remaining visible. This is a good rule of thumb when buying a rug.
The Right Cushions Can Be Incredible!
Because couches are so large, most people choose to have them in a neutral color that will go with everything else in their home. Therefore, avoid purchasing cushions for your sofa that are the same or similar color. It will simply appear lifeless and repetitive, not to mention bland. The purpose of pillows is to provide splashes of bold color and complement the furniture in a space, not to cover it up.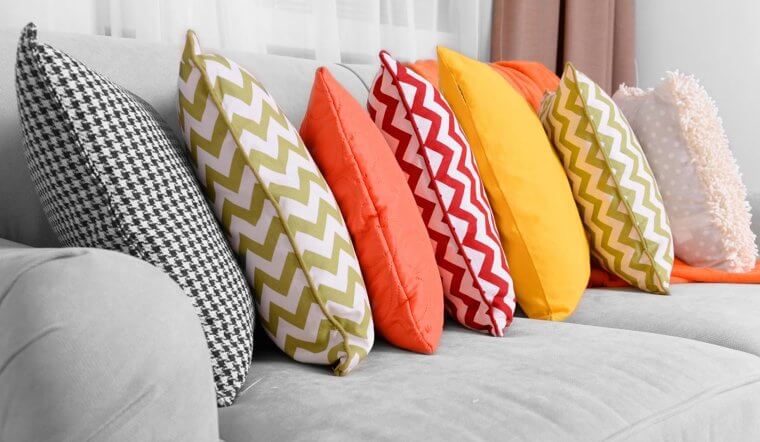 By using cushions that complement the existing décor, you can create a stunning and fashionable living room. Use bold colors to breathe life into boring spaces.
Wood Paneling Has Lost Its Appeal
Wood paneling on the walls is a popular design choice. And I know it's intended to have a rustic look, but it can make your home appear uninviting and cheap. It seems more like a cabin or somewhere you may live temporarily than a home. It's all too easy to get carried away with wanting your home to be unique and trendy, but these trends may occasionally go too far.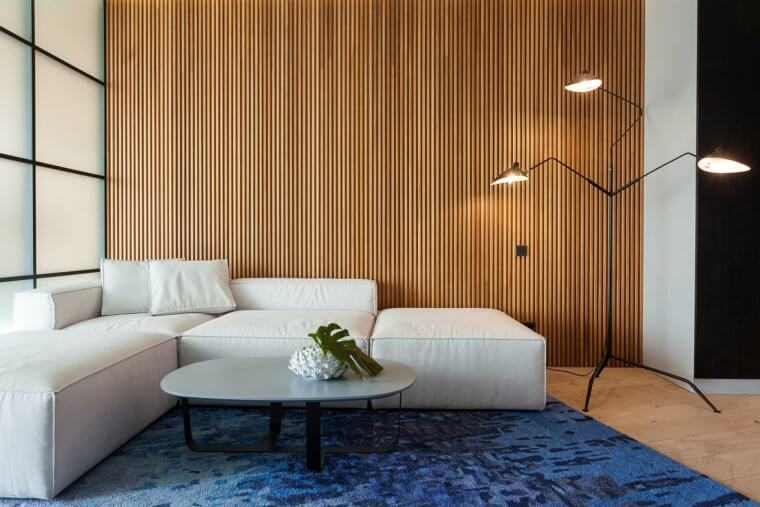 This is yet another instance where you should leave your walls alone. It is a waste of money to add wood panels to the walls of your home.
Sometimes Less Is More!
If you're a fan of maxing out your decorating style, your home is likely a riot of colors, patterns, and accessories. Your decor will most likely be a hodgepodge of styles, from wall hangings to carpets to cushions and furniture. But keep in mind that this can make your home look chaotic and a little too flashy. This doesn't imply you have to forego any use of color and pattern altogether, though; just be selective.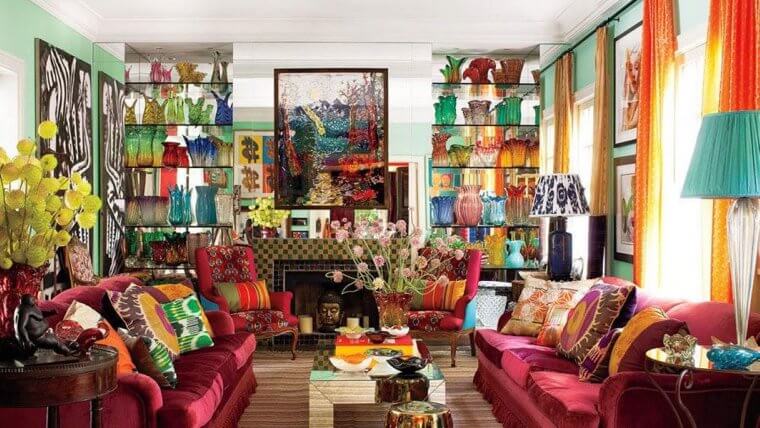 It's always entertaining to use a couple of related designs and a handful of contrasting colors. Beyond that point, it ceases to be fashionable and instead becomes tacky.
Can You See Your Sofa Through All the Cushions?
What typical accent pieces do people put on couches? Blankets and cushions, or both, right? One common error, however, cannot be ignored any longer. I know that many of you are thinking that the more stuff you have in your living room, the more stylish it will appear. But in reality, it's the complete opposite. Having too many cushions on your sofa is depressing. Depending on the size of your sofa, no more than two or three pillows should be used.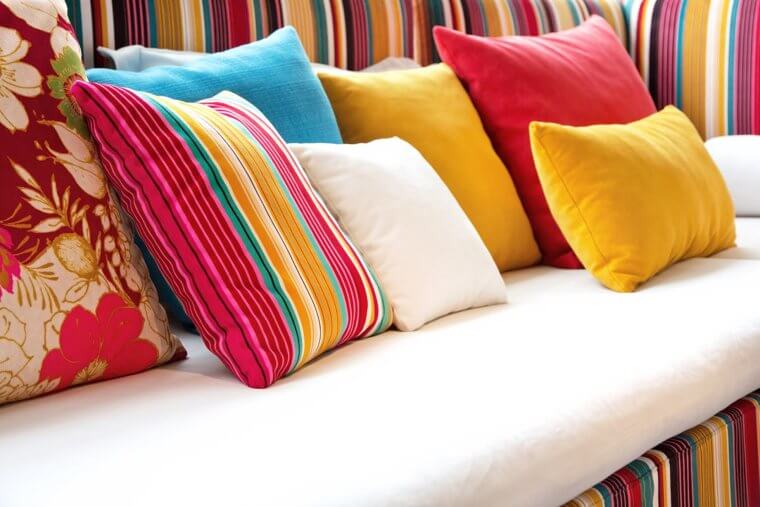 Completely covering your sofa in pillows and cushions is impractical unless you never want anyone to sit on it. And it's not just a showpiece, you know, it's supposed to be comfortable!
Fluorescent Lighting Is for Public Spaces, Not Your Home!
Where would you expect to find fluorescent lighting? Parking lots, hotels, hospitals, and supermarkets, right? Believe it or not, some people make the terrible decision to install such lighting in their own homes. But it doesn't make you feel at home as it should. It's a cold light meant for public places. And there seems to be a constant flickering from them, which can't be good for you long term.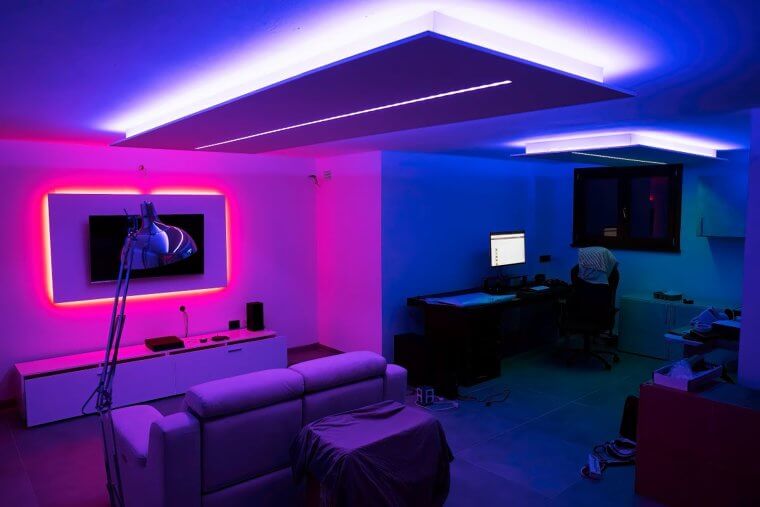 You don't want to create an atmosphere of stark intensity in your house by using fluorescent lights. The best way to illuminate a home and make it feel cozy is with warm white light.
Your Home Shouldn't Feel Like Several Different Apartments!
We're not suggesting that every room in your house be decorated in the same exact way. You don't want it to feel like a hospital or clinic. On the other hand, a home with one room furnished in a modern, minimalist style and another full of Bohemian décor gives a jarring sense that makes it look like the design was an accident rather than a deliberate choice. The rooms of a house shouldn't clash with each other.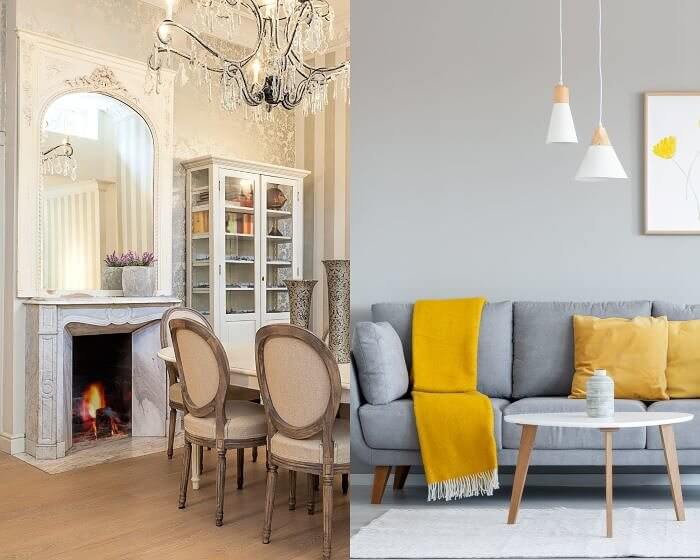 A person should be able to transition from one room to the next without feeling like they are entering different apartments. The rooms should subtly blend into each other.
Control the Clutter at the Entrance to Your Home
Do you believe in first impressions? Well, the entrance into your home gives a first impression of you and the atmosphere in your house or apartment. It's the first thing visitors will see, so starting off on the right foot is important. A cluttered foyer or hallway might make visitors feel uneasy right away. By using some simple decorating ideas, you can make your home's entrance more welcoming and spacious.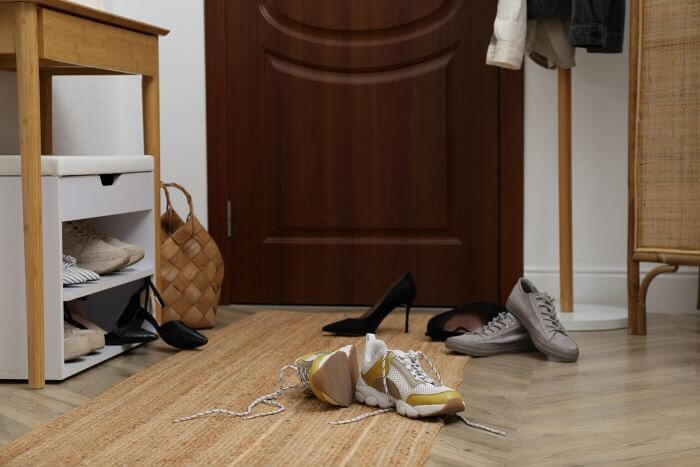 While the color scheme is important, controlling the clutter is by far the easiest way to give a calming, welcoming feeling to the entrance of your home. Start by removing anything that doesn't belong there.
Leave Popcorn for the Movies!
Popcorn ceilings may seem retro, but actually, they're just a relic of the sloppy construction methods from the 1870s and '80s. The rough, uneven surface is difficult to clean, impossible to restore, and very unattractive. They give off a heavy, depressing vibe instead of a calming effect. Popcorn ceilings should be eliminated from your home if at all possible. It's an annoying task, but your ceilings will look fantastic after the popcorn is gone.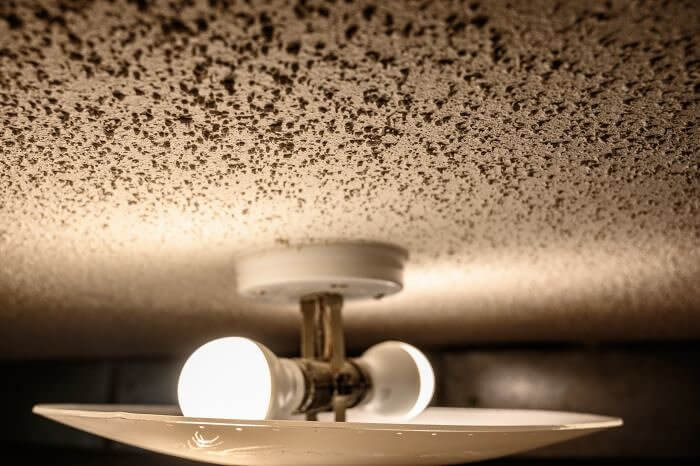 If you would like to make your ceiling more interesting, check out some molding (coving) ideas. This kind of decoration will add a warm, welcoming feeling to your home.
Wall Art Can Dramatically Change the Atmosphere!
Filling up bare, empty walls in your home with pictures is a terrific idea. Just make sure you have a clear understanding of what you want to achieve in the room. A wall devoid of art is nearly preferable to one decorated with mediocre and uninspiring works of art. By all means, you should choose art based on your personality, but it's probably best to do so when you are in great spirits.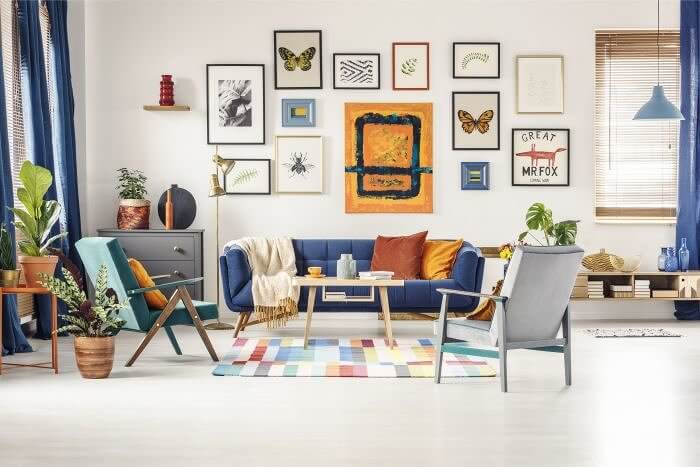 Grim, dark art can make an entire home feel depressing. And if you do choose outrageous art from some obscure artists, you better be able to provide some information to any puzzled guests.
Remember That Most Trends Come and Go
Who doesn't want their home to feel up-to-date with the latest trends? But unfortunately, trends are intended to come and go. The newest fashionable design may seem like a terrific concept for a space, but in just a few months, that area may shift from elegant to tacky. By sticking to more traditional designs, you may avoid changing the decor of whole rooms every two months to suit whatever Pinterest trend is hot at the time.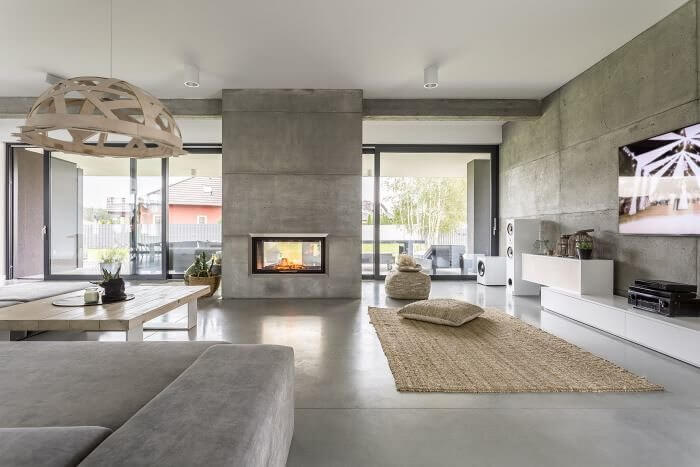 In our opinion, you should avoid decorating trends that create a clinical atmosphere in your home. Warm, welcoming colors that have a calming effect are timeless.
Plastic Is Not Always Fantastic!
When hosting a party or serving meals to young children, plastic dishware and cutlery can come in handy. Other than that, there is no justification for using plastic dishes. For regular use, plastic just comes across as cheap. On the other hand, a quality set of ceramic or glass crockery has a timeless, classy feel and will last for many years. Eating with only plastic forks and plates might seem a little uncultured and childlike.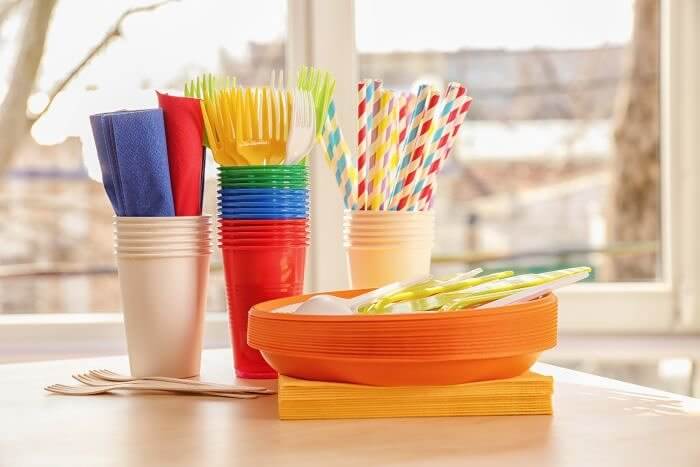 Plastic can come in handy for barbecues and picnics, but you should avoid it at all costs unless you have no other choice. It may be time for an upgrade!
Too Much Gold Is Tacky!
This tired style of home decoration should now be permanently retired. In the 1980s, decorating your home with brass and gold accents was a sign of wealth and great taste. But these days, if it's all gilded, it looks cheap and gaudy. It's a daring move in terms of design, but if you don't pull it off, all it does is make things appear tacky. Including some gold accents is a good idea, but they shouldn't take over.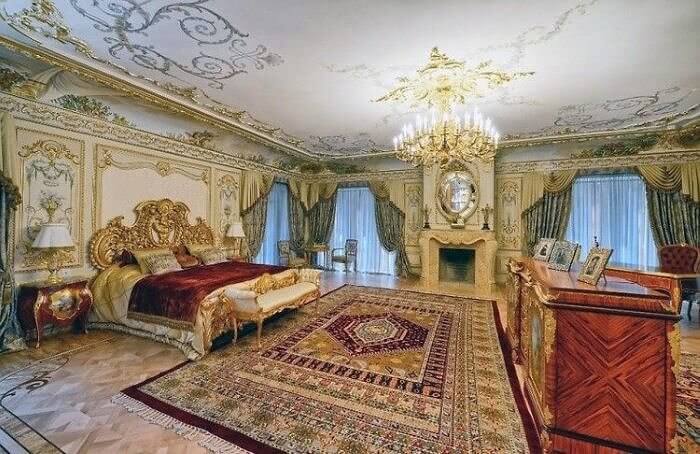 Your house is not meant to be a museum display, so if you really must include gold, start small, maybe with cupboard handles or even the faucet on your sink.
Flooring Should Be More Consistent!
A property will appear cheap if the hard surface flooring, such as LVT and laminate, is inconsistent throughout. There is nothing wrong with choosing flooring other than hardwood if you want to save money. But be sure to be consistent! It can be disastrous to use one sort of "wood look" in the kitchen in, say, an oak color, then switch to another type of material in the living room, except in a gray color.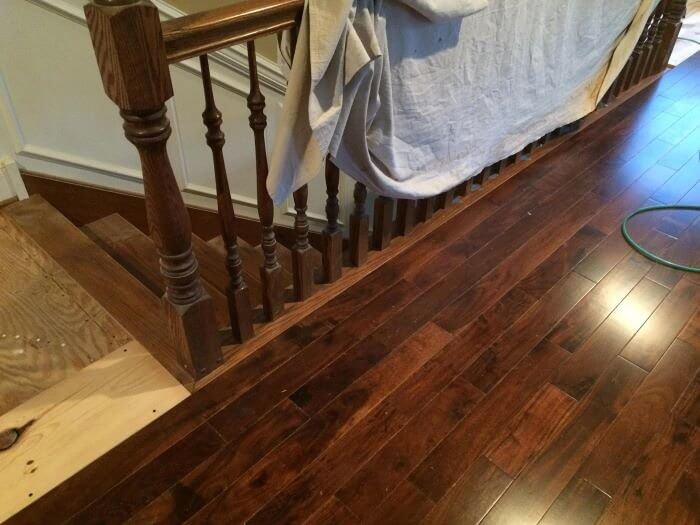 Choose a single color and stick with it. Grays in wood substitutes make a home appear clinical and staged. They may give a home an artificial and unwelcoming appearance.
There Are Alternatives to Flatpack Furniture
Do you want to appear like a broke student? Matching flatpack furniture will make your living area look cheap. They contribute little to interior design and are easily recognized by their lifeless boxy shapes and fragile particleboard construction. It's better to invest in unique used items. They are frequently more affordable than flatpack furniture, more durable, and add character to your room. Additionally, you may feel secure knowing that the item you buy has previously endured decades in a home.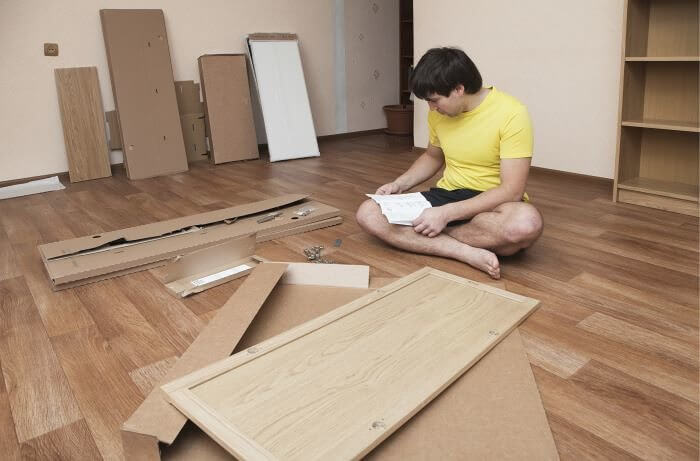 Learn how to browse for antiques online to add charm to your home while staying under budget easily. The right second-hand furniture can add much warmth to any room.
Don't Just Hope for the Best!
Even the most tasteful furniture in the world won't look good in your living room if it's either too big or too small for the room. Your furniture must fit the room properly in terms of size and shape. Inadequately sized or placed furnishings give the impression that you just tossed stuff into a room and hoped for the best. Invest in items that complement one another and fill out the room without dominating it.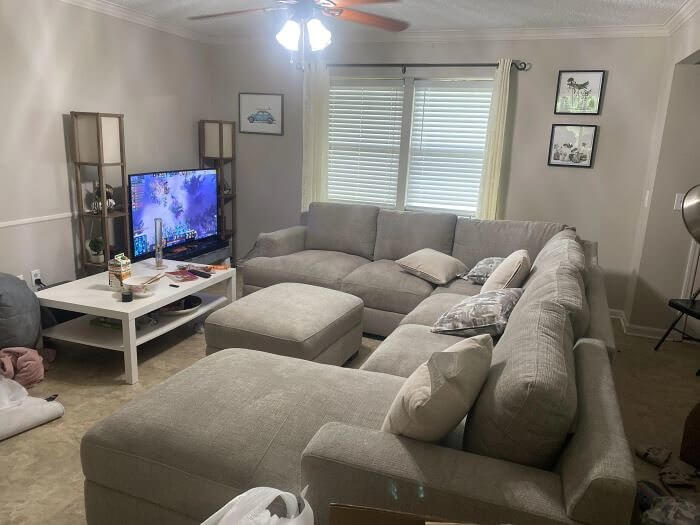 This can also apply to artwork if it is too large for the walls. Find a way to use empty space to improve the room's circulation. And remember, sometimes less is more!
Remove The Oversized Fruit Bowl
But not just any fruit bowl! The oversized fake fruit bowl centerpiece can often make a home look cheap and tacky due to several reasons. Firstly, the exaggerated size of the fruits draws immediate attention, creating a sense of artificiality and lack of subtlety. The oversized proportions can clash with the overall aesthetic of the space, making it feel forced and gimmicky. Additionally, the use of fake fruits instead of real ones further adds to the tackiness.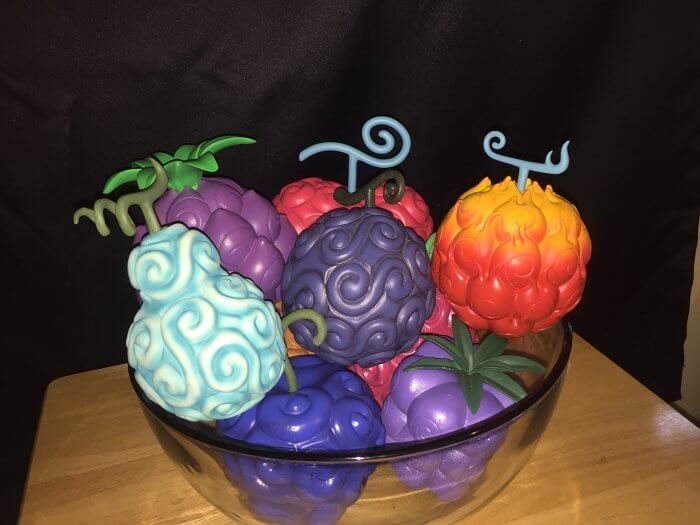 Furthermore, the use of an oversized fake fruit bowl can also give the impression of trying too hard to be decorative. It may come across as an attempt to compensate for a lack of genuine creativity or personal style!
Avoid This Toilet Paper Holder
We all like to get fancy with our bathroom decor from time to time. But don't use the gold-plated holder! Although intended to convey luxury and opulence, it can often have the opposite effect. Instead of exuding elegance, it can come across as gaudy and excessive. The shiny, ostentatious appearance of the gold-plated holder can create a sense of artificial glamour that clashes with the overall aesthetic of a well-designed bathroom.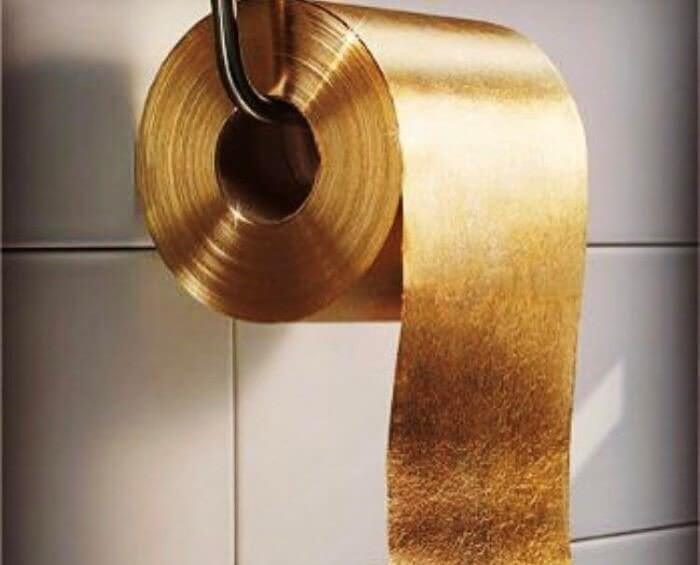 Moreover, the choice to gold-plate a toilet paper holder can be seen as an unnecessary and superficial attempt to elevate the status of the space. It can give the impression of a homeowner who prioritizes bragging over practicality and good taste! 
Wild Animals Belong to The Wilderness!
You have probably seen animal-printed blankets in many homes, but think about how it made you feel! Did the animal print blankets evoke a sense of glamour and excitement, or did they leave you with a feeling of excess and tastelessness? Chances are that the use of animal patterns, such as leopard or zebra prints, can create a visually overpowering effect, particularly when paired with the plush and fluffy texture of faux fur!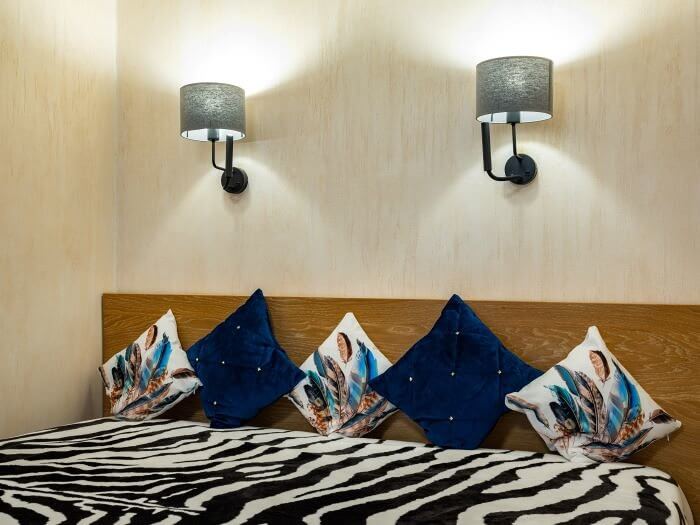 Home decor choices can be subjective, and what one person finds appealing, another may find overdone. However, when considering the overall aesthetic and ambiance of a space, it's important to strike a balance between personal style and timeless elegance!
Not Every Angel Is A Good Angel
Have you ever come across ceramic figurines of angels in someone's home decor? We admit, they can be quite polarizing, evoking different reactions from different people! And while some may find them charming and sentimental, others may perceive them as tacky and outdated. Ceramic figurines of angels, usually made in static poses, often feature delicate details and serene expressions, but their presence can sometimes create an atmosphere of forced sentimentality!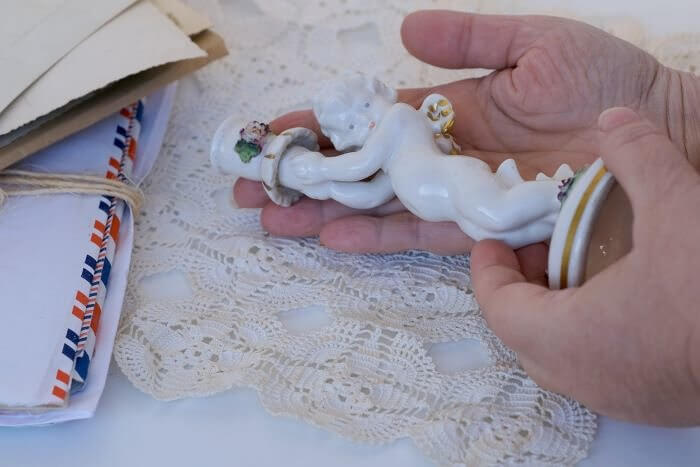 While personal beliefs and sentimental attachments may influence one's perception of these figurines, it's essential to consider their impact on the overall visual harmony of a home's decor!
Keep The Toilet Simple!
Have you ever encountered glittery and sequined toilet seat covers? They certainly make a bold statement, but they often tread the line between flashy and tacky. These toilet seat covers, adorned with glitter and sequins, aim to add a touch of glamour and sparkle to an otherwise mundane bathroom fixture. However, their over-the-top details can create an overwhelming visual effect that detracts from the overall look and style of the space!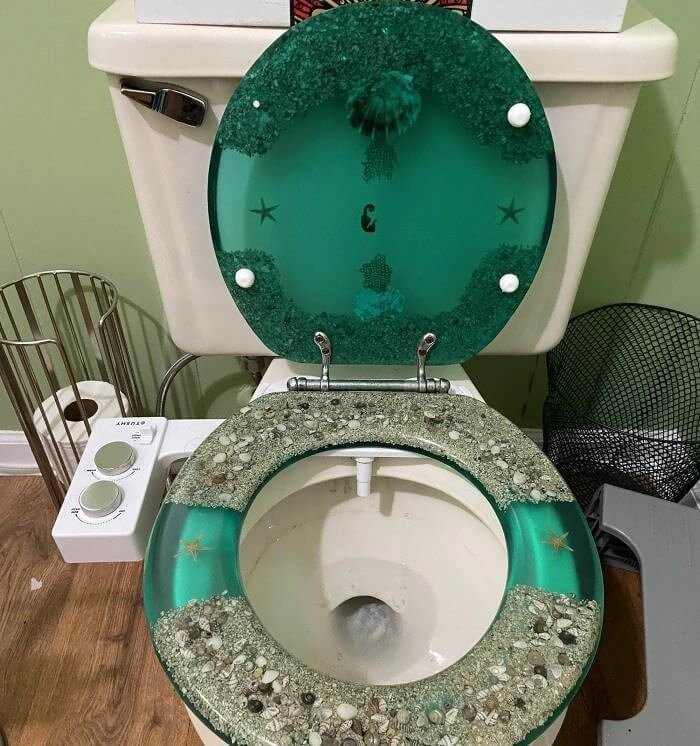 Let's not forget about the most important part, the maintenance and upkeep of such seat covers can be challenging, as they require special care to prevent damage to the glitter and sequin embellishments.
How Big Is Your Mirror?
While we see a big mirror frequently, especially in bedrooms, it can often become a visual eyesore rather than a stylish addition to a space! Large mirrors have the potential to create an illusion of spaciousness and enhance natural light, but certain design elements can push them into the realm of tackiness. The key difference is hidden in the mirror's frame and overall design! So don't just buy a mirror for the size, look at the frame too.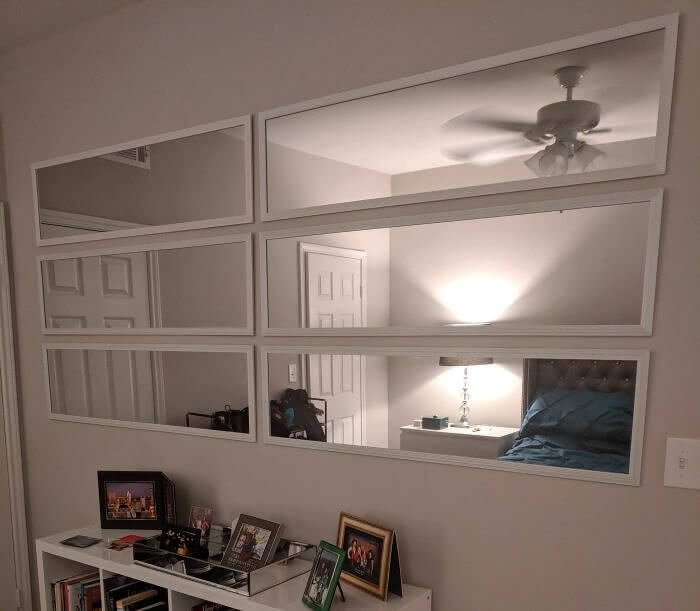 Do you have an outdated mirror? If so, remember not to break it, because as they say, superficial beliefs aside, seven years of bad luck can really shatter one's confidence!
What About The Fridge Magnets?
Fridge magnets, those colorful and whimsical little decorations, can be a charming way to personalize your refrigerator! They come in all shapes, sizes, and designs, ranging from cute animals and travel souvenirs to witty quotes and pop culture references. While fridge magnets can add a playful touch to your kitchen, they can also tip the scale into tackiness if overdone. You should pay attention to how you organize them.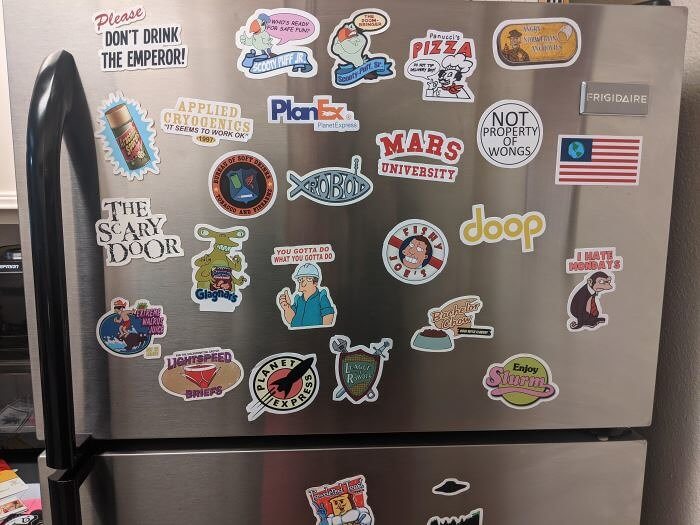 Too many magnets scattered haphazardly across the fridge surface can create a cluttered and disorganized look. So it's important to strike a balance between showcasing your personality and maintaining a neat and cohesive appearance!
Your TV Doesn't Have To Be XXL
With their expansive screens and high-resolution displays, large TVs can immerse us in the action and bring entertainment to life. However, it's essential to strike a balance when it comes to the size of the TV! While larger screens can create a captivating and engaging atmosphere, they can also dominate the room and overpower other design elements. Oversized screens can give off an air of excessiveness, especially if they are placed in rooms that are not proportionate to their size.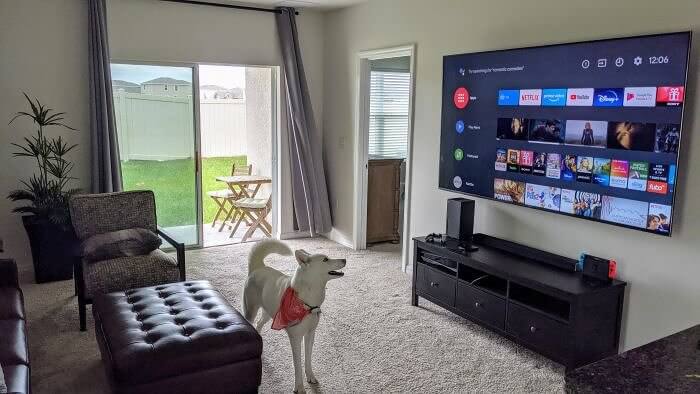 Additionally, a large TV that is poorly integrated into the overall decor can appear out of place and detract from the aesthetic appeal of the space, so give careful consideration to the placement!
Expensive Porcelain Vase Can Look Cheap!
Porcelain vases, despite their reputation for elegance, can sometimes veer into the realm of tackiness. While this may be subjective, there are a few factors that can contribute to porcelain vases being perceived as tacky! Some porcelain vases may feature gaudy and pompeous designs, such as over-the-top floral patterns, bold colors, or excessive gold accents. These ornate and busy designs can create a sense of visual clutter and overwhelm the eye, resulting in a tacky appearance.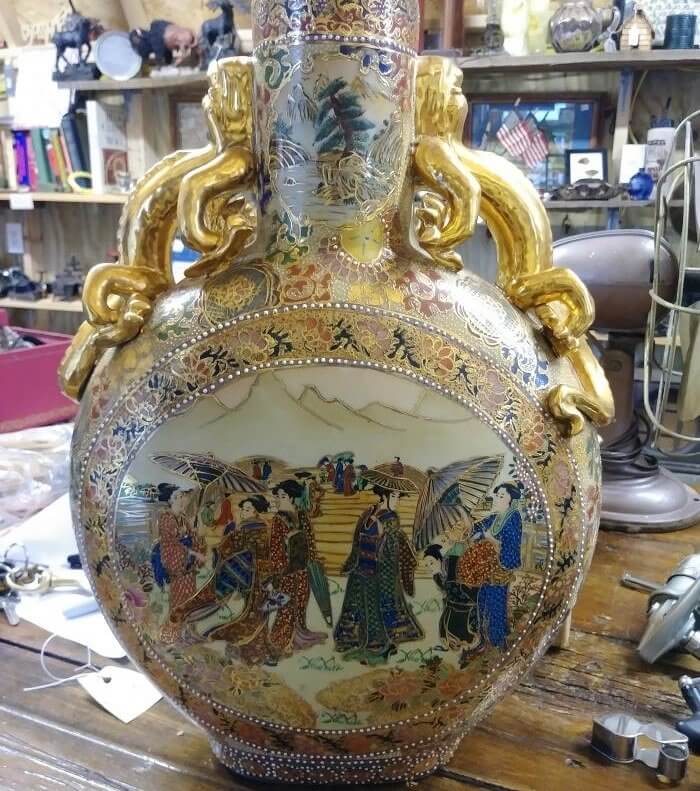 More importantly, the quality and craftsmanship of porcelain vases can also play a role in their perception. Cheaply made or mass-produced vases that lack the attention to detail and finesse can come across as cheap and tacky!