With Independence Day almost upon us, it's time to start thinking about sweets and treats, desserts, and decorations, all in red, white, and blue, of course.
Whether hosting a backyard barbecue or just enjoying a picnic with family and friends, celebrations wouldn't be complete without flags, fireworks, and all the delicious food that makes the Fourth of July so special.
So if you're looking for inspiration to make your Independence Day unforgettable, you've come to the right place.
From patriotic fruit pizza to amazing American flag cakes and dazzling DIY decorations, you will find everything you need right here.
Here are 30+ essential items to make your 4th of July celebrations unforgettable!
American Flag Cake
An American flag cake made with blueberries for the stars and lined with delicious strawberries and cream for the stripes is a wonderful way to celebrate the 4th of July. It's a patriotic and delicious dessert that can be the centerpiece of your Independence Day festivities. Whether you're hosting a barbecue, picnic, or just enjoying the holiday with family and friends, this cake will surely impress and delight everyone.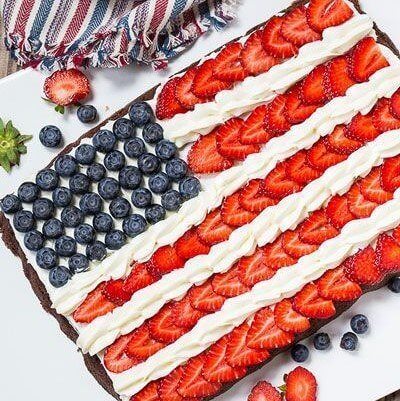 Simply top your cake with a layer of cream and add a rectangle of blueberries to the top left corner. Then line the rest of the cake with sliced strawberries and cream.
A Truly Patriotic Dessert
Nothing says Happy Birthday America quite like this crumble. Topped with strawberries, blackberries, and blueberries and finished with sweet biscuit stars is a fantastic dessert choice for Fourth of July celebrations. The combination of vibrant red strawberries, blackberries, and blueberries perfectly represents the colors of the American flag, making it a visually appealing and patriotic dessert. The sweet biscuit stars add an extra touch of charm and playfulness to the dish.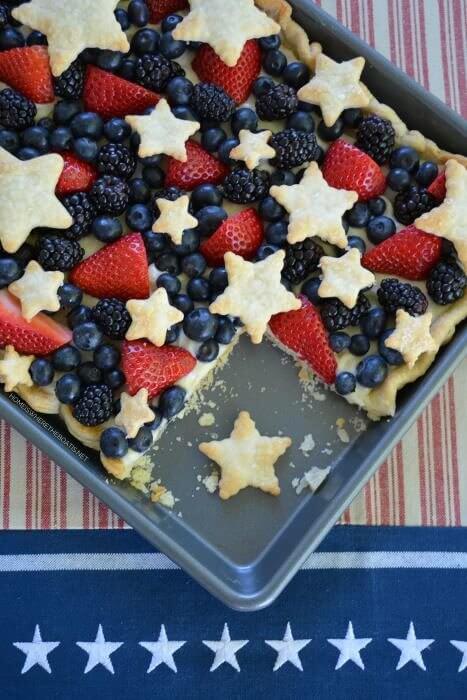 This rustic dessert is bursting with so much color that even the founding fathers would be proud! Your guests will surely enjoy this festive treat as part of their Fourth of July festivities.
Taco Salad Flag
Want to impress your Memorial Day guests with a tasty and easy dish? This fabulous flag-shaped taco salad is not only simple to make but also delicious, and it takes a few minutes to prepare. For this recipe, you will need black beans, guacamole, taco spice, sour cream, corn, cheese, tomatoes, green onions, and olives. You can customize it however you'd like by including ground meat, chicken, lettuce, onions, and bell peppers.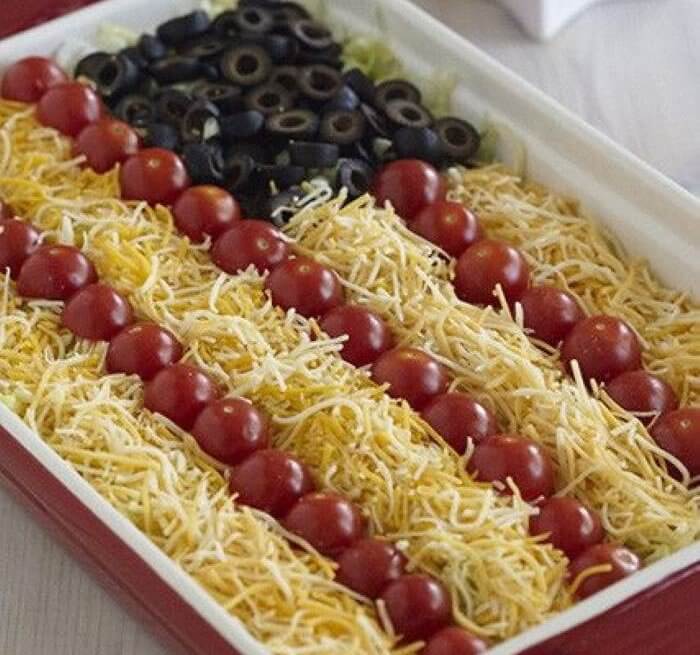 This can be made a day ahead of the party, giving you more time to focus on other party preparations. A bonus for gatherings is that it can be served chilled. 
Festive Caprese Salad
It's always handy to have a few tasty salad recipes on hand, and this Caprese Salad is the perfect example. It's simple to make and only requires a few healthy ingredients, but the end result is wonderfully tasty. Using quality products is the key to making this stunning Caprese salad, perfect for a holiday gathering. This easy main dish only requires four ingredients: tomatoes, basil leaves, olives, and a ball of fresh mozzarella.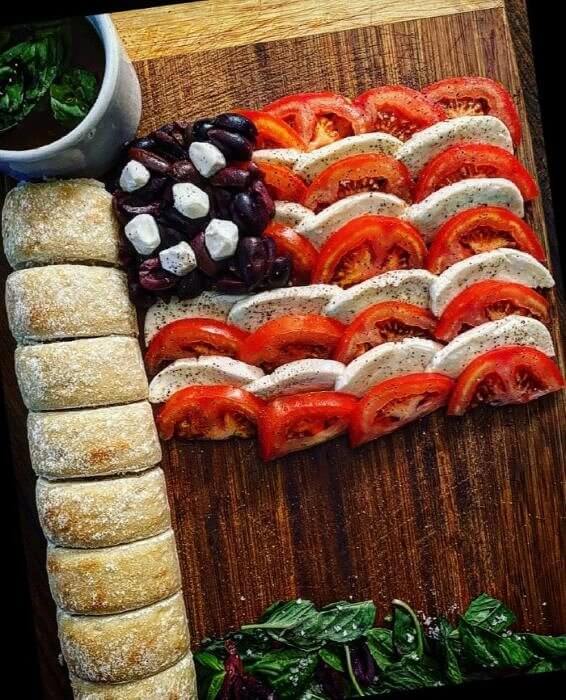 You can prep this salad the day before. Keep it in the fridge in an airtight container. The salad dressing should not be added until just before serving the salad.
Red, White, and Blue Pretzel Rods
To celebrate the Fourth of July, try your hand at making these chocolate-dipped pretzel rods, which are the perfect combination of red, white, and blue. This dish requires very little effort and preparation time. Because chocolate comes in so many different colors, chocolate-covered pretzels may be easily made to match the decor of any party or celebration. The whole family will have a blast helping you make these chocolate-covered snacks.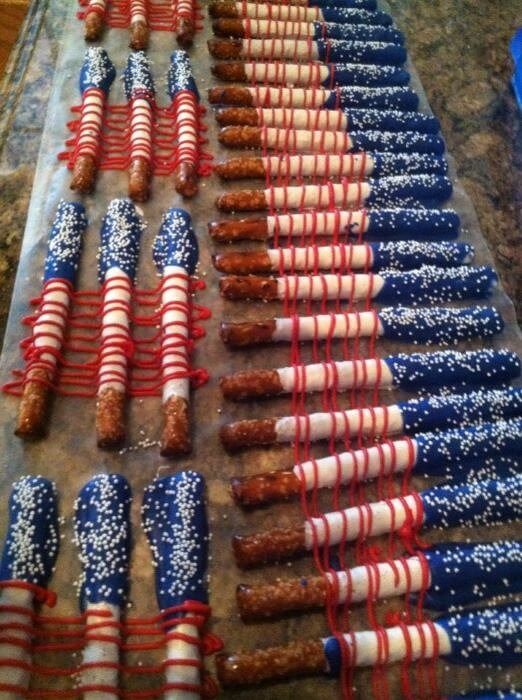 These salty and sweet snacks won't last long on the dessert buffet at your upcoming Fourth of July party. So, melt some chocolate and start dipping. These treats won't last long!
Hot Dogs With a Patriotic Touch
Hot dogs with a patriotic twist are a staple at summer celebrations like Fourth of July barbecues. Red, white, and blue hot dogs can be made with a variety of ideas, but here are some common ones: Red: This can be represented by ketchup, tomato slices, roasted red peppers, or even spicy chili sauce. White: Common white toppings include mayonnaise, sour cream, or shredded cheese like mozzarella or Monterey Jack.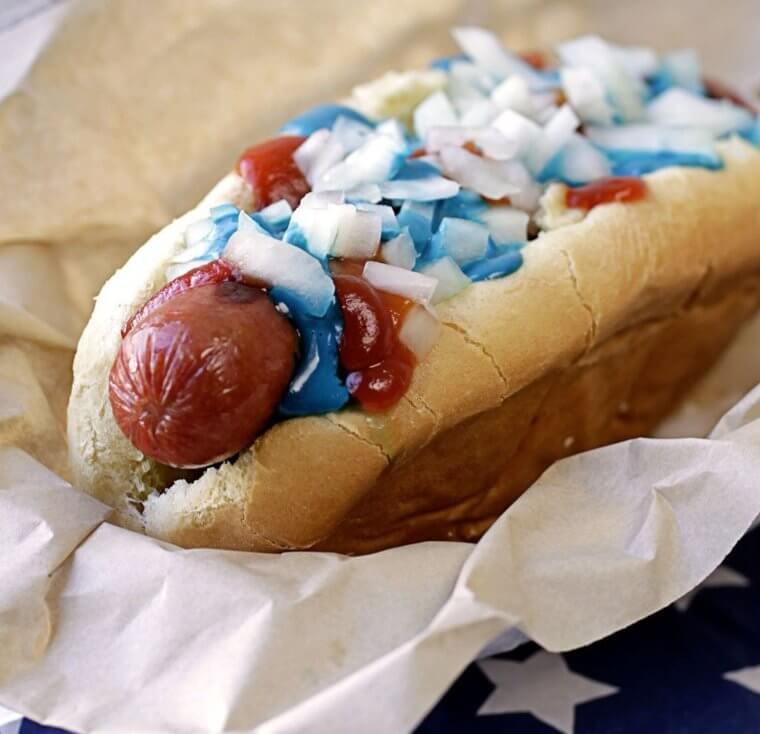 Blue: The blue element can be a bit more challenging, as there aren't many natural blue foods. Some people use blue food coloring to tint ingredients like relish or toppings like mayonnaise. 
4th of July Popcorn
Preparing patriotic snacks for the Fourth of July is a must, and what better way to celebrate Independence Day than with a huge bowl of delicious patriotic popcorn? Luckily, you probably already have most of what you need to make some American popcorn in your kitchen. In addition to popcorn, you'll need sugar, salt, light corn syrup, vanilla essence, food coloring (both red and blue), and white chocolate chips for this recipe.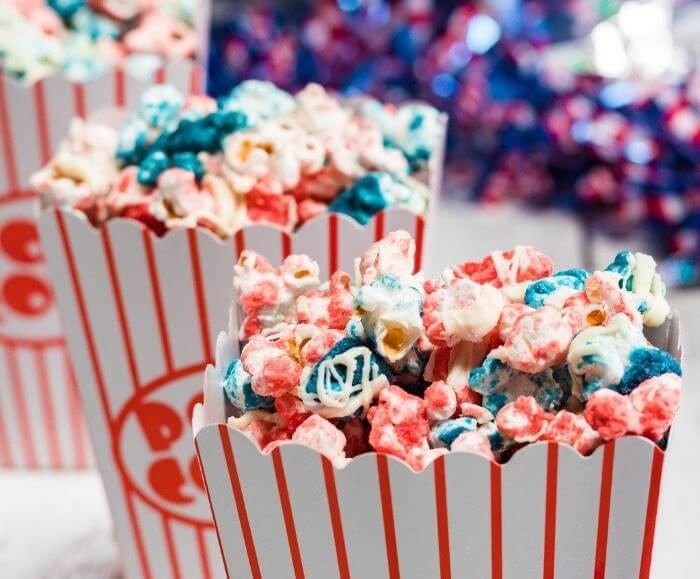 The beauty of this dish is that it can be made for any occasion. Use whichever colors you like, from Easter pastels to Halloween's orange and black or Christmas green and red.
Dazzling Deviled Eggs
Try these deviled eggs if you want to celebrate Independence Day in style without spending a ton of money or a lot of time in the kitchen. These are great to prepare ahead of time and enjoy while watching fireworks. Red, white, and blue deviled eggs can be a fun and creative addition to any 4th of July celebration. The colors are perfect for the patriotic theme! Celebrate in style!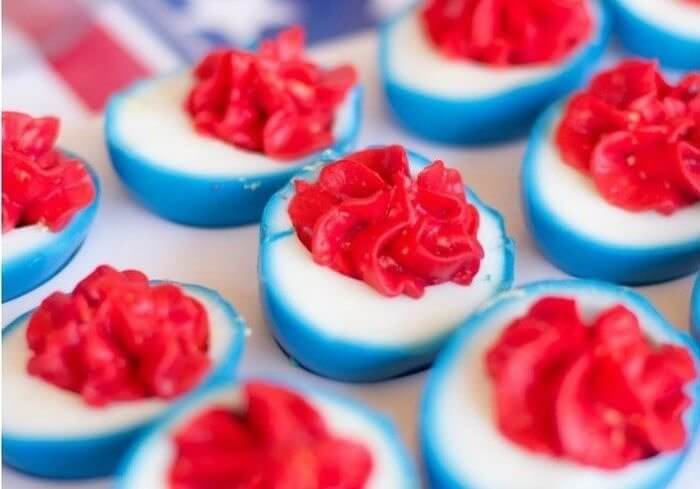 Your guests will love the colorful twist on deviled eggs, so go ahead and give it a try! They're easy to prepare, and your culinary talents will blow your guests away!
American Flag Cake Pops
American flag cake pops are tasty, artistic, and patriotic. The combination of crumbled cake and frosting gives the cake pops a moist and flavorful texture, while the colorful candy melts or chocolate coating adds an attractive and festive appearance. The process of making cake pops allows for endless possibilities when it comes to decorating. You can let your imagination run wild and create various designs and patterns to represent the American flag.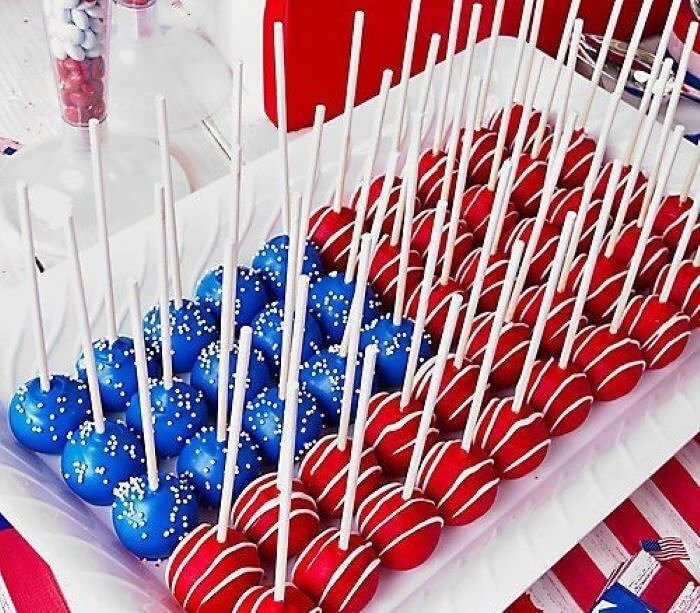 Some common decorations include using red and white stripes to mimic the flag's design, adding a blue field with white stars, or even incorporating edible star sprinkles or other edible decorations.
Red, White, and Blue Rice Krispie Treats
Watch the kid's eyes light up when they see the patriotic colors of these tasty treats. Red, white, and blue Rice Krispies cakes can be delightful for kids during the 4th of July celebrations, and these treats are so easy to make. Using food coloring for the desired red, white, and blue effect is child's play. Prepare them ahead of time so you can concentrate on more difficult dishes.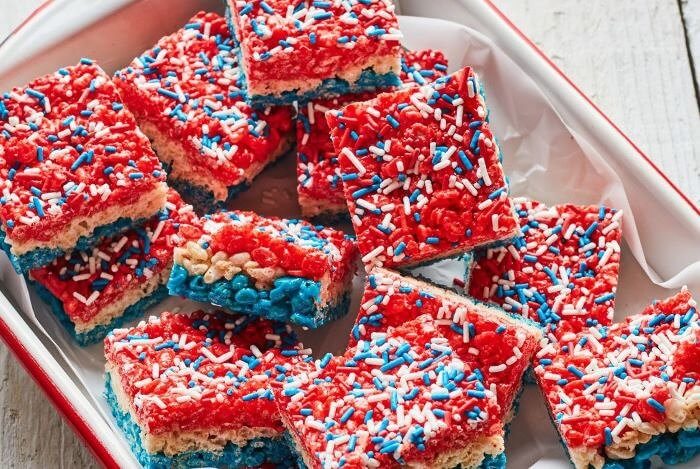 Having these treats as part of your 4th of July celebration will certainly contribute to keeping the kids happy and engaged. You can even add colored candies or sprinkles for extra fun. 
Sweet Food Board in American Colors
When I think of the Fourth of July, I think of relaxed get-togethers with loved ones, where we can all let our guard down and have a nice time together. Dishes can range from really simple to traditional or downright bizarre. Grazing boards work wonderfully, as guests can help themselves to a variety of great patriotic-themed dishes and then come back for more. It's the simplest method for hosting a party!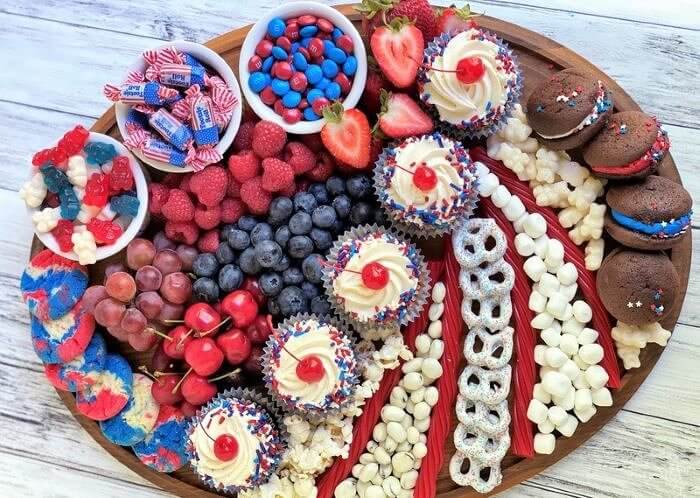 For a festive treat to share on Memorial Day or the Fourth of July, load this board with your absolute favorite red, white, and blue handcrafted treats, juicy fruits, and all things sweet!
A 4th of July Tree
If you want a display that will really dazzle your guests, then a 4th of July tree is a must-have for Independence Day. Create a festive and patriotic look for your 4th of July tree using ornaments, ribbons, and garlands in red, white, and blue. Miniature American flags, stars, fireworks, liberty bells, and other symbols representing the United States work great too. And DIY ornaments made by the kids will look amazing.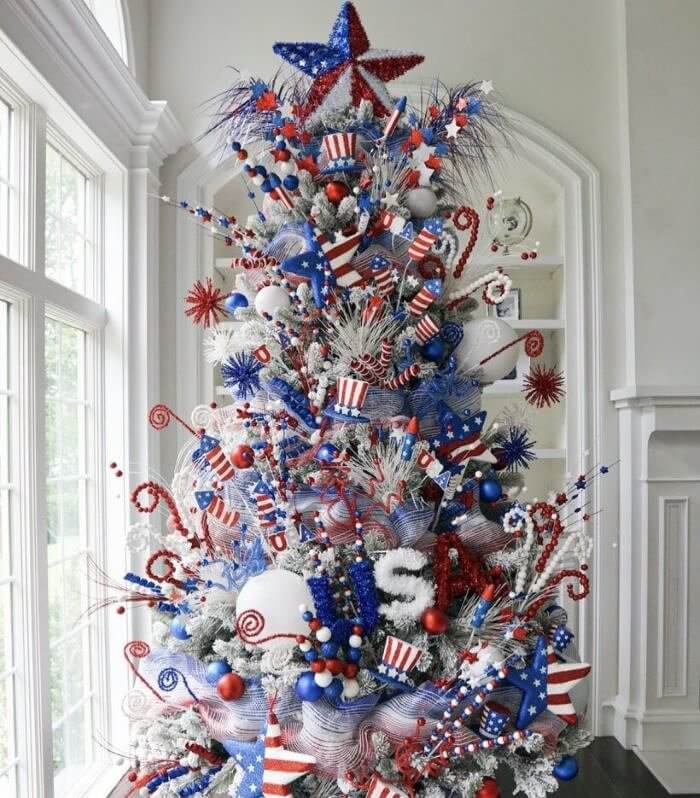 Remember, the key is to create a festive and patriotic atmosphere, so feel free to get creative and add your personal touch to make your 4th of July tree unforgettable!
Spectacular Fourth of July Lawn Stars
The colors red, white, and blue are staples of Fourth of July decorations. So, how can you use them to spruce up your party? Use grass-safe spray chalk to make your yard look patriotic in a snap. Simply cut some cardboard star shapes and decorate your yard with an American flag star constellation. Allow the stars to dry before stepping on them to create a one-of-a-kind Fourth of July lawn in your garden!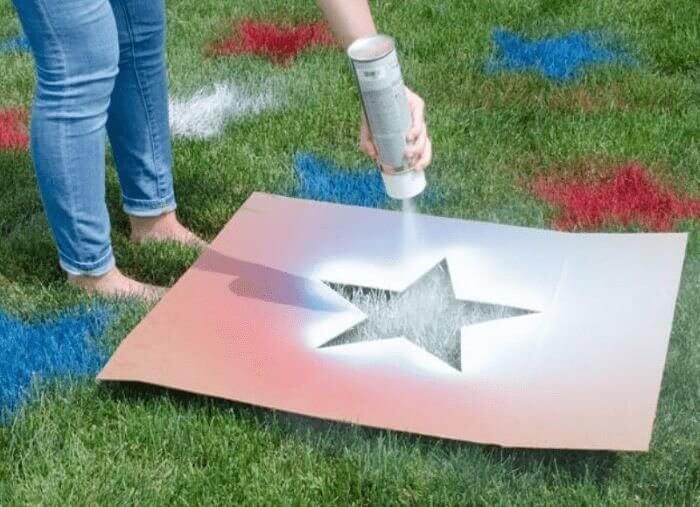 Cleanup is easy; just water the grass or wait for the rain to flush the chalk away. Spray chalk that is safe for use on grass dissolves with rain and time.
Red, White, and Blue Wind Socks
If you're looking for some DIY 4th of July ideas to do with the kids, then these red, white, and blue wind socks are just what you're looking for. Using some simple materials, you will have this fun project done in no time. Gather some empty tins, paint, crepe paper or ribbons, scissors, and some glue, and you're good to go. The kids will love putting these wind socks together!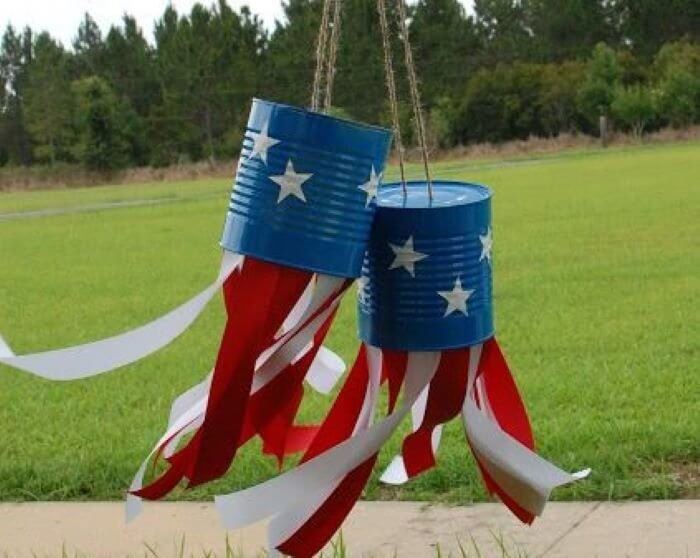 DIY 4th of July wind socks are not only a fun craft project but also a festive decoration that can add a patriotic touch to your outdoor space during Independence Day celebrations. 
4th of July Celebration Centerpiece
This easy-to-make centerpiece for the Fourth of July celebration requires only a few basic supplies and only takes about 10 minutes to put together. It's a lot of fun and will give your party table a lively, vibrant boost! You can find all the materials you need at any craft store. For this project, you will need red, white and blue styrofoam stars and glitter balls, colored string, and wrapping paper.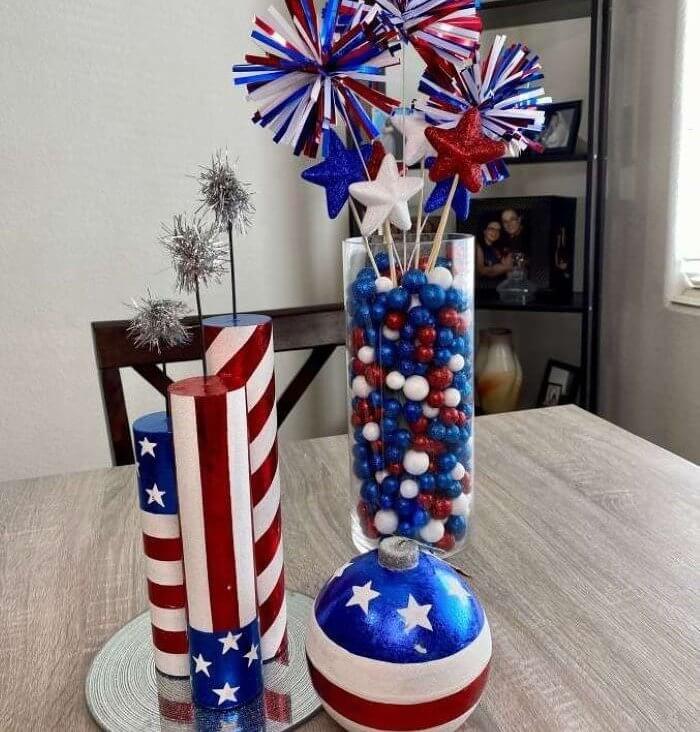 The glass container may be a little bit trickier to come by, but if you don't have one like this at home, any glass container like a vase will do.
Patriotic Mason Jar Decorations
You can show your patriotism and spruce up your home with the help of these Mason jar decorations. Make a Mason jar into an American flag by painting it with red and white stripes. You can use acrylic paint and adhesive tape to create clean lines. Once the paint is dry, add a blue square with white stars on the opposite side. Place a tea light inside the jar for a festive glow.
Mason jars offer versatility, so you can adapt any ideas to suit your personal style and preferences. Let your creativity shine, and enjoy the patriotic atmosphere these decorations bring to your home or event.
Fourth Of July Fruit Skewers
Celebrate Independence Day with a colorful and patriotic spin on the classic fruit kabob by making Fourth of July fruit skewers! They can be served as appetizers, desserts, or as a fun snack option at your party. Also, fruit skewers make it really easy for your party guests to eat. Instead of fumbling with tongs, guests can simply grab a skewer and walk off. This is especially fun and convenient for kids.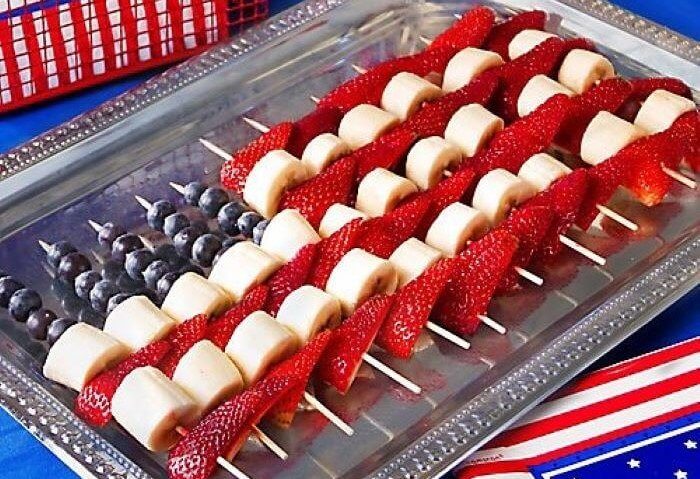 Skewer any kind of fruit you like, such as watermelon cubes, water raspberries, or blackberries. The trick is to decorate the skewers with the American flag's red, white, and blue colors.
Patriotic Fruit Pizza
What could possibly top a spectacular fireworks show on a warm summer evening? Obviously, a remarkable Fourth of July dessert! Fruit Pizza is a delicious dessert that looks impressive but requires little effort. The dough for the pizza is a giant sugar cookie that can be made quickly and easily from chilled cookie dough. The smooth center is a no-bake cheesecake mousse, and the red, white, and blue flag is made from fresh berries.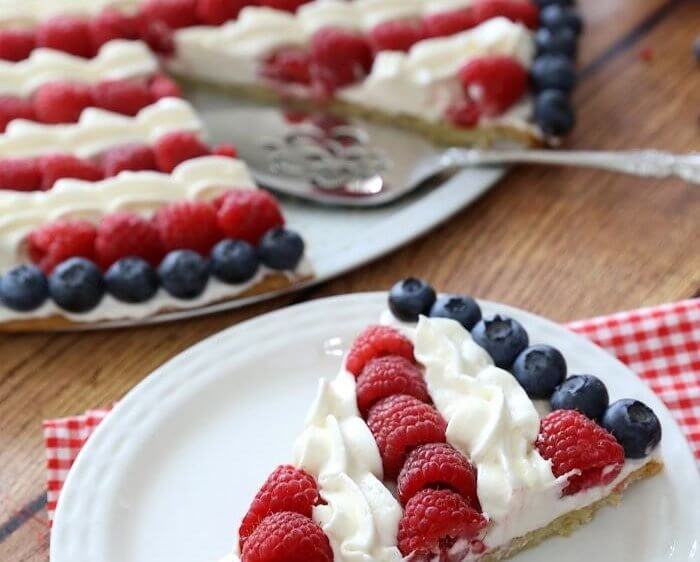 You may use any variety of berries you have on hand. Serve it right away, or put it in the refrigerator to cool down until you're ready to serve it.
Red, White, and Blue Panna Cotta
The Fourth of July is typically a scorching hot day best spent lounging in the shade. It's hardly the type of day that inspires turning on the oven and getting some baking done. In the heat of summer, Panna Cotta is the ideal dessert. This traditional Italian dessert has a rich, velvety consistency. Cream, sugar, and gelatin are combined and simmered until the mixture thickens and sets, much like custard.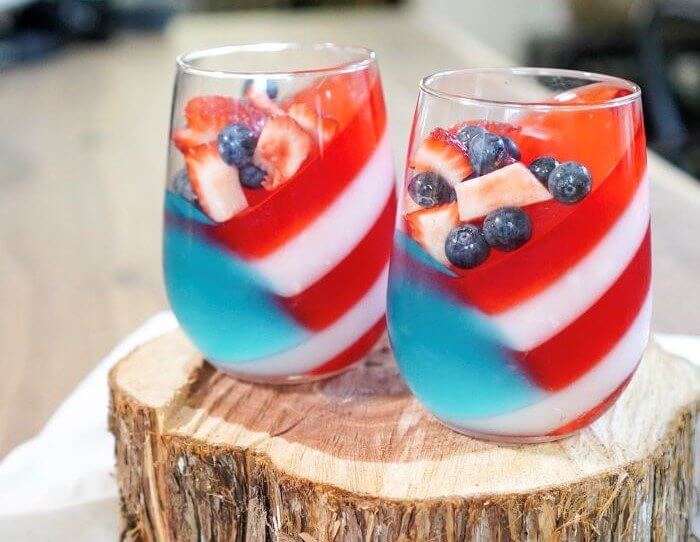 To make patriotic Panna Cotta, combine Blue Curaçao for the blue level, Piña Colada for the white level, and Grenadine for the red. This stunning patriotic dessert will surely be a highlight.
DIY 4th of July Wreath
Creating a DIY 4th of July wreath using clothespins is a wonderful idea to showcase your patriotic spirit. This craft allows you to incorporate the colors of the American flag while adding a touch of creativity. It is amazing what you can do with some clothespins and some paint. Here's what you need for this project: A wire circle, red, white, and blue paint, clothespins, ribbons, stars, and scissors.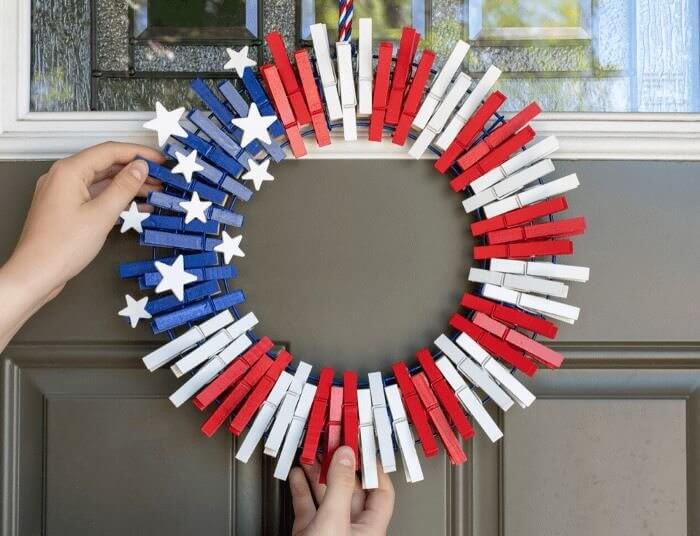 Your DIY 4th of July wreath will add a patriotic touch to your Independence Day celebrations. Feel free to get creative and personalize it with additional embellishments or decorations that reflect your style.
American Flag Mason Jars
These DIY 4th of July mason jars painted with stars and stripes will add a patriotic touch to your celebrations and can be enjoyed for years to come. Get creative with your designs and experiment with different jar sizes and shapes to create a stunning display, that will amaze your guests. They are versatile and can serve multiple purposes, such as vases, candle holders, or utensil holders for your 4th of July celebrations.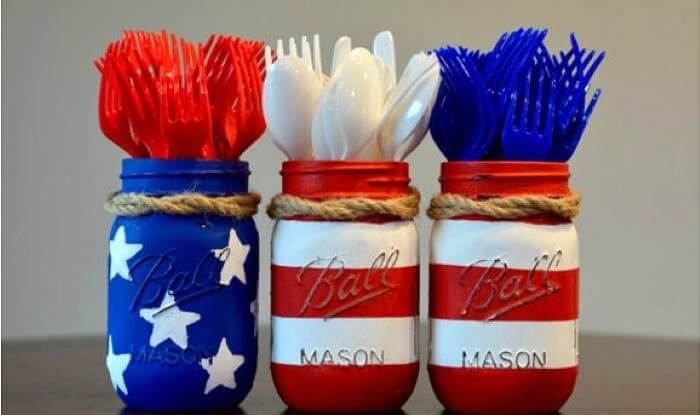 These American flag mason jars are so much fun and easy to make. If you get the kids involved, it can become a family fun project too. It's time to get creative!
4th of July Beer Can Cake
Celebrating Independence Day with a beer can cake is a fun and unique way to mark the occasion. It's a patriotic spin on the traditional layered cake, constructed from beer cans stacked and arranged artistically. To take it to the next level, cover the beer can labels with decorative ribbon or tape for a patriotic look. Pick out colors like red, white, and blue that go together with the Independence Day theme.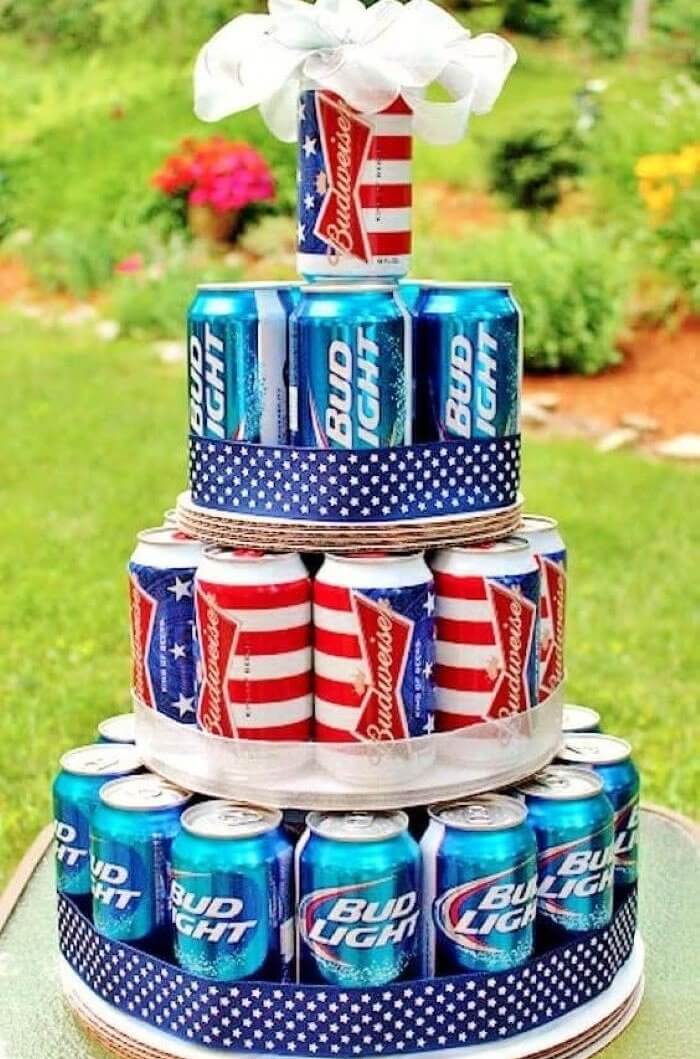 You can place additional treats or snacks between the beer cans in each tier. For example, you can tuck small bags of candy into them to surprise your guests.
Fantastic Fireworks Decorations
DIY 4th of July fireworks decorations can add a stunning and festive touch to your garden during Independence Day celebrations. They can create a vibrant and magical atmosphere, enhancing the patriotic spirit of the occasion. Along with a little bit of your imagination, you only need toilet paper inserts, craft or crepe paper in red, white, and blue, string or fishing line, and some glitter, sequins, and other embellishments.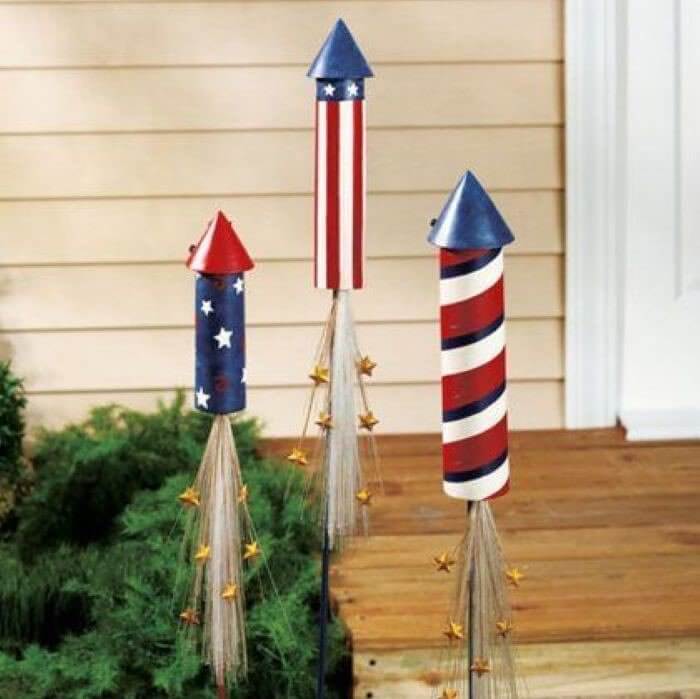 DIY fireworks decorations will transform your garden into a dazzling space for your 4th of July festivities. Let your creativity shine as you craft these decorations, and enjoy the magical atmosphere they create.
Colorful Paper Stars
With these colorful paper stars, your home or yard will look absolutely amazing on the 4th of July. Either assemble them into bunting or simply hang them from the ceiling in a line. They're easy to make and look fantastic in photographs. This particular decoration has been around since the founding fathers celebrated independence. But, like we always say, the old ones are the best ones. Happy birthday, America!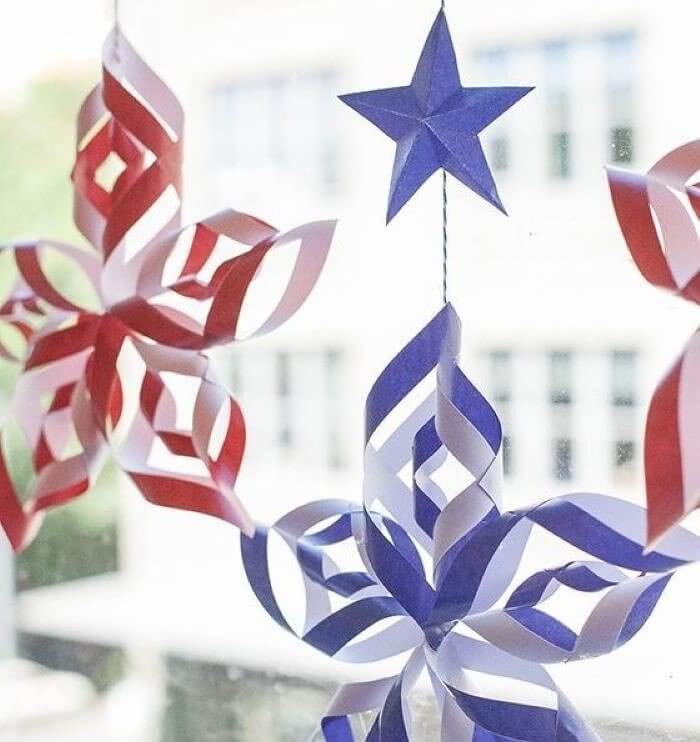 With some red, white, and blue paper for a patriotic theme and a little imagination, this fun activity is great for all the family, and you can never have too many!
A Patriotic Layered Cheesecake
Red, white, and blue layered cheesecake is a fantastic dessert option for Fourth of July celebrations. It not only looks stunning but also adds a patriotic touch to your table. When you slice and serve this delicious cheesecake, just watch it impress your guests. Thanks to its appearance, their mouths will be watering as the first slice is served, revealing the three patriotic colors. And it tastes as good as it looks.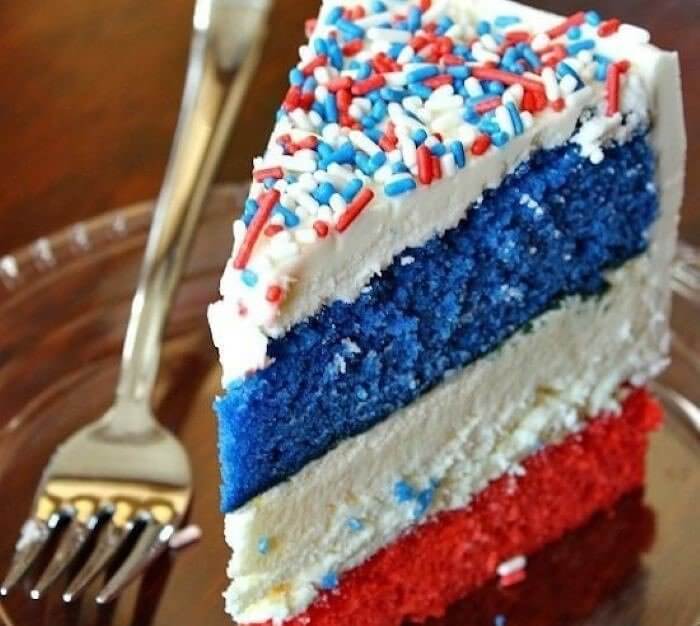 While this layered cheesecake doesn't need any extra help to look or taste any better, for added decoration, you can top the cheesecake with fresh berries or whipped cream.
Rosettes and Ribbons
These handcrafted, charming red, white, and blue table decorations are the ideal finishing touch to your 4th of July dessert table. Impress your guests with your creative side. These one-of-a-kind handmade table decorations are easy to make, but when you arrange them nicely in a festive mason jar or rustic bucket, they will look amazing. All you need is some heavy cardstock in red, white, and blue and some paper straws.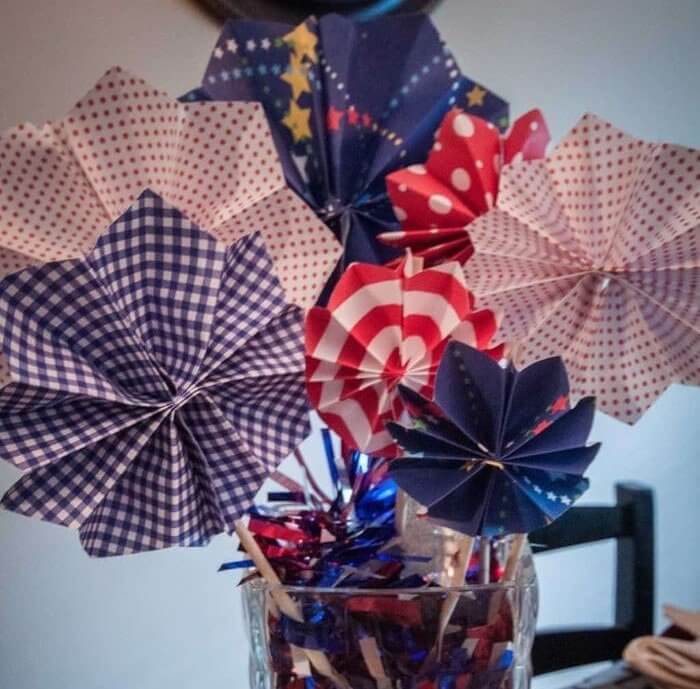 And don't forget to decorate the mason jar when finished. You can never have too many ribbons on this special occasion. It's the perfect way to say Happy Birthday, America!
You Can Never Have Too Many Rice Krispie Treat Pops
The kids will go crazy for these red, white, and blue Rice Krispie treat pops. This fantastic idea for your 4th of July celebrations will keep everyone happy, not just the kids! They are not only delicious but also look amazing, and they are very easy to make. In a microwave-safe bowl, melt some white chocolate, then dip each Rice Krispie treat into the white chocolate, coating it completely.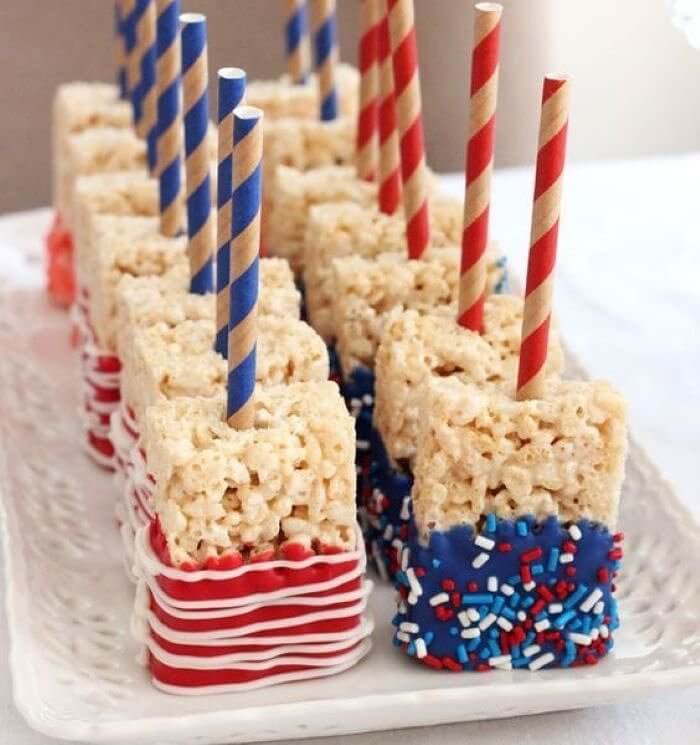 Decorate the pops with patriotic sprinkles while the chocolate coating is still wet. Once the chocolate has set, your red, white, and blue Rice Krispie treat pops are ready to be enjoyed!
Kids Will Love Making Sparkle Bottles!
Fourth of July sparkle bottles, also known as patriotic sensory bottles, are decorative bottles filled with glitter, sequins, and other materials that create a mesmerizing visual effect when shaken or moved. They are often made in red, white, and blue colors to represent the American flag and add a festive touch to 4th of July celebrations. These bottles can be a fun and calming activity for both kids and adults.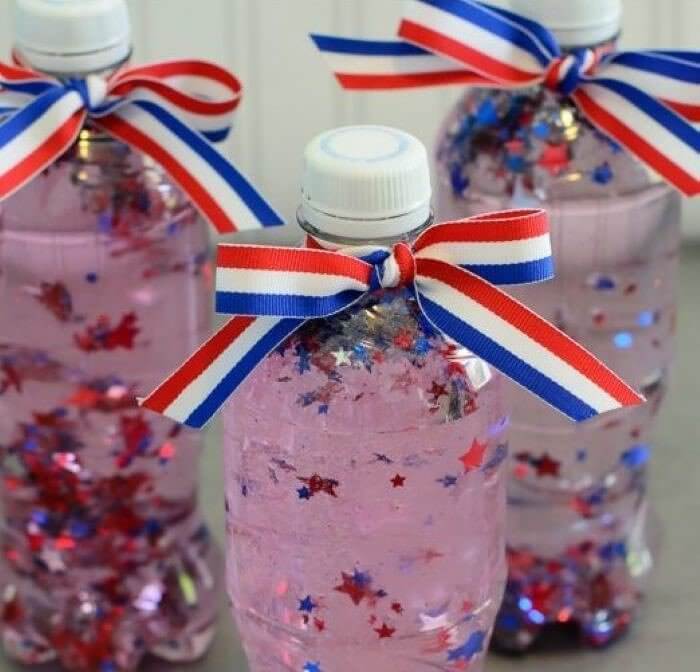 If ever there was a perfect way to involve young kids in the 4th of July celebrations, this is it. With a little imagination, sparkle bottles can look amazing!
Fourth Of July Berry Pie
Nothing says Fourth of July like a golden-crusted berry pie. And by adding the stars and stripes, this berry pie has been given an American twist. The ground almonds in the crust are an amazing contrast to the juicy fresh fruit filling. The recipe is fairly simple; if you've ever made a double-crust pie before, this is not much different. The crust begins with flour and salt mixed with ground almonds.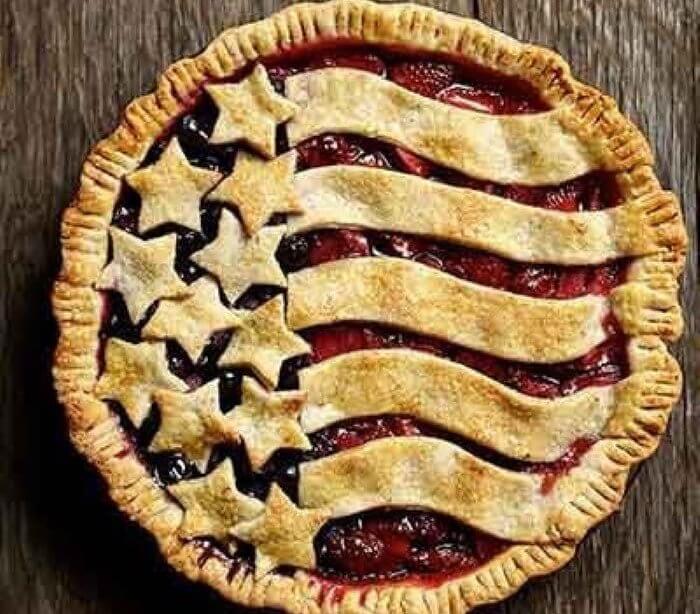 Cut the butter into the flour until the mixture resembles coarse crumbs, and add cold water until the dough comes together. This tried and tested method never fails.
4th July Ice Cream Sandwiches
As the heat of July accompanies the festivities of Independence Day, one treat is sure to win over both children and adults alike - our thematic ice cream sandwiches. They are remarkably simple to assemble. All you need are vibrant red, white, and blue sprinkles collected in a bowl. The next step involves coating each side of your ice cream sandwiches in this festive, colorful medley. The result is a delightfully patriotic dessert, ready to cool you down and add to the celebratory spirit.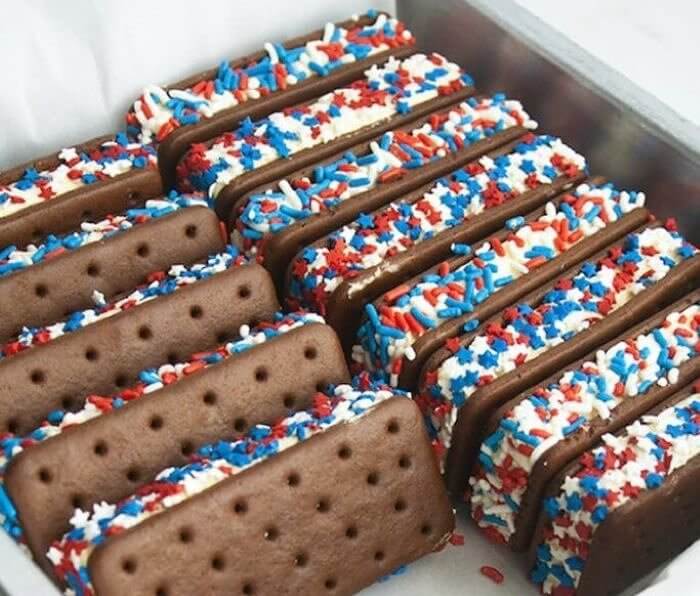 These chilled treats not only bring much-needed relief from the summer heat but also serve as an exciting visual element for your Fourth of July celebration. With the pleasing crunch of sprinkles complementing the soft ice cream, these are a sure win!