As the autumn leaves fall and the moon takes on its eerie glow, it can only mean one thing—Halloween is almost upon us! And you know what that means: it's time to don your spookiest, silliest, and most side-splitting costumes! To celebrate the spooky season, we're diving headfirst into the wild and wacky world of couples' costumes. What you're about to witness is not for the faint-hearted! From traditional costumes like ghosts and goblins to more saucy outfits from Fifty Shades of Gray, these couples will leave you rolling with laughter in your Halloween candy stash!
But Where Are Bart and Maggie?
In this super snapshot, we have a fantastic black couple and their adorable daughter. All decked out as none other than the iconic Simpson family. Dad has transformed into the doughnut-loving, beer-swigging Homer Simpson, complete with his trademark bald head and 'D'oh!' expression. Mom is the picture of elegance as Marge, with her towering blue beehive hairdo and signature green dress—but don't worry, she's left the vacuum cleaner at home for the night!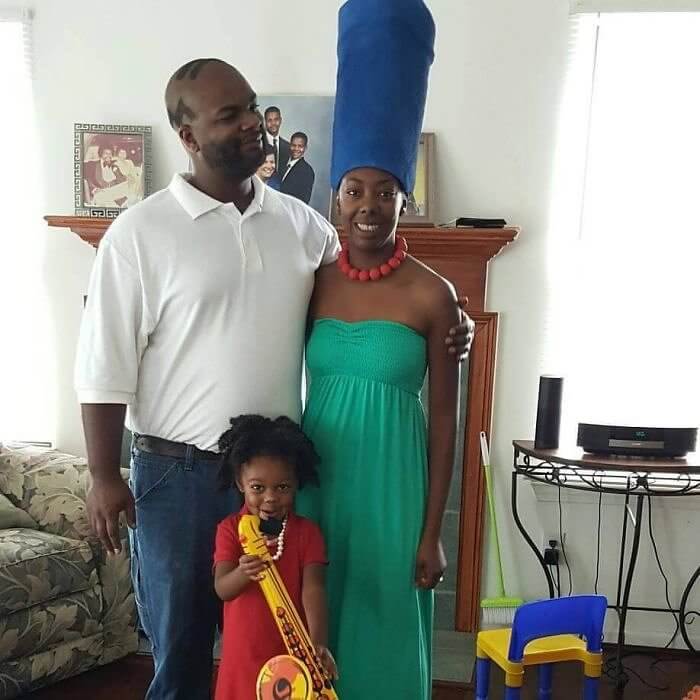 And let's not forget the youngest member of the family—their daughter is absolutely nailing the role of Lisa Simpson with her sparkly saxophone and intellectual charm. Mr. Burns would even approve!
From the Wall to Westeros!
Here's a couple who've decided to take their Halloween costume game to the realm of Westeros by becoming none other than the invincible Brienne of Tarth and the lovable Tormund Giantsbane from Game of Thrones! Brave Brienne has her signature armor, sword, and grin that could rival the fiercest warrior. Standing proudly beside her is Tormund Giantsbane, exuding charm and wild enthusiasm with his fiery red beard and mischievous twinkle in his eye!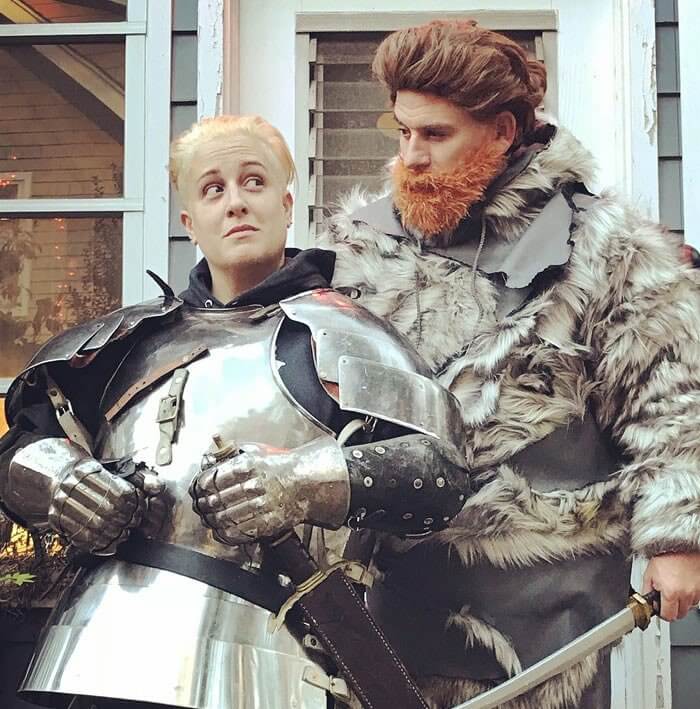 Together, they create a side-splitting visual as the unlikely pair from the Seven Kingdoms. This costume choice is like crossover fan fiction come to life, and they look brilliant!
Colonel Sanders and His Clucking Sidekick
In a finger-licking twist, this couple has decided to serve up a hilarious Halloween treat by transforming into the legendary Colonel Sanders and his trusty, feathered companion—a chicken! Picture this: one-half of the duo dons the iconic white suit, complete with a dapper bowtie and a white mustache. Meanwhile, the other half of the pair waddles into the spotlight, sporting a fluffy chicken costume. Together, they create a comically delicious dynamic!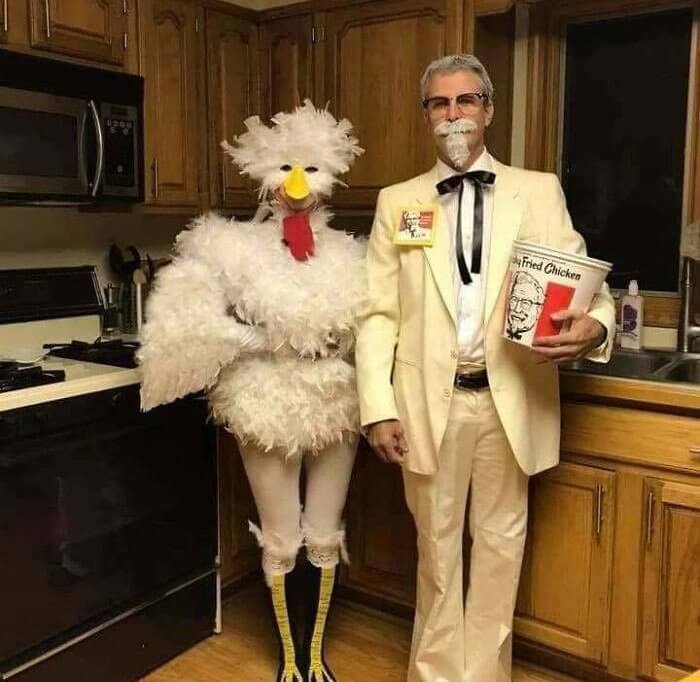 It's a costume combo that's clucking funny and finger-licking fantastic all at once. This couple's costume is as tasty as it is hilarious, and they've got everyone clucking with laughter!
That's a Blast From the Past!
Marching straight out of a nostalgic toy box, this creative couple has embarked on a mission to make Halloween as memorable as possible. Their dedication to detail is very impressive. Not only are they dressed in the classic green soldier uniforms, but they've even recreated the little stands that these miniature warriors stood on. They're standing rigidly, just like the plastic soldiers from your childhood. Even their little plastic weapons are recreated with precision!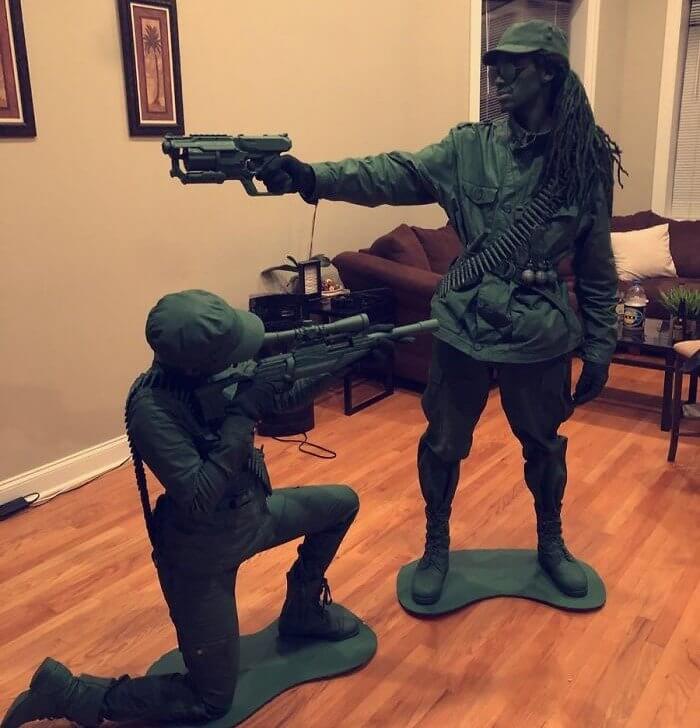 It's as if they've been plucked straight out of Andy's bedroom and brought to life. You can almost hear their plastic boots' faint " squeak-squeak " on the hardwood floor!
From Friday Night to Saturday Morning!
In this sidesplitting snapshot, we witness this lady's comical journey through the weekend as she transforms from "Friday Night" glamour to a "Saturday Morning" disaster! The lady is rocking a sizzling little black dress, exuding confidence and sexiness that screams, "I'm ready for a night out!" Beside her stands her bearded boyfriend, who's taken the concept of "Saturday Morning" to a whole new level. He embodies the post-Friday-night hangover aesthetic with flair!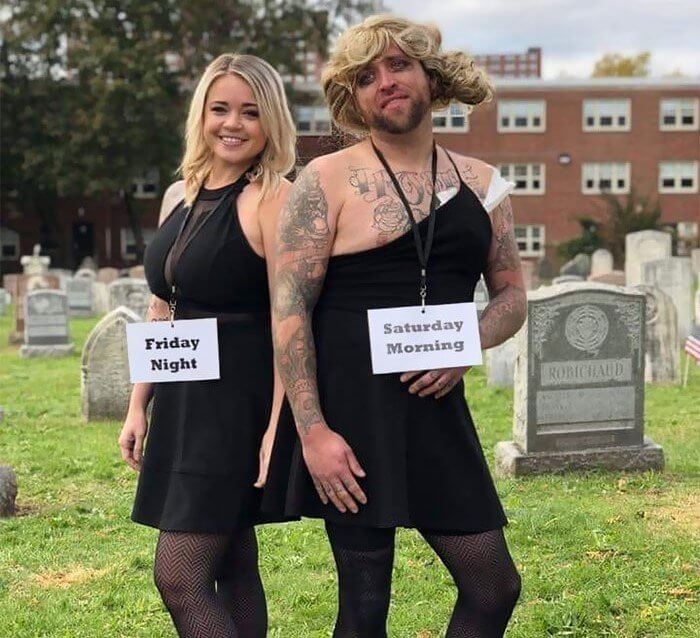 With a sign around his neck that humorously reads "Saturday Morning," he's the living, breathing representation of the morning after the party—disheveled and dazed in his slippers!
Hefner and His Playful Bunny Swap Roles!
In a daring twist that's bound to turn heads, this brave couple has decided to flip the script and serve up a double dose of playful irony! The younger lady has transformed into the legendary Hugh Hefner, complete with a smoking jacket, pipe, and that signature silver fox charm. Meanwhile, the older gentleman is a Playboy Bunny, which adds an unexpected twist to the iconic Playboy Mansion fantasy. It's a gender-bending extravaganza that challenges stereotypes!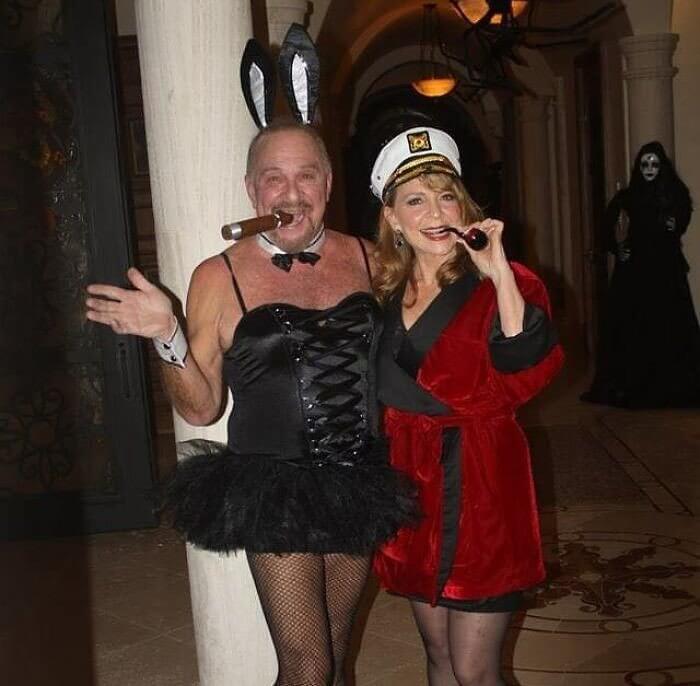 As they stroll into the Halloween party, you can't help but admire their daring take on the Playboy legacy. It's a costume choice that flips the script and leaves a lasting impression!
These Two Are Creating a Real Buzz!
These grandparents have buzzed onto the Halloween scene as a charming beekeeper and his adorable bee sidekick. Grandpa looks fab as the beekeeper, donning the traditional beekeeping attire, complete with a protective veil and gloves. Grandma, on the other hand, has embraced his role as the bee with gusto. She's sporting black and yellow stripes and is ready to pollinate her way through the evening's festivities. Together, they're impossible to ignore!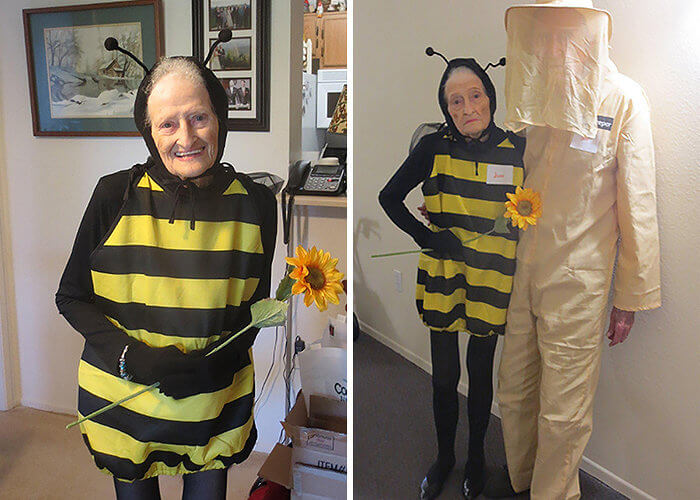 As they make their grand entrance at the Halloween gathering, you can't help but be charmed by their bee-utiful costumes. Age is just a number, and creativity knows no bounds!
Role Reversal Remix!
In a delightful gender-bending twist, this dynamic duo has decided to flip the script on the iconic Joker and Harley Quinn roles, creating a memorable Halloween spectacle. The slim lady has embraced the madness of the Joker, adopting a menacing grin and a delightfully deranged wardrobe. She's ready to wreak havoc with a Joker card up her sleeve, a mischievous glint in her eye, and that crazy smile tattoo on her hand!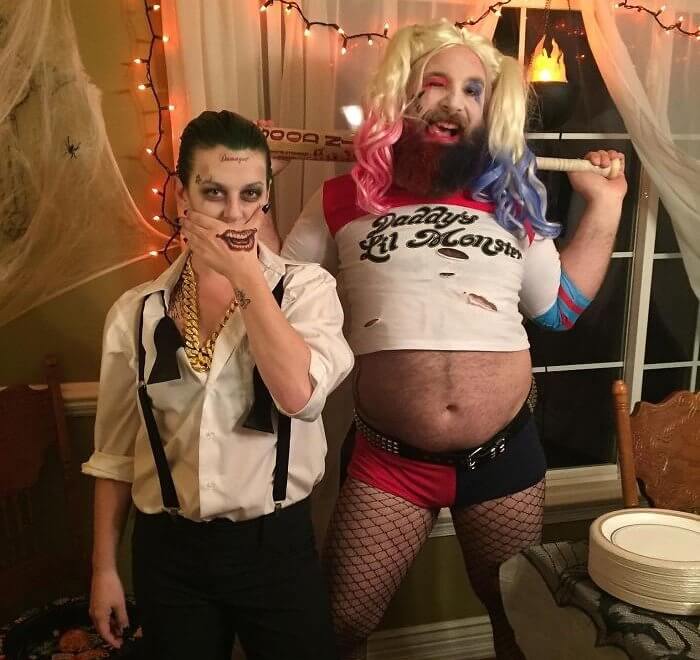 On the other hand, her big bearded boyfriend has fully embraced the fun-loving chaos of Harley Quinn. He's sporting the quirky red and black ensemble with iconic diamond patterns and pigtails!
Bringing Roald Dahl's World to Life!
In a naughty nod to the world of Roald Dahl, this creative couple has taken a trip down memory lane by dressing up as the iconic characters from "Matilda." The lady of the duo is none other than the brilliant Matilda herself, complete with a frilly blue dress, hairband, and her beloved books. She's the picture of intellect and determination, ready to take on the world with her cuteness and intelligence!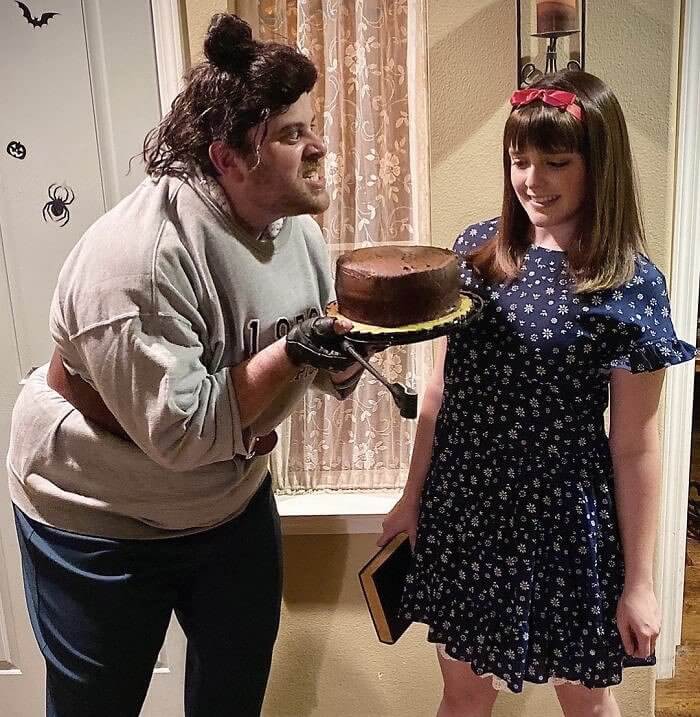 Standing beside her is the dreadful Miss Trunchbull. With a stern expression, a stern hairstyle, and a menacing demeanor. He looks terrifying as the wicked headmistress who rules Crunchem Hall with an iron fist!
Al and Peggy Reunite!
In a blast from the past, this dynamic duo has resurrected the iconic characters of Al and Peggy Bundy from "Married... with Children." The lady embodies the sassy and ever-so-laid-back Peggy Bundy, sporting leopard-print leggings, big hair, and a carefree attitude that could rival the original. She's the queen of one-liners and the ultimate couch potato, making you want to grab a remote and join her for a TV marathon!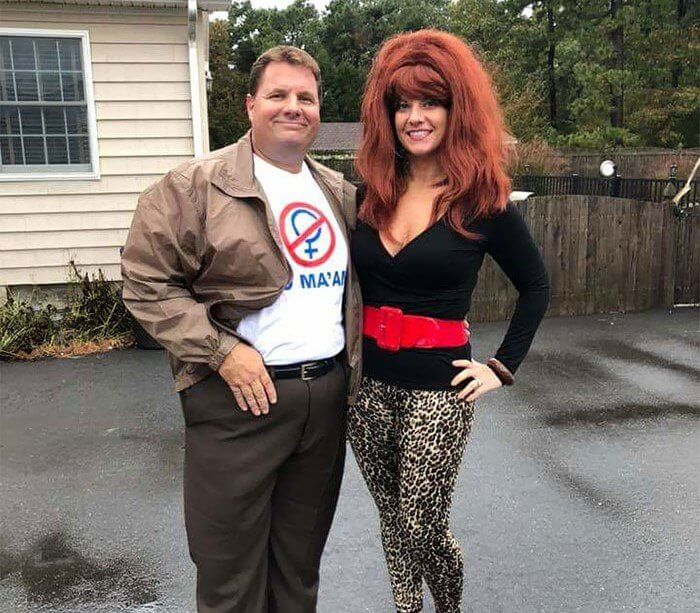 Her partner, on the other hand, steps into the worn shoes of Al Bundy, complete with a perpetually grumpy expression and a love for sitting on the couch complaining about his life!
Just a Pair of Despicable Delights!
In a despicable display of Halloween creativity, this couple has taken a page from the world of animated mayhem by dressing up as Felonious Gru and his lovable minion sidekick. The man has fully embraced the role of Gru, complete with a bald head, pointy nose, and a scarf that exudes supervillain style. With a hint of mischief in his eye and perhaps a scheme up his sleeve, he's ready to take on the world!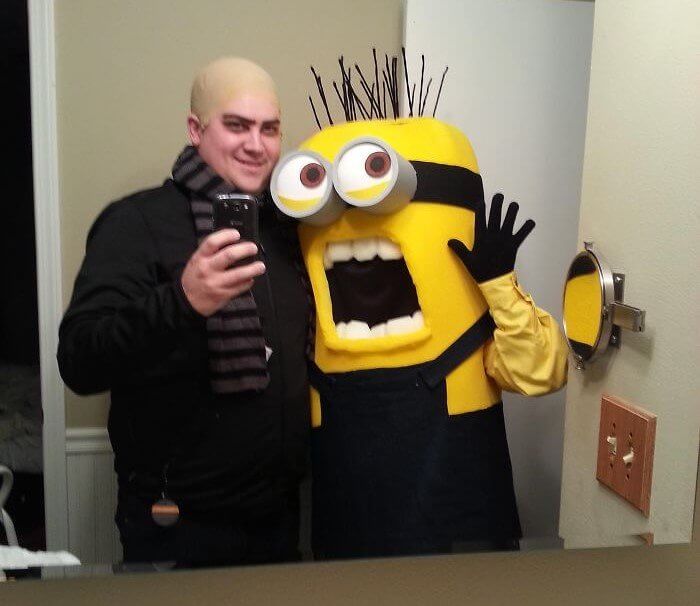 By his side stands his partner in crime—literally! She has transformed into a pint-sized, yellow minion, complete with those trademark overalls, goggle glasses, and a mischievous grin that's impossible to resist!
Ready for Action!
In a fashionably mysterious twist, this stylish couple has transformed into the iconic Men in Black with their cool confidence and intergalactic charm. With their impeccable attire, they're the picture of professionalism, ready to neutralize any unexpected witnesses on their Halloween mission. Their costumes are a reminder that even when you're tasked with protecting the world from aliens, you can do it with style and a dash of humor!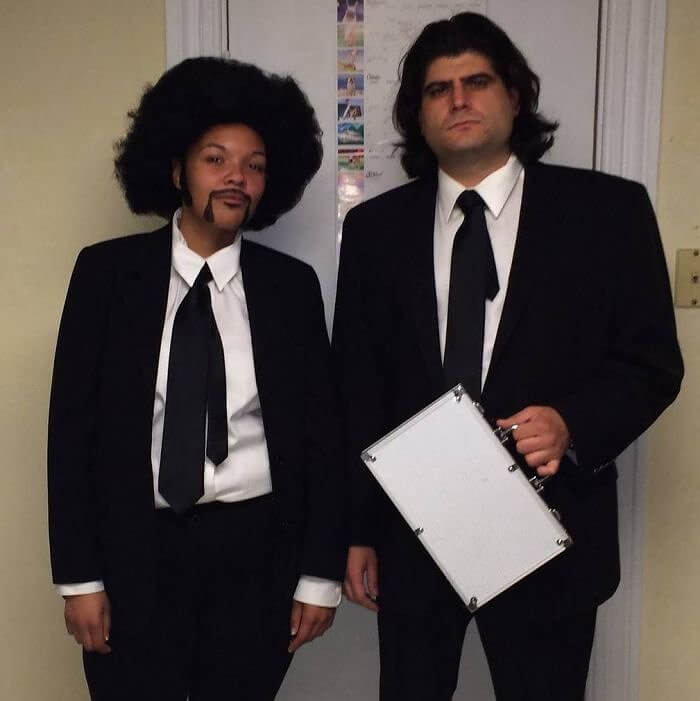 As they infiltrate the Halloween party scene, you can't help but be captivated by their mysterious presence. Bravo to this couple for keeping the galaxy safe, one Halloween party at a time!
The Only Way Is UP!
In a heartwarming and colorful display of costume creativity, this delightful couple has embarked on a journey straight out of Disney Pixar's "Up!" as Russell and the exotic bird known as "Kevin." The guy has taken on the role of the young and enthusiastic Russell, complete with his signature Wilderness Explorer uniform and balloons. With a smile as wide as Paradise Falls, he's ready for any adventure that comes her way!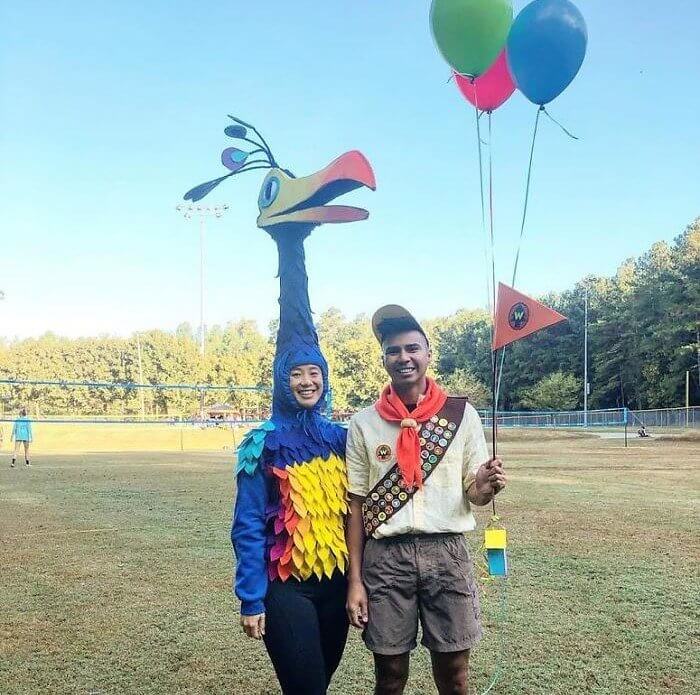 Standing beside him is her partner, who has transformed into the majestic and colorful bird, Kevin. With feathers that capture the vibrancy of the tropical wilderness, she's ready to explore this unexpected friendship!
Sounds Like Hell!
This zombie couple has risen from the digital age with a quirky, humorous take on the undead. One of them, the "Dead Battery Zombie," is wearing a costume featuring a smartphone icon displaying a battery icon at 0%. Perhaps she's in search of a charger in the post-apocalyptic world. Her partner has embraced the "WiFi Zombie" role, complete with a signal strength icon. They lumber forward, looking for a WiFi connection!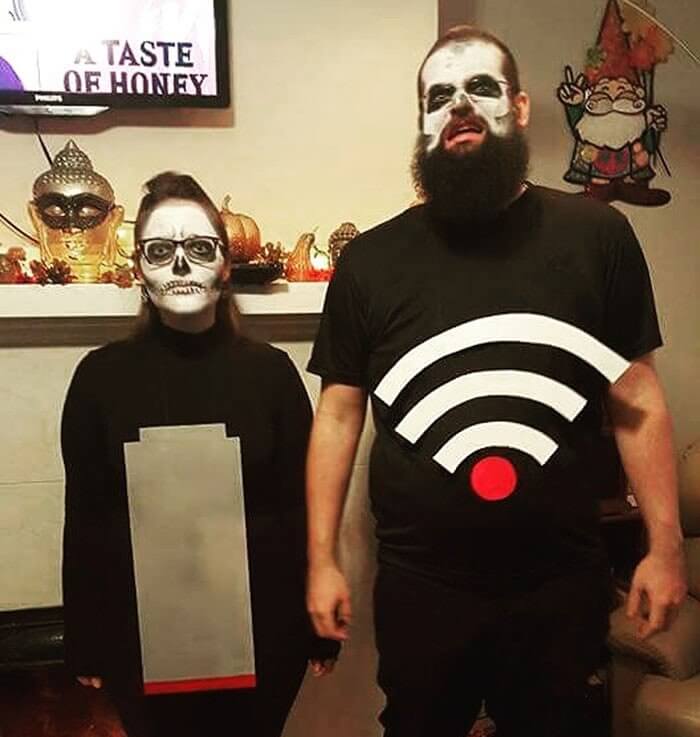 Even in the afterlife, it seems our digital cravings persist. We all want a charged device and a strong WiFi signal, even in the midst of the undead!
A Kitty-Cat and Her Comical Scratching Post!
This couple has ventured into the world of feline fantasy for Halloween. The girl has embraced the playful spirit of a sexy black kitty-cat, prowling around the party with the confidence of a naughty, flirtatious kitty. Meanwhile, her boyfriend has taken a hilariously unconventional approach by dressing up as a cat's scratching post. With a costume that has dangling toy mice, he's become the ultimate dorky accessory for his kitty-cat companion!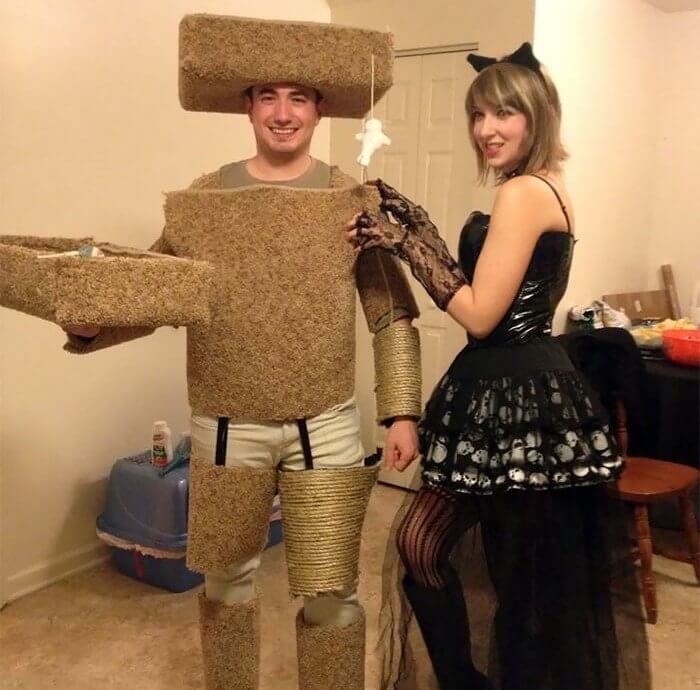 He's clearly willing to go to great lengths to ensure his partner has a purr-fectly enjoyable Halloween. It's hard not to feel sorry for the goofy scratching post. Kitty will have all the fun!
These Two Are a Perfect Match!
In a brilliantly absurd and wonderfully wacky twist, this couple has taken the art of costume humor to a whole new level by dressing up as a lampshade and a moth. The lady of the pair has become the centerpiece as the lampshade, with a lampshade-like headpiece and a lamp-base-inspired dress. She's quite literally the light of the party. Standing beside her is her partner, who's fully embraced the role of the moth!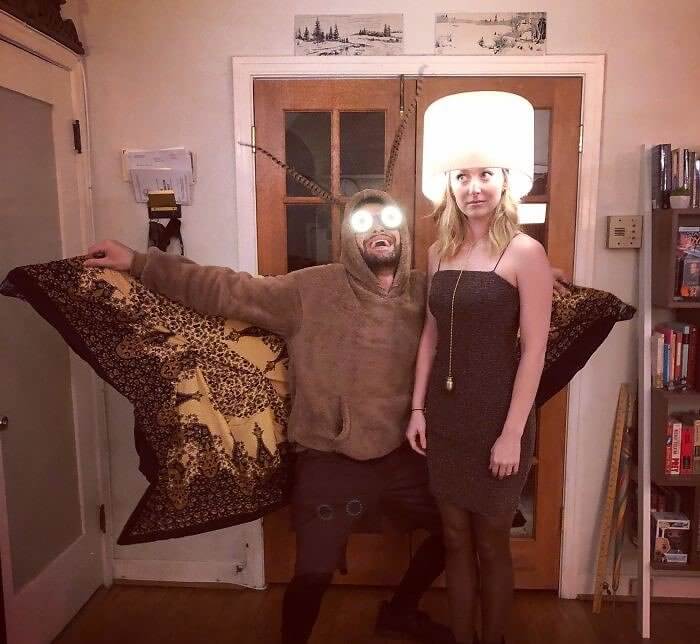 He's ready to flutter and flicker around the lampshade in a comical display of moth-like antics. The sight of him drawn to the light is both entertaining and absurd!
Bob Ross Is Up to His Old Tricks Again!
In a stroke of creative genius, this delightful couple has transformed themselves into none other than the legendary painter Bob Ross and one of his iconic tree paintings in the vibrant colors of fall. The person embodying Bob Ross has donned the signature permed wig and the calm, serene demeanor that the beloved artist was known for. With a palette and paintbrush in hand, they're ready to create their masterpiece!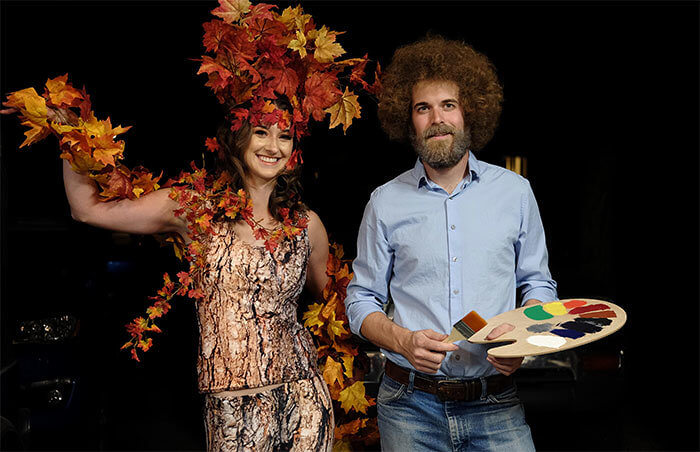 Standing beside the artist is their partner, who has become the living canvas of Bob's imagination. Covered in the vibrant autumnal hues of red, orange, and yellow, she looks picture-perfect!
Moaning Lisa and the Vitruvian Monster!
In a mesmerizing celebration of artistic genius, this pair has chosen to embody two of the most iconic creations in the world of art – the Mona Lisa and the Vitruvian Man. The lady of the duo has taken on the persona of the timeless Mona Lisa, her smile as captivating as the original. She is draped in elegance, recreating the masterpiece's allure and mystique, even if she is a few pounds heavier!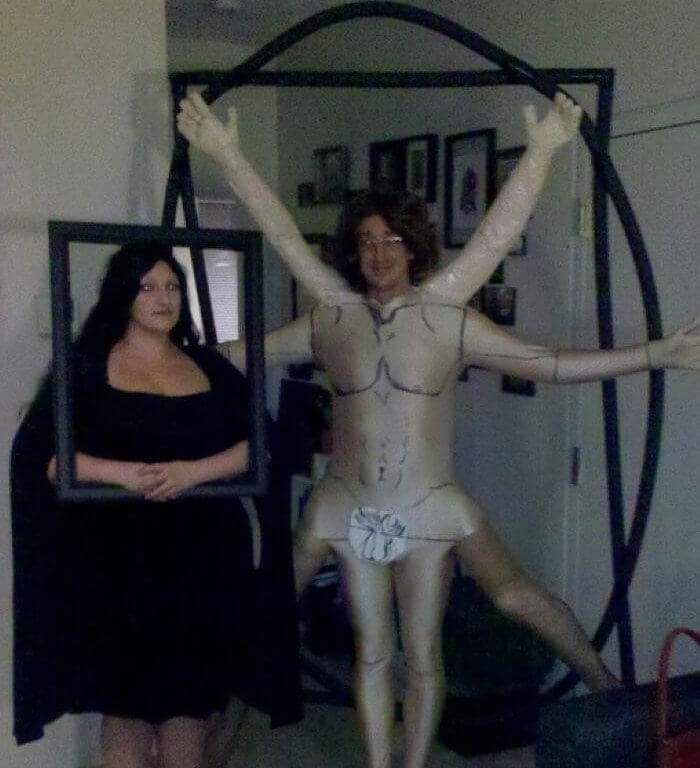 Beside her stands her partner, who has attempted to become Leonardo da Vinci's Vitruvian Man. He has failed miserably, yet he still stands there as if his costume is a triumph!
A Prom Night to Remember!
This couple has brought to life the unforgettable scene from Stephen King's novel "Carrie" where she attends prom night expecting everything to be normal. The lady of the pair has embraced the role of the telekinetic teenager Carrie White, her white prom dress soaked in blood with a look of both power and despair in her eyes. She embodies that unforgettable prom night scene, where chaos and horror unfolded!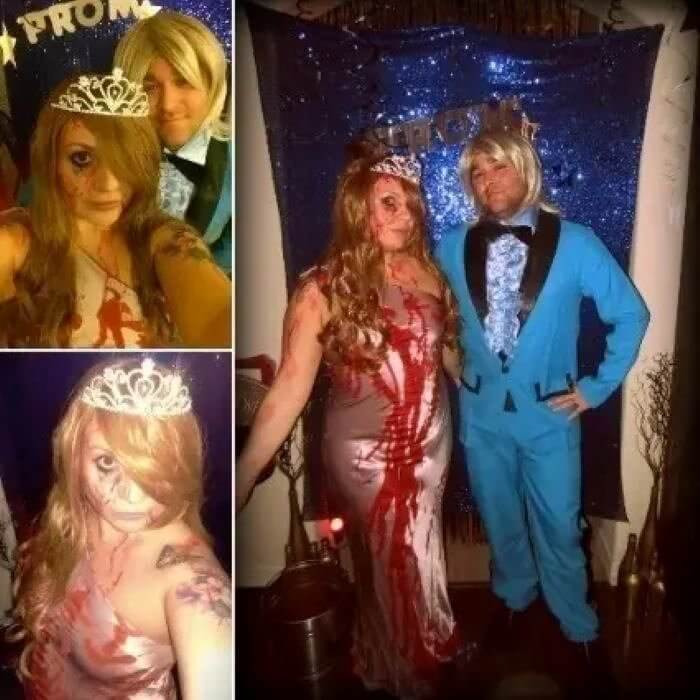 Beside her stands her partner, who portrays Carrie's date from the ill-fated prom. His tuxedo, though once sharp, is now also splattered with blood. His expression is a mix of shock and horror!
Champagne and Boring Old Orange Juice!
In a refreshingly fun and bubbly costume combo, this couple has taken inspiration from the world of beverages and brought them to life. The lady has dressed up as sparkling champagne. With shimmering attire and plenty of bubbles, she's a delightful representation of celebration and sophistication. Standing beside her is her partner, and he's just basic, boring old orange juice. The costumes represent their everyday personalities. Bubbly and boring!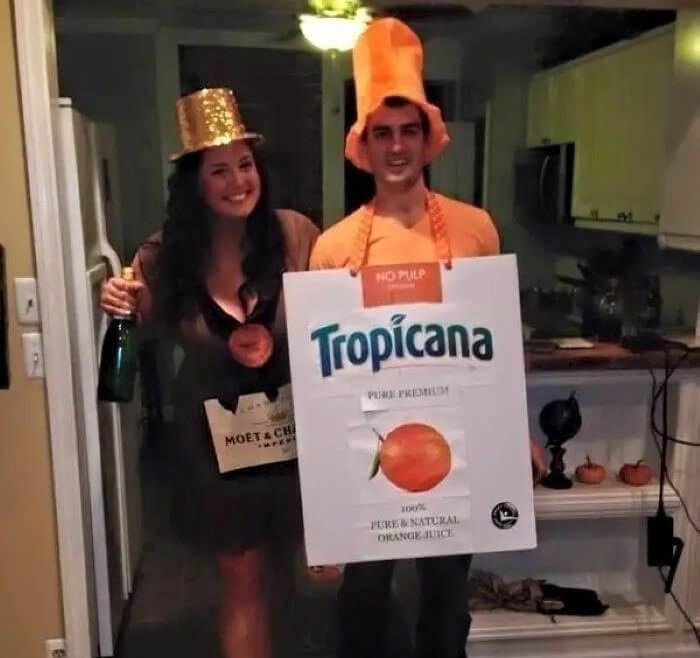 It's a reminder that even the most everyday things can be transformed into a source of fun and laughter on Halloween. Cheers to this charming couple, even if he is way out of her league!
The Magical World of Harry Potter!
In a bewitching display of costume creativity, this couple has transported themselves into the enchanting world of Harry Potter as Dolores Umbridge and Professor Trelawney. The guy of the duo has fully embraced the persona of the notorious Dolores Umbridge, complete with her prim and pink outfit. With a hint of stern authority and a not-so-hidden sinister side, he's a spot-on representation of one of the series' most memorable characters!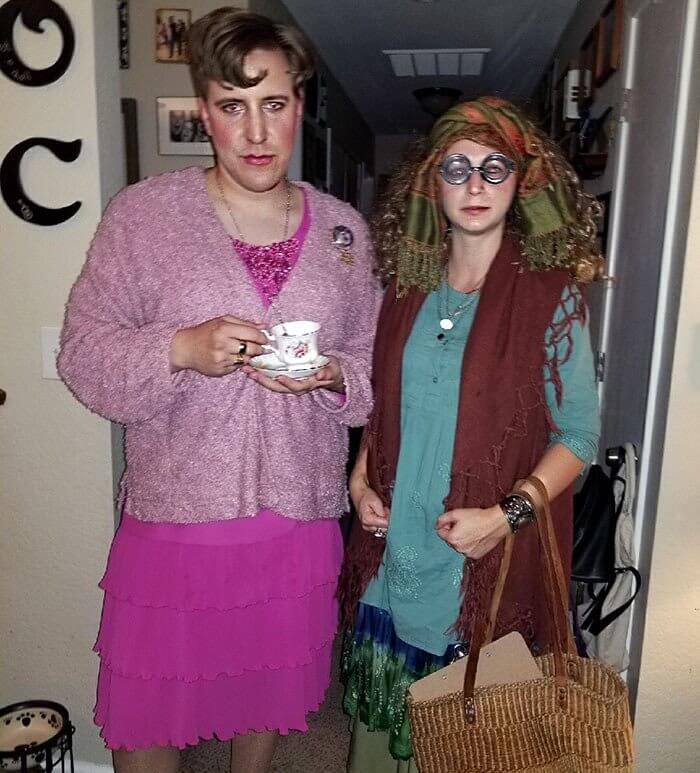 Beside her stands her partner, who has taken on the role of the eccentric and otherworldly Professor Trelawney. With her distinctive shawls and dreamy demeanor, she's fully captured the essence of the quirky teacher!
Watch Out! Here Comes the Imperial Army!
In an awe-inspiring display of combined costume creativity, this dynamic couple has brought the mighty All Terrain Armored Transport (AT-AT) walker, also known as the Imperial Walker, from the Star Wars universe to life. Together, they become an intimidating war machine straight out of the Galactic Empire. With each step, they command attention and respect, as if they have just marched off the screen of a Star Wars movie!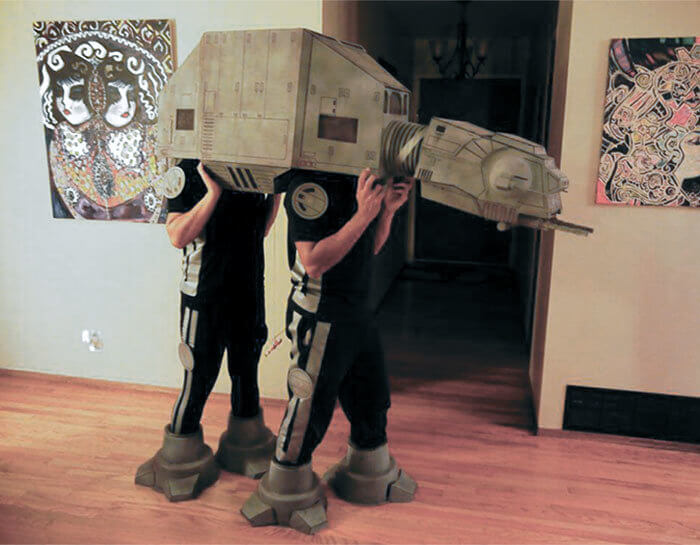 It's a testament to their dedication and love for the Star Wars universe, reminding us all that the "force" of creativity is strong when it comes to celebrating Halloween!
One of the Scariest Scenes of All Time!
In a spine-tingling tribute to one of the most iconic and chilling moments in horror cinema, this couple has brought to life the harrowing scene from "The Exorcist" where a priest confronts a levitating girl possessed by an evil force. The lady of the pair is suspended in mid-air, her body contorted and eerie, a haunting portrayal of the possession. Her partner, dressed as the determined priest, confronts the demonic presence!
Together, they create a heart-stopping moment that captures the intensity and horror of the classic movie scene. It's a reminder that Halloween is the perfect time to embrace the spine-chilling thrill of horror!
This Costume Will Become Pretty Heavy As the Night Wears On!
In a heartwarming portrayal of nature's harmony, this unique couple has crafted a costume ensemble that captures the essence of one of Australia's most famous inhabitants. The boyfriend, with his substantial stature, has transformed into a mighty eucalyptus tree. In a delightful twist, his petite girlfriend has wrapped herself around his waist like a charming koala bear, clinging to her eucalyptus tree for dear life. Her costume is an endearing representation of this iconic Australian marsupial!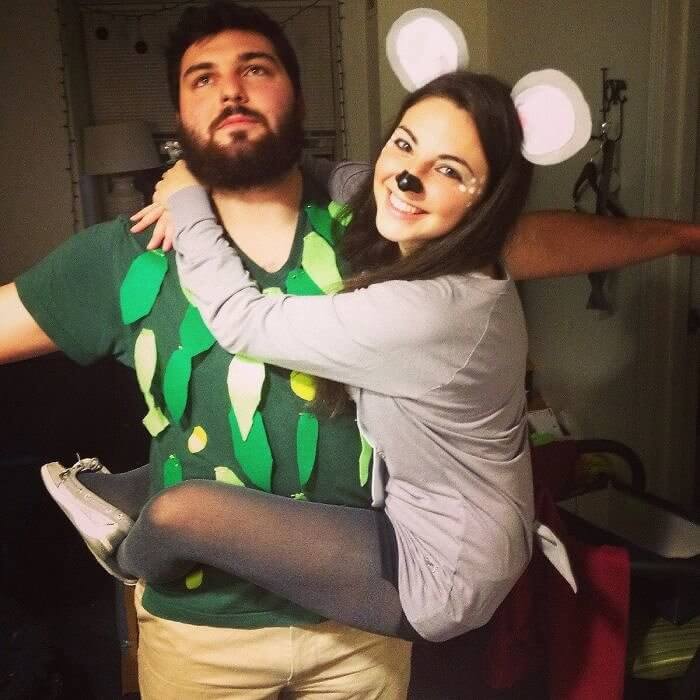 As they make their entrance at the Halloween gathering, you can't help but smile at the heartwarming creativity of their costume idea. I wonder, will she stay there all night, though?
What a Fabulous Pair!
In a hilariously cheeky costume choice, this daring couple is dressed up as a giant pair of boobs in a floral bikini. Together, they form an attention-grabbing ensemble while making complete boobs of themselves! As they stand together, their costume is a bold celebration of self-confidence and a reminder that Halloween is a time for creativity, humor, and, sometimes, making a statement, even if their nipples are showing a little bit!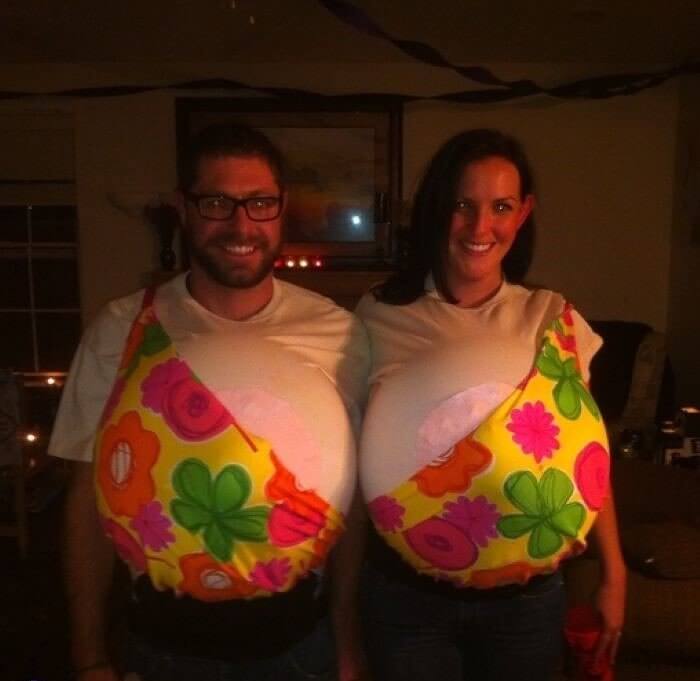 Kudos to this couple for using Halloween to show off some of the finer things in life. And as for that floral bikini, we think it's pretty sexy!
Can You Guess What These Two Are Supposed to Be?
This couple has transformed into "Fifty Shades of Gray" using the gray sections of a paint color chart. In a sultry and seductive twist, the lady is dressed in an elegant and alluring ensemble that exudes confidence and desire. Her every move hints at a world of passion and intrigue. Beside her stands her partner, who's equally captivating, sporting an elegant outfit that oozes charm and charisma. Every glance and gesture speaks of an electrifying connection!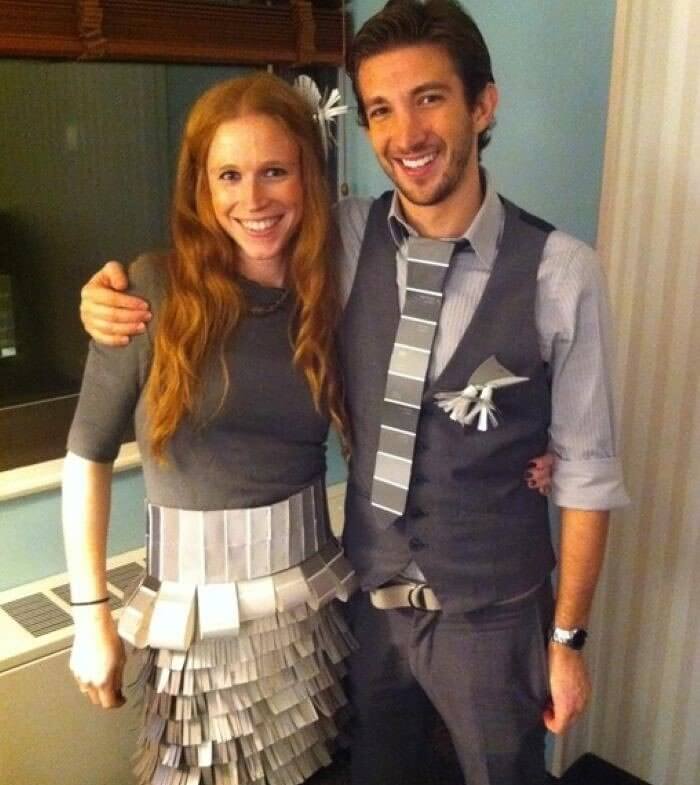 As they enter the Halloween party, no one has a clue what they're supposed to be, but their costumes are a thrilling reminder of the allure of fantasy and the power of passion anyway!
A Leprechaun and His Radiant Rainbow!
In a display of St. Patrick's Day charm, this delightful couple has taken the idea of "chasing rainbows" to a whole new level. The gentleman has donned the iconic attire of a mischievous leprechaun, complete with a green top hat, vest, and buckled shoes. He's ready to guard his treasure with a wink and a smile. His partner has transformed into a radiant rainbow, her costume a vibrant burst of color and joy!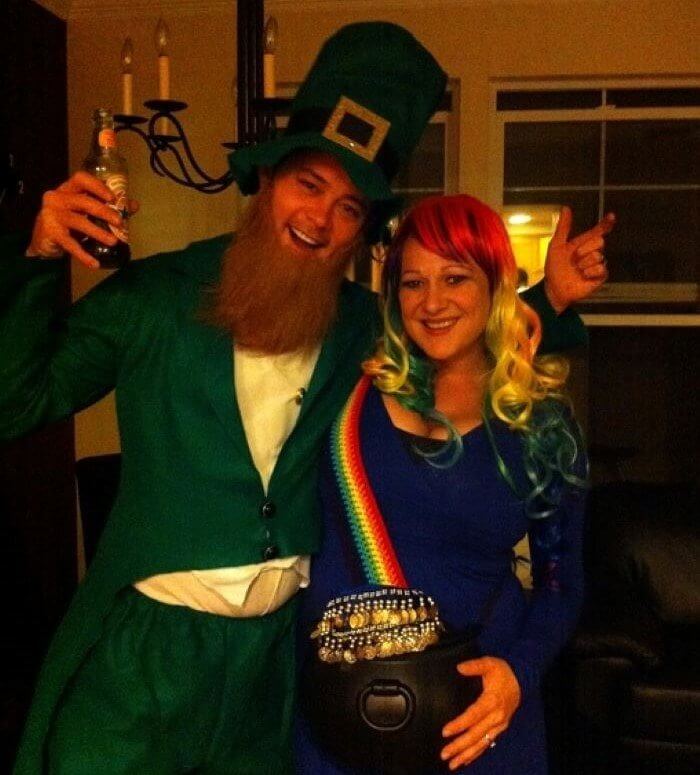 And what's at the end of this rainbow? A pot of gold, of course! She holds it with a gleeful expression, ready to share the riches of her love!
The Beast Is In for a Treat!
This enchanting couple has stepped straight out of Disney's "Beauty and the Beast" to capture the timeless magic of the story. The lady of the duo has transformed into the beloved Belle. With a radiant smile, she embodies the beauty of the classic character. Beside her stands her partner, who has taken on the role of the lovable candlestick, Lumière. He radiates the charm and hospitality that Lumière is known for!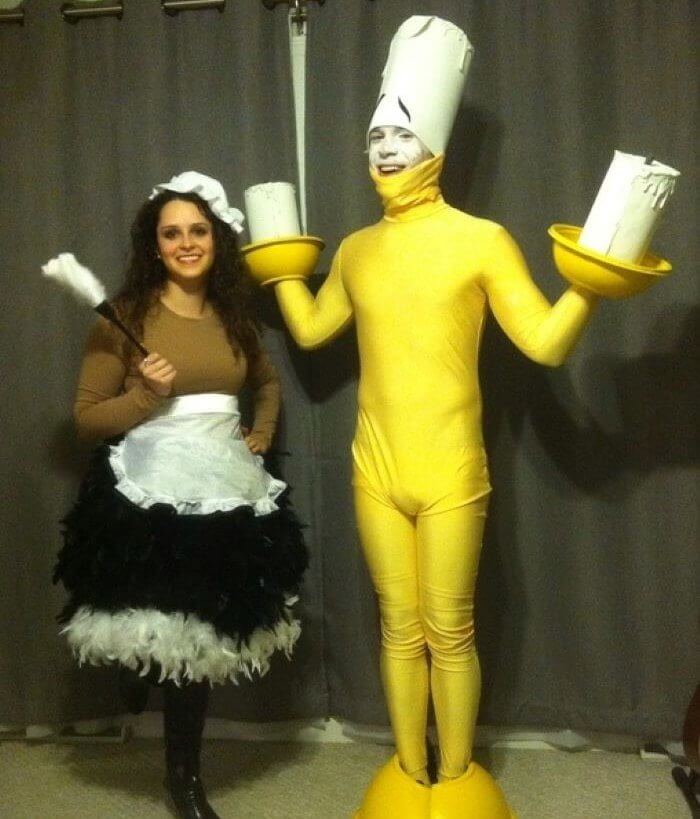 He's ready to lead Belle through the enchanting world of the Beast's castle. Their costumes capture the magic and romance of "Beauty and the Beast," even if she does look more like a sexy maid!
Van Gogh and His Living Masterpiece!
In a stroke of artistic genius, this captivating couple has brought the world of Vincent van Gogh to life, embodying the artist himself and one of his most iconic masterpieces, the "Starry Night." The gentleman has transformed into the legendary Van Gogh, complete with a missing ear and a pipe, capturing the essence of the tormented but brilliant artist. His costume pays tribute to the man behind the canvas!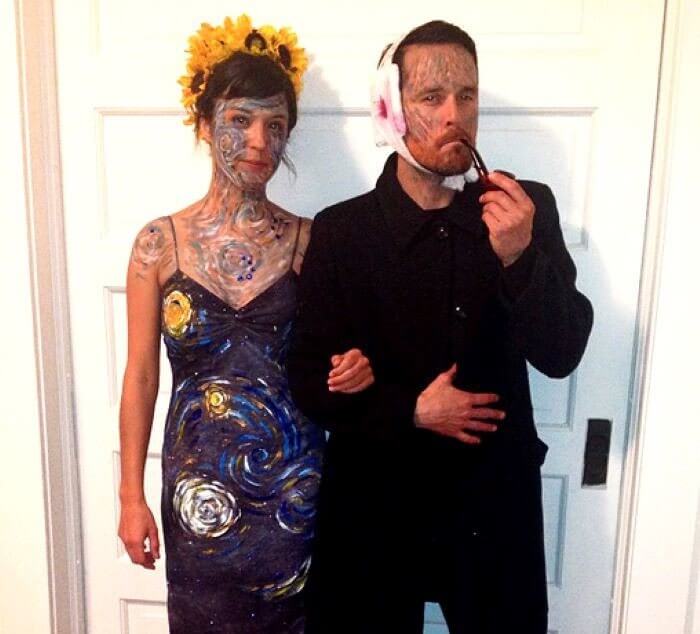 Beside him stands his partner, who has become a living rendition of "Starry Night." With swirling patterns of blues, yellows, and celestial wonders adorning her, she embodies the enchanting qualities of the renowned painting!
Just an Excuse for Dad to Dress Up in Pigtails!
This delightful family ensemble is straight out of the world of Pokémon! Mom's costume captures the electrifying cuteness of Pikachu, with those iconic yellow ears and a cheery expression. Dad, dressed as Ash Ketchum, looks ready for action with his pigtails and determined expression. He's the ultimate Pokémon trainer, eager to explore and catch 'em all alongside his son. Their young son, taking on the boy's role, completes the trio!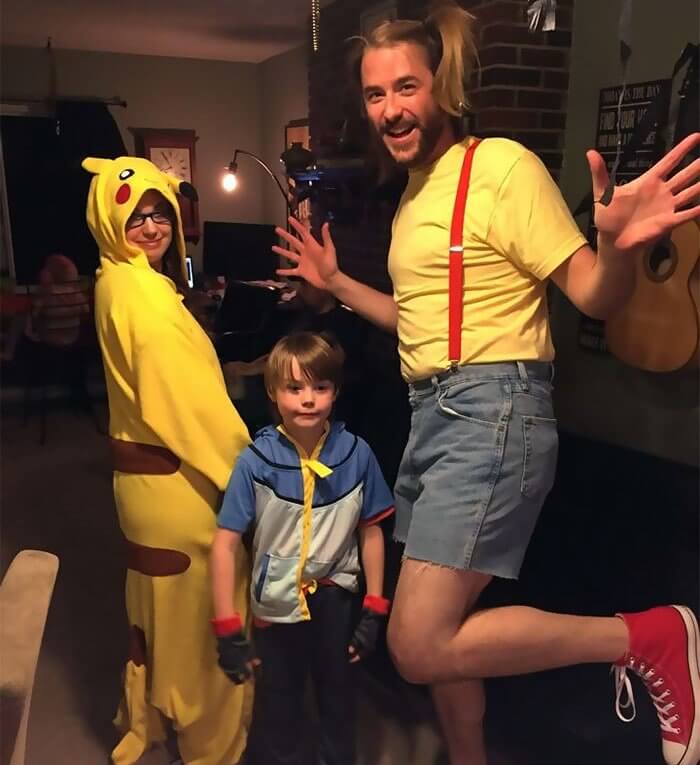 Dressed in trainer gear, he's the next generation of Pokémon masters, ready to set out on his own journey. Their costumes celebrate the spirit of adventure, teamwork, and the enduring appeal of the Pokémon universe!
Together at Last!
In a heartwarming tribute to the beloved characters from "The Office," this couple has transformed themselves into the iconic Pam Beesly and Jim. The lady of the pair captures Pam's sweet and genuine demeanor, complete with her charming smile and an outfit that channels Pam's everyday office attire. Beside her stands her partner, who has taken on the role of the lovable Jim Halpert with a hint of mischievousness in his eyes!
You can't help but be transported back to the Dunder Mifflin Scranton branch. Their costumes capture the endearing essence of "The Office" and the timeless appeal of Pam and Jim's love story!
Here's Johnny!
In a spine-chilling homage to one of the most iconic horror films, this couple has taken on the eerie personas of the twins from "The Shining." Dressed in matching outfits, they create a haunting and unsettling portrayal that sends shivers down your spine. Their eerie presence and sinister smiles perfectly capture the essence of the Grady twins, making you feel as if you've stepped right into the Overlook Hotel!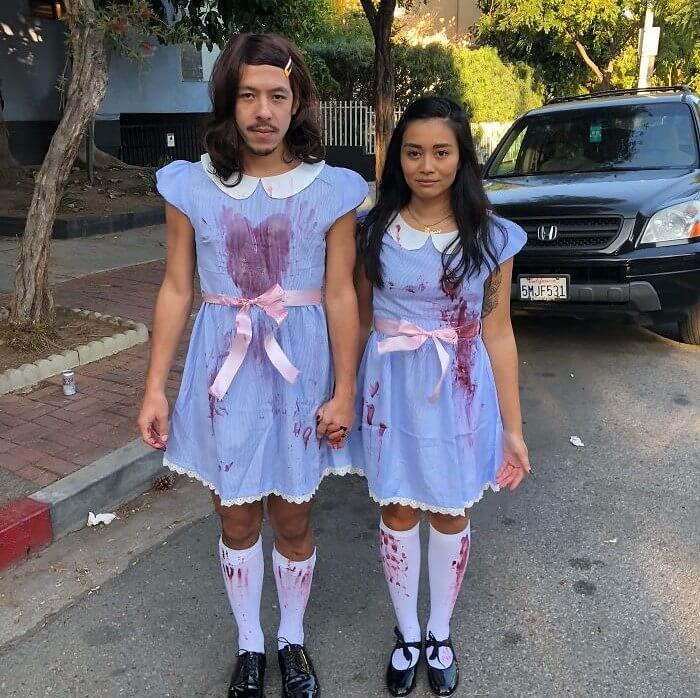 Their costumes are a chilling reminder that Halloween is the perfect time to embrace the darker side of cinema and revel in the spine-tingling thrill of horror. They brought "The Shining" back to life!
Watch Out Behind You!
In a spine-chilling and hair-raising costume duo, this couple has ventured into the sinister world of Stephen King's "It," embodying the terrifying Pennywise the Dancing Clown and the unfortunate Georgie. The guy takes on the bone-chilling persona of Pennywise, complete with the unsettling clown makeup and a wicked grin that conceals his darker intentions. He's the embodiment of fear itself, ready to lure you into the sewers with his red balloon!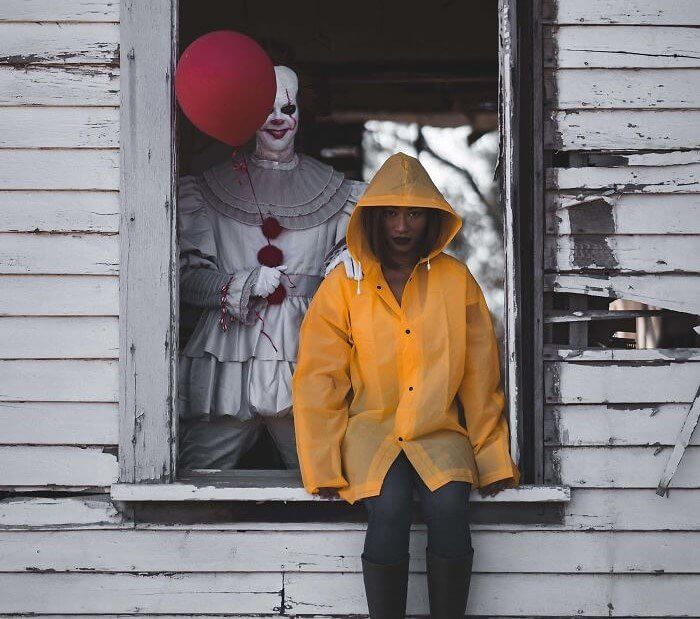 Beside him sits his partner, who has transformed into the innocent but ill-fated Georgie. With a yellow raincoat, she captures the tragic innocence of the young boy who met a sinister fate!
Another Idiot Sandwich!
In a hilarious nod to the world of culinary critique, this couple has recreated the infamous Gordon Ramsay "idiot sandwich" scene. With a slice of bread pressed against each side of his girlfriend's head, they've captured the essence of Ramsay's blunt and comedic culinary feedback. His stern expression and her good-humored participation make for a sidesplitting portrayal that leaves no doubt about their commitment to humor. He even looks like Ramsay!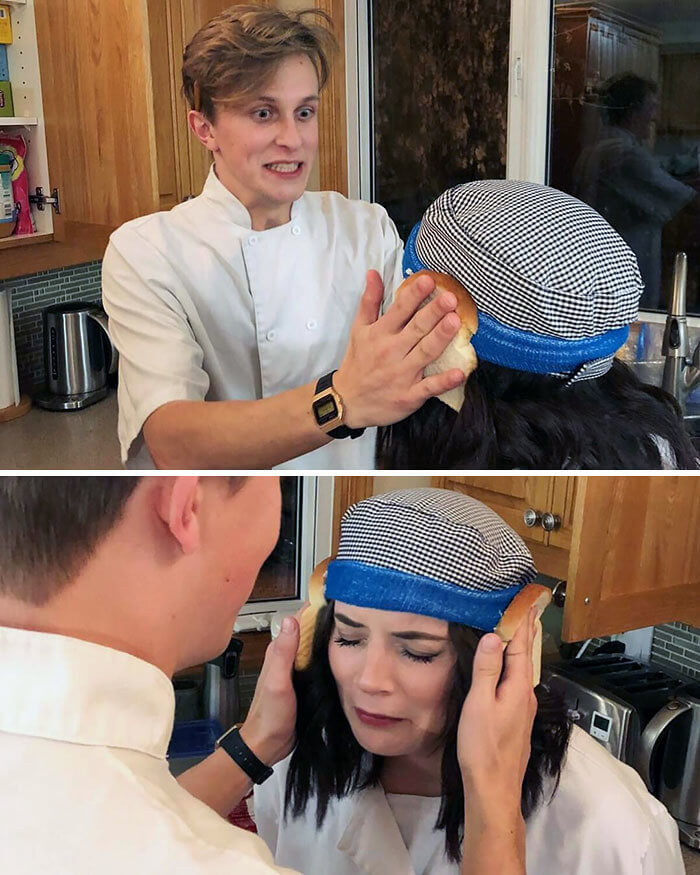 This is a clever and lighthearted approach to costume play. Even in the kitchen, there's room for fun and laughter. Kudos to this couple for serving up a hilarious slice of Gordon Ramsay's wit!
Harry's In for a Surprise!
In a wickedly imaginative and slightly sinister costume pairing, this couple has ventured into the magical world of Harry Potter. The gentleman has transformed into the menacing Lord Voldemort, complete with the iconic bald head, pale complexion, and a hint of dark magic in his eyes. Wrapped around him is his partner, who has taken on the role of a saucy snake, evoking the image of Nagini, Voldemort's serpentine companion!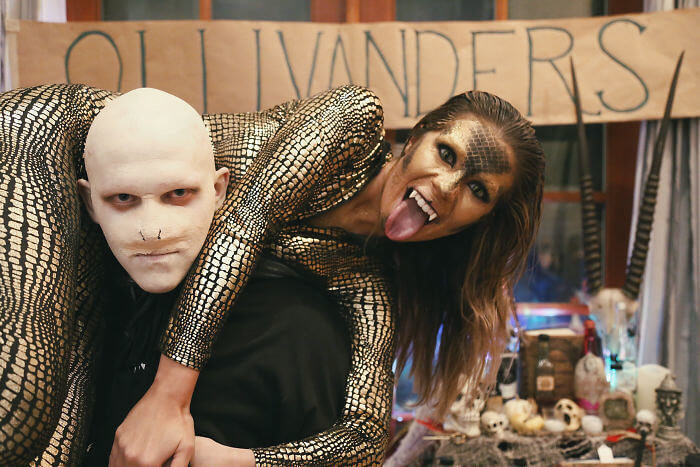 With her slithering grace and a hint of mystique, she adds an eerie allure to the ensemble. Their costumes capture the essence of J.K. Rowling's imaginary world of wizardry!
Khaleesi and Khal Drogo Unite for the Last Time!
This couple has embarked on a journey through the world of "Game of Thrones" as Daenerys Targaryen, the Mother of Dragons, and Khal Drogo, her fierce and fearless warrior. The lady of the pair takes on the role of the Khaleesi, exuding strength and grace in her dragon-inspired attire. With her striking beauty and determination, she embodies the essence of a queen. Beside her stands her partner, who has transformed into the mighty Khal Drogo!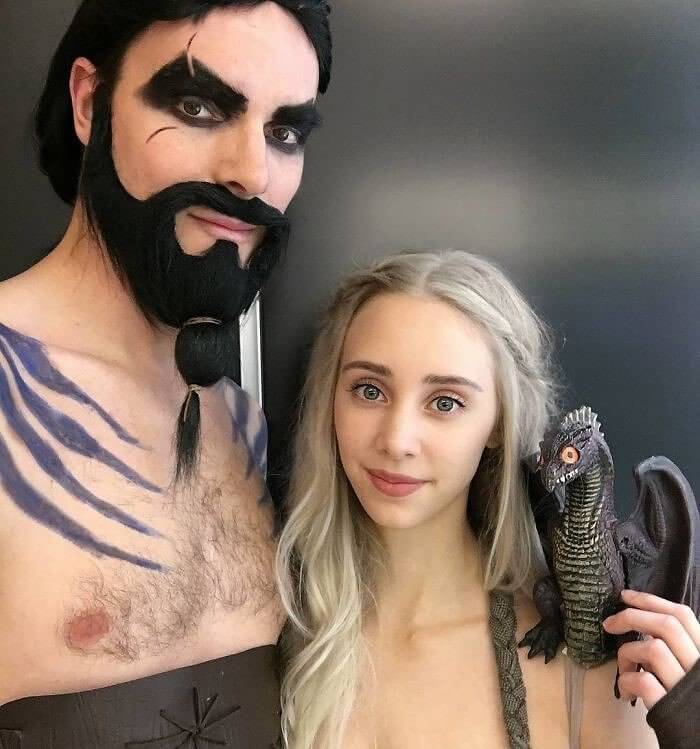 With his Dothraki warrior garb and warrior spirit, he's the epitome of power and loyalty. They remind us of the timeless allure of this epic tale of power, love, and dragons!
Trick-Or-Treating Thrills!
This dynamic duo has taken the thrill of a rollercoaster ride to the streets in an imaginative twist on trick-or-treating. With fake legs dangling from two chairs and their arms raised high in the air, they have transformed their trick-or-treating expedition into a wild and playful adventure. Their spirited enthusiasm and creative approach make for a unique and entertaining sight as they navigate the neighborhood, collecting candies and treats!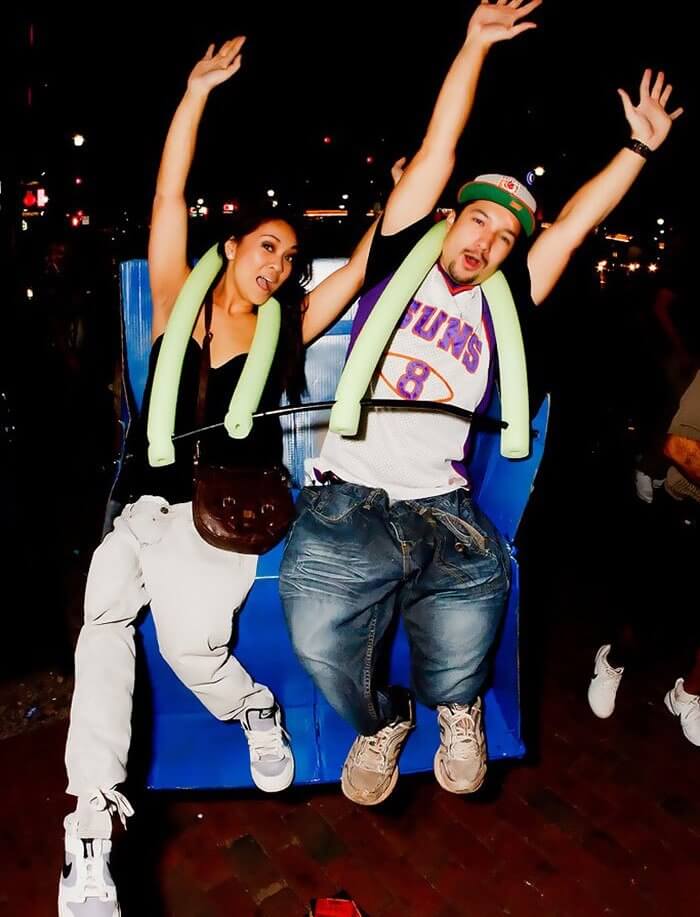 Passersby can't help but smile at the sheer joy and imaginative spirit of their Halloween celebration. It's a reminder that Halloween is not just about the candy but also about the fun and creativity!
Angela Anaconda and Johnny Abatti: A Perfect Pairing!
In a delightful and nostalgic tribute to the world of animated television, this couple has absolutely nailed their costumes as Angela Anaconda and Johnny Abatti. The lady of the pair captures Angela's unique and charming look, with her distinct paper-cutout style and red hair. She's the embodiment of the beloved animated character, right down to the details. Beside her stands her partner, who has transformed into the ever-so-cool Johnny Abatti!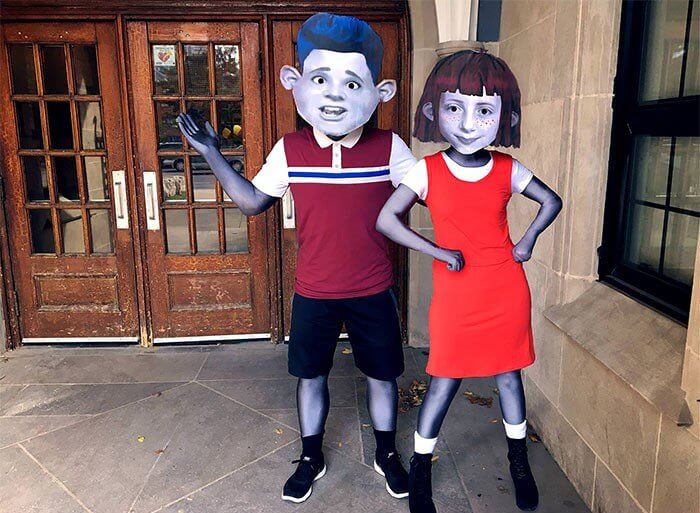 With a confident pose and an air of casualness, he brings Johnny's swagger and style to life. Their costumes capture the essence of the show's quirky characters. A great job!
Sia and Her Young Dancer Shine!
This couple has stepped into the world of Sia's iconic music videos, capturing the essence of the singer herself and her talented young dancer. Both sporting blonde wigs, they evoke the style and spirit of Sia's performances. The guy embodies Sia's mysterious allure with her wig and costume, capturing the singer's captivating persona. Beside him stands his partner, who takes on the role of the young dancer, adding a touch of youthful energy!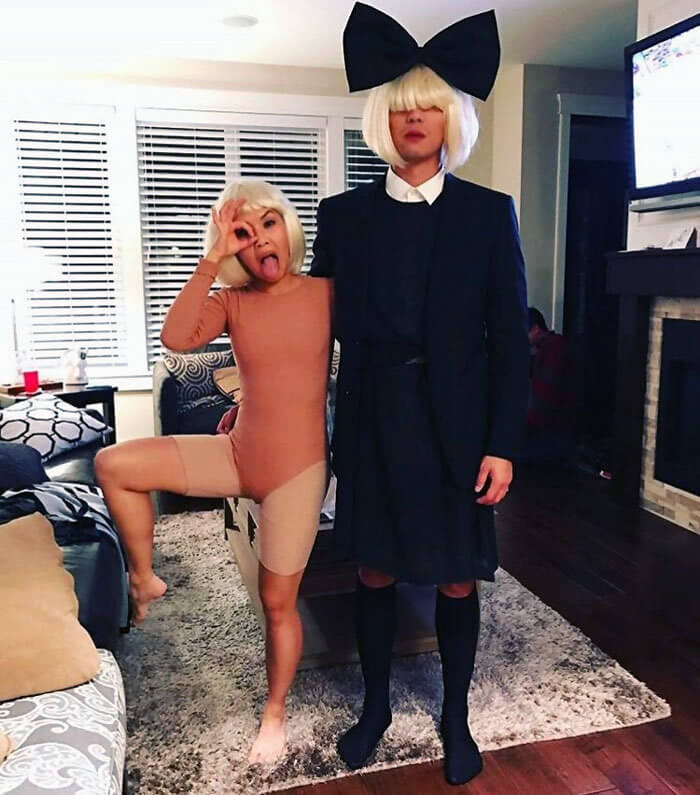 Halloween is the perfect time to pay tribute to our favorite artists. Kudos to this couple for bringing the magic of Sia's music videos to life. Maybe they'll end up on the "Chandelier!"
All In Good Taste!
This mother and daughter duo has crafted pepper and salt shaker costumes that look awesome. Their homemade ensembles are a testament to the joy of DIY projects. Mom and daughter, dressed as a salt shaker and a pepper shaker, respectively, add a dash of humor and a pinch of whimsy to the Halloween gathering. Their costumes capture the essence of a dynamic duo, much like salt and pepper, complementing each other perfectly!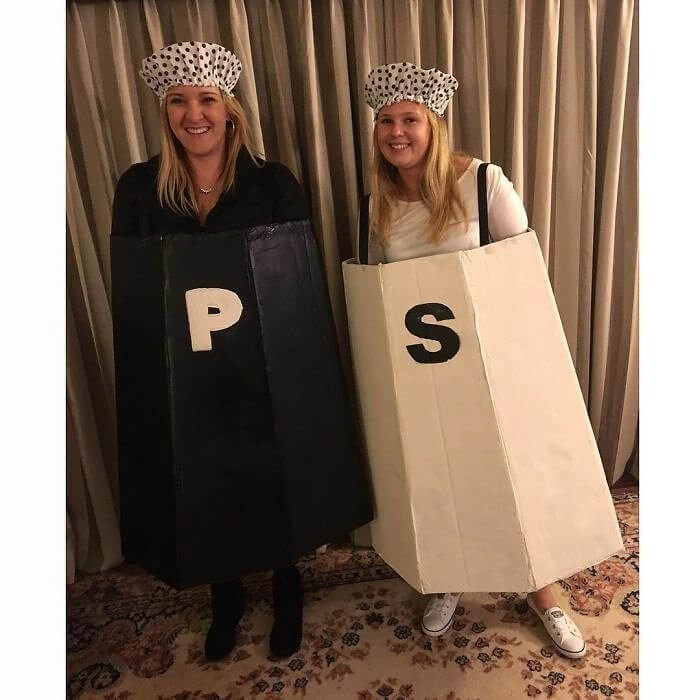 Halloween is not just about the candy but also about the moments and memories we create with our loved ones. Kudos to this mother and daughter for spicing up Halloween with their homemade charm!