Hotels have long been a place of comfort and relaxation for travelers, providing a temporary home away from home. But behind the scenes, there is a world of secrets and hidden practices that hotels prefer to keep under wraps. And for good reason! From the truth about hotel breakfasts to the unhygienic practices of the hotel housekeeping staff, we will expose the hidden truths that lie beneath the surface of even the most high-end hotels. Let's start!
Wash the Glasses Before Using Them
When you check into a hotel, it's natural to assume that everything in your room has been thoroughly cleaned and sanitized. Unfortunately, the reality is that some housekeepers take shortcuts due to their demanding schedules. Take the glasses that are provided in your room, for example. The housekeepers are often so busy that they sometimes use the same rags to clean the glasses as they do to clean the rest of the bathroom. 
It may sound gross, but their main goal is to make the room "look" clean rather than ensuring everything is truly hygienic. To ensure your well-being, bring your own travel cup.
Housekeeping Staff May Use Your Bathroom From Time to Time
The life of a hotel maid can be incredibly demanding, with a never-ending stream of rooms to clean and deadlines to meet. Behind the scenes, some cleaning staff members have confessed to using the guest's bathroom to freshen up. Occasionally, when housekeeping staff find themselves overwhelmed with their duties and don't have enough time to make their way to the staff toilets, they discreetly slip into the privacy of the guest's bathroom.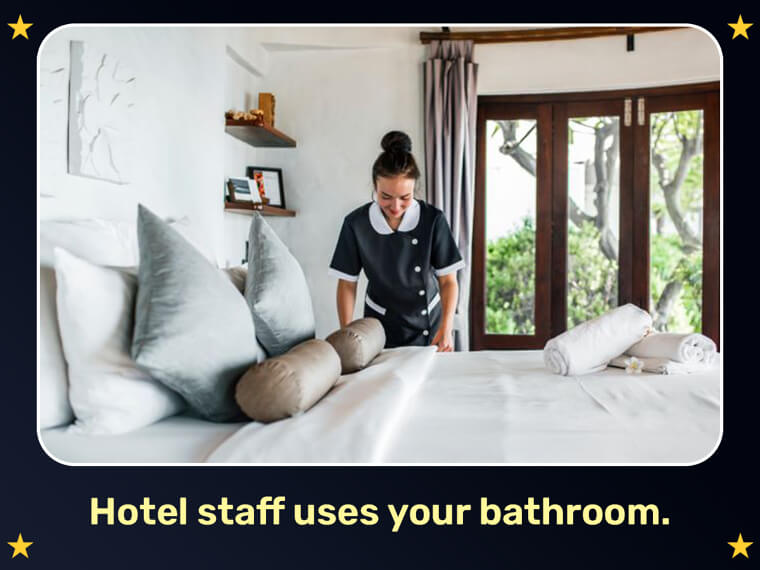 While the hotel industry doesn't want you to know about this unconventional shortcut, it's important to remember that these incidents are isolated and not reflective of the entire industry.
Do the Quick Bedbug Check
In the world of hotels, there is a well-hidden secret that establishments don't want their guests to know: the presence of bedbugs. From rundown motels to luxurious five-star resorts, every hotel has, at some point, dealt with these pesky little creatures. Despite efforts to prevent their presence, these sneaky pests can find their way into even the most well-maintained hotels. The reason hotels keep this secret under wraps is understandable.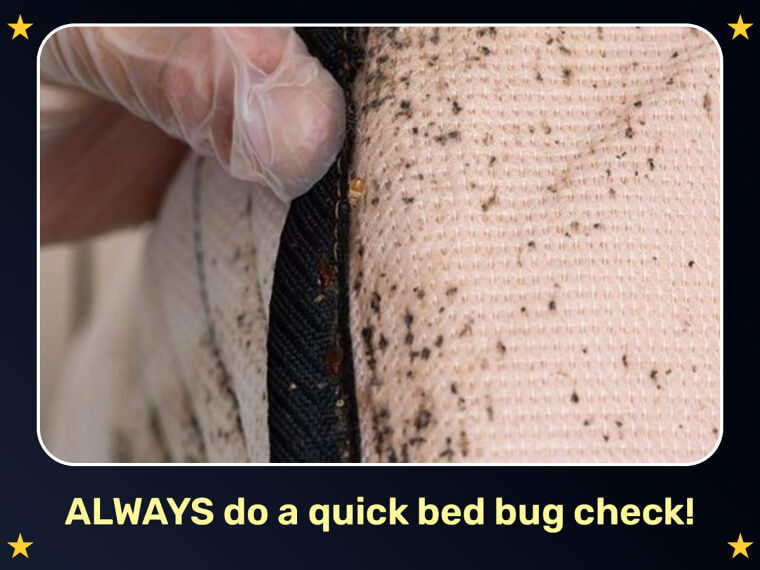 Bedbugs can be a nightmare for guests, causing itchy bites and sleepless nights. When guests discover bedbugs in their rooms, it can tarnish the hotel's reputation and lead to negative reviews.
Never Use the Coffee Maker, It's Not Worth the Risk
While it may seem convenient and cost-effective to use the coffee maker in your hotel room rather than visiting a restaurant, it is important to be aware of the potential hygiene issues. The hotel cleaning staff rarely washes these machines properly. Instead, they often opt for quick cleaning methods such as swirling the coffee pots in water or using the same cloth used to clean the rest of the room.
The thorough cleaning of coffeemakers can sometimes be overlooked or given less priority. This can lead to the accumulation of residue or bacteria, which may affect the taste and hygiene of the coffee.
Is Your Hotel Room Safe Safe Enough?
While using the safe provided to store valuable items is generally recommended, it's important to be aware that there is a slight chance of items still getting stolen, even in high-end resorts. All hotels have a discreet "special way" to open the safe if a guest forgets their code or misplaces the key. Some safes can be opened using a master card or key, while others have an override code.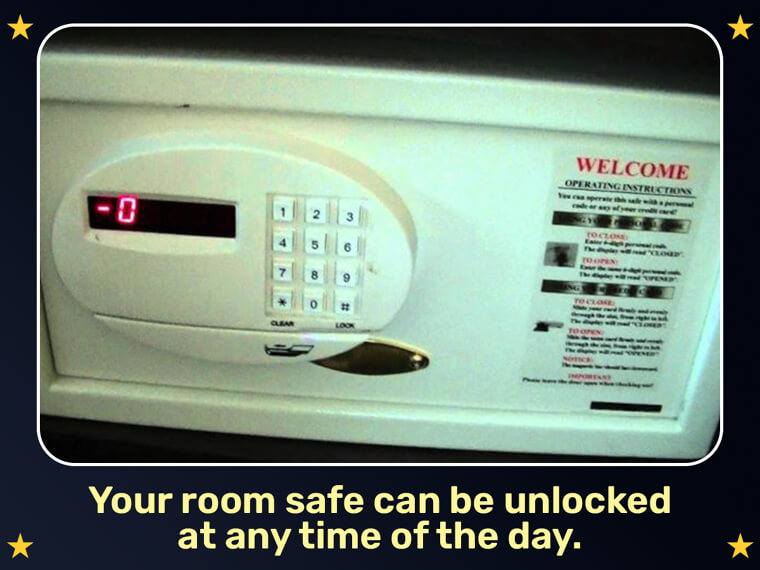 Hotels typically keep this secret method to themselves. However, guests need to be mindful of the possibility that someone with access to the special method could potentially open the safe.
The Difference Between A-List Celebrities and Politicians
Many A-list celebrities seek refuge in top hotels, where they hope to be left alone or simply blend in with other guests. Hotels understand the importance of discretion and respecting the privacy of their high-profile guests. They strive to create an environment where celebrities can relax and unwind without undue scrutiny. On the other hand, when politicians are with their families at top hotels, their behavior can sometimes be less than pleasant.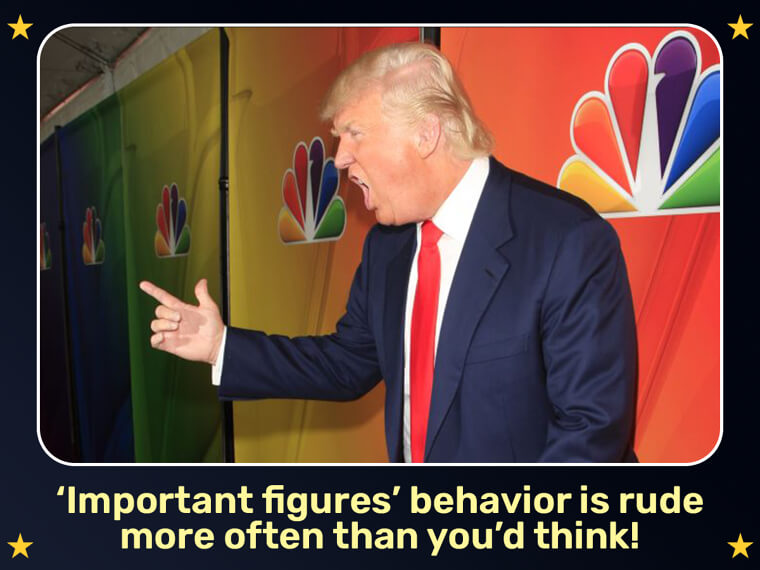 It seems that the pressures of their demanding careers and the constant public scrutiny can make them more guarded and even exhibit rude or entitled behavior toward hotel staff.
There's No Such Thing as a Free Breakfast
You know when a hotel offers you free breakfast that it's not actually free, right? While these delicious meals may seem like a complimentary perk, they are not actually free. The cost of these meals is bundled into the price of your room. This means that even if you choose not to partake in the breakfast spread, you still pay for it as part of your overall room rate.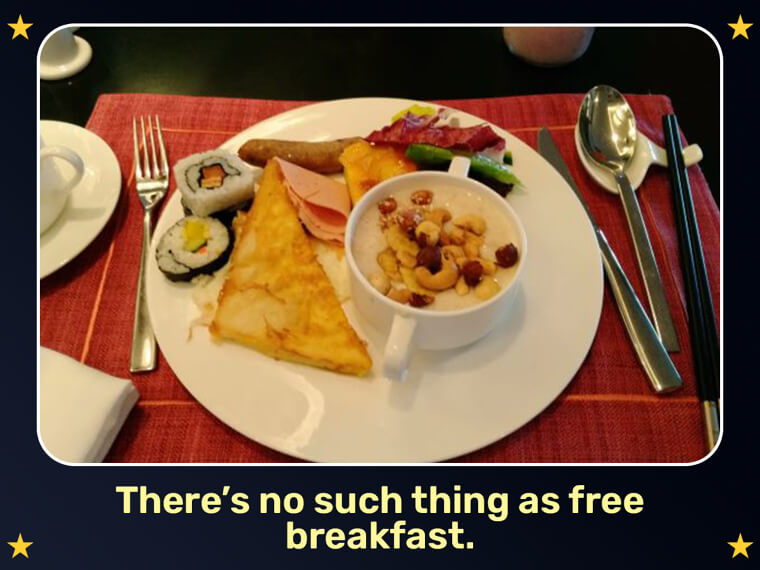 Hotels often use breakfast offerings as a way to attract guests and provide added value to their stay. However, it is important to realize that these meals are not provided without cost.
High-End Hotels May Check You Out Before You Check In
For guests staying at high-end hotels, it's not unusual for the front desk to look you up on social media and check out your profile. And while this action may seem a bit intrusive, its intention is to enhance your overall experience during your stay. By searching for guests online, they can gain insights into their interests, preferences, or special occasions, which can help them personalize the guest's experience.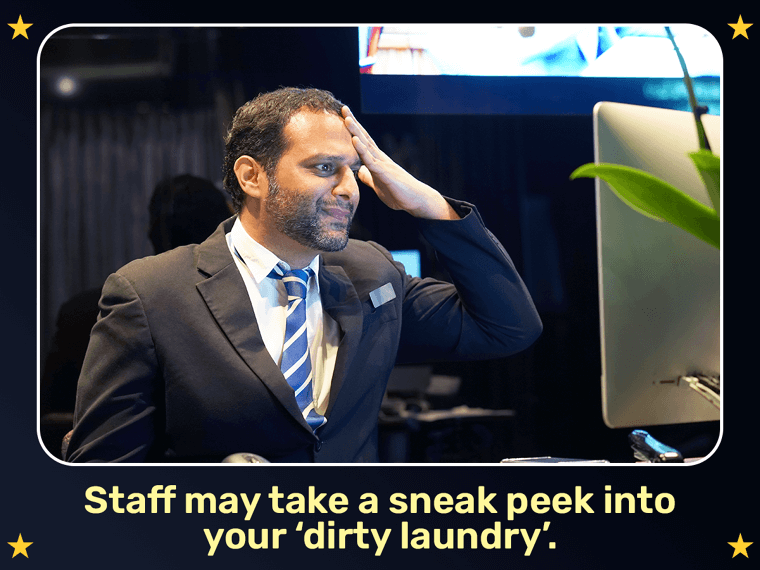 This attention to detail creates a sense of comfort and satisfaction, as guests feel recognized during their stay. It allows hotel staff to surprise guests with complimentary amenities that align with their online profiles.
A Big Concern From Such a Small Device
The TV remote is often considered one of the dirtiest items in a hotel room. Surprisingly, these seemingly harmless devices are teeming with bacteria. Due to the hectic nature of housekeeping duties, cleaning staff often overlook disinfecting the TV remote, leading to a buildup of germs. To avoid direct contact with these bacteria-laden devices, guests can take a simple precaution by placing the TV remote in a clear plastic bag.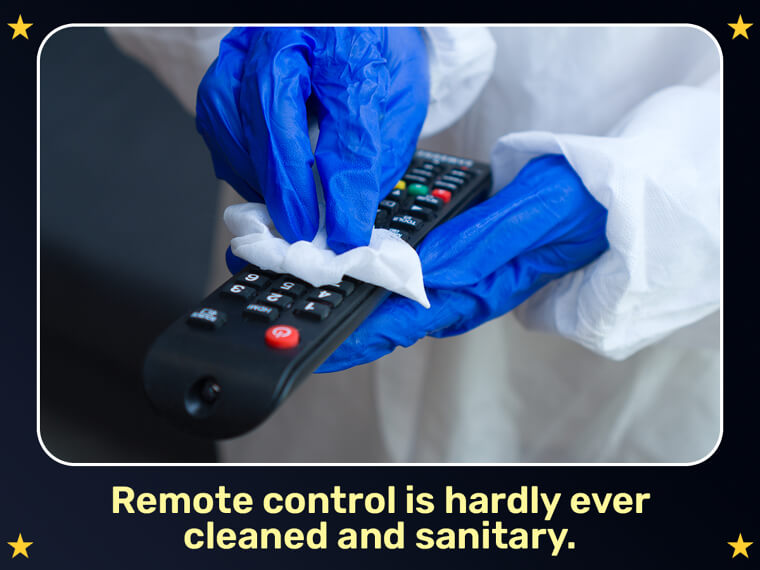 This protective barrier can help minimize contact with germs and provide peace of mind while enjoying a movie before bedtime. You should wash your hands regularly and use hand sanitizer as well.
Toiletries Aren't Exactly Free To Take
Some guests may believe they are being clever by taking small bars of soap, shampoo, conditioner samples, and other toiletries home with them. They may not realize that the hotel staff actually expects guests to take these items with them when they leave. Most hotels put a brand name to their toiletries, so when you take them, you're giving them free advertisement. Clever move, huh?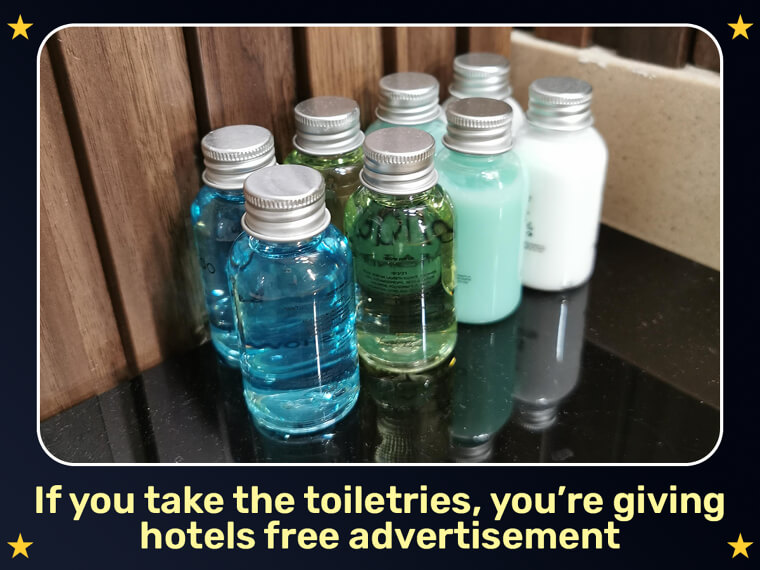 Guests can take these items as a parting gift and a reminder of their stay. However, robes, towels, and other larger items provided are not intended to be taken home.
Influencers Expect Special Treatment
There is a secret that hotel staff members don't want you to know. When they see the term 'Instagram influencer' on a booking, they tend to glance at each other and roll their eyes. It's like this because some self-proclaimed influencers use their status as a way to obtain special treatment or freebies during their stay. Such guests may come with certain expectations or demands that can be challenging to fulfill.
When hotel staff members encounter individuals identifying themselves as influencers, they usually prioritize self-promotion over everything else. Staff prefer to keep things simple and not have to deal with the headache.
Hotel Staff Are Usually Discreet
Hotel staff are trained to respect their guests' privacy. They maintain a nonjudgmental approach to the diverse range of activities that may take place behind closed doors. Within the confines of hotels, there is a secret that staff members keep to themselves. They generally don't pay much attention to what happens in guest rooms. Staff have no issue with sex workers as long as they do not disturb or impact other guests.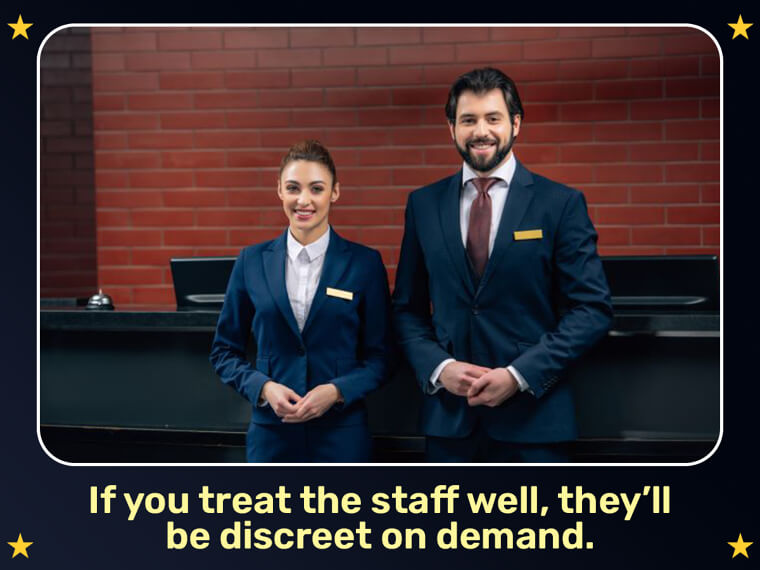 Hotels are a space for guests to engage in various activities, whether for leisure, business, or personal reasons. Staff tend to adopt a discreet stance regarding their guest's privacy.
Don't Blame the Housekeeping Staff When Something Goes Missing
In the world of hotels, there are often misconceptions about the role of housekeeping staff and their relationship with lost items. It is well-known in hotel circles that guests tend to blame the maids when something goes missing. But in reality, housekeeping is often responsible for finding those lost items. The hardworking members of the housekeeping team are committed to doing their jobs well, and part of their job includes locating misplaced belongings.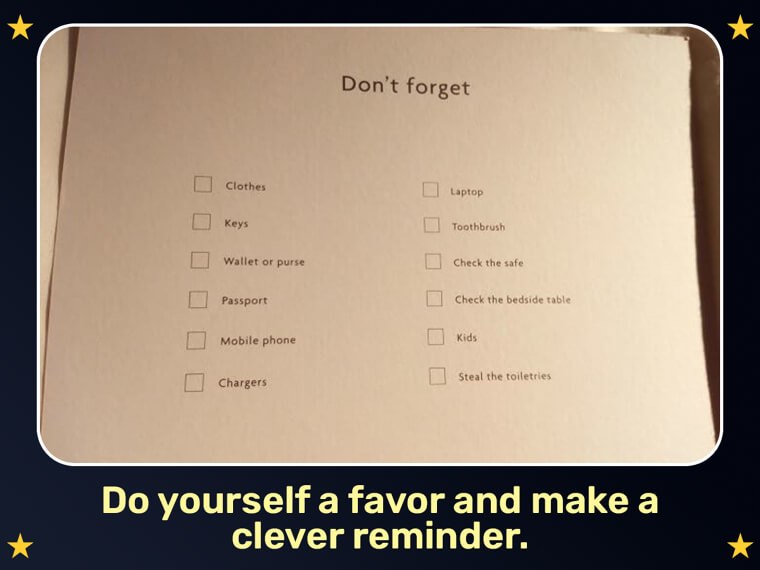 While guests may sometimes misplace valuable items such as iPads or jewelry, it's important to understand that the housekeeping staff has no intention of risking their jobs over such possessions.
How Hotels Make VIP Guests Feel Special
Staff at the front desk of most five-star hotels will share pictures of VIP guests internally to ensure everyone recognizes them. This practice creates a personalized and special experience for the guest upon their arrival. Sharing the picture among the hotel staff allows them to easily identify the VIP guest and provide a warm, personalized welcome. As a result, the VIP guest feels truly special and acknowledged during their stay.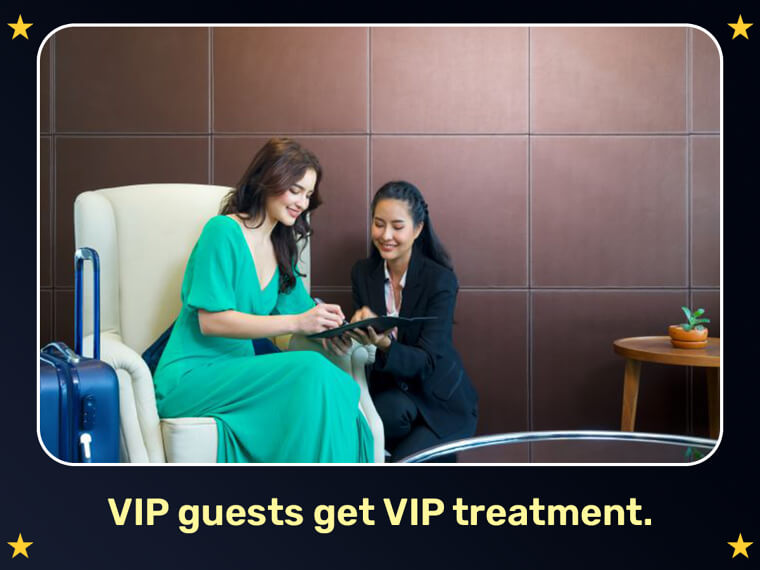 Ensuring that all staff members recognize the VIP guest helps create a seamless and personalized experience, enhancing the guest's overall satisfaction during their stay. The guest may return multiple times if they feel special.
Inappropriate Behavior
Unfortunately, there are instances where guests engage in inappropriate behavior towards female staff, such as housekeepers and room service personnel, in hotels. When one staff member was asked about her experiences as a hotel housekeeper, she told us that certain guests had exposed themselves to staff. All guests must understand the importance of treating hotel staff with respect and dignity. Taking advantage of staff members is well out of order.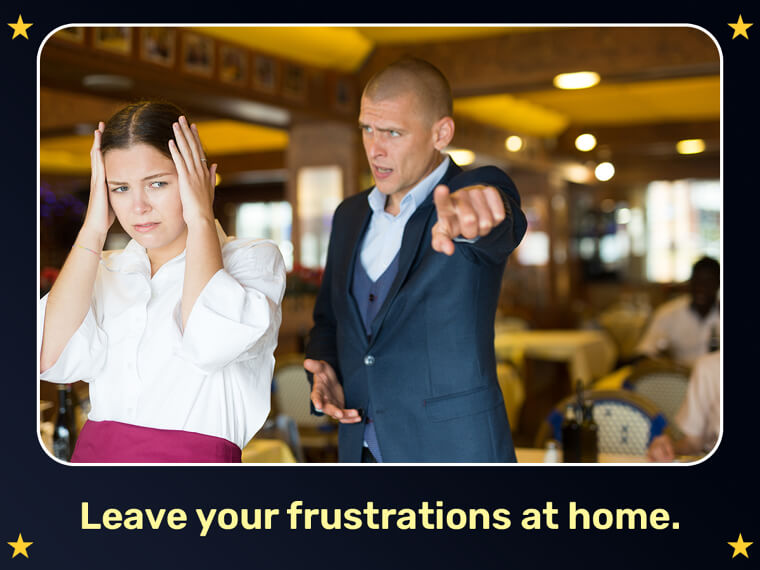 Everyone is responsible for creating a safe and inclusive environment where all individuals are treated with kindness and respect, regardless of their profession or gender. Hotel guests are no exception.
You May Get Five-Star Treatment if You Dine Alone
Hotels that are rated by Forbes could be inspected at any given moment. These inspections are carried out randomly and frequently to assess the quality and standards of the hotel. Hotel staff are often suspicious of single diners because they could be undercover inspectors. As a result, if you happen to be dining alone, you might receive the five-star treatment, regardless of whether you behave like an inspector or not.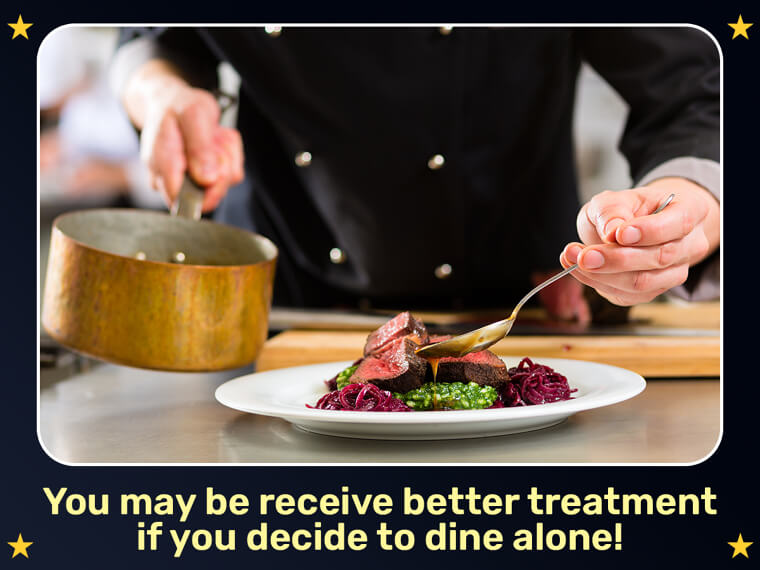 Hotel staff are aware that a positive evaluation from Forbes can significantly impact the reputation and rating of their establishment. Therefore, they adopt a cautious approach and treat solo diners exceptionally well.
And if You Ask One Too Many Questions...
If you are staying at a five-star hotel, ask numerous questions about every aspect of the hotel upon arrival and order specialty cocktails during meals. Guests who behave like this are flagged as potential Forbes inspectors. When this happens, a fascinating transformation occurs behind the scenes. Suddenly, everyone in the hotel becomes aware of your name, and a photo snatched from your Facebook account starts circulating discreetly among the staff.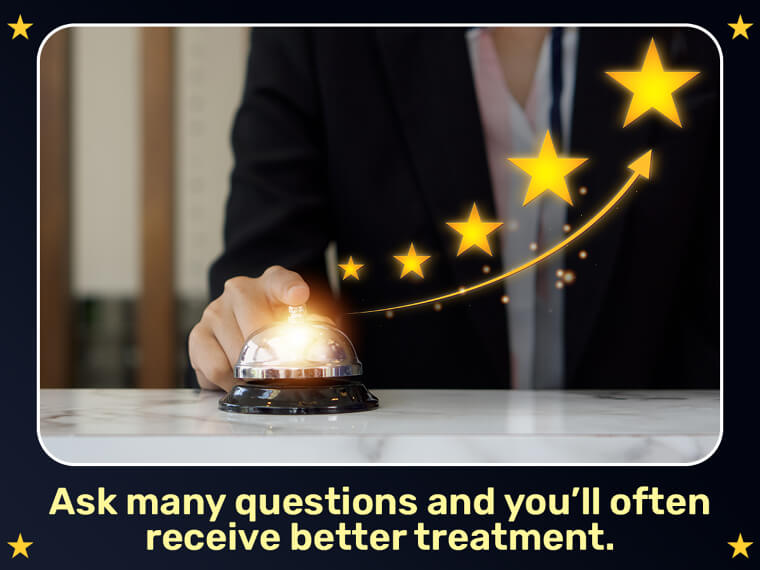 Hotel staff go to great lengths to ensure these guests receive the utmost care and attention. From personalized greetings to heightened levels of service, everything is meticulously orchestrated to leave a lasting impression.
Steer Clear of the Chocolate Fountain
Never use a hotel chocolate fountain. While these flowing fountains of molten chocolate may seem enticing, children, in particular, tend to double-dip half-eaten strawberries and other treats into it. These common behaviors raise concerns about the cleanliness and safety of the chocolate fountain. Furthermore, rather than discarding the chocolate after each use, hotels may strain it and store it for future events or brunches. It's best to steer clear of the chocolate fountain.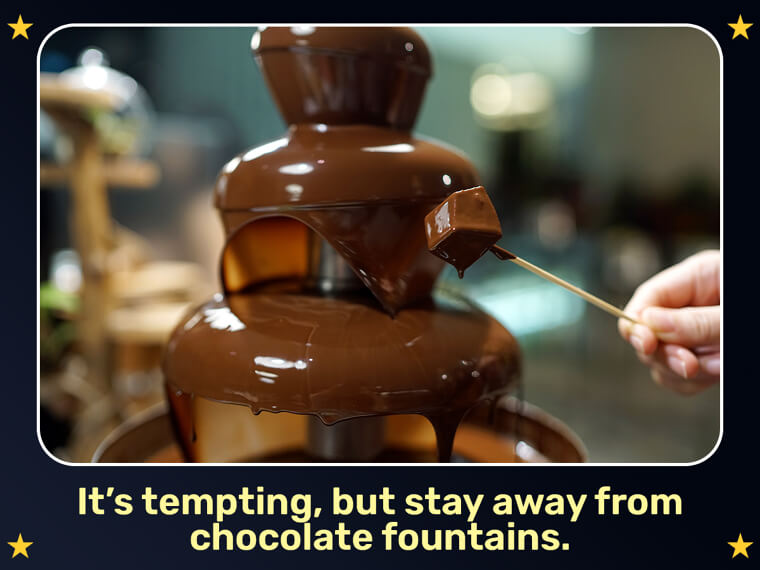 Guests may not be aware that the chocolate flowing through the fountain may have been used in previous weeks, potentially impacting its taste and overall appeal. It's not very hygienic.
Kindness and Understanding Can Go a Long Way
When guests complain about their stay, their behavior, and attitude can influence the level of compensation or resolution. It's a little-known fact that the nicest and most understanding guests often receive better compensation than rude or demanding ones. For the best results, always treat the hotel staff respectfully and maintain a friendly demeanor, even in challenging situations. Hotel staff greatly appreciate guests who approach complaints with kindness and understanding.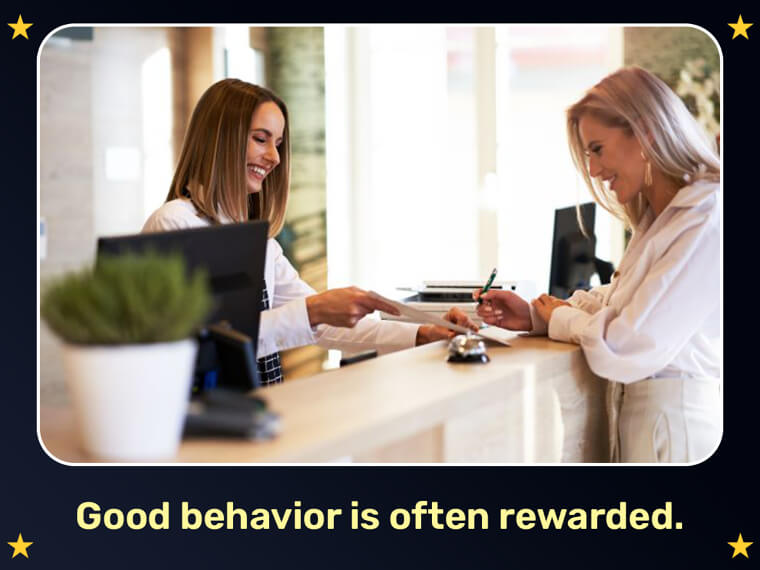 On the other hand, rude and disrespectful behavior can negatively impact the level of compensation or resolution offered. Hotels prioritize guest satisfaction, but they also value respect and professionalism in their interactions.
Avoid Placing Food Directly on the Microwave Plate
Never lay your food directly on a microwave plate if your hotel room has a microwave. It is not widely known that hotel housekeeping staff do not typically put these plates in dishwashers on a daily basis. Therefore, guests should avoid placing their food directly on the microwave plate for hygiene reasons. Housekeeping staff often focus on sanitizing the visible surfaces of the room. Microwave plates don't receive the same level of attention.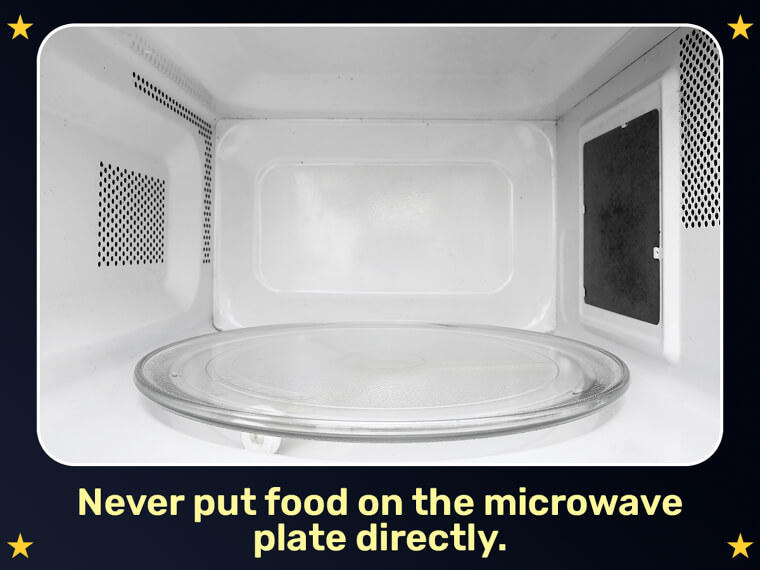 Guests should use microwave-safe covers or wrap their food in microwave-safe containers when heating it in the microwave. These extra precautions ensure the hygiene of the food being heated.
Get Better Hotel Rates by Asking the Right Questions
You can secure a better rate by calling the hotel directly and inquiring about the number of available rooms. If the hotel has a surplus of unoccupied rooms, the desk clerk might offer a lower room rate to fill those empty spaces. When faced with a surplus of unreserved rooms, the desk clerk may have the flexibility to negotiate a lower rate to attract potential guests. Don't be afraid to ask.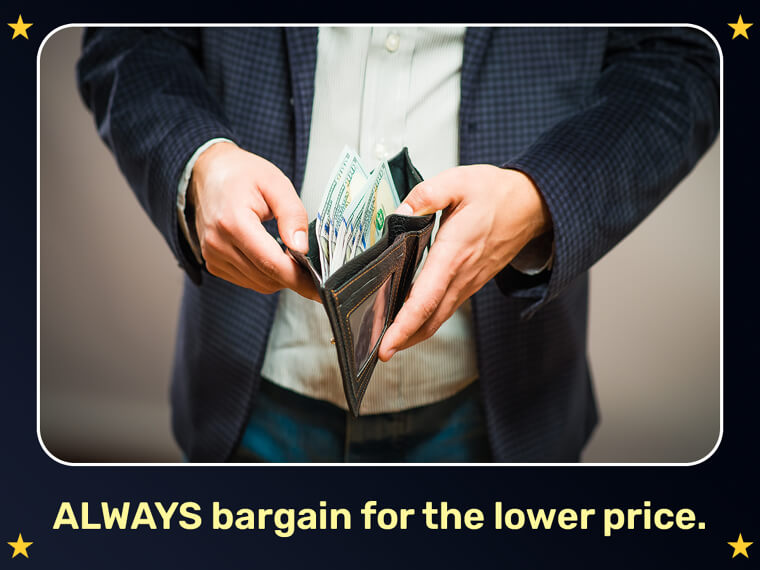 While hotels aim to maximize occupancy and revenue, they also understand the importance of filling all their rooms. Guests can take advantage of discounted rates by simply asking the right questions.
Have You Got a Travel Kettle?
While the kettles provided in your hotel room are convenient for making a cup of tea or coffee, there are concerns about their cleanliness. It is widely believed that some guests may misuse these kettles for purposes other than boiling water, such as washing dirty clothing or even, in rare cases, engaging in unsanitary activities like urinating in them. Hotel staff may not thoroughly clean and sanitize each kettle between guests.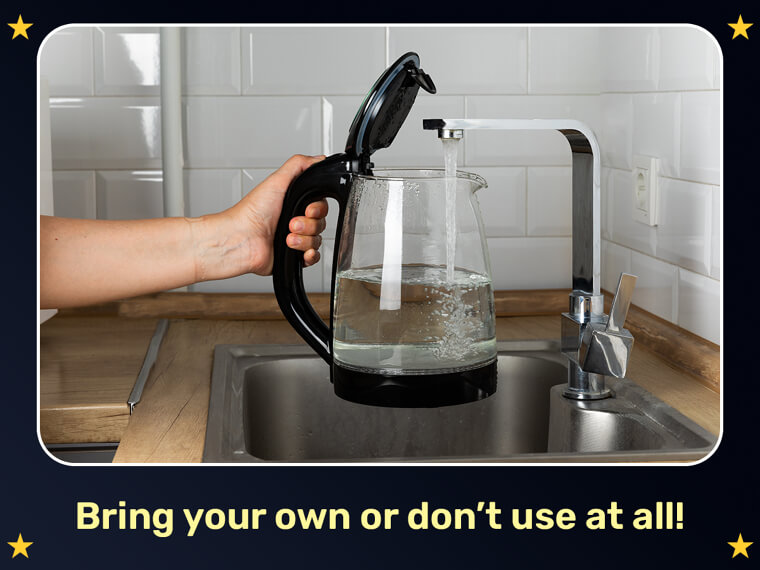 It is recommended that guests exercise caution and consider alternative methods for preparing hot beverages during their stay. To ensure a hygienic experience, guests should bring their own travel kettle.
Don't Use Your Debit Card at Check-In
It is strongly advised not to use your debit card for the initial authorization during check-in. While this may seem convenient, it can lead to complications during the settlement process. The initial authorization placed on your debit card may not clear at the same time as your final charges, resulting in potential issues. Removing such authorizations can be a cumbersome process, often involving you, a hotel manager, and your bank.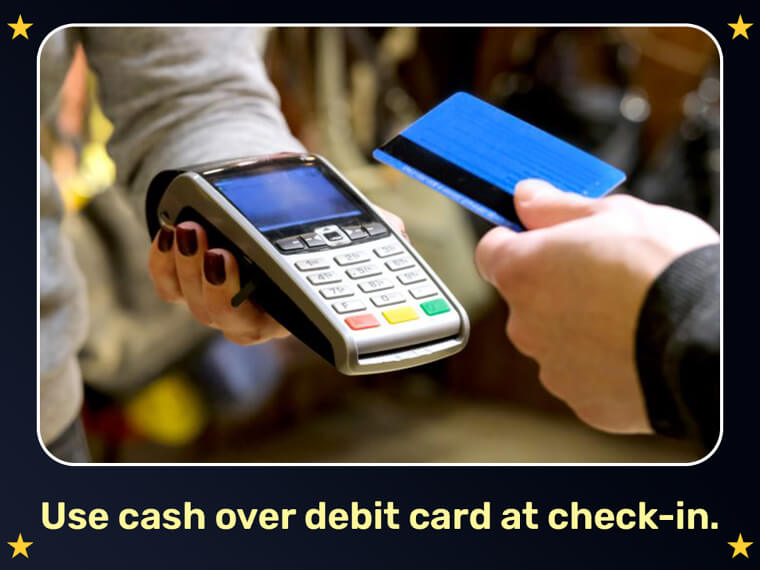 Removing these authorizations is challenging and time-consuming, causing inconvenience and frustration for guests. It is recommended to use a credit card for check-in instead. Temporary authorizations are typically smoother and easier to manage.
There's No Need to Make a Mess
Some guests think they have to go to extreme measures to have their bed sheets changed. They spill things on them or even damage their sheets in some cases. The truth is that guests can simply ask for their sheets to be changed if desired. Hotels typically have guidelines in place to change sheets based on the length of stay or guest preferences. Daily sheet changes are not the norm.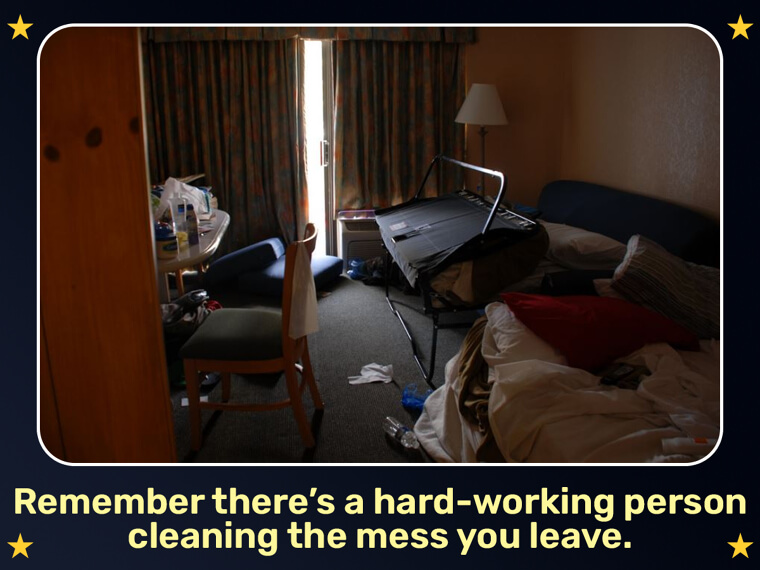 Rather than resorting to tricks or creating unnecessary messes, guests can simply request sheet changes and avoid all the hassle. Hotel staff are usually more than willing to accommodate such requests.
Someone May Have Passed Away in Your Bed
While hotels strive to provide a safe and comfortable environment for their guests, there is a well-hidden secret that many establishments would rather keep under wraps. There is a reasonable chance that someone might have passed away in the bed you're sleeping on. It's a disturbing thought, but in the course of a hotel's existence, it's not uncommon for such unfortunate incidents to occur. This can be unsettling for guests.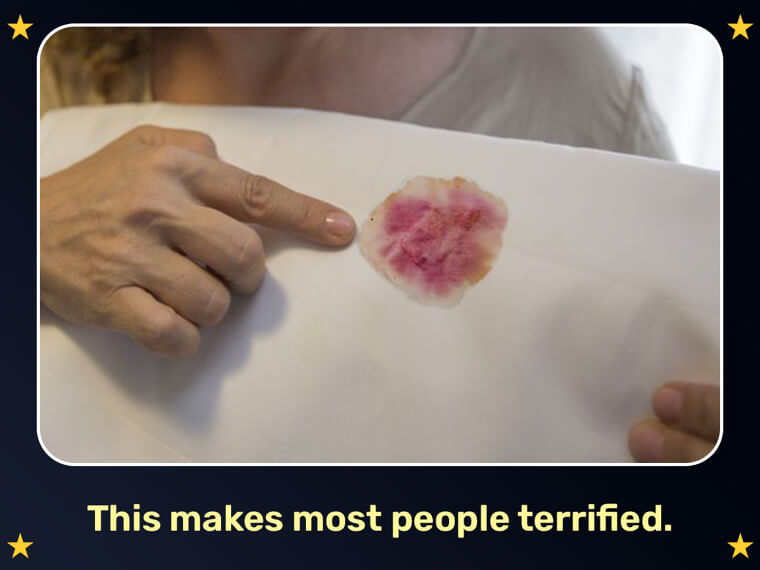 It's important to remember that hotels have protocols in place to address such situations. They have dedicated staff members trained to handle such occurrences discreetly and with respect for the deceased and their families.
How to Get an Allergy-Free Room
Guests who prefer to stay in rooms that don't usually have pets in them can increase their chances by choosing a room on a higher floor. Generally, hotels tend to designate pet-friendly rooms on the lower floors. By opting for a room on a higher floor, guests can often ensure a pet-free environment during their stay. Placing pet-friendly rooms on lower floors simplifies taking pets in and out of the hotel.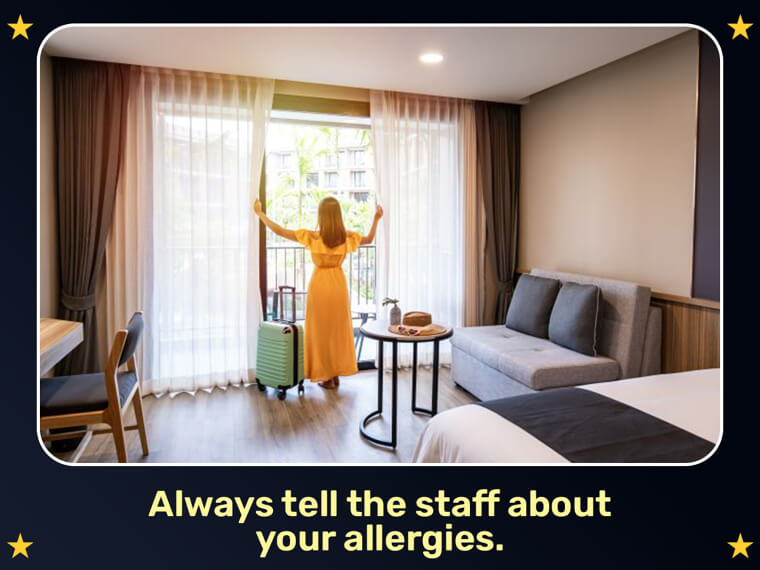 While hotels aim to maintain cleanliness and accommodate the needs of both pet owners and non-pet owners, the allocation of pet-friendly rooms on lower floors remains a practical solution.
Housekeeping Staff Don't Work Around the Clock
While hotels are open around the clock, guests may be surprised to learn that maids have fixed schedules and are not available for service at any given moment. These dedicated workers typically clean hotel rooms from the early morning until around 5:30 p.m. So if you need something changed in your room or you need something cleaned, you should put in a request before the housekeeping staff finishes their shift.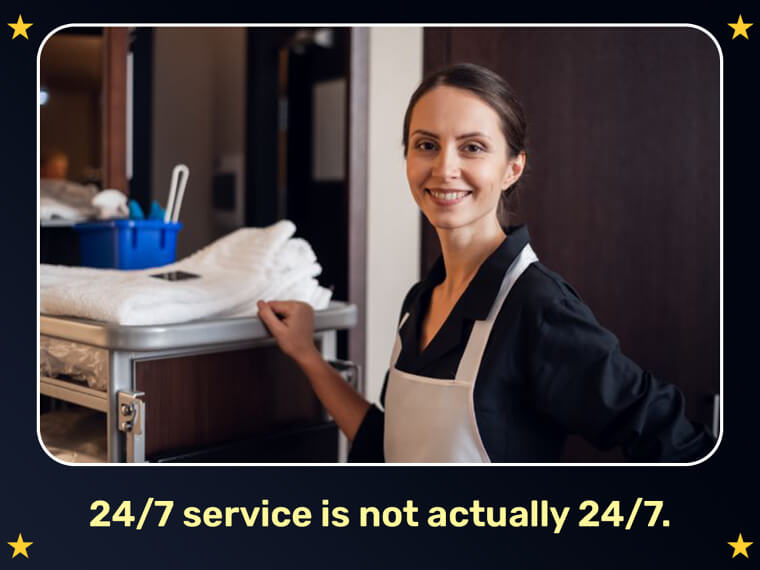 It is advisable to reach out to the hotel's front desk or communicate any service needs in advance, ensuring that the maid service can be accommodated within their regular working hours.
Being Rude Can Diminish Any Chances of Receiving Special Treatment
Treating hotel staff with respect and courtesy is crucial if you want to receive favorable treatment or have your requests fulfilled. When it comes to canceling a reservation without incurring a fee, being upfront and asking politely can go a long way. Hotel staff appreciate guests who approach such situations with honesty and kindness, and they are more likely to accommodate such requests. It doesn't cost anything to be nice.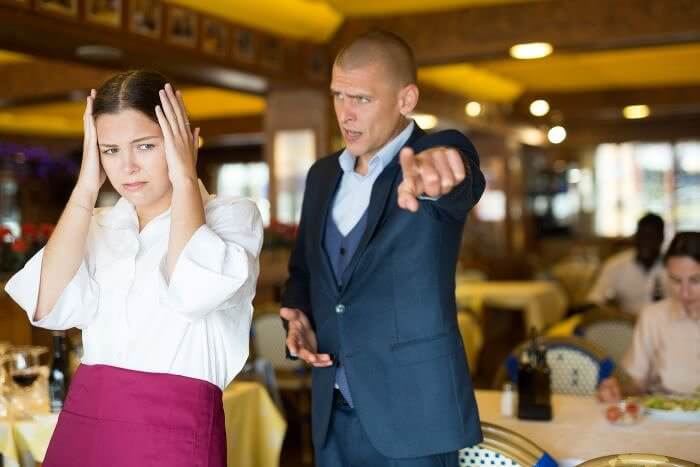 When it comes to requesting a free upgrade if available, it's important to remember that it is not a guarantee. However, politely asking without expecting it can still lead to a positive outcome.