When times are tough, positive stories seem to be few and far between. Never-ending news cycles spewing out constant doom and gloom can really get you down sometimes. But every now and then, out of the blue, something heroic can happen that completely restores our faith in humanity. From workers cleaning children's hospital windows dressed as superheroes to a soldier tending to a sick kitten as war rages around him, these feel-good photos will lift your spirits and inspire you to keep moving forward.
The Kids at Le Bonheur Children's Hospital Couldn't Believe Their Eyes!
For the kids at Le Bonheur Children's Hospital in Memphis, life can be a little boring as they await treatment. But when their favorite superheroes showed up unexpectedly, the hospital was buzzing with excitement! Little did the kids know that the superheroes were actually the workers from the Memphis Cleaning Company who went above and beyond to spread happiness and bring smiles to the faces of those who needed it most.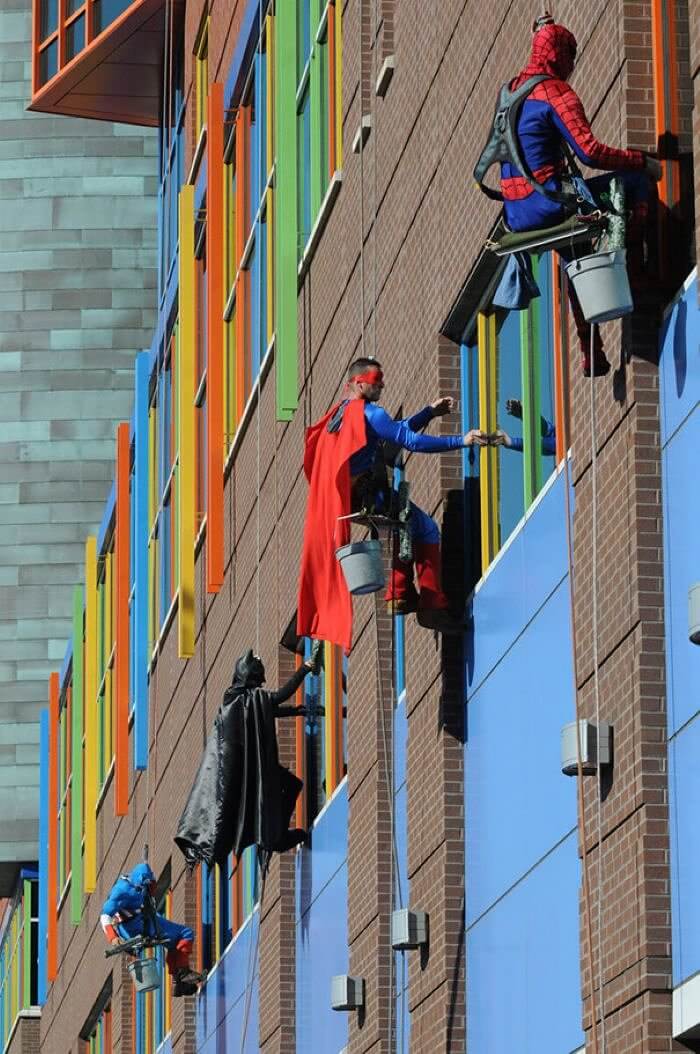 Bringing joy to children in hospitals is incredibly important, and acts of kindness like this can make a significant difference to young patients and their families during challenging times.
The Unbreakable Bond Between a Man and His Loyal Companion
Every evening, this man takes his sick dog to a nearby lake, knowing the water will relieve the dog's discomfort. The man's commitment to his canine companion's well-being is truly heartwarming. As the dog enters the water, a sense of calm washes over both of them. The gentle ripples caress the dog's aching body, easing his burden of pain. This man will stop at nothing to help his loyal friend.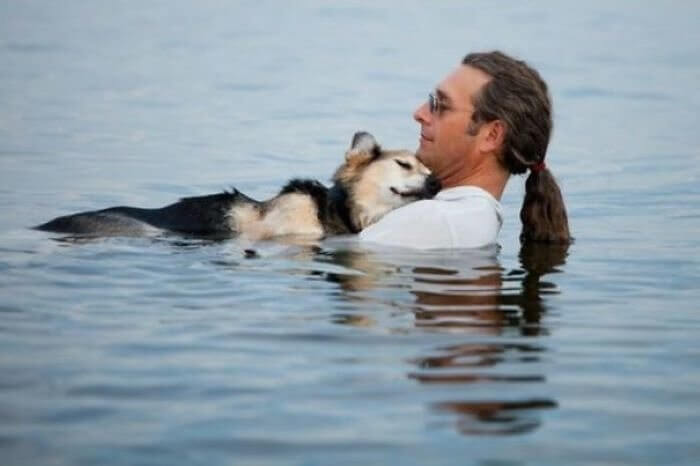 In this simple act of compassion and care, the man demonstrates the profound depth of his love for his sick dog. He willingly devotes his time to easing his dog's suffering.
Jacqueline Kiplimo Teaches the World a Lesson in Compassion!
In the 2010 Zheng-Kai marathon, Kenyan runner Jacqueline Kiplimo gave up her shot at gold and a chance to fulfill her dreams. Kiplimo sacrificed first place to provide water to an athlete with special needs. When Kiplimo noticed an armless competitor struggling to open a water bottle at the 6.2-mile point, she was in first position. But the athlete really needed water since he had become dehydrated. And Kiplimo didn't hesitate!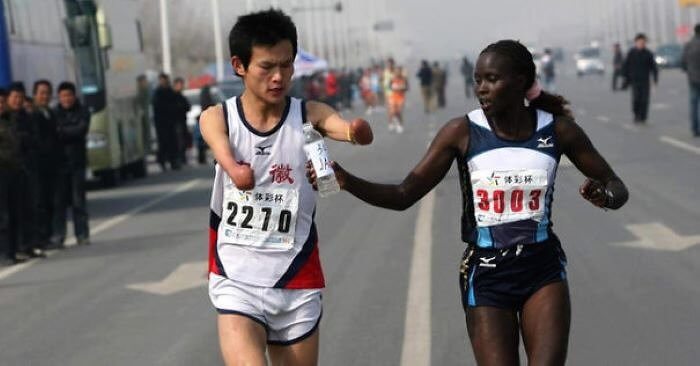 Jacqueline Kiplimo's selfless act stunned the world and inspired people everywhere to support each other. The Kenyan runner chose compassion for a fellow human who needed help.
A Small Act of Kindness Can Make a Huge Impact!
Every Sunday, on his day off, this New York hairstylist provides free haircuts to the homeless community. And while this man is just giving up his free time, his kindness touches so many people's lives and helps restore their sense of dignity and self-esteem. Many individuals experiencing homelessness face numerous challenges on a daily basis, and their struggles often go unnoticed. This young man's initiative is a masterclass in compassion.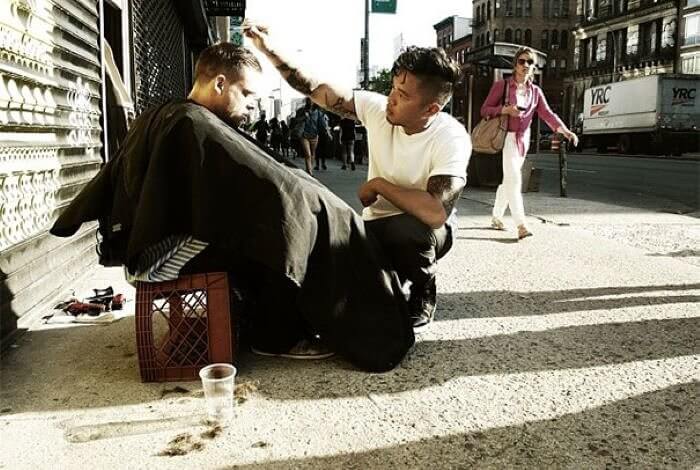 Seeing this small but meaningful gesture of care and support, people can become inspired to help others. Entire communities can change and begin building a more inclusive and empathetic society.
Community Spirit at Its Finest!
When this little guy realized that none of his classmates could come to his birthday party, his mom rolled up her sleeves and called on her community for help. And the response she got would warm even the coldest heart. Can you imagine the look on the little autistic boy's face when firefighters and police officers from the local departments showed up? It was a birthday he will never forget!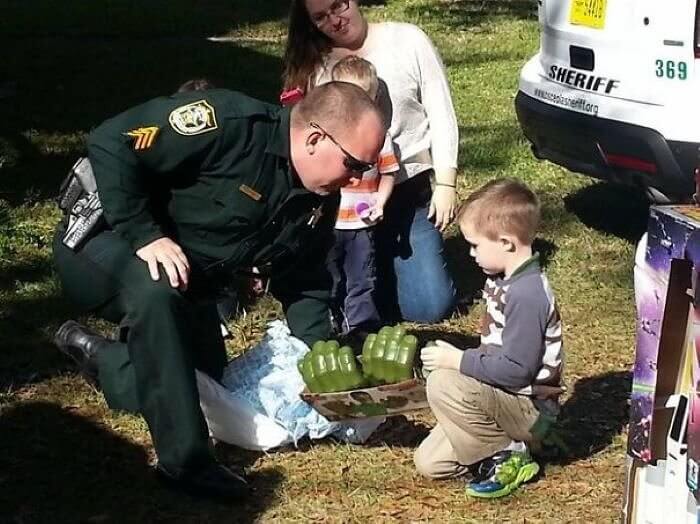 It's inspiring to see people coming together to lift the hearts of their community. These acts of kindness can leave a lasting impression and create beautiful memories for everyone involved.
Young Man's Quick Thinking Saves the Day!
Have you ever heard the expression, "Not all superheroes wear capes?" Well, it certainly applies here! It looked like this little kitten had run out of lives until this young man's quick thinking saved the day. After seeing the animal trapped in a canal, the man knew he had to act fast if he was going to save the drowning kitten. Without hesitation, the man grabbed his umbrella and started climbing down!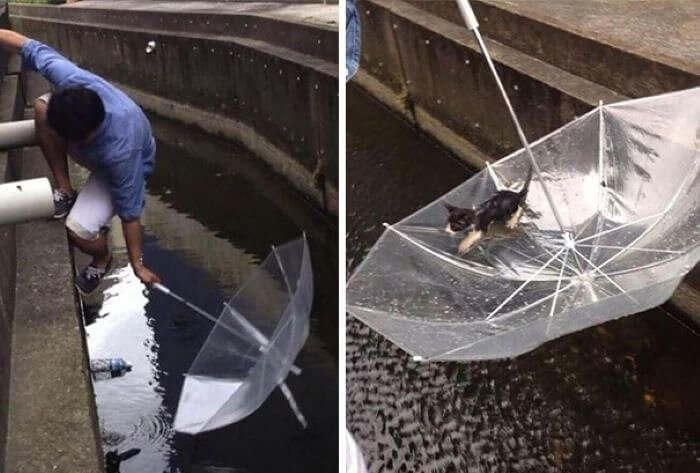 While careful not to fall into the water, the hero reached out with the open umbrella and scooped up the distressed animal. It's amazing what some people will do to help others!
Who Is Saving Who?
While huddled in the trenches and surrounded by the chaos of war, this soldier decided to save a little kitten's life while he had the chance. This incredible photo shows the man, not the soldier. For many of us, it's hard to imagine being in a situation where your life can be taken at any moment. The man has managed to find peace in an otherwise impossible situation thanks to the kitten.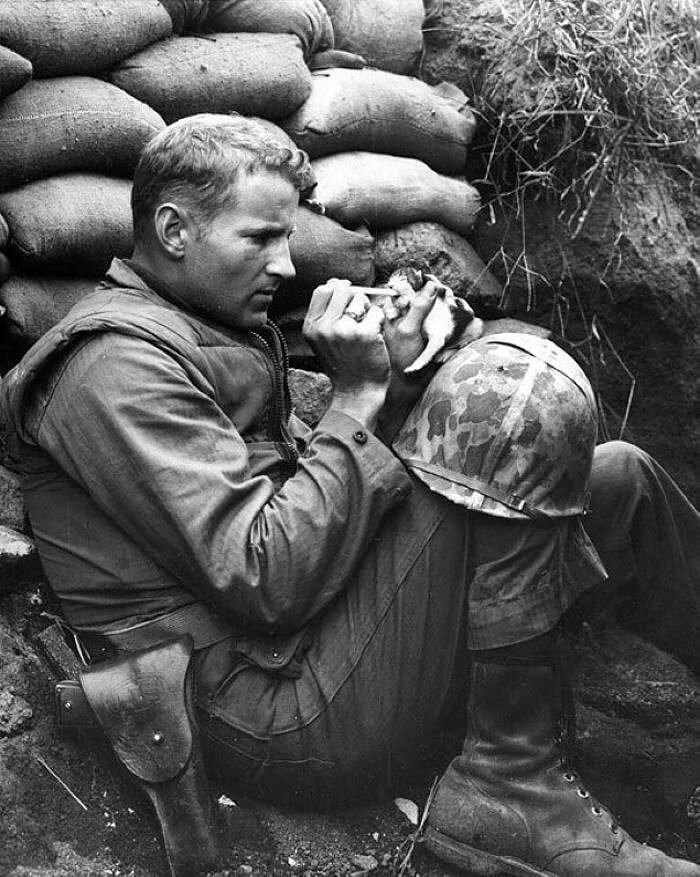 This man's compassion towards a little creature in need of help shows that he would probably rather be anywhere else in the world than where he is right now!
Man Wears Nightgown to Show Solidarity With His Grandma!
It's wonderful when the younger generation goes the extra mile to make their loved ones feel comfortable and cared for. This 84-year-old grandma was feeling destressed during her stay in hospital. She was embarrassed to get out of bed while wearing her nightgown. When her grandson heard what was bothering his grandma, he decided to help. To the old lady's surprise, her grandson showed up at hospital wearing a similar nightgown!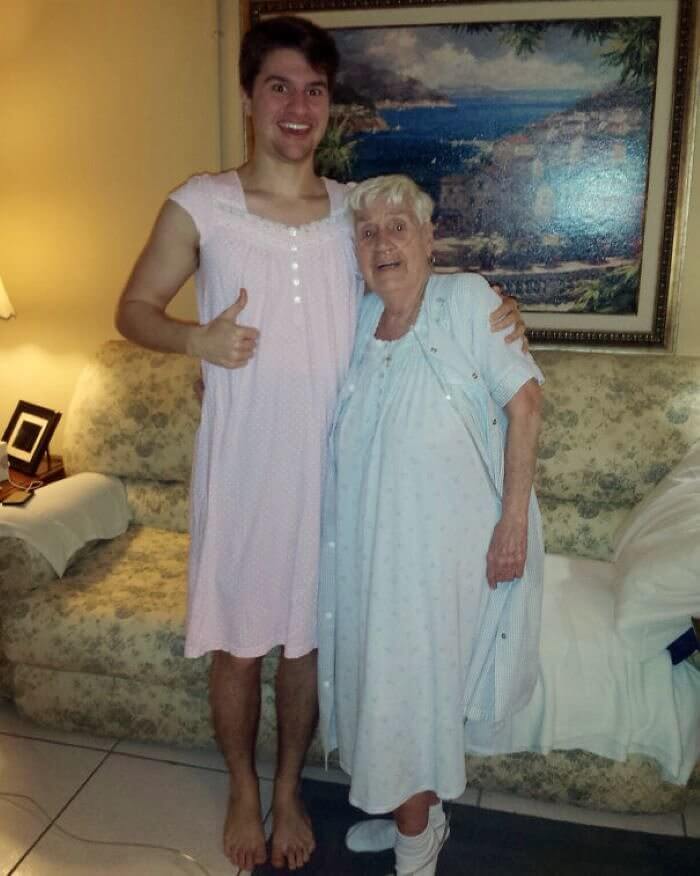 This hilarious act of kindness and compassion was just what Grandma needed to make her stay in the hospital more bearable. Even small gestures can comfort those we care about.
The True Meaning of Christmas!
Heartwarming pictures like these will restore your faith in humanity. Can you imagine what it must be like to have absolutely nothing, especially at Christmas? Dressing up as Christmas elves to surprise the homeless with food and gifts is an amazing way to bring happiness to people who need it most. Knowing that people care can make a huge difference for those struggling during the holiday season or facing homelessness.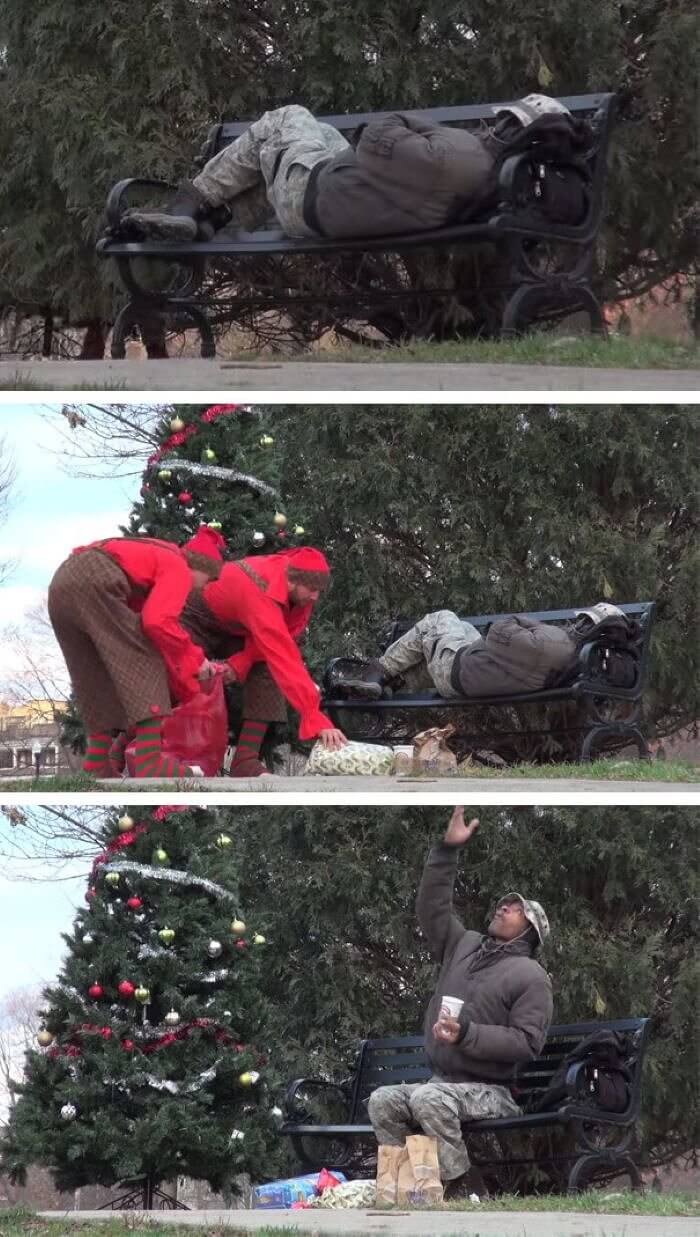 Collaborating with local organizations or shelters that support the homeless population can help identify those in need and ensure that the assistance is delivered in a coordinated and meaningful way.
Going Beyond the Call of Duty!
An elderly man who was attempting to clear his snow-covered driveway was taken to the hospital after suffering a heart attack. When the paramedics who responded to the situation discovered why the older gentleman had overexerted himself, they didn't hesitate. After finishing their shift at the hospital, they returned to the man's house equipped with snow shovels to finish the job. This selfless act of kindness is inspiring and heartwarming!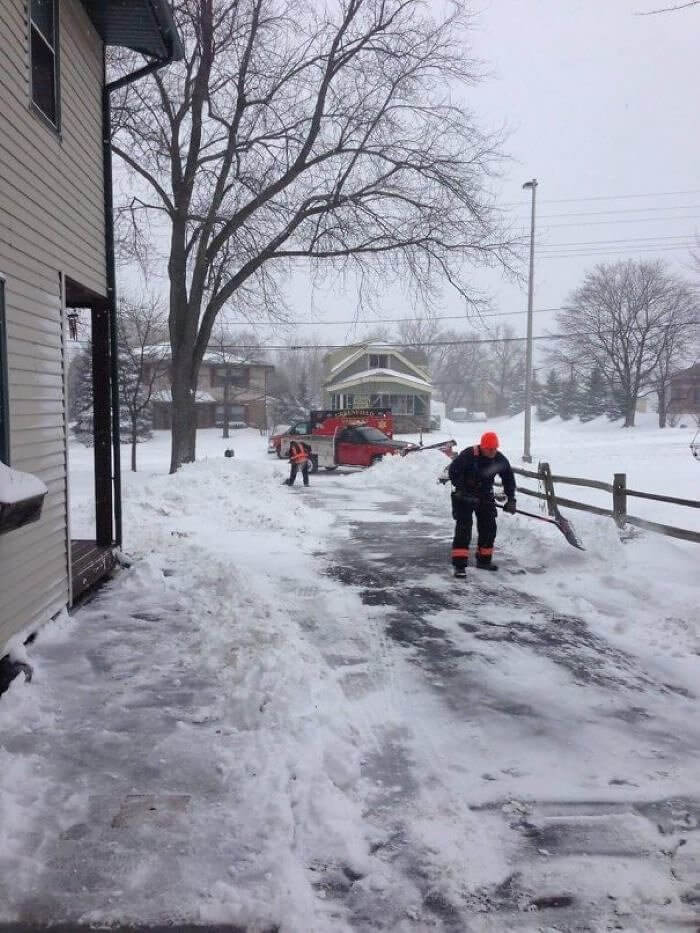 If you have an elderly neighbor or even if you happen to meet a complete stranger who needs help, offering a helping hand can be such a positive experience for all involved!
Quick Thinking!
Somebody give this guy a promotion! This photo of a Wendy's employee going above and beyond for an elderly gentleman is heartwarming and inspiring. The world needs more people like this. Providing a little extra assistance, offering comfort, or lending a helping hand to people needing help can make such a difference. There is no doubt that the older man will not forget this young employee's quick thinking.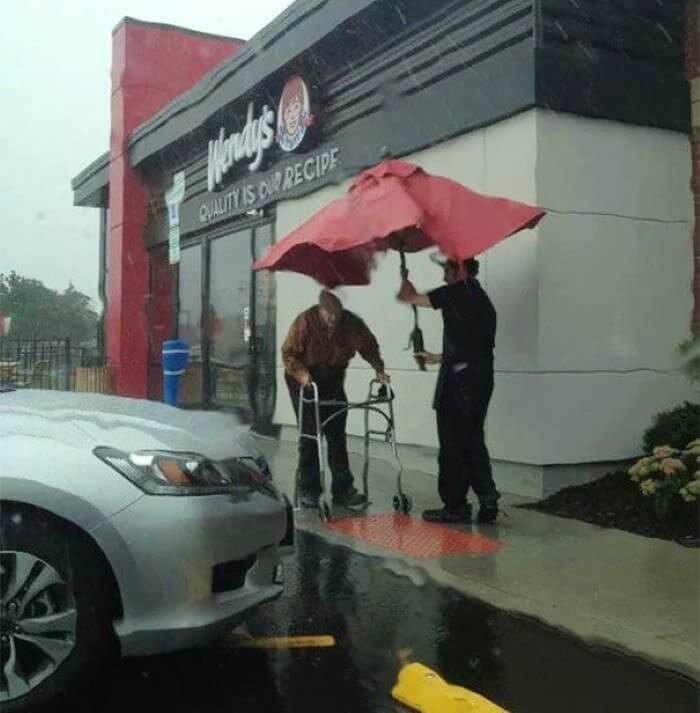 Removing an umbrella from one of the restaurant's outdoor tables to protect an elderly man from the rain was a genius idea. We hope that Wendy's management appreciates this young man's effort.
No One Gets Left Behind!
While this cat may not look like she appreciates the brave actions of this firefighter, we're sure she didn't want to be left behind in a burning building, either. Firefighters and first responders do such an amazing job. Going into a burning building while everyone else is trying to get out deserves so much respect and admiration. And it's not just humans that need their help; sometimes, it's animals too.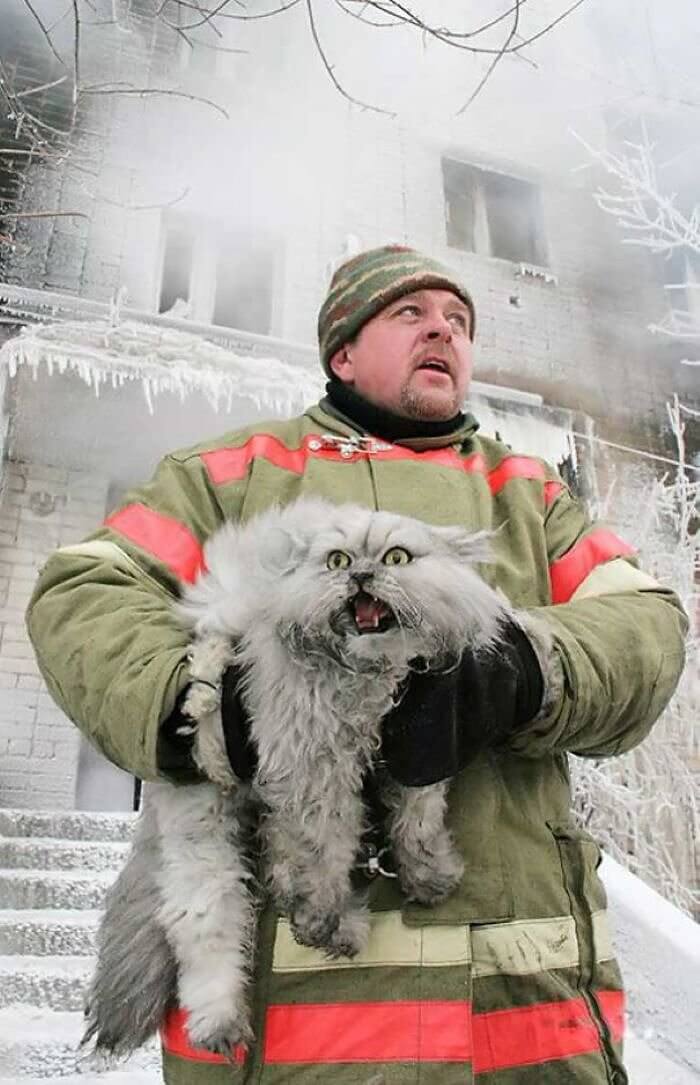 If a firefighter gets the opportunity to save an animal from certain death, you can bet your life that they will do everything they can to get it out of the building!
The Perfect Gift!
After noticing this homeless man reading the same book over and over again, this man decided that a Kindle would be the perfect gift. This gesture not only provided the homeless man with a new means of entertainment but also a way to open up new opportunities for learning and personal growth. He can explore various genres, authors, and subjects. There's something about random acts of kindness that warm the heart.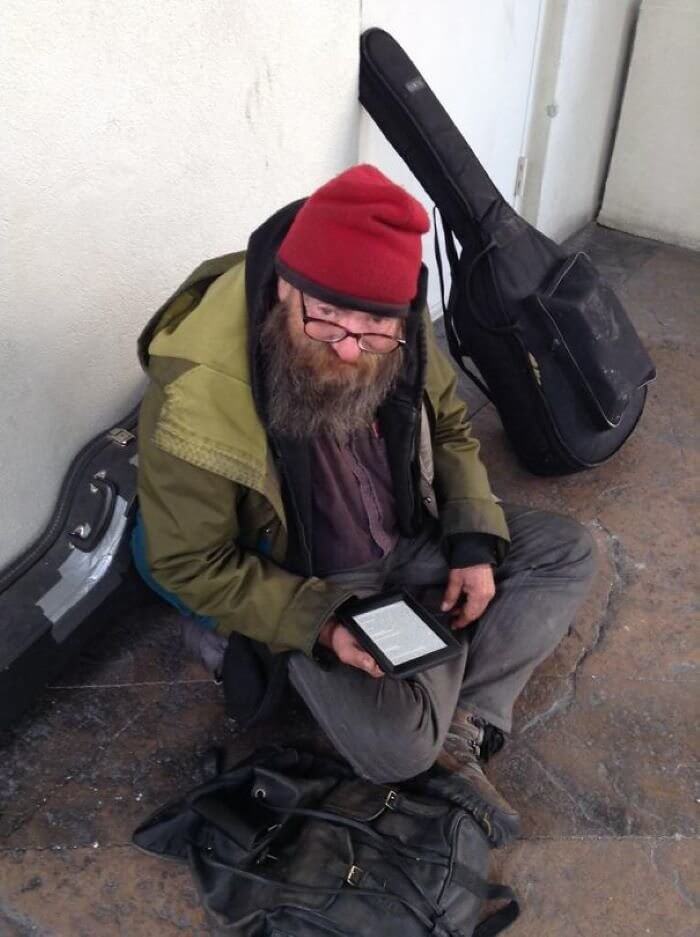 Reading can give a sense of escape from the difficult circumstances many of us find ourselves in from time to time. Let's hope this man finds solace in his new device.
This Man Wouldn't Take No for an Answer!
While on holiday in Rio de Janeiro, this kind man knew he had to do what he could to make this young lady feel better. After talking with the girl, the man noticed she was barefoot. So, without hesitation, he took off his own shoes and handed them over. You can see from the girl's reaction that the man has handed over more than just shoes; he has given her hope!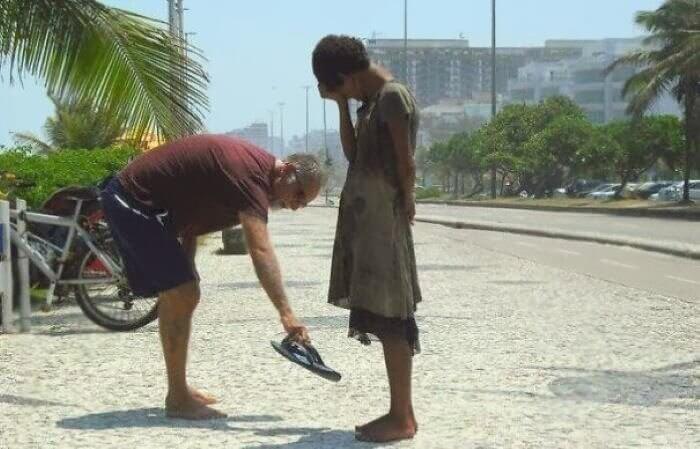 When we see people less fortunate than ourselves, knowing what to do can sometimes be difficult. There is a delicate balance between hurting someone's pride and making their day!
Anything Can Be Achieved When You Work as a Team!
To rescue a woman who had fallen into the 8-inch space between a train car and the station platform, dozens of Japanese commuters didn't hesitate to help. After an announcement that a passenger was stuck, some 40 people helped train officials push the carriage, which had a suspension mechanism that allowed it to tilt to either side. They pushed the 32-ton vehicle away from the platform until the lady was released!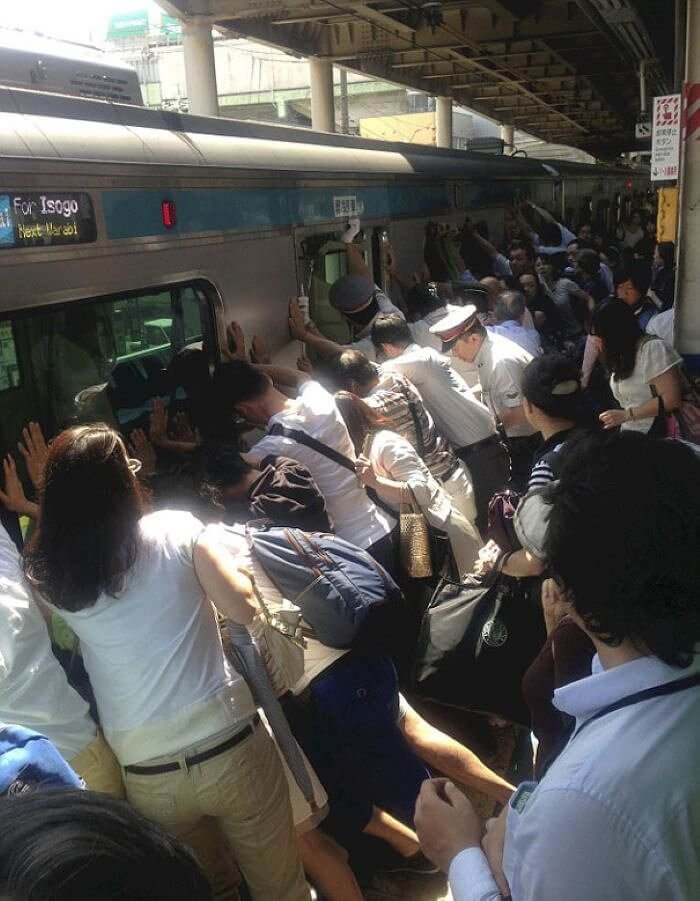 The woman in her 30s was rescued from the platform at JR Minami-Urawa station north of Tokyo to cheers from bystanders. It's amazing what people can achieve when they work together.
The Best Seat in the House!
While at a Korn concert in Moscow, there was no way this guy was going to let his disability stop him from enjoying the concert as much as everyone else. When other rockers noticed the fan could not see his favorite band on stage, they gave him the best view in the arena. They hoisted the man and his wheelchair over their heads until suddenly; he was crowd surfing!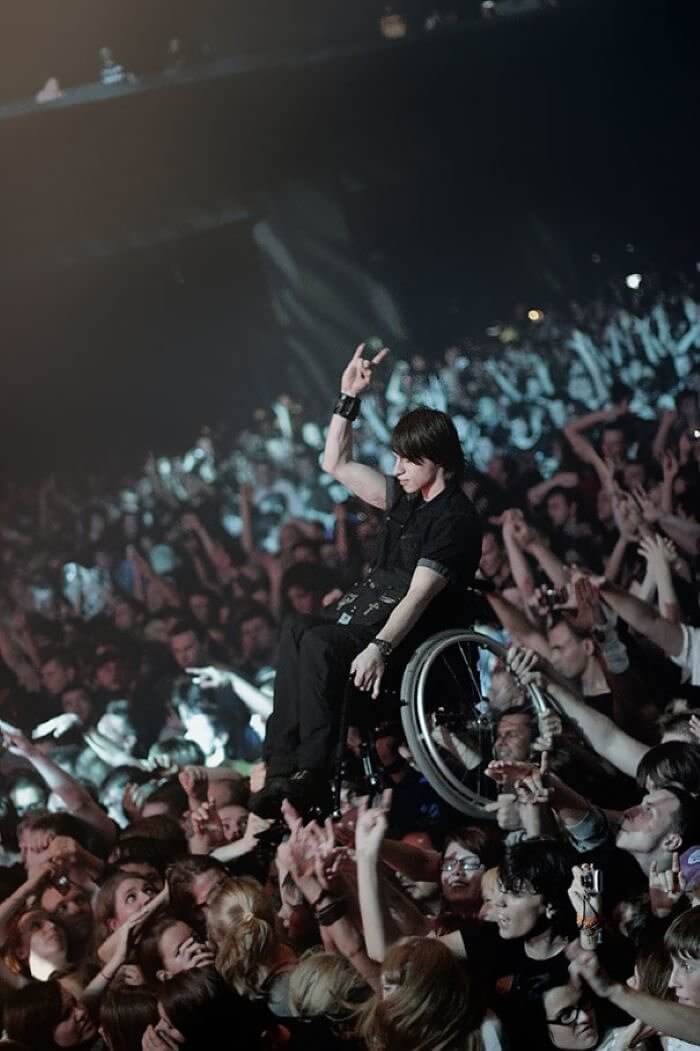 The crowd is so compact that the man looks completely comfortable up there. Just look at their faces. While everyone is keeping the man afloat, he's having the time of his life!
These Kids Got the Surprise of Their Lives!
This photo captures everything great about giving to those less fortunate than ourselves. Normally, when someone has extra tickets for a high-profile football match, such as Spain vs. Holland, they will either sell them for a profit or get the original asking price. But not in this case. This cool Holland supporter has just handed over his spare tickets to some kids, and just look at their faces!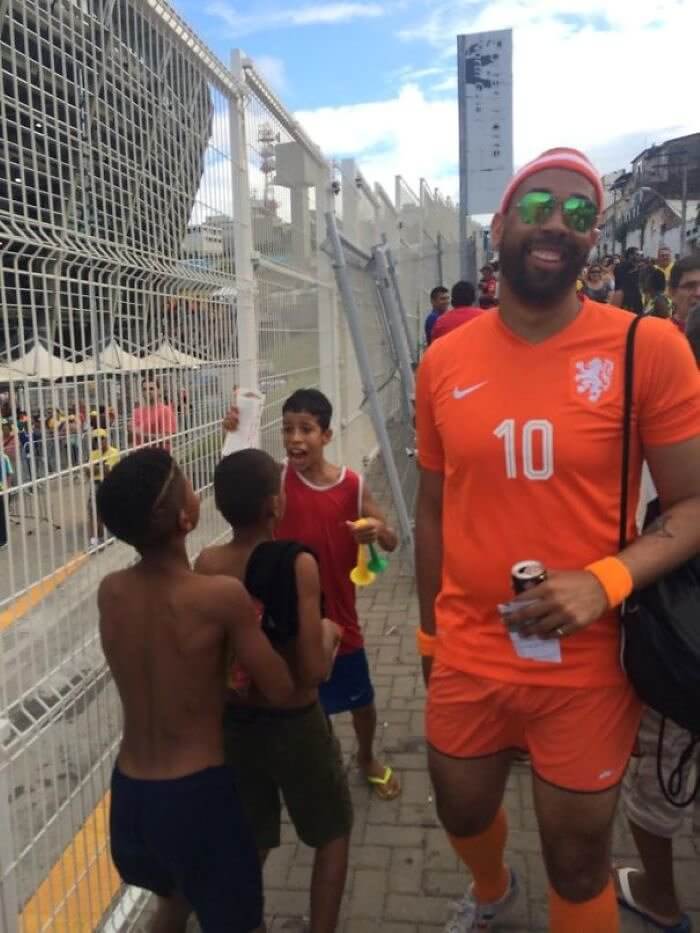 The kids are overjoyed with the gift. But it's the look of satisfaction on the man's face that makes this picture so great. Giving to others who are less fortunate can feel amazing!
Krishnan Brought Hope and Love to Those Who Needed It Most!
Krishnan's story is truly inspiring and showcases the incredible impact that individuals can have on their communities. By choosing to leave his successful career as an award-winning chef, Krishnan demonstrated his deep compassion and dedication to helping those in need. Setting up a makeshift kitchen and dining area, Krishnan began his mission to provide nutritious meals to the homeless and mentally disabled individuals in his community who couldn't help themselves.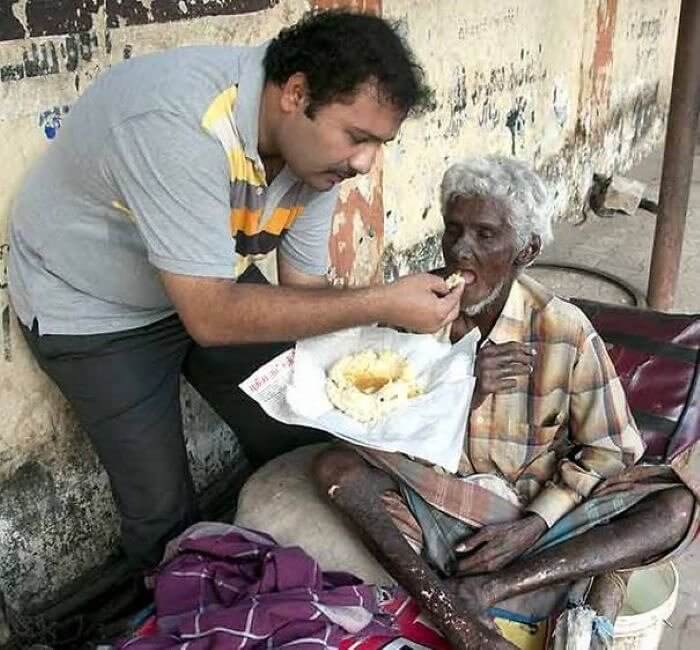 As Krishnan continued his noble work, his efforts gained recognition and support from various organizations and institutions. This further helped raise awareness about homelessness and mental health issues.
This Is How to Inspire Others!
Marine Myles Kerr's act of kindness and selflessness during this race illustrates the values of compassion and service that the military often embodies. Kerr's decision to put the well-being of a young boy ahead of himself demonstrates a remarkable display of compassion and responsibility. There is no doubt that this boy will never forget the day he was encouraged never to give up, even when a task seems impossible.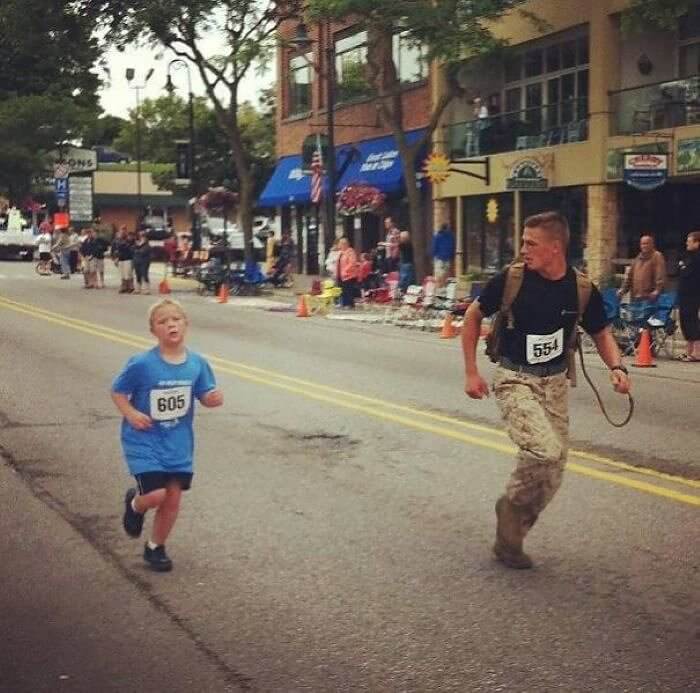 When the marine noticed the distressed boy, he put his own personal desires aside. And while he may not have won the race, he certainly won the hearts of the people!
Man Risks His Life to Save the Animals!
When this man's animal shelter caught fire, it never even crossed his mind to save himself and leave the dogs behind. Through sheer love and compassion for the animals, he tried to get every living creature out before the place burned down. The burns on his face tell a story of a man who bravely fought through the flames so that the dogs in his care would not perish.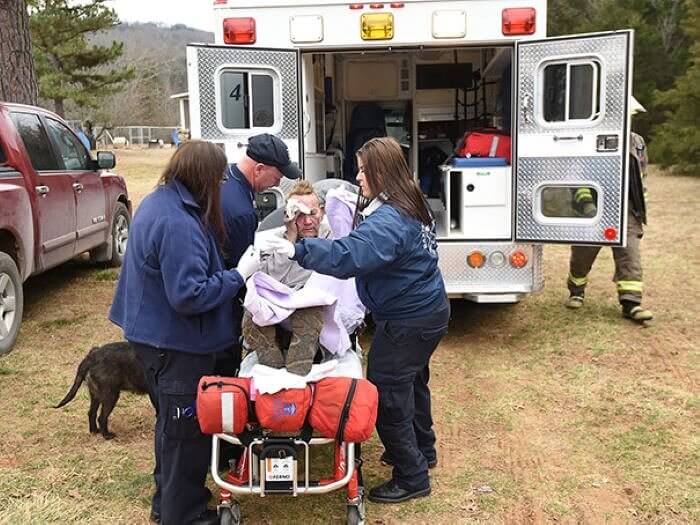 After receiving treatment for his burns, the man returned to his feet after a few days. He began rebuilding his animal shelter so he could continue his remarkable work.
Low's Employees Save the Day!
While at Lowe's home improvement center, this man with both legs amputated was busy looking for some items when his wheelchair broke, and he was left stranded in the middle of the store. But before he even got the chance to ask for help, some of Lowe's employees had already begun to assist the man. The grateful man couldn't believe how kind the staff was. They didn't hesitate to help.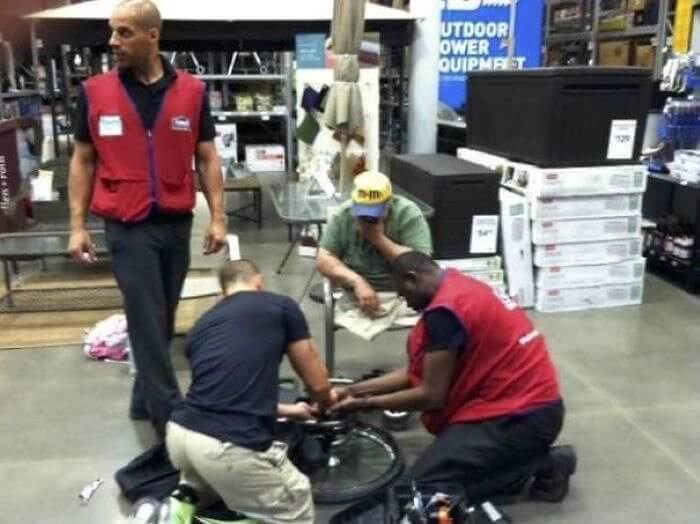 After helping the man out of his wheelchair, the Low's employees got to work. They took the entire wheelchair apart and put it back together as good as new.
Man Braves Freezing Temperatures to Save Drowning Duck
While walking around the lakes close to his home in Norway on a freezing winter's day, something caught his eye in one of the frozen lakes. After taking a closer look, the man realized that a duck had somehow gotten trapped under the ice. The man knew that the duck would certainly die if he didn't do something fast. He took off his clothes and rushed into the freezing water!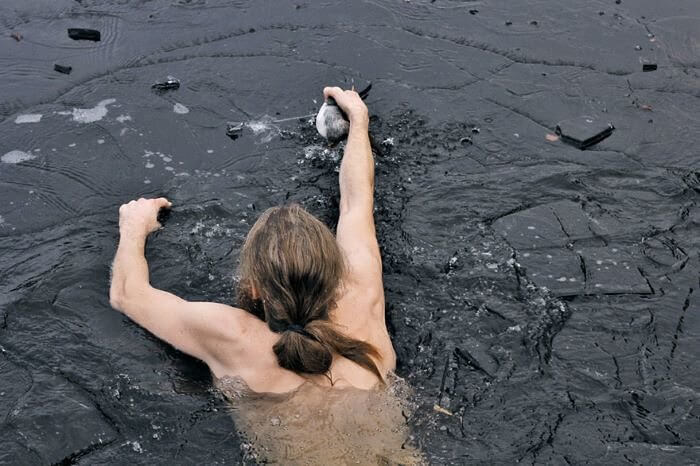 The man managed to break the ice and save the duck. Can you imagine how cold the water of a frozen Norwegian lake must be in the middle of winter?
Heartwarming Scene As Firefighter Saves Kitten!
When this firefighter entered a burning building to make sure there was no one inside, little did he know that he would find a cute little kitten. But firefighters are trained for all situations, so after getting the kitten to safety, the hero noticed that she was having trouble breathing because of all the smoke she must have inhaled. Without hesitation, the firefighter administers oxygen to his new best friend.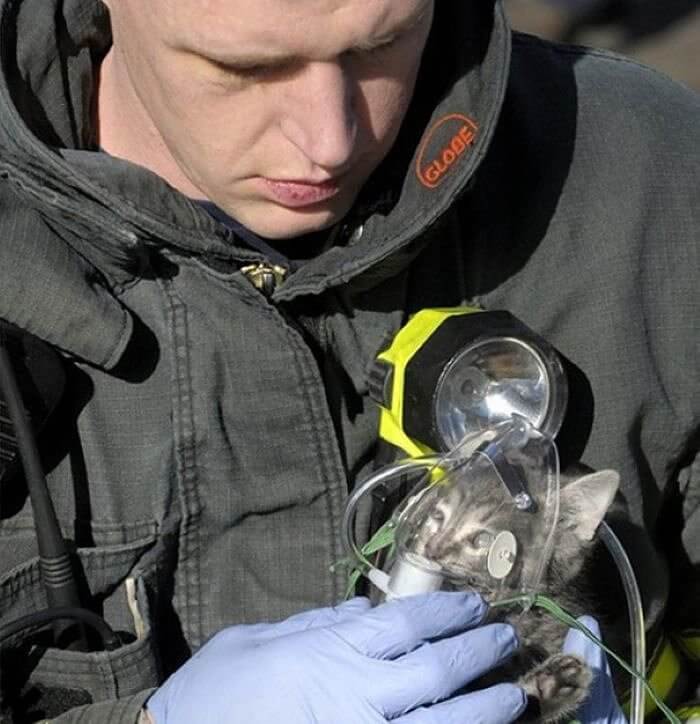 The actions taken by the firefighter to administer oxygen to the rescued cat helped save its little life. After a visit to the vet, this kitty was soon back to herself.
Lamb Saved From Certain Death!
Our Norwegian friends seem to have no fear when it comes to saving an animal in distress. While this lamb was out grazing, she strayed away from the rest of the flock onto some dangerous rocks near the water's edge. Suddenly, the lamb slipped and fell into the treacherous water below, where she was only minutes from certain death. The two young men saw the lamb fall and ran to her rescue.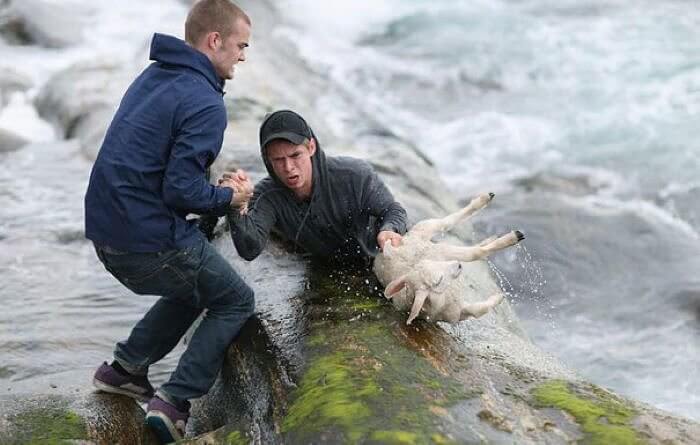 As the waves crashed against the rocks, one of the men lay on the slippy rock while the other held him steady. In a dramatic scene, they managed to save the lamb.
Little Girl's Kindness Is Inspiring
Every now and then, someone comes along, and just like that, they restore your faith in humanity. Take this little girl, for example. When she found out there were animals in need of help at an animal shelter close to her home, she decided that she would have to do something. And even though she adored her collection of stuffed animals, she knew that the real animals were more important.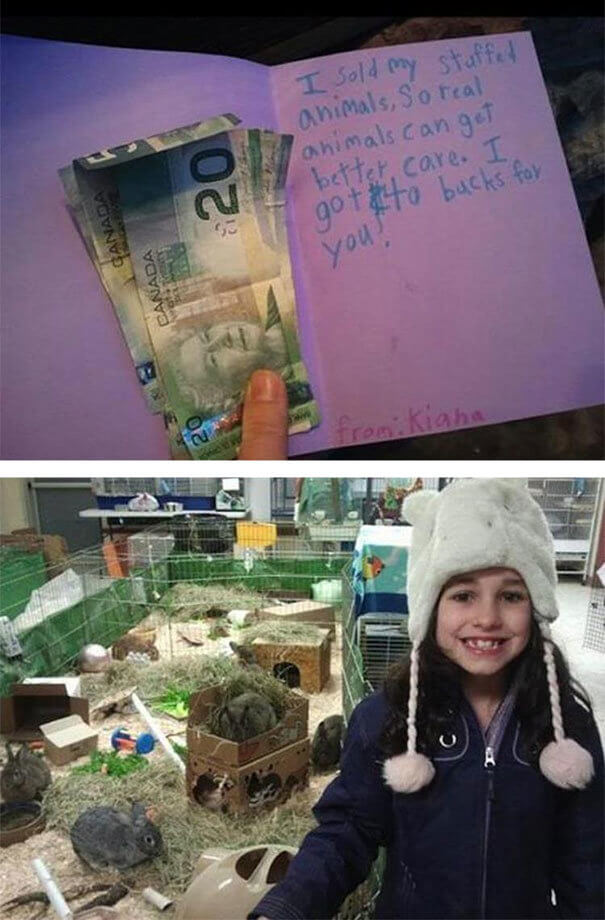 So one by one, the brave little girl sold all her stuffed animals and donated the money she made to the shelter. The girl's kindness brought the volunteers at the shelter to tears.
Exhausted Kittens Are Taken to Safety
After some major flooding in his hometown, this man risked his own safety to get a litter of kittens to dry land. After the devastating floods caused chaos, many people in the area were left feeling desperate. Then this man did something that put a smile on everyone's faces. When he spotted the kittens floating nearby, without hesitation, he grabbed a basket and waded through the water to save them!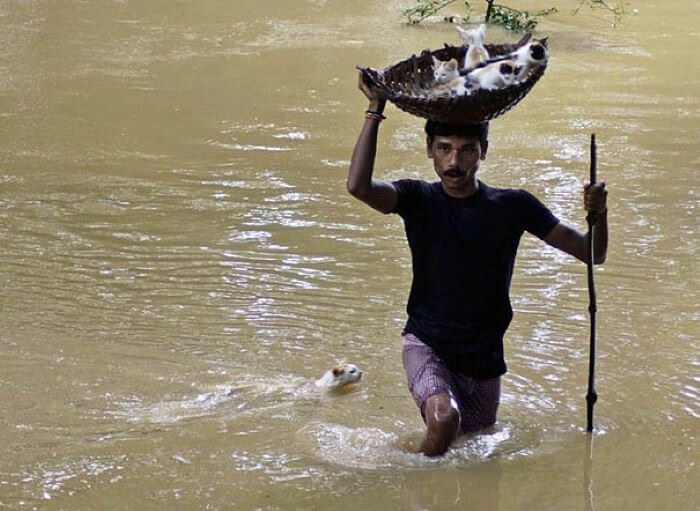 When the man reached the kittens, he could see they were exhausted and clearly needed help. So he scooped them up with the basket and took them to safety on dry land.
Rainbows For Sale!
When this little girl noticed that the people in her neighborhood needed some cheering up, she thought of a great way to put a smile on everyone's faces. I mean, who doesn't love rainbows, right? After working hours with her crayons and coloring pencils to create the best rainbows ever, she set up shop on her porch. She then handed out her amazing artwork to passersby for free.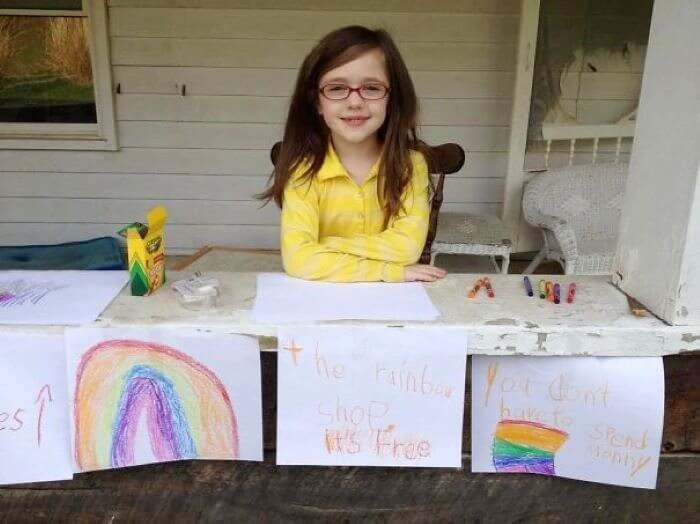 Every time someone walked by, the little girl would ask them to take a rainbow. The neighborhood people laughed and chatted, and their hearts were lifted. Her plan had worked!
Compassionate Police Officer Saves Man's Life
After this police officer talked a man out of committing suicide, he got the help he needed and began living a better life. It's incredible how a single act of compassion can have such a profound impact on someone's life. The fact that the man survived and went on to build a family is a testament to the importance of reaching out and offering support to those in need.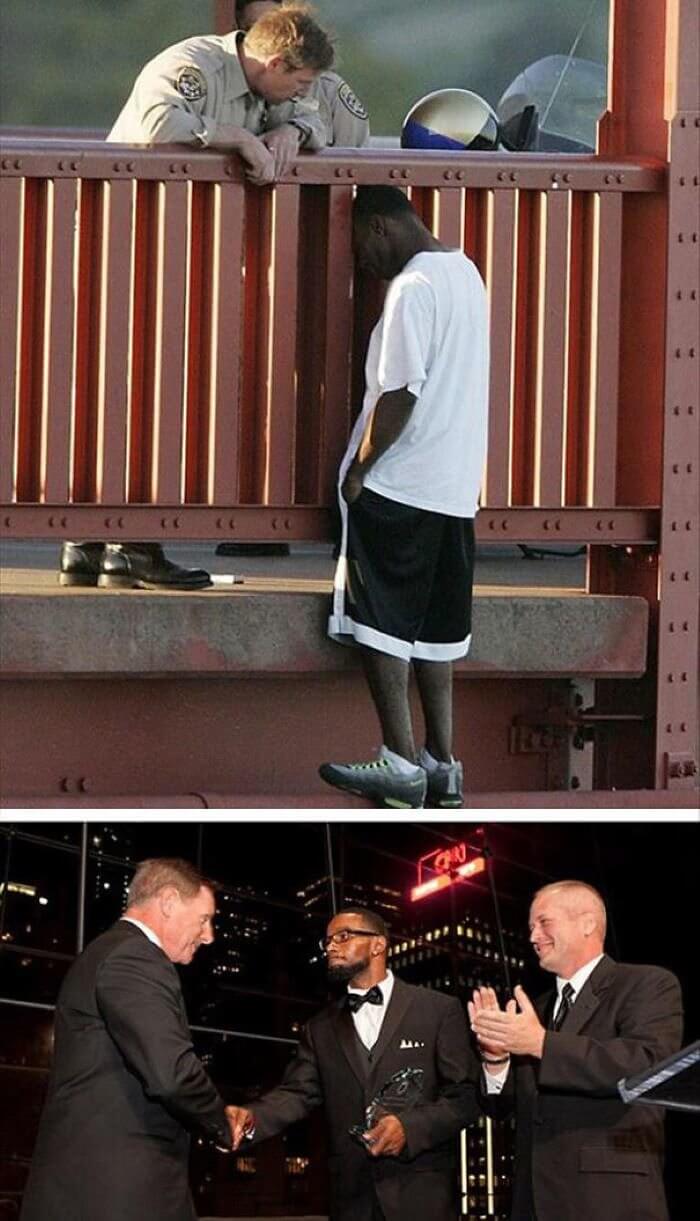 Eight years later, the man got to show the officer his appreciation for saving his life. He presented the officer with an award at an American Foundation for Suicide Prevention ceremony.
Boy Risks His Life to Save a Drowning Dog
Sofia, Bulgaria, experiences cold winters with freezing temperatures. After encountering a dog in distress on a frozen lake, this teenager's quick thinking and bravery saved the dog from certain death. And while the boy deserves recognition, his parents were probably very angry with him for risking his life. The freezing temperatures and hazardous conditions of a frozen lake make such a rescue even more challenging. We wouldn't recommend it!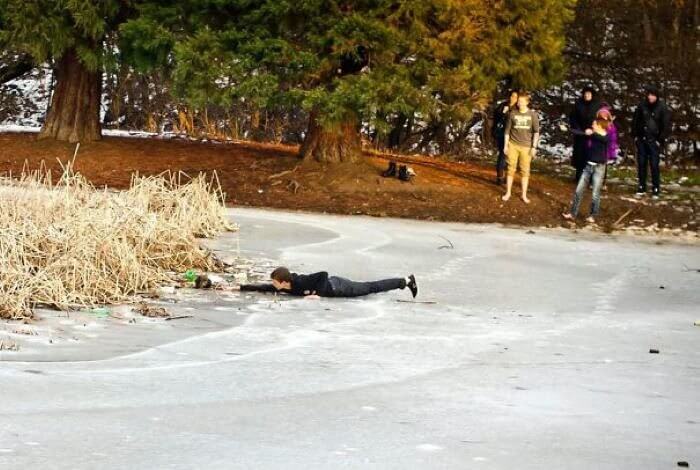 Stories like this inspire others to extend a helping hand to animals or individuals in distress. They remind us of the importance of treating all living beings with kindness and respect.
Well Played!
Mark Bresciano's act of kindness while helping a young mascot who was on crutches by tying his shoelaces during the 2014 World Cup is a heartwarming display of sportsmanship. This meaningful gesture shows the impact athletes can have on young fans and how they can use their platform to make a difference. Moments like these can leave a lasting impression on young fans and inspire them both on and off the field.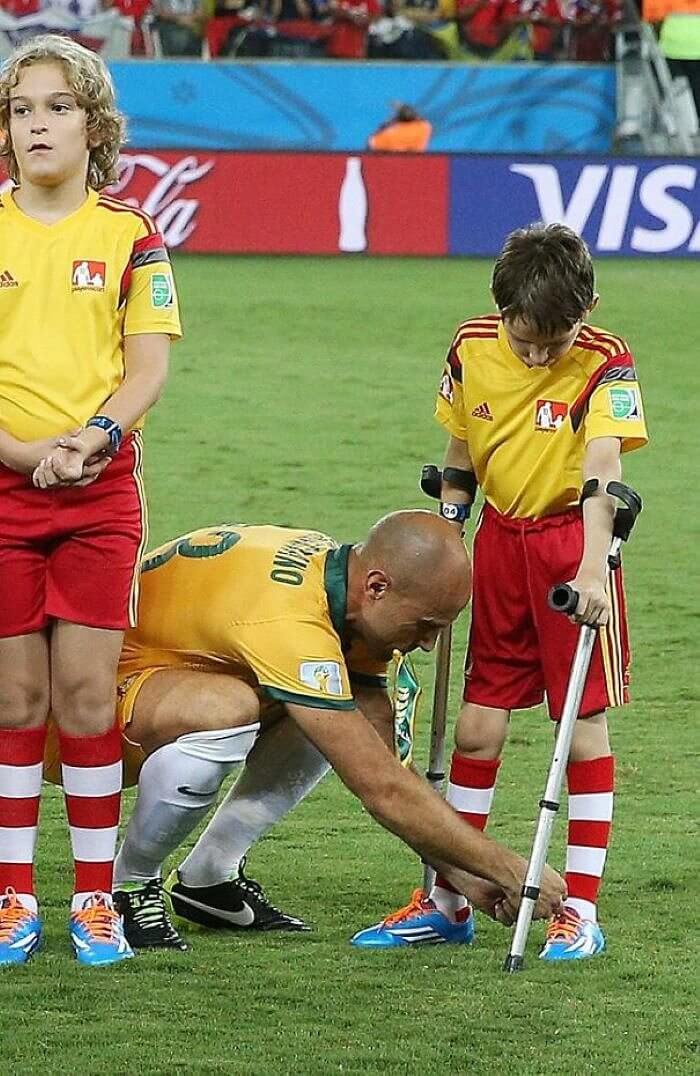 Mark Bresciano's actions showcase the true spirit of sportsmanship and athletes' ability to uplift and inspire. Such gestures can foster respect and support within the sporting community and beyond.
Daddy's Girl
When entrepreneur Thomas Sullivan sold his prosperous business, it wasn't for retirement but an extraordinary project inspired by his daughter Lily. With $50 million from the sale, he created "Lily's Wonderland," an amusement park specifically designed to accommodate individuals with disabilities. His motivation was his daughter, a vivacious, handicapped girl who wished for nothing more than to fully enjoy an amusement park. It has had millions of visitors since and half of the staff consists of special needs people.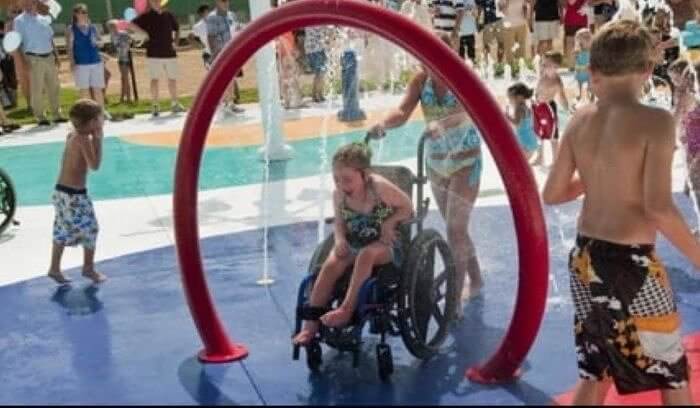 Since its inception, "Lily's Wonderland" has welcomed millions and championed inclusivity. By providing free entry to the handicapped and employing differently-abled individuals, it has become a beacon of hope and empathy.