When it comes to interior design, most of us try to find a balance between functionality, aesthetics, and personal style. But for others, taste often takes a backseat, and creativity goes right off the rails. Let's delve into the depths of misguided aesthetics and some questionable choices that will leave you scratching your head in disbelief. From a staircase that has been turned into a bathroom to camouflaged steps that will leave you flat on your face, these blunders will either make you cringe or laugh out loud!
Welcome to Our Humble Commode… I Mean Abode!
Here's a design fail that will have your guests rethinking their life choices as soon as they set foot in your home. Who needs a fancy foyer or a grand entrance when you can be greeted by the delightful sight of a toilet? It makes for an interesting atmosphere when you try to discuss world affairs with your guests while someone is trying to flush discreetly in the background!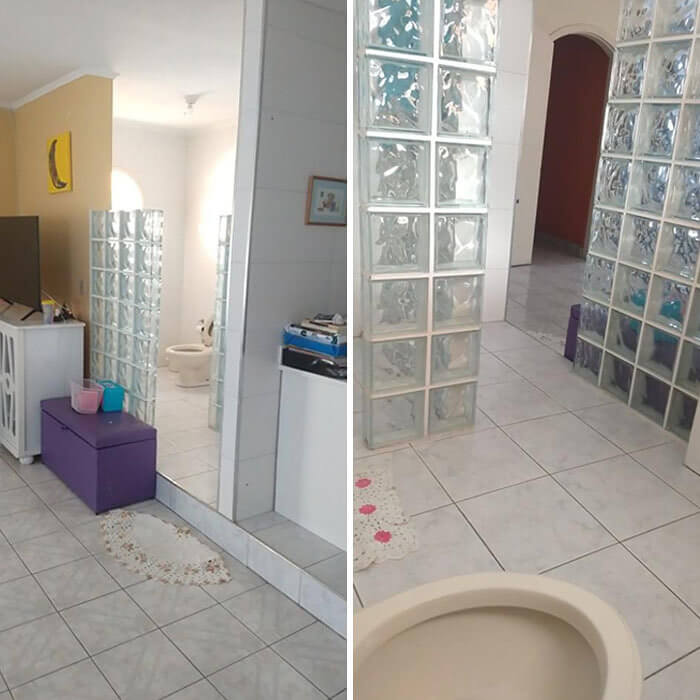 "Oh, hi Susan! Come on in, make yourself at home. Just ignore the toilet over there; it's just part of the decor. We like to keep things... transparent, you know?"
I Hope You Packed Your Crash Helmet!
This outdoor shower is a testament to the fine art of design fails. It transforms a simple act of hygiene into an unforgettable test of survival. This particular shower design takes the notion of relaxation and tosses it out the window, along with any hope of maintaining an upright position. The designers must have thought, "What could make showering in the great outdoors even more thrilling? Ah, yes, a dangerously unsteady surface!"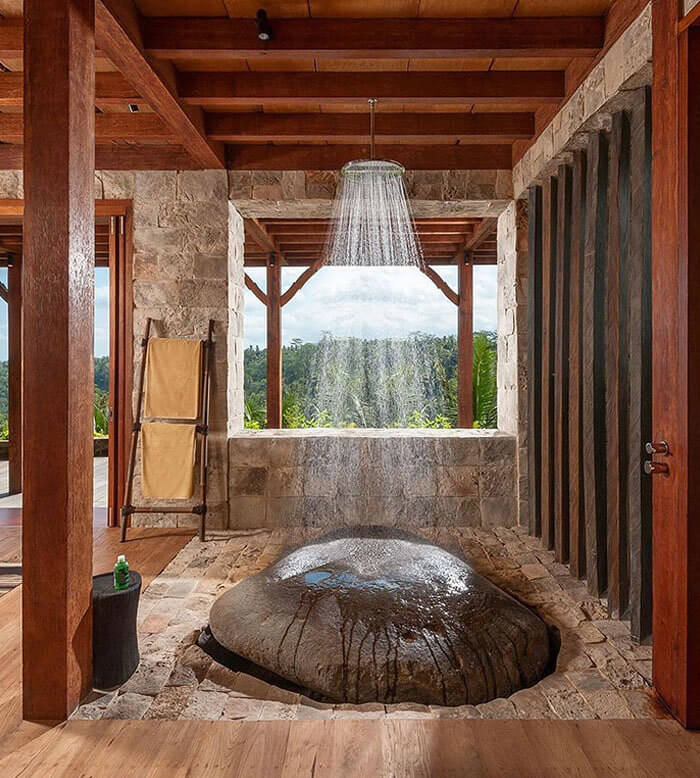 But hey, at least you'll never have a dull shower again. Just be sure to pack your safety helmet and sign a waiver before stepping foot in this particular shower!
Bon Appétit!
Unfortunately, this bathroom door has glass panels in it, so you can see someone sitting on the toilet while you eat your dinner at the dining table in the next room. It defies all notions of privacy. Imagine the horror as you sit down to enjoy a delightful dinner with friends or family, only to be treated to a live-action, unfiltered view of someone perched on the porcelain throne! Not very appetizing!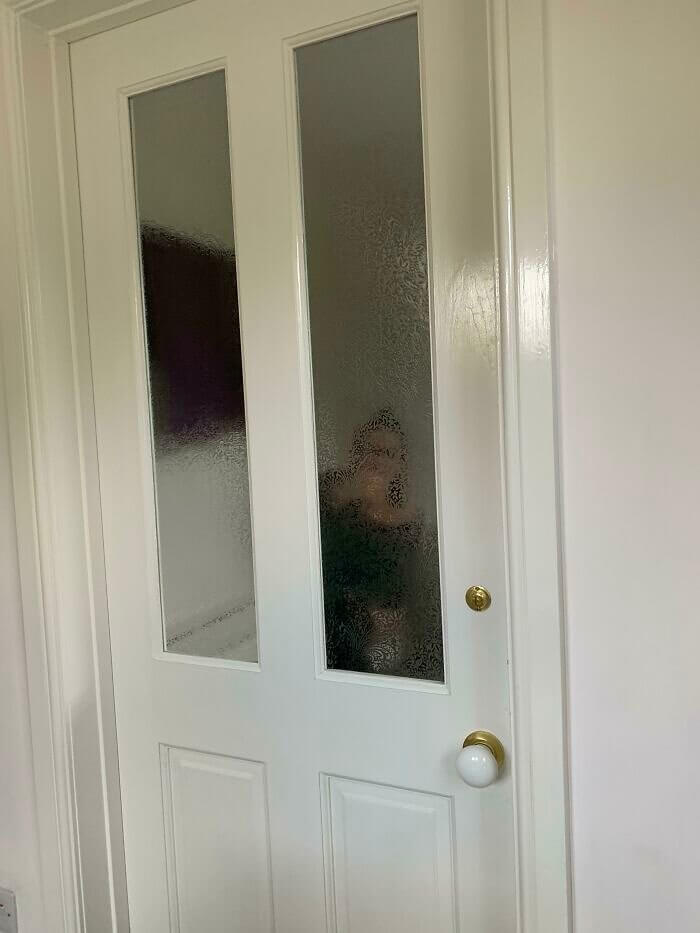 Or even worse, imagine sitting down to do your business, only to look up and see all the astonished faces looking in your direction. You would have to pretend you didn't see them!
Let's Hope the Man of the House Has a Good Aim!
This must be the toilet at Buckingham Palace. The entire thing is covered in floral covers and looks like something from the 18th century. A throne fit for a queen, surrounded by such excessive frills and intricate embroidery that even Queen Victoria herself would raise an eyebrow. You would half-expect a chambermaid to enter and assist you as you do your business. Either that or someone's grandma has too much time on her hands!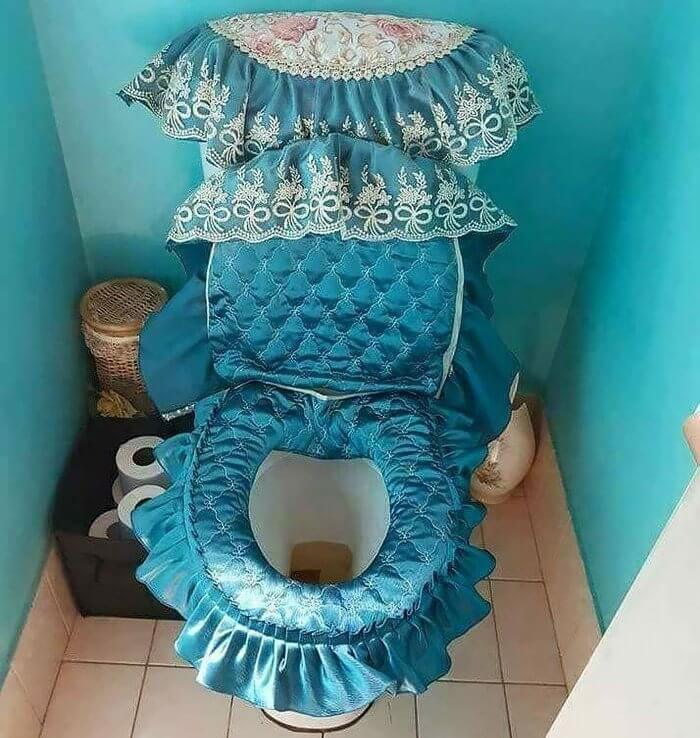 This toilet leaves you wondering if you should curtsy or bow before entering. Let's hope this restroom does belong to a granny and not a guy in his bachelor pad!
Someone's Idea of a Fantasy Bedroom
Welcome to the nightmare suite, where reality and horror collide in a symphony of questionable design choices. Step into this converted attic master bedroom, and you'll find yourself trapped in a hall of mirrors that would make even Alice in Wonderland feel a tad uneasy. You'll question whether you're in a bedroom or some diabolical funhouse designed by a mischievous interior decorator. It's like having a front-row seat to your own vanity circus!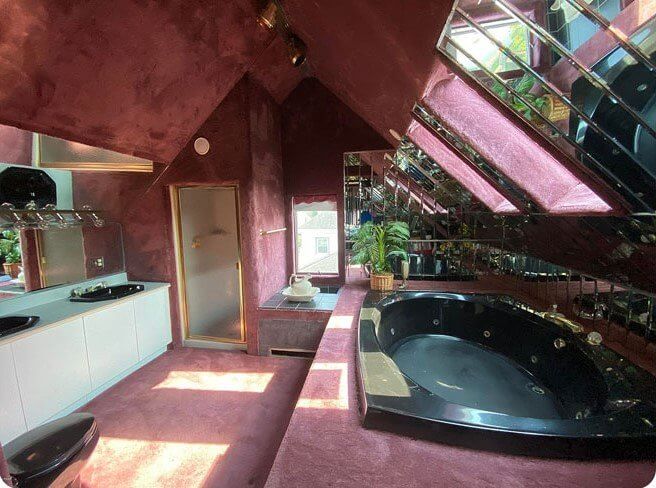 And if that wasn't bad enough, the rest of the room is completely covered in plum-colored carpet, including the walls and ceiling in the restroom area. We don't want to know what happens here!
A True Masterpiece!
Get ready for an unforgettable experience as you try to navigate this confined space. But if you do happen to bump your head while you attempt to do your business, at least the walls are soft! This is either a toilet from an extreme yoga retreat or some questionable DIY plumbing techniques were utilized. This under-the-stairs "Bathroom" is a true masterpiece in interior design fails, and we love it!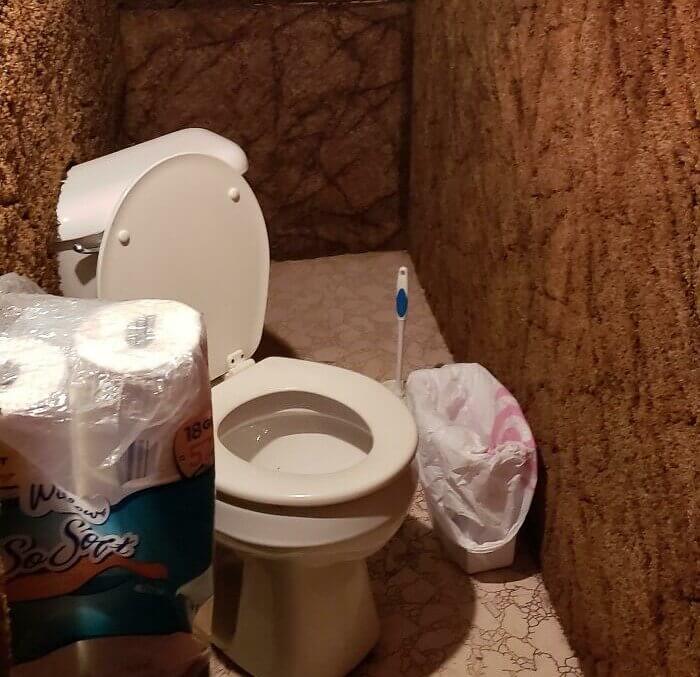 I have to admit, I've never seen a bathroom with carpet on the walls. Was it an attempt to soundproof the room? Maybe the owner is particularly loud while doing their business!
What Were They Thinking?
In the realm of interior design fails, this raised shower drain takes the cake. I mean, come on, it's like a cruel prank played by a plumber who didn't get paid on time! How on earth is the water supposed to escape when someone takes a shower? You step into the shower, ready to wash away the day's troubles, only to find yourself ankle-deep in a mini swimming pool!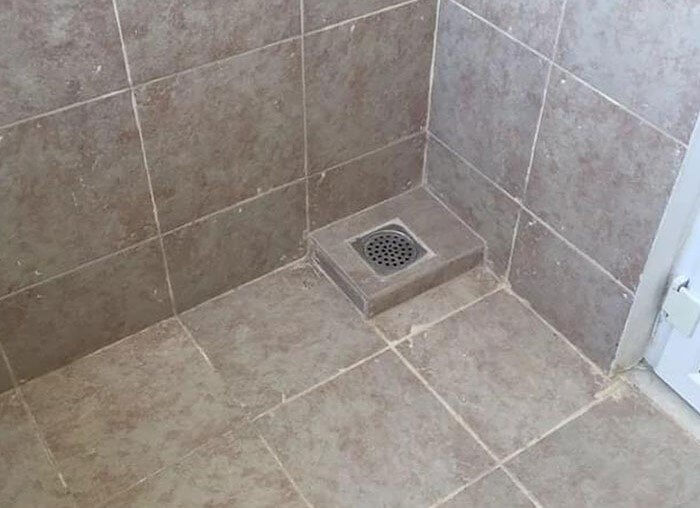 This raised shower drain may have inadvertently turned your bathroom into a water park attraction. Good luck maintaining any sense of cleanliness and serenity amidst this aquatic chaos!
Go To Bed If You Dare!
Brace yourself for a nightly adventure where getting to bed is almost impossible! The stairs have been sliced in half to accommodate the grand entrance to the living area. It's a marvelous feat of architectural ingenuity, as if the designer proclaimed, "Who needs a safe and functional staircase when you can have a thrilling obstacle course right in your own home?" Welcome to the death-defying acrobatics of loft bedroom access!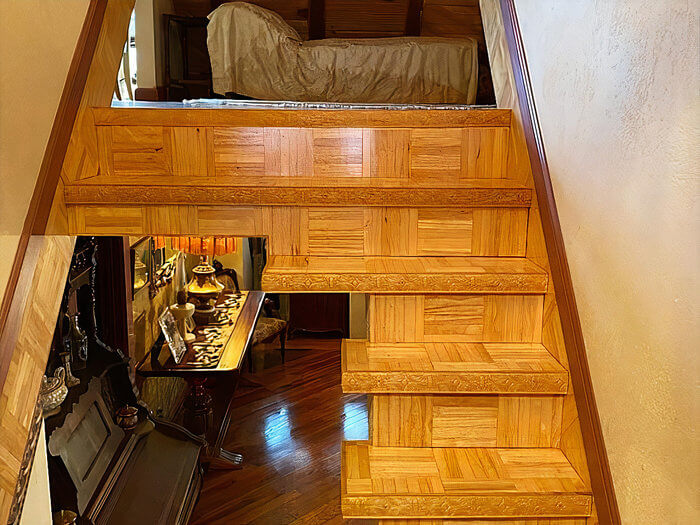 It's like participating in a thrilling reality show where your bedroom is the prize, and the only way to claim it is by successfully navigating the treacherous path before you!
The Sink Unit That Defies Logic!
Welcome to the kitchen where chaos meets creativity and functionality takes a backseat! As you step into this culinary wonderland, your eyes are immediately drawn to the sink unit, standing there like a rebellious teenager who refuses to conform to the laws of geometry. Who needs right angles and sensible positioning when you can have a sink that doubles as a conversation starter? It's like a game of Tetris gone horribly wrong!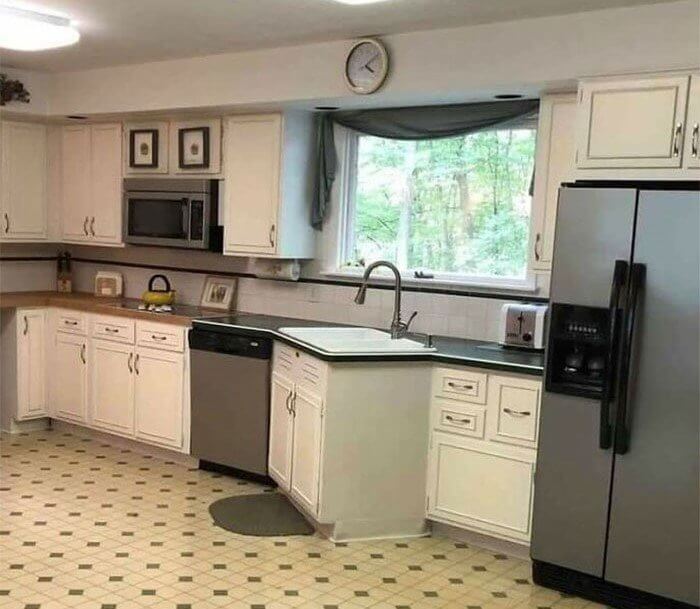 In a desperate attempt to cover up the peculiar shape of the sink unit, the designer concocted a countertop that rivals even the most complex jigsaw puzzles. The joy of culinary chaos!
Must Be Some Limbo Dancers Living Here!
This wooden beam blockade in the upstairs hallway is an interior design fail that turns everyday movement into an adventure of Olympic proportions. It challenges your flexibility, tests your problem-solving skills, and raises important questions about the importance of basic measurements. Picture the conversation as you gather with friends and family in this architectural marvel. "Oh, you wanted to go to the bedroom? Just follow the hallway, but beware of the beam!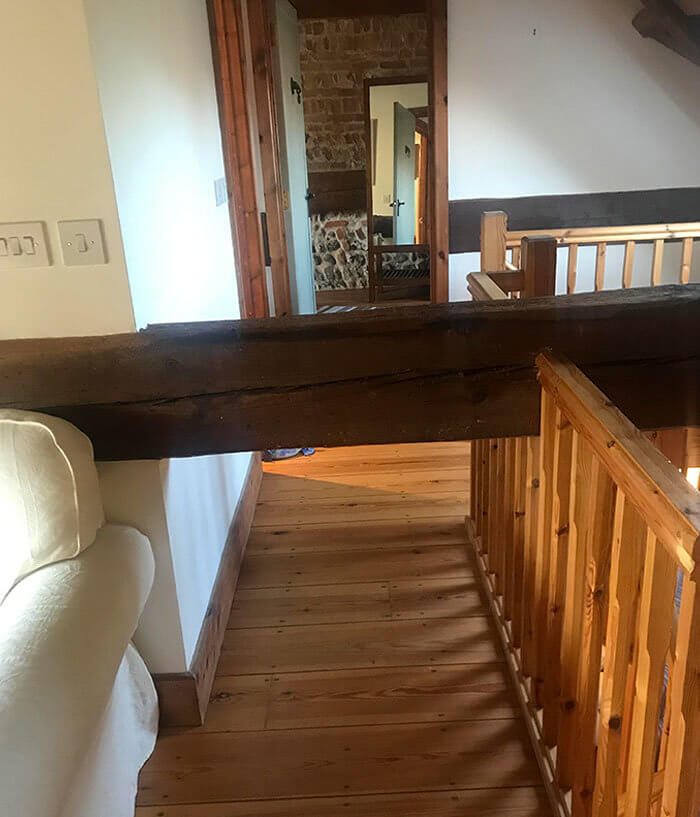 Let's hope that anyone using the upstairs has a sense of humor. Because if they don't, life is going to get pretty frustrating all of a sudden. Best of luck!
Why Not Just Carpet Everything?
As you enter this peculiar bathroom, the black pinstripe walls and plum-colored carpet are enough to make your eyes water. And as you approach the bathtub, you are greeted by a sight that can only be described as confusion. The plum-colored carpet clings to the sides of the bathtub like a desperate cry for attention. It's like a failed attempt at mimicking a plush, luxurious spa, resulting in questionable hygiene.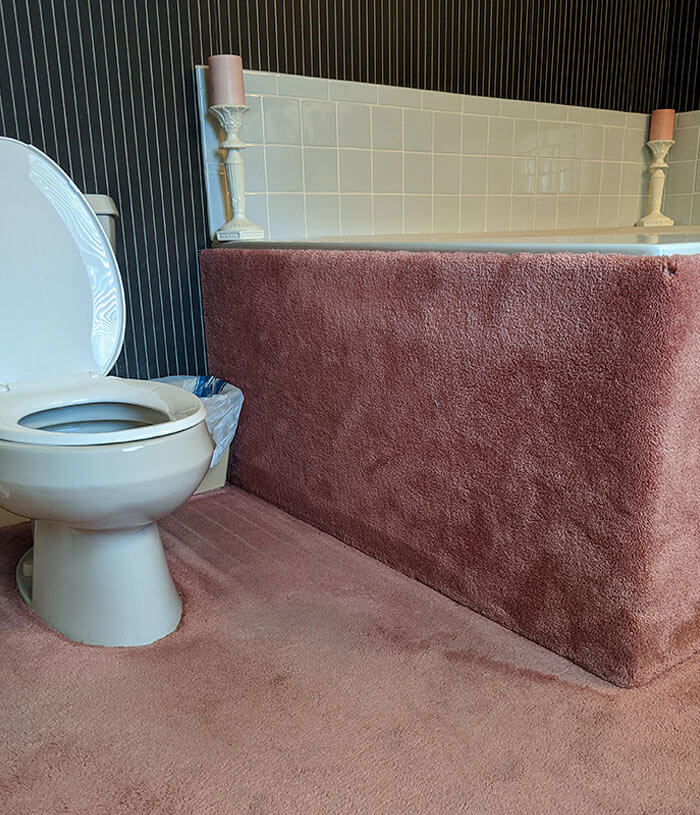 The interior designer was clearly on a hangover the day he picked the color scheme. He defied the laws of style, practicality, and good taste. And let's not even mention the candle holders!
Camouflaged Steps!
Using black and white tiles on the floor can be an elegant and classic choice. However, the result can be pretty painful when steps are incorporated into the design with the same pattern of black and white tiles. From certain angles, you simply can't see that there are steps there! Anyone who comes through that door is in for a nasty surprise. If they're lucky, they won't lose their teeth!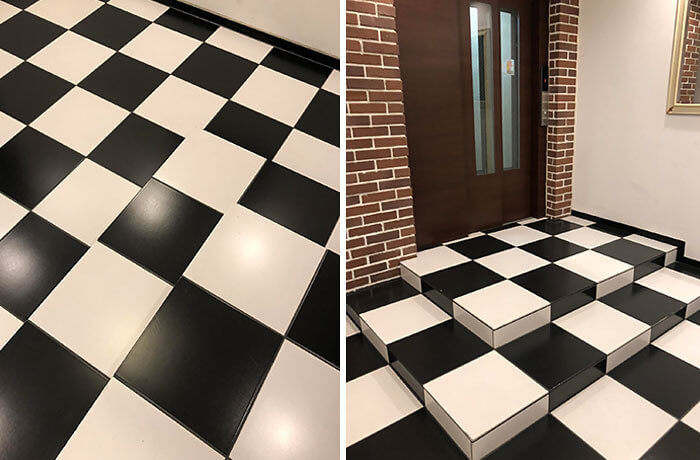 When steps are camouflaged within tile patterns, it can be very dangerous. Guests won't be able to distinguish the edges or height variations of the steps. The property owner is asking for trouble.
Someone Call the Interior Design Police!
This solo fridge spectacle in the middle of the living area, coupled with its disproportionate size, is an interior design fail of comical proportions. Who needs the convenience of a fridge nestled among the kitchen cabinets when you can proudly showcase it in the middle of the living space like an island of cold solitude? It's like playing a game of hide-and-seek where the fridge gleefully challenges your spatial awareness!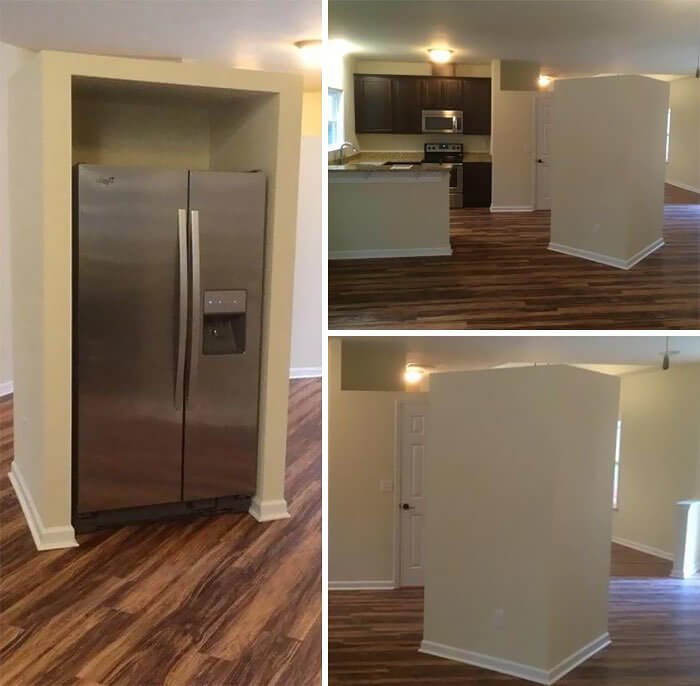 I understand that the kitchen is kinda small, but where they put the fridge defies the principles of functionality. What on earth was the designer thinking of? His choices are hilarious!
A Tiny Stage for Spiders!
Welcome to the world's tiniest stage—a masterpiece of awkwardness tucked away in the corner of this carpeted room. It makes you wonder what the grand vision behind this seemingly insignificant platform was. It looks like a stage for a spider open mic night! But this tiny stage may be more of a design hiccup than a stroke of genius. The homeowners unintentionally created an awkward spot that leaves us all scratching our heads!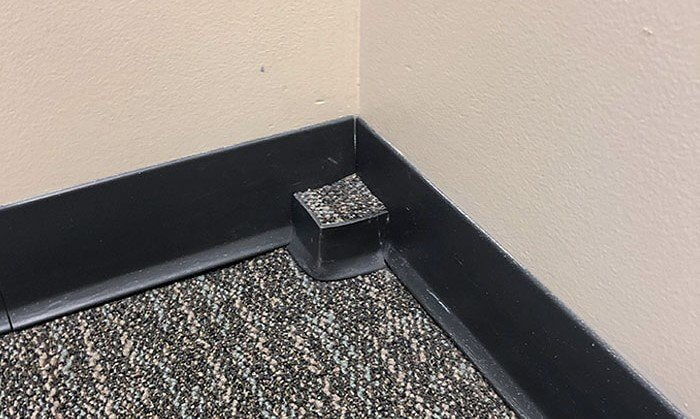 Perhaps it was meant to be a conversation piece, leaving guests to ponder its existence while sipping tea and pretending not to be distracted by the tiny elevation in the corner.
This Washing Machine Will Drive You up the Walls!
Step right into the restroom of chaos, where the homeowners have defied all logic and integrated their washing machine into the very fabric of the wall. This Frankensteinian creation straddles the wash area and the toilet area. This design fail promises a wild ride that will shake your house like crazy as you try to do your business next to it. But sometimes you have to make sacrifices when you need clean clothes!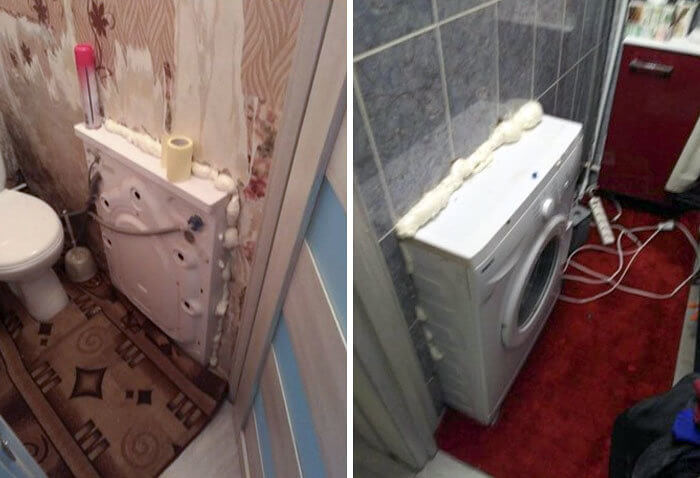 This interior design fail leaves you questioning the sanity of the homeowners while they desperately yearn for a separate laundry room. Let's hope the building has solid foundations!
Approach With Caution!
This washbasin with a porcelain pair of legs and a cheeky butt stand blurs the lines between functionality and comedy! Why settle for a regular, mundane sink when you can have an intimate moment with a porcelain posterior every time you wash your hands? It seems the creator aimed to infuse handwashing with a dash of playful mischief. And they were successful. For ladies and gents alike, this would create some memorable restroom moments!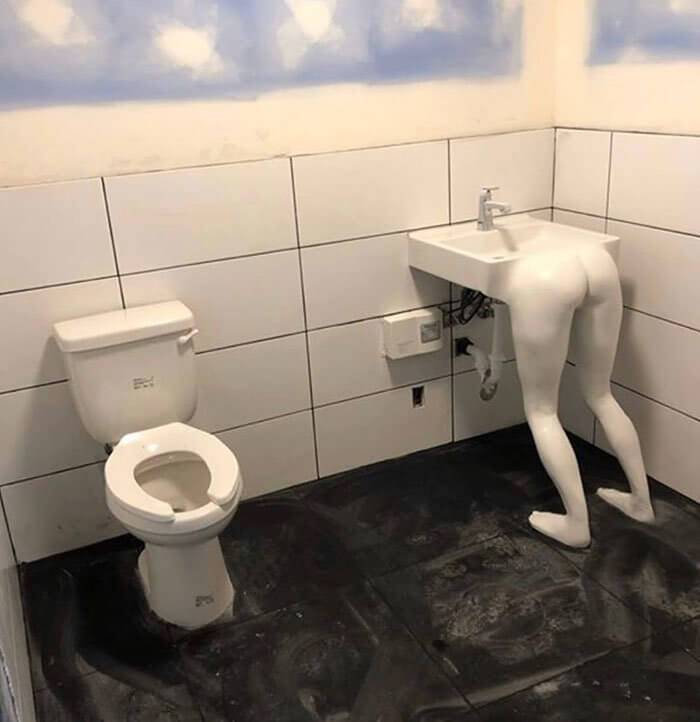 Whatever the case, you're guaranteed to leave with a smirk on your face. Next time you find yourself face-to-face with this butt-bearing washbasin, go ahead and give it a playful pat.
Hold On Tight!
This extraordinary toilet perched precariously on a narrow platform beside a tiled staircase is a design fail that will test your balance and bladder control, especially after a few beers! When nature's call beckons you to this dizzying bathroom setup, each step down the tiled staircase makes you question the life choices that brought you to this exact moment. It's like participating in an extreme sport where the stakes are embarrassingly high!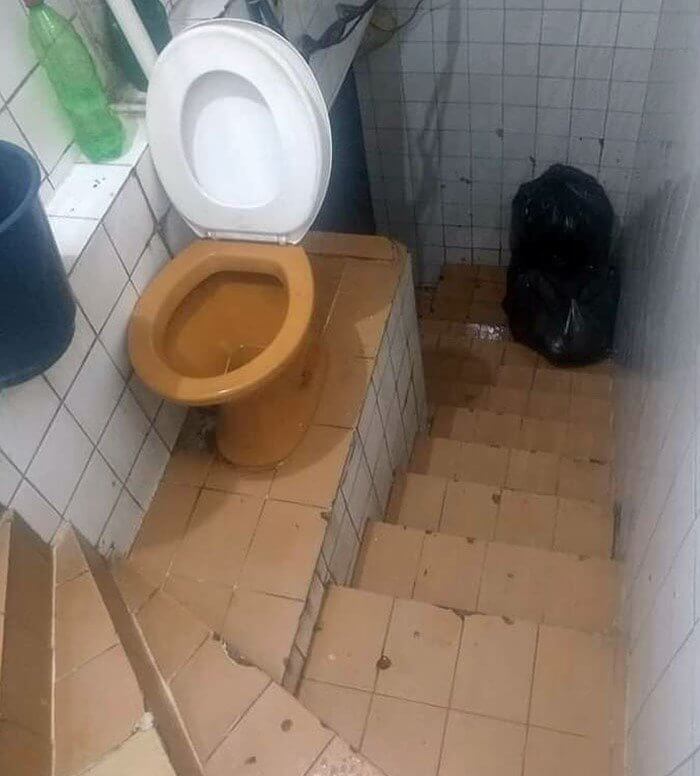 If you ever find yourself facing this daring bathroom design fail, take a moment to appreciate the blend of danger and comedy it offers. It's definitely not for the faint-hearted!
The Doormat Marks the Correct Door!
Whoever designed the entrance to this home has some explaining to do. There are two front doors, but from the inside, one of the doors is blocked completely by a sweeping staircase. So, why didn't they just have one front door? It's a design fail that leaves you questioning the sanity of the architectural mastermind behind this puzzling creation. Perhaps the homeowners simply enjoy a daily dose of frustration in their lives.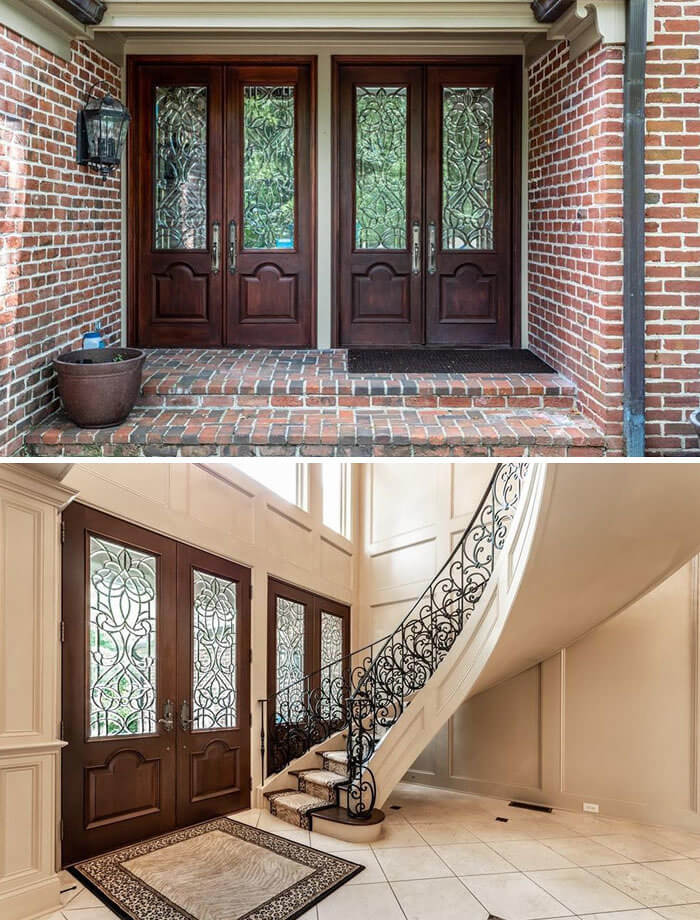 It must be hilarious when guests show up at the house, ring the doorbell, and stand in front of the wrong door! The poor homeowners need to explain what happened every time!
Peekaboo!
Why have a boring old shower curtain when you can have window blinds? Nothing screams "shower time" quite like blinds that belong more in the living room, right? We're not sure if you're supposed to twist the wand left or right, or maybe you need to pull on that little cord. Who needs serenity and tranquility in their bathing experience when they can have a daily dose of slapstick comedy instead?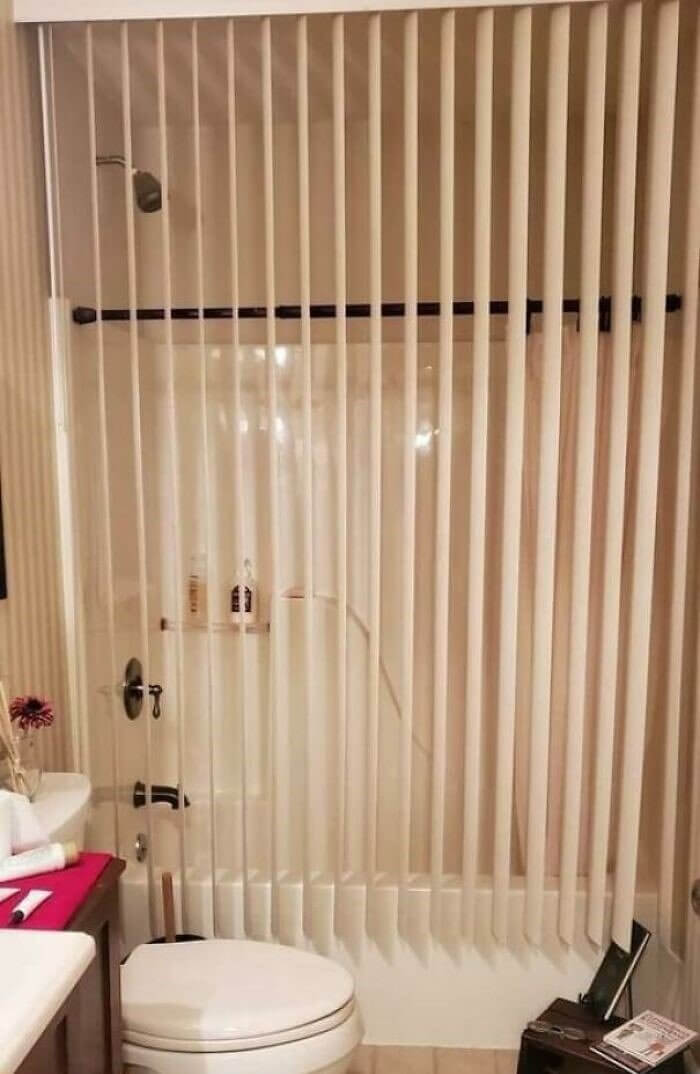 Thank you for reminding us that sometimes the best things in life are the ones that make us scratch our heads in confusion. Who knows, maybe this idea will catch on!
You Can Answer the Door While You're Down There!
Behold the magnificent transformation of a once-beloved staircase into the most perplexing bathroom in the history of human hygiene. Who needs to climb the stairs to get to the bathroom when you can just sit at the bottom and let nature take its course? Just plop yourself down on the toilet and enjoy the view of ascending steps that once led somewhere. And is that the front door in the background?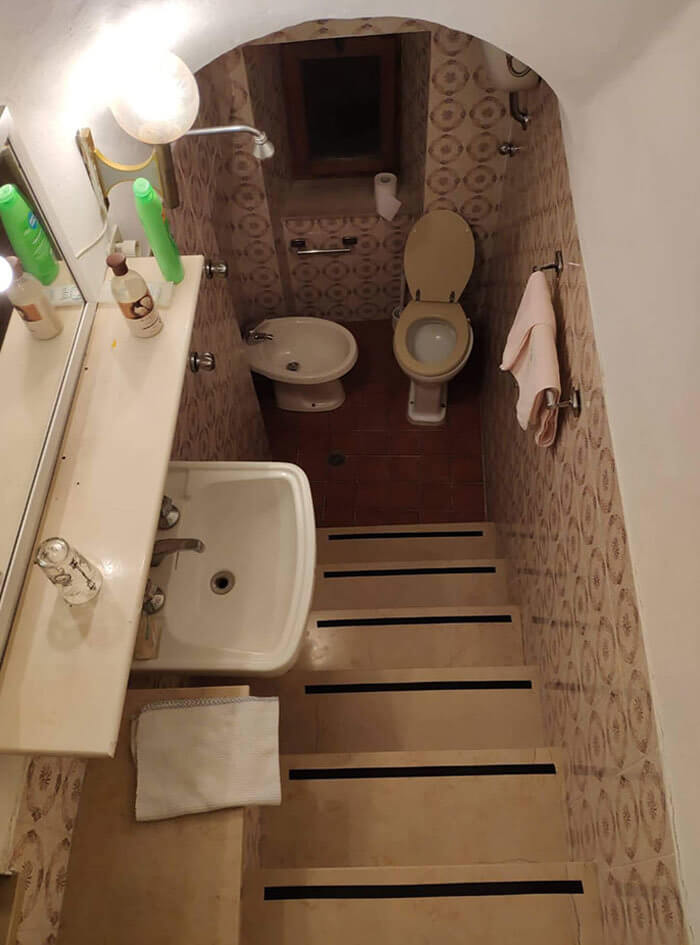 Need to brush your teeth? Just pause on the stairs at the halfway point, where you'll find the washbasin. But if you want to use the mirror, you'll need to be pretty tall!
Big Brother Is Watching!
Here we have a bedroom that takes the concept of an open floor plan to a whole new level. Who needs walls when you can have a sliding patio door as your grand divider between the living room and the bedroom? Talk about blurred boundaries! And the curtains are thoughtfully placed on the living room side, just to add that extra dash of comedic inconvenience. They really didn't think this through.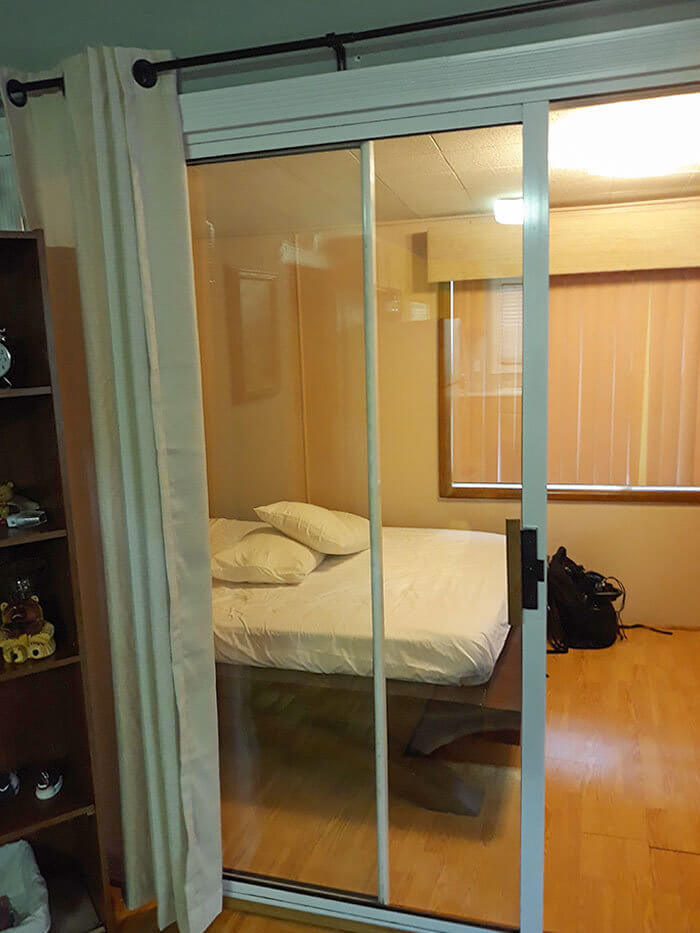 The person going to bed would have to ask someone in the living room to close the curtains so they could have some privacy. Let's hope there are no trust issues in this house!
This Kitchen Splash Looks Like a Living Biology Lesson!
Here we have a splashback that proudly showcases a stunning tile design resembling none other than a moldy aesthetic. Who needs pristine, sterile surfaces when you can showcase nature's decomposition process right in your very own cooking space? This is a great tile choice if you really do have mold in your kitchen. You can explain to your guests that it's just the tiles' design. No one will be any wiser!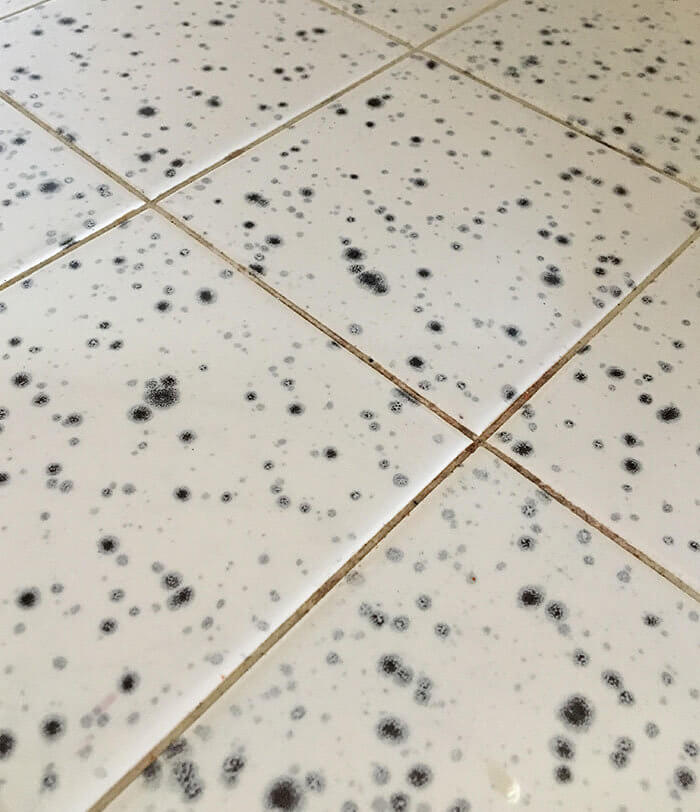 Who needs Michelin stars when you can create a culinary experience that celebrates the circle of life, even if it's a little on the fuzzy side? "Bon appétit, my friends!"
This Person Really Likes Pink!
Welcome to the vibrant kingdom of pink. From floor to ceiling, every square inch of this restroom is a riot of pink that would make even the most ardent fan of bubblegum blush. It's like stepping into a cotton candy factory explosion, where Willy Wonka's color palette went awry, and now you find yourself trapped in a nightmare of relentless pinkness. The fearless designer who unleashed this pink monstrosity will never work again!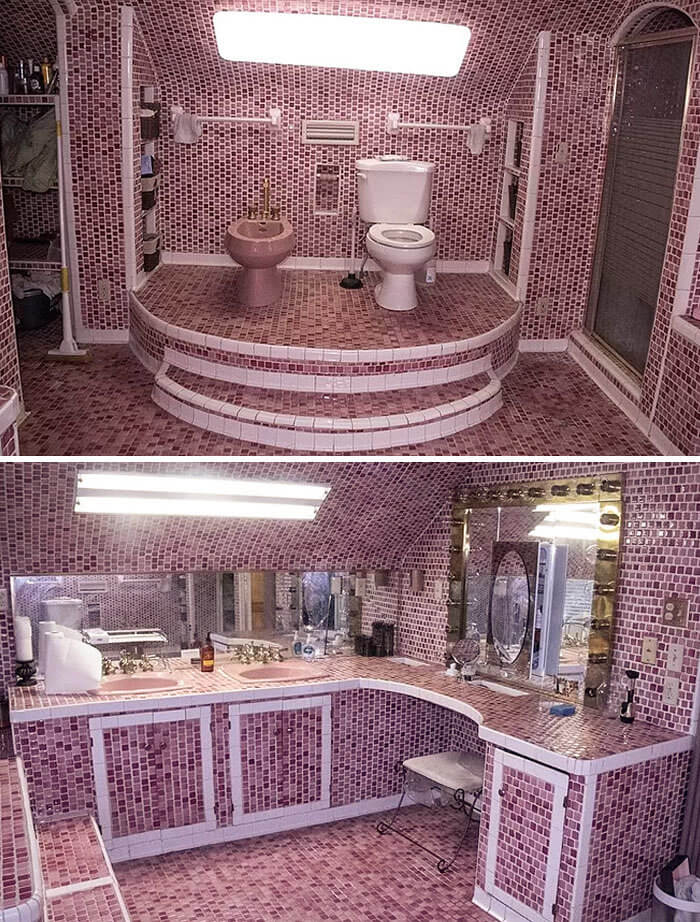 Your guests will need a color therapist to help them recover from this psychedelic pink overload. Will you emerge feeling refreshed or in desperate need of a color palette cleanse?
Definitely Not Designed by Michelangelo!
This gaudy-looking bedroom is so over the top. It's as if white trash won the lottery. It's like someone failed miserably trying to create a Sistine Chapel vibe. But it's where they placed the TV that makes this room such a disaster. It's way up on a precarious platform close to the high ceiling. It's an accident just waiting to happen. You would need binoculars to watch a movie from your bed, too!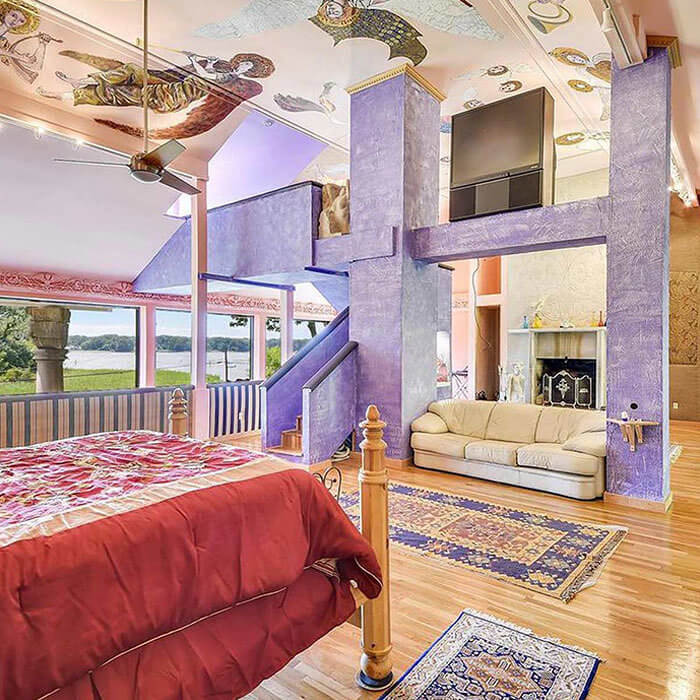 Who needs a cinematic experience when you can have a neck-cracking marathon of discomfort? You're just one clumsy step away from being crushed by the TV as you relax on the sofa!
No More Reaching for the Toilet Paper!
It's time to bid farewell to the traditional notion of personal space and embrace a whole new level of bathroom absurdity! This toilet has a seat that boasts a built-in toilet paper holder right between your legs. But at least you don't have to reach for it anymore! Whoever invented this has too much time on their hands. Are they looking for the most convenient way possible to do your business?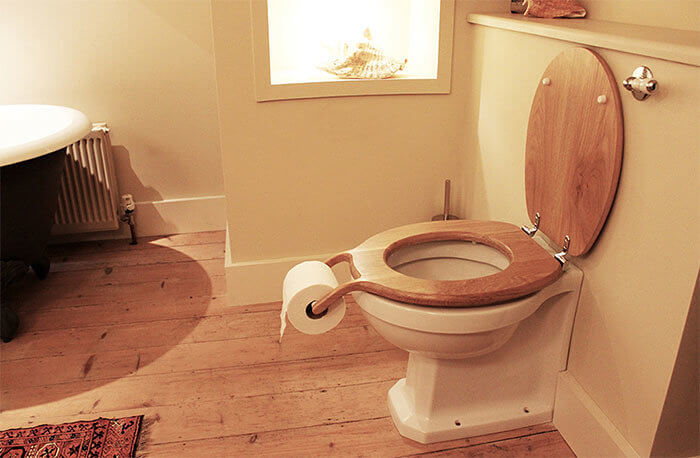 This toilet seat with the front-facing toilet paper holder is an interior design fail of epic proportions. It turns your bathroom into a circus act where all kinds of things could go wrong!
The Almighty Throne!
In this extraordinary display of architectural confusion, the genius behind this interior design fail has taken the concept of "reaching for the stars" quite literally. This raised toilet, perched upon three grand steps, demands your attention like a mighty throne from a fantasy realm. With each step, you ascend to a higher level of bathroom absurdity until you finally reach the peak of this architectural marvel. We hope you're not afraid of heights!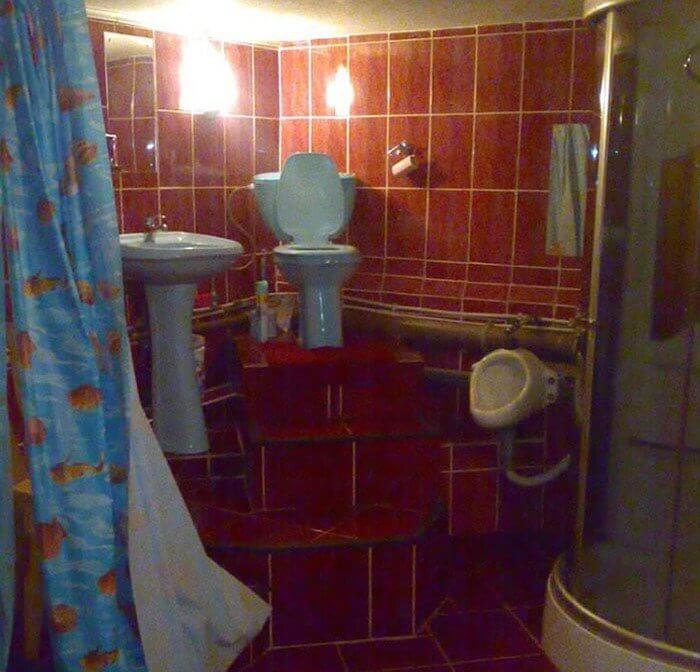 As your head brushes against the ceiling, convenience, and comfort take a backseat to sheer architectural genius. Let's hope you never have to use the toilet in a hurry!
The Stone Throne!
This DIY mosaic of stones covering the inside and outside of the toilet and bathtub is an interior design fail that will leave you with a never-ending cleaning conundrum. Every nook and cranny is painstakingly covered in stones, creating a masterpiece that will leave you scrubbing and scratching your head in equal measure. An endless battle against mold and mildew will inevitably take place in the porous crevices of this stone extravaganza!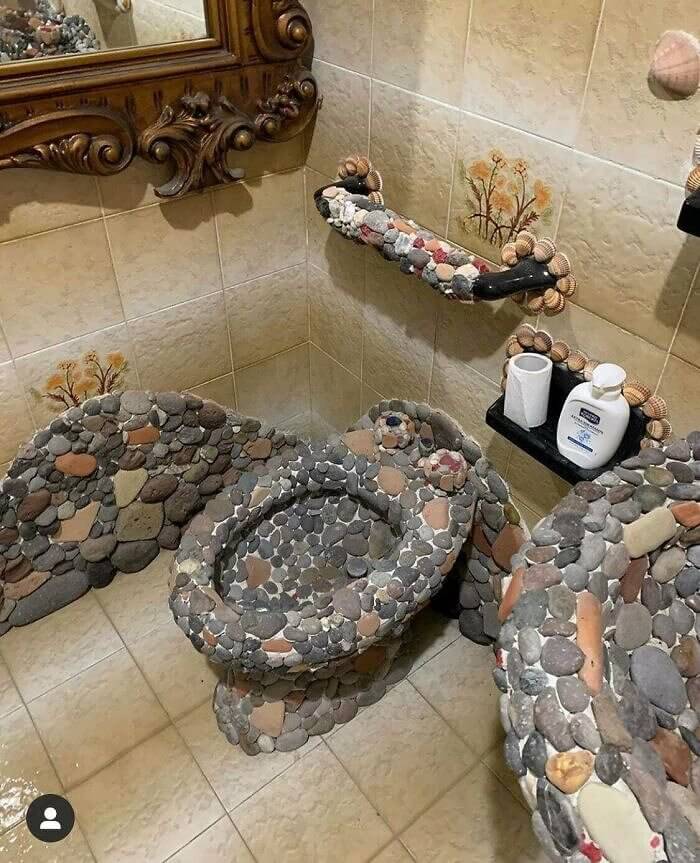 So grab your cleaning gloves and muster all your strength. It's time to embark on a cleaning adventure of epic proportions. Maybe it seemed like a good idea at the time!
Shower Entrance!
Here we have a bathroom that takes the concept of efficiency to a whole new level. When you enter this bathroom, you immediately stand in the corner shower. If you don't want to have a shower but want to enter the rest of the room to take care of some personal business, you have to open the shower screen door and step out of the shower into the rest of the room!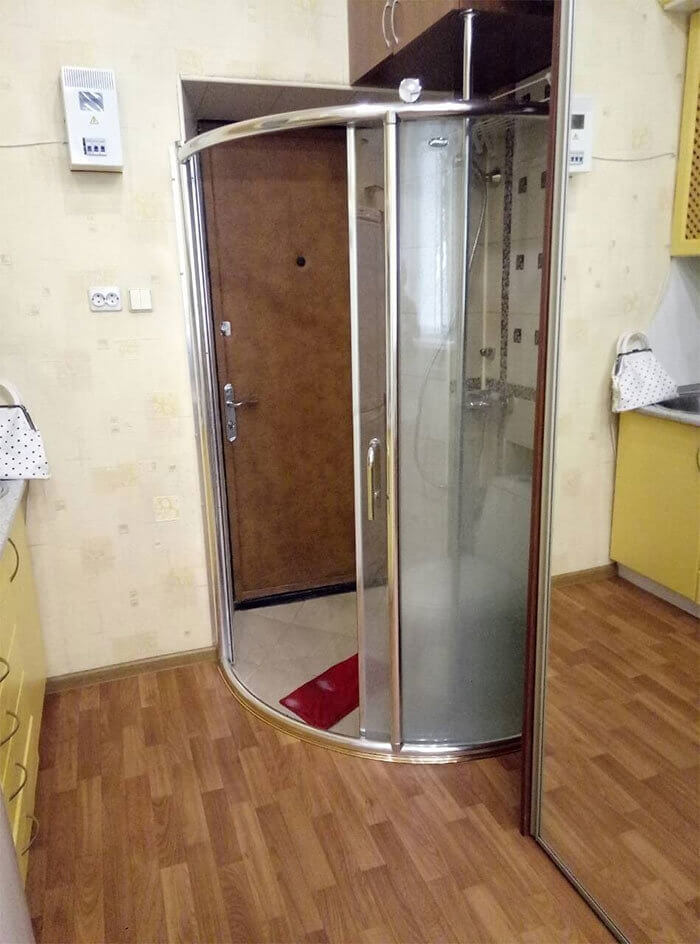 And let's hope there's a lock on the door. Otherwise, one of your housemates could be joining you in the shower if they unexpectedly enter the restroom!
Blurring the Boundaries Between Clean and Dirty!
Step into the kitchen, where cleanliness meets the illusion of perpetual filth. It's like walking into a culinary crime scene, where every step you take leaves behind the imaginary residue of past cooking mishaps. Imagine the confusion of unsuspecting guests as they enter your kitchen, their eyes widening in disbelief at the sight of intentionally grungy tiles. Maybe you've taken the concept of "shabby chic" a little too far!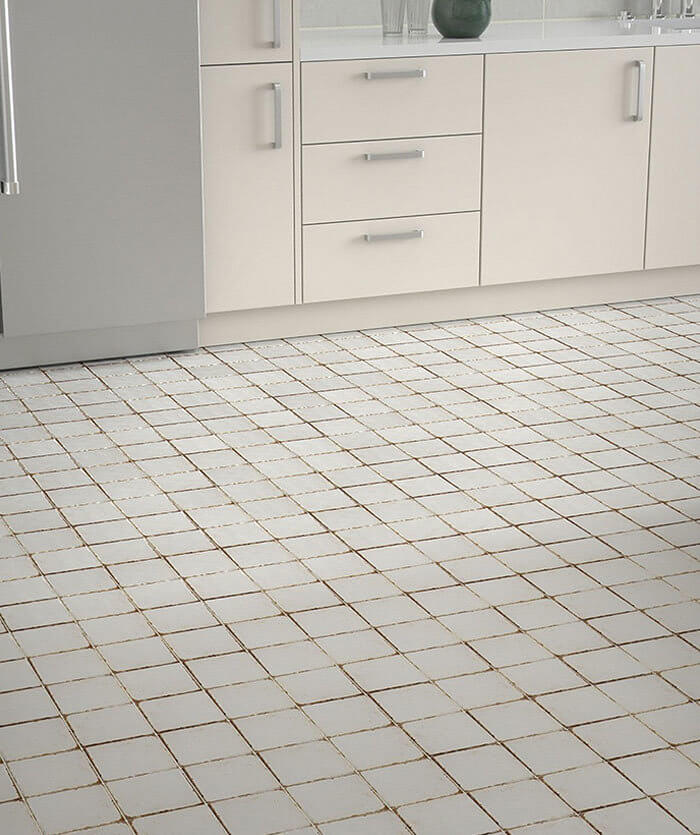 As you diligently scrub and mop, attempting to maintain a sense of cleanliness amid the intentionally dirty tiles of your kitchen, it won't be long before you question the absurdity of it all.
It's Not a Mirror. It's a Doorway!
This may look like a mirror because of its wavy appearance, but it's actually a door into the living room! It's like stumbling into a funhouse, where reality bends and twists right before your eyes. This weird design was an attempt at being creative, but it ended up completely confusing. It looks like a converted strip club. You can just imagine some strip poles and neon lights surrounding the doorway!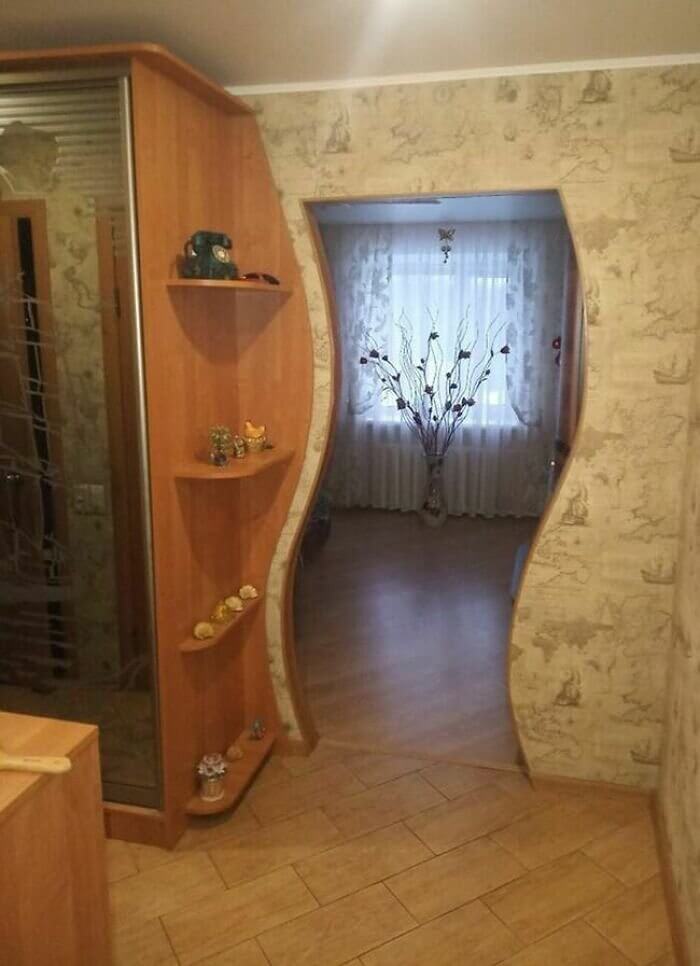 Picture the hilarious scenes that unfold as people approach this deceptive "mirror" with intentions of a quick touch-up or a discreet hair check. And best of luck finding a door to fit that shape! 
Plywood Kitchen
You'd think that it's hard to make a big mistake when it comes to kitchen design, and so did we. Well, this kitchen proved us wrong, and we don't know where to start! The woodwork just looks cheap and overwhelming at the same time. To top things off, the green tiles are such a bad choice that they'd infuriate even a color-blind person. And why is the fridge so far away?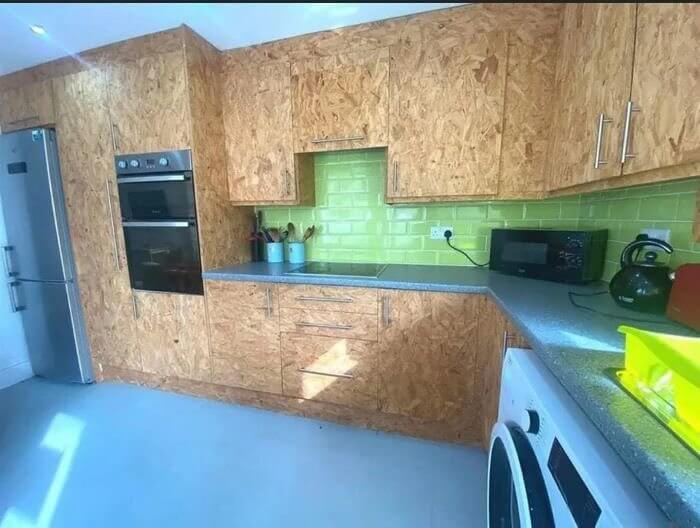 We are not sure, did the homeowner specifically ask for this? Or maybe interior designer got a bit carried away... But one thing is for sure, this is a complete disaster!

Niagara Falls... Off the Table
You'd be surprised what you can find in dining rooms across the world. This kitchen table has some charm, but the owner forgot that the main purpose of a dining table is... dining. You can barely fit a few plates and utensils here, not to mention that the head of the household would likely remain completely hungry. Well, at least he'd be able to soak his feet inside the water while watching others eat!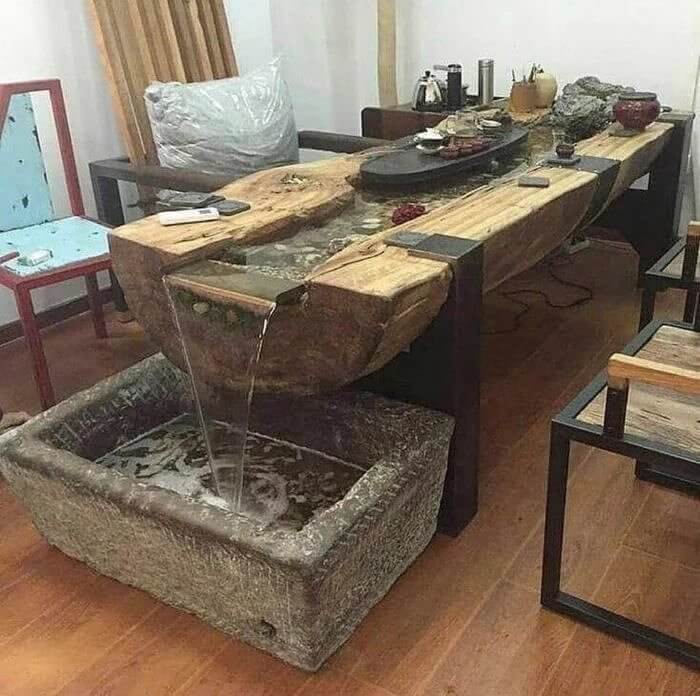 The good thing is, you're completely focused on this unusual table that you probably missed the awful chairs lined up around it. Ouch!

Bad Egg
This retro chair could have been such a nice staple piece in a living room, dining room or even in the kitchen. Anywhere else, honestly, besides in a bathroom! How is this hygienic? The bathroom is definitely an important space in a home and a comfy toilet seat is imperative. But was this, really, the only possible solution? Imagine missing your mark on this toilet, if you know what I mean.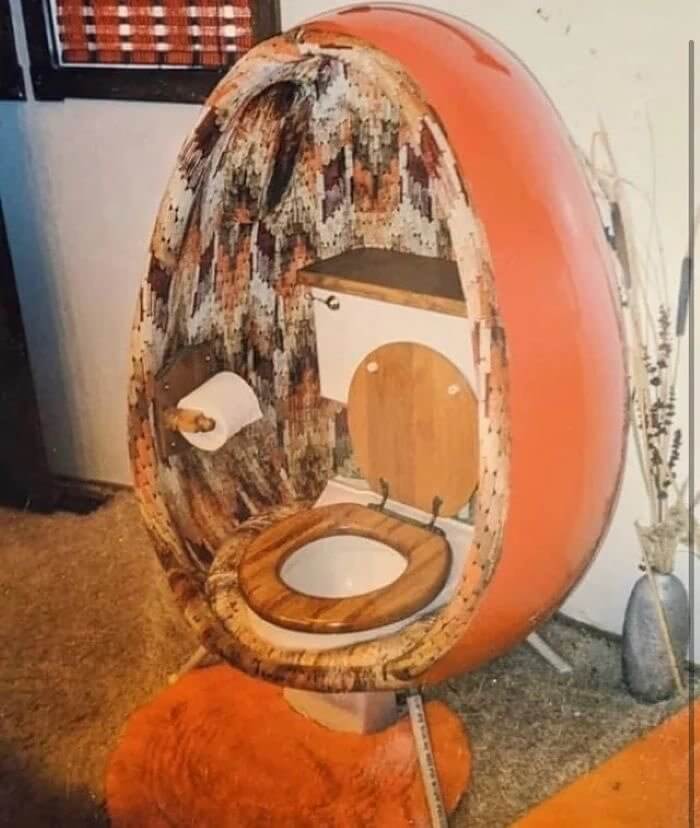 Honestly, we just feel bad for the chair. What did it ever do to deserve this? Put it out of its misery and get a new toilet ASAP!
Missed the Mark
It's hard to know where to begin with this one, because the more you look at it the worse it gets! Did no one involved in making this own a single ruler? From the uneven roof to the off-centered fireplace, you can't help but think, how does it get this bad? To be fair, it doesn't seem as though this mess would look any better even with proper execution.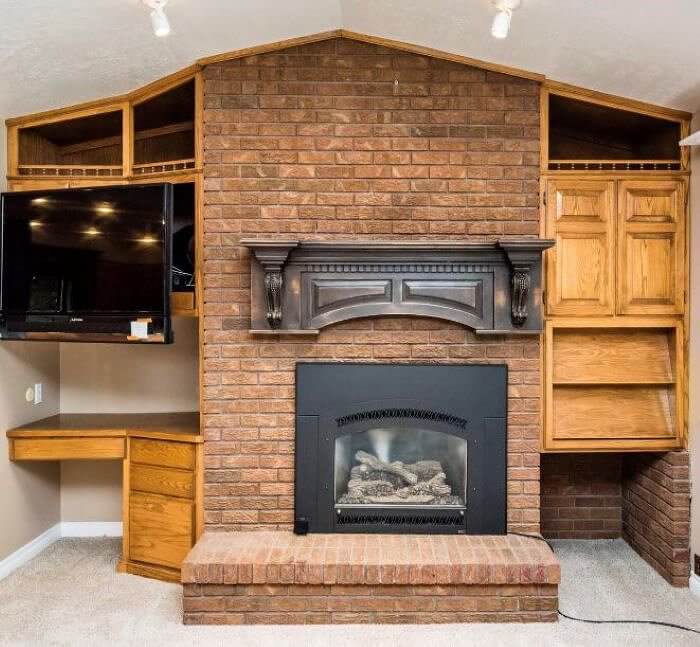 The table to the left hardly seems usable, and who has the neck strength to actually watch this TV? All in all, if we had to pick one mistake to fix, it would be building this monstrosity at all.
Out of Reach
This is what happens when you book a room online, without seeing it in person. When you arrive, at first glance you probably won't notice anything wrong with it. The furniture is minimalistic, beautiful and perfectly complements the black, stylish wall behind. You turn to the left and see a perfect spot to place your everyday belongings. And then, when you finally take a look above, it hits you...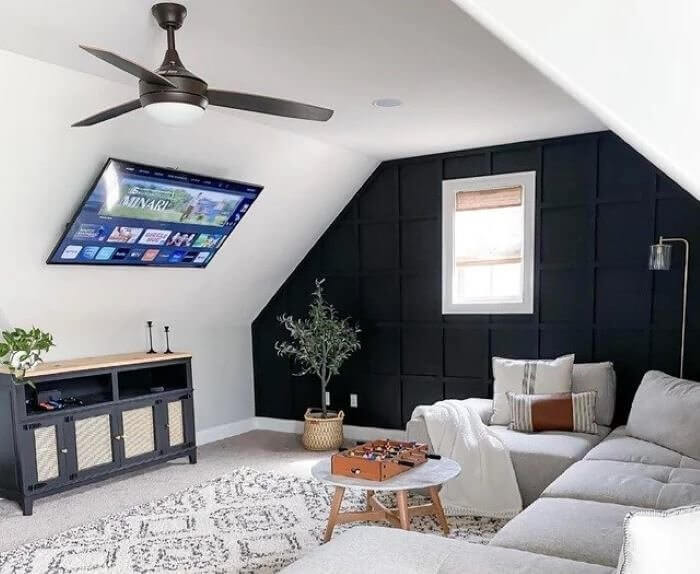 How is this supposed to work anyway? Maybe the host decided to put a TV far out of reach on purpose, so the guest would be able to enjoy their time outside!

Something's In The Way
We find it hard to believe that this toilet seat is actually built-in! The bathroom itself appears clean and well-designed, and the brass decorations suggest that the owner likely has quite a bit of zeros in the bank account. So why wouldn't they hire someone to arrange his bathroom properly? It does not take a professional to notice that there is just enough space in front of the cabinet...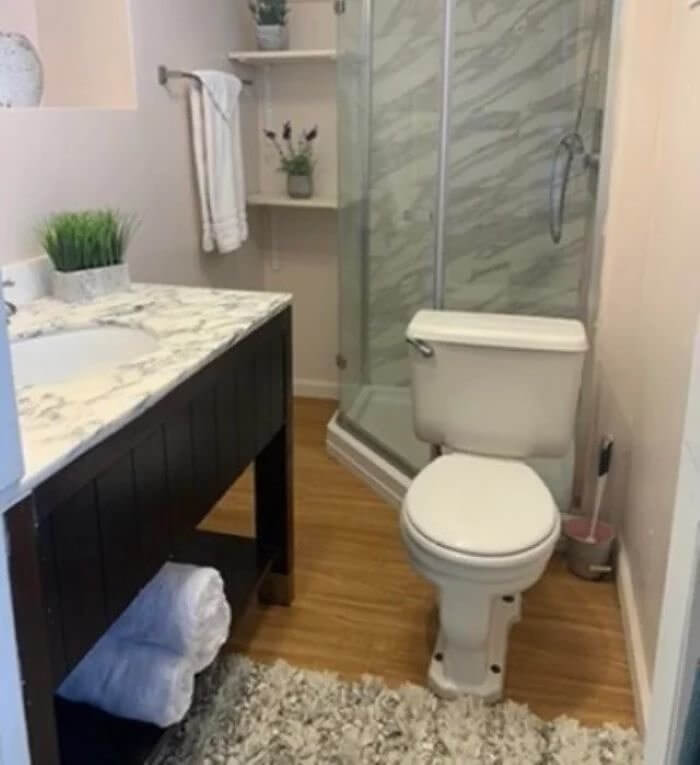 Are we being pranked for the sake of online attention, or does the owner simply lack organizational skills? In any case, it certainly gave us a good laugh!

Dyeing Room
The term 'dying room' is more suitable for this living room below. We are not sure if the owner is a professional forensic, CSI fan or just nutjob. But just imagine a painter that was required to decorate the walls! They must have been out of their mind, probably just throwing the buckets of paint on the wall to get the splatters done as quickly as possible and flee.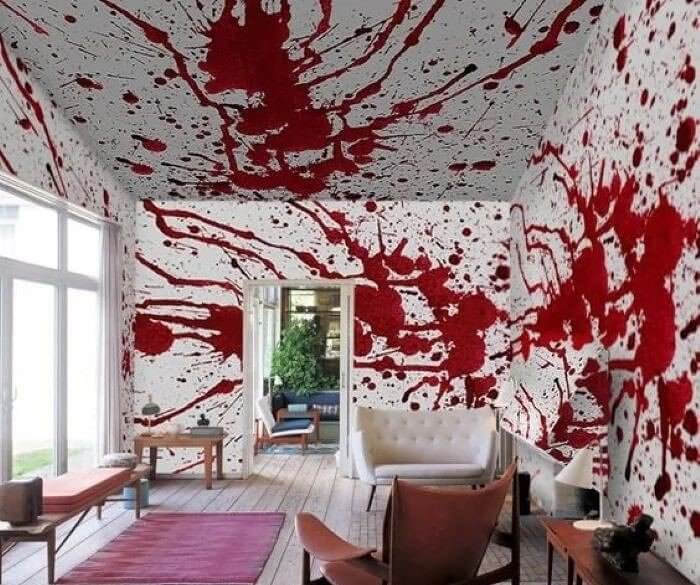 We have to say, though, the furniture inside is gorgeous. It wouldn't be surprising if someone had photoshopped these walls as an April Fool's joke. In that case, the joke's on us!

Why Is the Bike on the Ceiling?
This guy took his love for cycling to a whole new level! If you were to walk into this living room for the first time, there is no doubt about what would catch your eye first. We find this gigantic bicycle chandelier quite charming, but the shade created when the lightbulbs are lit can be quite overwhelming. Additionally, did the owner even consider the safety aspect? What if it were to fall down from the ceiling...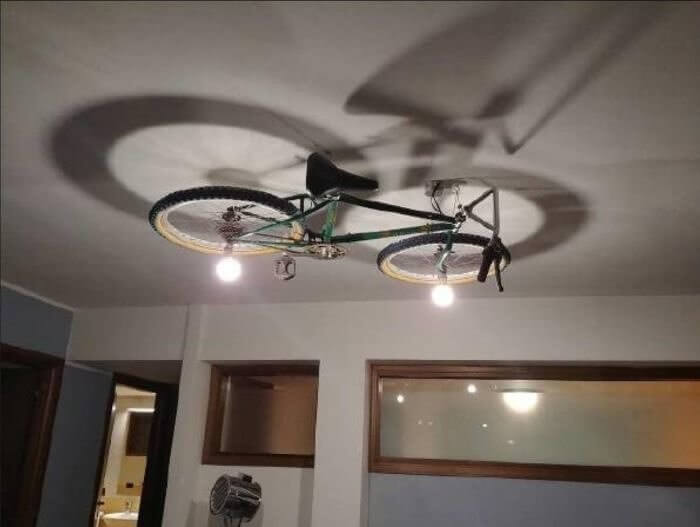 What do you think? Maybe his long cycling tours have "enlightened" him, and he decided to share that with his friends. In any case, it's a bold move!

All In One
Are we wrong to call this person resourceful? Just imagine enjoying a hot bath and then jumping straight into bed, with all the scents and aromas lingering throughout the night. We rarely see such well-utilized space, especially in modern homes! The best part is, the toilet is right behind the camera, so you'd be able to take care of all your 'important' needs without leaving your bedroom. Obviously, we are just kidding...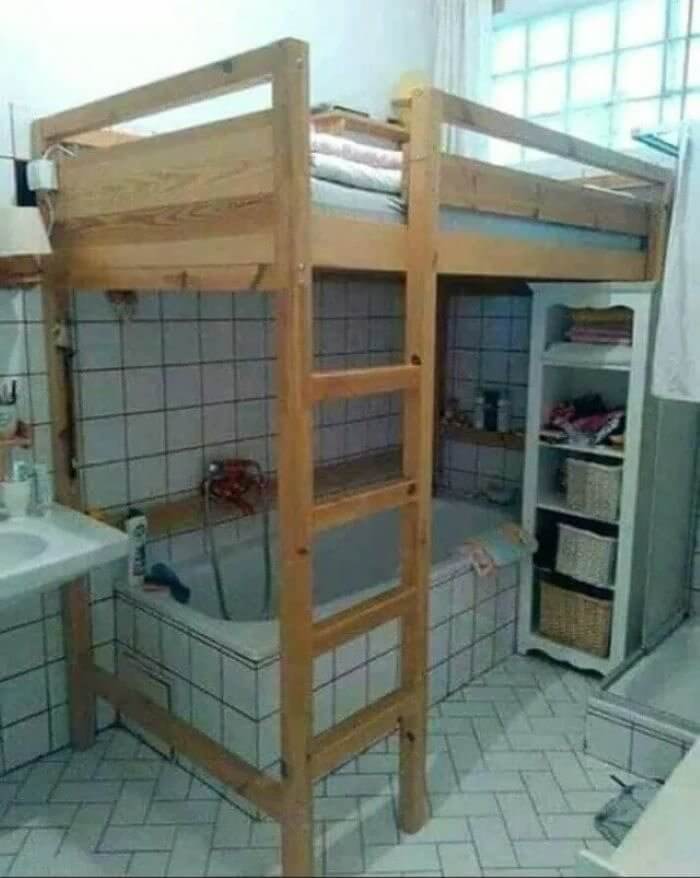 To be fair, maybe the homeowner is truly making the best use of the small space they have at their disposal. Not all people have big, luxury homes.
Are You in the Mood?
Mood rings were the emotional GPS of yesteryears. Sad? Happy? Head over heels in love? Just glance at your mood ring, it was like having a fortune teller on your finger! So, it's no shocker that this 'color-changing wizardry' found its way into other things too. But a toilet? Now, that's a plot twist! Picture this, you return home after a long day, dreaming of that soul-soothing shower, only to find a butt impression on your toilet that is not yours.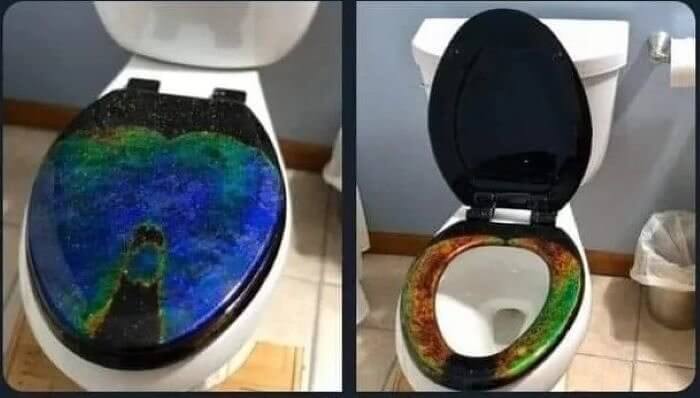 Who knew your toilet could be a way to catch home intruders? Aside from that, it could also let you know to wait a second before sitting down because no one likes a warm toilet seat.
Scaly Walls
These walls are dry. They need a m-oyster-izer! Okay, we'll show ourselves out. But seriously, we've seen a lot of weird decor things up until this point, and we don't know how to call this. Even if this was a clean, regular brick wall, it still wouldn't look appealing. So what were they thinking as they were slapping oysters around the fireplace? Were they just trying to... grill them?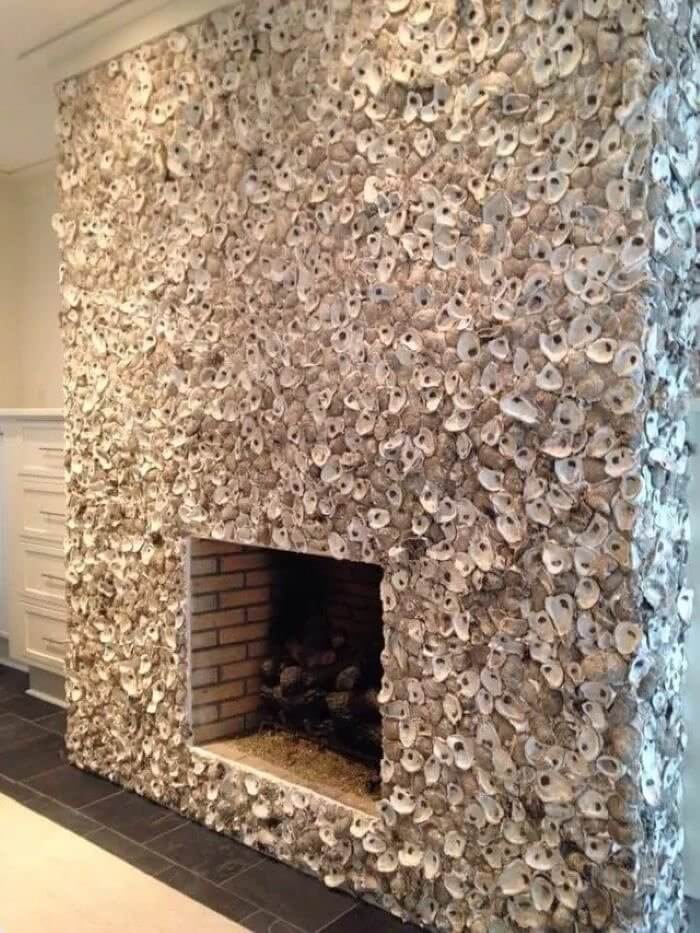 Okay, to be fair, maybe it would look better if the fire was lit and the room was dark. But for some strange reason, we doubt that's the case...

It's a Kitchen! It's a Wine Cellar! No, It's a Bathroom!
Is this a wine cellar or a bathroom? We're not sure, honestly. And who keeps pans and pots in his bathroom? Maybe there's a shortage of space, but those items certainly don't belong there. Imagine taking a bath and having a feeling you're in a pantry... Also, so many patterns scattered all around would make most people dizzy as soon as they enter! Maybe we'd take one of those bottles to enjoy, though.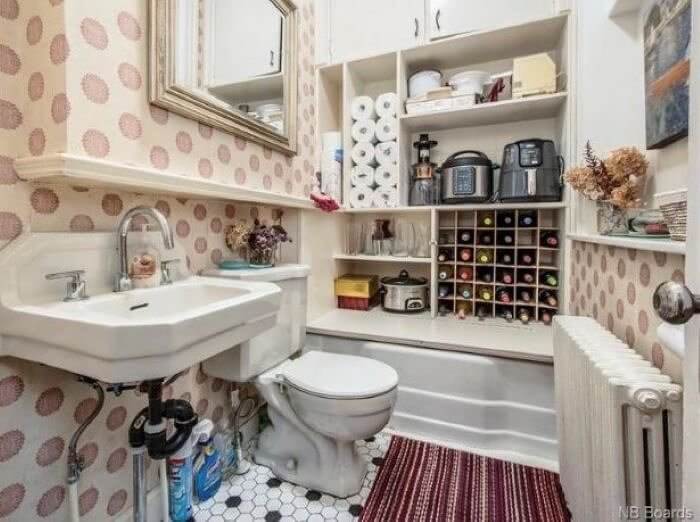 We're not saying that all bathrooms should look minimalistic, but It seems that whoever designed this room is either 80+ years old or tried their best to integrate the kitchen and bathroom into one room.

Some Things Are Better off Left in the Past
Cleopatra is probably rolling over in her grave because of this. When we first saw this living room, we thought it was designed for an Escape Room amusement. However, it didn't take us long to realize that someone actually decorated their living room like this. What were they trying to do? Fail at impressing their friends? Or maybe express their love and appreciation for ancient Egypt? It's hard to tell.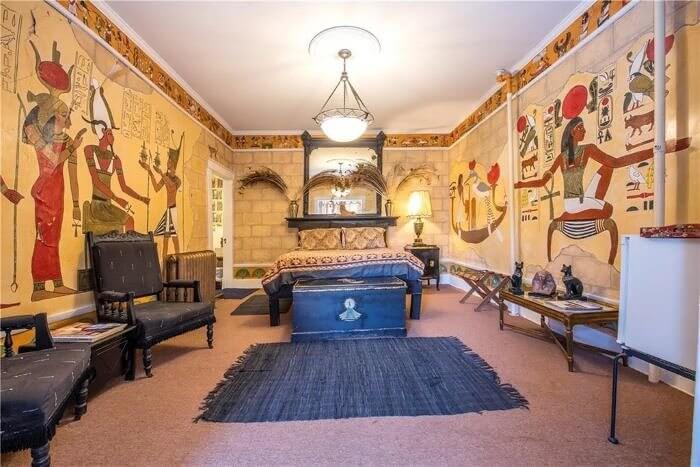 We have to compliment the painter who did the hard work on the walls, though. The frescoes look quite beautiful! It's just that they are terribly misplaced...

Hide 'N Seek
Let's play a game of Spot the Couch! It's pretty hard, seeing as it completely blends in with the wallpaper. If you're not careful, you might end up on the floor! We get the whole idea behind matching furniture and decorations in your living room, but I don't think you need to camouflage your couch into the wall. Putting aside the wall couch, who picked this wallpaper? Because it was definitely a choice!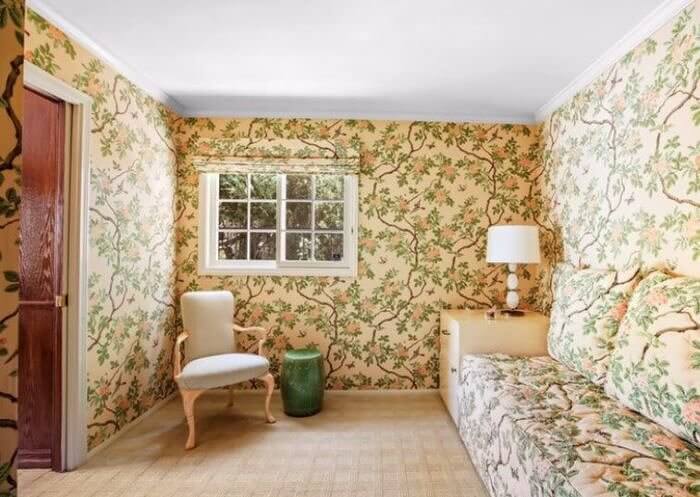 It's weird how the room is mostly empty, but so busy at the same time. Maybe next time, match the wall to the nice, simple, white chair and save your behind the pain from constantly falling to the floor.