If you are a pet owner, you will undoubtedly understand that caring for an animal involves an unwavering devotion that comes from the heart. And while we get enormous joy from the unconditional love our pets show us in return, there's no denying that the bond can also be quite expensive. Luckily, there are ways to have a happy, healthy pet without unnecessary expenses. From eliminating skin allergies to getting rid of pet pee odors, here are 25 ways to keep your pet happy and healthy without breaking the bank!
Time to Change Your Dog's Eating Habits
Are you concerned that your dog is consuming food too rapidly? Or does it seem like your dog doesn't chew a single bite before swallowing? If so, then you've come to the right place. Dog owners must slow down fast-eating dogs to avoid complications since eating too rapidly can cause stomach problems and vomiting. Put something in their meal dish as an obstruction, so they will have to maneuver around it and eat more slowly.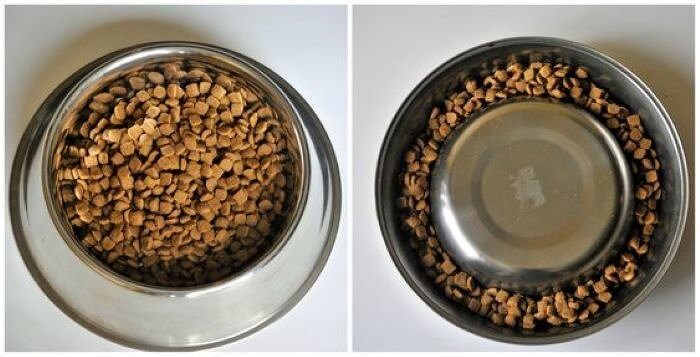 Try putting a small upside-down bowl in the middle of their usual meal dish. Place their food around the edge of the bowl so it will be more challenging to get to.
Brush Your Dog's Teeth the Hassle-Free Way
Brushing a dog's teeth is one of those duties that both you and your dog typically despise equally, but it is essential for maintaining your dog's overall health and wellness. Thankfully, there is a cheap and cheerful way to brush their teeth without having to wrestle them into submission. Find a rubber toy with hard nubs or deep grooves, as it will help clean their teeth while they play with it.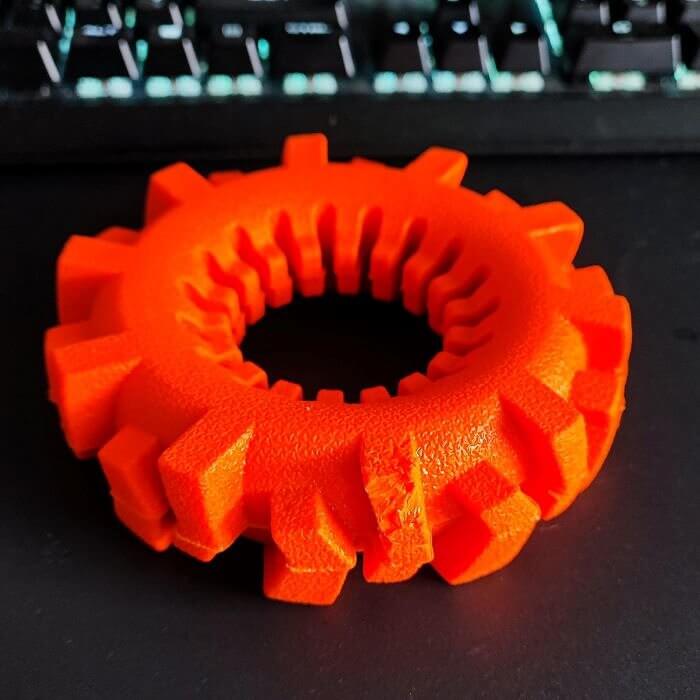 To make it more enjoyable and less hassle, apply a small amount of dog toothpaste straight on the toy to further enhance its cleaning capabilities.
Homemade Pill Pockets
It can be a major hassle when your dog is sick and you can't persuade them to take their medication. But there's a simple solution that will cost you very little. You can easily fool your pet into becoming healthy again with homemade pill pockets. The easiest pill pockets are made by cooking penne pasta and stuffing the medicine inside or by making a cut in a piece of sausage and slipping the pill in there.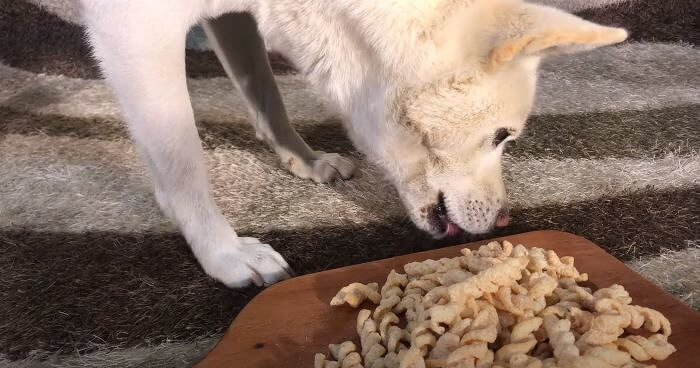 You may also roll peanut butter, milk, and flour into a ball and make a pill pocket with a chopstick. They're perfect for long-term storage in the freezer too!
A Dog Bed With Your Signature Scent
Does your dog need a new bed? If so, don't go rushing to the pet shop to buy something expensive just yet. It's time to get creative with those baggy old sweatpants and hoodies you never wear anymore. They can be recycled into a soft bed that your pet will love while you pocket the cash you have saved! Simply grab an old pillowcase, stuff it with the saved material, and sew it closed.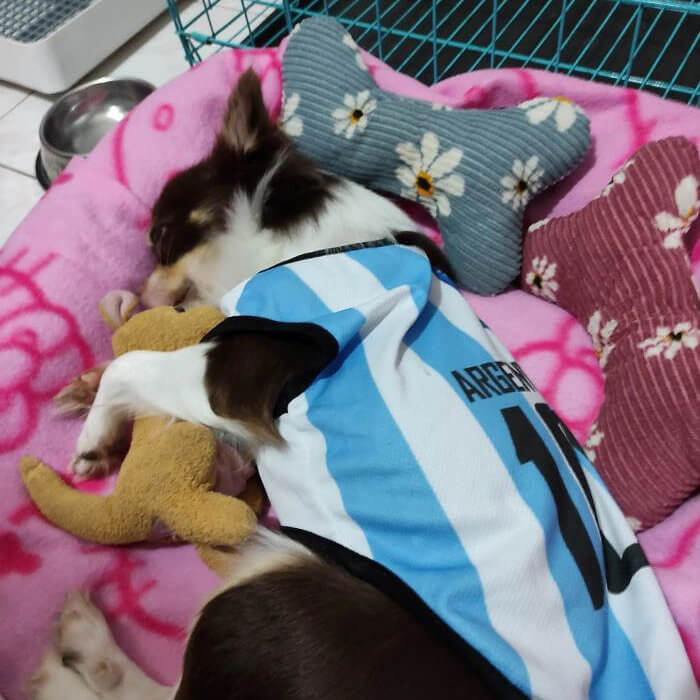 One benefit of recycling old threads is that they already have your signature scent. Your dog will feel more at ease and protected when sleeping with this familiar aroma.

Create Your Own Pet Shampoo
Ticks and fleas are the most prevalent parasites that can infest your four-legged friend. It makes perfect sense that several dog shampoo brands and varieties have been developed specifically for this purpose. But don't head to the pet store just yet! Save money by creating your own pet shampoo using things you probably already have around the house. Simply combine one cup of liquid dish soap, one cup of vinegar, and one quart of warm water.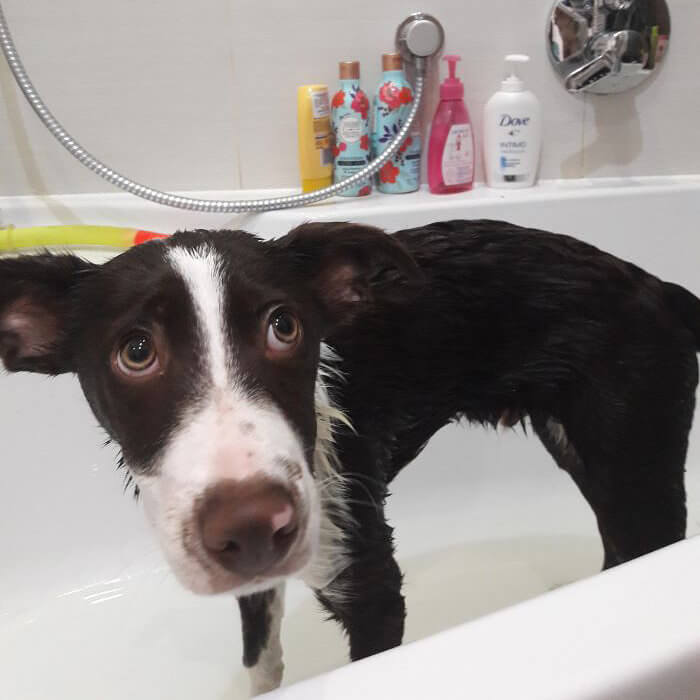 While you are bathing your pet, you should massage the solution into its skin. After allowing it to sit for five minutes, you should then rinse it off.
Bitter Apple Spray Will Keep Your Pet Away
Have you had enough of replacing chewed-up cables, shoes, furniture, and other valuables? Bitter apple spray is a great way to keep your pet away from your belongings. But this product can be pretty costly, so why not make your own? Most dogs hate the sour taste of vinegar, making it an effective repellant. Combine white vinegar with two cups of apple cider vinegar, shake well, and you're ready to start spraying the items your pet usually targets.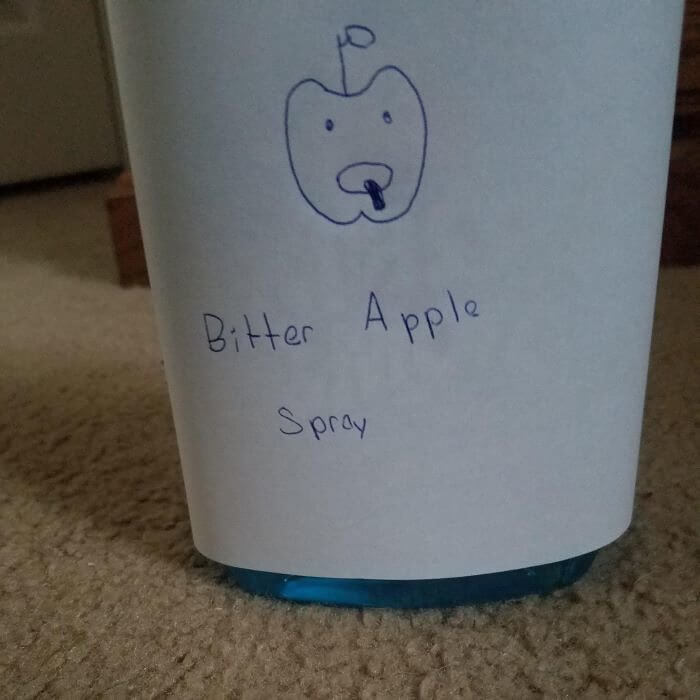 If you don't have access to apple cider vinegar, you can substitute lemon juice. Two cups of lemon juice and one cup of white vinegar is the standard ratio.
Remove Pet Scratches From Your Furniture
From vet fees to a constant supply of food, pets can be very expensive. That's why it can be very frustrating to find that your pet has left scratches on your furniture. But believe it or not, a walnut is a surprisingly effective treatment for scratches on wooden furniture. Start by rubbing the walnut directly on the scratched area several times in a circular motion so that the walnut oil can be absorbed.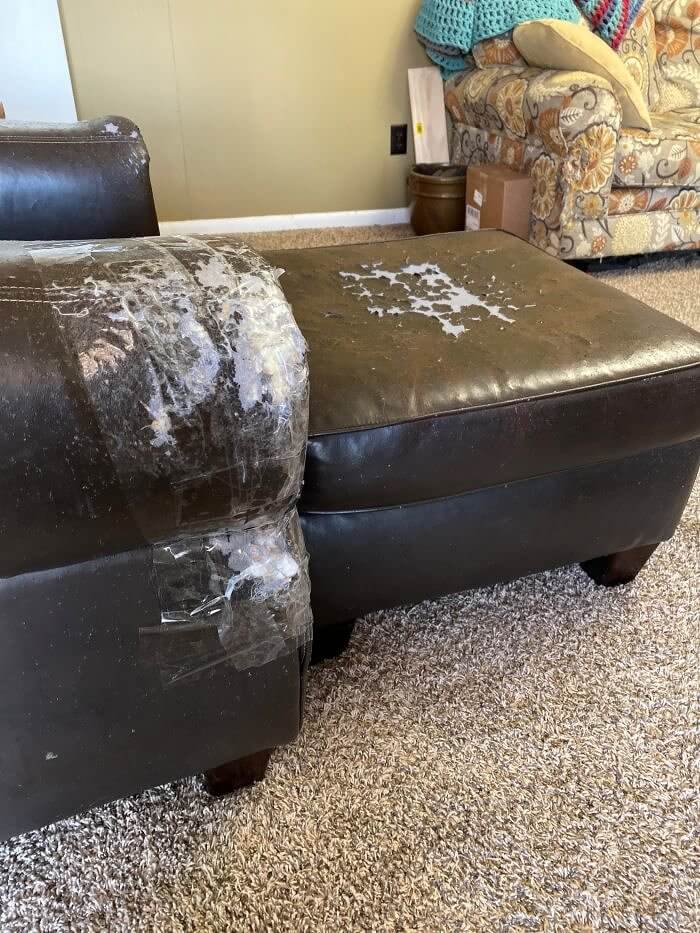 The oil will be absorbed by the wood and treat any damage. The next step is to use a soft cloth to polish the area before admiring your refreshed furniture.

Eliminate Pet Pee Odors
If you have a new pet, like a puppy or kitten, you will probably have a pee problem in your home for the time being until they are properly house-trained. And while the animal can be forgiven for not understanding your house rules immediately, there's no denying that the smell of pee can be off-putting, especially if you have rugs or carpets in your home. Here's how to get rid of annoying pet pee odors.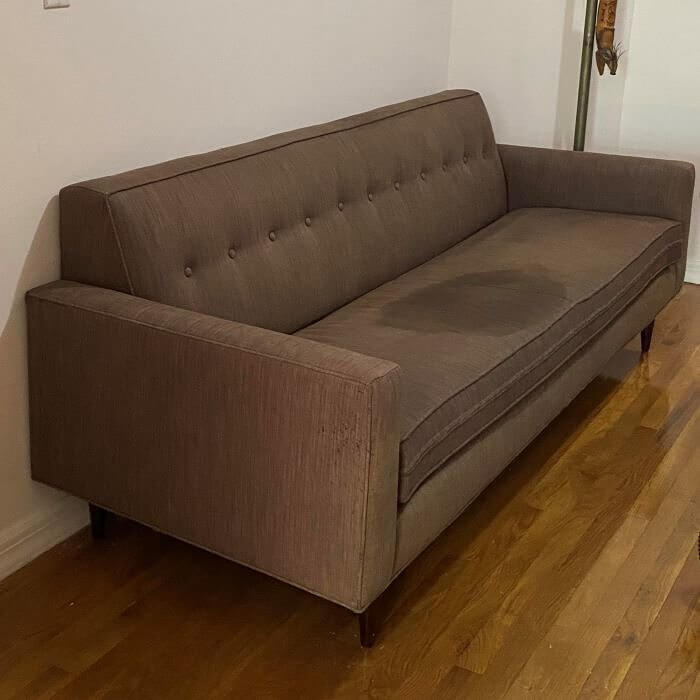 After mopping up the pee that hasn't soaked in yet, liberally apply baking soda to the damp spot and wait for a few moments. Wait until the area is dry before vacuuming.

Stop Buying Boring Treats; Make Your Own Instead!
If you find that your pet is not responding to an abundance of boring treats, try this out! Training with your cat or dog may be more enjoyable and effective if you use inventive treats. Frozen popsicle bites are a fantastic way to keep pets from getting dehydrated on hot summer days, and they will love to be rewarded with them. Puppies that are teething may also get relief from this.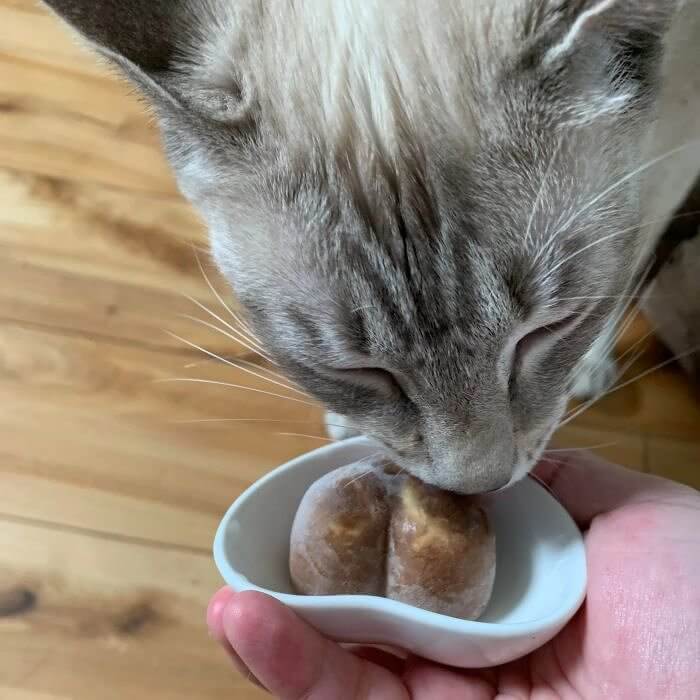 Using an ice cube tray, pour in some low-sodium chicken broth, and freeze. Other treats that can be frozen include pureed veggies, sliced fruits, or even peanut butter. 

A Remedy for a Common Accident
Most people don't enjoy clipping their pets' nails, but it's necessary for many reasons. You don't want to wind up with scratches all over your furnishings, for example. Do not become alarmed if you accidentally trim your dog's or cat's nails too short during the procedure; it happens to most people. You may even observe a small amount of blood. Baking soda or cornstarch can be applied to the wound to stop the bleeding.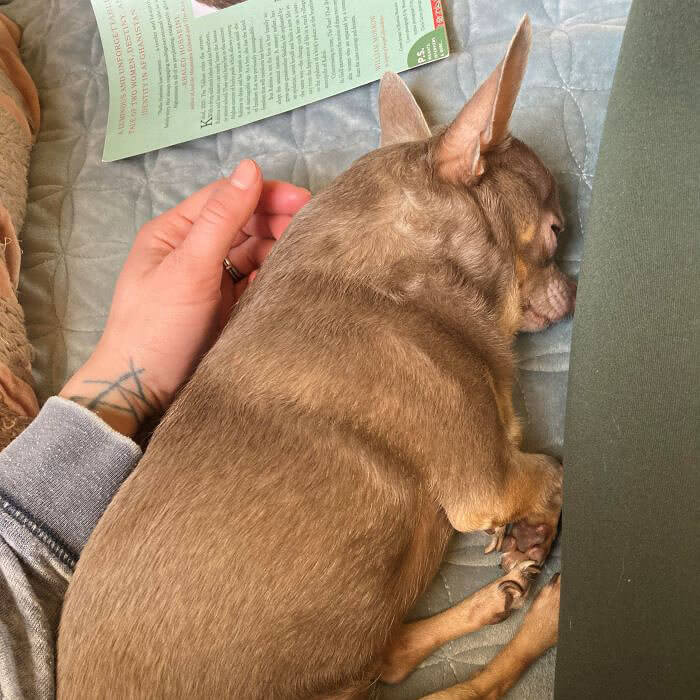 After the bleeding has stopped, you should clean the damaged area by rubbing it gently on a bar of soap. Your pet will be back to itself in no time!

Carrots Are a Welcome Alternative to Bones
If a dog chews on a bone too much, dangerous splinters may fly off and get stuck in its throat. Any one of those bone fragments might cause serious internal injuries to the dog. However, this issue may be avoided entirely if you provide your dog with carrots to gnaw on rather than a bone. When compared to a bone, the orange root vegetable is not only safer to snack on, but it's also better for the animal's physical safety.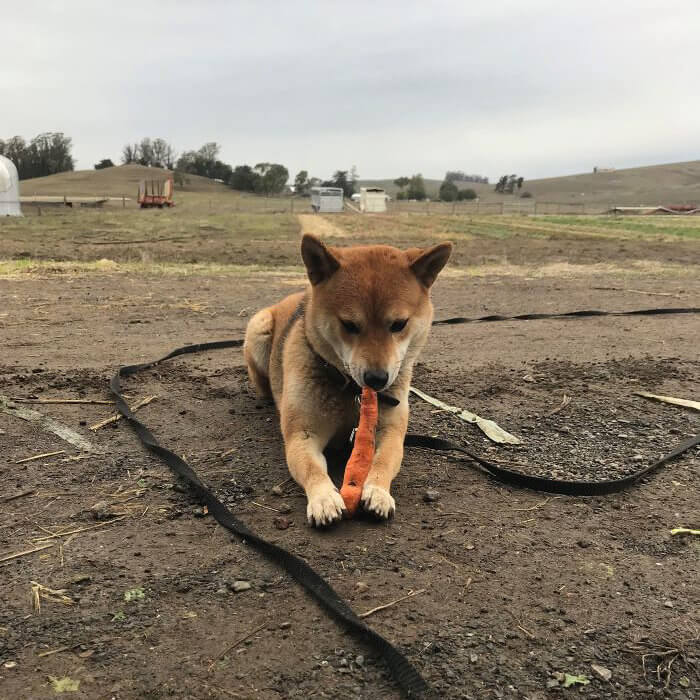 Raw carrots have a satisfying crunch, are good for your pet's teeth, and will keep your hound satisfied for hours. But cooked carrots are easier to digest.
Neem Tea Will Keep Your Cat Flea Free
A prophylactic treatment once every few months is recommended whether or not your dog or cat is showing any indications of fleas. Fleas on dogs may be effectively avoided using a mixture of 100% neem oil, vegetable oil, and aloe gel. Use your hands to work the solution into your dog's fur. However, you should never put neem oil or anything containing it on a cat since it is toxic to them.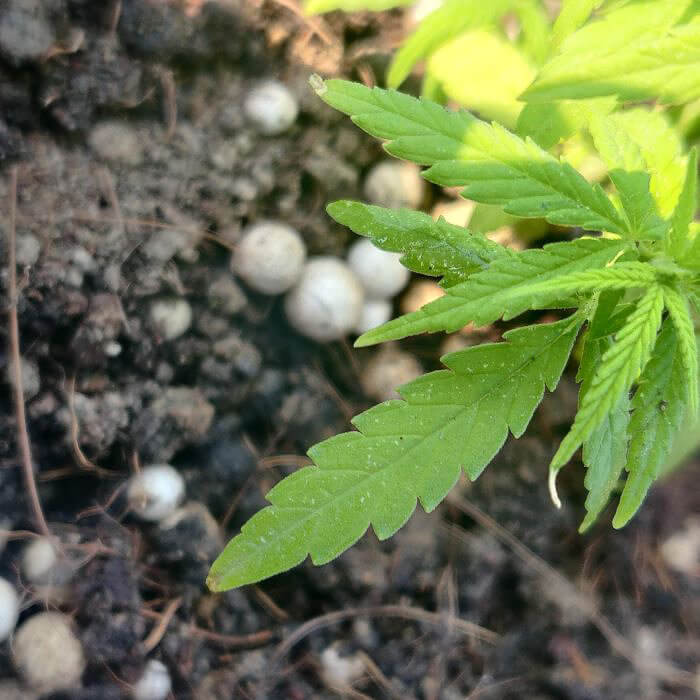 Alternatively, neem tea leaves that have been steeped and cooled are safe for cats. Keep your cat flea-free by applying tea to it in the same way you would apply oil to your dog.
How to Find Fleas
It is important to treat fleas seriously. When left unchecked, these small pests torment and infest dogs and cats like little vampires, and they won't leave once they've had their fill. As far as the fleas are concerned, they are there to stay! Pet owners should get flea medication as soon as the little bloodsuckers appear. However, how can you tell if your friend is infected or if it is simply dirt?

Get your pet to stand on a white sheet or towel, then comb or brush its fur or hair. Fallen fleas should be easy to spot on the white background.

Coconut Oil for Cats
Some cat owners occasionally include a tiny bit of coconut oil in their feline family member's diet. A quarter of a teaspoon of the oil is said to help eliminate hairballs. And while coconut oil has been proven to benefit your cat's health, it's not without its pitfalls. Some cats may have digestive issues if exposed to oil. Diarrhea is a warning sign that suggests you should try alternative methods.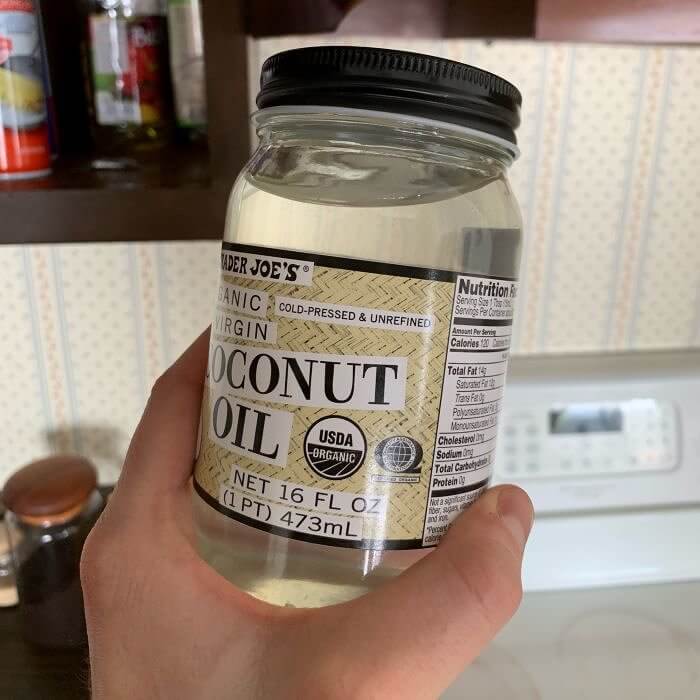 You should monitor your cat's health closely for a few days after trying the oil. If it seems healthy and like its normal self, then the coconut oil is probably having a positive effect.
Eliminate Any Kitty Litter Odors
These days, most kitty litter companies claim that they can conceal all the odors that cats leave behind when they do their business. And while there may be some truth in this, many kitty litters are not very effective. But fortunately, the answer to this situation may be right under your nose. If your cat is leaving behind awful odors in their litter box, try adding some green tea leaves.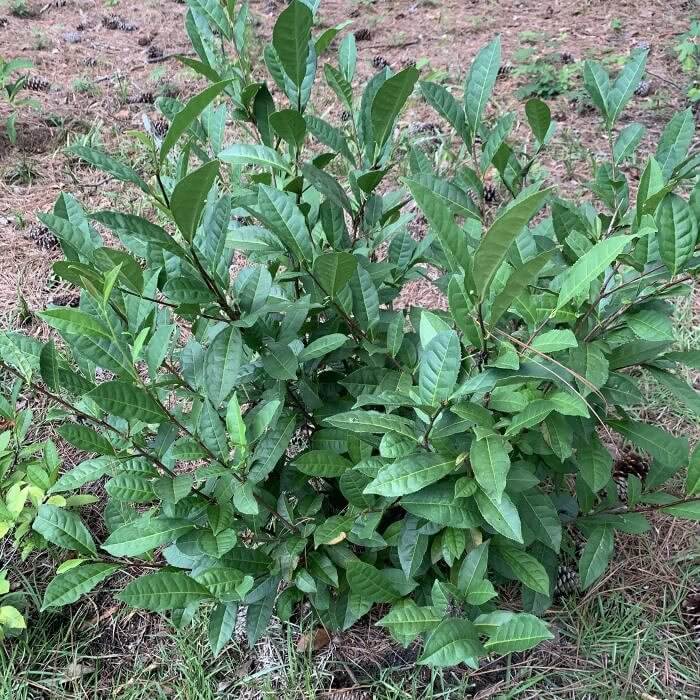 Not only will the green tea leaves soak up what your cat has left behind, but they will also eliminate any bad smells, leaving your room feeling green tea fresh!

Take Dry Skin Seriously
Suppose you consider your pet to be part of your family. In that case, you have a duty to watch out for any unusual behavior they may be exhibiting. You should take your small pet to the doctor for a brief checkup if you find them scratching more frequently than normal or having excessive dandruff or flaky skin. Allergies in pets should be treated carefully. Like in people, dry skin is an indicator that something is wrong.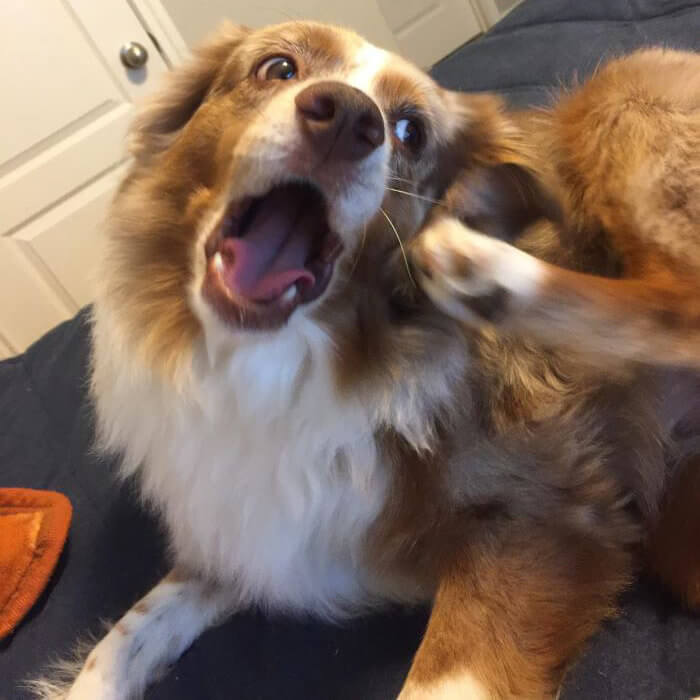 Most skin allergies in dogs can be addressed with a dog moisturizer, but occasionally a veterinarian may advise allergy relief shampoo as a welcome alternative.
Make Pet Hair a Thing of the Past
Are you sick and tired of discovering pet hair all over the couch or, even worse, the dining area? The following hack is simple, inexpensive, and requires just one item, a pair of rubber dishwashing gloves. While simply wearing the rubber gloves, wipe your hand over the area on the sofa or tablecloth where your pet has shed its hair and watch as the hair sticks to the rubber glove.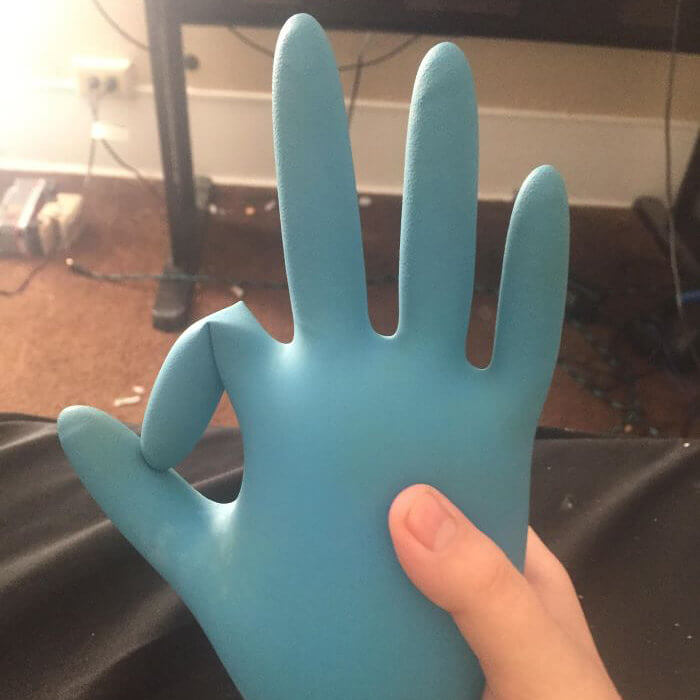 If you are going to spend time de-furring your home, you might as well do it the easy way. This rubber glove hack is simple but effective.

Eliminate Excessive Pet Hair the Easy Way
There are several benefits to including a pet in the household. Hoping that their hair won't be all over the place isn't one of them. Clogged drains are a common problem for those who own shedding animals whenever the pet needs a bath. And unclogging those drains is not a pleasant job. Simply placing a baby wipe over the drain before bathing your pet will eliminate any major blockages from excessive hair loss.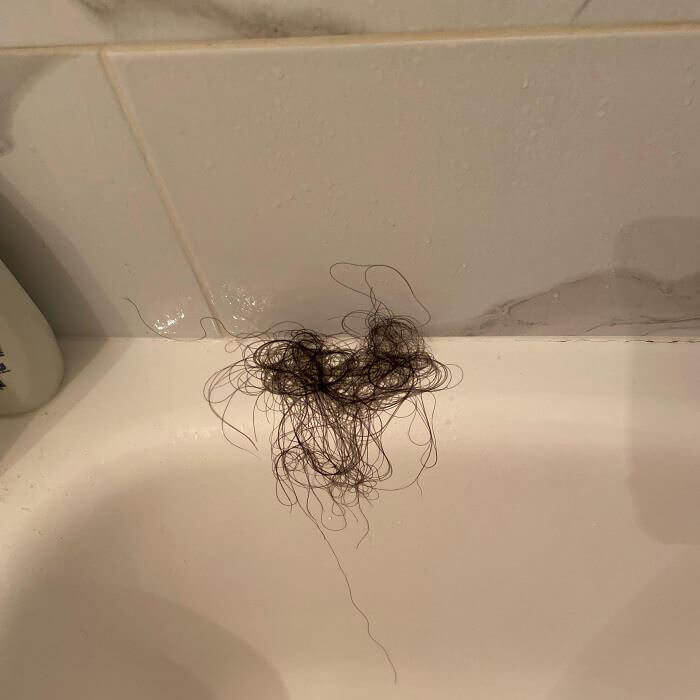 The gathered cat or dog hair can be easily removed from the bath, saving you time and money while leaving you to have your shower in peace.

Homemade Tug-Toys
When a pet owner finally returns home from work, the pet cannot help but release all of its pent-up energy, and that pet's happiness is really contagious. Dogs and cats alike can greatly benefit from playing with tug toys designed to release pent-up physical and mental energy. However, the price of all these toys can mount up quickly. Well, with an old pair of jeans, you can make your own.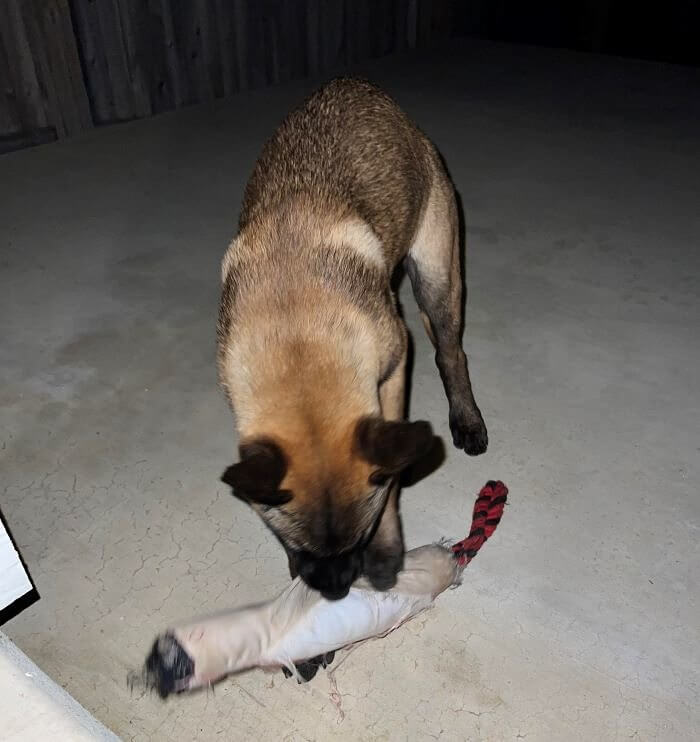 Take an old pair of jeans and cut them into strips. Grab three separate bundles of strips and braid them together. Then zip-tie both ends and go play tug of war with your pet!

Keep Your Puppy Entertained Without Lifting a Finger!
Does your dog ever want to play, but you don't have the time? Finding activities that will keep your dog entertained without your assistance can be pretty tricky. Instead of buying a bunch of dog toys your puppy will probably never play with, look around your home for an old tennis ball and grab a handful of your dog's favorite treats while you're at it. Your dog will love you for this hack!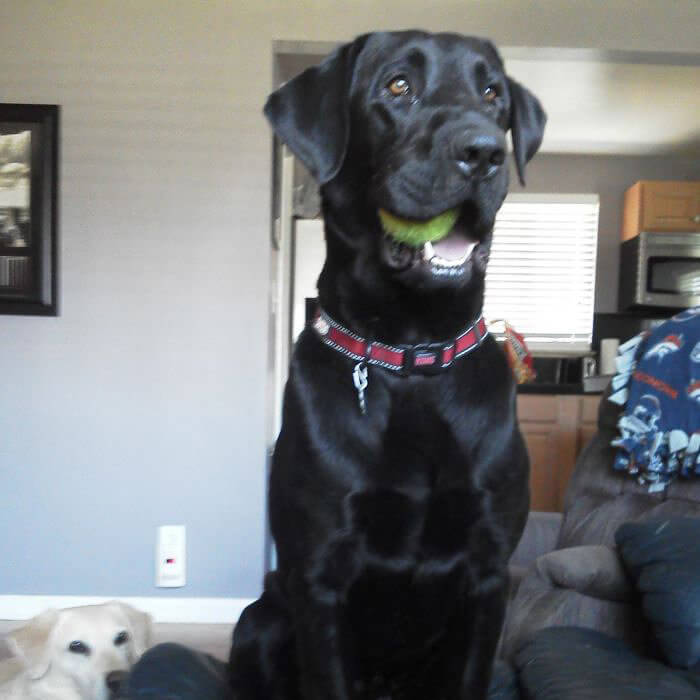 All you have to do is cut a hole in the tennis ball that is big enough to hold the treats but not so big that they'll fall out. Now you and your pup are happy!

Protect Your Doors From Getting Scratched
Have you ever noticed that cats and dogs love to scratch at door frames for various reasons? It's hard to tell why for sure, but the most popular theory is that they're attempting to access a room to which they think their loved one has escaped. If this is a recurring problem, consider purchasing contact paper to cover the affected areas of the door. The size of the perpetrator will determine the size of the contact paper needed.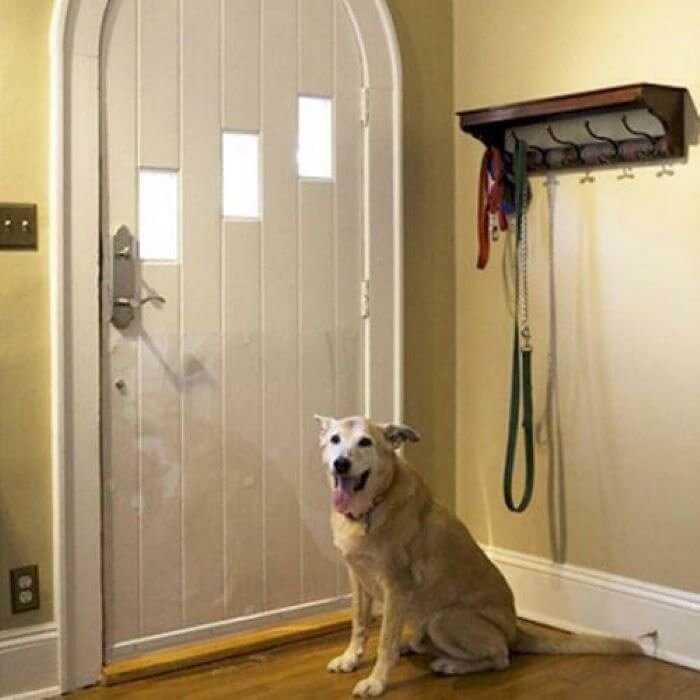 Clear, transparent contact paper will hardly even be noticed on your doors. So if your pet does have a scratch from time to time, you won't need to worry.

Puppy Prisoner for Peace of Mind
Do you have trust issues with your dog when it comes to leaving her outside alone? Is she able to slip through the fence unnoticed? Well, instead of replacing the fence, a harness designed to prevent your puppy prisoner from escaping may be the answer you're looking for. They can save you a lot of time, and you will have peace of mind that your adorable dog is safe and sound when you're not looking.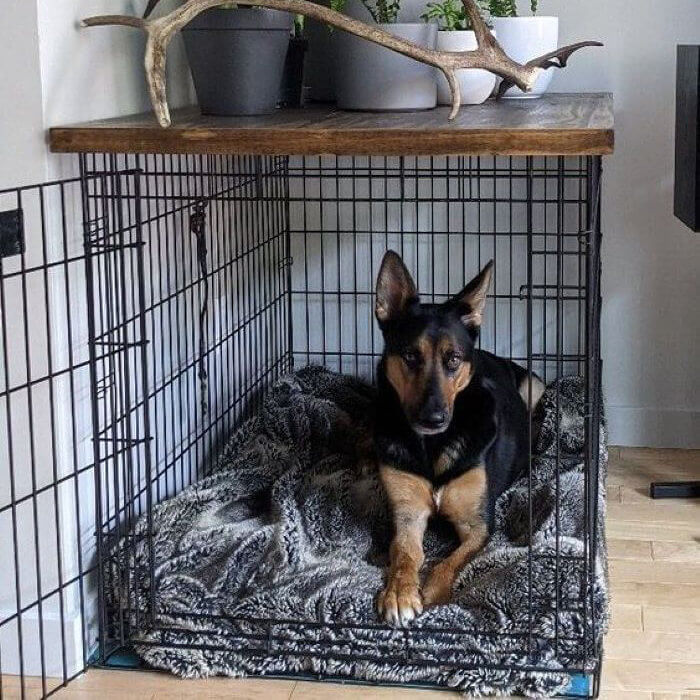 The design of these harnesses is quite simple. The only noticeable difference between them and a standard harness is the addition of a horizontal "stick" at the shoulders.

Keep Pet Food Dry for Longer
When storing dry food for your pet, you should take the same precautions as when storing cereals, rice, and other dry commodities in your home after opening them. Your pet will appreciate it if you ensure their food is appropriately protected from exposure to air and insects. Plastic Tupperware containers with secure lids are perfect for keeping your pet's food fresh and tasty. Plastic containers are way better at preventing moisture absorption than paper bags.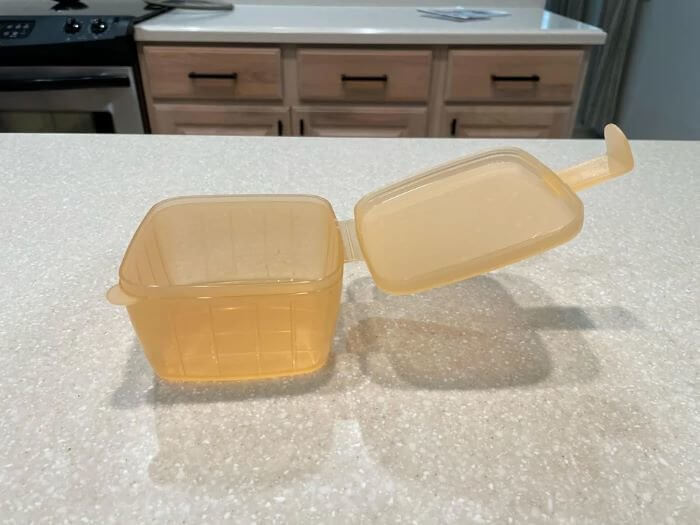 Pet food will always last longer if kept dry, but that is not always possible if the food is left in the paper bag you received it in. 

Avoid Arthritis at Any Cost
Many dogs get arthritis-related issues as they age, especially the bigger varieties. The good news is that veterinarians now agree that turmeric has anti-inflammatory effects in dogs susceptible to developing arthritis. All it takes to assist your dog's long-term quality of life is a sprinkle of turmeric with breakfast and a pinch with dinner, and your four-legged friend won't even notice it's there. But that's not all this really healthy root can do to help!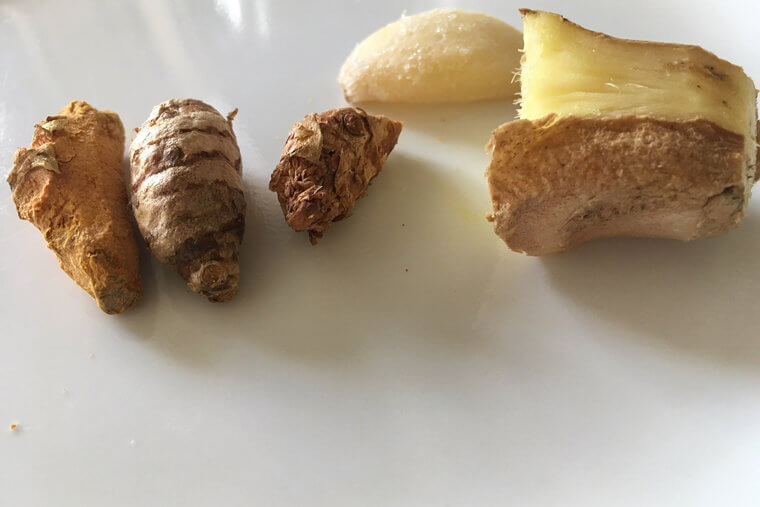 Turmeric also lessens intestinal inflammation and may stop canine cancer cells from growing. There is nothing worse than watching your best friend suffer from arthritis.

Tin Foil Table Top
Cats are naturally nosy creatures, and as a result, they frequently crawl into and onto objects they shouldn't. For most pets, there are training methods that may give you the results you're looking for, but sometimes the pet in question could end up being afraid of you. Spraying water on a cat's face when it jumps on the table, for example—believe it or not, many people use this method.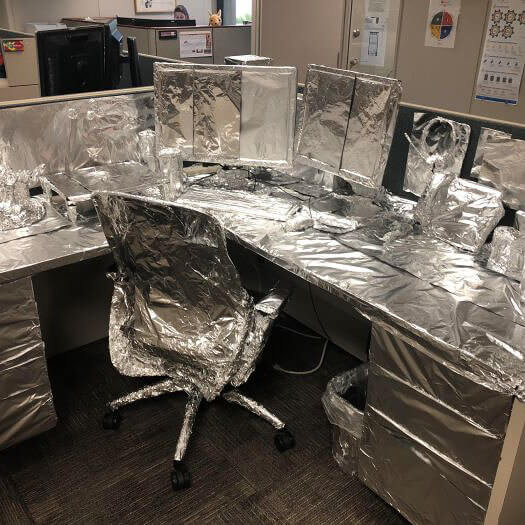 Instead, place aluminum foil on any surfaces you want the cat to stay away from. Once your cat lands on this noisy surface, it won't do it again.