We all want to transform our living spaces to reflect our character and personal style. One of the simplest and most effective ways to achieve the objective is to add a beautiful welcome sign on the porch. This small touch can instantly add appeal to your curb, transforming it into a sightly feature for welcoming guests.

Why You Need a Welcome Porch Sign

We all have been there before. We spent hours looking for the perfect dress or suit to wear to the first date because we wanted to impress. The same way nice-looking clothes impress on the date is the reason your home's porch needs an impressive welcome sign.

Not only do the signs serve as warm greetings to visitors, but they also provide a unique and personal touch to your home.

A well-designed welcome porch sign can also set the tone for the rest of your home's decor. However, you also must select the welcome sign style that complements your home's exterior. You can do this by first learning about the various types of welcome signs.
 
Types of Welcome Signs for Your Porch
You can use many signs to lighten up the look and feel of your front door's curb. Let's discuss the four primary ones:

Rustic:

A rustic welcome porch sign might be the way to go if you're going for a cozy, cabin-like feel. These signs are typically made of wood. They feature natural, earthy tones that give them a warm and inviting look.

Classic:

Classic signs resonate with people with a more traditional sense of style. The signs are typically made of metal or ceramic and feature simple, elegant designs that never go out of style.

Modern:

Modernists are often adventurers. They seek the means to experience things that feel non-traditional in every sense. Signs in this category often feature clean lines, bold graphics, and bright colors that make them stand out.

Hand-Painted:

Consider a hand-painted welcome porch sign for a truly unique and personal touch. These signs are made to order and can be customized with your own design or message, making them a one-of-a-kind addition to your home's exterior.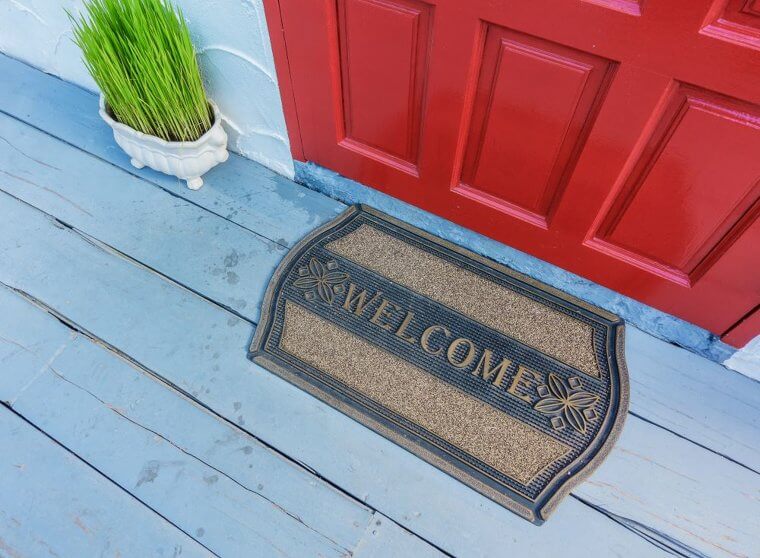 Some Welcome Porch Sign Ideas You May Want to Consider

Rustic Wooden Sign

These give your porch a warm, cozy feel. You may spice it up by choosing a design with a charming message or your family's last name for a personalized touch.s

Hand-Painted Ceramic Plaque

Every artist has a unique way of doing things, guaranteeing that a hand-painted ceramic plaque will always be special. These signs add a natural color to the porch. The best signs have bright colors with bold lettering for an upbeat look. 

Floral Wreath Sign

These signs are characterized by cheerfulness. Your guests will be happy to be welcomed by a wreath made from fresh or artificial flowers. The variety of colors and scents (for fresh flowers) will catch the guests' attention.

Metal Monogram Sign

A metal monogram sign adds sophistication and style to your home's exterior. The best signs in this category incorporate a personalized touch, such as your family's initials.

Stone Plaque

Stone plaques are ubiquitous in homes with a classic sense of style. The signs are timeless and reflect the family's oneness with nature. The best signs have a simple message or your family's name for a touch of elegance.

Hanging Basket Sign

A hanging basket sign is a cheerful way to greet guests. It allows you to decorate the porch in a way you love. For example, you may fill the basket with fresh flowers for a more natural look or artificial flowers for a pop of color.

Final Thoughts

Your front porch is your home's most important feature. It makes a great first impression on your guests when you dress in exquisite style using carefully chosen welcome signs.