Has anyone ever bothered you to the point that you would like to take revenge? But because you don't want to seem too aggressive, you must take a more indirect approach to let them know they're a real douchebag. Well, get ready to laugh out loud as we share some hilarious passive-aggressive stories with you! From a mom who cleverly took revenge on her young son for being a real brat to witty signs to sassy notes left out in public for all to see, these stories are all about how people cleverly express their feelings without scaring the life out of their target. Join us as we explore a world of passive-aggressive communication and discover how people use humor to handle everyday frustrations.
Marshmallow Mayhem
My kid had been acting like a real little brat lately, wreaking havoc left, right, and center. So, I decided enough was enough. It was time for some mom-style revenge. Those sweet, colorful marshmallows in his Lucky Charms that he loves so much were about to disappear without a trace. With ninja-like precision, I snuck into the kitchen the night before and carefully separated the marshmallows from the boring grain cereal.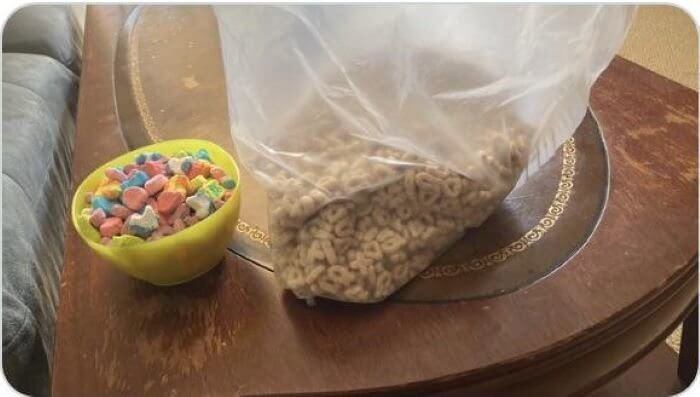 The next morning, he was shocked when he poured the milk over his cereal. As he looked up at me for help, I thought to myself, "Yeah, eat them and weep, buttface!"
Passive-Aggressive Package!
I received a package this morning that said "fragile, this way up" on the side. But when I turned the package over to examine it further, there was a snarky remark on the bottom that read, "Opening the box from this side? Okay. You do you!" Well, well, well, someone had their sassy pants on when they packed this box! At that moment, I couldn't help but chuckle to myself.
The sender had anticipated my curiosity, and their cleverly hidden message dared me to defy convention. "Okay," I thought, "challenge accepted." I opened it from the bottom, and do you know what? Everything was fine!
Bags Of Fun!
This bag comes with a warning. It says, "To avoid danger of suffocation, keep this bag away from babies and children. Do not use in cribs, beds, carriages, or playpens. THIS IS NOT A TOY!" I'm sure you'll agree that this warning is straight to the point. It's there just in case someone decides to let their child play with the bag. But we all know that would never happen, right?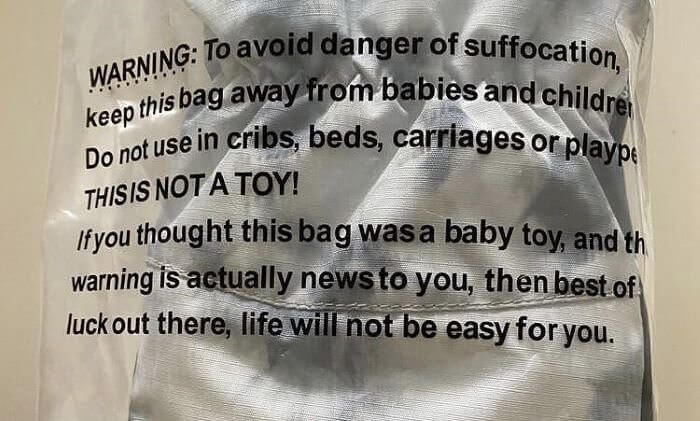 Well, a second statement on the bag reads, "If you thought this bag was a baby toy, then best of luck out there. Life will not be easy for you."
What Could Ann Have Possibly Done That Was So Bad?
A generous soul decides to share their leftover bricks with anyone who wants them. So they leave them neatly stacked in a public space. A sign accompanies the bricks to catch everyone's attention. It reads, "Free to anyone but Ann!" Oh boy, what on earth could Ann have done to earn herself this exclusion? Everyone in the neighborhood is more interested in discovering what Ann did than taking the bricks!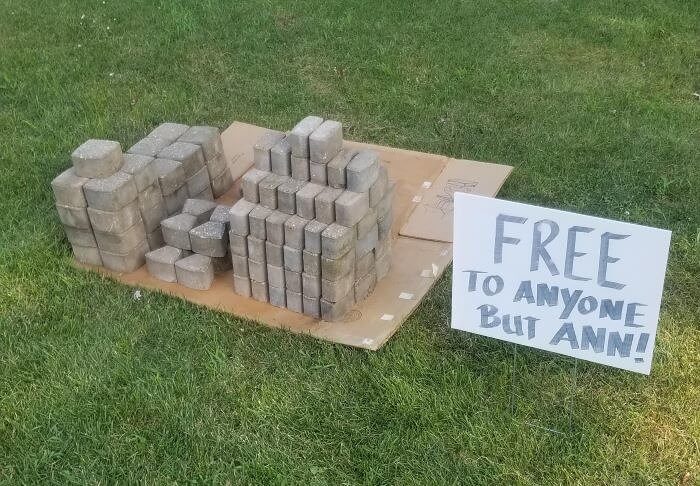 The possibilities are endless, and people's imaginations are running wild with speculation. Maybe Ann kidnapped the person's cat or accidentally demolished their flower bed. Whatever happened, it seems that Ann is very naughty!
Approach This Jukebox With Caution
The owner of this establishment has really had enough of his patron's music choices, especially AC/DC! A note on the jukebox declares that any AC/DC song will be promptly skipped without a refund. But he doesn't stop there. Nickelback, Hoobastank, Matchbook 20, Hinder, Buck Cherry, Def Leppard, or any other overplayed song; consider them off-limits too! It's like a hit list of tunes the owner can't stand to hear anymore.v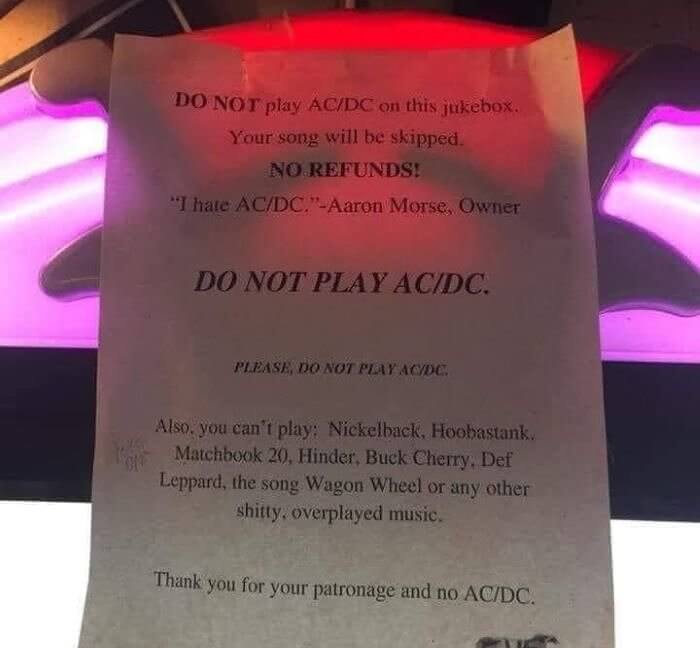 It looks like hearing these songs over and over again has driven the jukebox owner to near insanity. If they're played anymore, he's likely to end up on the 'Highway to Hell' himself!
A Snarky Way to Say Sorry
When this person does something they're not proud of in the workplace, and they feel they need to apologize, they leave a note on their co-worker's desk that reads, "I'm sorry that your terrible behavior made me act out of character. You should work on that." It's like saying, "Hey, I messed up, but it's all your fault anyway. You shouldn't be so annoyingly perfect in the first place!"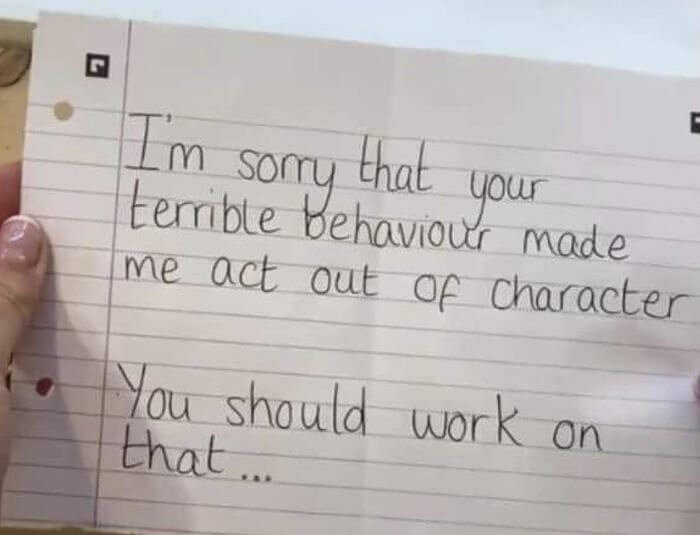 Basically, they're saying, "Hey, co-worker, you're the one who needs to change, not me. Get your act together!" It's like they're a workplace guru doling out wisdom, one sarcastic note at a time.
Be Careful; ElChapo Is Watching
If you're at this bar and decide to use the restroom to have a sneaky smoke, you better think again. According to this sign, you're being watched by the notorious drug lord himself! It reads, "Everyone can smell the pot smoke. Quit smoking doobies," signed El Chapo! Talk about making a statement! The last thing you would want to face as you leave the restroom is a group of El Chapo's henchmen!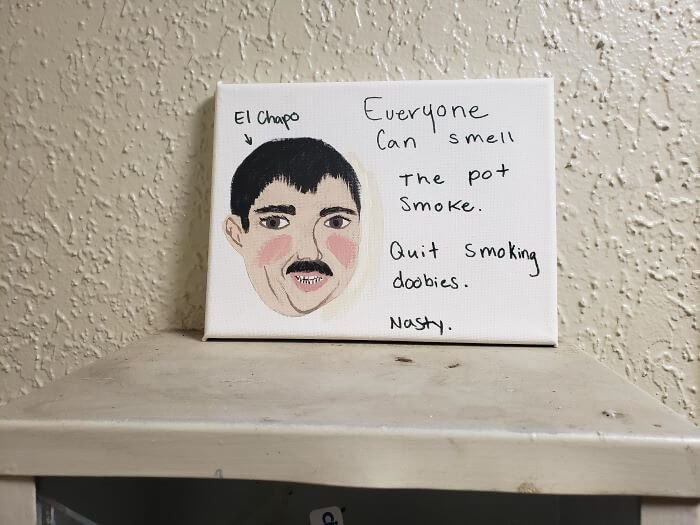 It's like the bar has become a secret hideout for the cartel, sniffing out the mystery pot smokers among the customers. I don't know about you, but I wouldn't take the risk!
There's a Passive-Aggressive Package in Your Mailbox!
Oh, boy! We've got ourselves a real doggy dilemma here. This guy has really had enough of dogs pooping in his yard. He has left a sign on his fence for anyone who allows their dog to do their business on his property. It reads, "If your dog keeps leaving his calling card, I will save it and leave it in your mailbox!" Talk about a special delivery service!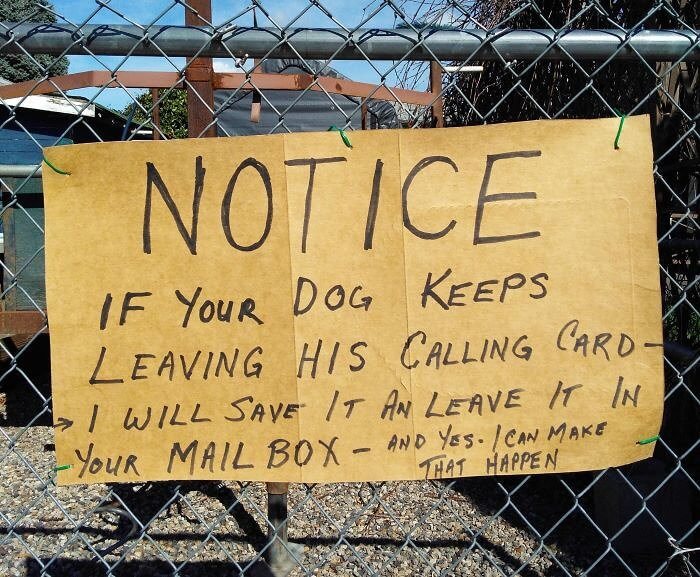 Instead of confronting the dog owners directly, he's chosen the path of covert operations. So, dog owners, beware, you may have a surprise package delivered to your home if you're not careful.
A Ride to Remember
This is one creative way to stop shoplifters. This eye-catching sign at the entrance to the store says in big letters, "Win a free ride." Now that they have your attention, the notice says, "in a police car just by shoplifting from this store." But it doesn't stop there. If you read on, it states that the lucky winners can get their name in the paper and make their mom and dad proud!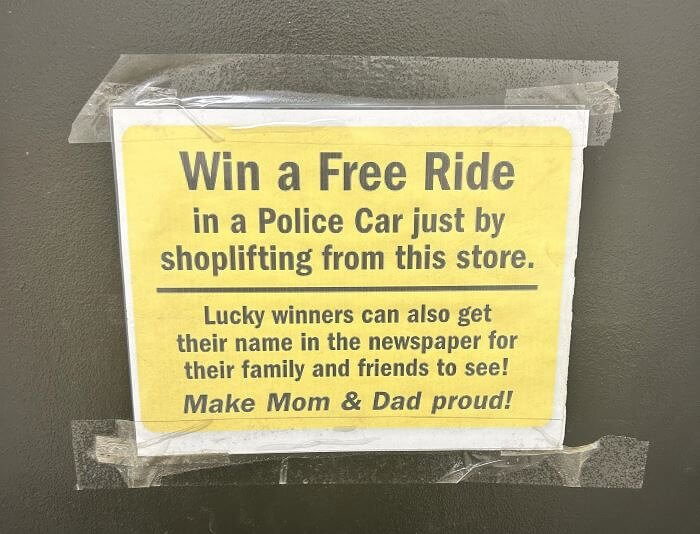 It's like the store manager is saying, "Hey, shoplifters, if you want a thrilling experience, how about a ride in a police car with handcuffs included? Now that's a ride to remember!"
A Direct Approach
This feisty employee has had enough of her co-worker's fridge horrors! This brave soul has taken matters into her own hands and devised a rather unconventional plan to address the problem. The counter in the canteen is piled high with all the rotten food from the fridge, accompanied by a friendly note that reads, "Please take your rotten food home so your family can enjoy the stench as much as your co-workers!"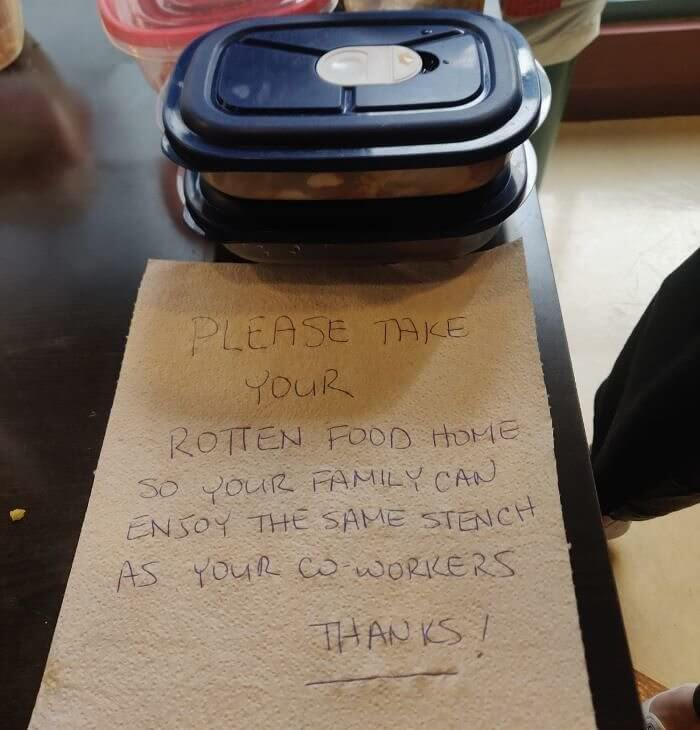 Instead of suffering in silence, this heroic worker has decided to showcase the rotten food in all its glory. She's putting a stop to any disgusting behavior in the future.
This Guy Picked the Wrong Night to Park Illegally
Furious homeowners left this note for the inconsiderate person who illegally parked on double yellow lines outside their home. And of all the nights to do so, they did it ON BIN NIGHT! Yes, the furious homeowners had to get up early and run outside in freezing temperatures to make their bins more visible to the bin collectors! Fueled by frustration, the homeowners decided to take matters into their own hands.
As they braved the cold, their breath visible in the frosty air, they crafted a note that dripped with icy sarcasm and fury. This driver was just lucky their bins "were" collected.
A Salty Caption for a Snarky Bag of Chips
This bag of chips is even roasting itself! The designer behind this particular package must have been feeling a tad grumpy when they came up with the caption, "Clearly, the products have been enlarged to show texture!" Talk about a pinch of sarcasm sprinkled over your crispy snacks! There must have been some complaints from the public that the picture on the package was much larger than the actual product.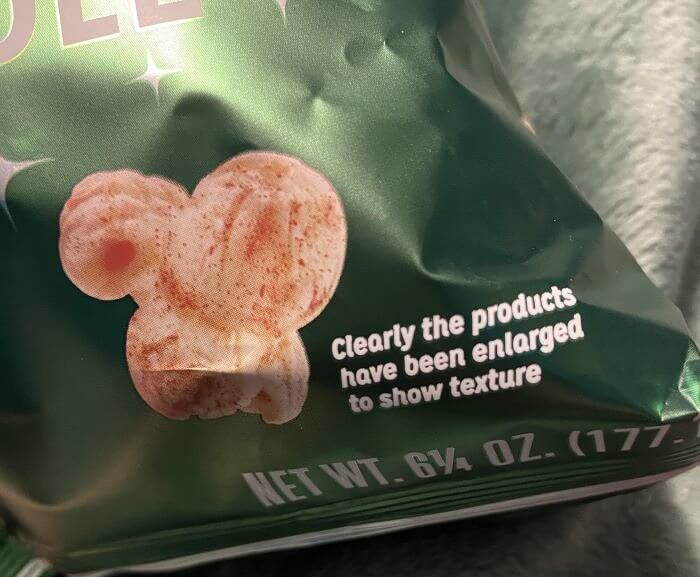 Clearly, they were having a moment of playful frustration. These chips may seem gigantic when you make your purchase, but in reality, they're just regular-sized snacks. So don't get your hopes up!
The Eleventh Commandment
It seems we've encountered an angry homeowner who's taken a divine approach to dealing with the person blocking his driveway. They have left a biblical message that reads, "Thou shalt not block other people's driveways. Thou art lucky thou hast not yet been towed!" Talk about invoking a higher power to address earthly inconveniences! It's as if the homeowner has channeled their inner divine authority, using the power of scripture to express their discontent.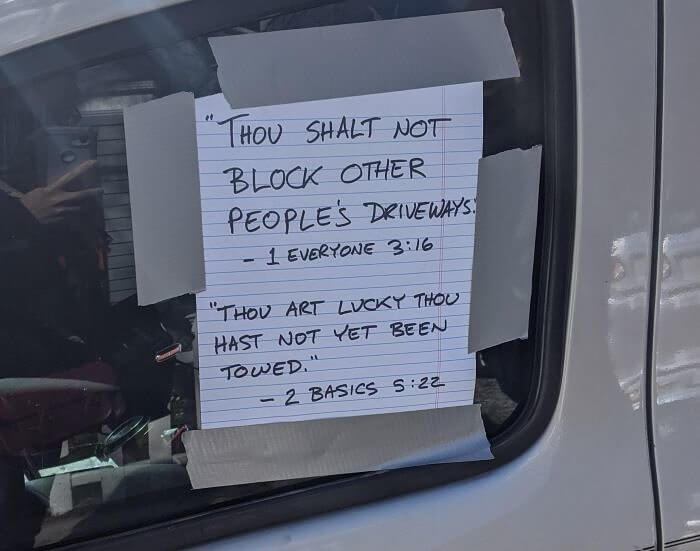 They've crafted a stern reminder that blocking driveways is a big no-no as if the ten commandments have been updated to include this modern-day transgression. It's now the eleven commandments!
A Touching Tribute to Their Clients, but Especially to Rosey
Ah, it seems Ronan and Tim have a mischievous sense of humor mixed with a touch of sports rivalry! As they celebrate their clients' 25 years of loyalty with a thoughtful sign, they couldn't resist a playful dig at one person in particular. They single out Rosey and end their message by saying, "And Rosey, the Yankees still suck!" This playful remark adds a layer of humor and camaraderie to the occasion.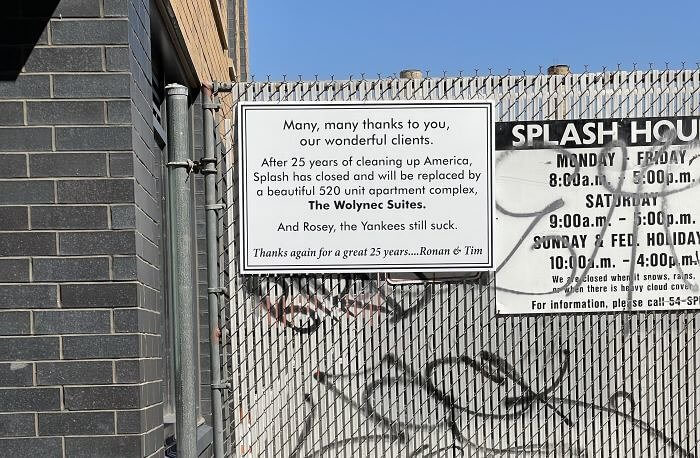 Picture the scene. Clients are gathered and feel a warm sense of gratitude. And then, suddenly, Ronan and Tim drop this lighthearted bombshell aimed at Rosey, their most loyal client of all.
A Gentle Reminder to Prioritize Safety Over Speed
This determined individual has taken their dedication to following the speed limit to a whole new level by proudly displaying a sign in their car's rear window. The sign reads, "I am not driving too slowly. It's called the speed limit!" Our law-abiding road warrior is not shy about letting others know they are simply sticking to the designated speed limit. They're like a mobile billboard for responsible driving.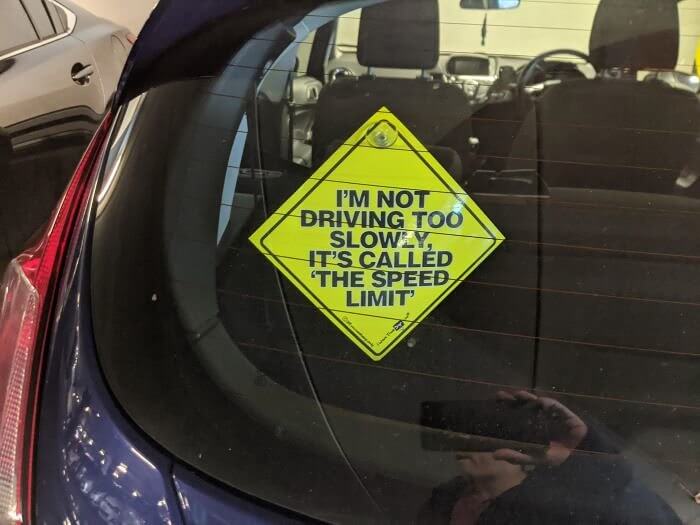 This person's sign serves as a clever reminder to respect the speed limits and consider the well-being of everyone on the road. It's a reminder that we all have a role in promoting road safety.
That's One Way to Stand Out in the Crowd!
It seems we've encountered a product that's not afraid to speak its mind! This bold marketing approach starts with a striking statement, "You're wasting your time!" Talk about being direct! The product then goes on to clarify that its effectiveness hinges on reading the instructions. The product takes a tongue-in-cheek jab in big, sarcastic brackets, saying, "I know you probably won't. You probably have a PHD in time-wasting!" Ouch!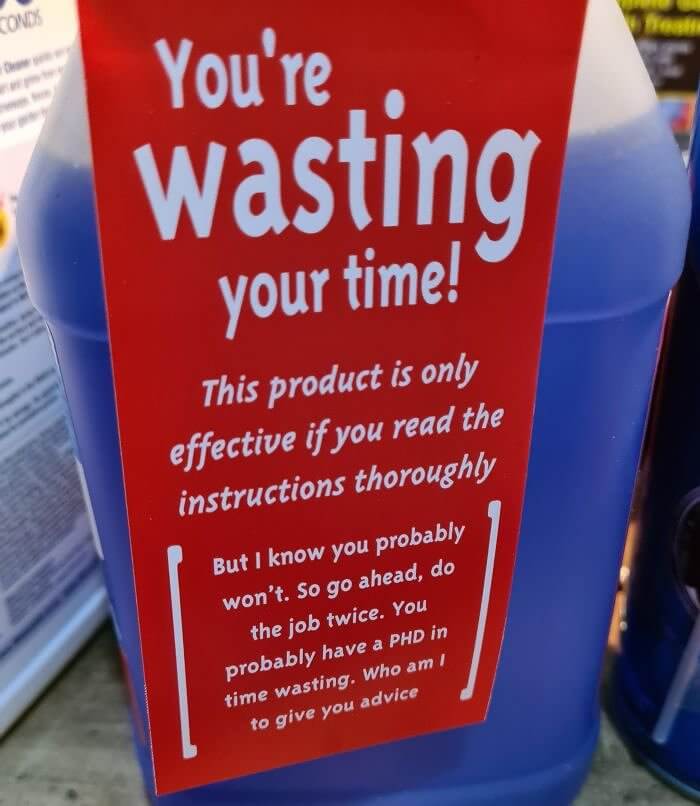 This marketing strategy combines brutal honesty with a sprinkle of self-deprecating humor. It's a bold attempt to break through the noise of traditional marketing and stand out in a crowded marketplace.
So That's Why the Toilet Floor Is Always Wet
Whoever cleans this public restroom has clearly had enough of people missing the target while using the toilet. Accompanying a caption that says, "Thank you for not peeing on the seat and floor," there is a very graphic illustration of a man missing the toilet and peeing on the floor with a big red X printed over it! This is a brave attempt to embarrass men into fixing their aim!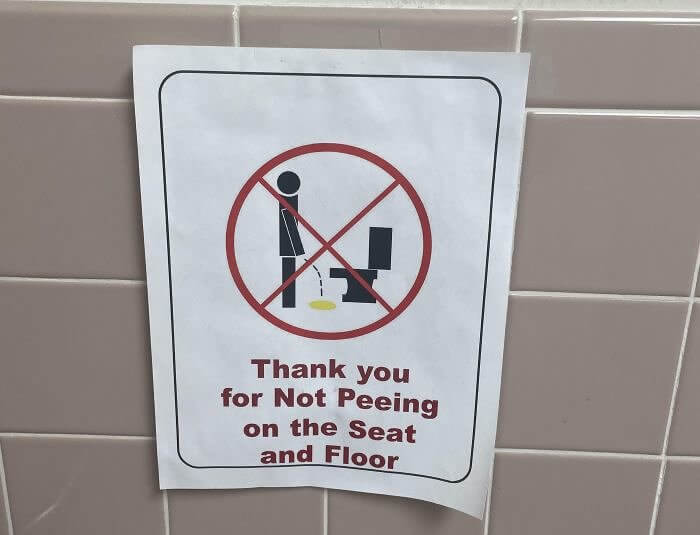 It's like saying, "Hey, guys, nobody wants to stand in your yellow mess. Either stand a little closer to the toilet or fix your aim. You're not in preschool anymore, you know!"
Such Anti-Social Behavior Is Not Tolerated Here
Tired of witnessing someone's unsightly smoking habit, this person has decided to take matters into their own hands in quite a memorable way. Gathering all the discarded cigarette butts, they carefully arranged them on a sheet of paper with a bold message: "Found these under the stairs where you smoke. Thought it was only fair to return them to you." And they've stuck it to the perpetrator's apartment door. Ouch!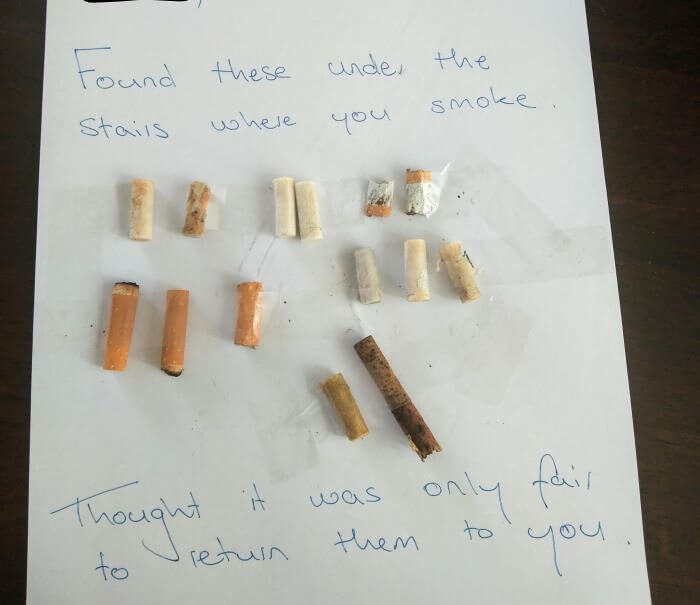 This neighbor's approach is a masterclass in calling out someone's anti-social behavior. Instead of resorting to a heated confrontation, they've chosen a creative and eye-catching way to deliver their message.
Mirror, Mirror on the Wall…
This one really stings! When tensions were high during the pandemic, this company erected a mirror on the outside of their building that read, "To accommodate ANTI-MASKERS, we have provided this space away from everyone else where you can stare at your reflection since apparently, you're the only person you care about." By providing a designated space for anti-maskers to contemplate their actions, the mirror literally serves as a symbol of self-reflection.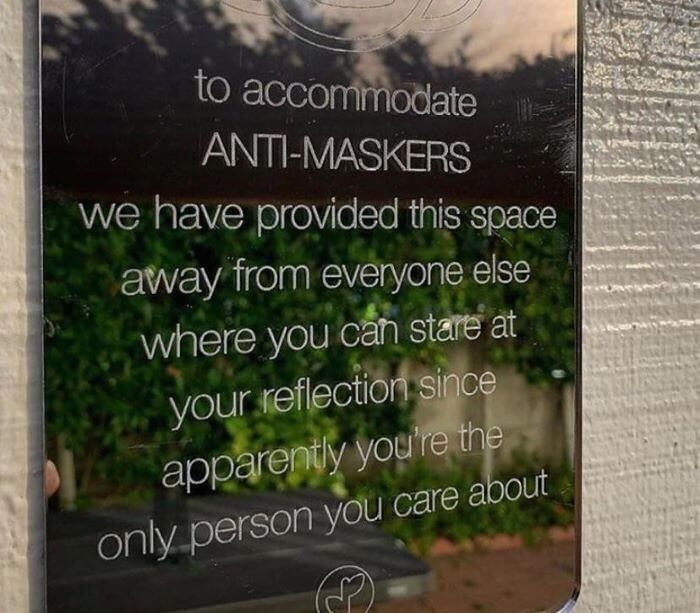 The message is delivered with a sharp sense of sarcasm, highlighting the irony of people who prioritize their own comfort over the well-being of those around them at this sensitive time.
Bed-Board Bashing!
This sleep-deprived neighbor has reached her breaking point with the noisy antics of the neighbor next door! Having been woken up on several occasions by a bed-board bashing off her wall in the dead of night, she has written a nice message to her noisy neighbor and posted it on their door. After congratulating the neighbor on getting laid, she points out that being woken up is highly inconvenient.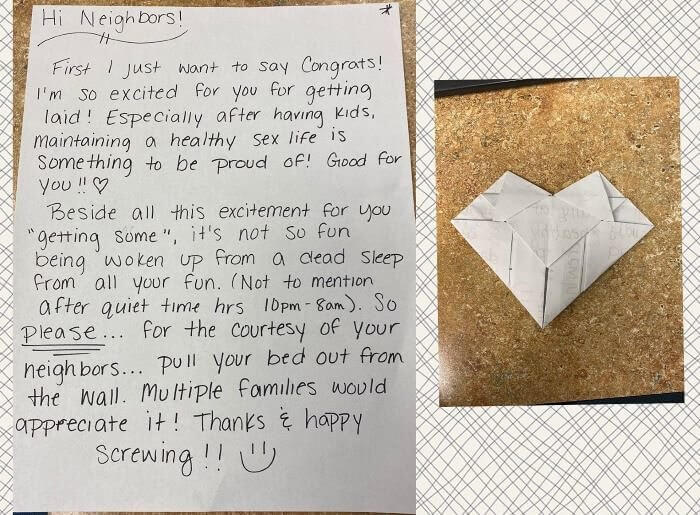 She goes on to ask, "Please pull your bed out from the wall. Happy screwing!" It's a clever way to address the issue head-on while injecting a touch of fun into the situation.
Butt-Bandits
It seems that public restroom cleaners have a great sense of sarcasm! Some people are so disgusting that restroom cleaners must point out where to put used toilet paper after wiping their butts. To address this unpleasant issue, the cleaners have crafted a clever message that reads, "If you don't know what to do with the toilet paper after you use it, please contact staff." Come on, guys! Public restrooms are shared spaces.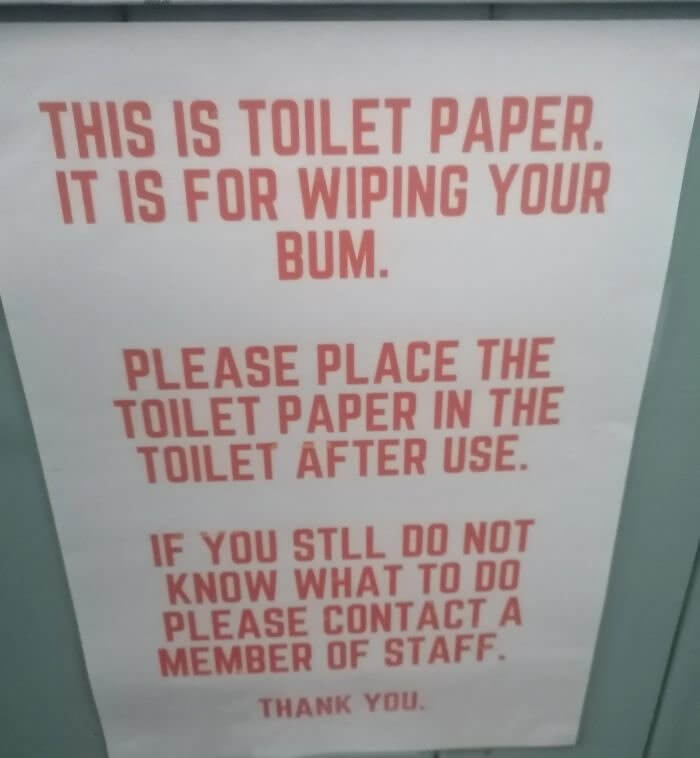 Let's remember the basics: use the toilet paper as intended and dispose of it properly. And to the public restroom cleaners, kudos for finding a humorous way to address the issue.
A Heartless Approach
This landlord has an interesting way of letting his tenants know their rent is overdue. The eviction notice he posts on the perpetrator's door shows a big laughing emoji pointing at you, saying, "Guess who's moving? You!!! The notice goes on to say, "Bring the outstanding balance or the keys. This is not free housing!"  They opt for a touch of humor and a dash of sarcasm to get their message across.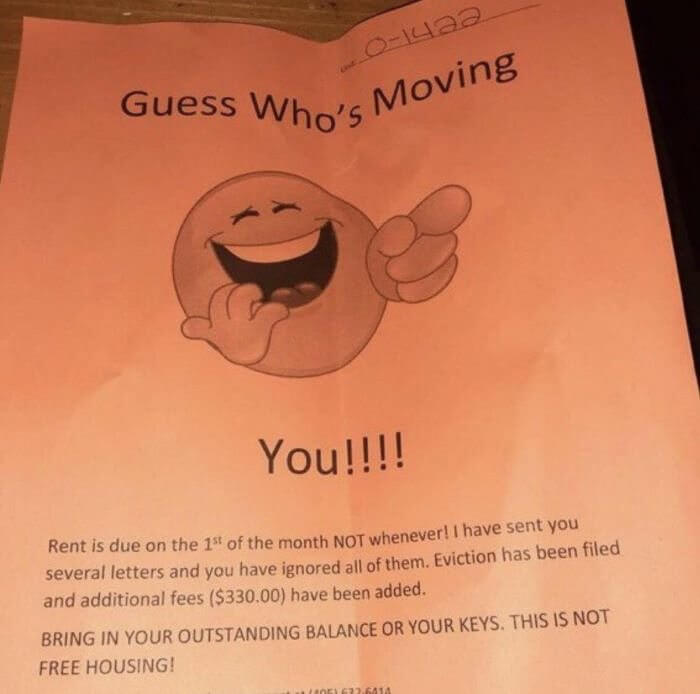 While it's a straightforward reminder that responsibilities must be met, this landlord has resorted to humiliation or embarrassment to get his money. This heartless approach does not create a happy atmosphere.
"All the Above"
It seems the park's organizers have had enough of people leaving their trash behind, and they've decided to tackle the issue head-on with a humorous and thought-provoking question. The question, "Why are you littering?" is accompanied by four possible answers, and here's where the genius lies: all four boxes are checked! It's like a cheeky way of saying, "Hey, if you're littering, you're probably checking all the boxes on why it's not cool!"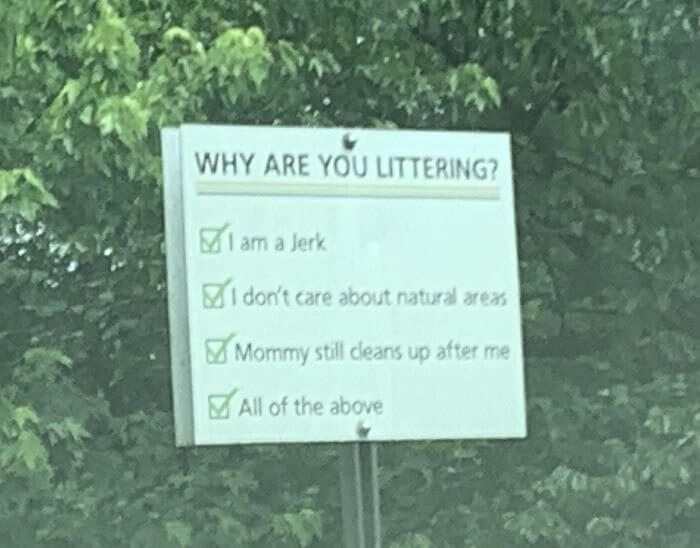 The use of humor in this anti-littering approach is notable because it can be a powerful tool to capture people's attention. It adds a touch of lightness to a serious issue.
Your Mom Doesn't Work Here; Clean Up After Yourself
This gym has had enough of its users leaving their weights and equipment lying around. But this notice on a gym wall is straight to the point. "If you can lift it, you can put it away!" It seems that many gym users are used to having their moms clean up after them. But that doesn't work here. It's a clear reminder to all gym-goers that they are responsible for cleaning up after themselves.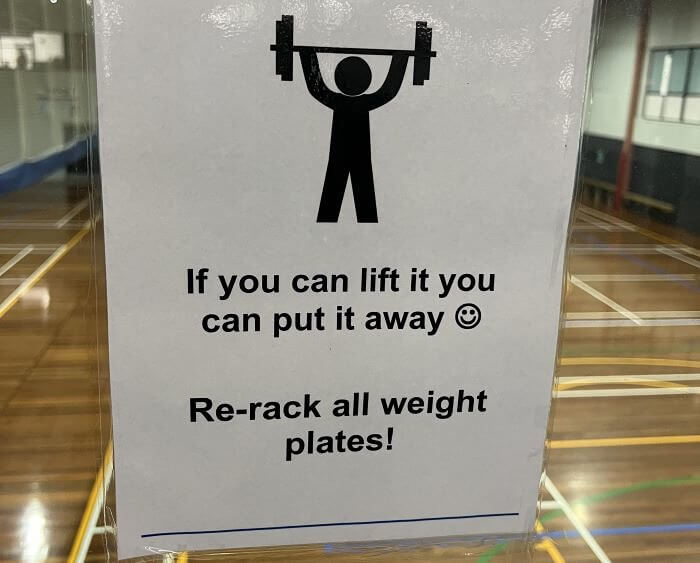 Simple reminders like this notice can go a long way toward encouraging good habits and ensuring a pleasant experience for all users. Be considerate of your fellow users in the future.
This Driver Was Left Distressed
This passive-aggressive message left by a fellow motorist is clearly from a frustrated point of view. It's far from humorous and reflects their genuine annoyance at the inconvenience caused by someone else's careless parking. The note reads, "Thank you! I had a meeting at 15:45 and couldn't leave because you parked your car here." It's a clear expression of frustration, with a touch of sarcasm in the "Thank you!" at the beginning.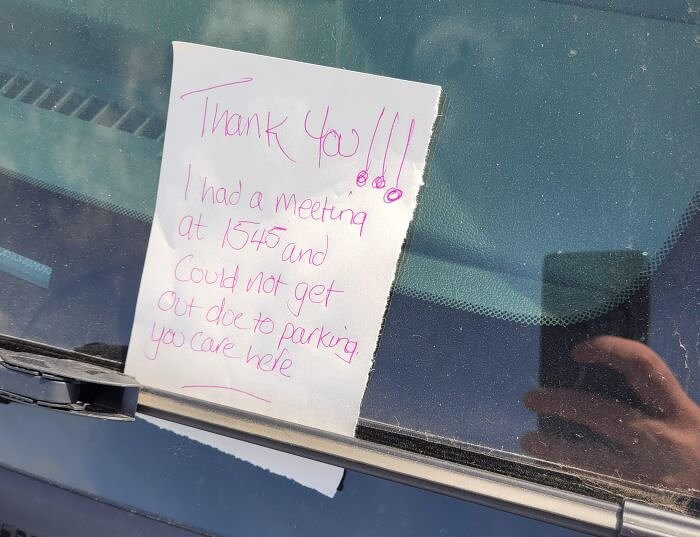 The person leaving the note is upset that their plans were disrupted due to the thoughtless parking of the other driver. Sometimes people just don't care enough about others.
It's Time to Grow Up, Guys
It sounds like tensions are running high in this shared apartment due to the never-ending battle over whose turn it is to clean the dishes! Our irritated resident has reached their breaking point and has decided to leave a bold and straightforward notice for all to see. "We're all adults who shouldn't need to be told when the dishes are dirty. It's your turn, or just do the dishes to be nice!"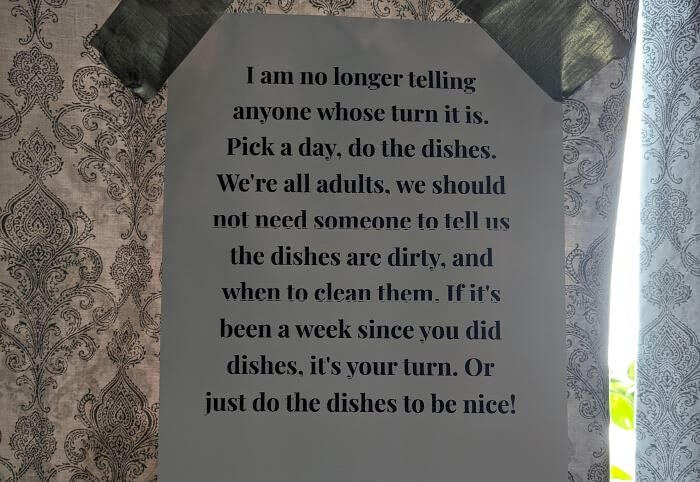 By emphasizing that they are all adults, the notice drives home the point that everyone should take responsibility for their share of household chores. It's time to grow up, guys!
Are You the Perfect Parent?
This site has found a smart way to make parents not interested in signing up question their parenting skills. When users visit the site, they are given the option to fill out their details and subscribe. But if someone chooses not to subscribe, they are presented with a tongue-in-cheek option that says, "No thanks. I'm the perfect parent." By clicking this option, users are gently reminded that no one is a perfect parent.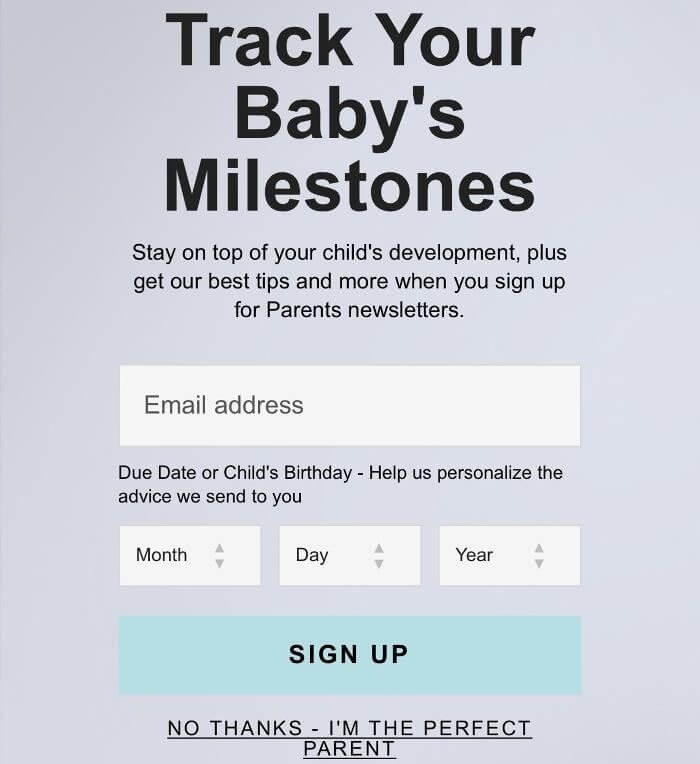 It's a subtle way to make users who feel like they are good parents question themselves. "Are you really so good that there is nothing left to learn?"
Well, It's Pretty Clear What These Bags Are for!
This frustrated person has reached their breaking point with irresponsible dog owners who don't pick up after their pets. They've taken matters into their own hands with a very straightforward sign that says, "Dog shit bags!" You can't get more direct than that! They've even gone the extra mile and provided bags, making it as easy as possible for dog owners to do the right thing. But they are clearly frustrated.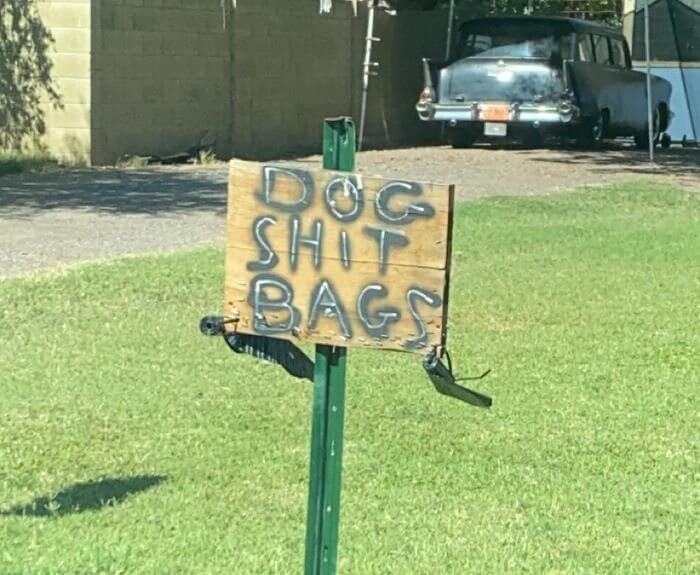 Cleaning up after our pets is not only a matter of good manners but also essential for maintaining a clean and healthy environment for everyone. It's anti-social behavior.
That Must Be One Sharp Knife!
It seems like the manufacturers of this kitchen knife are taking safety very seriously! They say their product is so sharp that they must address the potential risk of users accidentally cutting themselves. The inclusion of a pack of plasters with the knife is thoughtful, but they also make the user believe the knife is as sharp as promised. Sharp kitchen knives can indeed be a double-edged sword (pun intended).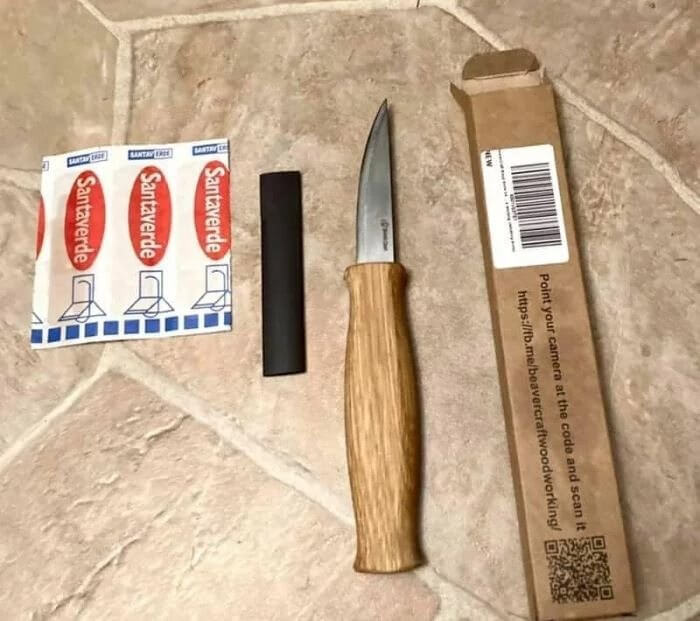 While the knife makes cutting and slicing more efficient, it also poses a higher risk of accidental cuts if not handled carefully. The manufacturers encourage users to be cautious.
Such a Sassy App!
This guy has the Duolingo language learning app installed on his phone. And while he expected to learn a new language from the app, he didn't expect it to be so sassy when he didn't reply to a message. After just six minutes, the app seemed to lose its patience and sent a message that read, "Hi! It's Duo. These reminders don't seem to be working. We'll stop sending them for..."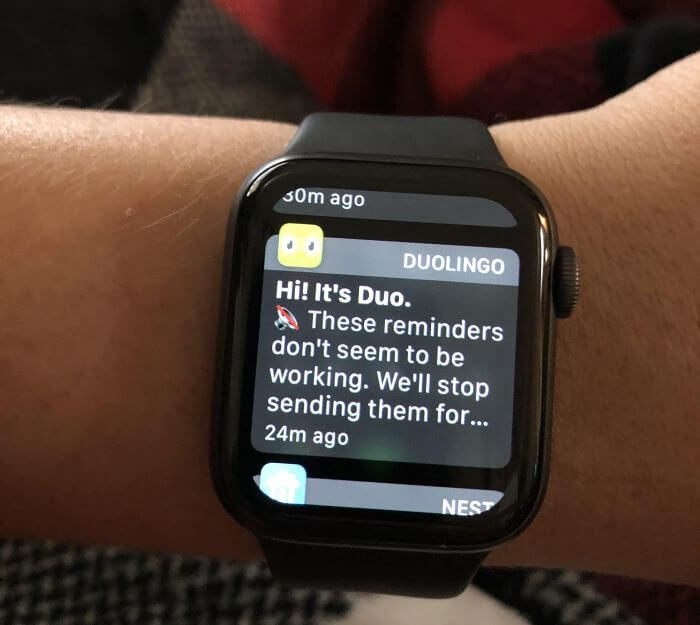 Duolingo's reminder messages are intended to keep learners engaged and motivated in their language learning journey. But it seems this app got out of the wrong side of the bed this morning!
Could This Possibly Be a Coincidence?
This person has come up with a very inventive way to hurl insults at his neighbors. And he has done so without actually saying a word. By using the shadow cast by the clothes he has carefully arranged on his washing line, he has spelled out the word "TWAT" in big shadow letters on his lawn. And while his neighbors may very well be insulted, we think he deserves a round of applause!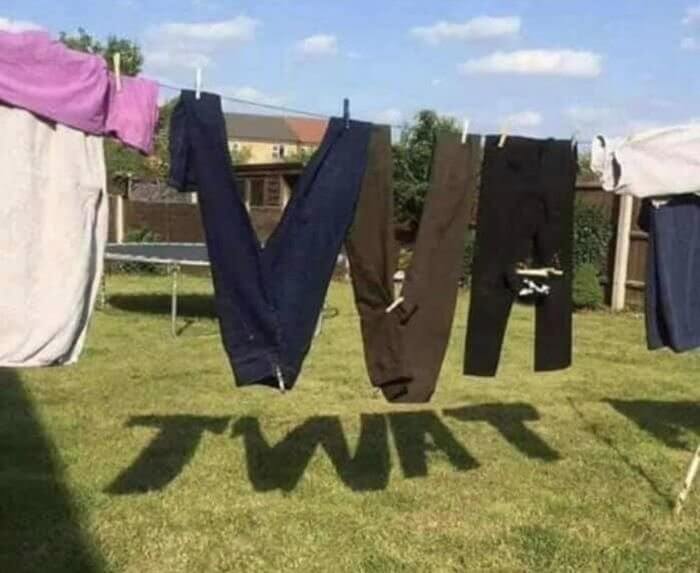 We can only hope that this insult directed at his neighbor was intended to be funny and lighthearted rather than hurtful and nasty. It's a new take on shadow puppets!
Slightly More Aggressive Than Passive!
Well, this note left on a fellow motorist's windshield is definitely more aggressive than passive. It starts with a seemingly pleasant remark saying, "I admire your parking!" But then it says, "I didn't know the blind could drive!" Which is pretty insulting. And then he finishes by saying very aggressively, "Learn how to park, you f*#ktard!" Maybe it's better that this guy left a note. I wouldn't like to meet him in person!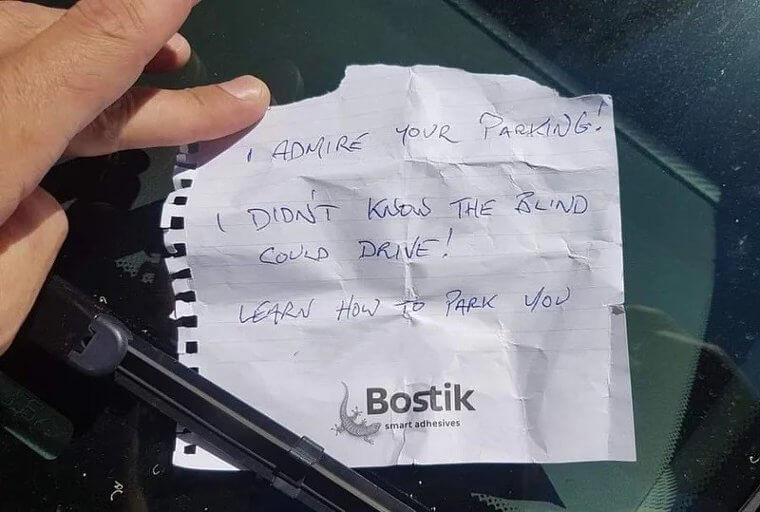 Addressing parking issues can be frustrating, but using aggressive and offensive language is never a constructive or acceptable way to handle the situation. Such notes can potentially lead to confrontations.