Inflation has shot up over the past few years, affecting the prices of essentials. Even cleaning products have not been spared. Giving your house a proper scrub is now expensive, meaning some people may be settling for less than a spotless cleaning job when they cannot afford appropriate cleaning products.

The great news is that your kitchen pantry has simple ingredients that could make effective cleaning solutions. This article discusses three easy DIY cleaning solutions you can create at home.
All-Purpose Cleaner
An all-purpose (multipurpose) cleaner typically does away with many types of dirt without much struggle. You do not have to store ten separate bottles of expensive cleaning products when one can do it all. But even this multipurpose cleaner can be unforgiving to a thin pocket. How about creating your own at home?

What you'll need:

1 cup of water

1 cup of white vinegar

10-20 drops of essential oil (optional)

Mix the water and vinegar in a spray bottle. You may want to add a fresh scent to your cleaner for a refreshing scent – if so, add 10-20 drops of your favorite essential oil, then shake the bottle to mix the ingredients.

Your multipurpose cleaner may not remove dirt and stains like the industrial one, but you'll notice that it gets the job done. Even better, you get a non-lethal cleaning solution that does not pose a poison threat to your young ones and pets.

Glass Cleaner

It is not uncommon to end up with streaks and smudges when cleaning mirrors or windows. The problem is that glass reacts differently with specific liquids, depending on the balance between cohesive and adhesive forces. An improper balance between the forces makes the liquid stick to the glass, leaving streaks and smudges.

The good news is that you do not have to go to the shop to get a good glass cleaner. You can make your own with just a few simple ingredients.

What you'll need:

1 cup of water

1 cup of rubbing alcohol (preferably ethanol-based)

1 tablespoon of white vinegar

Mix the ingredients in a spray bottle and give it a hard shake. It is worth noting that you should pour the water first before adding alcohol and vinegar. That's it! Your homemade glass cleaning product is ready!

With this glass cleaner, you get an effective product cheaply and without endangering your household with poison from industrial chemicals.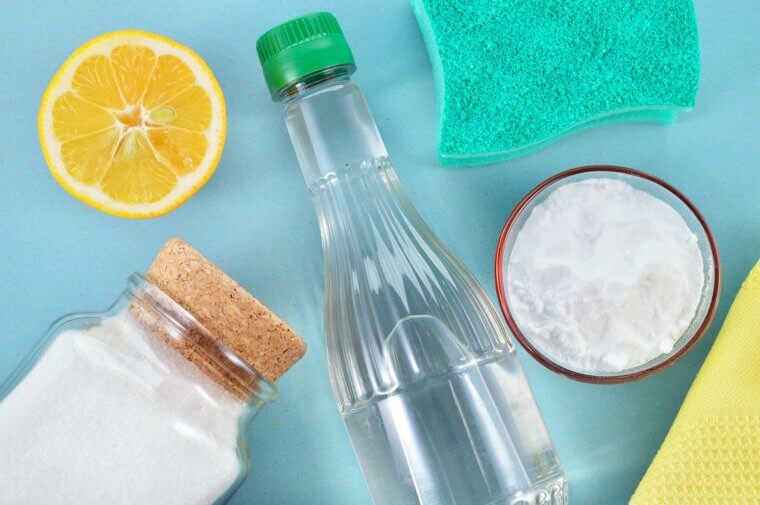 Carpet Cleaner

Carpets, especially the thick wooly ones, can be a tricky surface to clean. Dirt, spills, and stains can quickly make them look dirty and worn. 

Many people hire professional cleaners to do the job, which is understandable. The professionals have done the job for many years and have learned a few tricks we don't have. Interestingly, this means you can take up the job when you know a few of those tricks!

With this DIY carpet cleaner, you can remove stains and odors with just a few ingredients.

What you'll need:

1 cup of baking soda

1 cup of cornstarch

10-20 drops of essential oil (optional)

Prepare a clean bowl in which you'll mix the baking soda and cornstarch. Then, add up to 20 drops of your favorite essential oil for a fresh scent. 

Let the mixture settle for two to three minutes, then sprinkle it onto the whole surface of the carpet. Let it sit for 30 minutes, then vacuum up the powder. Your carpet will not be the same after the cleaning job.

Concluding Remarks

We have grown to depend on industrial cleaning products because, well, that is all we have known. However, we have learned that homemade cleaning products are equally good. The biggest upside of DIY cleaning products is a lower cost and avoiding poisonous products in the house.