Getting a tattoo can be an exciting and nerve-racking experience for many people. While sitting there waiting to get inked, it's common to have thoughts and doubts about whether the chosen design was the right choice. Well, it turns out that many people "do not" make the right choice. In fact, some of the tattoo designs people choose are so bad that we decided to make a list. From crystal meth ingredient tattoos to heart-shaped tattoos that resemble old, wrinkled ballsacks, these tattoo fails are sure to make you wonder, 'What were they thinking?'"
Badass Skeleton Loses the Battle!
Of all the dreadful tattoos on this list, strangely, there's a certain charm to this one. I mean, don't get me wrong, it's absolutely terrible. But it's so bad; it's kind of good! Judging by the hardcore tattoo the owner chose to cover it up, his original skeleton on a bike riding through the graveyard tattoo was probably intended to look evil and scary, but it just looks cute and happy instead!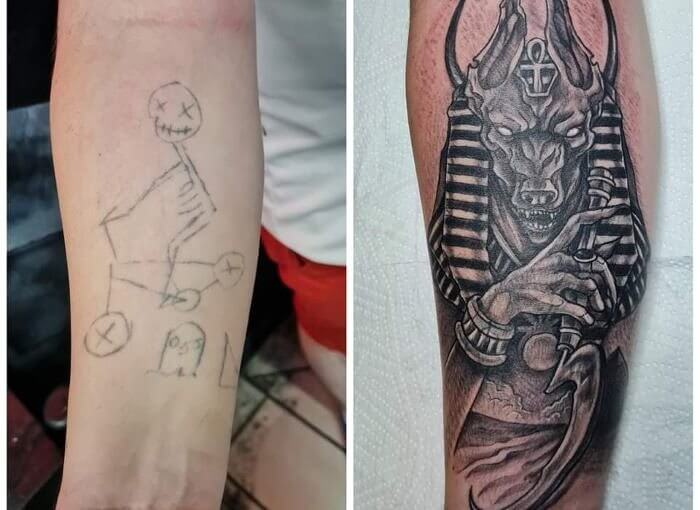 We think the badass skeleton doing tricks on his BMX in the cemetery could have been salvaged. Using some darker ink and background shading, this hilarious tatt was definitely a keeper!
Your Guess Is As Good as Mine!
Saturn is 746 million miles from the sun, and if it looks anything like this, the further away, the better! This tattoo is so bad that it could be anything from an attempt at the ringed planet to a hoola-hooping egg! Your guess is as good as mine. What was this person thinking? If this 'is' an attempt at the planet Saturn, it ended up looking more like "Youranus!"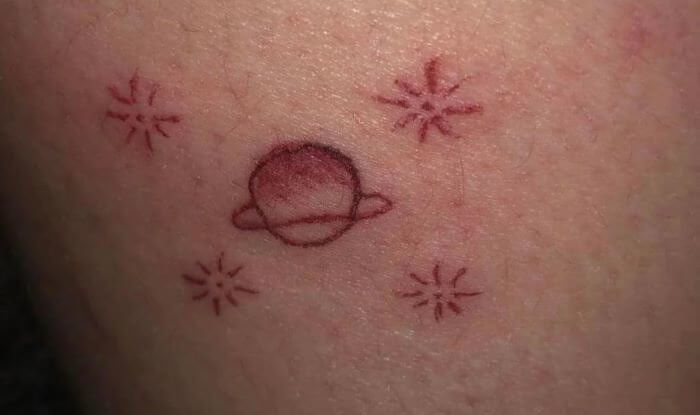 And as for the four strange, nipple-looking objects floating around the magnificent centerpiece, we assume they're supposed to be stars! Let's hope the tattoo artist has another career option!
Jesus Wept!
Sorry, but this Jesus doesn't look like he will be getting up anytime soon. It looks like a complete knockout! I mean, holy crap! This tattoo was either designed by Pablo Picasso or a five-year-old child. For god's sake, it's like something my kid would draw on her etch-a-sketch. Even his abs look confused! Next time your kid does a drawing, just put it up on the fridge like the rest of us!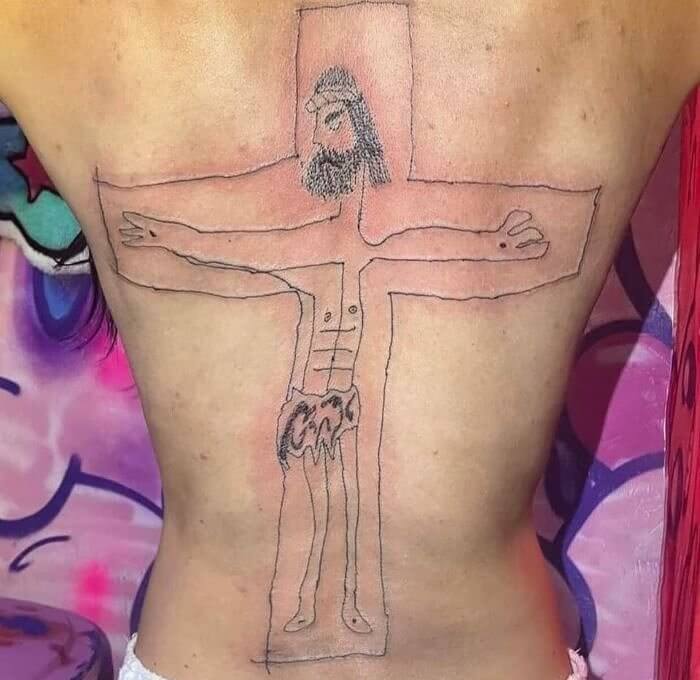 While it does look like a hipster out sunbathing, the more I look at it, the more I like it. I hope there's a really good story behind this tattoo.
What a Save!
Wow! This lady deserves a round of applause for stopping the original tattoo artist and going elsewhere to have her tatt completed. Imagine being a tattoo artist and being told halfway through a job to stop because your work is so terrible. On the other hand, people should know better than to accept a tattoo from someone working out of some rock band's practice space, accepting booze or weed as payment!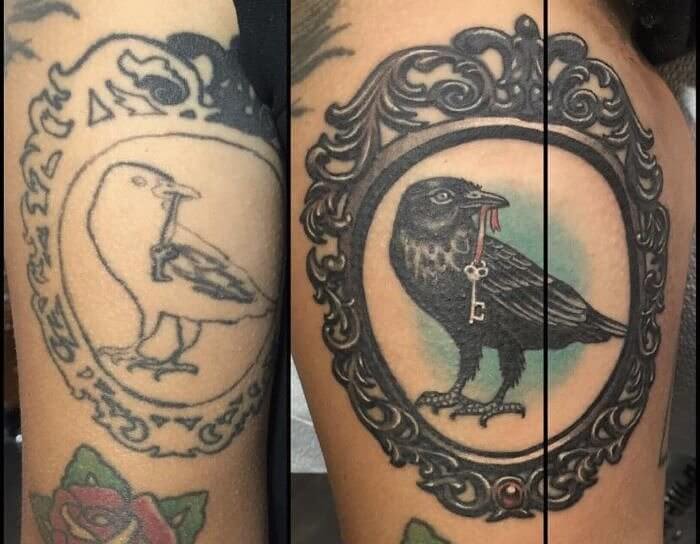 This lady really dodged a bullet. And props to the tattoo artist who saved the day. The cover-up job looks amazing, especially the detail on the key. Well saved!
Maybe Use a Notebook Next Time!
Does this tattoo belong to Walter White? Although, something tells me the ingredients of Heisenberg's 99.1% chemically pure crystal meth were committed to memory. But it could easily be Jesse Pinkman's arm! This guy is all class. While his tattoo is a complete disaster, we think it's pretty funny how it starts with "Crystal," nicely handwritten, and then it goes straight to the hardcore and industrial look of "Meth!"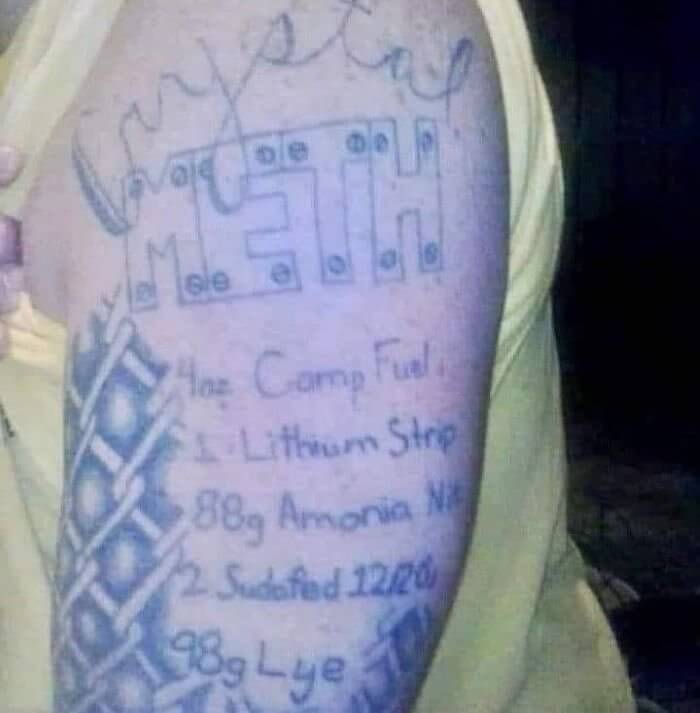 We think "Crystal" was the name of this guy's ex-girlfriend, and this was his bright idea to cover it up after they broke up. Something tells me Crystal made a smart move!
Maybe It's Time to Grow Up, Guys!
OK, we get that some people want to go against the grain and show their individualism. Ignoring the basic design rules of traditional tattooing is known as "Ignorant style," but these tattoos just ended up looking like terrible school desk art! They look like a failed graffiti artist did them. Trying to figure out this mess is just time that you will never get back. This guy just needs a hug!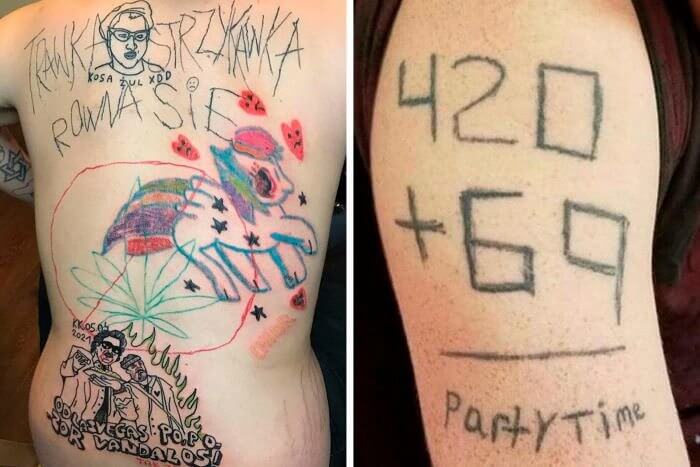 And as for the mathematical equation scratched out by a child? 489 = put your shit together time! You know you will grow old with this crap on your arm, right?
Another Great Save!
Why would a gorgeous-looking girl like this get a tattoo of a carrot on her neck in the first place? I mean, OK, you're a vegetarian. Great. But you don't have to illustrate where the carrot goes when you put it in your mouth! Let's hope you don't have a tattoo of the exit point on the other side. Props to your friends for telling you to change the carrot to a dagger.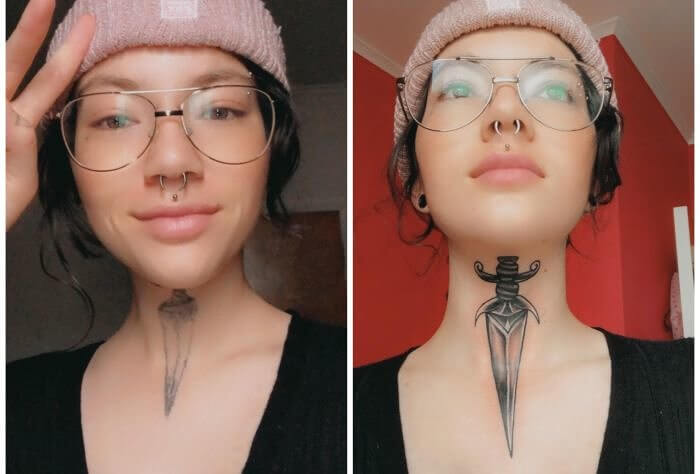 Seriously, though, the new tattoo looks amazing. You're a brave girl to get a tatt on this part of your body in the first place. We're glad it worked out for you.
Awful and Cute at the Same Time!
The jury is out on this one. If we hadn't seen the picture of what this tattoo was supposed to look like, it might have been passed off as cute. But because we can't unsee the picture on the phone, we have come to the conclusion that this tatt is hilariously bad! I mean, LOL, the momma wolf looks a bit dim, and her cub looks like Snoopy on mushrooms!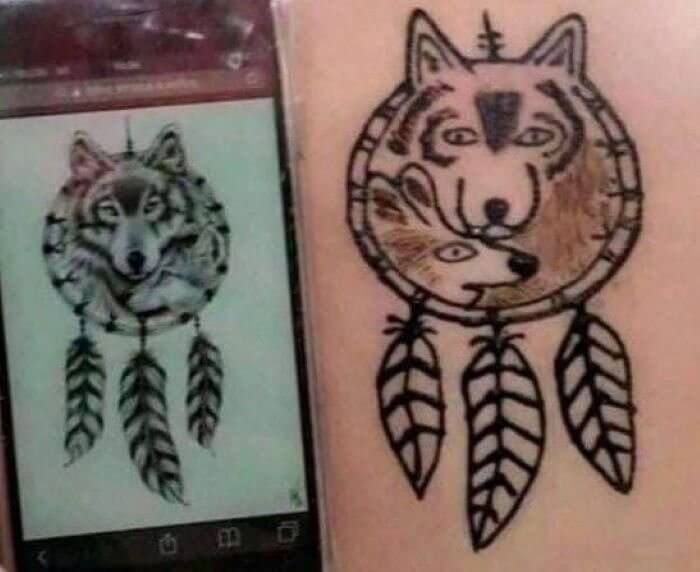 It could also be that Momma Wolf was supposed to be in the picture alone, but her cub photobombed her. Now the two are squeezed into the dreamcatcher together!
Not Even Scott Campbell Could Save This One!
Oh god! The little mermaid looks like Ariel's older sister after eating too many crabcakes! This monstrosity is another great example of what happens when you trust a friend of a friend who works out of his basement to do your tattoo. Poor Ariel is even trying to cross her legs, even though she doesn't have any. And the Cheshire cat needs to watch a YouTube tutorial on how to match your eyeliner!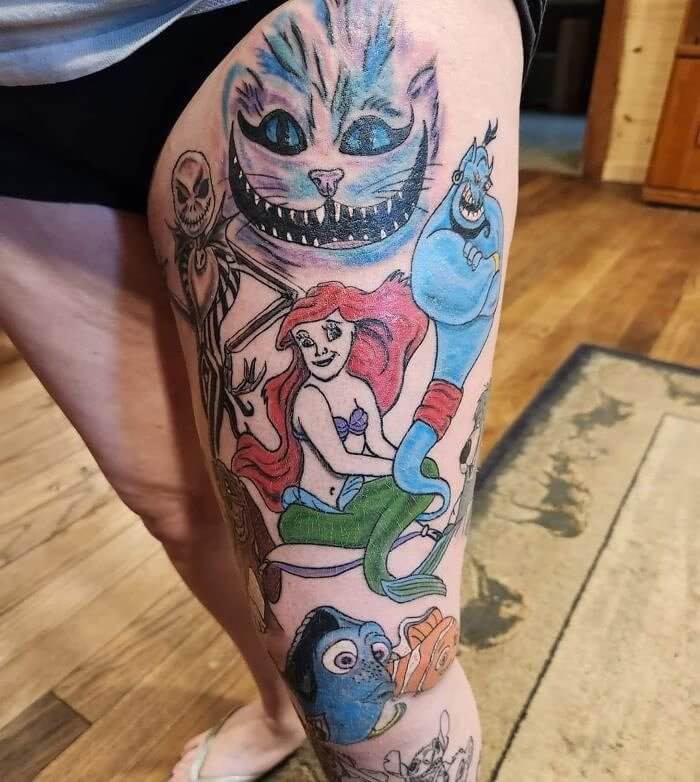 And as for Dory from "Finding Nemo," that's probably the same face Ellen DeGeneres had when she realized her show was getting canceled! Just an all-over terrible tattoo.
This One's Controversial!
While this tattoo looks funny at first, we think it is actually really cool. And after a little bit of research, we think this tattoo is done by a really popular Brazillian tattoo artist named Helen Fernandes. Check her out. Her work is actually quite charming and funny, as opposed to just badly done, childlike mistakes. Her clients know what they're letting themselves in for, and they love it.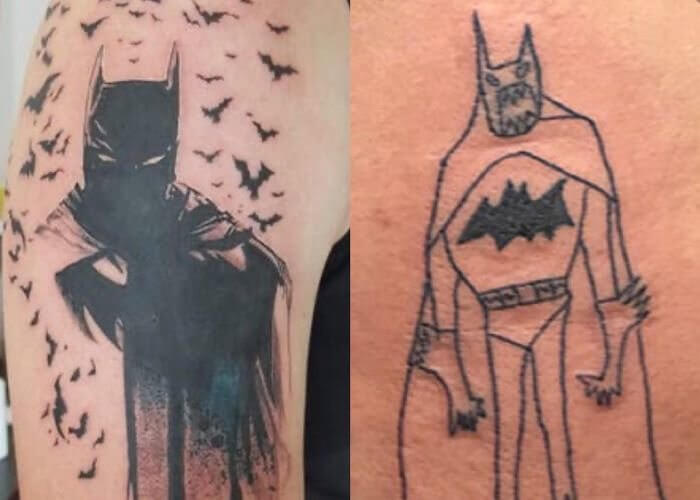 This may be controversial, but we prefer Helen's work to the boring, mainstream Batman on the left. There's no doubt that it catches your attention and puts a smile on your face!
This Tattoo Artist Really Did Have an Ace up Their Sleeve!
This person waited four years to get this tattoo fixed, and the touch-up was so good that even his skin looks in better shape, and his nipple looks amazing. But apart from that, while this tattoo definitely needed some rework, it's not the worst we have ever seen. It was a brave choice to use white ink, too. White ink is notorious for fading faster than the other colors.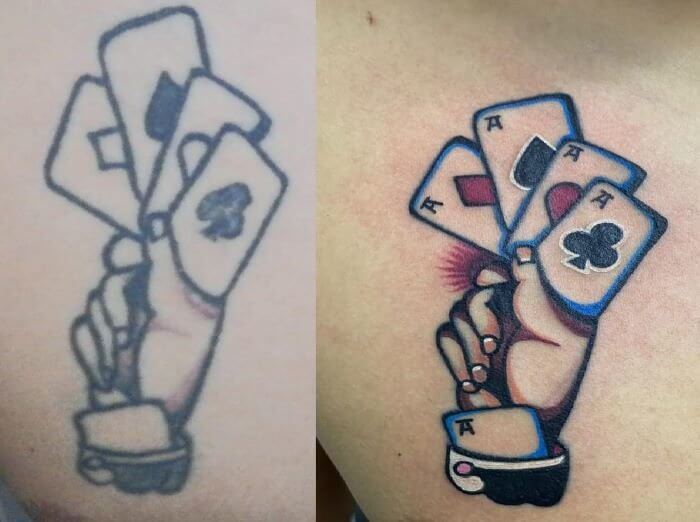 Not to be overcritical, but the five aces take away from the overall design. Having an ace up your sleeve is cool, but that leaves three aces in the deck. Just saying!
Poor Ratatouille Looks Unwell!
We have a suggestion for this guy. Shave off all the hair on your entire leg, but just let it grow on your little rat friend. That would be one hairy rat, LOL! Your girlfriend would win first prize for best realism tattoo artist. Don't worry about how bad the tattoo is; look at this guy's hairy legs, for god's sake. They're like furry trousers. He could braid them if he wanted!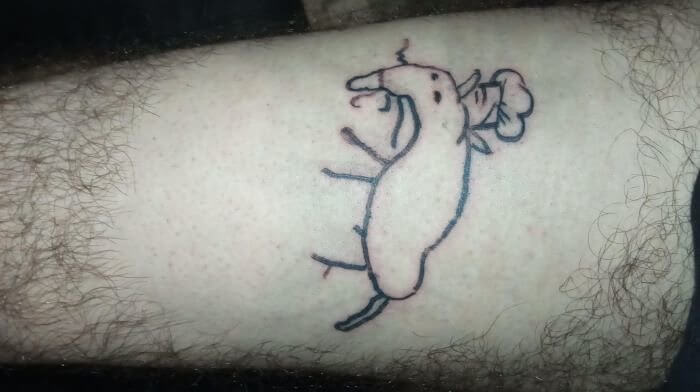 He should let his girlfriend practice her tattooing all she wants. Once all his hair grows back, no one will ever see them anyway. Ratatouille "is" looking pretty grim, though!
Peter Pan Has Become a Wannabe Rapper!
Have you ever had an idea that looks amazing in your imagination, but when it becomes a reality, you remember you and your friends were all drunk when they decided you should get it tattooed across your back? Well, that seems to be the case here! Turns out a modernized Peter Pan and Wendy tattoo is a terrible idea. They look more like a wannabe rapper and his girlfriend in a toxic relationship.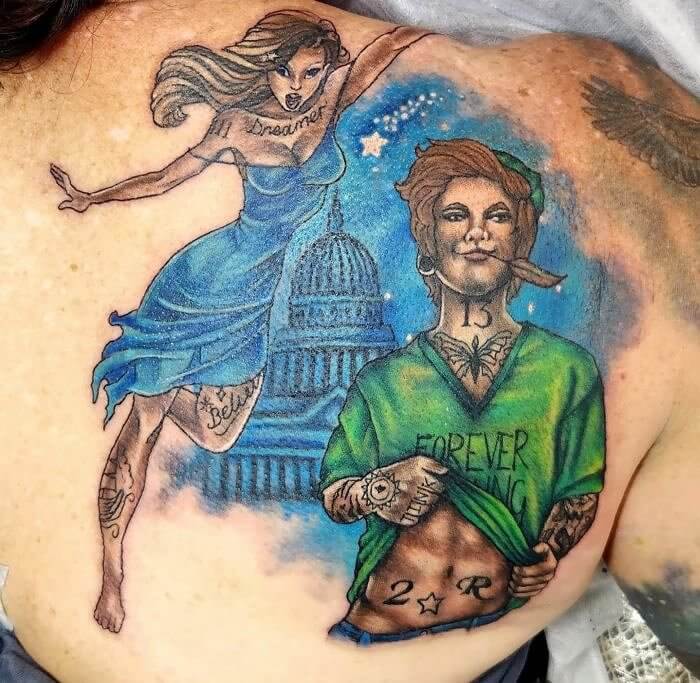 Wendy's "Dreamer" tattoo is the only accurate thing here. This lady should take her own trip to "Never Land" and never do something so stupid again!
No Words!
Somebody, please direct this man to the nearest tattoo removal clinic before his baby gets any older and sees this catastrophe! Even if the tattoo artist did an incredible job on the baby's facial features (which he certainly did not), the idea itself is horrifying! We get that the father adores his child, but come on, dude! You could at least have checked out the tattoo artist's credentials. Or not make your baby into a monkey!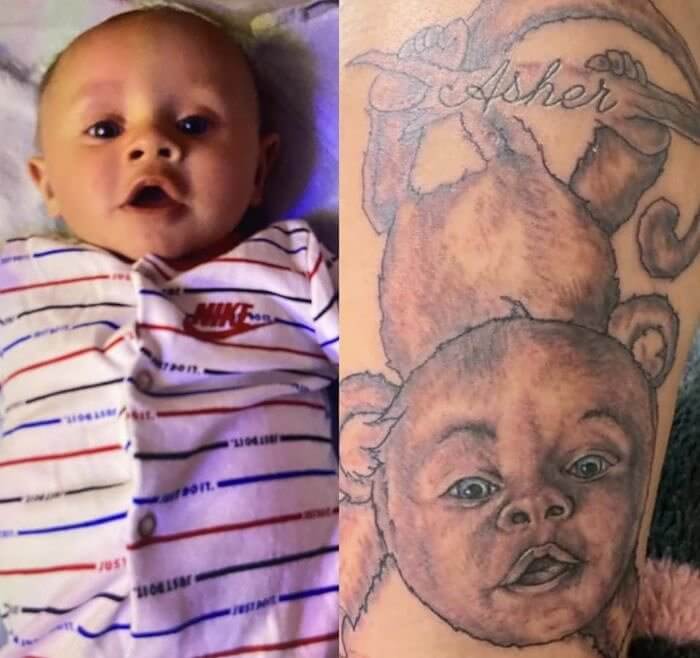 This is one handsome little baby boy. The greatest tattoo artists on the planet would struggle to do this guy justice. And let's be honest, the babies as monkies idea is a little outdated!
What Walter Would Look Like if He Survived the Final Season!
This looks more like Walter Weight than Walter White, otherwise known as Heisenburger from the hit TV show "Breaking Bread!" Surely this is someone's uncle or something. It could not possibly be our favorite chemistry teacher. If it is, then Walter needs to stay away from Los Pollos Hermanos and go cook some more blue sky. Either that, or he's just been stung by a bee, and he's allergic!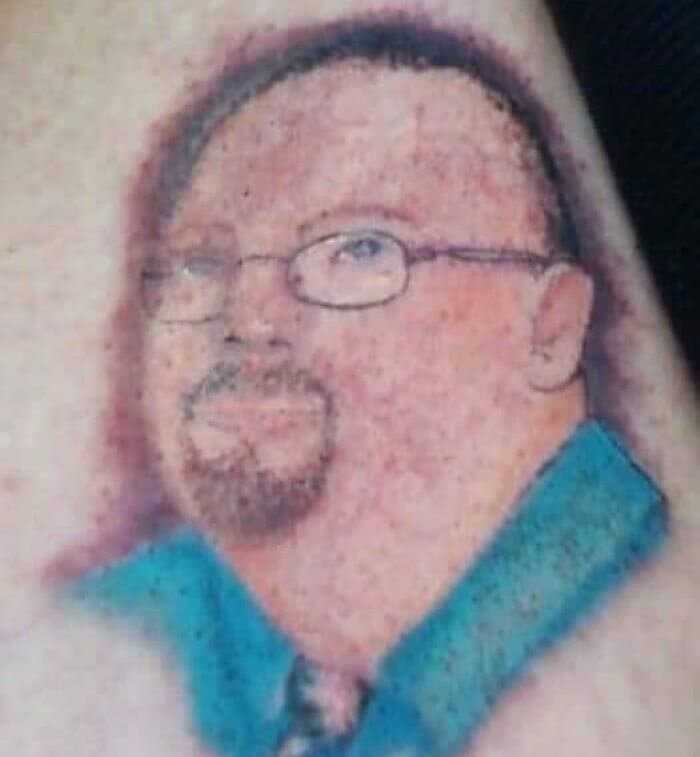 On the other hand, let's hope this is just an artist's impression of an overweight Walter White. When someone gets a tattoo like this, it's usually due to a family member's passing.
This Tattoo Artist Has a Real "Eye" for Detail!
The girl on the left is looking at me and looking at the owl at the same time. She's like a cross between a human and a chameleon. We've had Black Widow and Cat Woman; now we have "Chameleon Girl!" Even though this tattoo is black and white, you can see her eyes are blue... One "blew" west, and the other "blew" northeast! Sorry, I couldn't resist that one!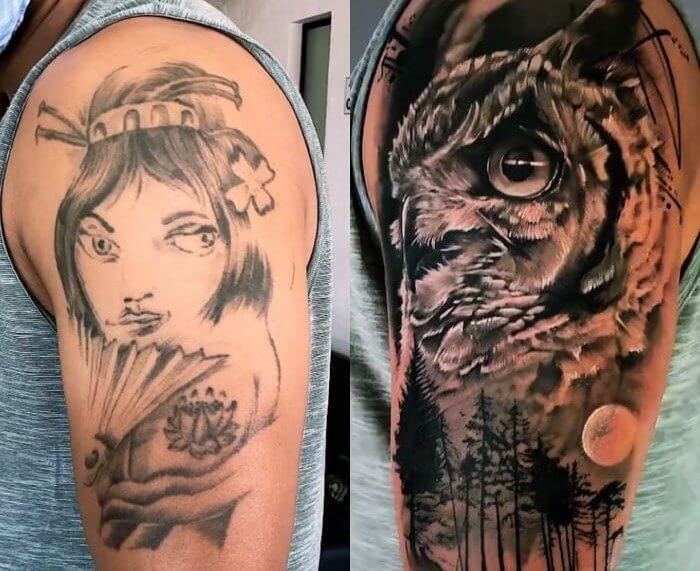 We're glad the tattoo artist decided to show only one of the owl's eyes this time. We'd hate to see him make the same mistake again. He has improved, though!
Hybrid Wolf!
Unfortunately, the bigger this guy's biceps get, the bigger the wolf's butt gets. Every time he flexes, it looks like the wolf is twerking! But let's be honest. If this is even a wolf, it couldn't be more out of proportion anyway. It looks like the tattoo artist was running out of time and decided to leave out the animal's neck too. Or maybe the client couldn't pay for the full job!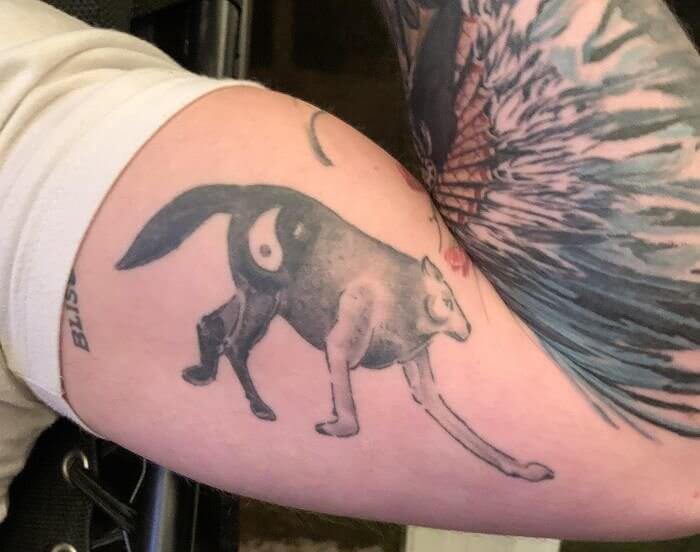 It has the head of a wild cat, the front legs of a horse, the hind legs and butt of a cow, and the body of a bear. Where's the wolf?
Something Tells Me This Is a Serious Tattoo!
Please tell me that this tattoo is mocking Nickleback's song "Photograph." Because if it is, it's absolutely brilliant. On the other hand (if you'll excuse the pun), if this is on the arm of a superfan, then it has to be one of the worst tattoos ever! That would make it so cheesy it's not even funny. I mean, look at Chad Kroeger's face. He looks like he's constipated!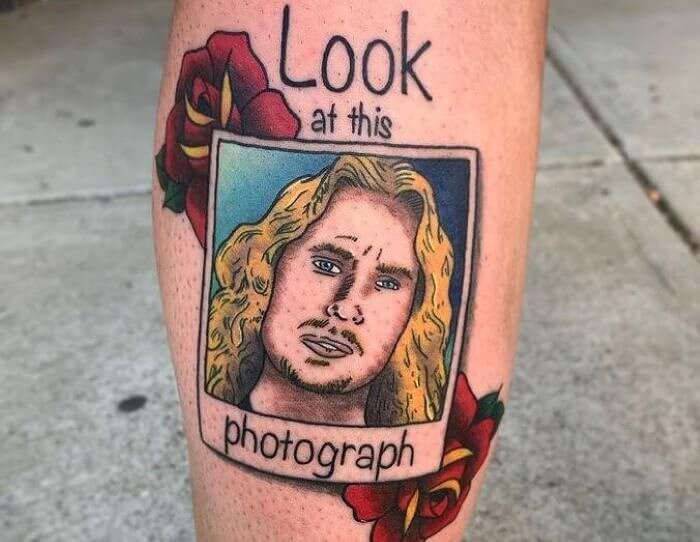 And why do the roses look like they're connected? They look like one long rose tube or something. Throw another rose log on the fire and that photograph along with it!
If the Stencil Is Bad, the Tattoo Won't Be Much Better!
The owner of this tattoo must have passed out when they sat in the chair. I mean, most tattoos like this one are not done freehand. They start with a stencil, so it's not like the person didn't know what they were getting before the tattooist got started. There is no point complaining now. And besides, the price tag difference between these two tattoos would be enormous. Maybe pay up next time!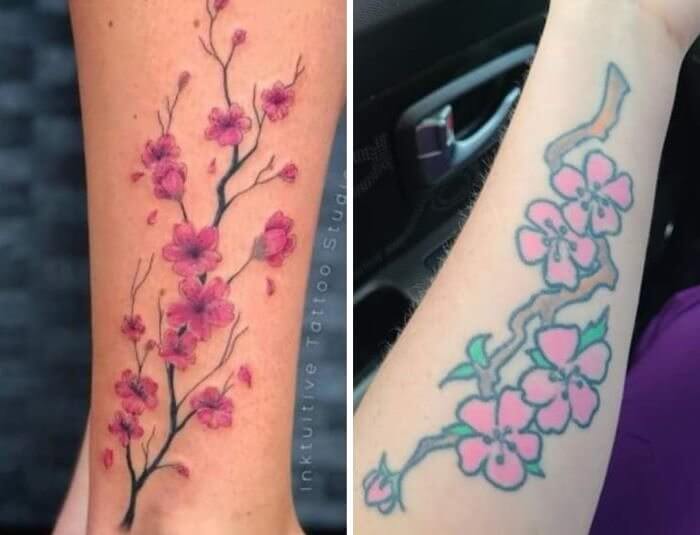 Most of the time, you get what you pay for. Unfortunately, this happens to many young adults getting their first tattoo. They want it so bad that they end up getting what they can afford!
Caught With His Pants Down!
Ok, so this is, for sure, the most disturbing tattoo on the list so far. I'm not even sure where to start with this one. I mean, I know there is a market out there for messed up stuff like this, but come on. You only get one back in your lifetime. Why the bloody hell would you do this to it? And what's going on in the picture, anyway?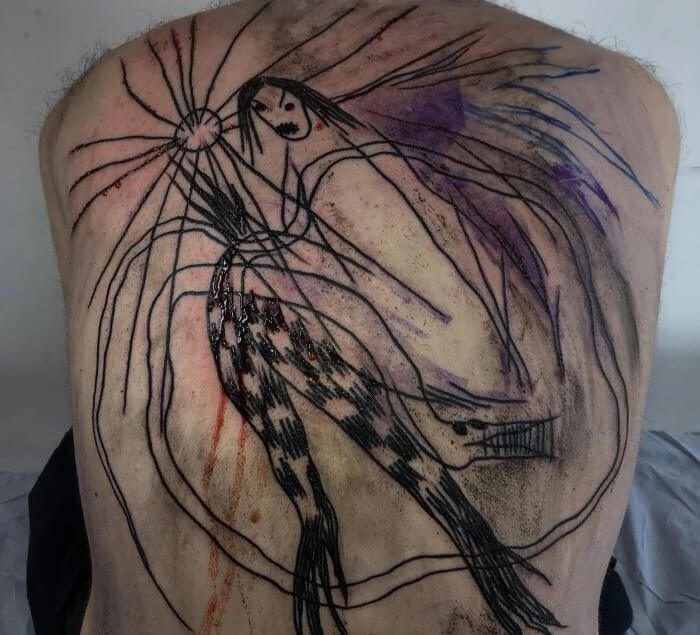 It looks like Marilyn Manson is squatting down to poo while his pet snake watches. Then suddenly, he notices the paparazzi behind him taking photographs. He doesn't look too happy about it, does he?
It's Just Your Dirty Mind!
This tattoo was intended to be a heart with fingerprints on it, but surely I'm not the only one who sees a big pair of old balls. Whoever owns this tattoo should start looking for a cover-up job immediately. And what part of their body is it on? It looks like the belly, maybe. I'm not sure. But wherever it is, it still looks like an old, wrinkled ballsack!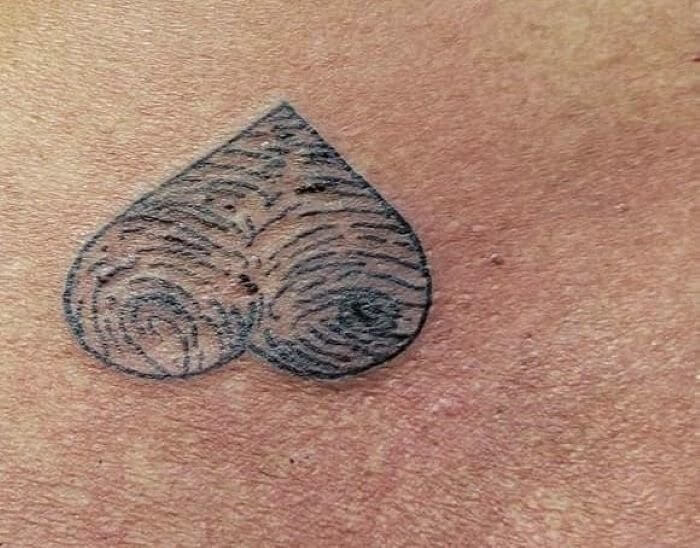 And what the hell is the story behind the idea anyway? Why did this person want fingerprints on a heart? This person should stay out of the sun for a while too!
This Tattoo Is Much Cooler Than You Think!
To the untrained eye, this tattoo may look like a cute shark that some clever guy designed for their first tattoo. But no, this little guy is a celebrity. Meet Sharkle from " Night in the Woods!" It's an adventure video game that combines exploration and puzzle-solving. The game follows the story of Mae Borowski, a college dropout who returns to her hometown of Possum Springs after a mysterious disappearance.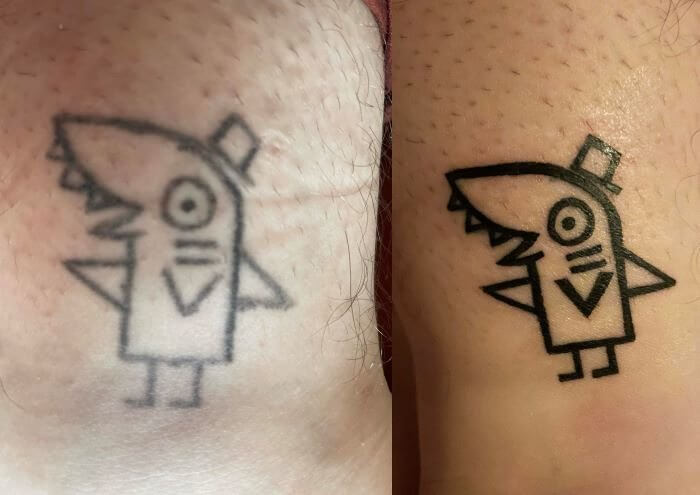 Players control Mae as she explores the town, interacts with its inhabitants, and uncovers the secrets lurking beneath the surface. It features a unique art style with animal characters like Sharkle!
Is That a Dog With a Beard?
It appears that this tattoo was done freehand. And while I've seen worse, there is no excuse for how out of proportion it is. And the wolf looks like an Amish fox. You know, the guys with the beards and no mustaches, LOL! And why do the lines have an infected-looking red glow to them? If they were intentional, they just look sore. This one fell short of the mark!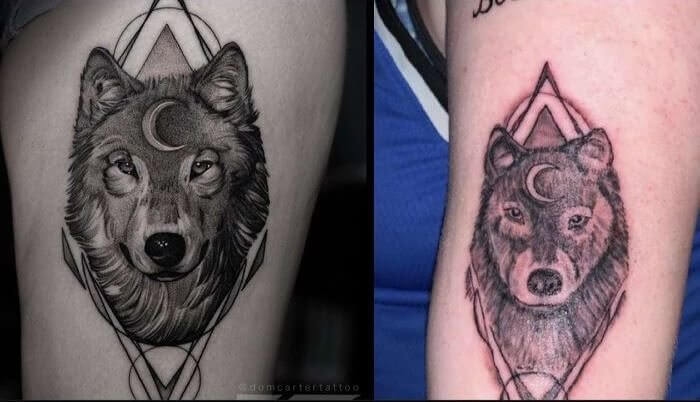 And while I have nothing against someone being inspired by another person's tattoo, straight-up stealing their idea from start to finish is out of line, if you'll excuse the pun!
Timon Has a Hangover!
At first glance, this tattoo doesn't look too bad at all. Then you ask yourself, "Why is Pumba in the lineup but not Timon?" Then you look a little closer, and there he is! Well, at least we think that's Timon. The poor guy looks like a shadow of his former self. He looks like he's been taking way too many drugs, and he's paranoid as hell as a result!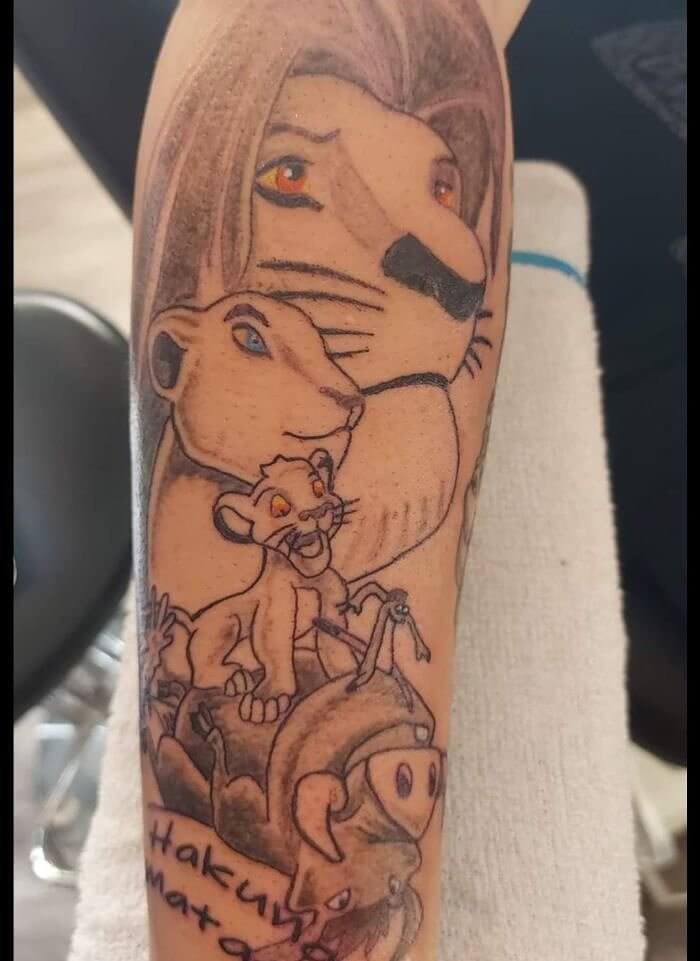 Look at the state of him. He's tiptoeing away from Simba like he's afraid he will be his next meal. Let this be a lesson for you all. Say no to drugs!
It's Time to Finish What You Started!
We're not mad at this tattoo. It just needs to be finished. Be that as it may, it does seem like the guy's credit card was declined after the first session. And judging by how old the ink looks, this guy never found the extra cash to get it finished. Either that or he just gave up on the dream. Maybe he stopped watching Kung Fu movies or something like that.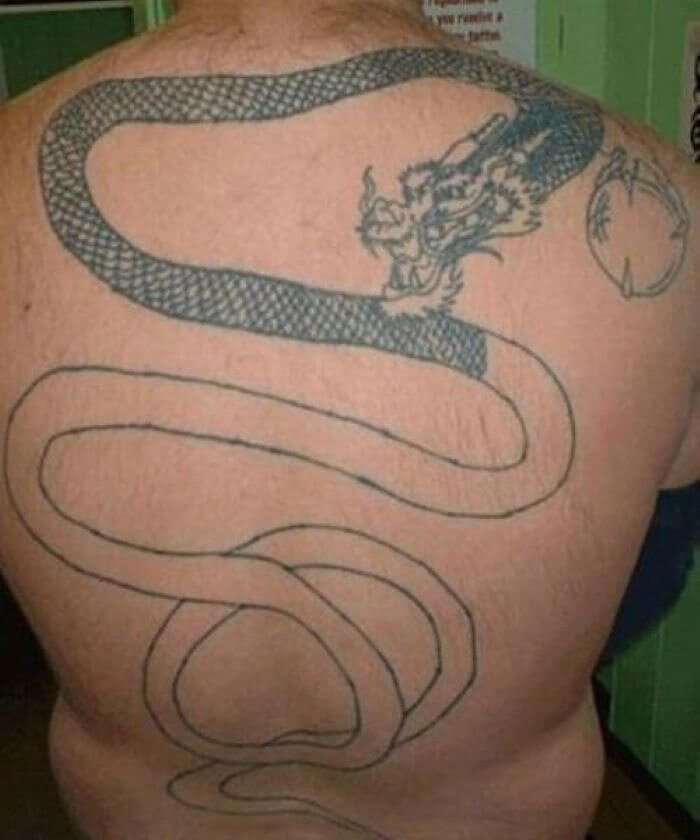 If he does ever decide to get it finished, we think this tattoo could be badass with the right tattoo artist. With some shading and plenty of color, this guy could have success.
We Like This One!
Well, it turns out that this walking potato is actually meant to be a frog. And as we understand it, the owner of this frog is very proud of it. It didn't turn out like she initially hoped, but she thinks it's cute, and we tend to agree. It's by no means the worst tattoo on the list, and it definitely has loads of character. It seems to be missing an arm, though!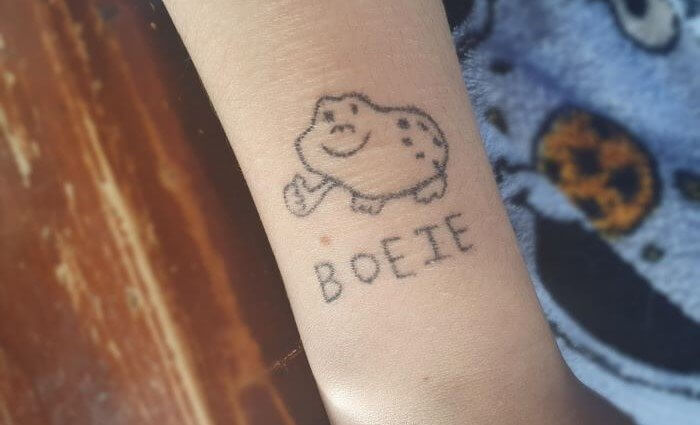 It comes with its own little slogan too. "Boeie" is Dutch for "who cares!" Which is very cool. This tattoo gets a thumbs-up from us. Boeie!
This One Is Making Me Hungry!
So, it turns out that some people have a passion for garlic bread, and they don't care who knows it. But what the hell is all that purple about? Are we to assume that purple is your favorite color, too? Because it sure does feature in your epic tattoo. And the garlic bread looked so tasty until I noticed your big hairy armpit next to it. Kinda lost my appetite now!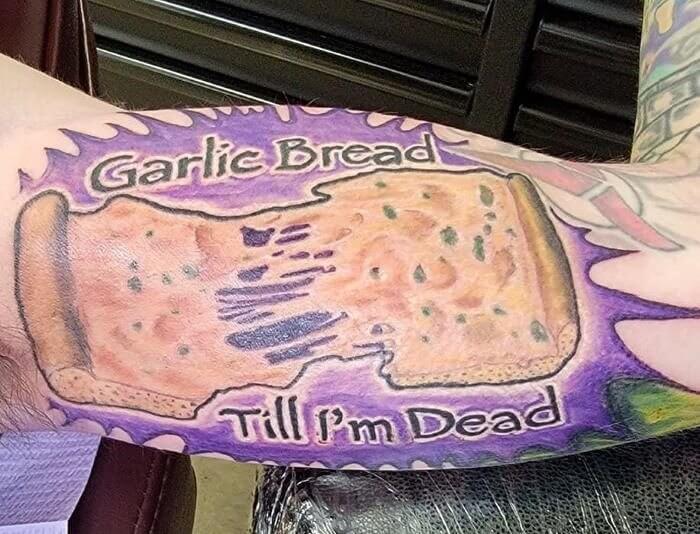 Look, we're all for crazy, weird tattoos as long as they make you happy. And this one is not bad at all. Shame about the big purple splash in the background!
Red Bull Gives You More Than Wings!
We know that red bull gives you wings, but from the look of this tattoo, red bull gives you allergic reactions too! This angry bull tattoo is apparently a couple of weeks old, so by the look of this dude's arm, he's clearly allergic to red ink. Yes, if you didn't know, tattoo ink can cause people to have allergic reactions, and red ink has the highest rate of them all.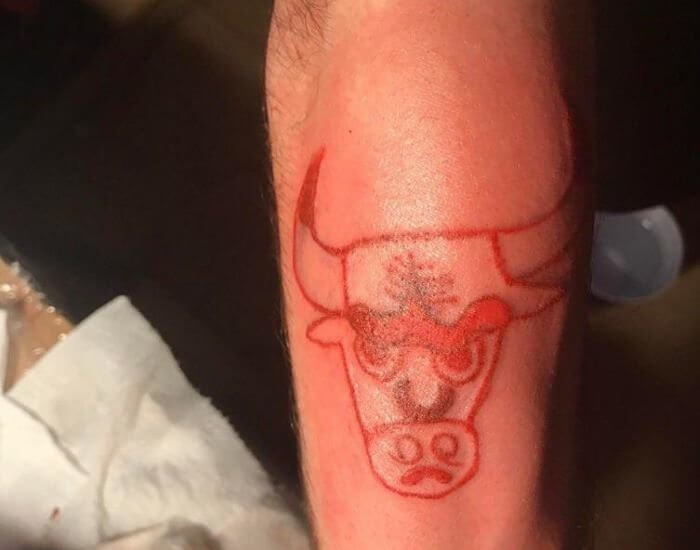 Red tattoo inks often contain pigments such as iron oxide or cinnabar, which can trigger allergic reactions in some individuals. Symptoms may include itching, redness, and swelling.
This Poor Soul!
This poor little guy came home from spooky school today, all bashed up and bruised. When we asked him what had happened, he told us that the vampires were at it again. Apparently, he and his ghost friends were out getting some exorcise playing hide and shriek when suddenly, a swarm of bats attacked them. The poor little souls didn't stand a chance. They were left battered and bruised.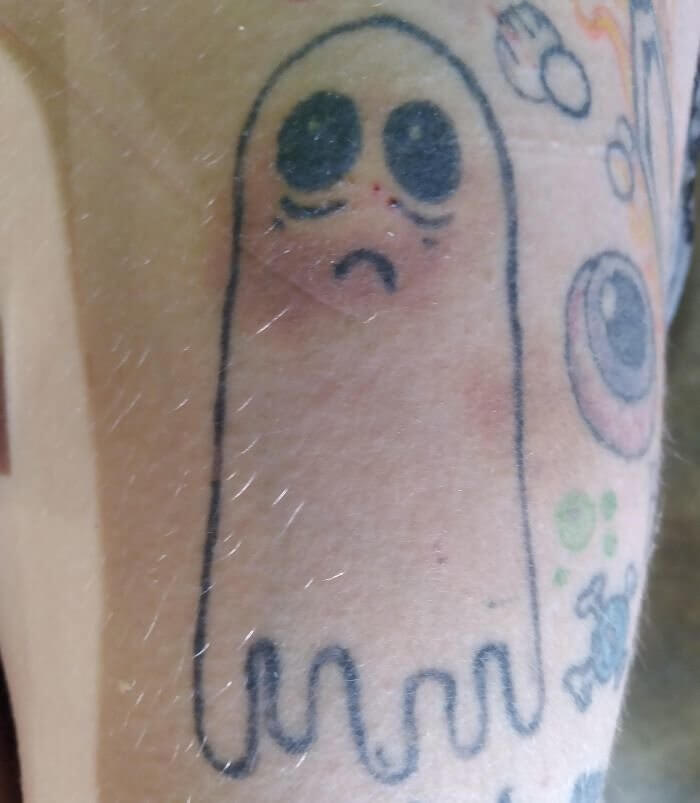 Luckily, the head-less master rode in on his night-mare and broke up the fight. We've been trying to lift his spirits, so let's hope he'll be better in the moaning!
Sad!
Surely this girl could have found a better tattoo to destroy her life with. We feel a little sorry for her, to be perfectly honest. She clearly needs some guidance in her life. We blame the tattoo artist on this one. I mean, sure, he needs to make a living, and it's her choice in the end, but in our opinion, he should have refused to do this tattoo.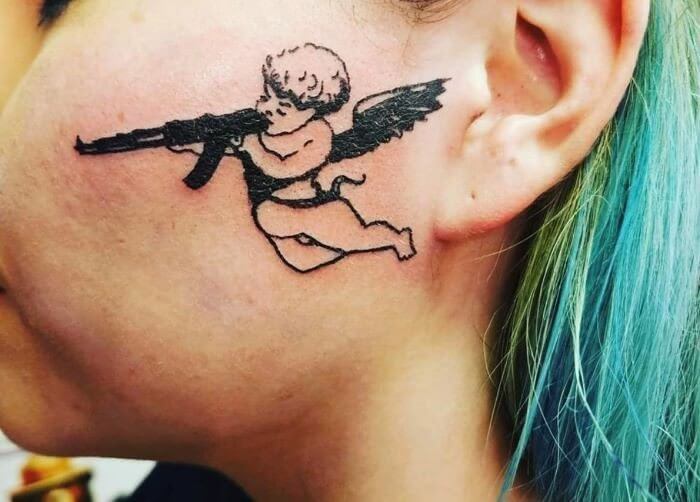 And the tattoo itself is just awful. Look at the bloody legs on the cherub; it looks like his ass is on backwards or something. The tattoo artist should be embarrassed.
Voldemort, Is That You?
There are some expressions that should remain purely symbolic, and having ''eyes on the back of your head'' is definitely one of them. This guy, however, chose to defy all reason and has tattooed a literal face on the back of his head. You have to applaud his commitment, though. He consistently shaves his head in such a way that his 'back face' can sport a pretty luscious mustache and eyebrows.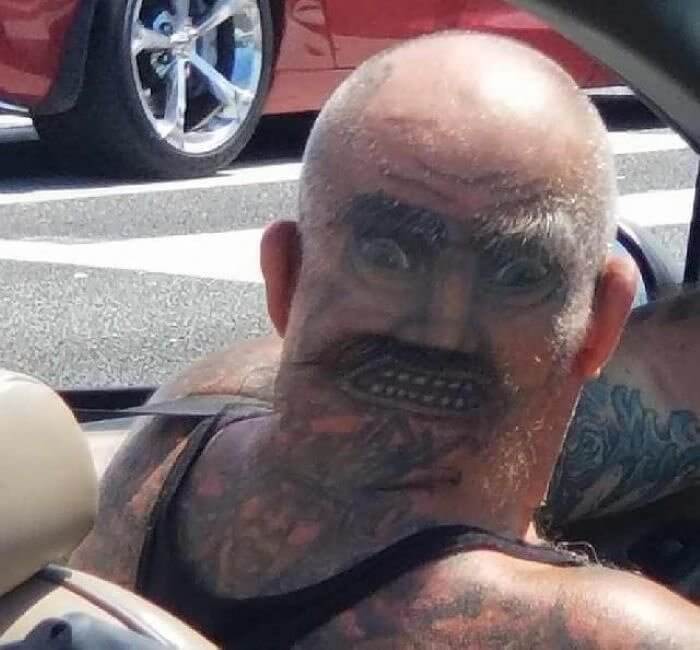 This ludicrous decision to permanently etch a face on the back of his skull has naturally raised some eyebrows (pun intended) and probably led to some funny interactions. Imagine having an entire conversation with someone only to realize you're talking to their back.
Nip Slip
Tattoo stealing always sparks a heated debate in the tattoo community, but this is too funny to even get mad about. Not only do you lack the creativity to be original, but you also lack the intelligence to even copy it properly. It's hard to fault only the tattoo artist though, seeing as there are many steps in the tattooing process. Did no one stop and think: ''Hey, is this nipple supposed to be there''?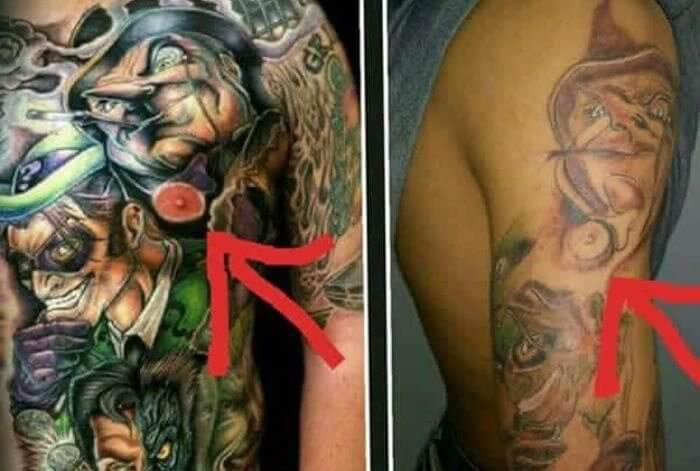 Nevertheless, no one thought to ask that question and now here we are. The nipple is definitely not the only issue with this tattoo, but it certainly is the funniest.
Texan Pride
At first glance, you might think someone's kid took a Sharpie and scribbled on their dad's arm. Alas, it is in fact a tattoo. It's hard to pick what aspect of this tattoo is the worst; the coloring, the shape of the bull (?), or the inability of the tattoo artist to tattoo a straight line. But the mix of all three makes for a truly remarkable masterpiece, in the worst way possible.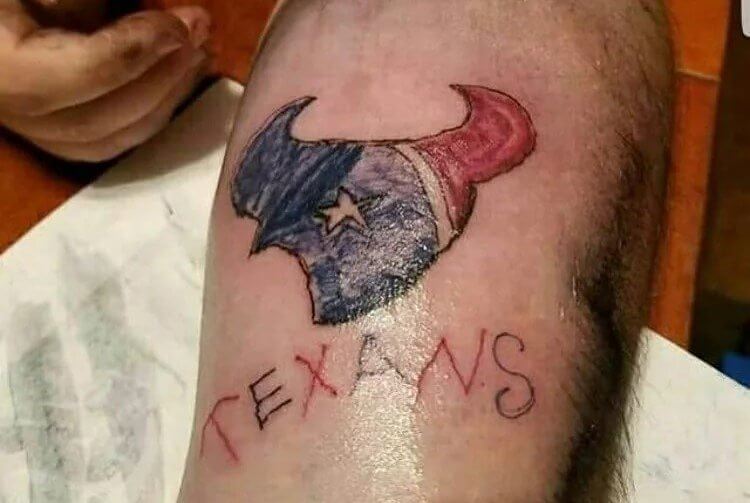 It's nice to take pride in your home state, but is this truly a worthy homage? Next time, maybe save the cash, and let your kid go crazy with a sharpie; the result will be the same - just less permanent. 
It's a Bird! It's a Plane! It's ... Trump?
Seeing as Superman is a selfless character with an impeccable moral compass, it makes sense to equate him to former president Donald Trump. Right? All jokes aside (as that was clearly a joke), it's hard to imagine someone spending their hard-earned money on something like this, no matter how big of a MAGA supporter you are. The concept of making Trump into Superman might be ridiculous (and slightly insulting to Superman), but the execution of the idea is even worse.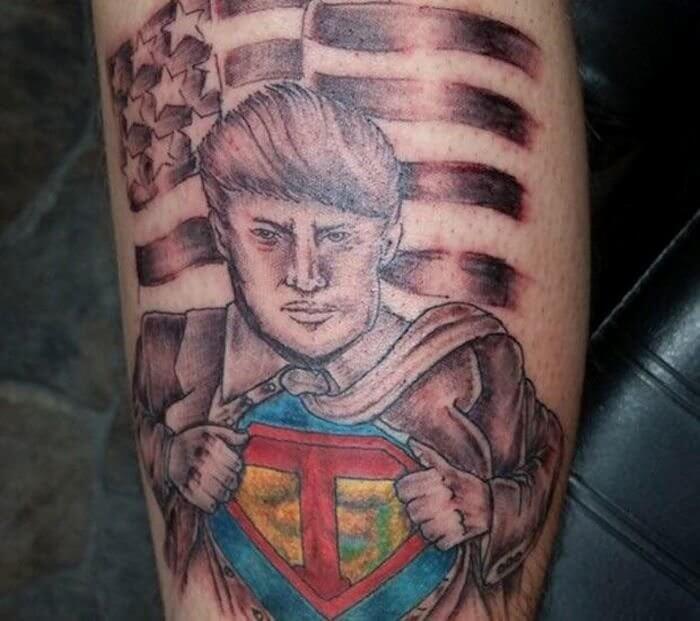 Is it a bird, a plane, or just a really bad tattoo? We'll leave it for you to decide. On the other hand, another bad decision on this tattoo is the number of stars. Are there only 9 states? A patriot should know.
You Shall Not Pass!
Why is Gandalf in Hogwarts, with dragons flying over his head and why is his hand on fire? We don't know, but it's spectacular. This must be one huge fan of all things fantastical, and it truly is fantastical... how horrible this tattoo is. It's hard to tell whether the red was a color choice or just a result of bad tattooing and a possible oncoming infection. Either way, this tattoo has no redeeming qualities.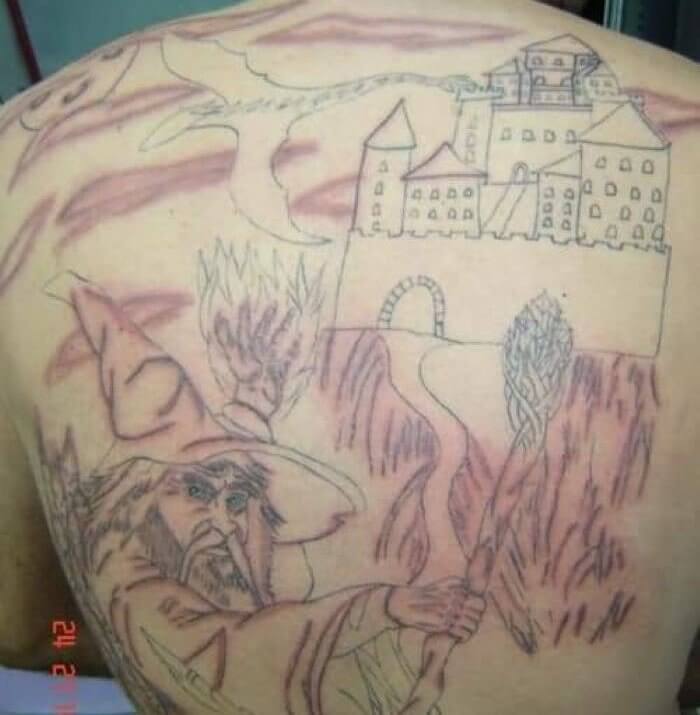 Being a fantasy fan, you usually have an active imagination as well. So, let's all just imagine that this is an amazing tattoo since delusion is the only thing that could save this mess. 
Mealtimes Are Always Awkward When Uncle Jimmy's at the Table!
I'm not sure which is worse, the tattoo or the mullet hairstyle that belongs in the 1980s! I guess it's safe to say that thanks to this man's big, hooked nose, he's been named "The Eagle" most of his life by his friends. And while we commend him for embracing his bird of prey-like features, getting a bloody eagle face tattooed on your forehead is taking things a little too far!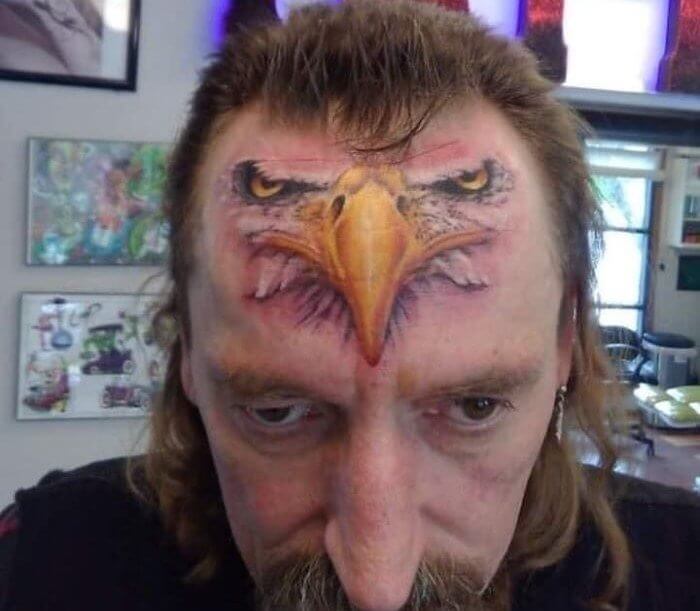 Can you imagine the awkward atmosphere around the family dinner table every Sunday? Everyone would be wondering if Uncle Jimmy will suddenly swoop in and fly off with the roast chicken!
An Angry Man Looking Through a Church Window
This tattoo is so creepy! It's like something you might see if you look through the spyhole of your front door on Friday, the 13th! Two blank eyes, cuts all over his face, and is that a big gash in his forehead? What on earth was the thinking behind the awful tattoo disaster? This battered face trapped in a cross is obviously supposed to look distressing. The tattoo artist definitely got that part right!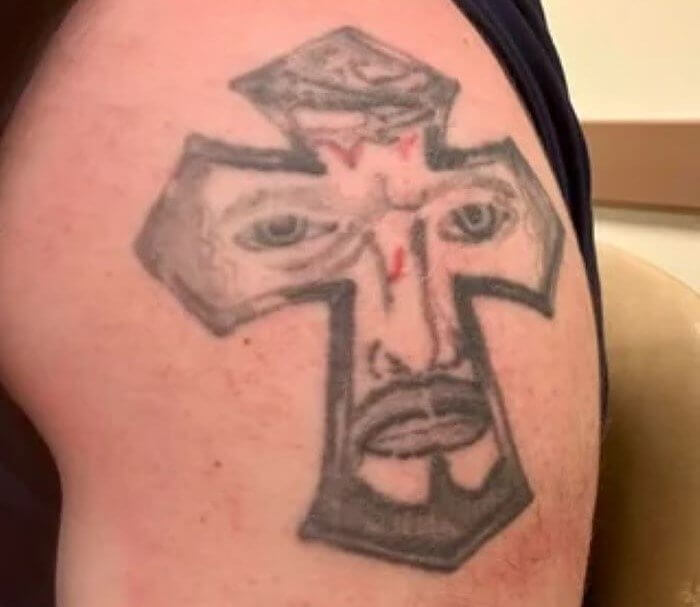 Do any of you remember the cartoon action hero He-Man from the 1980s? Well, this tattoo is exactly like his trusted friend Ram-Man, without the helmet, of course!
How Does He Explain This Tattoo When He Has His Shirt On?
Take a look at this monstrosity! Okay, when this guy is not wearing a shirt, we get it; it's a cross. But we're guessing he doesn't go around shirtless all the time. So imagine what this guy looks like when he has his shirt "on." Hilarious! All you would see of the tattoo is the big wooden-looking thing on the back of his head! It's the tattoo fail of the century.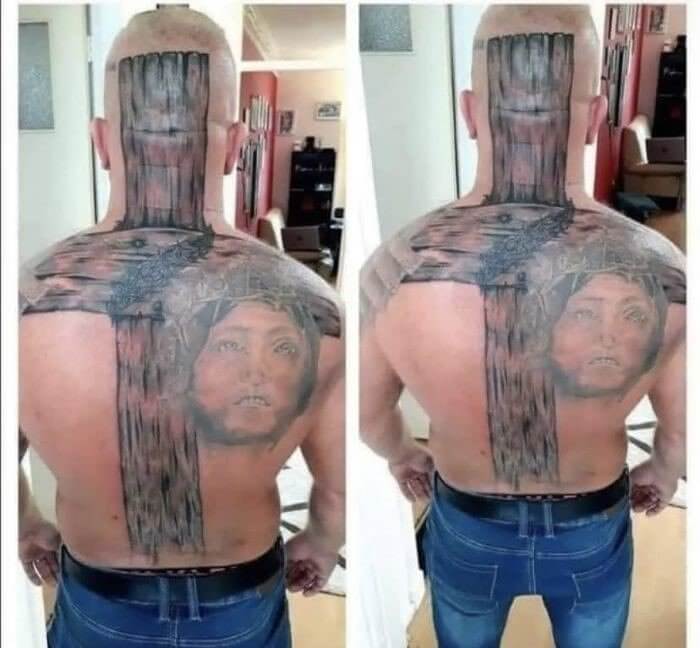 People would be walking behind him at the mall, wondering what on earth is that. Maybe he should add a pair of eyes so it looks like Groot from Guardians of the Galaxy!
Not Even Wednesday Addams Would Wear Those Socks!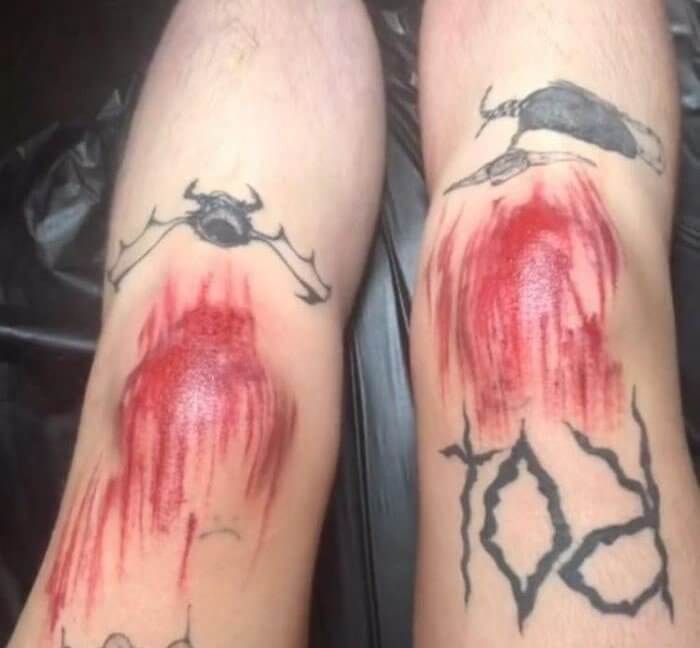 This Tattoo Just Put Me Off My Dinner!
Wow! I really do love to get me some KFC from time to time, but this person has taken their love for the famous bucket of chicken to a whole new level. After biting into one of the tasty, tender chicken pieces, they must have thought to themselves, "That is one crispy mother f*cker!" And thinking that was a most original slogan, they got it tattooed, with the spelling all wrong!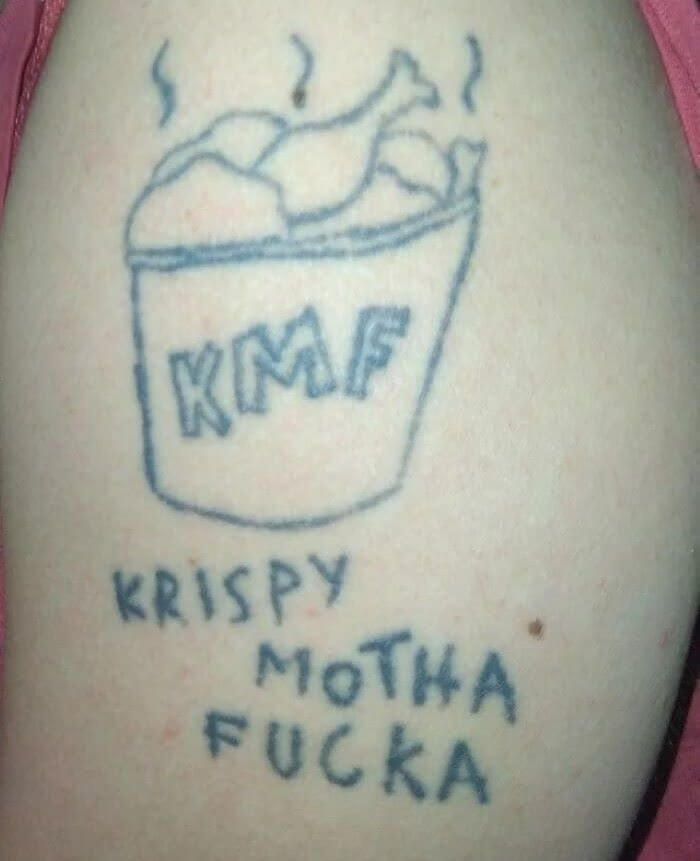 And, of course, this bright spark decided to go to some back alley, half-baked tattoo artist to get the job done. Let's hope they will always love fast-food chicken this much!
The Worst Tattoo Save Ever!
Talk about not paying any attention to detail! While this tattoo was probably meant to be a tender tribute to a loved one, it turned out to be a goddam nightmare! I think it was supposed to read "Always on my mind and forever in my heart," but the tattoo artist messed up the second line by beginning the word "and" in the wrong place on the right-hand side of the heart.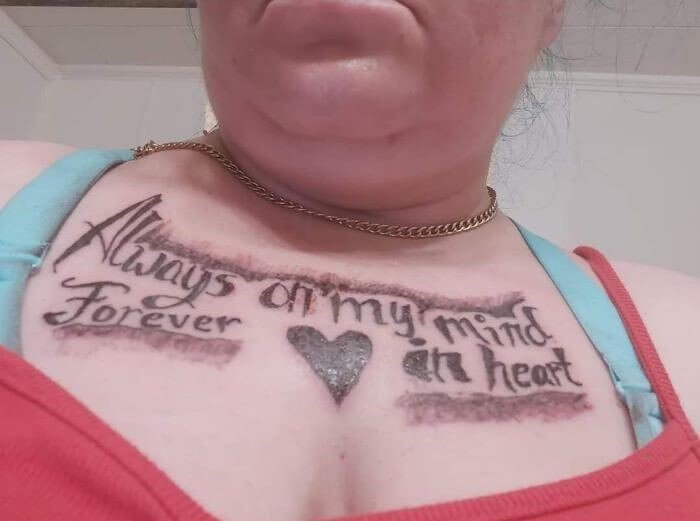 In an effort to save himself, he changed "and" to "in" and reconstructed the sentence. The end result is a tattoo that doesn't just look awful, it makes no sense either!
He Must Really Love the Simpsons!
I get that this guy is proud to be American and that his tattoo of hands in prayer with the American flag is his way of saying, "In God we trust." But why did he choose the hands of Grandpa Simpson to use as his model for the tattoo? Could he not have used one of the younger members of the Simpsons family, like Bart, Lisa, or even Homer?
All joking aside, did the tattoo artist do this freehand, or could the guy have actually requested a pair of cartoon-like grandpa hands? At this stage of the article, nothing would surprise me!
This Lion Has Really Overdone His Makeup!
This lion really overdid his mascara and eyeliner this morning. You can just imagine him getting ready to model for this tattoo. He really wanted to emphasize his beautiful, big blue eyes. And when he was finished with the makeup, it appears he blow-dried his lion's mane thoroughly before adding a handful of hair gel for that slick, combed-back look. This is, without a doubt, the most stylish lion we have ever seen!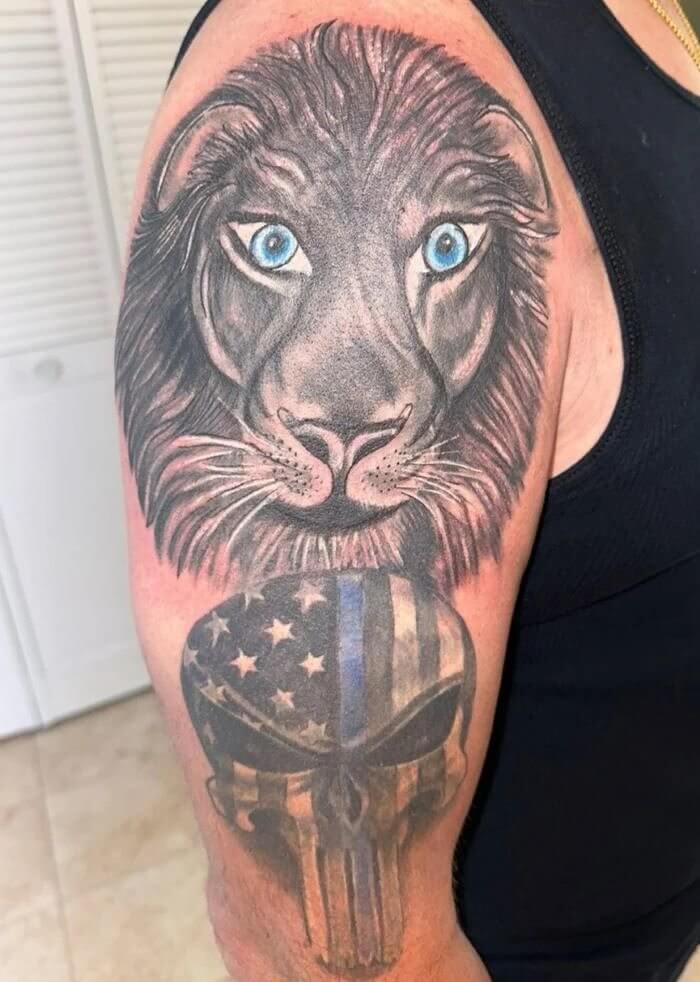 It's as if the lion wanted to give this guy's arm a slightly more cheerful appearance after seeing the grim "Punisher" skull tattoo he was competing with.
That's What You Get When You Allow Some Kids to Draw on You!
We think this guy is a preschool teacher, and one day, while on an awful hangover, he gave the kids Sharpies and let them draw whatever they wanted. I mean, there are some pretty impressive preschool pictures here. The pair of glasses caught my eye first. But after studying this fantastic fusion of kid's art for a while, my favorite piece is the big fly crawling toward the guy's ballsack!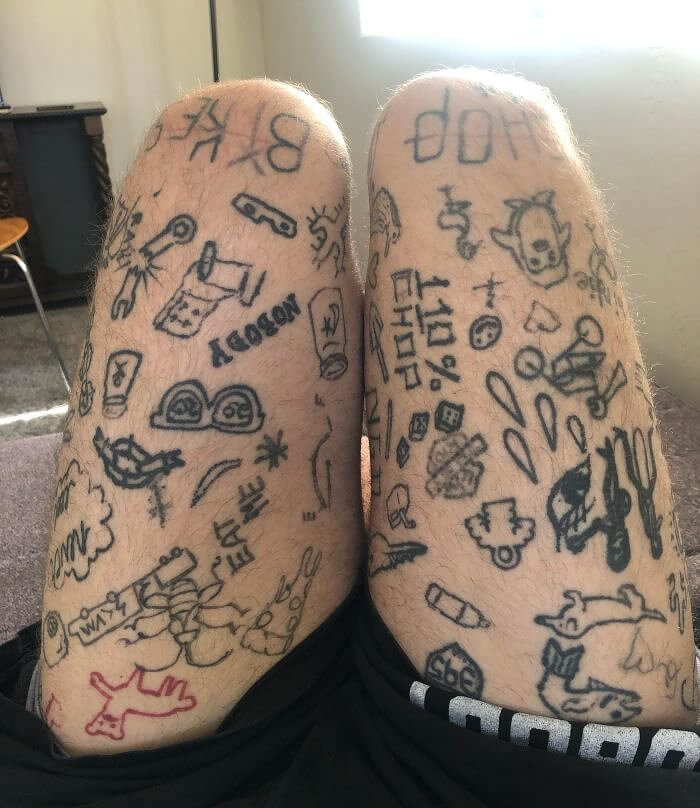 I'm not sure the kid's parents would be too happy with this guy's teaching tactics. I only hope he wore shorts to work and didn't have to take off his trousers!
Thanks for Letting Us Know; We Were All Wondering!
Well, there's no turning back from this one! This guy thought it was a great idea to let the world know what his penis looks like just by looking at his arm. And I don't mean the size of his penis. No, this guy thinks he is a victim of circumcision, just in case you were wondering. I suppose it's a conversation starter, but it kinda removes some of the mystery, doesn't it?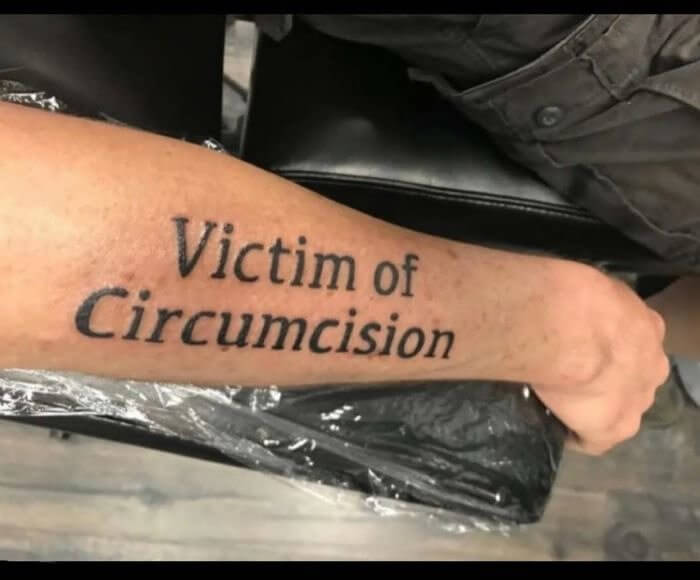 We guess that he has done this to get back at his parents. Maybe he feels they shouldn't have chopped his foreskin without his permission. Does he have a point?
Talk About Driving Yourself Crazy!
Of all the tattoos on this list, this one is definitely my favorite. I mean, it's kinda genius, right? If you focus on the tattoo, it's actually pretty convincing. It really looks like a miniature version of himself driving his body. We think the tattoo artist has done a great job here. I wouldn't get it done myself, but that's just me. Would you get a tattoo like this one?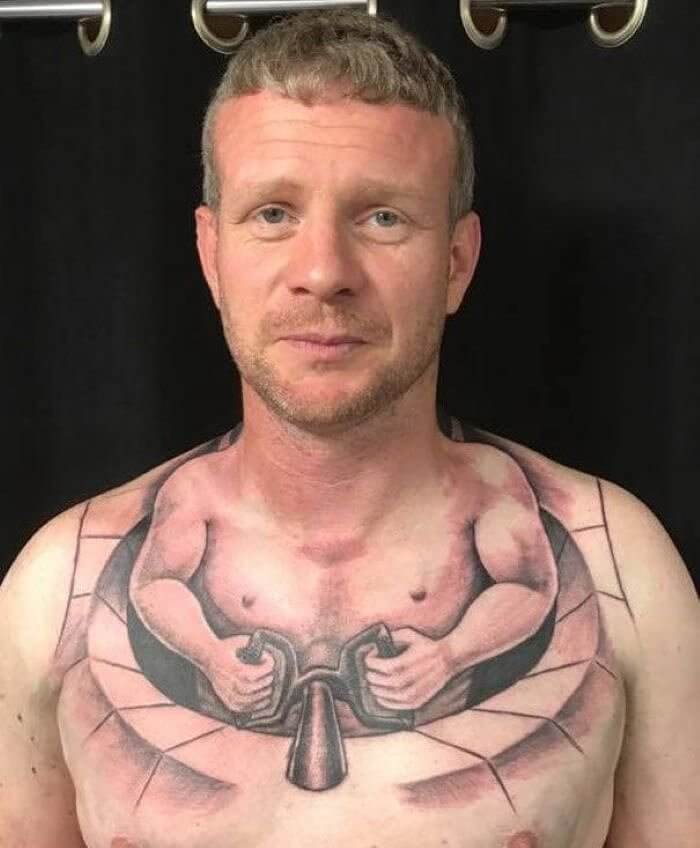 This guy must be pretty famous down at his local pub. I can imagine his friends calling on him every Saturday night to take off his shirt just to get the party started!
Bloody Hell! Why Did You Have to Involve Jesus?
I'm sorry, but this one is as confusing as it is weird! Leaving the bizarre image aside for a moment, why did she have to involve Jesus in her crazy tattoo design? What would Jesus do with what? There are three alien-looking dudes performing some kind of train on each other. I don't get it. Is this a Tik Tok challenge that this lady wants Jesus to get involved in or something?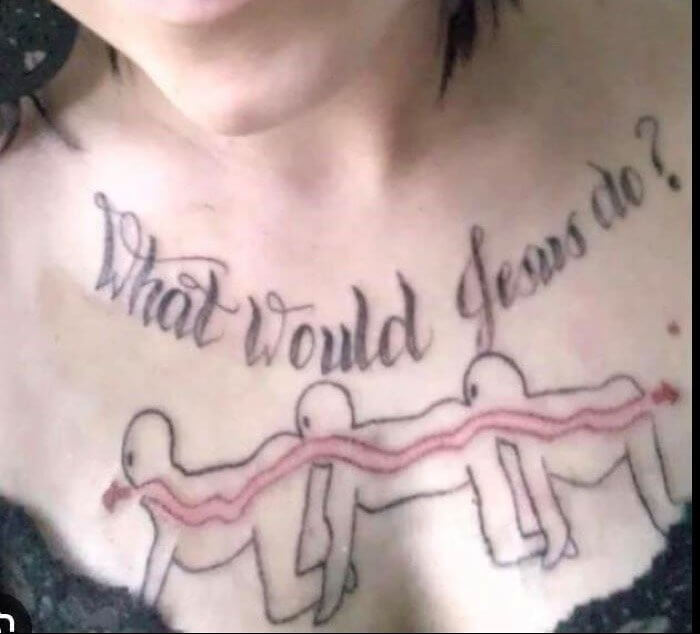 Maybe she wants Jesus to create some sort of triple human. But if he's successful, will everyone have to walk around on their hands and knees? I hope not; I have bad knees!
This Little Devil Doesn't Look So Bad!
Do you think he got both of these tattoos at the same time, or did he get the "bad idea" one later? In our opinion, the rest of the tattoo seems like a pretty unique idea. No one would really know what it is until he makes the sign with his hand. And even when he does, the little devil looks kind of cute. I mean, at least he's smiling for once, right?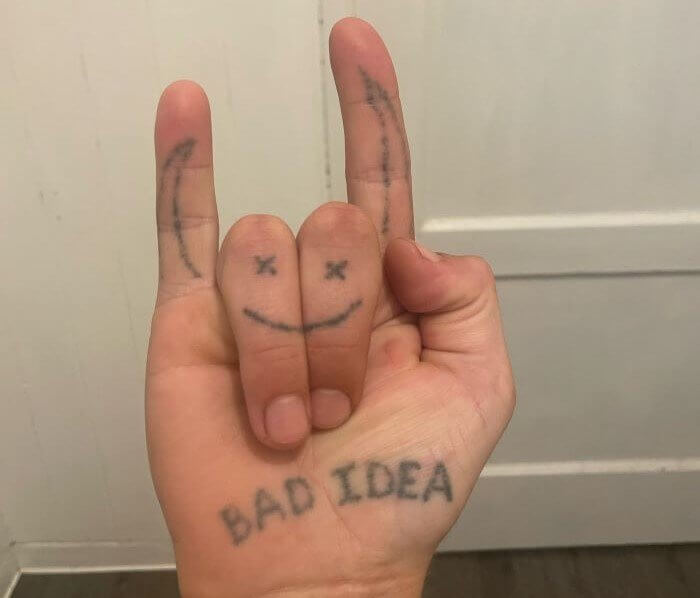 The poor guy must have gotten some negative feedback, though. Maybe when he went home and showed his mom, she shouted, "I'm not taking you to church on Sunday looking like that!"
The Little Mermaid Looks Like She Needs to Go to Rehab!
You see, this is what happens to most child stars! I mean, look at the state of poor Ariel. It wasn't that long ago when she was a superstar who entertained millions of kids in "The Little Mermaid" movies. Now she looks like she's turning tricks as a stripper! And judging by the state of her tail, she's been around the block a few times. It's time to turn your life around, Ariel!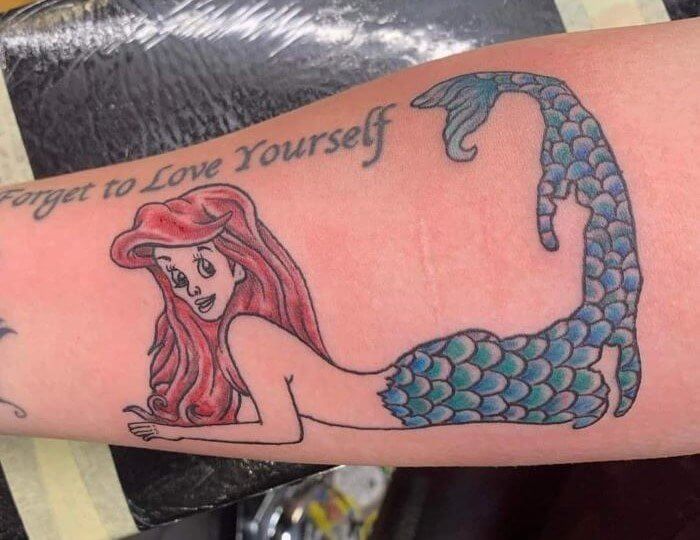 Even the tattoo says, "Don't forget to love yourself." Maybe you should come back as an adult star. "No, Ariel, I don't mean that kind of adult star, for god's sake!"
Incy Wincy Spider Hasn't Aged Well!
While we've seen way worse spider tattoos than this one, the tattoo artist needs to go back and brush up on his preschool-level nature studies. Unless this hairy little guy was in an awful fight and lost a couple of limbs, don't spiders generally have eight legs? Apart from that, his hollow eyes and grim expression give this insect a pretty cute look. Probably not what the person was looking for, but that's life.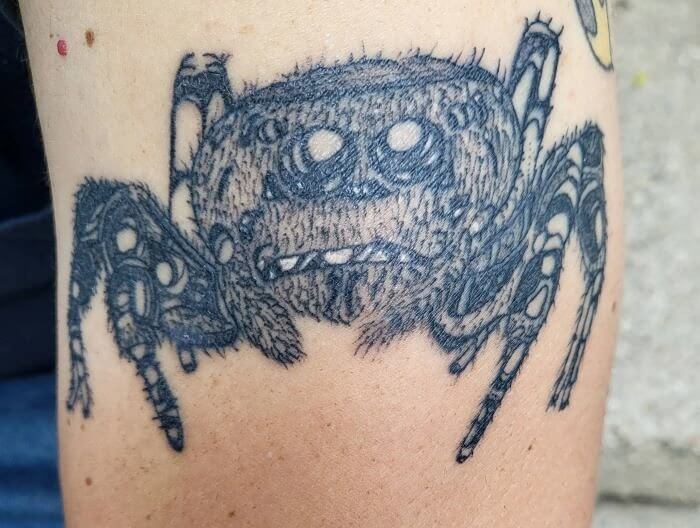 This particular spider is fairly popular, and we're sure this was an attempt to copy the original. It may be way off the mark, but it's not a bad result.
Wacko-Jacko Must Be Turning in His Grave!
It took me a while to figure out that this odd-looking tattoo is actually supposed to be the King of Pop doing one of his famous dance moves. And judging by the other terrible tattoos on this guy's leg, maybe it's time to find a better tattoo artist. What on earth is that above Michael's head? It looks like he has just headbutted the little mermaid in the gut or something!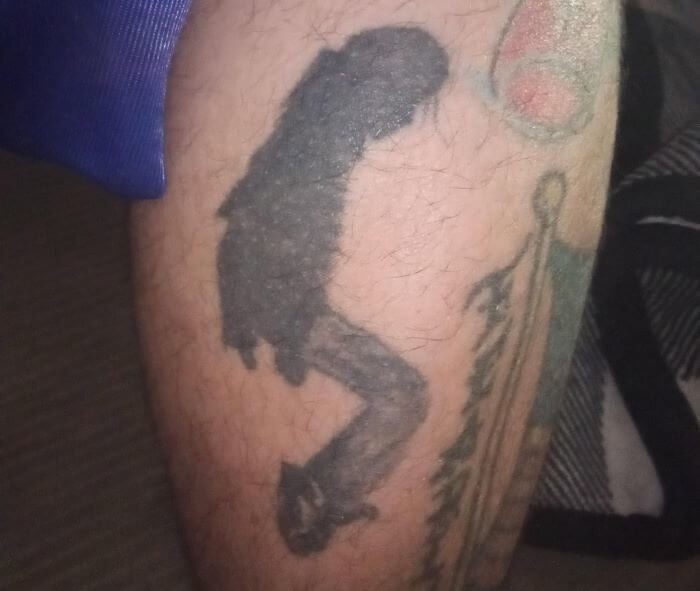 Maybe next time you get a silhouette tattoo, choose an image with the arms outstretched so it doesn't look like a child drew on you with a Sharpie while you were sleeping!
Who the Bloody Hell Is Edward?
At first, I thought the tattoo was two bullet holes, and maybe Edward was a violent ex-boyfriend or something. But it turns out it's supposed to be a vampire bite, and Edward is the guy from the "Twilight" series. Poor Edward seemed to be having an off day when he bit down on this lady. He completely missed her neck and chomped down on her collarbone. Probably had to visit the dentist after that one!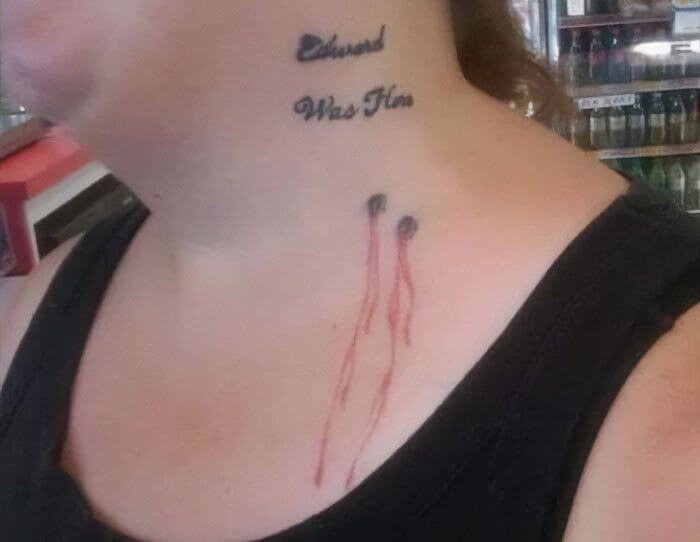 I understand it's hard to know where this lady's neck begins and ends, but the writing is pretty much where the bite should be. Better luck next time, Edward!
Butter-Elephant-Tree-Fly-Thing!
When the tattoo artist asked this lady what kind of tattoo she wanted, she replied, "Well, I like butterflies, elephants, and trees." And with an overconfident smirk on his face, the tattoo artist probably thought, "Hold my beer!" The poor elephant looks stressed out, and who could blame him? His bloody trunk is rooted in the ground, while the wings on his head are trying to lift him off the ground!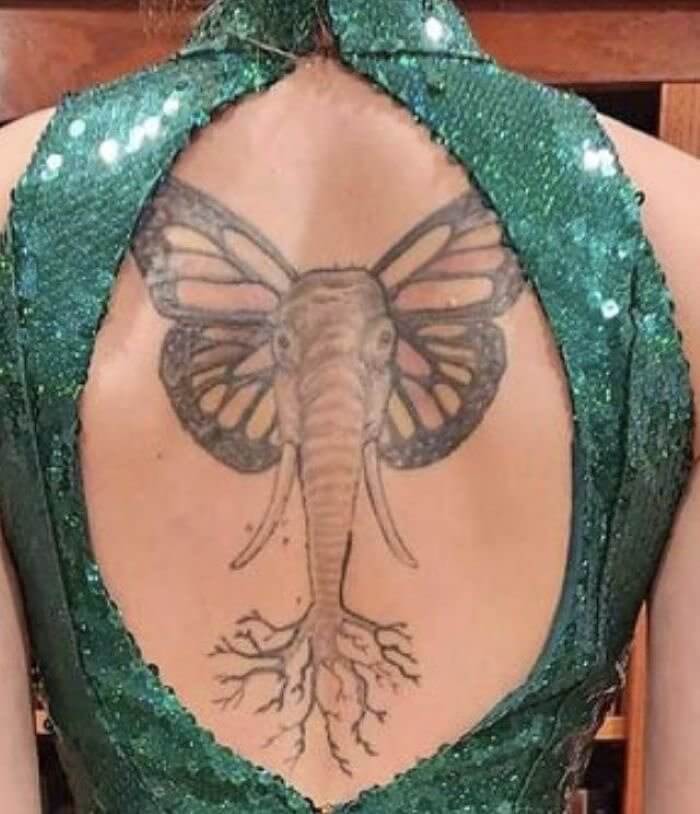 The lady seems to be proud of the monstrosity, though. She even bought the perfect dress to show it off. Bet she just loves explaining the story behind this tattoo fail!
She Must Have Had One Hell of a Hangover!
Looks like this poor girl lost a bet while out drinking with her "so-called" friends and had to suffer the consequences. You would need to be a really particular kind of asshole to do this to someone at a party. We just hope she was conscious when this happened. I hope her parents hunted down the tattoo "artist" and kicked his butt. Living with a mistake like this could break a person.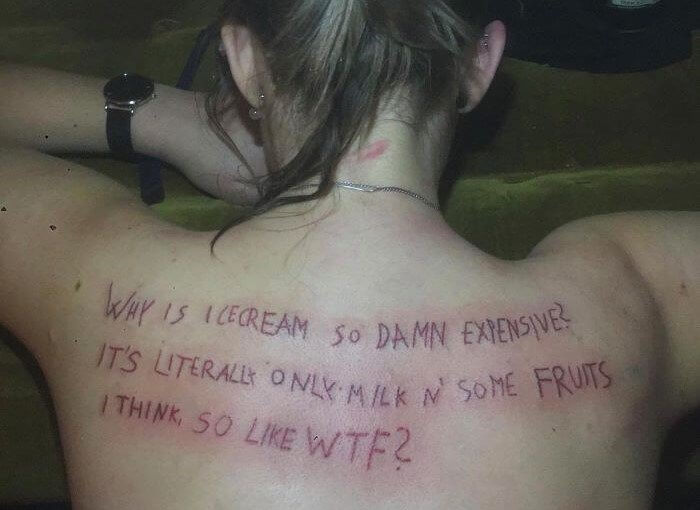 Let's hope she has managed to get this terrible mistake removed since it was posted. She should at least find a proper tattoo artist and get it covered.