Distractions and hassles of air travel can make sleeping on an airplane practically impossible. Whether it's kids screaming, not enough legroom, noise from movies and video games, or sunlight beaming through the tiny windows, getting a shuteye can be a struggle. Nevertheless, there are tips on how to sleep on a plane that any frequent traveler should master

Sleeping on an airplane is the only way one can arrive feeling refreshed and ready to kick start a new day. While many distractions are beyond one's control, enjoying a few hours of sleep is still possible, which is enough. Here are some of the best-kept secrets on how to sleep on the plane.
 
How to Sleep on a Plane
Choose a Seat Wisely

If you are not willing or able to spend for a first-class seat, strategically selecting a center in the main cabin is vital. Window seats can quench any worries about how to sleep on a plane, as there will always be something to lean against to catch some shuteye. Seating further away from the row also averts the risk of people scrambling over your body every time they are to go to the restroom. Additionally, it offers an opportunity to control the window shade.

The bulkhead seats are some of the best for tall people needing some legroom, as there is nothing directly in front. Nevertheless, they are usually close to the restroom or galleys, which can be distracting. Another tip entails booking seats further away from the galley or bathrooms to avoid the commotion of people moving around.

Splurge on First Class

Long flights can be distressing, especially during the holidays when almost every person is flying for any person looking to have ample sleep and arrive at the next destination feeling fresh and rejuvenated; spending on first class is a no-brainer.

The premium price of first class comes with its perks, including lie-flat seats perfect for a mid-flight snooze. However, it is the same, with ample space and extra legroom. Additionally, there is no mass movement of people to and from the bathroom, which can be a big distraction while trying to sleep. Selecting seats on the premium economy is a great compromise for anyone who does not want to spend much.

Consider Flight Timing

How to sleep on a plane should never be a problem with adequate planning. When selecting a flight, it is best practice to settle on times that rhyme with a typical sleep schedule. For instance, one can decide on a flight that takes off when one typically goes to bed.

This way, it won't be challenging to fall asleep on the plane as the body will automatically shut down when airborne. Most people opt for flights that start at 9 p.m. as they best fit the typical sleeping pattern.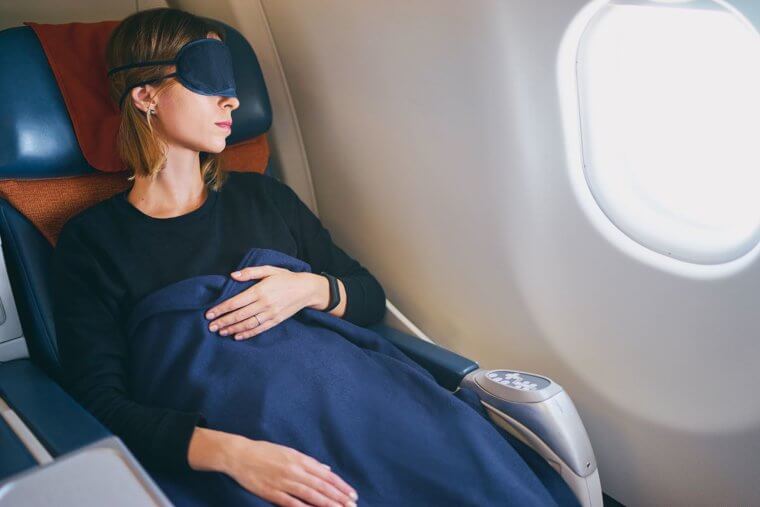 Skip Coffee and other Foods

Caffeinated drinks such as Coffee and tea can make it difficult to sleep on a plane. If you are traveling during the day, Coffee can pose significant problems as it increases alertness. There are also certain foods and alcohol that can interfere with the sleeping pattern, therefore, they should be avoided.

The best thing to do while trying to catch some sleep on a plane is to drink water or fruit juice. Additionally, sleep aids prescribed by a doctor can also come in handy in boosting the urge to sleep on the plane.

Bring a Neck Pillow and Claim Some Blankets

Recreating a sleeping style in a limited space can enhance the prospect of catching some sleep on a plane. Therefore, packing an ideal travel pillow can come in handy. Better yet, carry a blanket to enhance some warmth to rest comfortably.

The blankets can double up as support pillows if the plane is overheated. Investing in a good eye mask can also help block light while making it easy to disconnect from the surroundings to get good sleep.

Bottom line

Finding a way to get comfortable in an airplane is never easy. Nevertheless, the above tips on how to sleep on a plane from travel experts and frequent travelers are sure to make everything easy.