Growing Meyer lemon trees can be a rewarding experience. The tree is not only a prolific fruit producer but is also beautiful and shiny. The shrub-like tree can grow up to 10 feet tall, depending on where they are planted. While they're mostly planted on the ground, they can also do well in garden pots and bear fruits as they only require a warm climate.

If a Meyer lemon tree is not blooming, then its fruiting and brewing windfall citrus scent to homes. What better way to prepare for an all-natural lemon scent than by mastering the best Meyer lemon tree growing tips.
Meyer Lemon Tree Growing Tips
Growing Conditions

A Meyer lemon tree needs a warm climate to blossom and fruit. The tree needs a period of cool temperatures of about 60o to encourage flowering. However, that does not mean the tree cannot perform in colder regions.

For people in colder regions, the tree should be kept inside the house whenever temperatures drop below 50F and taken out whenever the sun comes out. One of the most important Meyer Lemon tree growing tips is to ensure it gets abundant sunlight. Therefore, the tree can be planted by a large window. If the area does not get enough sunlight, it is best to invest in good grow lights.

Soil and Water

How well and beautifully a Meyer lemon tree matures on the water it gets and the nutrients from the soil. Therefore, the tree should be planted in loamy, sandy soil well drained.

The soil's top inch should always be moist but not soggy. Additionally, the soil's PH should be between 5.5 and 6.5. If the PH is slightly higher, adding some Sulphur can help. If the PH is lower, one can add some garden lime.

Another important Meyer lemon tree growing tip is to ensure the tree gets a sufficient amount of water.

Overwatering or underwatering can harm fruit production. The tree should be left to dry in between watering.

Nutrients

For a Meyer Lemon Tree to be healthy and productive, it should receive the right amount of nutrients. Consequently, it should get vitamins and minerals.

Therefore add some fertilizer specifically designed for citrus into the soil. Nitrogen-rich fertilizer is one of the best for citrus plants.

While potting or planting the tree, it would help to mix some citrus plant remains into the natural soil as it would provide some vital nutrients. The artificial fertilizer can be added anywhere between four- and six times a year, spaced out by about six weeks. It could be a sign to add some fertilizer whenever yellow flowers appear.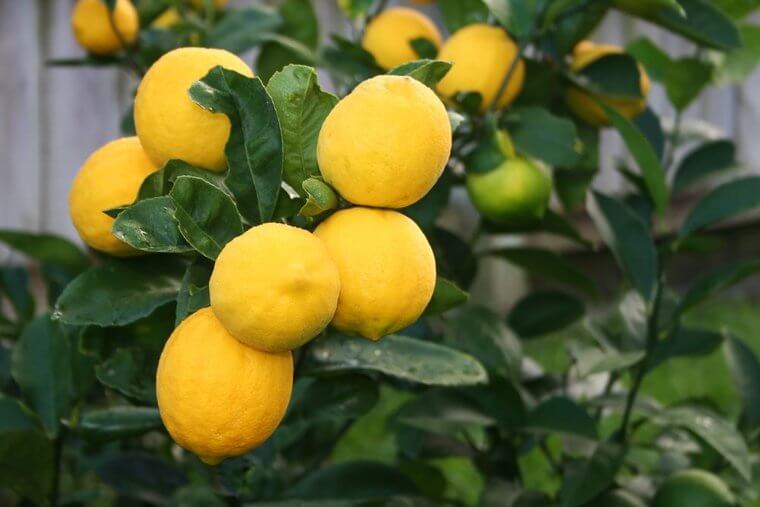 Pruning

Pruning is another important Meyer lemon tree growing tip if the tree is to be healthy and attractive. Cutting off unnecessary branches helps stimulate the growth of large and healthy lemons. However, it should be done when the plant is 3 to 4 feet tall, and the lemons are ripe.

The pruning process should begin at the base, targeting dead and dying branches. Thin stems that won't be strong enough to hold fruit can also be cut off.

Dealing With Pests

Mites' whiteflies and mealybugs are a big nuisance to Meyer lemon trees. If unattended, they can cause substantial damage to a young tree. A neem oil spray can help mitigate the pests and prevent them from spreading.

Bottom Line

A Meyer lemon tree is a favorite among home gardeners and chefs. Whether interested in bright fruits, deep green leaves, the lemon scent, and a touch of beauty in the garden, the Meyer lemon growing tips will help you easily reap all the rewards.