When it comes to finding furniture for our homes, most of us pay attention to the size of the piece, its purpose, if it's the right style, if it is comfortable or not, and so on.
Whether you prefer modern, traditional, or eclectic styles, your chosen furniture should align with your personal taste. But sometimes, people's personal tastes can be so weird and wacky that you will need to bring your sense of humor when you enter their homes!
From cheeky butt chairs for your outdoor patio to octopus coffee tables for your living room, here are the weirdest furniture pieces that must be seen to be believed!
This Duck Stool Will Quack You Up!
This adorable piece of furniture combines comfort, style, and charm. The seat of this stool is ingeniously designed in the shape of a duck, complete with duck legs for the back and a beak for that essential third leg. This ingenious furnishing idea not only provides a comfortable place to sit but also sparks conversation and brings a touch of cheer to any space. It's guaranteed to quack your guests up!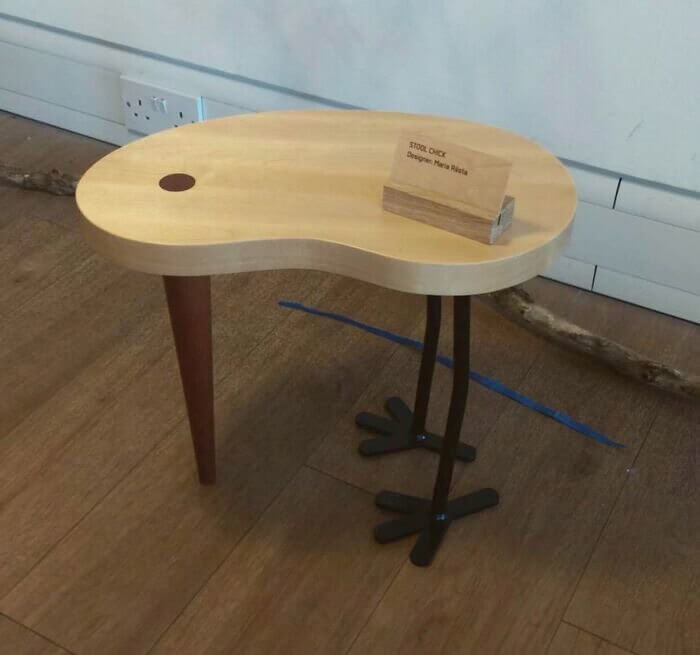 Whether you're using it as an extra seat in your living room or as a conversation piece in your study, this duck-shaped stool is sure to make a splash in your home decor.
"Your Butt Napkins, M'lord! "
This dapper-looking frog butler, complete with spectacles perched on its noble nose, stands tall with a tray at shoulder height. But wait, this is no ordinary tray—it's a holder for toilet paper rolls! Prepare to be charmed by this delightful furnishing idea that turns even the most basic bathroom necessity into a stylish affair. This clever furnishing idea serves a practical purpose and invites a smile from anyone who encounters it.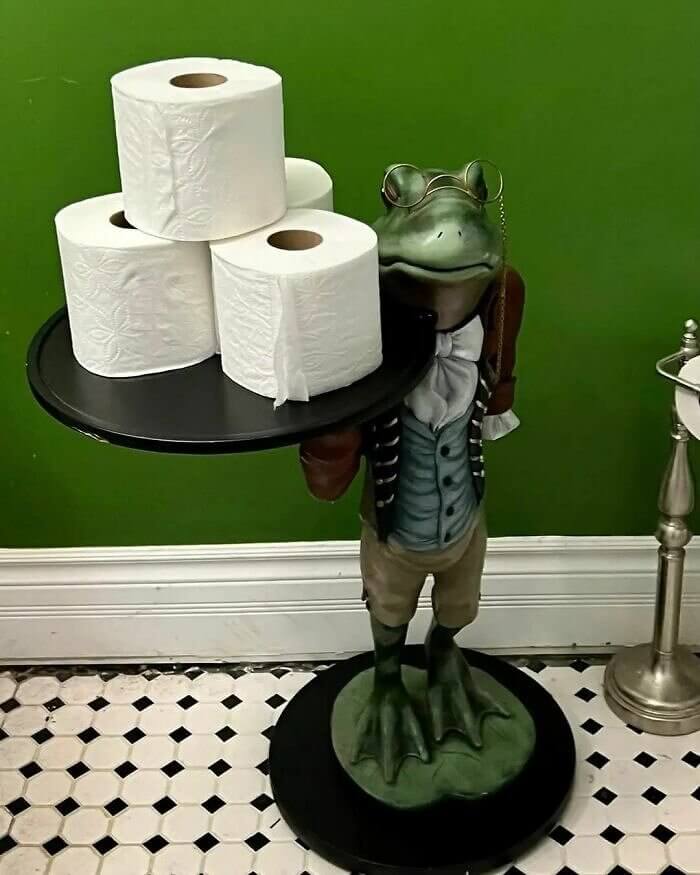 With its polished appearance and role as a holder of essential paper rolls, this stylish amphibian butler infuses elegance into any bathroom routine. It's nice to be served while on the throne!
The Highway to Health and Education
Buckle up and get ready for an educational adventure! These little Jeep tables, designed specifically for elementary school students, are an absolute blast. Imagine the excitement that fills the classroom as the students take their seats, ready to embark on an educational journey like no other. These ingenious tables even come equipped with windshields that cleverly separate the students from their teachers, creating a sense of independence and well-being.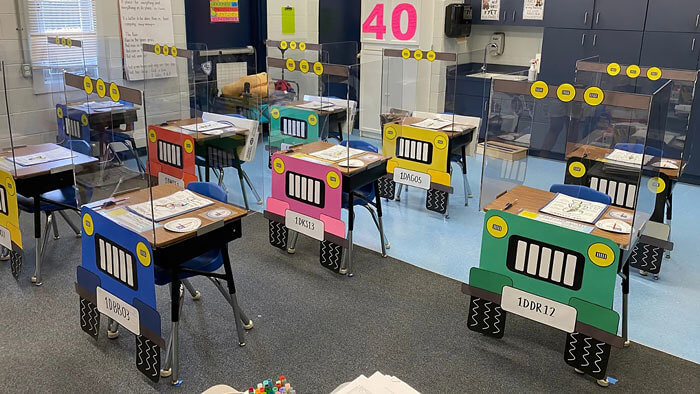 As you step into the classroom, you can't help but smile at the sight of these pint-sized Jeeps. The students are ready to navigate their way through a world of knowledge.
Dark Arts Table and Chairs!
This wooden round table and its four chairs look straight out of Hogwarts! The table has a retro vibe, but the chairs are reminiscent of the magical realm from Harry Potter. The set would be perfect for a seance or something. Each chair stands tall with a pointed backrest as if made especially for anyone who wants to raise the dead. You can just imagine the table shaking as a connection is made!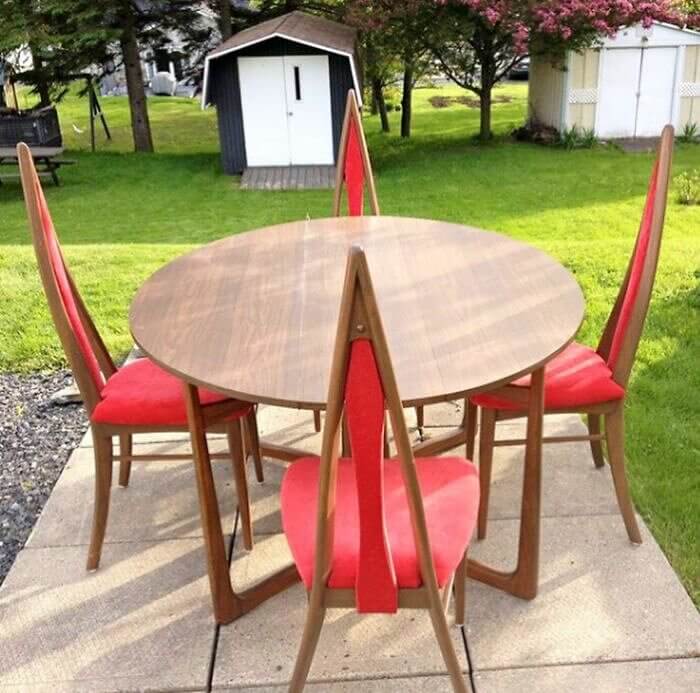 So whether you're engaging in a spirited game of wizarding chess or simply enjoying a cup of tea while practicing the dark arts, this ensemble is just for you!
These Four Have a Lot to Talk About!
Take a look at these old-style dining chairs with a vibrant modern twist. If anything is going to inject life and energy into your living space, it's these cool chairs. And it's not just the colors that make them interesting. The backrests are uniquely decorated with some of the most iconic celebrities in history. With Bob Marley, Marilyn Monroe, and Einstein at your table, these chairs are like a tribute to greatness!
These chairs bring a relaxed and laid-back vibe to your dining experience. They're a conversation starter, a piece of art, and a testament to the power of individuality.
The Frog Is My Favorite!
These extraordinary seats take the concept of "animal print" to a whole new level. From behind, they give the hilarious illusion that the seated individuals have sprouted an array of animal legs. Behold the sight of duck legs, frog legs, giraffe legs, and even lion legs sprouting from the bottoms of unsuspecting patrons! The sight of people perched on their animal-leg stools, unaware of their comical transformation, is nothing short of pure entertainment.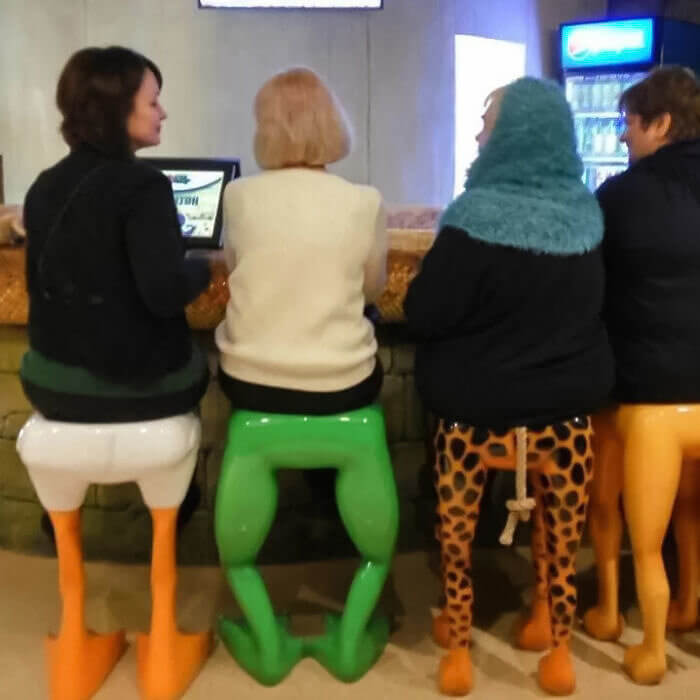 If you ever find yourself at this bar, take a moment to revel in the delightful spectacle of humans with animal legs. Who knew that bar stools could be so hilarious?
The Perfect Office Chair for a Web Designer!
Prepare to take a seat in this arachnid-inspired chair that promises to give you a spookily comfortable experience! With its six legs firmly planted on the ground, two legs pointing forward as armrests, and a cozy seat nestled in the middle, this chair spins a captivating web of style and comfort. It may not be ideal for your lounge or living room, but it would be perfect for a teenage bedroom!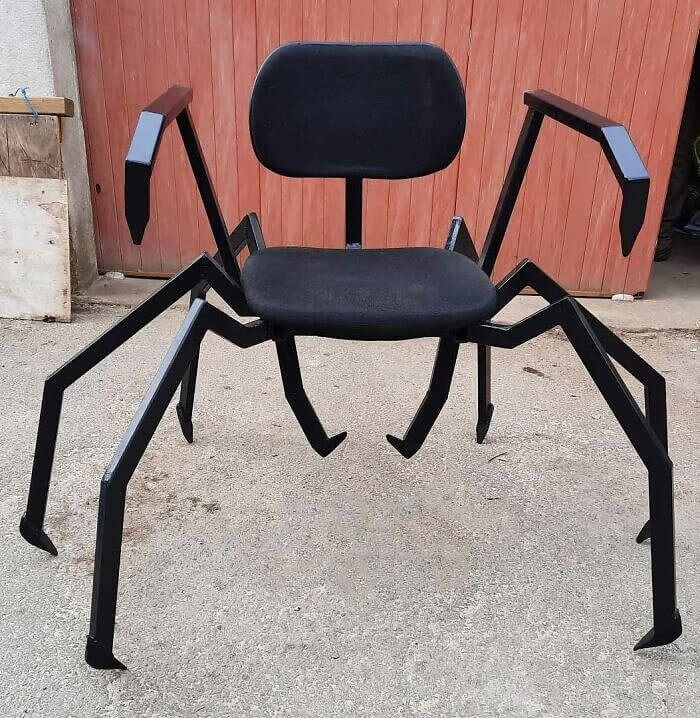 With its unique design, this chair weaves a story of creativity, embracing the unconventional and transforming it into an eye-catching piece of furniture for all who dare to take a seat!
Childhood Coziness!
Though it may appear a tad dated and shabby, this giant teddy bear sofa idea attempts to bring childhood coziness into your living space. With some upholstering and a fresh new look, imagine yourself sinking into the plush embrace of this oversized teddy bear. While it may not possess the sleekness of modern design, it oozes an undeniable character that invites you to curl up and find comfort in its embrace.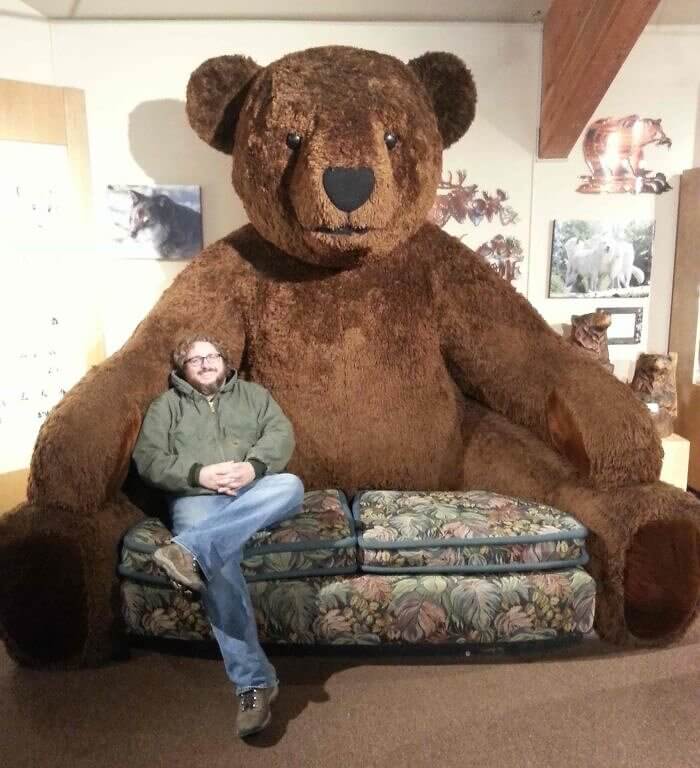 Sometimes the slightly shabby and dated things hold the most warmth and sentimental value, even if this teddy bear does require a pretty large home to settle into!
Classic Coffee Table Cassette Tape
Prepare to be transported back to an era of mixtapes and boomboxes as you feast your eyes upon this iconic furnishing idea. Crafted to resemble a classic cassette tape, this retro coffee table is the essence of cool. The familiar shape and details instantly ignite a sense of nostalgia, taking you back to a time when rewinding and fast-forwarding meant something entirely different. The design is a tribute to a forgotten era!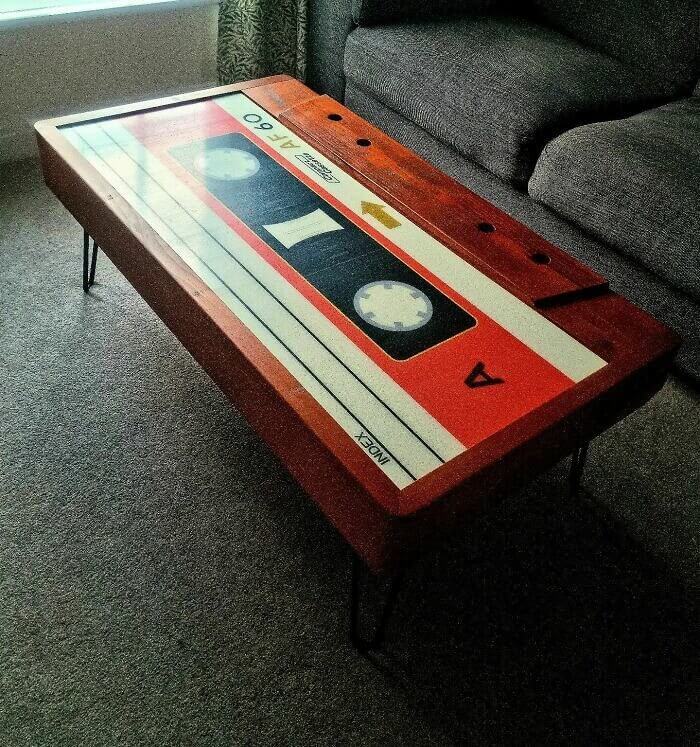 The coffee table is a centerpiece that sparks reminiscence and invites music-related anecdotes to fill the air. This unique furnishing idea reminds us that the classics never truly go out of style.
The Meeting Room at Baby Corp!
Are toddlers playing poker these days? Either that, or Octomom is selling this table on Craigslist! This toddler feeding table is a real game-changer. It's all about creating a space that's both functional and fun. Their little imaginations can run wild as they share meals, exchange babble, and maybe even engage in a friendly food fight or two! It's perfect for fostering social skills and getting to know each other better.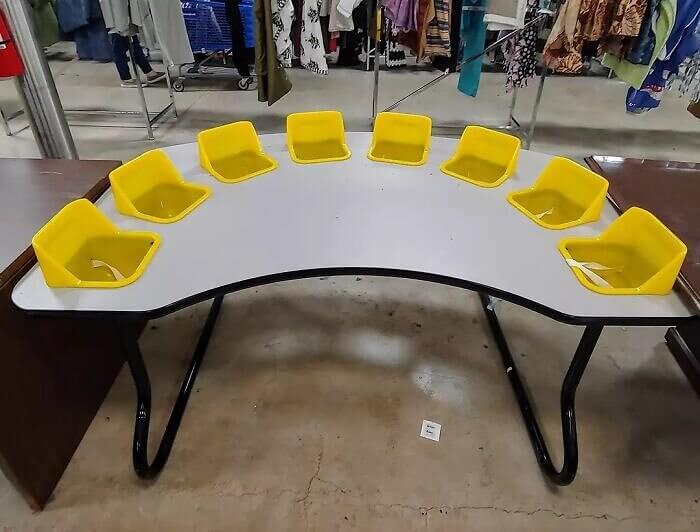 So, if you're looking to create a daycare environment that's not only practical but also fosters a sense of connection and joy, this toddler feeding table is a must-have.
Nature and Luxury Combined!
This remarkable bench combines nature and luxury to create a most inviting seating arrangement. It takes comfort to a whole new level with the addition of three fancy chair backrests, creating the perfect fusion of rustic charm and sophisticated relaxation. The wood is full of natural warmth, inviting you to take a seat and rest against the three chair backrests, elegantly attached to the log, for an earthy, relaxing experience.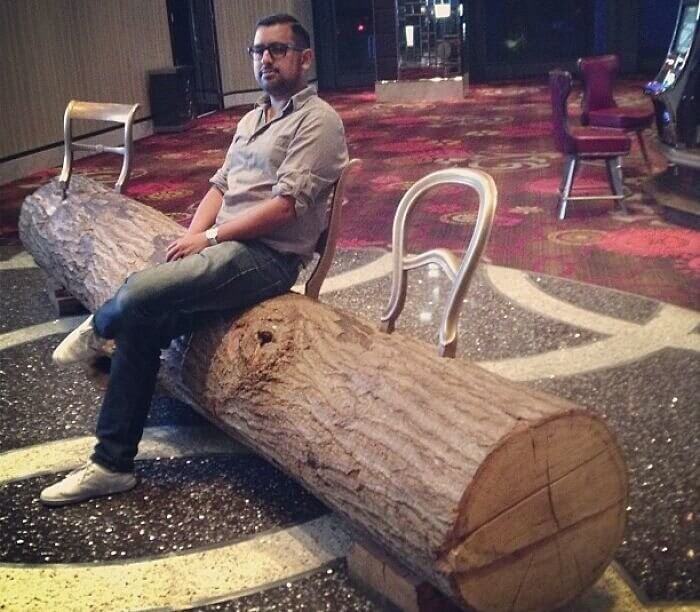 It's as if nature has embraced comfort, crafting a seating arrangement that seamlessly marries style and serenity. This ingenious furnishing idea reminds us that a touch of sophistication can elevate any experience.
Cheeky Butt Chairs!
These cheeky chairs look amazing! Designed with a playful twist, they feature a backrest that mimics the shape of a nice big butt and then fits the natural curve of your lower back. From the moment you lay eyes on these butt chairs, you can't help but smile and appreciate their delightful and unexpected design. It's a clever, light-hearted way to inject personality into your outdoor decor, creating a fun and inviting atmosphere.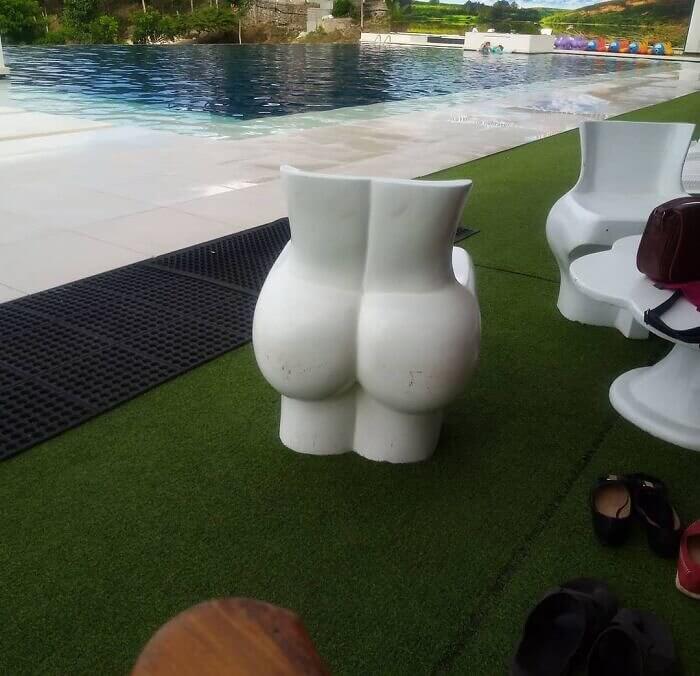 Take a seat and let the ergonomic design cradle your lower back, providing both comfort and support, and revel in the conversations and laughter that these whimsical chairs inspire.
Deckchair For Giants!
This larger-than-life marvel not only offers a cozy spot to unwind but also provides a delightful optical illusion. As you approach this giant deckchair, you can't help but chuckle at the sight of two ladies lying back, enjoying their relaxation time. However, this oversized seat makes them appear like small children in a world of giants, reminding us to see the world from a different angle and find joy in the unexpected.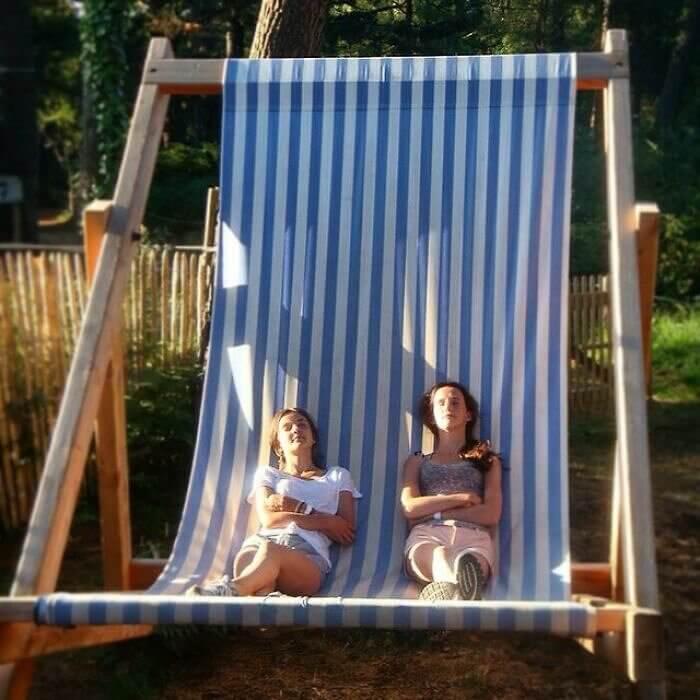 This extraordinary furnishing idea is so positive. It invites a sense of childlike joy, reminding us that sometimes, the simplest and most unexpected experiences bring the greatest delight.
The Snoozing Polar Bear Ottoman
This delightful furnishing idea will surely bring smiles and playful vibes to any room. Just imagine entering a space and encountering this giant polar bear peacefully snoozing. It's the perfect blend of warmth and comfort, inviting you to kick up your feet and relax in the company of your cuddly companion. This ottoman proves that even the most practical pieces of furniture can bring a sense of magic to your surroundings.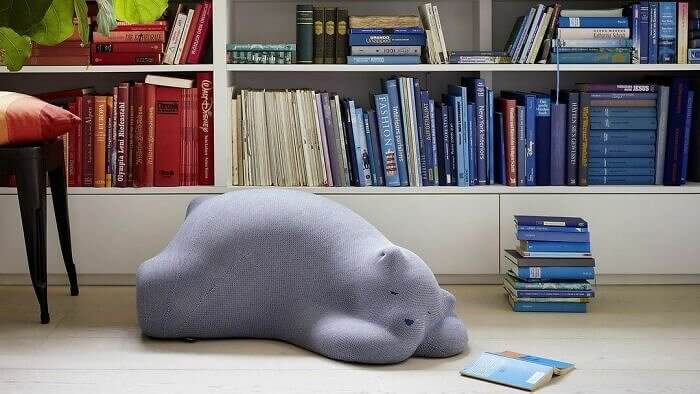 Embrace the charm and the touch of magic that the big, cute sleeping polar bear ottoman could bring to your space. It would be perfect for a living room with an open fire!
Baby Grand Coffee Table
With music and design combined, this extraordinary custom-built coffee table crafted from a 1920s baby grand piano harp is truly breathtaking! This one-of-a-kind furnishing idea takes the elegant strings of the piano and transforms them into a captivating visual display beneath a sleek glass surface. This symphony of artistry and functionality is a conversation starter that will have your guests singing your praises. There's no denying the elegance of a baby grand piano.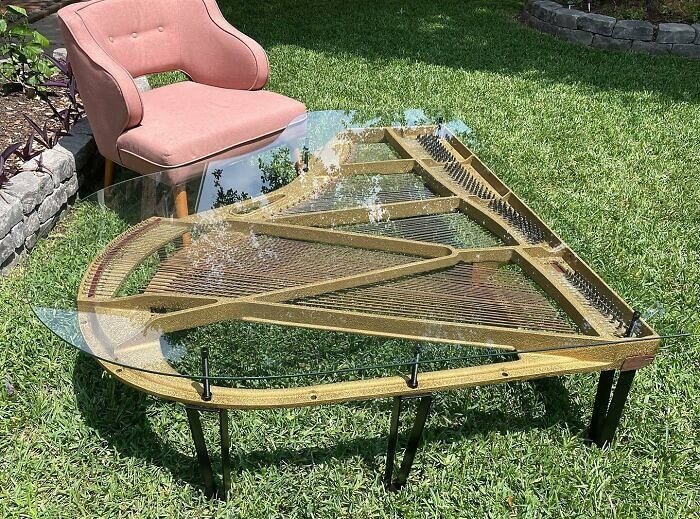 With this unique furnishing idea, you not only bring a piece of history into your home but also celebrate the beauty of giving old furnishings a more modern twist.
These Gigantic Spectacles Are a Refreshing Idea!
Instead of the usual mundane perspex screens that have become all too familiar since the pandemic, this place has taken a playful approach that looks amazing. These gigantic spectacles create an atmosphere that's both welcoming and refreshing. These oversized frames stand as a lighthearted reminder that even in times of uncertainty, it's essential to maintain a sense of humor. This ingenious furnishing idea safeguards the well-being of visitors and employees.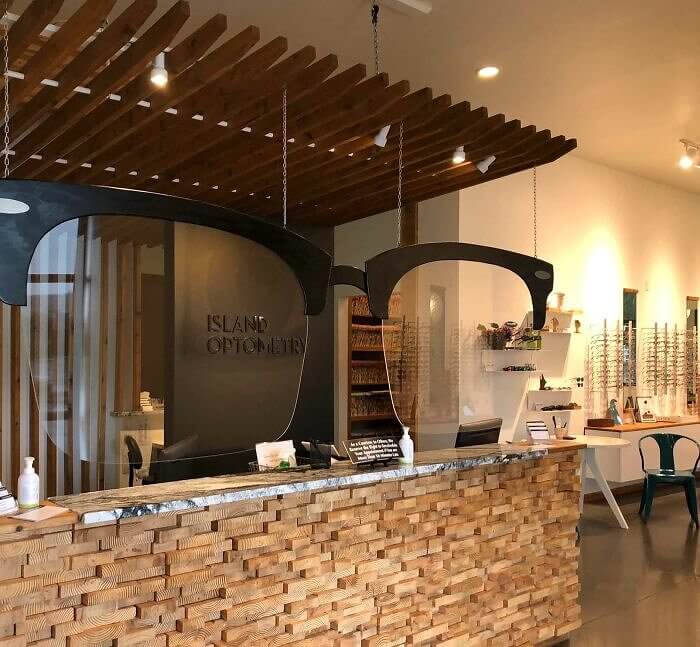 When you visit this optometry office, you will be greeted by a colossal pair of glasses, reminding us that a touch of humor can make a world of difference during challenging times.
Cute Leather Socks for Chair Legs
Introducing the purrfect solution for your chair legs: leather socks with adorable leather cats peeping over the top. Say goodbye to unsightly scratches on your floors and hello to a whimsical touch that will add a touch of charm and playfulness to your home decor. You can't help but smile at these delightful leather socks. Each one is expertly crafted, featuring a cute little cat peeking over the top.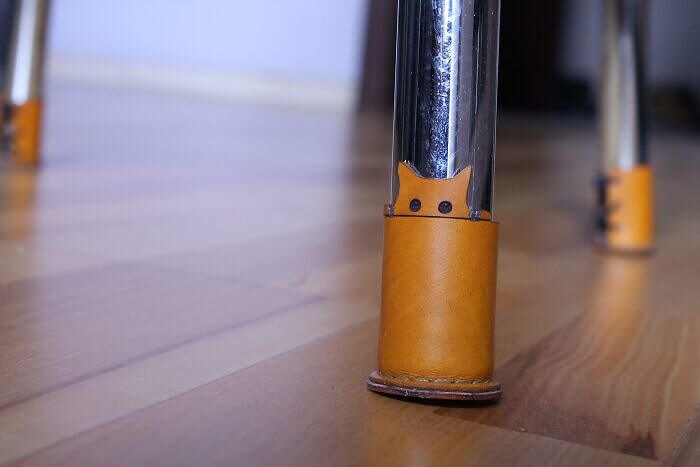 This unique furnishing idea is a breath of fresh air compared to most other designs. With their playful feline friends, these charming leather socks take your home decor to new heights.
This Chair Needs to Find a New Home!
This extraordinary plum-colored chair oozes pure enchantment! Just imagine stepping into a room where this chair takes center stage, instantly evoking a sense of wonder and delight. With its tall, curving backrest, it's as if you've stumbled upon a creation straight from the mind of the eccentric Willy Wonka himself. Its unique design with a very tall backrest creates an air of grandeur, while the curvature adds a playful and whimsical twist.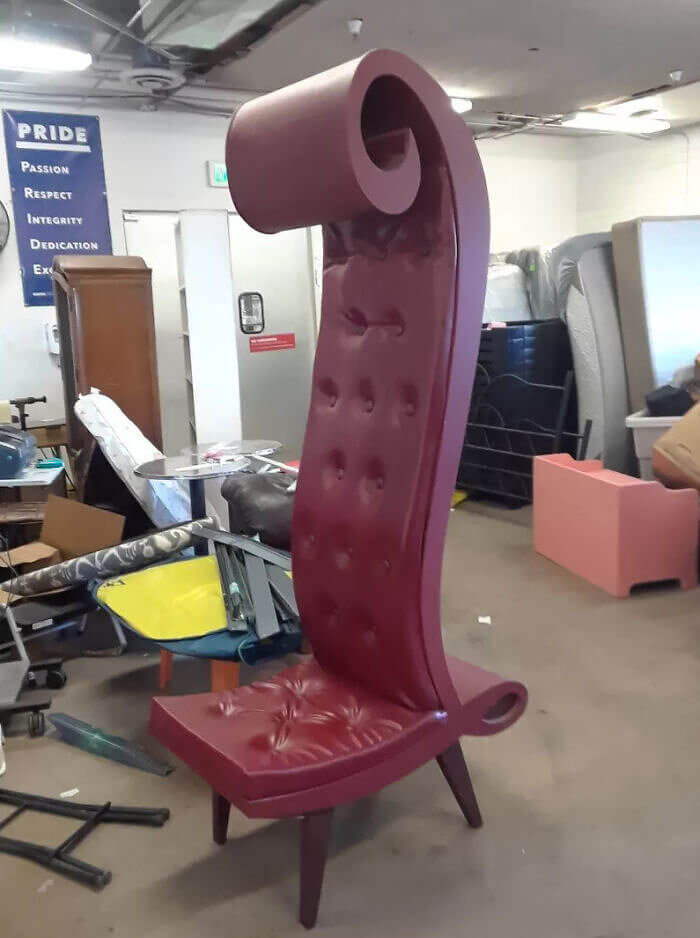 This tall, plum-colored chair becomes the portal to a world of sweetness, where dreams come true and every moment is filled with enchantment. It's a pity about the rest of the picture!
The Iron Throne, Except With Skis!
This outdoor winter lounger truly embodies the spirit of the Iron Throne, but instead of swords, this king's chair has skis. The skies that form the structure exude a rugged charm. It's a throne fit for a king or queen, where you can imagine yourself ruling over a snowy kingdom or simply indulging in a moment of serene solitude. It invites you to take a break from the battles of everyday life.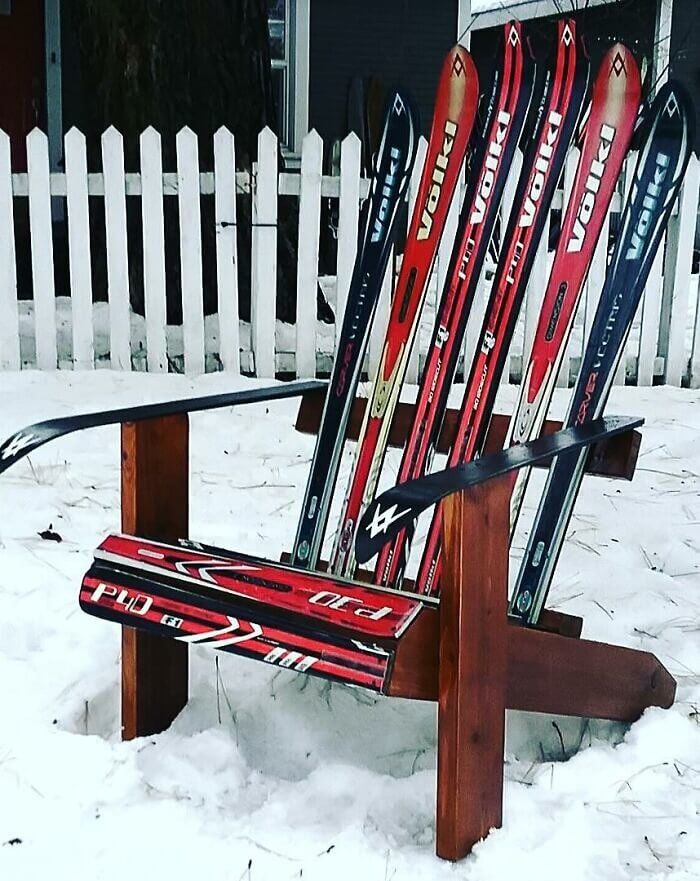 Whether you're enjoying a steaming cup of hot chocolate or simply contemplating the beauty of the winter scenery, this outdoor lounger is sure to transport you to a realm of relaxation.
Release The Kraken!
These extraordinary coffee tables feature vibrant green octopuses with their tentacles gracefully supporting a glass surface. They are a delightful blend of artistry and functionality, inviting you to embrace the wonders of the ocean right in your living room. These intriguing pieces defy convention and invite you to explore bold and eclectic design choices. These captivating coffee tables are more than just functional pieces of furniture; they are real conversation starters!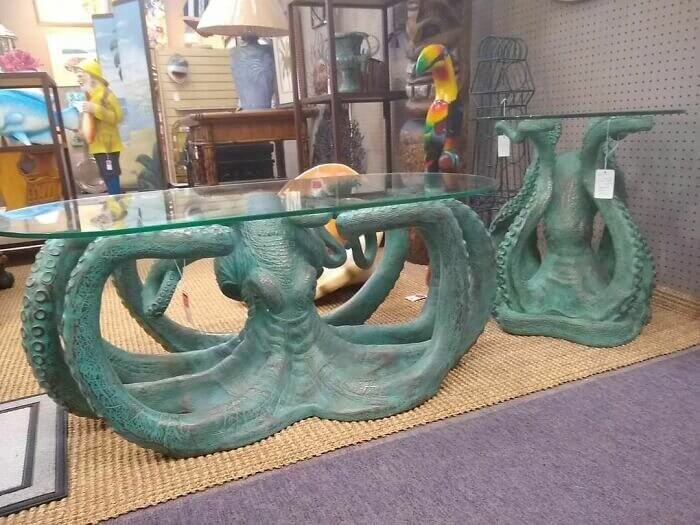 Whether you envision them in a seaside retreat or a contemporary urban space, these tables invite you to dive into a world where the ordinary is transformed into the extraordinary.
Who Said Plungers Couldn't Look Cool?
Designed with brass pipe legs and a glass top held up by four plungers, this furnishing idea is sure to capture the attention of any plumbers out there looking for a cool coffee table. The brass pipe legs provide a sturdy and durable foundation, adding an industrial charm to the design. But what truly sets this coffee table apart is the clever use of plungers to support the glass top.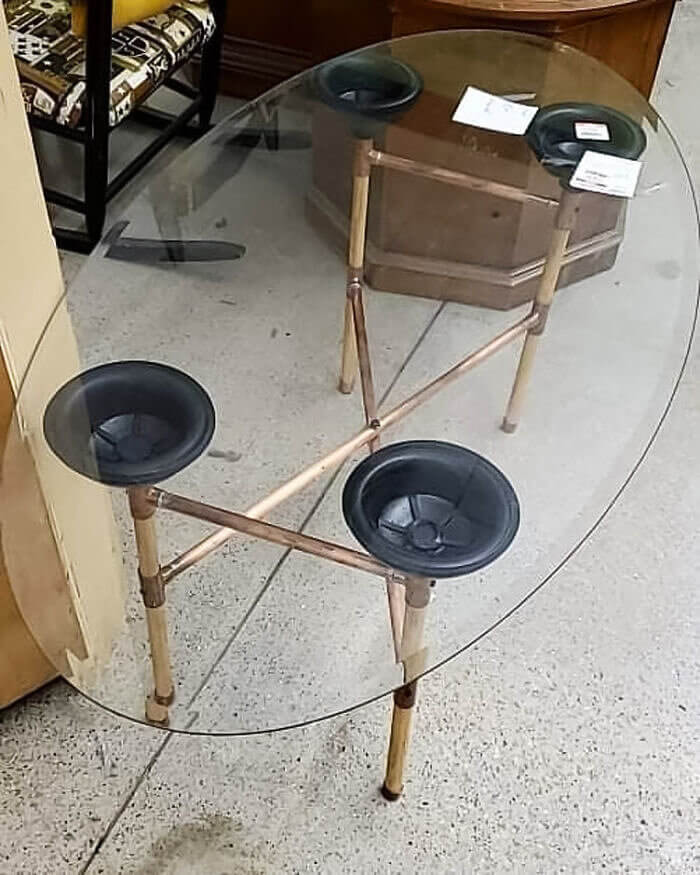 This coffee table will definitely become a conversation piece that ignites the imagination and invites playful banter. It's a nod to the hardworking plumbers out there who keep our homes running smoothly.
Does Your Lamp Walk Around Your House?
This glowing white cube, balanced on six spider-like legs, will strut across your room at your command. It's like something out of a sci-fi movie, but it's real and ready to bring a cool vibe to a teenager's bedroom. Imagine your kids lying in bed, snuggled under their cozy blankets, moving this cool gadget around the room. The cube may look a little awkward as it moves, but the kids will love it!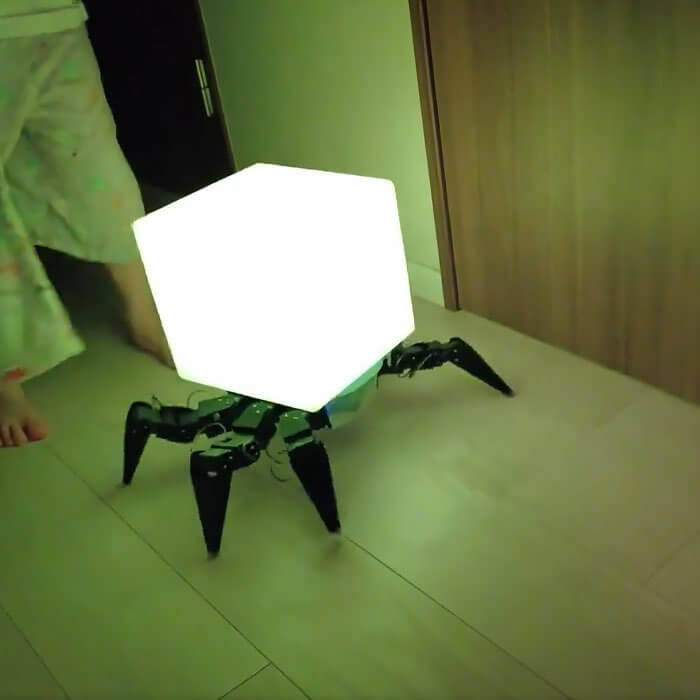 Instead of fumbling around in the darkness after switching off the lights at the light switch, you simply reach for the remote control and guide your luminous companion towards you.
Feeling Fruity!
This outdoor watermelon bench will bring the vibrant energy of summer to any area lucky enough to have it. With its whimsical design and juicy colors, this unique furnishing idea is bound to transport you to sun-soaked picnics and carefree days under the warm sun. This gigantic, mouthwatering watermelon slice is complete with a vibrant green rind and juicy red flesh, inviting you to sink into its cool embrace!
This outdoor watermelon bench isn't just a place to rest; it's an invitation to embrace the joys of summertime. Attracting both young and old, who can't resist the allure of this delightfully fruity bench?
A Park Baby Crib for Adults!
Most park benches are designed so you can't take a nap on them. But this one seems to be designed only for napping! It's like a fascinating fusion of a park bench and a hammock. It offers the best of both worlds. The sturdy wooden frame provides the familiarity of a classic park bench, while the curved seat is like a baby crib for adults, just begging you to lay down!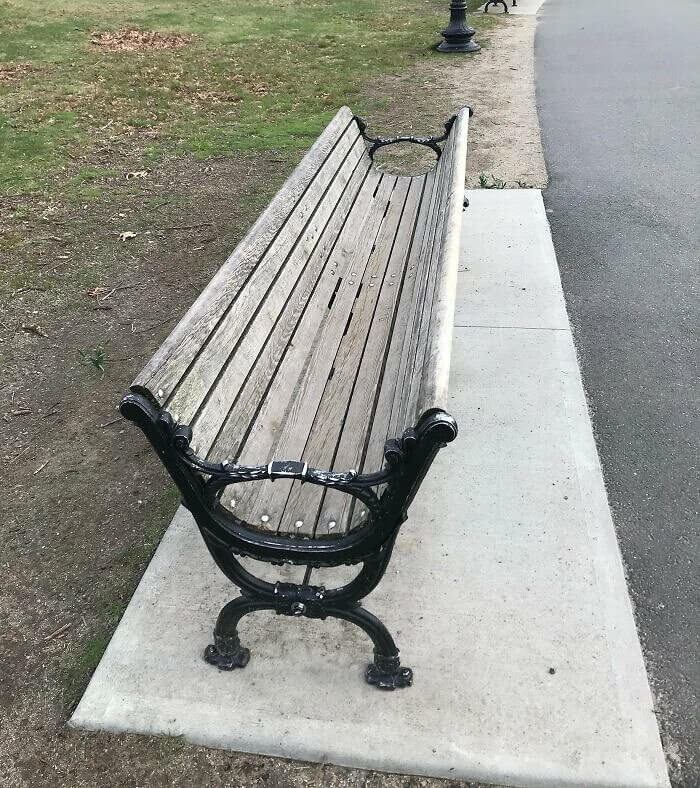 Instead of a traditional flat seat, the curve of the bench seamlessly extends from the backrest, creating a hammock-like experience that beckons you to take a moment to unwind.
This Coffee Table Will Blow Your Mind!
Imagine walking into a room and being greeted by this extraordinary furnishing. This captivating coffee table is ready to breathe life into your home decor. Crafted with meticulous attention to detail, it captures the essence of an essential tool, typically used to fan the flames and breathe life into a fire. It's a delightful blend of functionality and artistic expression, offering a visually striking and unconventional approach to furniture design.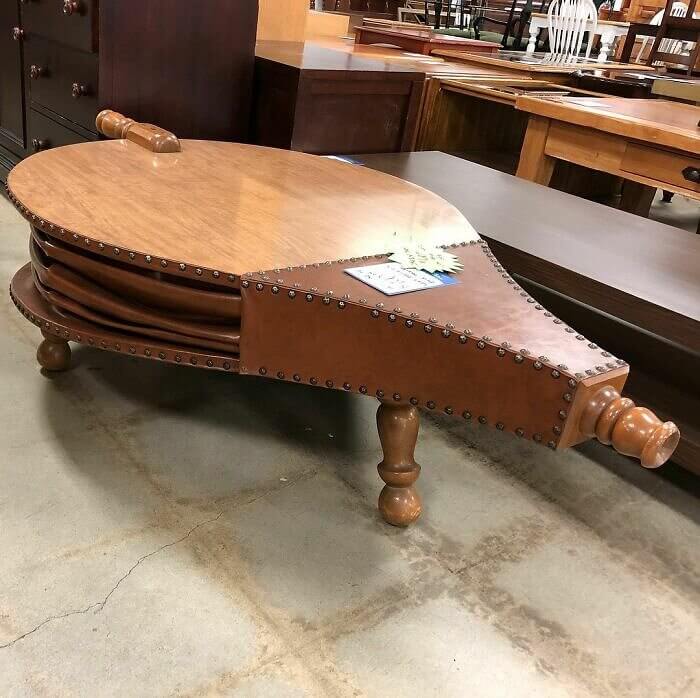 This coffee table's unique design lends itself to various interior styles. From rustic to eclectic or modern, this bellows-shaped table will add a touch of intrigue and personality to your living space.
This Restaurant Only Serves Peace and Love!
This 60s-style blue and cream VW hippie van table with matching barstool gives this restaurant such a cool atmosphere. Sitting at this table, you are transported back to a vibrant era of peace, love, and groovy vibes. It captures the essence of the iconic Volkswagen hippie van while adding a touch of retro charm to your restaurant experience. The craftsmanship and care put into its construction seamlessly blend functionality and style.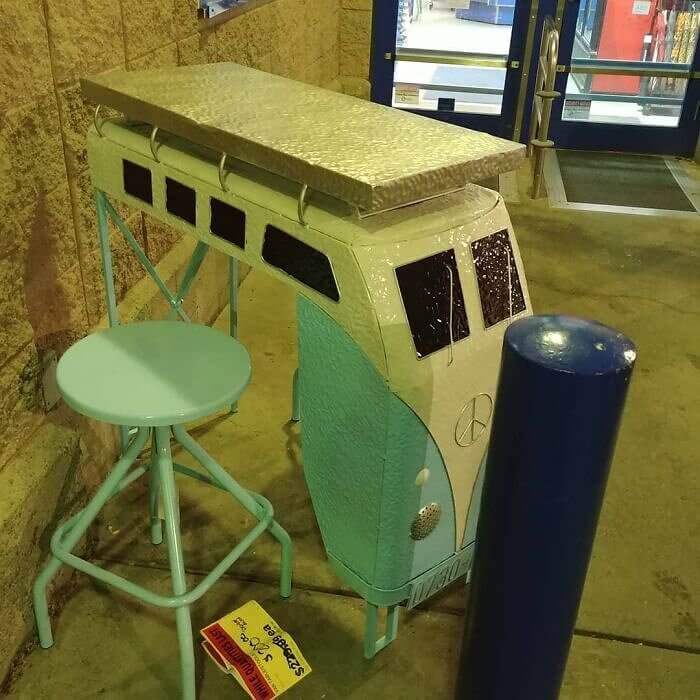 Its blue and cream color scheme, reminiscent of the iconic VW vans of the 1960s, instantly catches your eye and evokes a sense of nostalgia for an incredible era.
Camouflaged Couch!
The sofa, completely covered in artificial grass, instantly transforms your outdoor space into a haven of relaxation and tranquility. The soft, vibrant green surface invites you to kick off your shoes, sink into its embrace, and connect with nature in a whole new way. It's like having a slice of a grassy meadow right in your backyard, providing a refreshing respite from the concrete jungle. Durable and weather-resistant, it's good for all seasons.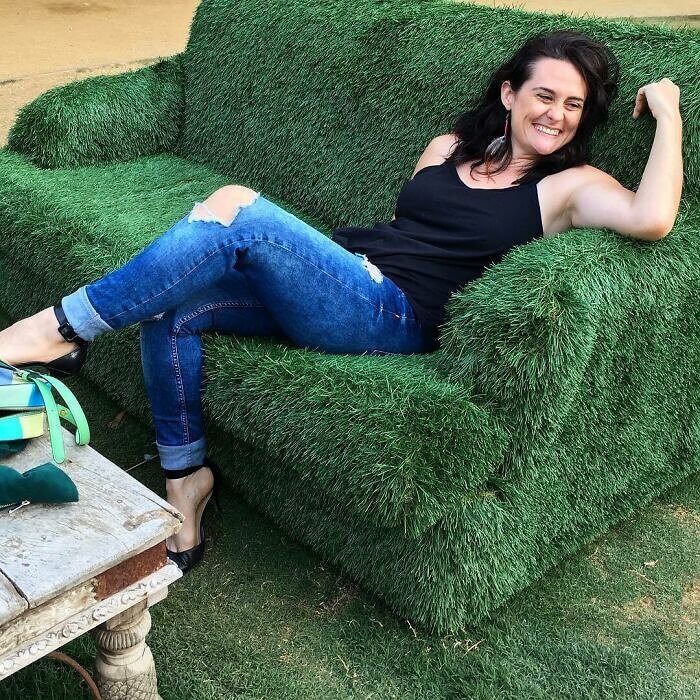 Surround this super soft sofa with potted plants, twinkling string lights, and cozy cushions to create an outdoor sanctuary that beckons you to unwind and recharge whenever you feel like it!
You Shouldn't Steal Shopping Carts!
This outdoor furnishing idea breathes new life into an old shopping cart. With its folded-down front, so you can sit in quite comfortably, and the sides ingeniously folded out to create armrests, this repurposed armchair is a true testament to the power of imagination, even if it was stolen from the local supermarket a few years before. And we're not sure what the ropes are for. Maybe it doubles as a swing!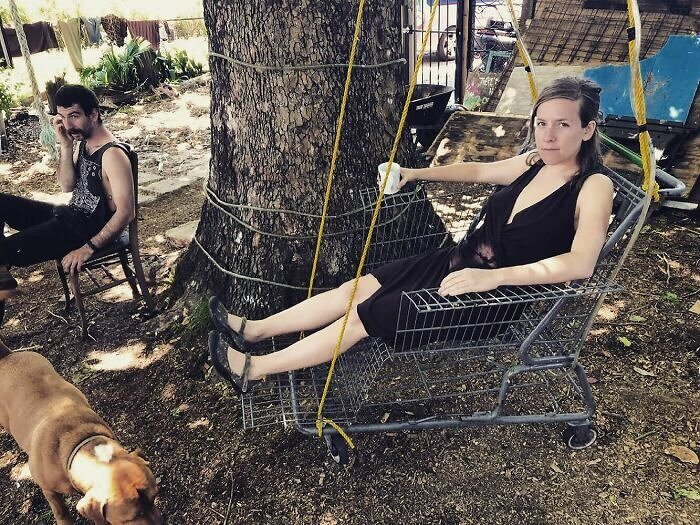 While this design is not for everyone, with a few cushions, it could be more comfortable than it looks here. They've tied it to the tree, so no one will steal it!
'59 El Dorado Sofa
Imagine having a sofa in your living room or man cave that looks straight out of Jack Rabbit Slims. The taillight armrests of this bad boy give off a cool vibe, like you're cruising down the boulevard with James Dean riding shotgun. And with mustard and blue leather seats, you can almost imagine revving up the engine and zooming off into the sunset, all while lounging comfortably on this funky piece of furniture.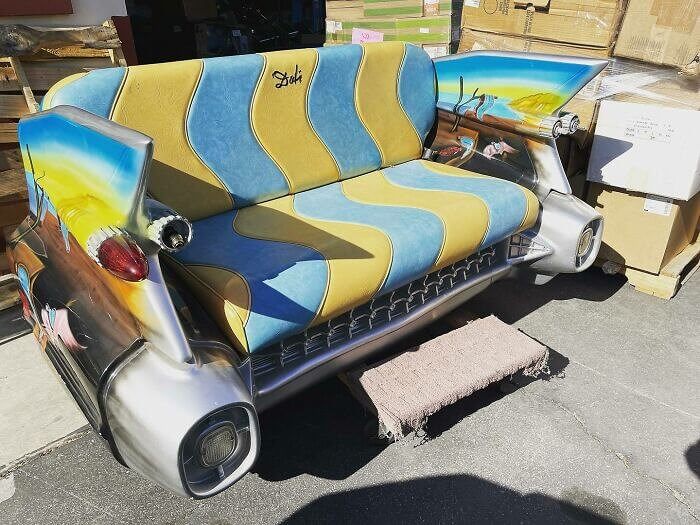 So, if you're looking to inject some retro vibes and artistic flair into your living room, this Dali car sofa is a really cool statement piece that screams personality.
Should Have Left These Enamel Pots Where They Were!
While there's no doubt this kitchen light made from old floral enamel pots is a creative idea, it's a bit rough around the edges. It may have a certain appeal and evoke a sense of nostalgia for some, but others might find it dated-looking. While some may appreciate the rustic charm, others might perceive it as a sign of outdatedness or an unwillingness to invest in more polished and refined lighting options.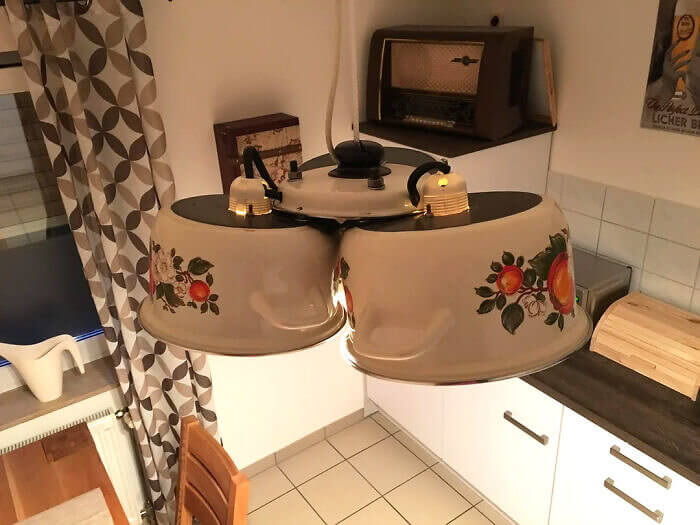 Each person's taste and style preferences vary. It's essential to consider the overall visual impact of this furnishing idea and how it aligns with the desired atmosphere and style of the kitchen.
There's a Magical Mystery Behind This Chest of Drawers
Is it just me, or does this chest of drawers seem to have a life of its own? It's as if Harry Potter was practicing his powers in his bedroom, waving his magic wand around and testing it out on random things. Well, we're not sure if this piece of furniture will ever recover. Just look at the state of it now. There's a big, blooming crack through the center!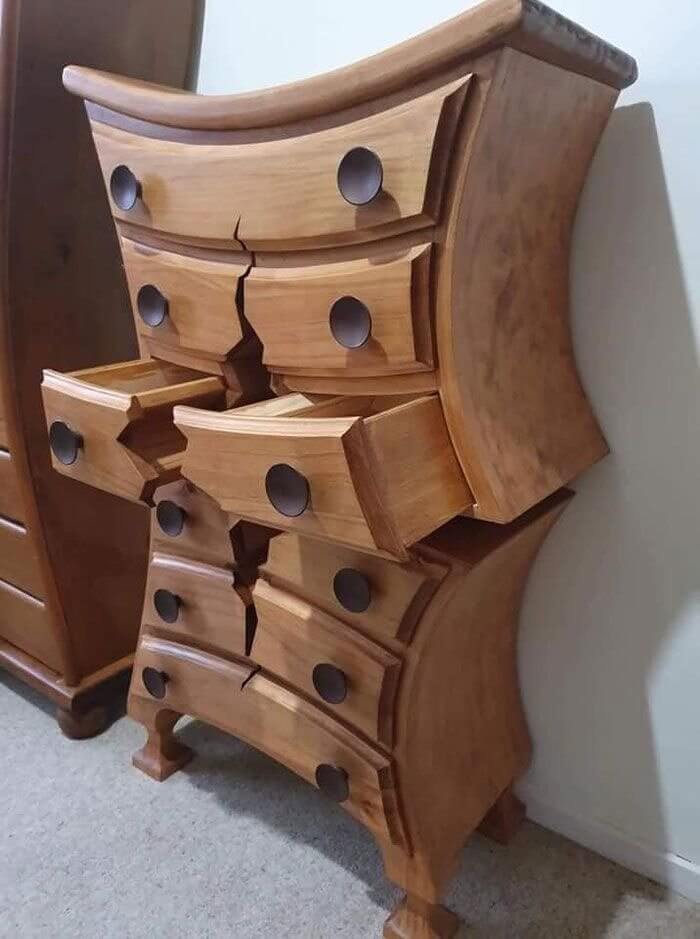 While bearing the marks of some magical mischief, this chest of drawers comes complete with all the stories your imagination can conjure. It's the perfect piece for any child's bedroom.
Now You Can Do Everything by the Book
Talk about getting lost in your favorite book! You literally have to climb on and get comfortable before you can leaf through the pages of this book-sofa. This brilliant design would inspire anyone to put down the TV controls and start reading. It's like sitting inside a world of fiction and fact where your imagination has no boundaries. Your favorite characters will leap from the pages as you lose yourself inside.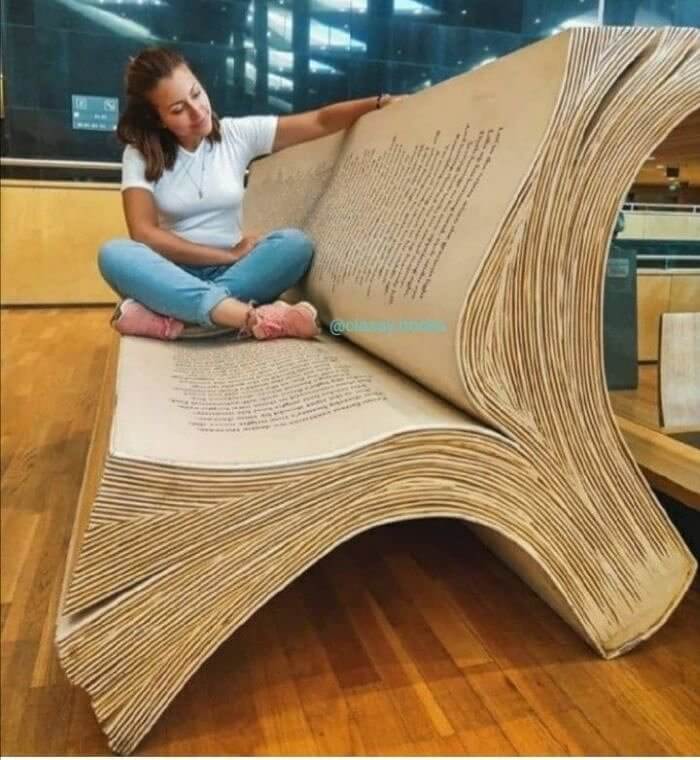 This book-sofa invites you to dive into its magical world and leave the distractions of the outside world behind. So grab yourself a cuppa and settle in!
Tasty and Tempting Macaroon High Stools
As you approach these high stools, the first thing that catches your eye is the vibrant macaroon colors, each one with an almost edible cushion on top. These sweet treats come in two fabulous flavors, classic lemon and pistachio. And thanks to the warm, comfortable atmosphere they create, you won't need any excuses to sit down and chat for hours. So, go on, invite the ladies around for a little gossip session!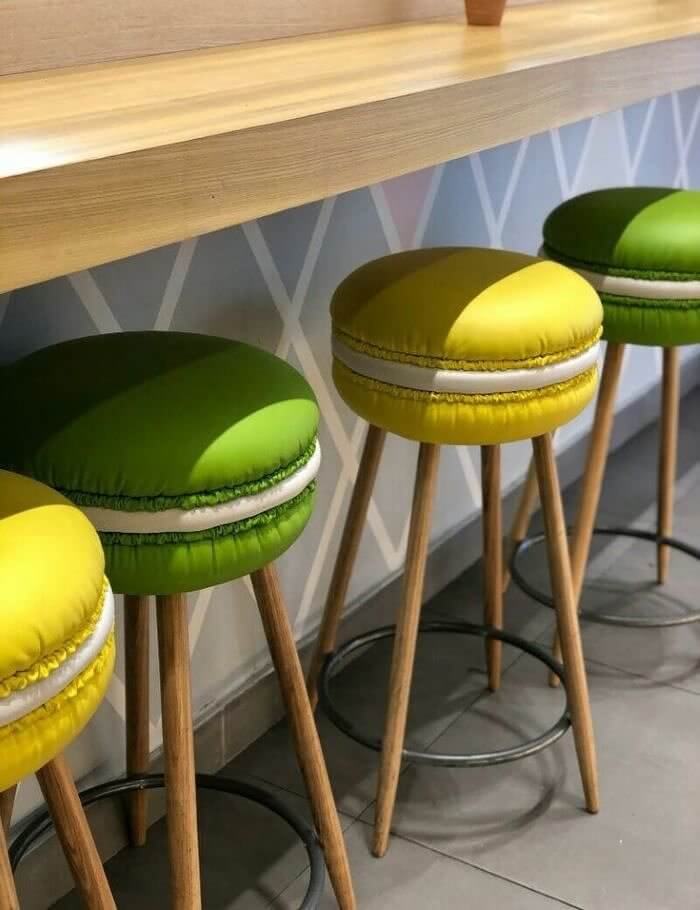 These fun, stylish stools bring a sense of childlike wonder and playfulness. They're perfect for a chic café, a trendy bakery, or even a stylish kitchen at home.
"Excuse Me, I Ordered a 'Large' Cappuccino! "
As you step into this café, every detail seems to tell a story. But it's the cool coffee cup seats that immediately steal the spotlight. You can almost imagine a giant hand reaching in over your shoulder to settle the cups before too much is lost. An intense coffee aroma fills your nostrils as you turn slowly, gazing up in astonishment. You suddenly realize you've entered a world of giants!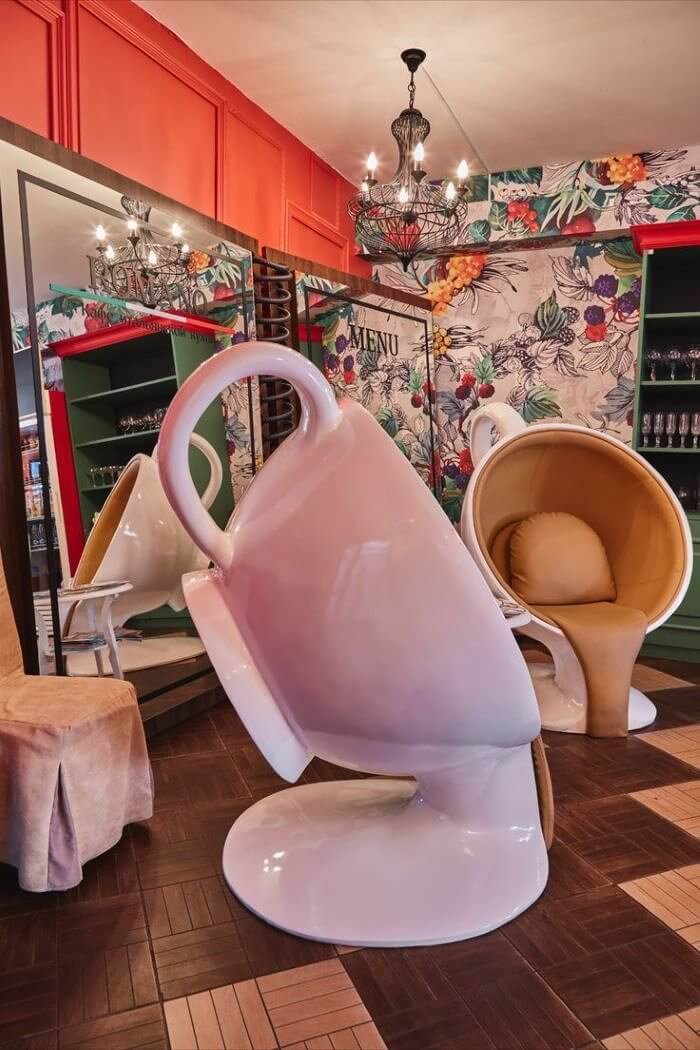 As customers settle into these charming coffee cup seats, they can't help but smile. The atmosphere that is set by this playful concept keeps them coming back time and time again.
This Lady Lights Up the Room (Literally! )
When you enter this quirky antique shop, at first glance, you think you are being greeted by a most elegant lady in a figure-hugging black dress. Upon closer inspection, you realize this lady is actually a life-size standing lamp. I mean, she literally lights up the room! Her form is artfully designed with a tall black lampshade that could easily be a designer piece perfect for a day at the races.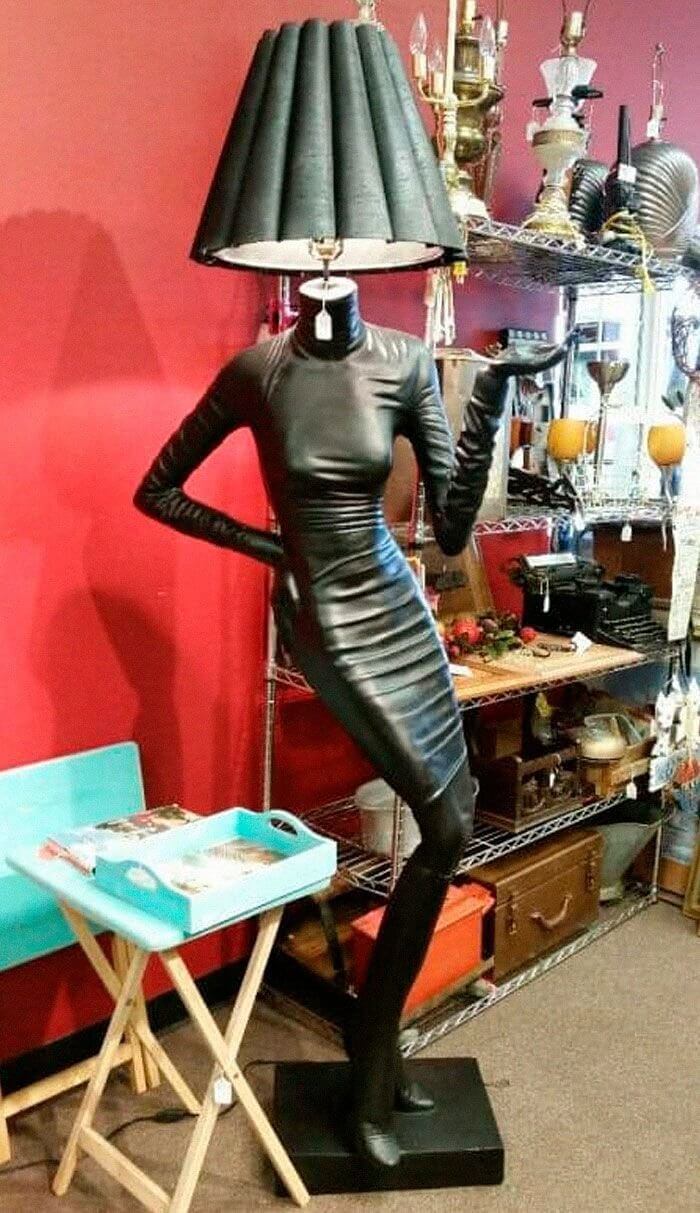 If you decide to purchase this tall, slim beauty, don't be surprised if people stare as you carry her to your car. It's so lifelike, someone may even call the police!
It's Time to Take a Load Off Your Feet!
Have you ever seen a bed like this before? Well, if you have a fetish for feet, then this one's for you. Sleeping on this bed would feel like being cradled in the gentle embrace of a giant. His toes curled up as if tickled by the couple's peaceful slumber. While this design could easily feel cumbersome and awkward, there's something very warm and inviting about snuggling down in this double bed.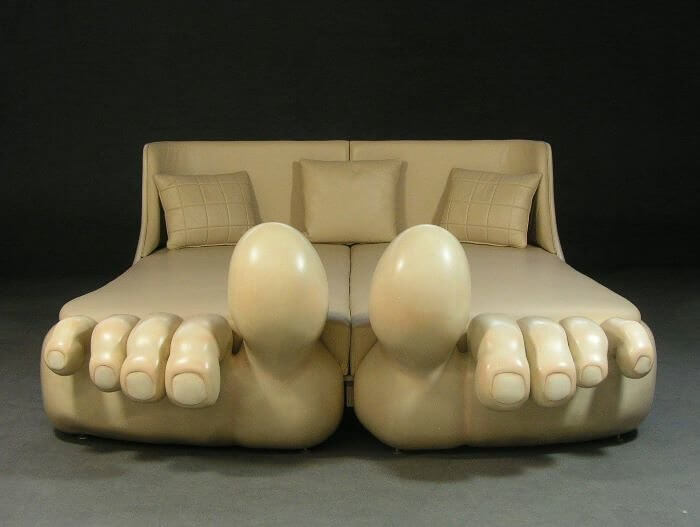 In a world where many furniture pieces tend to follow conventional designs, this double bed stands out as a refreshing and daring choice. It's time to find your feet!
The Colorful Coffee Club
If you're looking for a blend of caffeinated creativity and comical charm, these colorful cup stools are just what you're looking for. Each with its own coffee-colored cushion, they are the perfect recipe for a lighthearted coffeehouse experience. When cafes and restaurants go the extra mile to create a warm, fun, inviting atmosphere, word spreads like wildfire. As a result, business starts booming, so everyone's a winner in the end.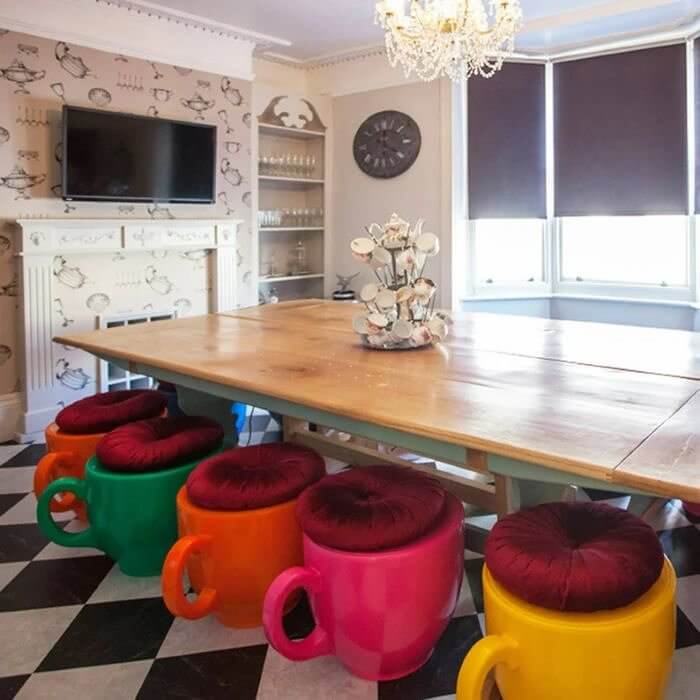 Customers won't forget these colorful coffee cup stools in a hurry. They're the perfect conversation starter for a first date or a great place to catch up on all the latest with good friends.
A Firm Handshake
There's nothing like being greeted by a friend when you arrive home after a hard day's work. On this occasion, it just so happens the good friend "is" your home, and it greets you with a firm handshake every time. But as you leave and close the door behind you, it's as if the home is reaching out to grab you, begging you not to leave. Your home has come to life!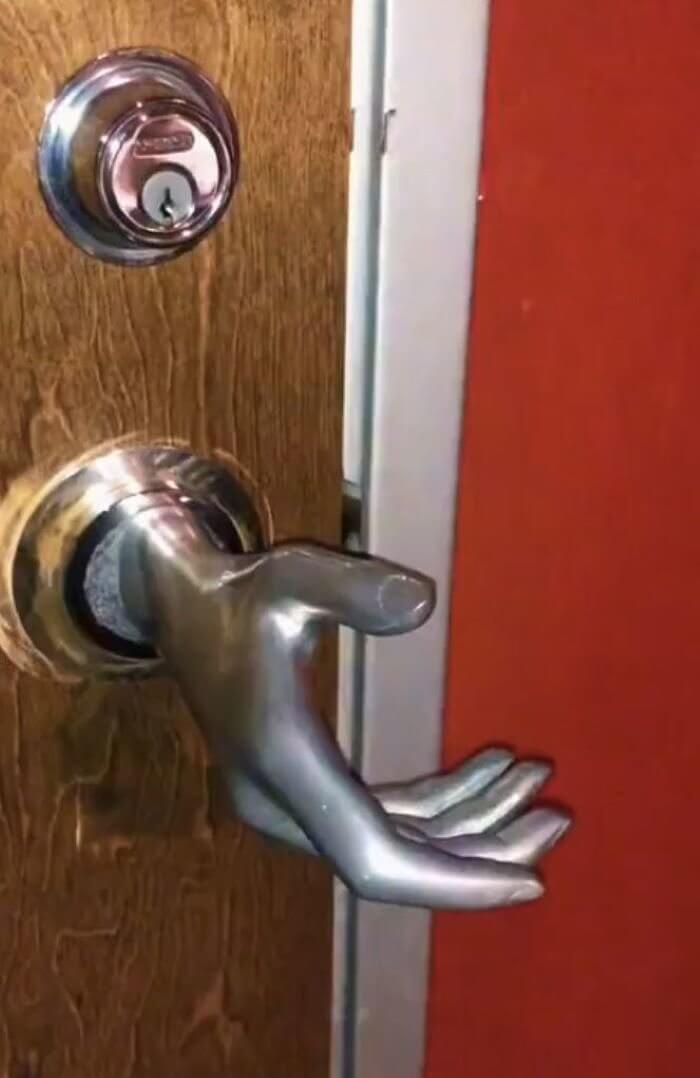 It's not just a door anymore; it's become your personal doorman. And if you were honest, you would admit you look forward to seeing him on your journey home!
It Just Makes You Want to Dance!
Framed with a wicker weave, his whacky mirror would bring joy to any bedroom. It's as if it has a life of its own as it sits back on its big wicker butt, waving its long wicker arms while its bendy wicker legs keep it firmly on the ground. When you wake up every morning, your wild wicker friend will dance for you in its wonderfully wobbly way!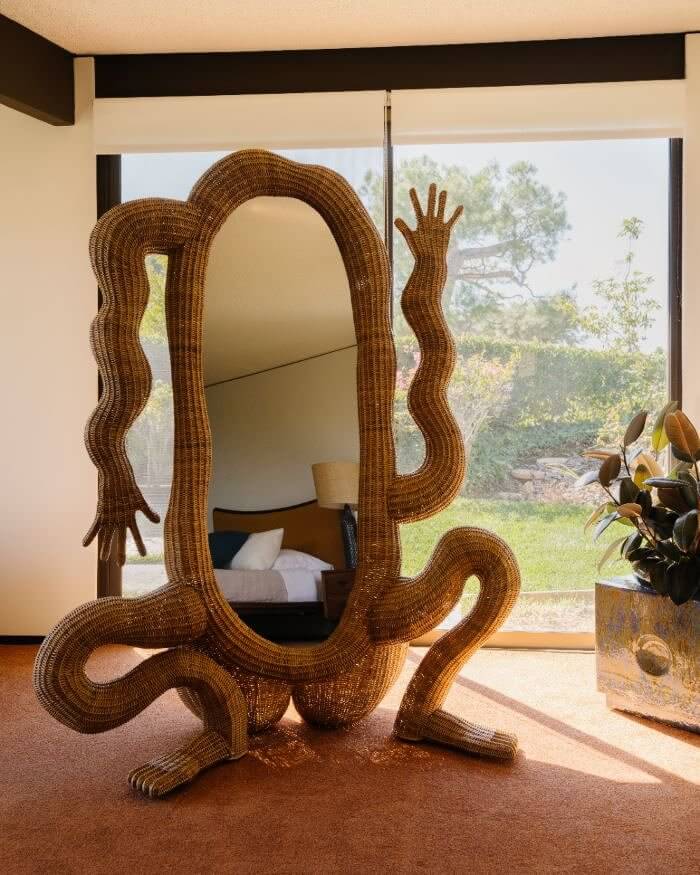 This naughty-looking mirror is an absolute riot! And it's more than just a reflection; it's a source of joy and laughter, greeting you with its wicker wave every time you pass.
Does Anyone Need a Hand?
How many hands does this clock have? (Don't forget the two in the middle.) Everything was going so well until it got to five o'clock, and then things just got weird! I wonder if the clockmaker was on magic mushrooms or something while designing this piece. It makes sense. By the time he got to seven and eight o'clock, he knew there was no turning back, so he just kept going!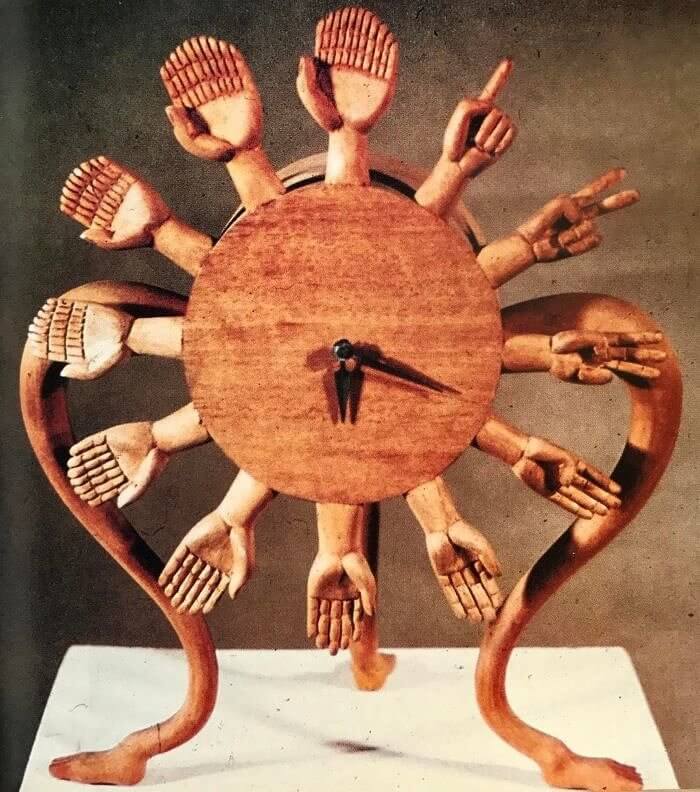 Who knows, maybe someone in his family actually has twelve fingers on one hand. This could be some sort of weird monument to Uncle Jimmy, the greatest piano player the world has ever seen!
This Would Be Perfect for My Mother-In-Law!
All hail the scorpion king! This throne is like something from a dark, twisted fantasy fiction movie. Just looking at it sends a shiver down my spine. Imagine sitting upon it, feeling the cold surface beneath you and the scorpion claws at your fingertips. Imagine having all the power during a time of dark sorcery and evil rulers, where every move and decision you make carries weighty consequences.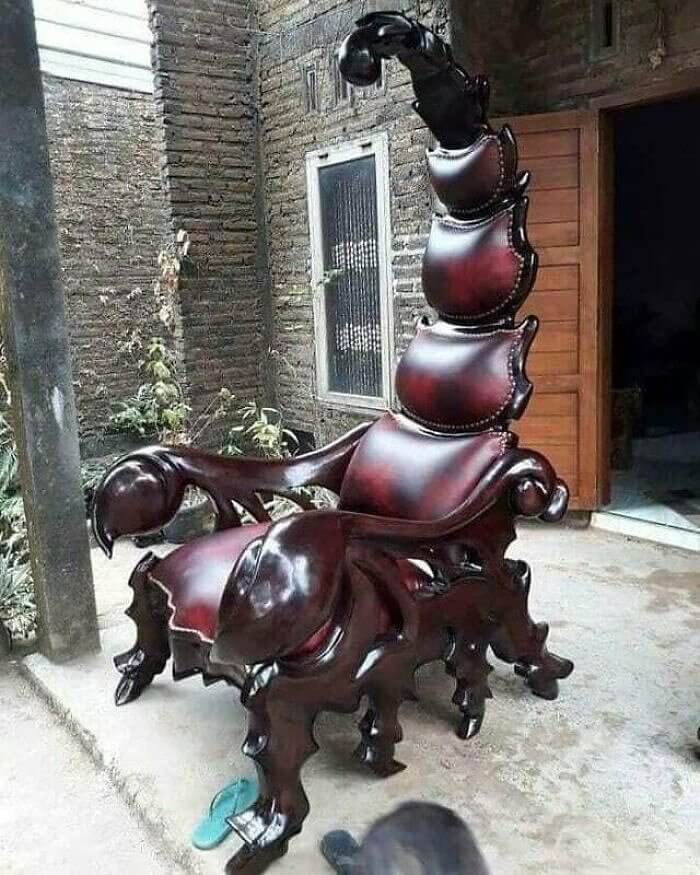 This throne would befit a ruler who commands with an iron fist and walks the fine line between hero and villain. You can't help but wonder about the stories it holds.
A Real Statement Piece
Now, that's what you call a furniture piece with a bang! It's like a blend of edgy style and a playful sense of adventure; all wrapped up in one explosive design. This unique creation would certainly be a thrilling addition to a teenager's bedroom. Although there are so many drawers, I'm not so sure. You know what they're like. Most of the time, teenagers' bedrooms look like a real hand grenade went off!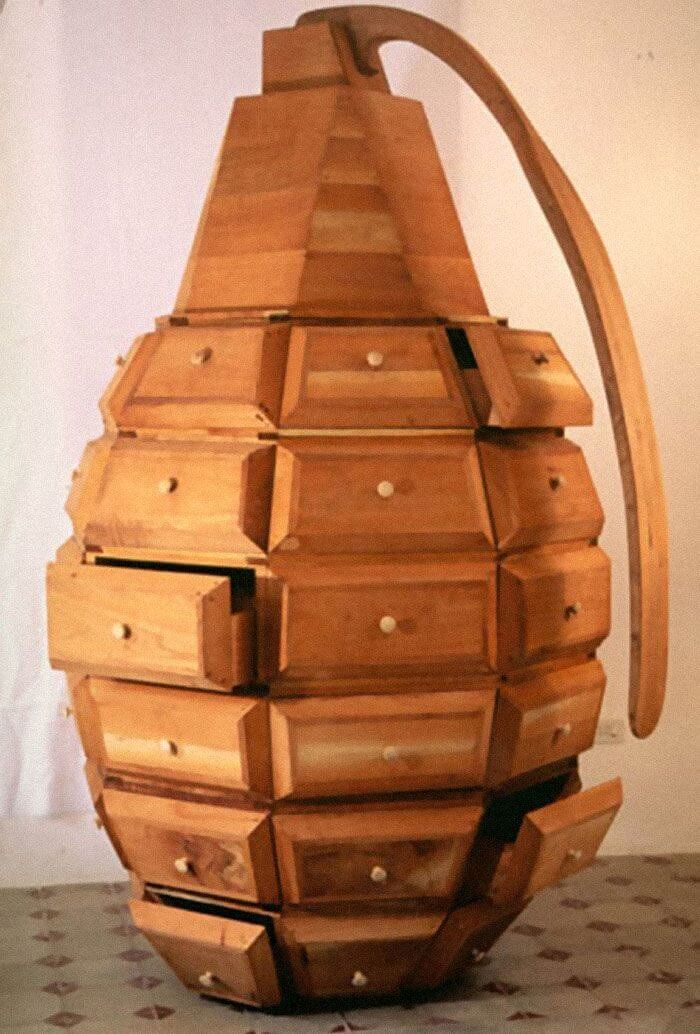 If you're looking for a centerpiece that adds some extra pop to your home, this is definitely for you. Just make sure no one pulls the pin when you're not looking!
The Lady of the Lamp!
I always wondered why there was so much space under those Victorian gowns. Well, it turns out there's a palace, some mountains, and even the moon and stars. I should have known! Apart from the mysteries that lie beneath her dress, this lovely lady lamp is just waiting to be snatched up if you're into that sort of thing. I'm just wondering where her on-and-off switch is at this stage!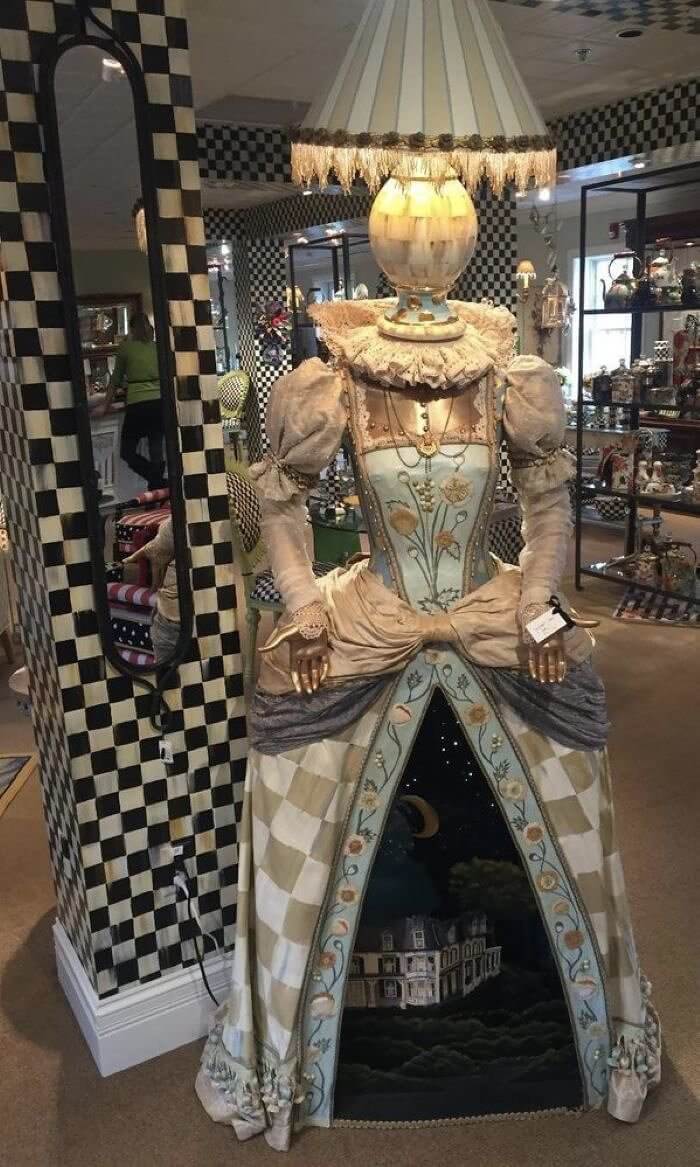 I mean, who wouldn't love to have the fright of their life every time they head downstairs for a glass of water in the middle of the night?
Those Sheep Don't Look Happy!
Who wouldn't want to be surrounded by a herd of sheep every time they sit down? Well, me, for one! This weird armchair is the stuff of nightmares. Could they not have picked sheep with slightly more positive expressions? I mean, look at the guy at the back. He looks like a woolly Godfather. And the two boys on either side are his henchmen. They look like they want revenge!
It would have been such a lovely chair if they hadn't included three big sheep heads in the design. If you try to stand up, they will probably insist you "sit baaaaaa-k down!"
Things Are Looking Pretty Grim!
OK, we've gone from bad to worse! In the last image, we had an armchair with three scary sheep heads attached to it. Now you're asking me to sit on a sofa completely covered in rats. This article is starting to turn into a horror movie. And I just had a peek at the next image. It's only slightly better, but not much! Anyway, if you're a rat lover, then take a seat!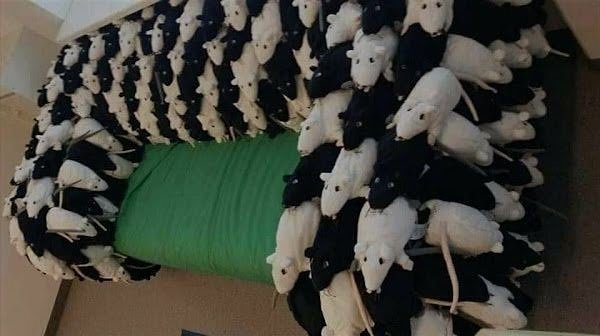 Who would want to own a sofa like this? At least it's clear that these rats are all soft toys. I'm still not sure if the sheep armchair was real or not!
Half a Man Is Better Than None at All!
Well, at least this piece is a step in the right direction. One can only imagine what the rest of the guy looked like before he was sliced in half and used as a plant stand. He was certainly wearing nice trousers when it happened, though! They have a kind of Spanish Matador feel to them. Maybe this guy was a famous bullfighter who was killed by a raging bull!
Whatever the story behind this furniture piece, there's no denying that it looks elegant compared to the last few images. The sooner we get back to weird coffee cup chairs, the better!
The Black Hand
Yes, we're definitely getting back to normal with this image. In fact, we've gone in an entirely different direction now. I can promise that the next couple of images are clever designs, although slightly boring! But bear with me. We're going to turn up the heat in a couple of minutes. OK, where was I? Oh yes, the big black hand chair. "This chair is the perfect piece for a nail salon."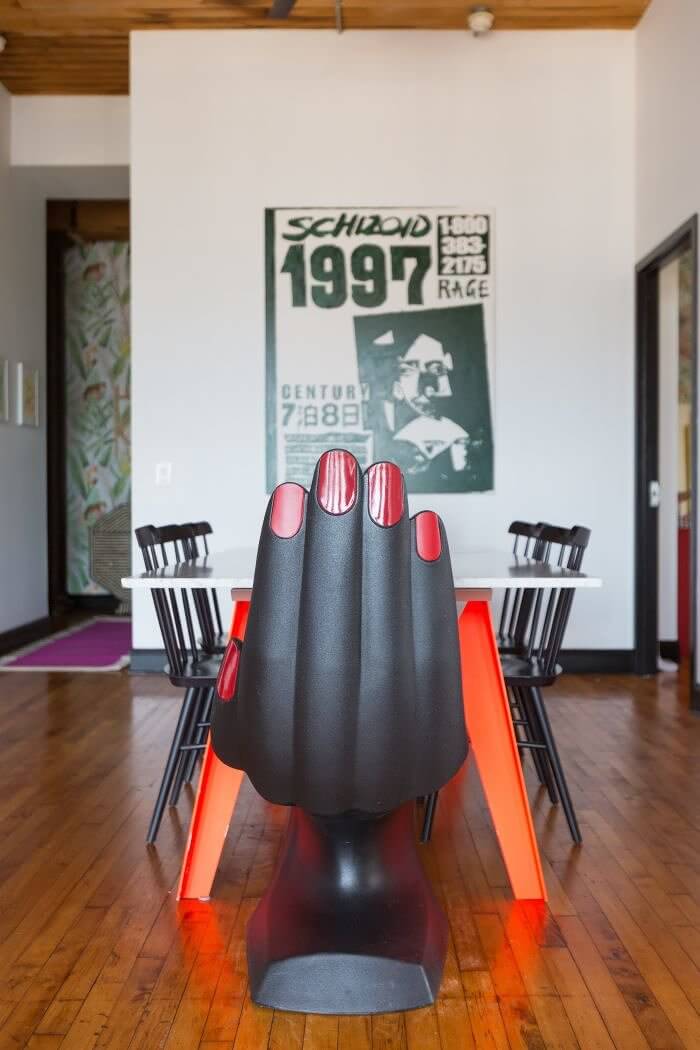 Positioned right in front of the main entrance, this huge hand is beckoning customers to come in and have their nails done. It won't be long before business is booming!
Not the Best Sofa for Watching TV!
While this three-seater looks very royal with its lush brown leather and beautiful hand-crafted wooden frame, it's definitely not the most social seat in the house. Imagine heading into this establishment with a couple of your friends, and this is where you are seated. It would be pretty hard to have a conversation, wouldn't it? I mean, you would be sitting with your backs to each other. Not very practical!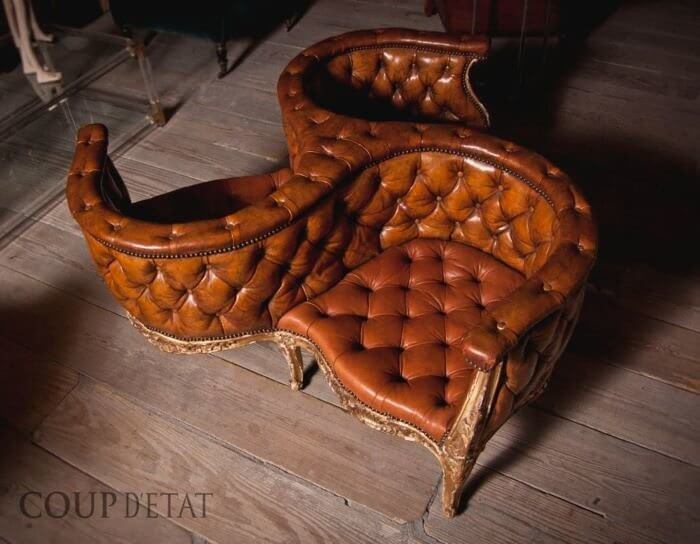 It would have been the perfect sofa for me and my two brothers when we were growing up. We "never" stopped arguing. My mother would have had a lot more peace!
I'd Love to See What's in the Lady's Restroom!
I told you things would heat up a little! These luscious red lips are pretty controversial, but who's to say they're male or female lips, right? All we know is that when you have to relieve yourself in this men's restroom, you do so by peeing into these giant mouths. And if you have had too much to drink, there's even a nice cushion on the wall to rest your head!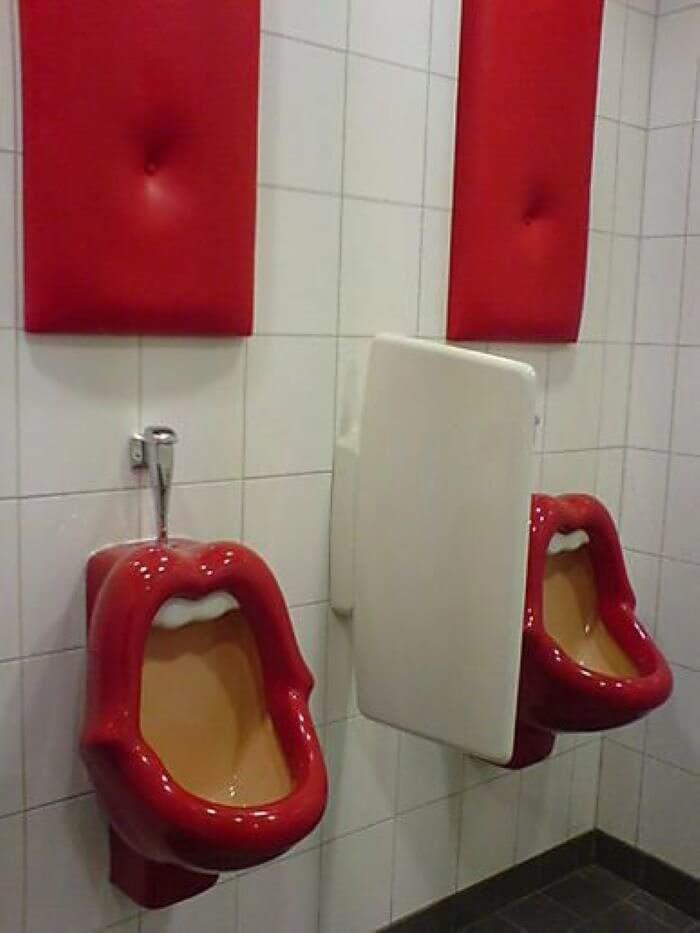 Yes, this establishment has thought of everything. Too many of their clients have hurt themselves after falling forward while being tempted by these lovely lips. Peeing here is a risky business!
The Perfect Place for a Catnap
Well, we're back to another animal armchair, but at least this time, it's pretty cute. If you're a cat lover, and we know many of you are, then this one is just for you. There's nothing scary about this armchair at all, except maybe that gray tabby on the front of the armrest. He looks like he means business! Everyone else seems to have those typical, adorable cat expressions we all love.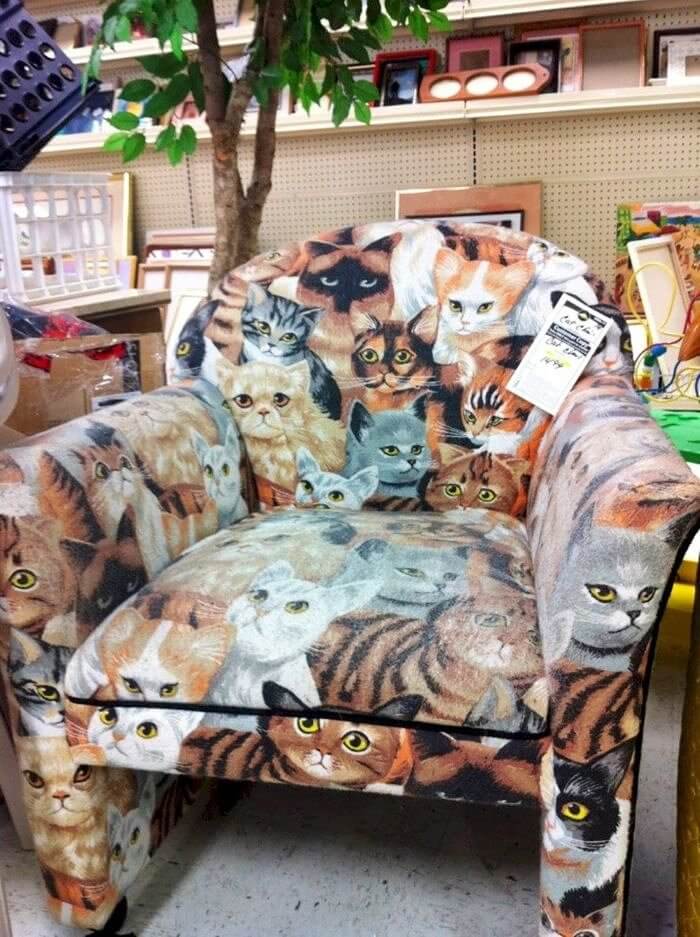 It's easy to imagine this adorable armchair finding a home pretty quickly. With all those soft brown and gray colors, it would fit in pretty much anywhere.