Welcome to a world of delightful surprises and ingenious creations that will make you wonder how you ever lived without them! In a universe brimming with quirky and innovative items, we've created a list of treasures that are as unexpected as they are brilliant. Get ready to explore a collection of clever, funny, and utterly practical creations that will leave you marveling at human ingenuity. You may even find yourself rushing out to add them to your life! So, without further ado, let's dive into this world of wonder and uncover the hidden gems destined to become your newfound favorites!
Posh Pooch Paradise!
Finally, a kitchen that celebrates the true head of the household: your beloved puppies! Tucked away at the end of the island counter is a marble marvel that seamlessly blends pet-friendly practicality with high-end design. It's the perfect marriage of form and function. But that is not all - a dedicated faucet stands ready to deliver a stream of crystal-clear water, ensuring your furry companion stays hydrated in style!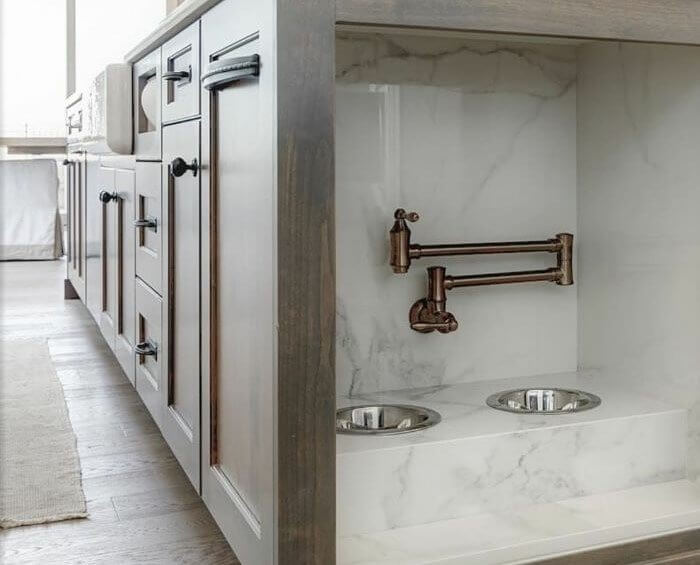 So, whether you're whipping up a gourmet meal or rustling up a special treat for your four-legged friend, this kitchen ensures every member of the family dines in luxury!
Baking Made Easy!
In the world of kitchen wizardry, these measuring cups are the closest thing to wielding a magic wand. They take the guesswork out of your culinary equations, making you feel like a mathematician-turned-master chef. No more second-guessing your measurements; with these visual fraction cups, you'll be whipping up recipes like a pro. Each cup visually represents its fraction - one-third, half, two-thirds, and so on - they do the thinking for you!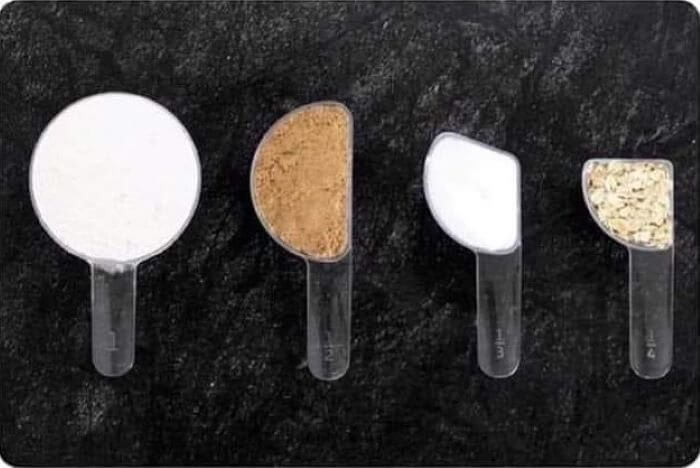 So, the next time you're creating a masterpiece in the kitchen, let these fantastic measuring cups be your trusty sidekicks, making you feel like a culinary mathematician on a delicious mission!
Would You Like to Smell Like a Real Man?
For the modern man who craves adventure, this soap is the secret weapon to unleash your inner outlaw. It's not your average, run-of-the-mill soap; it's a rugged, daring statement of masculinity. You'll no longer smell like lavender. Instead, you'll smell like crackling campfires with a faint hint of whiskey and a touch of gunpowder for that extra edge. This soap isn't just about cleansing; it's about making a bold statement!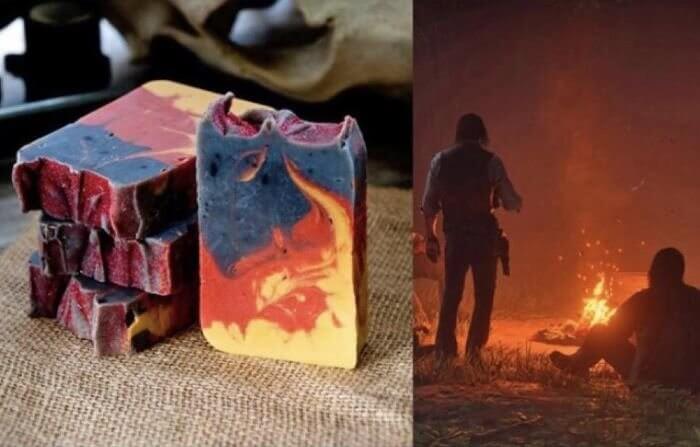 It's the soap that says, "I'm ready for whatever the world throws at me." So, why settle for anything less than soap that makes you smell like a fearless, untamed adventurer?
Artistry in Every Pour!
Prepare to be captivated by a culinary masterpiece that's not just meant to delight your taste buds but also your eyes. This soy sauce dish is like a hidden treasure waiting to be discovered. At first glance, it appears to be a simple ceramic dish. But the magic unfolds when you pour soy sauce into it. As the liquid amber cascades, it brings to life a hidden, breathtaking image!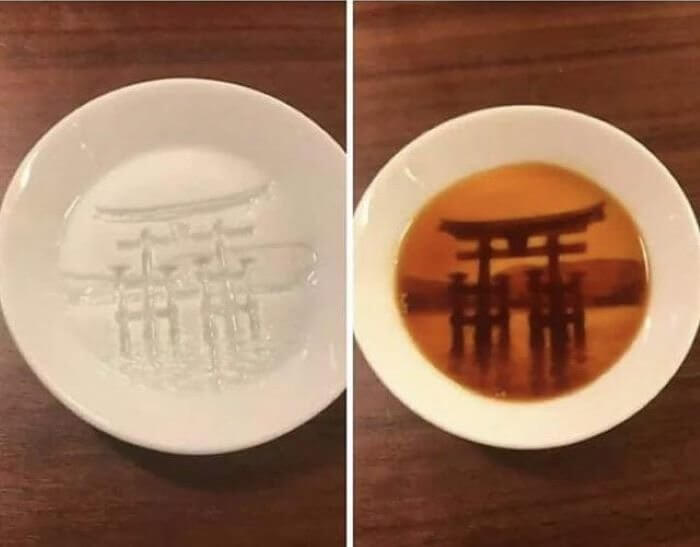 Your dining experience is elevated to a whole new level as you savor the delicate flavors of your meal while gazing at the exquisite artwork unveiled in soy sauce form!
The Drawer of Deli Dreams!
This drawer is a game-changer for those who hold sandwiches close to their heart. What appears to be a regular kitchen drawer hides a delightful secret within. When opened, it reveals a meticulously designed wonderland of compartments, each lovingly cradling your favorite sandwich ingredients. From fresh veggies to an array of condiments and deli meats, it's all there, waiting for you to craft your culinary masterpieces for the family!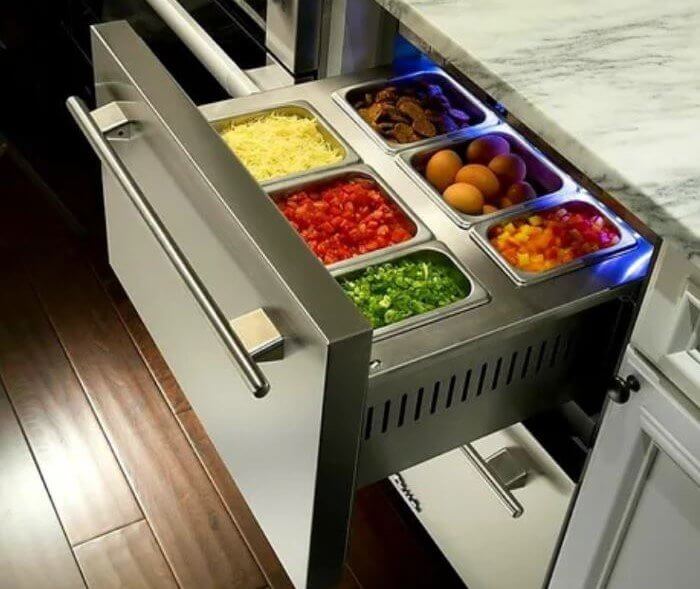 No more hunting through the fridge or cupboards for that elusive mustard jar or the last slice of cheese. Why not elevate your lunch game to a whole new level?
A Wetsuit Fit for a Spy!
This wetsuit ensures you're always dressed to impress, even underwater! Designed to mimic a formal dining suit, it's a head-turning piece that leaves you looking like a true secret agent as you emerge from the water. With its impeccable detailing and suave silhouette, you'll feel like you've just stepped out of a high-stakes espionage movie. This wetsuit guarantees you'll make a splash not just in the ocean but in the fashion world!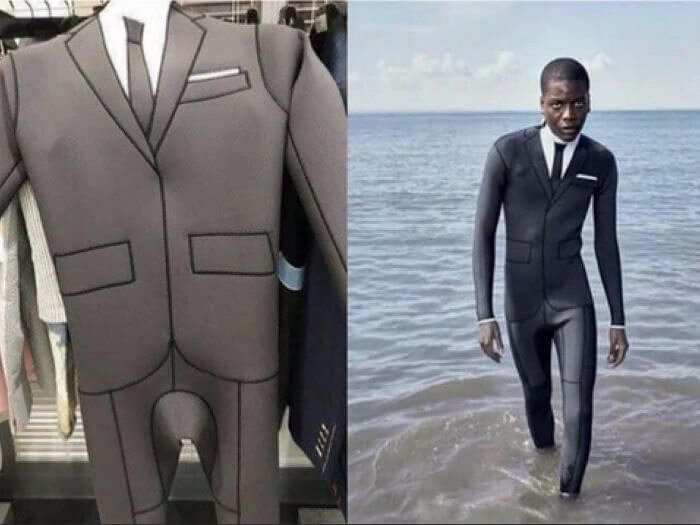 Whether you're swimming, snorkeling, or scuba diving, you will leave the water looking like 007. Get ready to conquer the waves with a dash of elegance and intrigue!
The Not-Very-Welcoming Mat!
When it comes to setting the tone for your home, this welcome mat takes a slightly sassy approach. Unlike your typical "Welcome" mats, this one asks a question before you even step through the door. With a cheeky message that reads, "Did you call first?" it's like your welcome mat is giving visitors a lesson in manners. Instead of a warm and fuzzy greeting, it leaves you doubting yourself!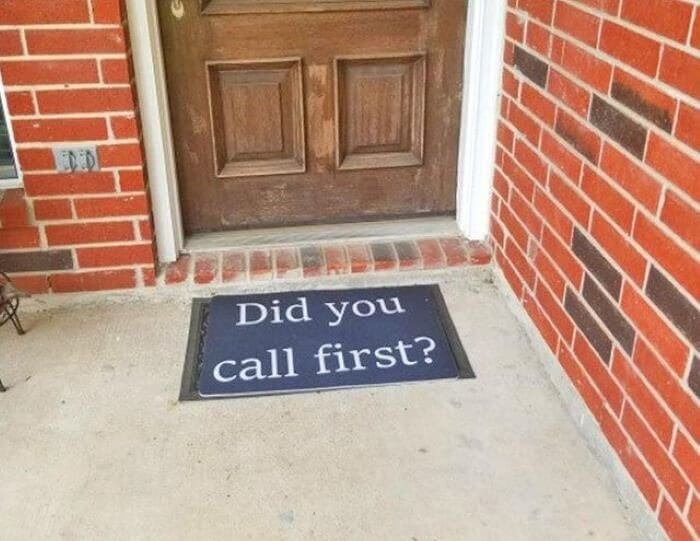 So, if you're in the mood for a welcome mat that keeps your guests on their toes, this one's got the right attitude. It's bound to keep your guests on their toes!
The Double Trouble Dog Costume!
This pet costume ensemble takes the cake for pure hilarity. It's a dog costume that splits your pup's identity right down the middle, creating the illusion of two pals heading out for a party. The front half is dressed like your pup's about to hit the town. In stark contrast, the rear half features a laid-back, faux dog with an attitude that screams, "I'm here to have a good time!"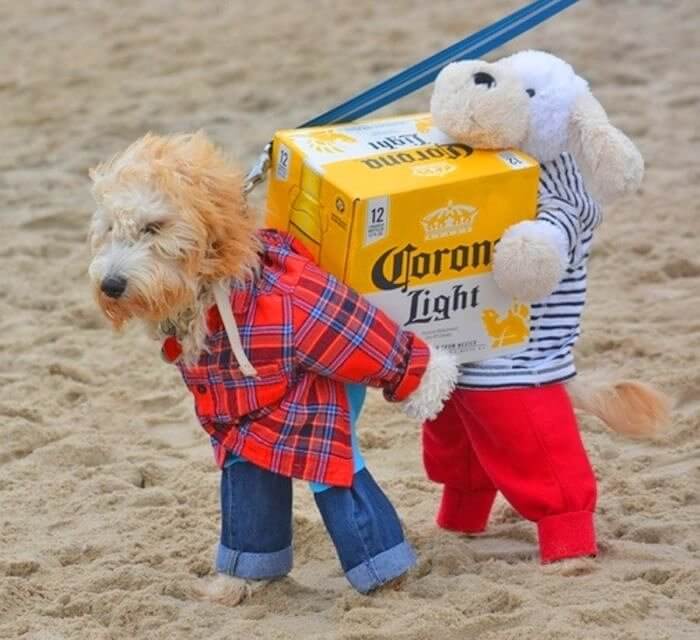 In the middle, there's a mini-case of beer, just to drive the point home. It's like a canine comedy routine that comes to life, and your four-legged friend becomes the star of the show!
That's One Sharp Looking Lizard!
In the world of desk accessories, this lizard pencil sharpener is a delightful surprise. At first glance, it appears to be a fun and functional sharpener, but it harbors a humorous twist that's sure to bring a smile to your face. As you sharpen your pencil, the shavings don't get discarded; instead, they take on a new role as a frilled neckpiece for the lizard. The lizard evolves right before your eyes!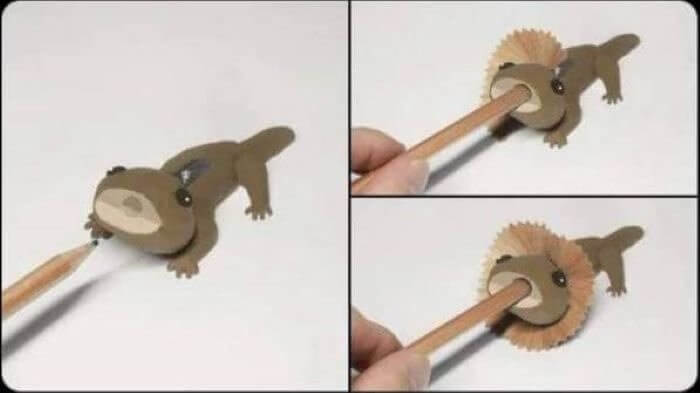 So, the next time you need a pencil sharpened, let this lizard pencil sharpener be your quirky accomplice, turning your desk into a playground of imagination and style!
The Avian Organizer!
Meet your new favorite organizer, the wooden goose with a magnetic beak. At first glance, it's a charming and rustic decorative piece, but it's hiding a secret that makes your life a whole lot easier. The goose's beak is not just for show; it's magnetic! This quirky design turns your feathered friend into the perfect place to hold your keys and other metal items. It's like having a loyal, winged butler!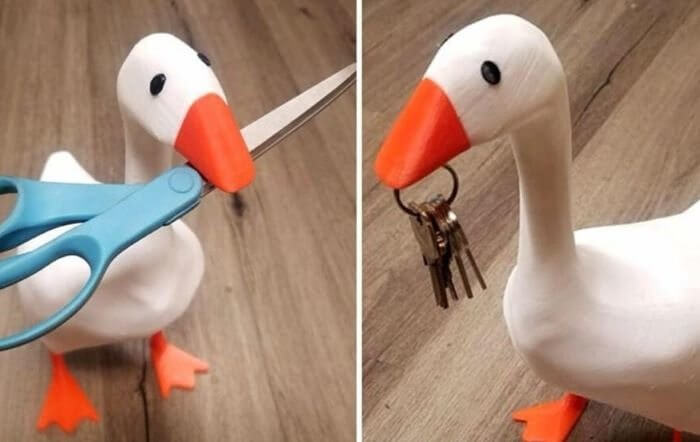 This magnetic goose is not just a storage solution; it's a delightful addition to your home decor that blends practicality with a touch of whimsy. You'll never lose your keys again!
The Perfect Gaming Organizer!
Get ready for a TV that's not just a feast for your gaming eyes but also a storage solution in disguise. At first glance, it appears to be a giant Nintendo Switch, a gamer's dream come true. The sleek design and the prominent controls at each end create the illusion of a massive gaming console. However, the magic unfolds when you discover that those controls open up to reveal handy shelving space!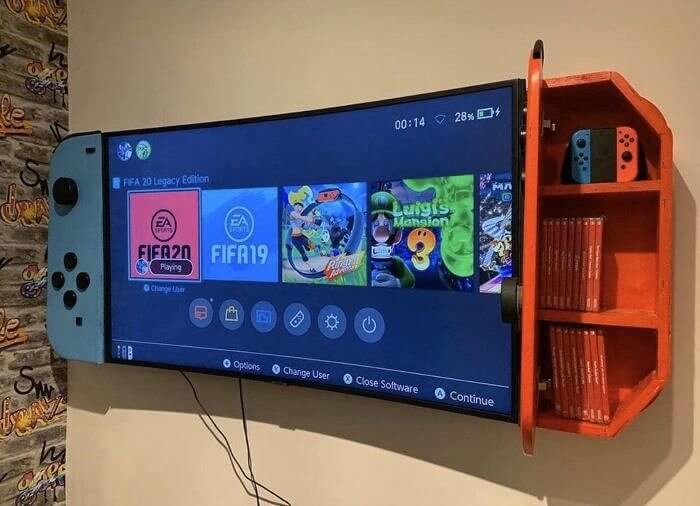 It's like a blend of gaming paradise and practicality, where you can display your favorite gaming collectibles, books, or even your console. It adds some gaming nostalgia to your living space!
For Those Who Prefer to Write Their Feelings Down!
Sometimes, a well-timed blast of humor is the best way to convey your feelings without uttering a word. Behold the "F*ck" card, a delightful twist sure to bring a touch of surprise to anyone's face. In bold letters, it reads "F*ck," and around it, you'll find a selection of options like "Me," "Yes," "Off," and others. Tick one of the boxes to let someone know exactly how you feel without saying a word!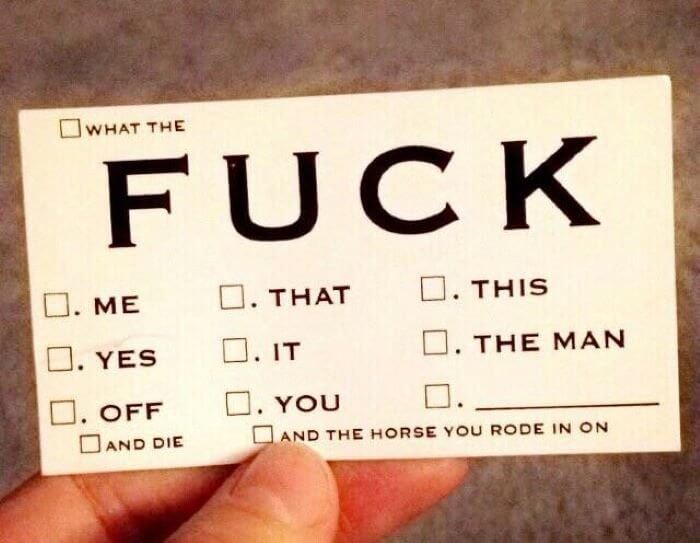 So, whether it's a laugh or a subtle nod for others to leave you alone, this card has you covered for those moments when words just aren't enough!
The Knife Set That Masters Minimalism!
When it comes to kitchen efficiency, this steel knife set is a true masterpiece of space-saving design. At first glance, you'll be in awe of its sleek, modern appearance. However, the real magic happens when you start to explore its compact nature. These knives are like a culinary nesting doll, each one fitting snugly inside the next. It's a symphony of steel that maximizes your kitchen space while minimizing clutter!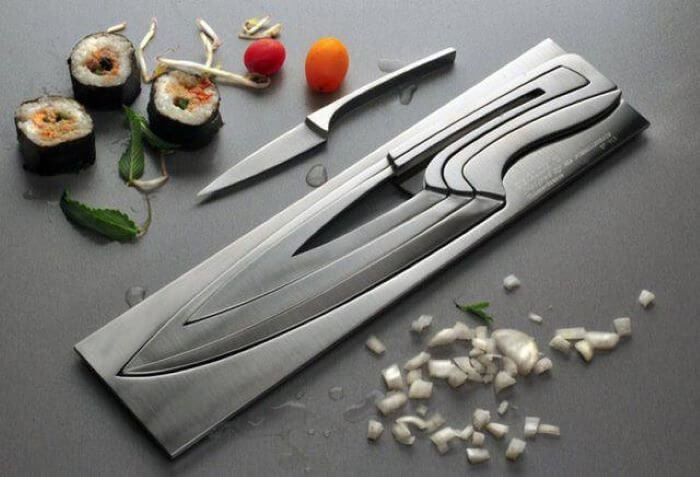 From the largest chef's knife to the smallest paring blade, they all tuck neatly together. It's a knife set that doesn't just slice and dice but also conducts a symphony of space-saving elegance!
Culinary Clarity!
In the realm of kitchen innovation, these see-through pots are the future that's become a reality. Gone are the days of lifting lids or peering into pots to see how your pot roast is progressing. With these extraordinary cooking vessels, you get a front-row seat to your dishes' transformation. From the initial sizzle to the final flourish, you can witness every culinary moment with crystal clarity. It's like cooking in high-definition!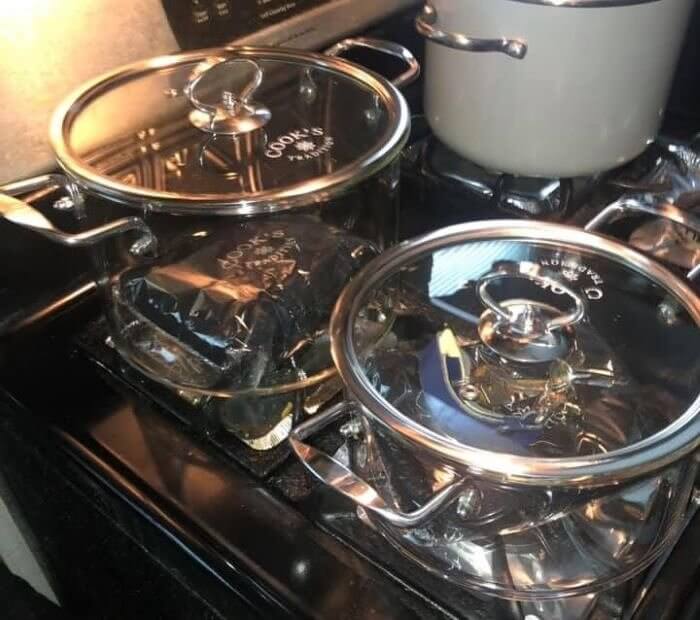 So, if you're ready to elevate your cooking game and embrace the future of culinary transparency, these see-through pots are the window to a world of delicious possibilities!
The Ultimate Bear Hug Beanbag!
In the world of cozy relaxation, this giant beanie bear beanbag takes the cake. From the outside, it is a massive, huggable teddy bear, making you feel like a kid again. But don't be fooled by its appearance because it's more than just a cuddly toy. It's like being enveloped in a giant teddy bear's hug, and it's the perfect place to relax and unwind after a long day!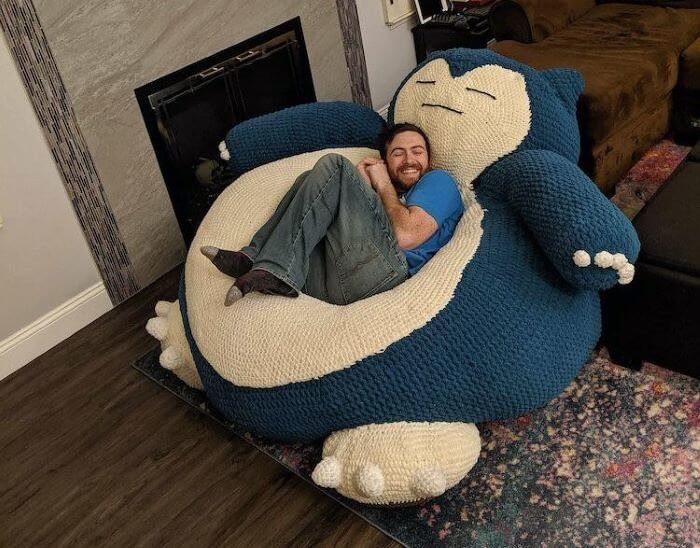 Whether you're reading, watching TV, or simply enjoying a moment of tranquility, this beanie bear beanbag provides the ultimate comfort and companionship that's sure to bring out the child in you!
The Hydration Buddy With a Sense of Humor!
Staying hydrated has never been this entertaining! This hydration bottle doesn't just quench your thirst; it comes with a bit of personality. At first glance, it might seem like your standard water bottle, but it's got a surprise in store. Right on the label, you'll find a warning that states, "Peeing and sweating may occur." It's like your hydration buddy has a sense of humor and a knack for stating the obvious!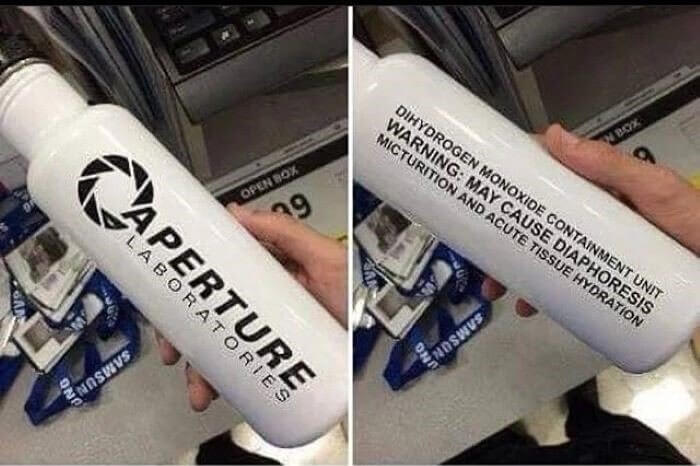 So, as you sip from this bottle, you'll be reminded that staying hydrated can be both necessary and entertaining, making it a fun addition to your daily routine!
The Bookmark With a Helping Hand!
Meet the bookmark that goes beyond the ordinary and adds an interactive twist to your reading adventures. At first glance, it's a charming, traditional bookmark, ready to keep your place in your favorite book. But it's so much more than that. This bookmark features a little hand that doesn't just mark the page you're on; it also points to the last sentence you read. It's like having a tiny reading companion with you!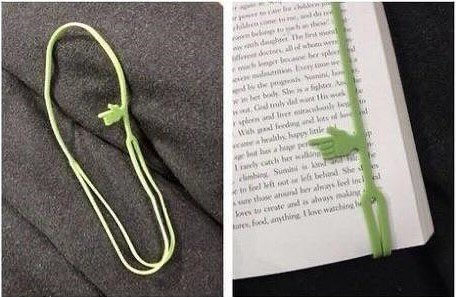 No more flipping through pages to find your spot; this bookmark's hand is always ready to lend a helping finger. It's perfect for those who love a little extra interaction!
If You've Ever Wondered How Much It Weighs!
Who said a toilet seat can't do more than just provide comfort and convenience? Enter the multi-tasking marvel: This toilet seat weighing scale measures how much you weigh before and after you have a poo! At first glance, it's a regular toilet seat, ready to offer a comfortable place for your private moments. It's like having a wellness check right in your bathroom, making it easy to monitor your health!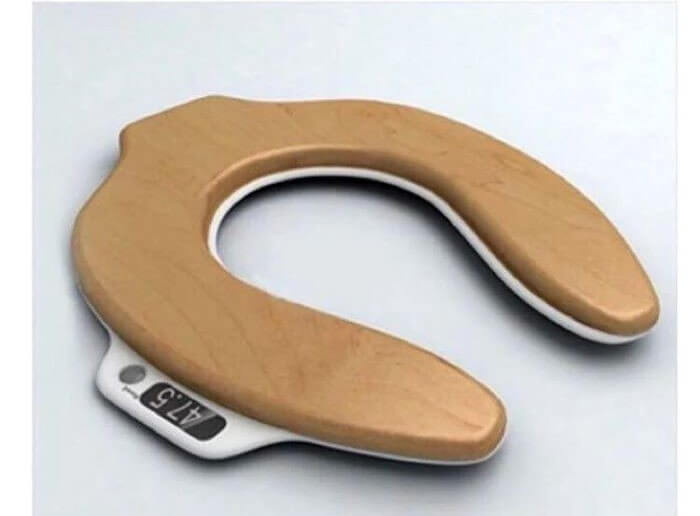 So, if you're looking for an ingenious way to combine comfort and health in your bathroom, this multi-tasking marvel has got you covered. Or maybe you just want to know how much your poo weighs!
A Welcome Warning!
For those who appreciate a touch of humor and honesty, this welcome mat offers a unique twist on the traditional greeting. Instead of the typical "Welcome" message, it serves as more of a warning, listing out the potential "dangers" that might occur inside. In bold letters, it reads, "Strong language, Use of alcohol, Partial nudity, and Mature humor!" It's a humorous way to let your guests know what they might be in for!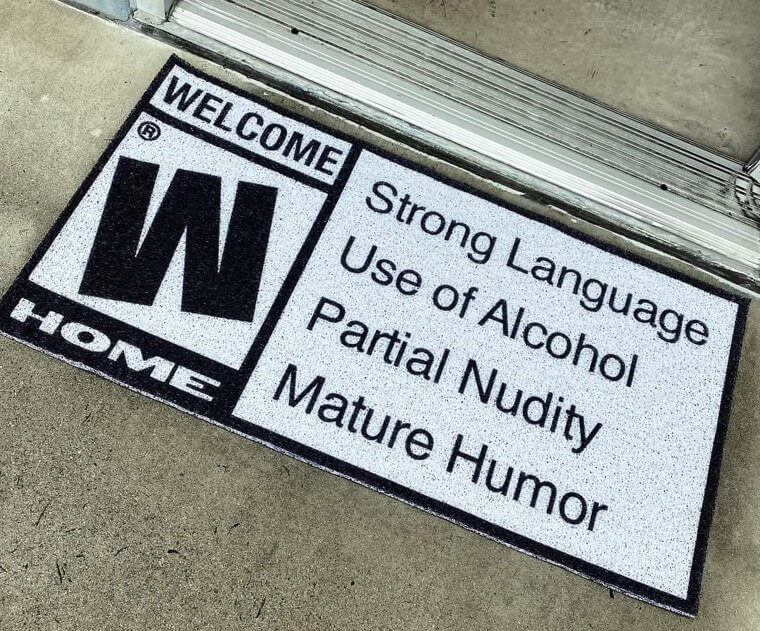 So, if you're all about transparency and enjoy a bit of tongue-in-cheek fun, this welcome mat will leave a lasting impression on your guests!
The Sailing Steamship Saucepan Lid!
In the world of kitchen accessories, this saucepan lid is a standout for its charm and interactive design. From the outside, it's a typical saucepan lid, designed to keep your dishes at the perfect temperature. But hidden beneath is a delightful secret - a miniature steamship that comes to life when the pot starts to boil. The three chimneys atop the steamship emit real steam, transforming your kitchen into a culinary voyage!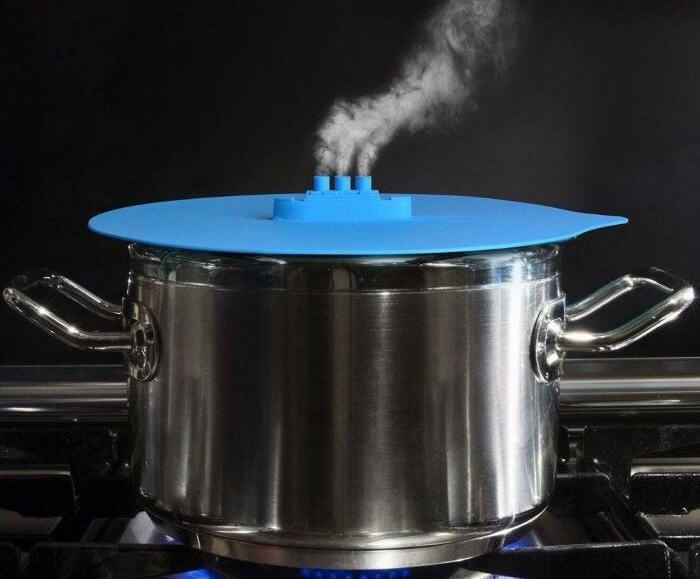 So, whether you're boiling pasta or simmering a stew, this saucepan lid turns every meal into a memorable journey on the high seas of flavor and fun!
The Socially-Distanced Welcome Mat!
In the age of social distancing, this welcome mat offers a humorous take on neighborly relations. Instead of the typical warm greeting, it reads, "Like a good neighbor, stay over there!" It's a light-hearted way to remind visitors to maintain their distance while still infusing a touch of humor into your home entrance. This mat doesn't just keep your floors clean; it sets the tone for a cautious yet upbeat atmosphere!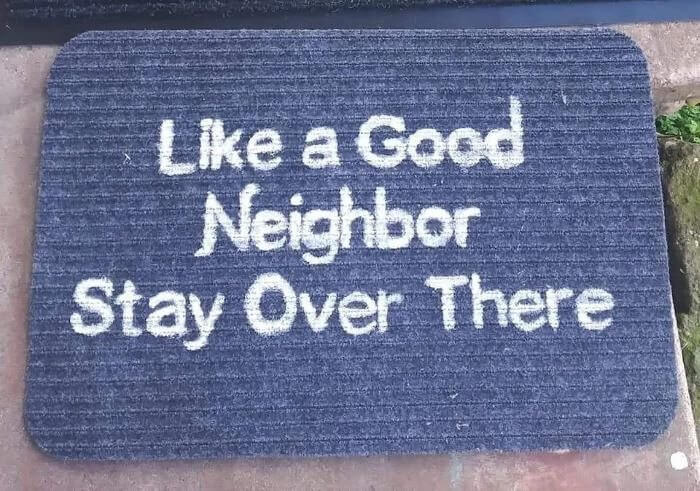 So, if you're all about maintaining a safe space or your neighbors are just a pack of douchebags, this welcome mat is a perfect addition to your doorstep!
An Unexpected Culinary Adventure!
In the world of cookbooks, this one is a true outlier, blending cultures, sex, and interests in a way that's bound to spark your curiosity. Its title, "Jewish Japanese Sex and Cookbook and How to Raise Wolves," is a fascinating invitation to explore the unexpected. Beyond the enticing recipes, it provides a window into diverse worlds, offering a mix of Jewish and Japanese culinary traditions along with insights into raising wolves while having sex!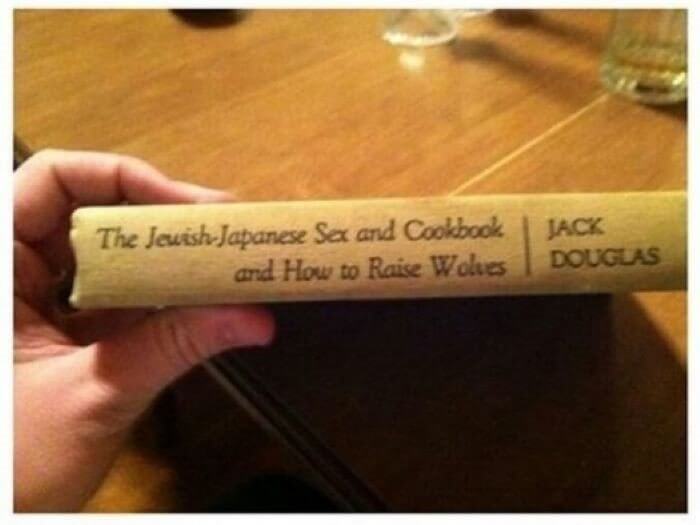 So, whether you're a food enthusiast, a cultural explorer who likes having sex, or simply someone who enjoys the unexpected, this cookbook would be a captivating addition to your collection!
Don't Rub This Guy the Wrong Way!
Prepare for a quirky journey with erasers that are more than just handy stationary tools; they're mini works of art. At first glance, you'll see a grumpy man with a full head of hair, ready to correct your mistakes. However, the magic happens as you use them. With each stroke of the eraser, the grumpy man's hair gradually disappears, and he transforms into a grumpy man who is going bald!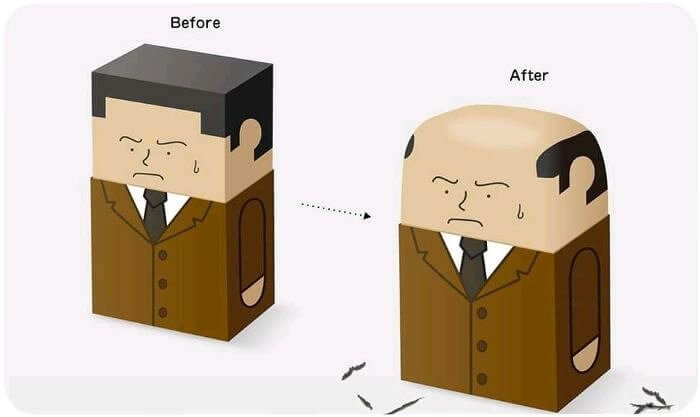 These erasers don't just undo your errors; they add a touch of fun to your creative process, ensuring your workspace is never dull. It's like a mini metamorphosis right on your desk!
Lord of the Fire Pit!
Step into the world of epic fantasy with a fire pit that's straight out of Middle-earth. At first glance, it's a Lord of the Rings-style fire pit, ready to bring warmth and ambiance to your outdoor gatherings. However, the magic unfolds when it's full of flames. As the fire roars to life, it creates the illusion of one of the Ringwraiths emerging from the flames, reaching for the one ring that rules them all!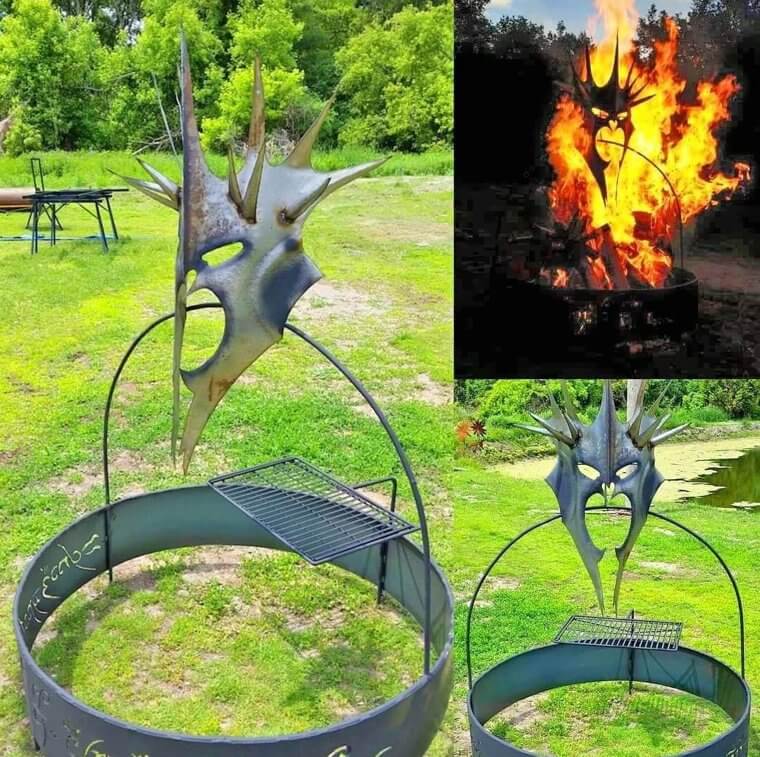 The dancing flames take on an eerie, spectral shape, evoking the iconic characters from the beloved fantasy series. It's like having your very own cinematic spectacle right in your backyard!
The Perfect Pillow for Spooning!
For all the lovebirds out there, here's a pillow that's tailor-made for those intimate moments of spooning. At first glance, it's a cozy and inviting pillow, ready to cradle you in comfort. However, this pillow goes a step further in understanding the needs of couples who enjoy cuddling. On the underside, it features a cleverly designed channel that accommodates the arm you're lying on when you're snuggled up with your loved one!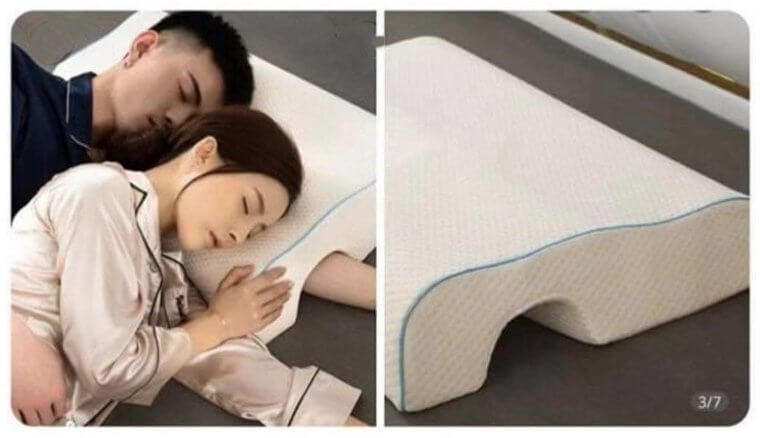 It's like a custom cuddling haven, ensuring that both of you can stay comfortable. This pillow doesn't just provide restful sleep; it fosters the connection that makes your relationship special!
A Coffee Table That Blooms With Beauty!
Elevate your living space with a coffee table that's more than just a piece of furniture. The lush array of house plants under the surface creates a botanical oasis that's both calming and visually appealing. The glass top allows you to enjoy the beauty of the plants while you sip your coffee or flip through a magazine. This coffee table is a piece of art that breathes life into your living space!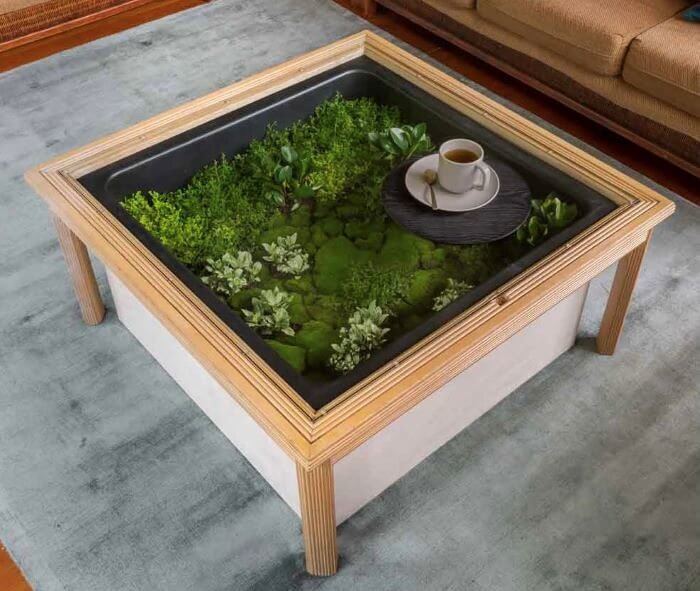 So, whether you have a green thumb or simply want to infuse your home with natural beauty, this living coffee table is the perfect choice for your interior decor!
This Dorm Room Divider!
This dorm room takes the concept of shared spaces to a whole new level. From the outside, it looks like a standard shared dorm room with two beds, one atop the other. However, the creative wall design transforms the room into a unique haven. The design, resembling a digital number 2, partitions the room into individual spaces, each fully private and personalized. It's a brilliant solution for students who value their personal space!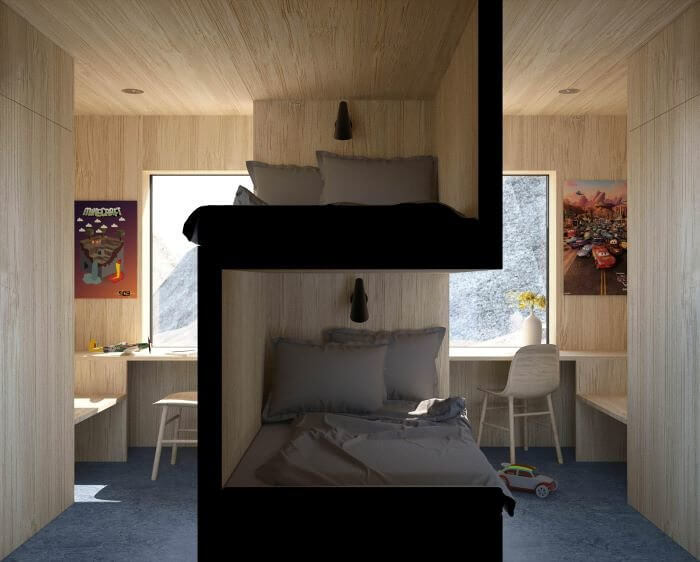 So, if you're a student seeking the perfect balance between camaraderie and solitude, this dorm room offers the best of both worlds. Sometimes, you need your own space!
The Ultimate Reminder Welcome Mat!
Are you prone to forgetting the essentials when leaving the house? This welcome mat has got your back. At first glance, it's like any other welcoming entrance mat, ready to greet you and your guests. But it goes beyond the traditional "Welcome." Instead, it serves as the ultimate reminder before you step out. In bold letters, it lists out the essentials: "Keys, glasses, phone, debit card, and purse. Turn off iron and stove!"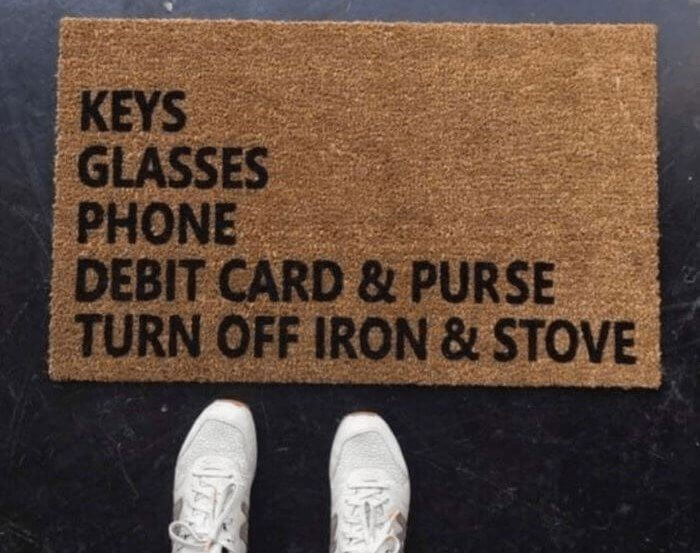 It's a practical and humorous way to make sure you never leave home without the important items and double-check your appliances. This mat doesn't just keep your floors clean; it keeps your life organized!
Nutty Packaging!
In the world of nut packaging, these bags of walnuts are a standout for their ingenious design. They may seem like standard nut bags, but they are pretty charming. The packaging cleverly mimics the head of a squirrel, with each bag containing walnuts snugly packed into each "cheek." This packaging isn't just about nuts; it's about transforming your snack time into a delightful adventure where each bite feels like a tiny treasure!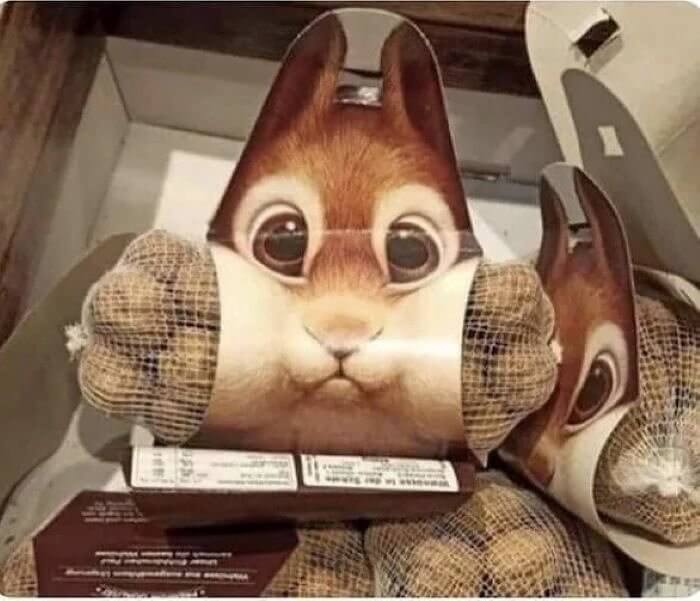 So, if you're someone who appreciates clever ideas, these squirrel-inspired walnut bags are the perfect addition to your pantry, bringing a smile to your face with every nibble!
Fun On Rainy Days!
This umbrella is not just for staying dry but also for having a splash of fun on rainy days. It's like any other umbrella, ready to shield you from the rain, but it comes with a playful twist. Its handle is designed as a water pistol, allowing you to catch the rain and fill the pistol with water. Now, you can playfully squirt passersby or friends while staying dry under the canopy!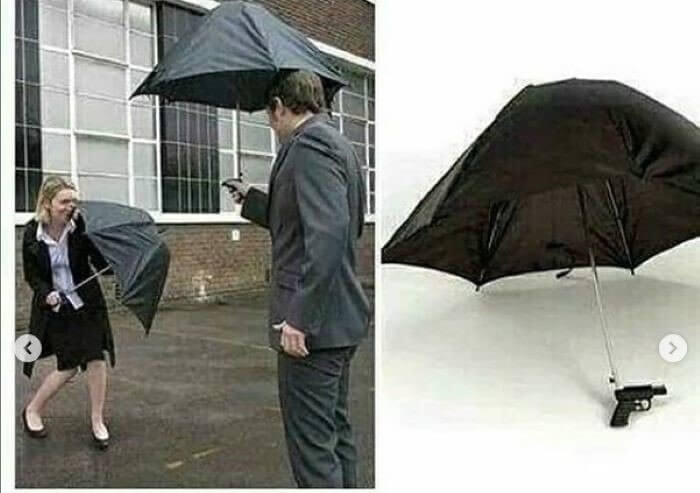 It's like turning a rainy day into an opportunity for unexpected fun. This umbrella doesn't just protect you from the rain; it adds fun and surprise to your outdoor adventures!
Daylight Magic in Every Room!
These curtains are a testament to design ingenuity. While they may look like regular window dressings at first glance, they hold a surprise that's revealed when the sun shines through. Thanks to cleverly positioned pinholes, the curtains create the illusion of a starry night cityscape against a daytime backdrop. It's a captivating effect that brings the magic of a starry night indoors, allowing you to enjoy the beauty of cosmic views during the day!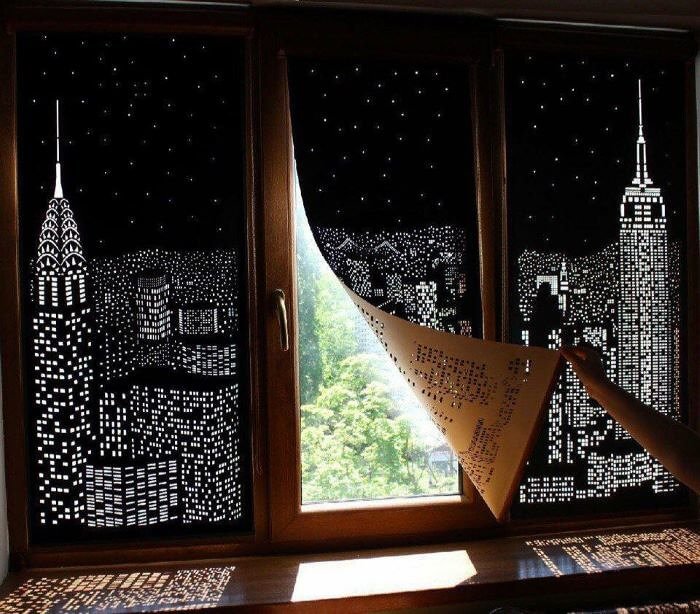 These curtains don't just provide shade; they offer a daily spectacle of wonder and imagination. These curtains are the perfect addition to your home, where daylight and dreams blend seamlessly!
As Subtle as a Sledgehammer!
Create a sense of order at your next gathering with a party sign that's both joyful and tactful. At first glance, it appears like any other hanging party sign, ready to add a festive touch to your celebration. However, it carries a message that's a bit unexpected. In playful lettering, it reads, "Please leave by 9!" It lets your guests know the end time of the party without being overly direct!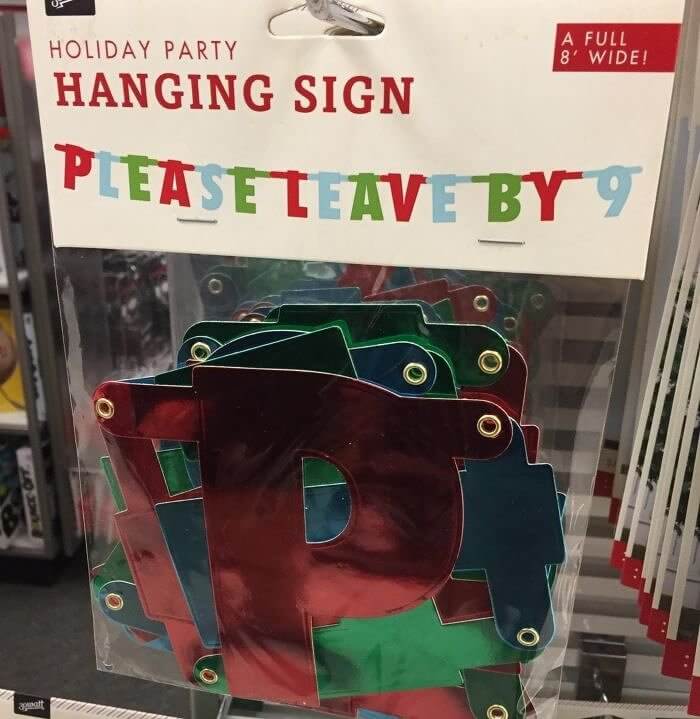 So, if you're a host who wants to ensure everyone has a great time and a timely departure, this party sign is the perfect addition to your party decor!
A Brilliant Bookshelf Surprise!
Give your bookshelf a thrilling twist with a cleverly designed addition that's sure to turn heads. It might appear as a typical bookshelf, but nestled between your books is an unexpected guest – the iconic "Here's Johnny" face from The Shining. This playful addition adds a touch of humor and suspense to your book collection as if Jack Nicholson is peering through your literature, ready to turn your home upside down!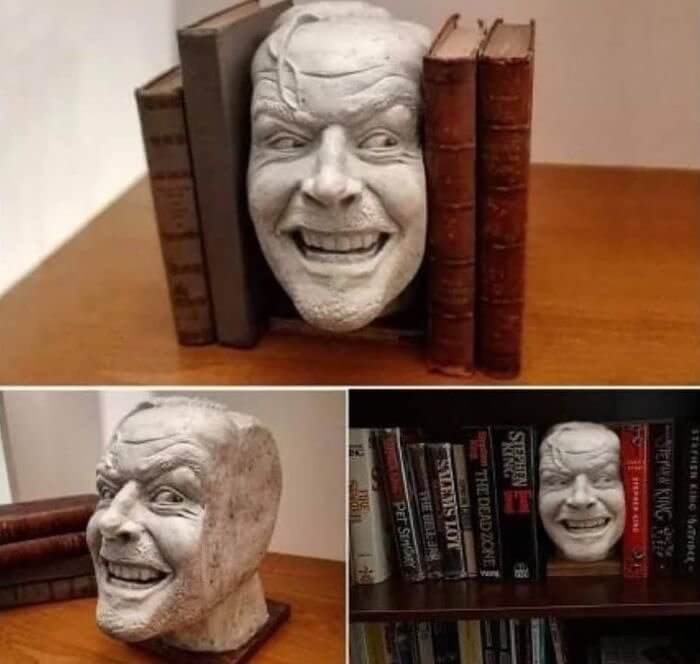 So, if you're a fan of literature and cinematic thrills, this "Here's Johnny" face is the perfect way to add a twist to your bookshelf, ensuring your collection is always a conversation starter!
Your Living Room Adventure Awaits!
Transform your living room into an adventure zone with a three-piece crocodile set that turns your carpet into a dangerous lagoon. At first glance, it may seem like just a typical living room, but the magic happens when you lay down these crocodile pieces. Each piece showcases different parts of the crocodile – its tail, back, and eyes – as if it's swimming toward you, bringing a slice of the wild into your home!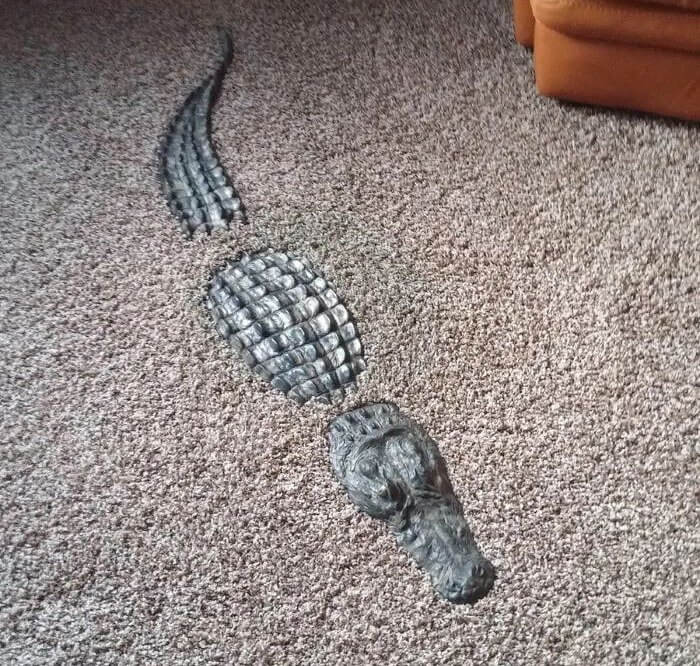 If you enjoy turning everyday moments into adventures, this crocodile set is your ticket to a living room lagoon full of thrills. Perfect for kids and the young at heart!
The Quarantine Collection!
This Netflix pandemic award stands out for its humorous charm. On the surface, it appears as a standard award, but the inscription adds a touch of 2020's reality. It proudly proclaims, "1000 Netflix Hours! 2020 Quarantine Collection." Whoever received this award must need a little bit of exercise at this point! It doesn't just mark an accomplishment; it honors the shared moments of entertainment and distraction that brought joy during challenging times!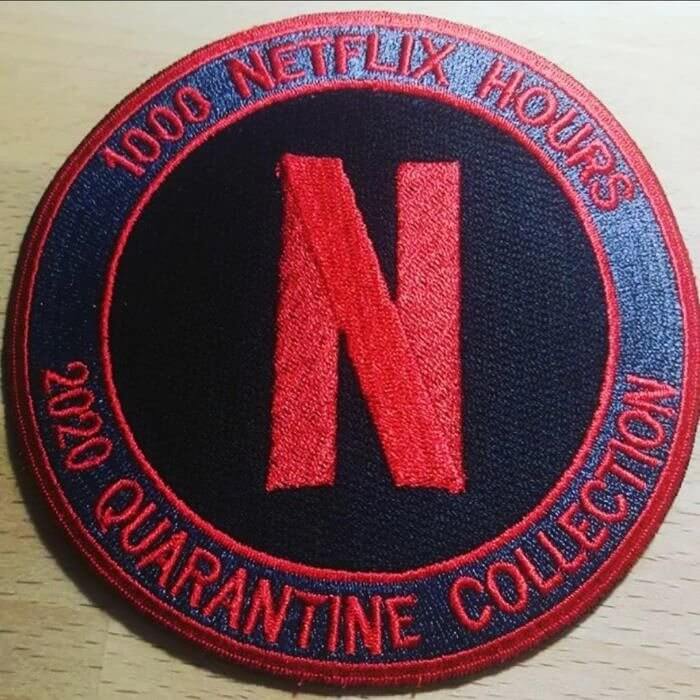 So, whether you're a Netflix enthusiast or simply want to remember the resilience of 2020 with a smile, this pandemic award is the ideal keepsake to cherish your quarantine collection!
A Key Fit for a Knight!
While you may not be able to transform your home into a castle, you can certainly add a touch of chivalry to your daily routine with the Hero's Armory Sword House Key. At first glance, it might seem like a regular house key, ready to unlock the doors to your kingdom. However, the magic lies in its design. Shaped like a knight's sword, it adds a dash of medieval flair to your everyday life!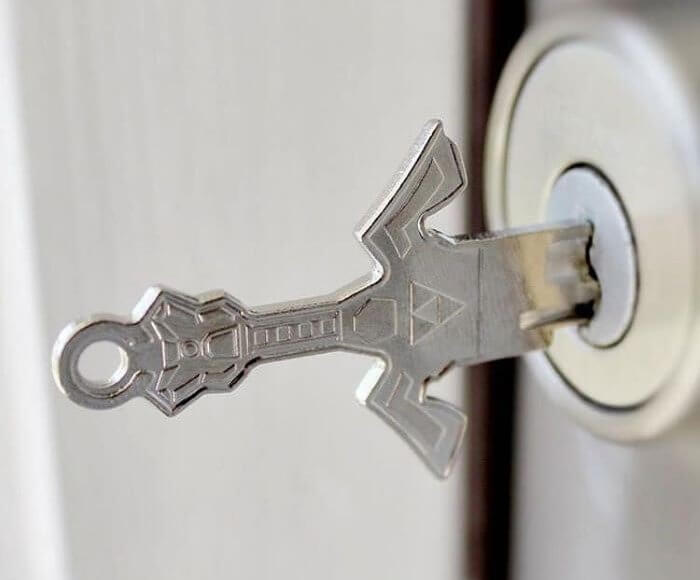 So, if you're someone who enjoys a hint of fantasy, this Hero's Armory Sword House Key is the perfect accessory to make your daily tasks a little more epic!
A Dent With a Story to Tell!
Turn everyday dents into battle zones with the help of the "Epic Fight Between Yamcha and a Saibamen." At first glance, it might appear like a regular car dent, a minor blemish on your vehicle. However, this accessory takes the ordinary and transforms it into the extraordinary. By placing a tiny Yamcha in the center of the dent, you create the illusion of an intense battle scene right on your car!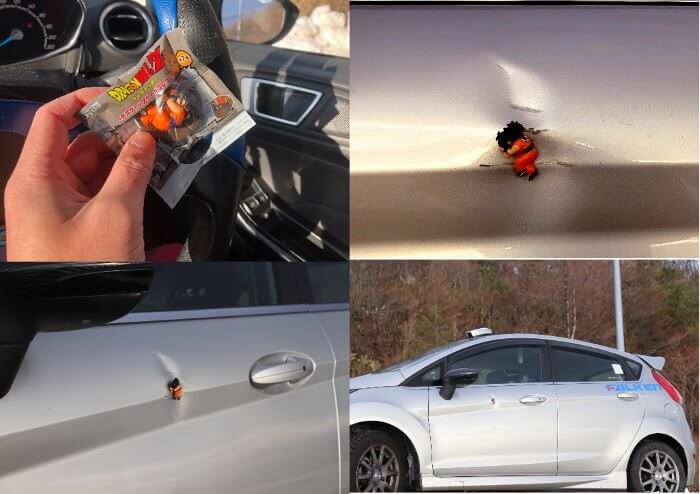 This accessory doesn't just mask car imperfections; it adds a touch of humor and drama to your driving experience. This car dent accessory is bound to turn heads and spark conversations!
A Fresh Approach to Rainy Days!
Get ready to add a touch of culinary creativity to your rainy day with an umbrella that's as refreshing as a salad. At first glance, when it's folded down, it's ingeniously designed to resemble a head of lettuce. It's like carrying a crisp garden vegetable above your head, adding a playful and quirky twist to even the dreariest days. It infuses your outdoor adventures with a dose of fun and surprise!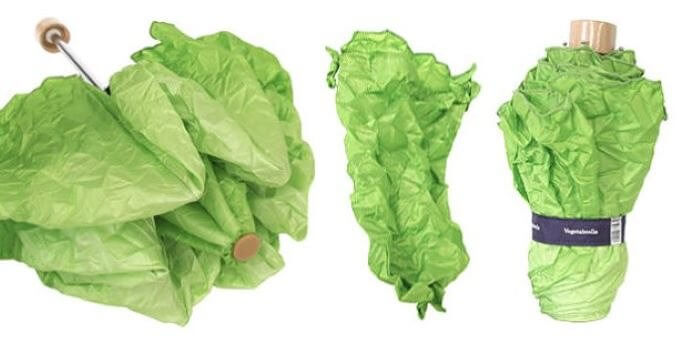 So, whether you're a food enthusiast or someone who enjoys a touch of fun, this lettuce-shaped umbrella is the perfect accessory to turn any rainy day into a refreshing and delightful experience!
Just a Drop of LIght!
At first glance, it might appear as a dripping faucet, ready to quench your midnight thirst. However, when you plug it in, the huge water droplet lights up, casting a soft and soothing glow in your room. It's like having a work of art that doubles as a light source, adding an element of intrigue and ambiance to your sleep space. This bedside lamp transforms your bedroom into a haven of relaxation!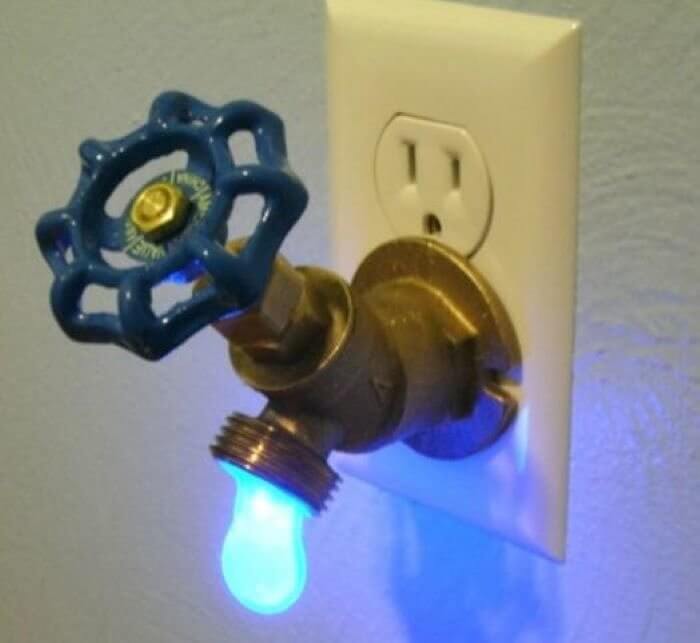 Suppose you appreciate a sense of serenity in your sleeping quarters. In that case, this dripping faucet lamp is the perfect way to turn a mundane moment into a nightly masterpiece!
The Pillow That Hugs You Back!
Discover the ultimate in bedtime comfort with a pillow that's designed to provide a warm and cozy embrace, no matter your sleeping position. Its true magic lies in its two long arms. These arms allow you to snuggle up to the pillow, feeling embraced and supported, whether you sleep on your back, side, or stomach. It's like having a constant companion by your side, ensuring that you have the perfect night's sleep!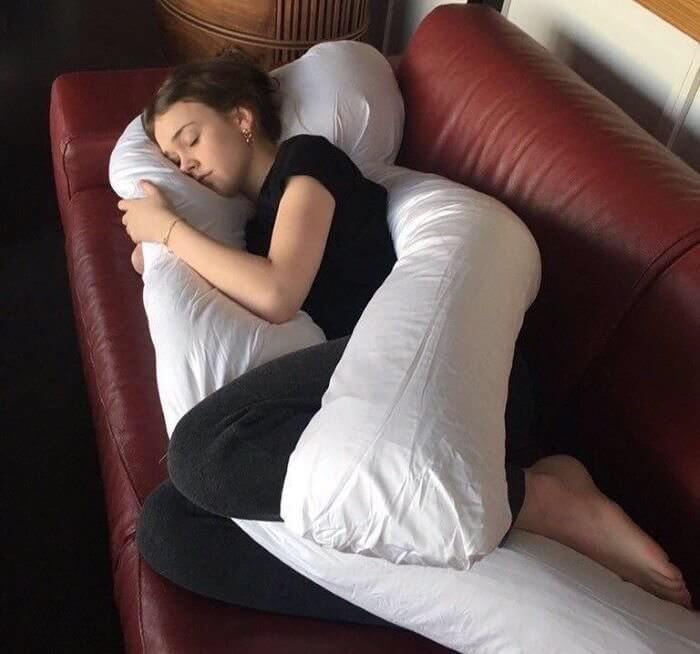 If you value a good night's rest and the warmth of a loving embrace, this comfort pillow is the ideal companion to ensure you wake up feeling cherished and well-rested!