Believe it or not, there is evidence that people have had the impulse to collect things for thousands of years. And while collecting has definitely come a long way since then, the desire to possess certain items and the pleasure it brings remain the same. These days, one person's trash could easily be another person's treasure. And with the internet's open window to the world of what's collectible, the chances are you are sitting on a goldmine, and you don't even know it.
1794 Silver Dollar
In 2013, a rare Silver Dollar from 1794 was bought at auction by a private collector for $10 million. That is double the amount of the previous record-holding coin sold in 1999. Lady Liberty is the focus of the 1794 Silver Dollar. She is depicted facing right with long, flowing hair, and the stars of the United States surround her. And while this was an extraordinary amount of money at the time, the buyer went on to resell the same coin in 2021 for $12 million.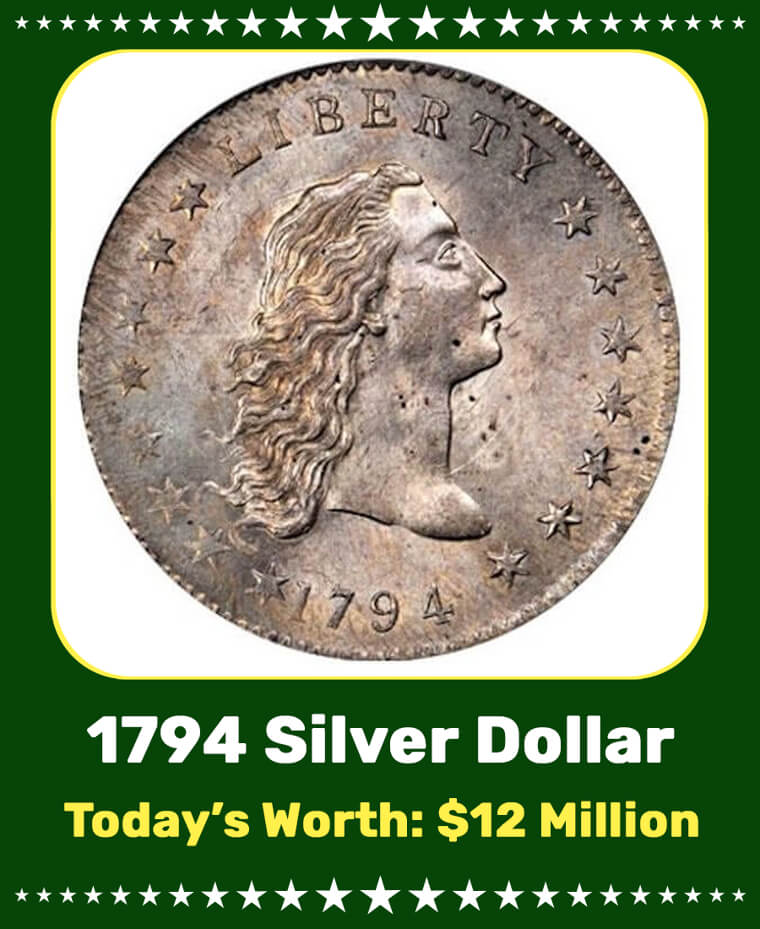 Collecting coins, also known as numismatics, can be both a hobby and an investment. Big money can be made if you make the right choices.
Stamp Collecting
Stamp collectors are among the most famous hobbyists on the planet, and for good reason. Rare stamps can reach incredible prices when sold at auction. But in the stamp collecting world, there is one stamp to rule them all. The "British Guiana 1 Cent Magenta" from 1873 was sold for $9.48 million in 2014. This stamp was originally discovered by a 12-year-old boy in 1873, who kept it in his stamp collection before selling it for six shillings.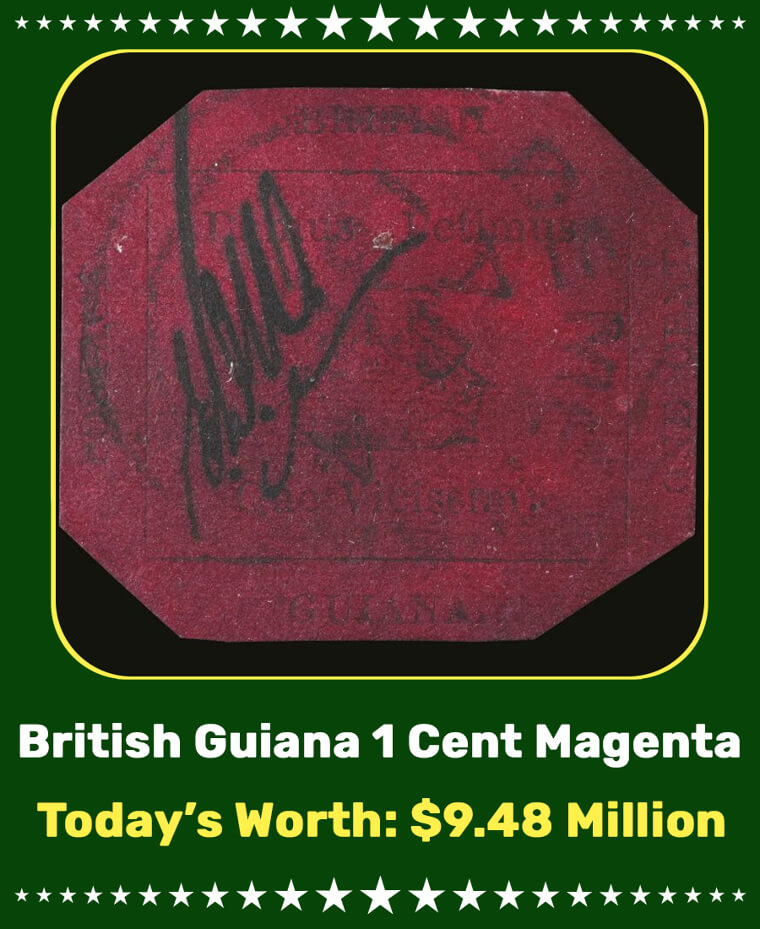 Before being bought by a private collector in 2014, the British Guiana 1 Cent Magenta was owned by the now-infamous murderer John E. du Pont.
Thrift Store and Yard Sale Finds
In 1991 a bargain hunter named Teri Horton was scouring a yard sale in search of a gift for a friend. The item she settled on was a large colorful painting. Having paid $5 for it, Teri gave it to her friend only to find out that the painting was too large for her trailer. Upon trying to resell the painting to get her money back, Teri found out that the painting was an original Jackson Pollock worth an estimated $50 million.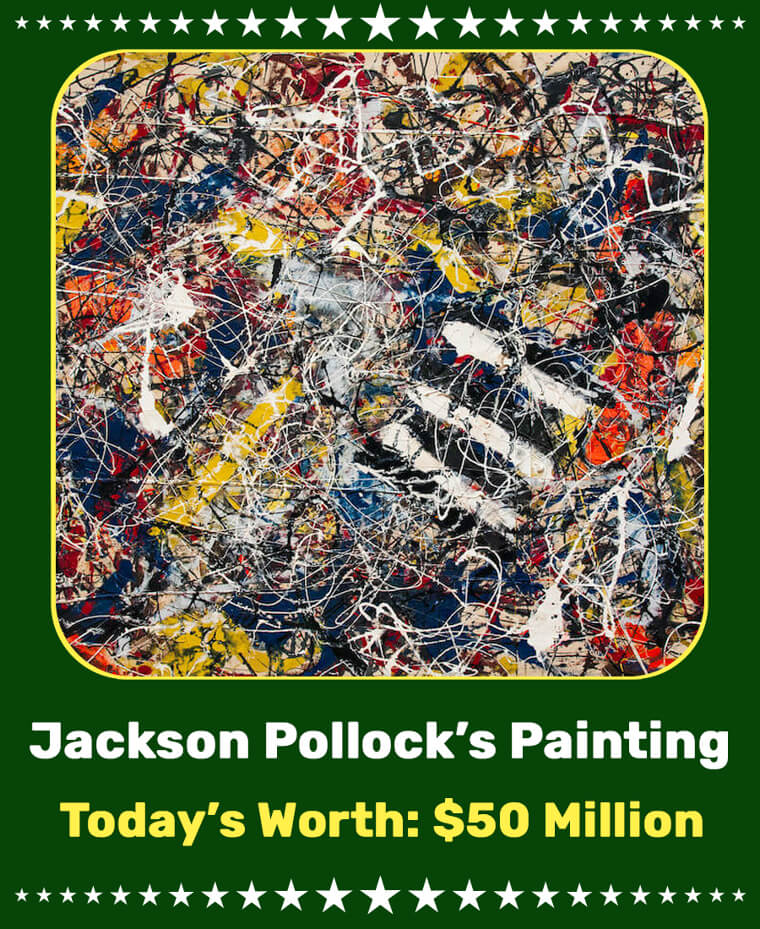 Thrift stores and yard sales are notorious places for finding hidden gems. Like Terri Horton, you could stumble upon an item that may be worth a fortune.
Time to Dust Off Your Old Dolls
From Barbie to Cabbage Patch Kids, dolls are at the top of the collectible items list. They can fetch large sums of money at auction if they are old, in great condition, or are in their original boxing. The Madame Alexander Eloise porcelain doll is no exception. This doll comes with nine-carat diamonds, designer clothes, accessories, and a pet dog. You can own this doll if you can afford its $5 million price tag.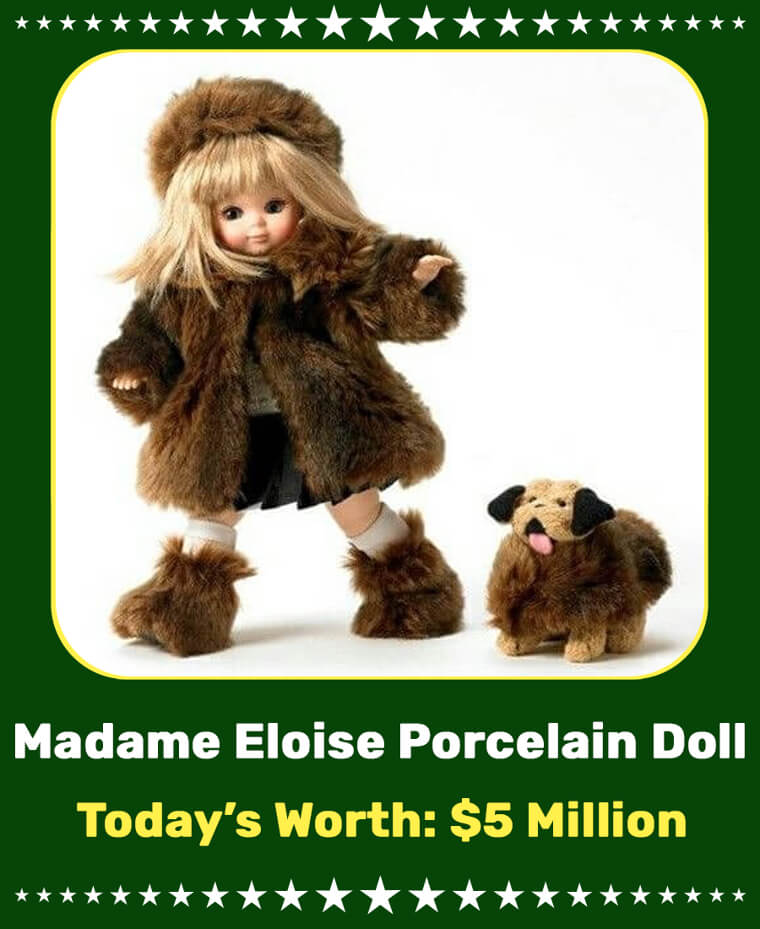 If you have a doll in your basement left over from your childhood, maybe you should consider dusting it off and getting it valued. 
Baseball Trading Cards
In the 1950s, it cost a nickel for a stick of gum and six baseball trading cards. In 1991, an ungraded Mickey Mantle card surfaced after spending decades in an attic. While the owner knew the card was rare and worth big money, he parted with it for $50,000. In August 2022, the same Mickey Mantle baseball card in perfect condition from 1952 was sold for an incredible $12.6 million.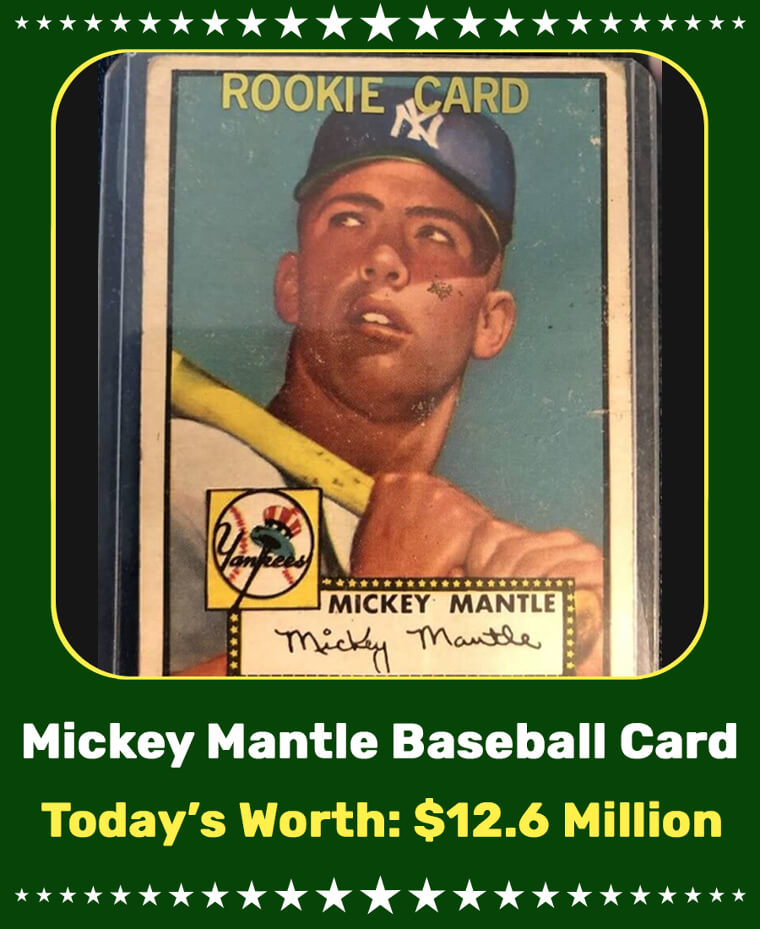 Baseball cards must have one of the most amazing collectible stories ever. It's time to ask your grandparents for the keys to their basement. You never know what you might find.
The Man Of Steel
When it comes to collectibles, superhero comics continue to increase in value year after year. And while he may not be everybody's favorite superhero these days, the man of steel comes in at number one for the most expensive comic of all time. Yes, in 2022, Superman #1 sold to a private collector for $5.3 million. Superman #1 was published in 1939 and was the first comic devoted entirely to a single character.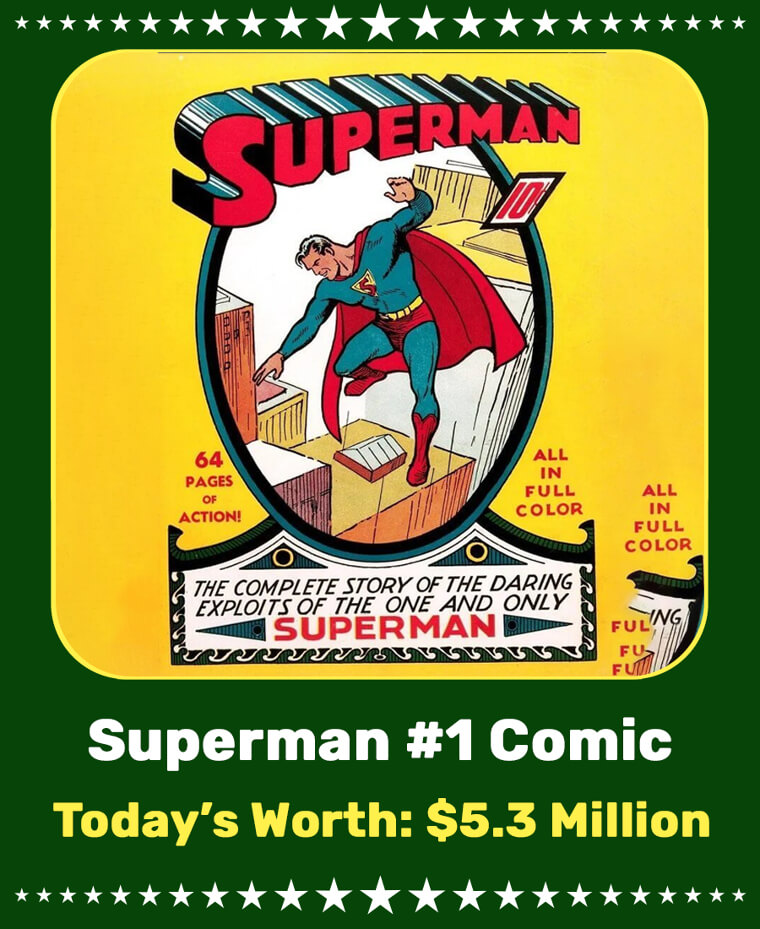 Comic book superheroes have witnessed a boom due to their domination in movies and television. Superman's unparalleled popularity has seen the character consistently smash comic sales records.
Star Wars Memorabilia
When it comes to box office success, few can compare to the Star Wars series. Anything related to the original Star Wars movies, including action figures and props, are very collectible and can reach incredible prices. R2-D2 is the most expensive Star Wars collectible ever sold. This rare 43-inch collector's dream from the set of the original trilogy was auctioned in June 2017 and sold for $2.76 million. The auction company stated it was the most expensive movie memorabilia item ever sold.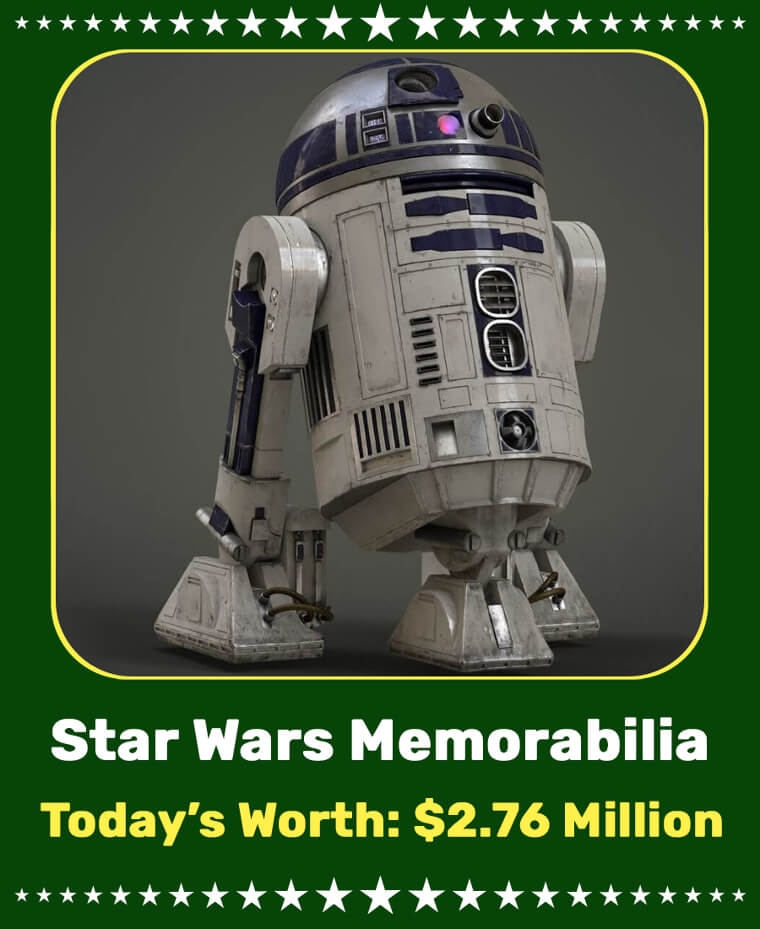 Since the first film was released in 1977, the Star Wars brand has generated billions of dollars through the sale of toys, video games, novels, and memorabilia.
Space Memorabilia
From moon rocks to space capsules, space memorabilia can fetch astronomical sums at auction. Buzz Aldrin wore a white jacket while traveling to the moon in 1969. That jacket was auctioned for an astounding $2.7 million in 2022 on the 53rd anniversary of the Apollo 11 crew's splashdown back on Earth. It was the most valuable American space-flight artifact ever sold at auction and the most expensive jacket ever sold at auction.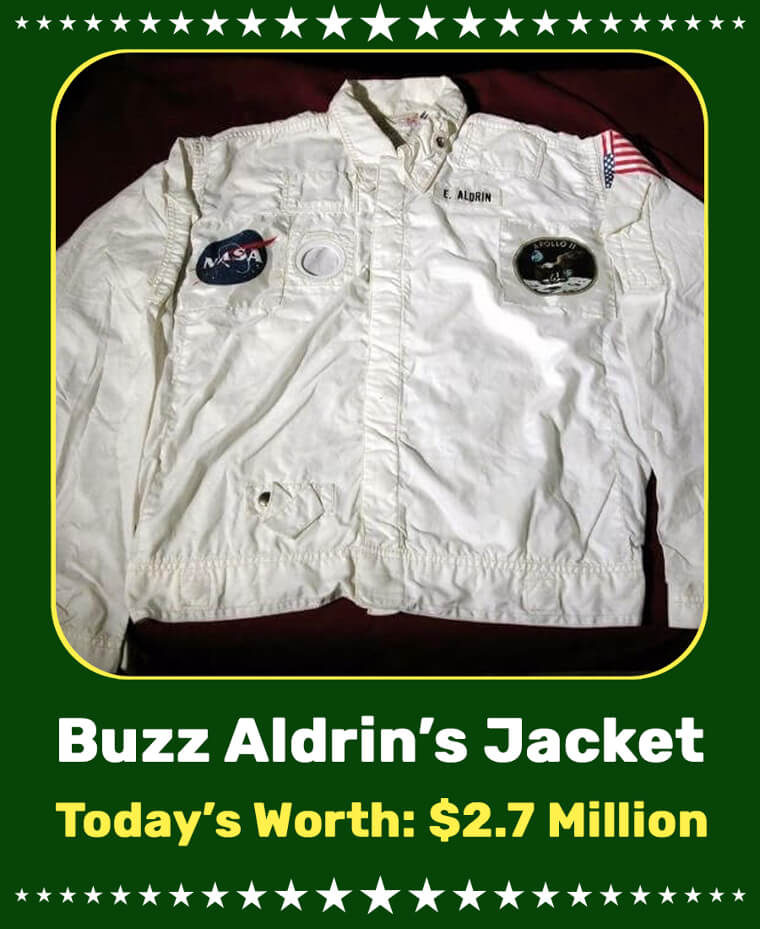 Buzz wore the inflight jacket for the bulk of the space voyage; he only removed it halfway through to change into a pressure suit in preparation for his first steps on the moon's surface.
Chinese Porcelain
Chinese porcelain bowls created in Dingzhou are highly collectible and will bring in big dollars at auction. They were produced throughout the Tang and Yuan dynasties and were status symbols for affluent scholars and merchants. These bowls were created between 1100 and 1200 CE and have since played a significant role in the history of Imperial China. Crafted of thin porcelain with a white finish, they can sell for $2.2 million each.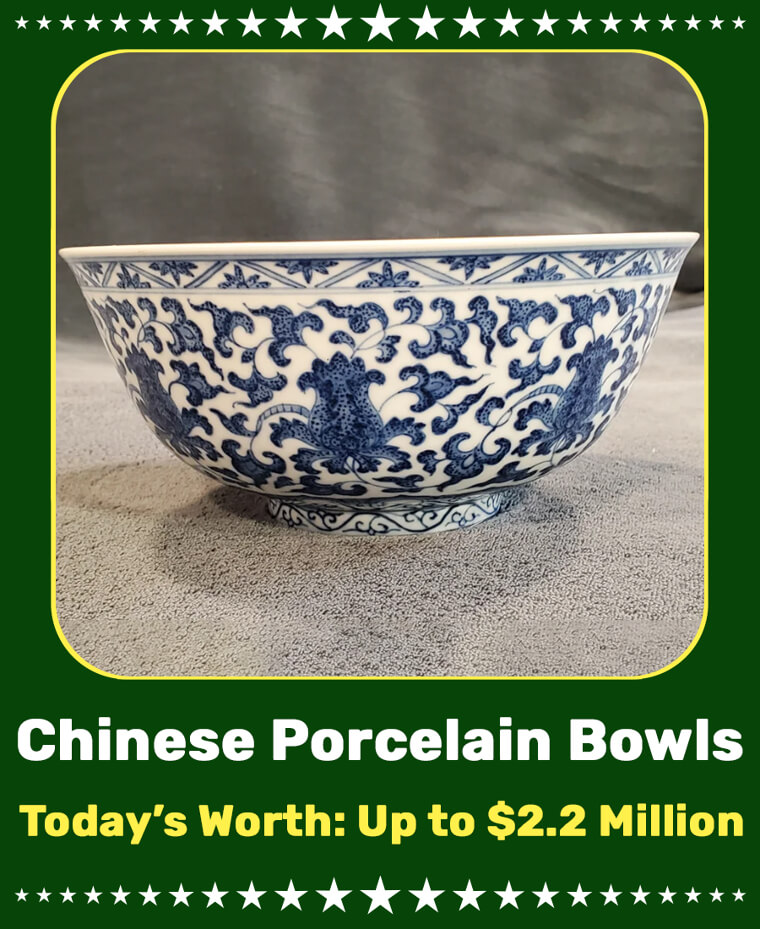 In 2007, one of these bowls was purchased for a few bucks at a tag sale. The new owner had no clue that they had stumbled upon a 1,000-year-old treasure at the time.
Record Breaking Baseball
Mark McGwire was one of the most intimidating power hitters in baseball throughout the 1990s. He established a record with 70 home runs in a season in 1998. A year after McGwire was inducted into the Baseball Hall of Fame, the ball from that game was purchased at auction for $3 million, making it the most expensive baseball in history.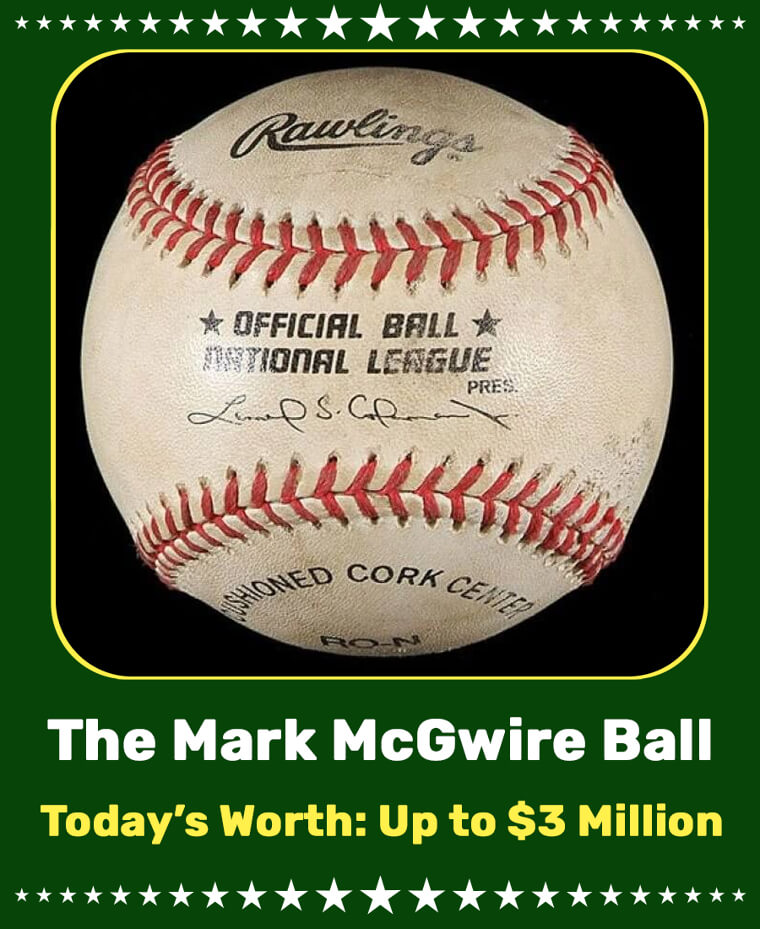 Todd McFarlane, a brilliant comic book creator from Canada, became the new owner of this record-breaking baseball.
Before this record-setting baseball was sold, well-known auctioneers appraised it several times. At that time, it was agreed that the ball was worth between $250,000 and $400,000.
The Wizard of Ozz
When it was first released in 1939, The Wizard of Oz caused quite a stir, and fans were eager to get their hands on some memorabilia. All costumes, including the Scarecrow and Tinman outfits from the movie, became especially collectible, but the Cowardly Lion outfit topped the list and was auctioned off for $3 million in 2014. The costume was discovered by a trash merchant who was clearing up an old abandoned MGM building.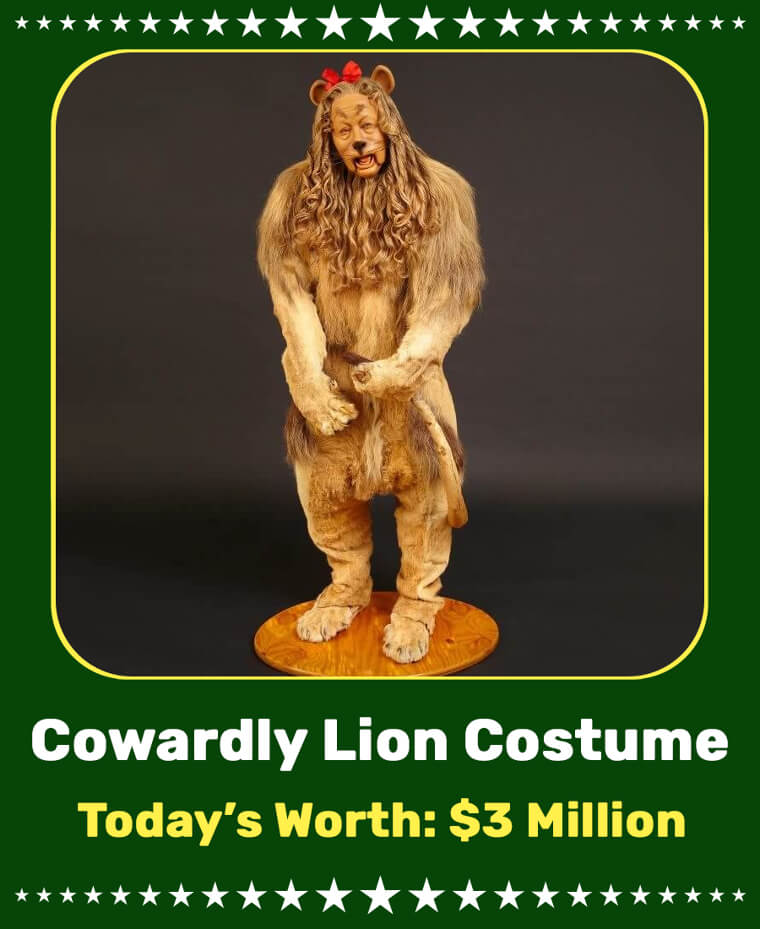 Believe it or not, the Cowardly Lion costume worn by Bert Lehr in this blockbuster movie was constructed from genuine lion fur and skin. That would never happen these days!
Babe Ruth and Baseball
The fact that baseball memorabilia is so much more costly than that of other sports comes as a bit of a surprise to some people. It should not come as a surprise, though, that this baseball jersey is priced so high. After all, in 1928, Babe Ruth led the New York Yankees to their third World Series victory while wearing this coveted jersey, and in 2019, the jersey was auctioned off for $5.64 million.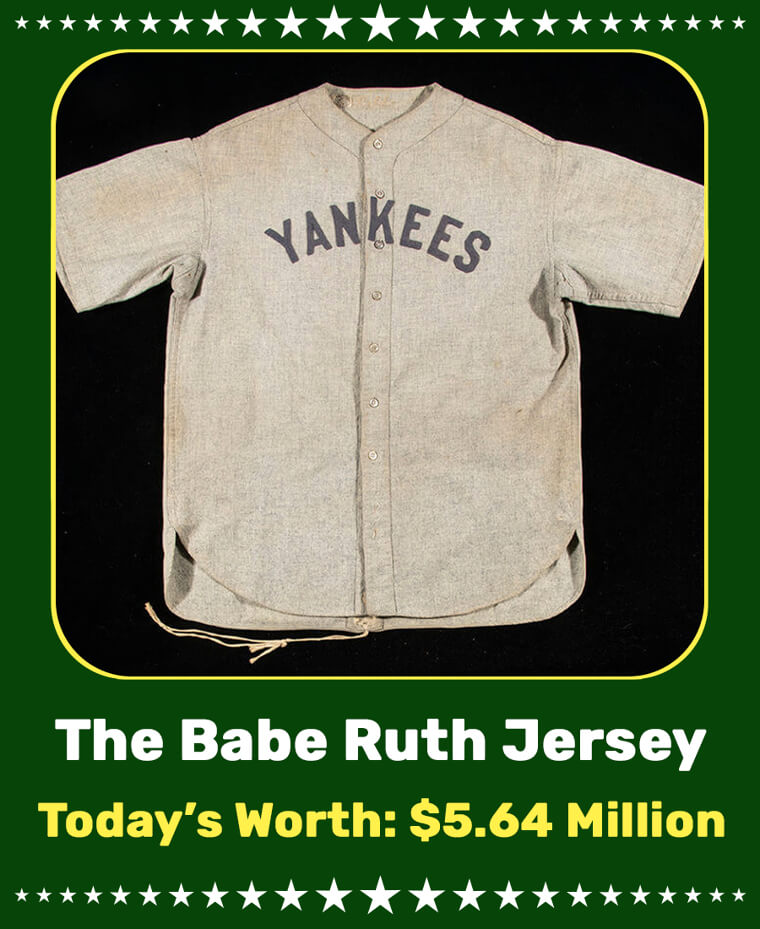 After Babe Ruth made an incredible catch near the left-field box seats, he ran into the clubhouse while holding the ball aloft, shouting, "There's the ball that says it's all over."
Antique Photographs
A tintype is a type of old photograph in which an image is created on a thin sheet of metal that has been covered with a dark lacquer or enamel. One great example of a tintype is the one taken of Billy the Kid. It was the first photograph of the outlaw ever taken, and it is now worth roughly $10 million. These old tintype photographs are highly collectible today and can be worth a lot of money.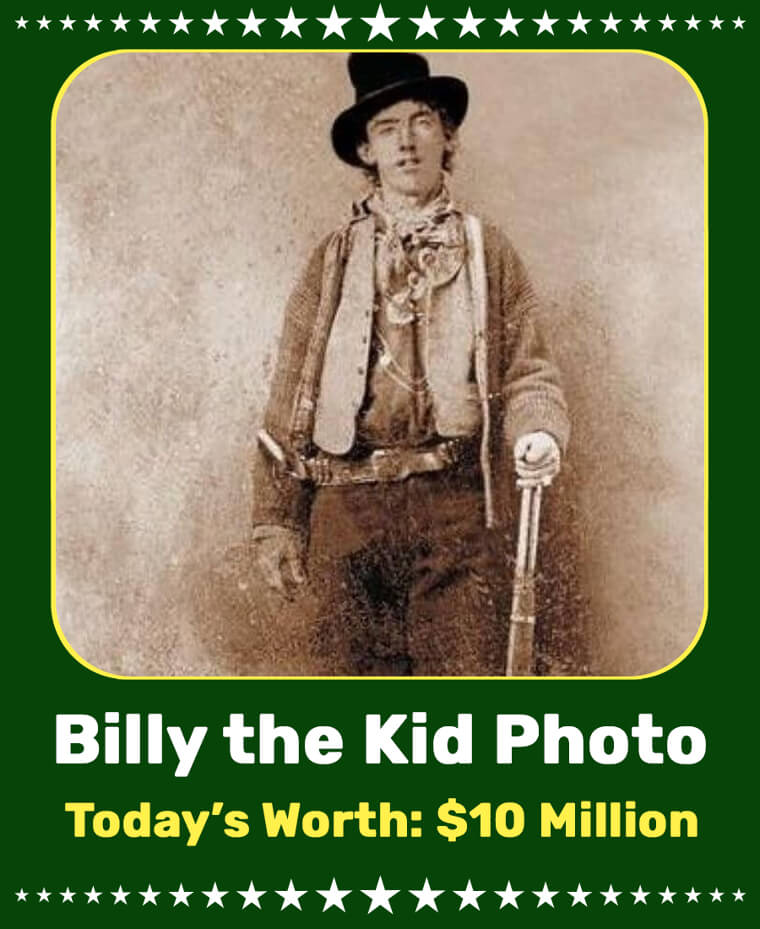 In the American Old West, Billy the Kid was an outlaw and gunfighter who shot 21 men dead before being shot and killed himself at the age of 21.
Wristwatches Worth Millions
The Grandmaster Chime timepiece is probably the most intricate wristwatch ever created. There have only been seven of them produced, and with just six currently on the market, they are highly collectible. Over 100,000 man hours went into creating each watch, so it's no surprise they're so expensive. In fact, the most recent one sold for $31.19 million. The Grandmaster Chime has a total of 1,366 unique components, which is astonishing for a wristwatch.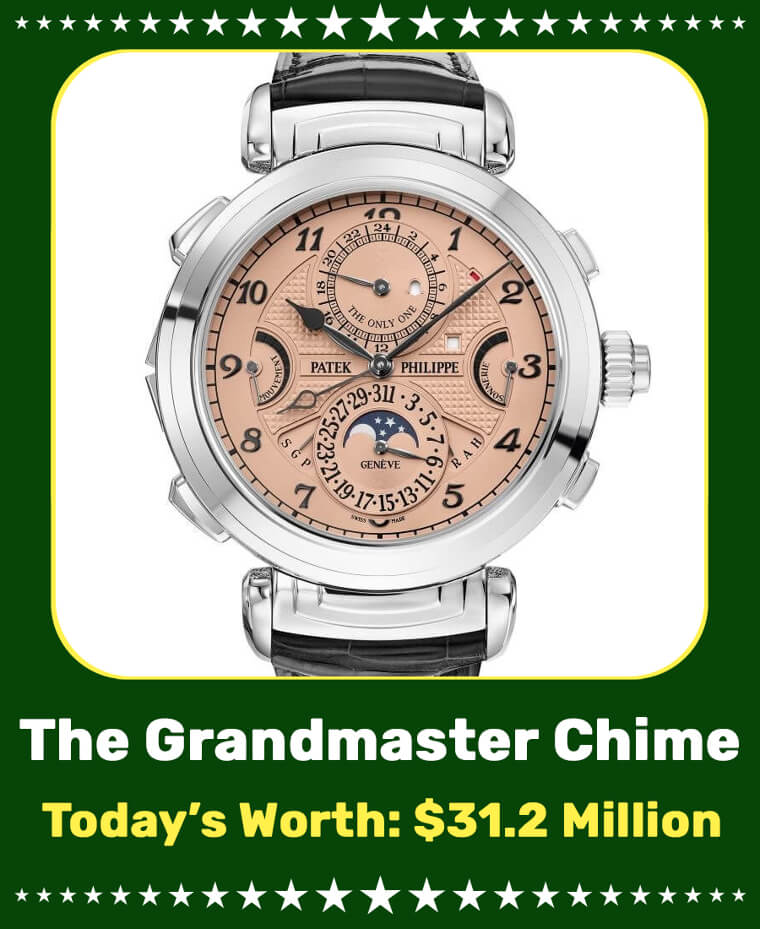 There are a total of six patented features on this watch, reversible casing, and two separate dials. Only a master watchmaker and engineer can achieve such intricacy and artistry.
Collecting Cars
These days, anything with "Ferrari" in the title is going to be expensive. When this particular Ferrari 250 GTO model initially debuted in 1963, it had a price tag of $18,000. However, if you intend to bid on it in a current auction, you had better have deep pockets. This vehicle can be yours today for roughly $70 million. The 250 GTO model represented the height of racing development while retaining the grace and comfort of a road vehicle.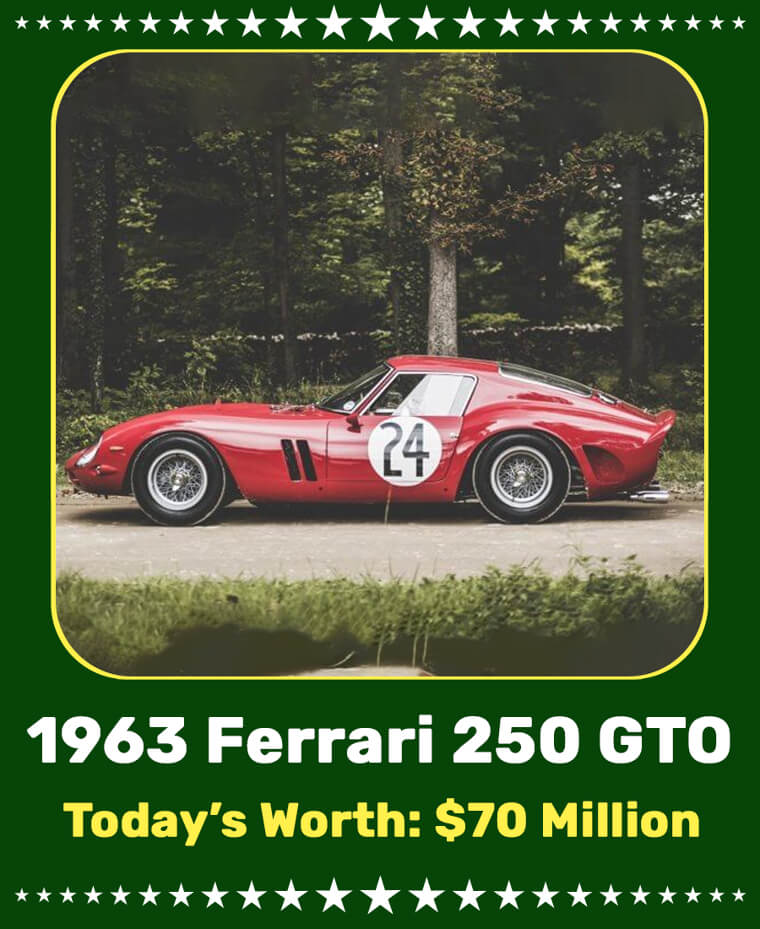 Car collecting is an expensive hobby to have, but with a car like a  Ferrari 250 GTO in your collection, you have a lot of options.
Ansel Adams Photographic Negatives
Photographer Ansel Adams was famous for his black-and-white landscapes of the American West. He became famous in the 1930s for his photographic abilities and the endless energy needed to achieve each shot. A set of Adams' old negatives were discovered at a yard sale and bought for just $45. Since then, these negatives have changed hands a few times, and subsequent buyers have been willing to shell out upwards of $200 million.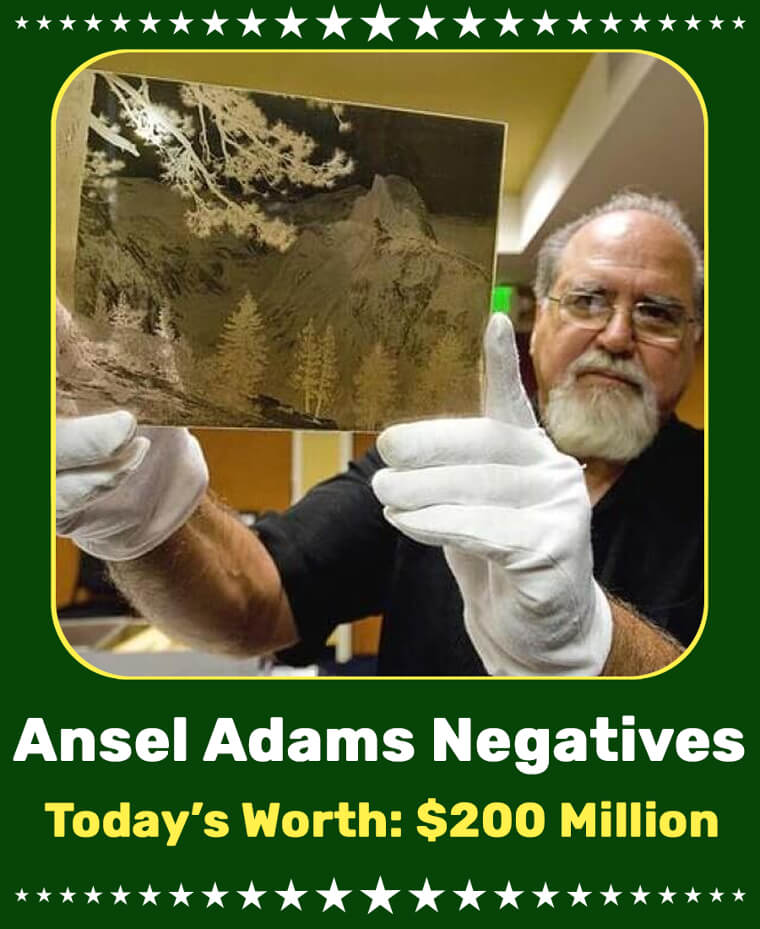 Art, forensic, handwriting, and weather specialists collaborated to determine that the 65 glass plates were photography negatives produced by Ansel Adams more than 80 years ago.
Robby the Robot
One of the most recognizable figures in the history of science fiction cinema is Robby the Robot. He first appeared in Forbidden Planet, released in 1956, and has since made cameos in a few more movies and TV shows. The original cost of the prop was $125,000, but it has significantly increased since then. At its most recent sale, it fetched $5.375 million. This seven-foot-tall robot became a science fiction icon in the years that followed his earliest movie roles. ​This seven-foot-tall robot became a science fiction icon in the years that followed his earliest movie roles.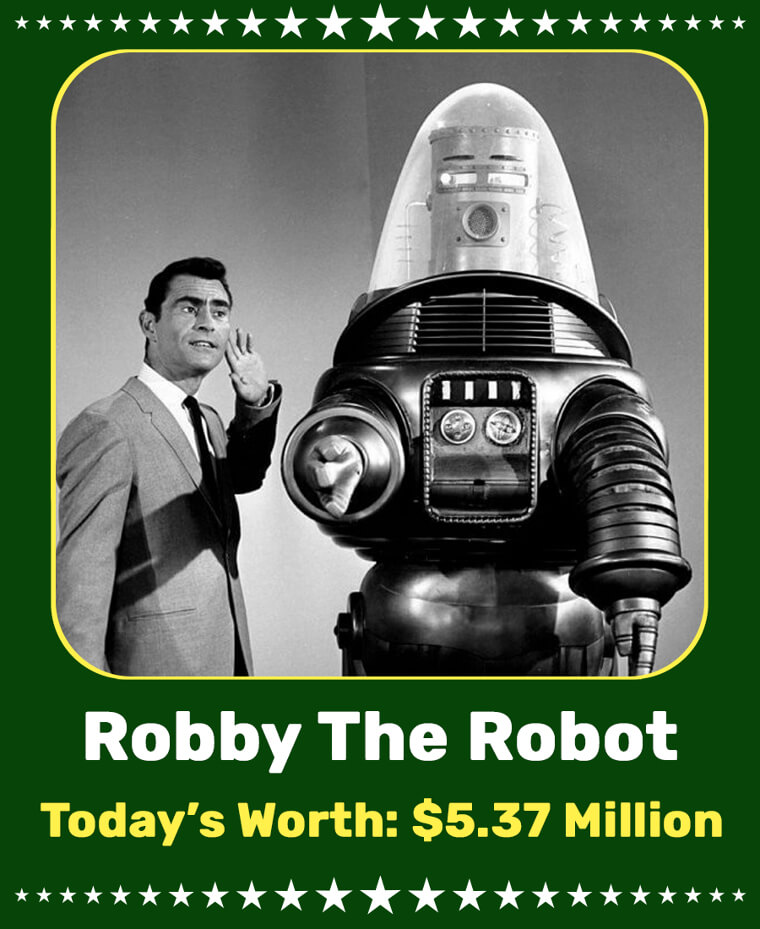 When Forbidden Planet was released in the 1950s, people believed Robby the Robot was an actual robot. They didn't realize that American stuntman Frankie Darro was inside the robot costume.
A Record-Breaking Rug
You probably had no idea that Persian rugs were so pricey and rare. This particular rug was expected to fetch about $10 million at auction, but it broke all records and became the most expensive one ever sold. An unidentified buyer was unwilling to let this hand-made rug from the 17th century go to another buyer. The rug was sold for $33.76 million. Collectors like this one are sometimes willing to go to any expense to get what they want.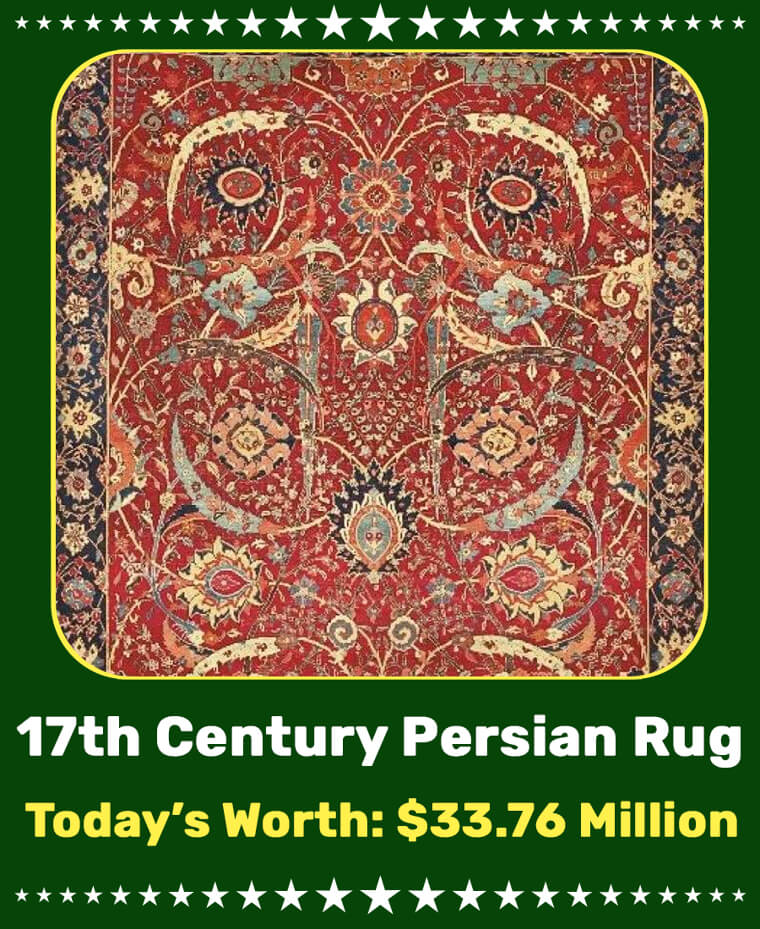 Seeing the crowd at a Sotheby's auction get excited is rare. But when this record-breaking rug was sold, the shocked crowd erupted into a rousing round of applause.
Pokémon Cards
Pokémon cards can fetch crazy prices among collectors these days. Of course, uniqueness and their condition are important factors in determining price. And if they've never been removed from the pack, that's where the real money is. The Pikachu Illustrator, which sold for $5.275 million in July 2021, is the most expensive Pokémon card. For Pokémon card collectors, owning the Pikachu Illustrator is the equivalent of finding the Holy Grail.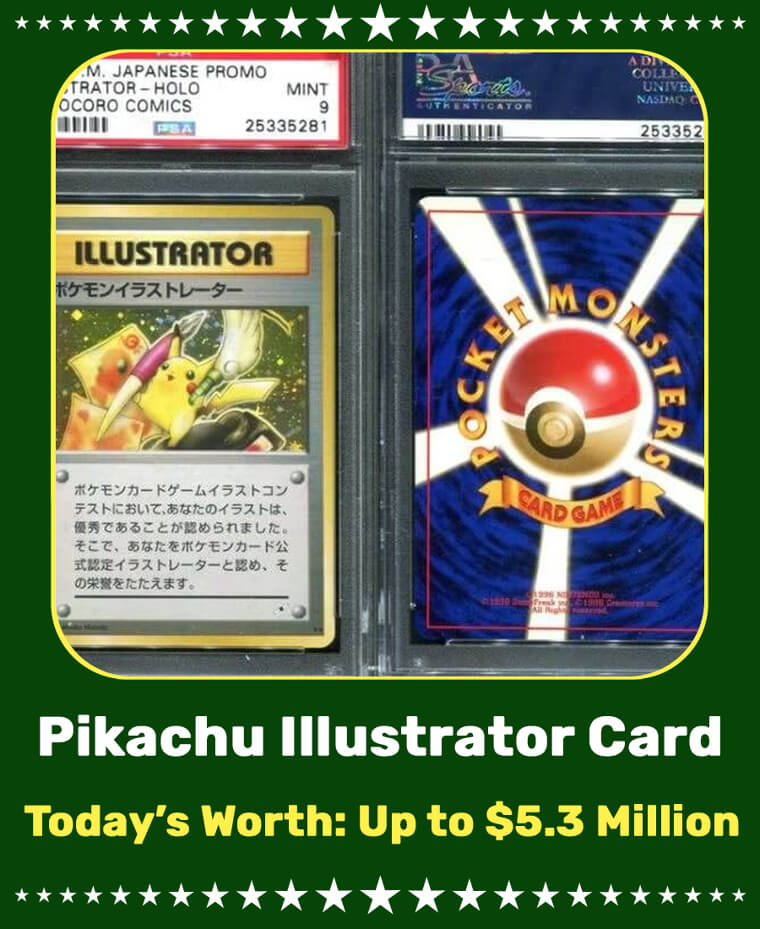 The previous owner of the Pikachu Illustrator made this record sale to Logan Paul, a YouTube star who is rarely out of the entertainment headlines.
Hermes Birkin Bags
The priciest bags in the world are Hermes Birkins. Each year, a very small number of very high-quality Birkins are produced. Not just anyone can purchase a Birkin bag, either. You must first develop a connection with the company and then be prepared to wait for years to receive your purchase. The Diamond Himalaya is the most expensive handbag ever auctioned, and it went for more than $440,000 in 2022.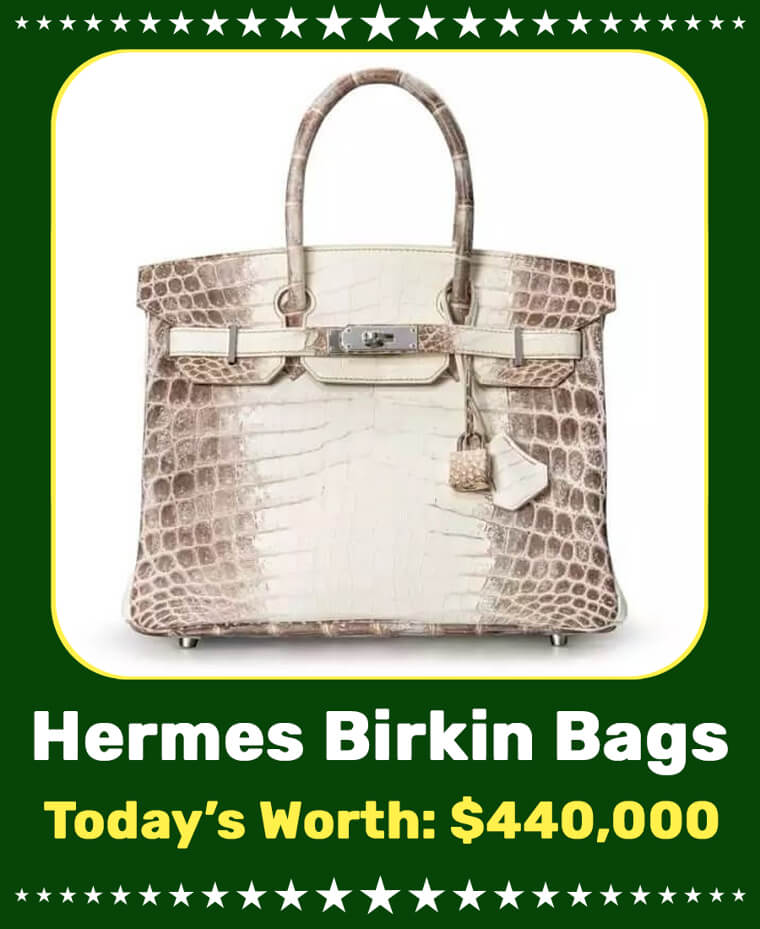 Victoria Beckham, Kim Kardashian, and Heart Evangelista of the Philippines are all proud owners of the Himalaya Birkin. Jamie Chua of Singapore has the biggest Hermès collection in the world.
Steve Jobs Celebrity Signature
Steve Jobs' signature can fetch big money at auction. While Steve Jobs was a notoriously difficult signer, when he did sign something, he did so entirely in lowercase lettering. In 2018, a copy of Macworld magazine signed by the tech guru was auctioned off for $47,775. But in 2021, an Apple Computer, Inc. letterhead dating back to May 11, 1983, stating "I'm afraid I don't sign autographs," had his signature included and was sold for $479,939.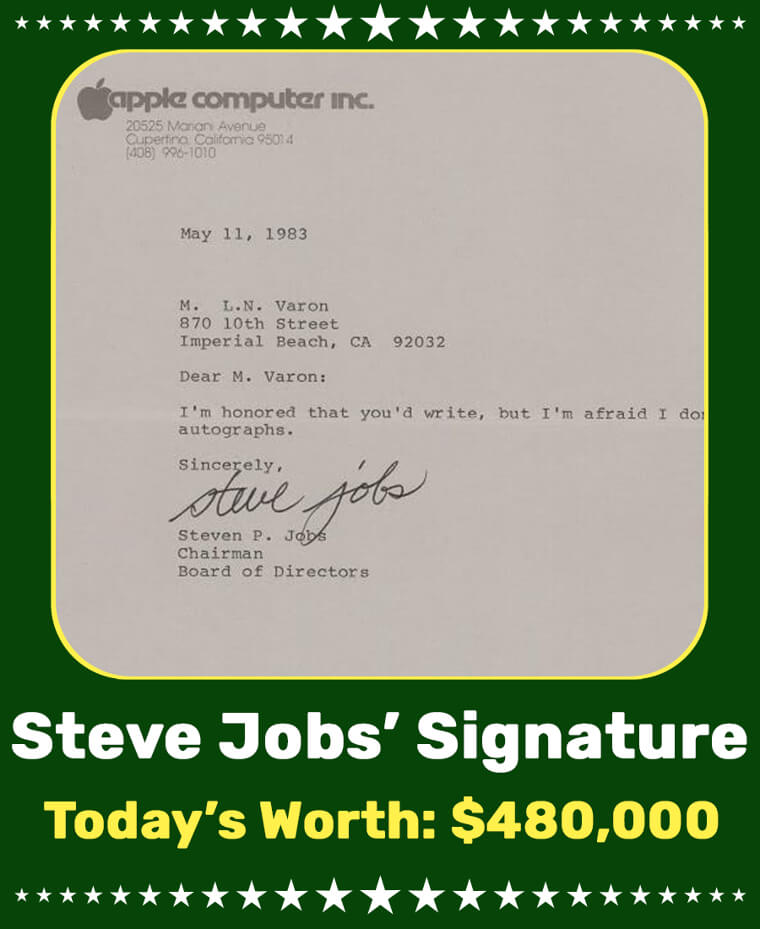 Steve Jobs transformed computers from a nerdy hobbyist's passion into a modern life necessity at work and home by shaking up the technology, smartphone, and music industries.
Unopened Nintendo Games
Rare, unopened Nintendo game cartridges can fetch big money from collectors. For example, the sports video game "Stadium Events" from 1987 is highly collectible because it was discontinued just one year after its initial release. In 2017, a brand-new, never-opened copy of this game was sold for almost $42,000. Only 200 copies of the game were ever sold after its initial release before Nintendo bought out Bandai and recalled the game for rebranding.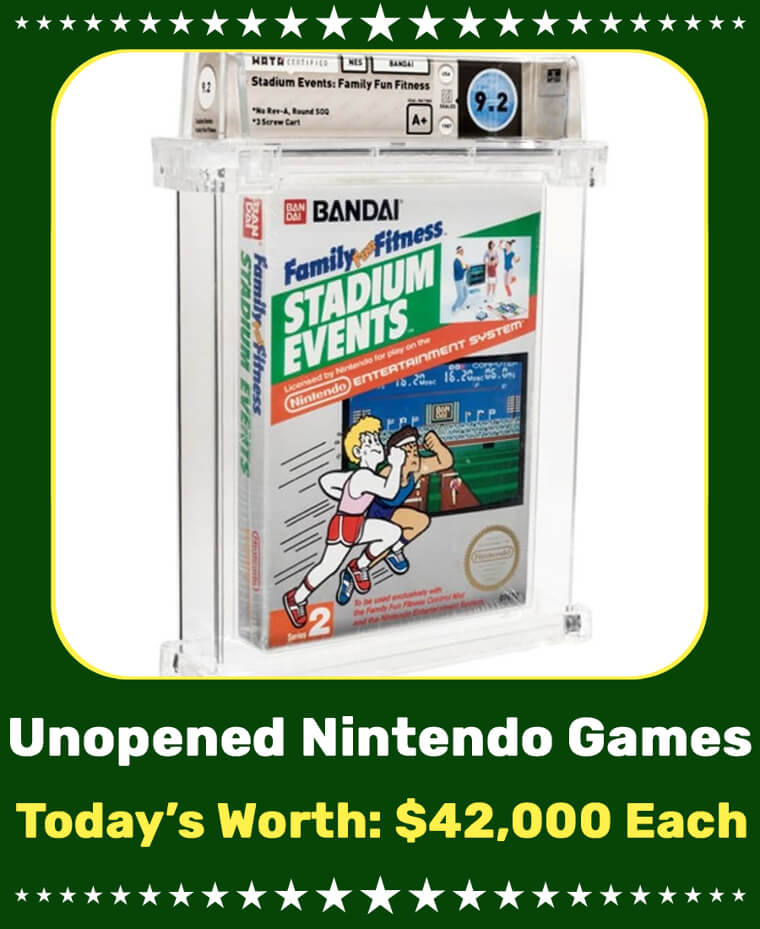 The key to making money from an item like this is to ensure that it is in perfect condition and is still in its original packaging.
Monopoly Is a Moneymaker
When it comes to collectibles, Monopoly could be a huge moneymaker. Charles Darrow, the game's designer, created a hand-drawn, painted version in 1933, which fetched $146,500 at auction in 2010. There have been other vintage versions of this timeless game that have fetched over $3,000 at auction, and special editions of the game are sought after by collectors. Unfortunately, the worn original Monopoly game in your closet is probably not worth more than $20.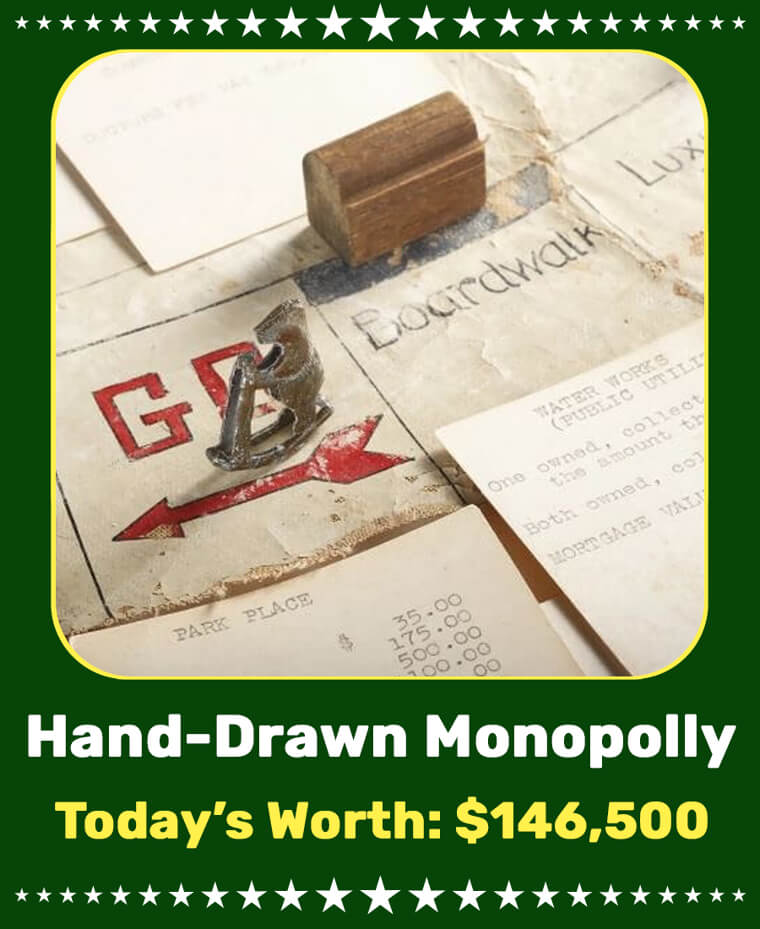 Nowadays, when it comes to this popular game, there are estimated to be around 300 versions. From Junior and Mario Kart versions to the original, Monopoly will be around for years to come.
Collectible Cards
Garbage Pail Kids were massively popular in the 1980s and are selling for thousands of dollars online. Garbage Pail Kids was a Topps Corporation series of sticker trading cards that were initially created to mock the popular Cabbage Patch Kids dolls at the time. While they were phased out in 1988 owing to dwindling sales, they are still sought-after collector's pieces today. On eBay, a rare "Adam Bomb" card sold for $3,624, while full collections can fetch five-figure sums.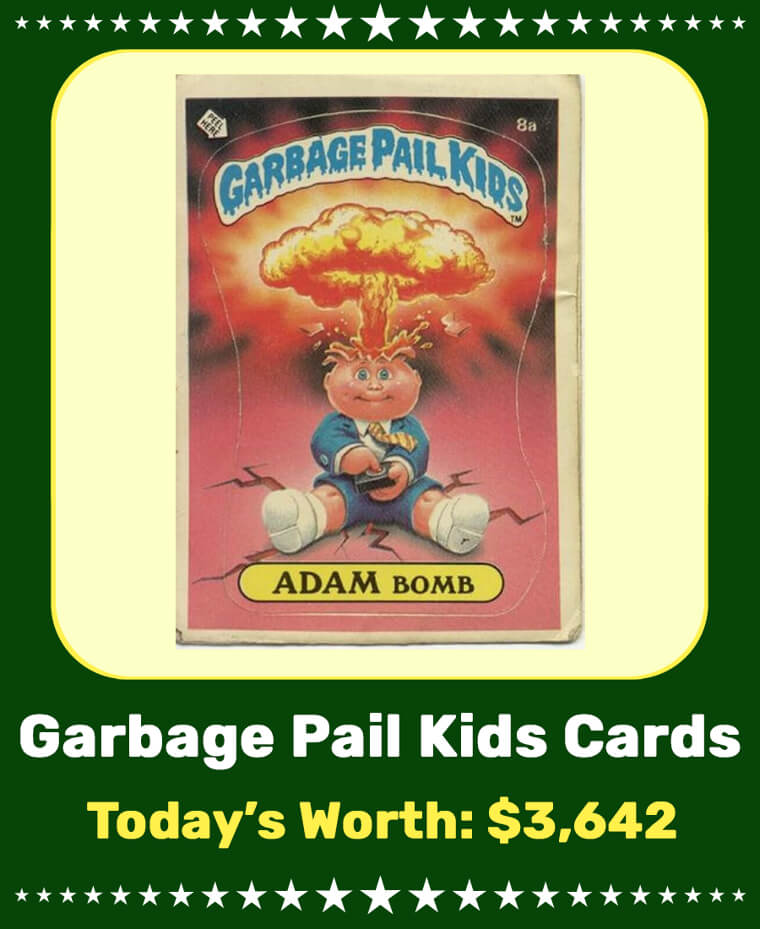 Garbage Pail Kids were banned in numerous schools during the height of their popularity because they were such a distraction to the kids in the classrooms.
Rare Lego Collectibles
Old Lego sets can be pretty valuable, but you must have a discontinued set in its original box with no missing parts to enjoy the full benefits. If you own the Lego H.C. Anderson's Clumsy Hans, a limited-edition set distributed to about 80 Lego ambassadors in 2015, you could definitely sell it for up to $15,000 today. This Lego H.C. Anderson's Clumsy Hans set comes with two unique printed tiles.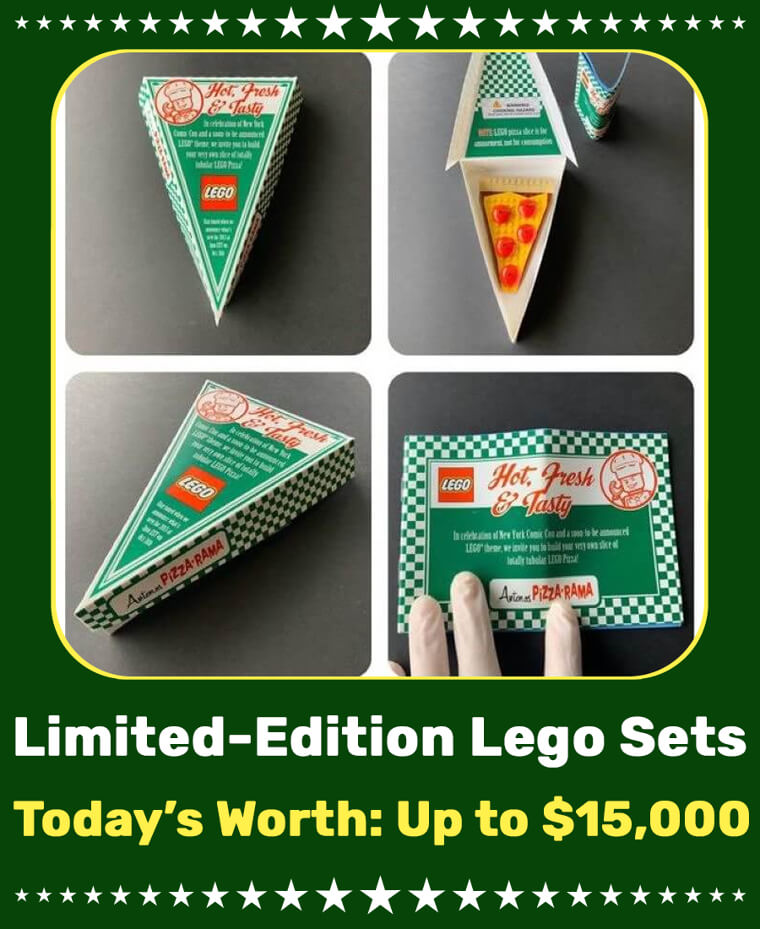 Another Lego set worth noting is the 2012 pizza slice. Collectors have searched for this set for years. It was last seen on eBay for $4000.
Atari 2600 Games
Don't let your collection of Atari 2600 games gather dust in the garage; they might be worth a lot of money. Air Raid is the most valuable of all Atari video games. Individual copies sold for $31,600 in 2010, and a boxed edition sold for $33,433 in 2012. Just 20 copies were ever produced, of which only 12 now exist. This game could sell for outrageous sums even without the original packaging.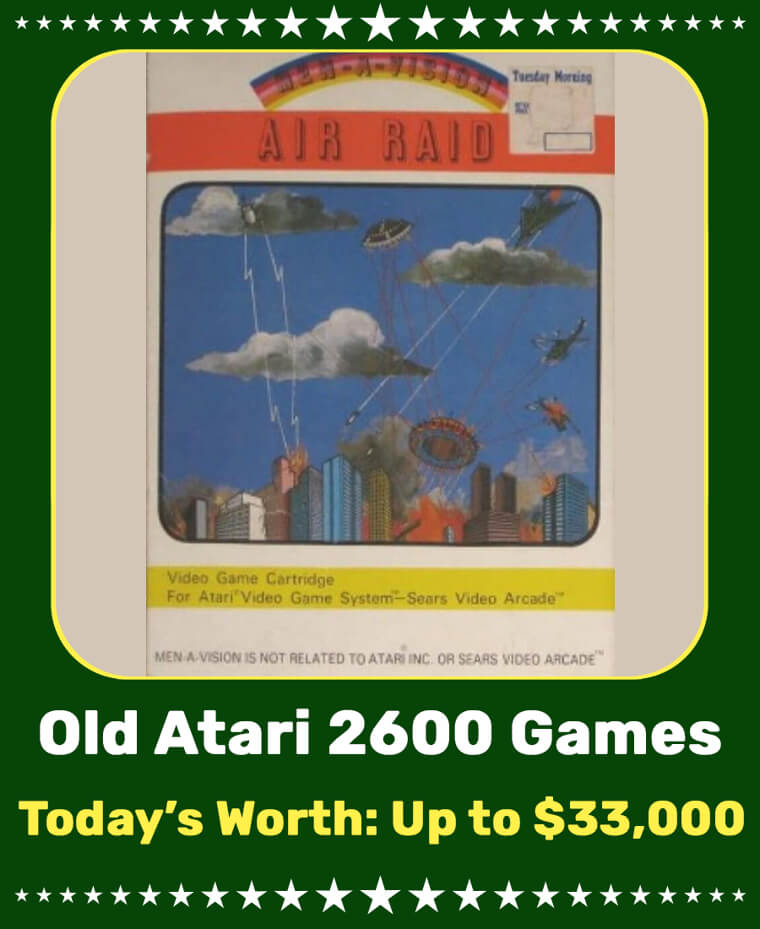 The games and cartridges for the Atari 2600 are certainly valuable. If you come across one, you may not be able to retire on it, but it will sell for a good price.
Robots in Disguise
It's a tall order to ask a child to keep a toy in its original packaging and store it for protection, but if you did this with a Transformer in the 1980s, it was a wise choice. Transformers are one of the most successful toy series ever in terms of collectability and value. In 2017, an unopened Optimus Prime action figure sold for more than $12,000, while an Air Guardian Jetfire toy has been valued at $25,000.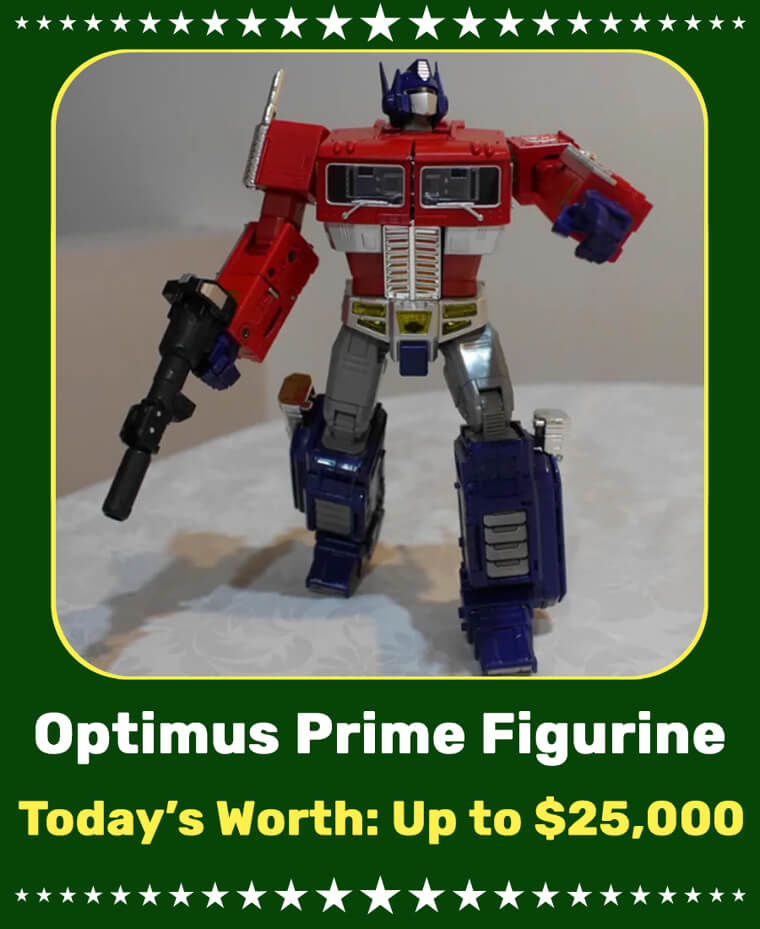 When Transformers were released in 1984, they were an instant phenomenon. These plastic robots, originally priced between $10 and $30, quickly disappeared from store shelves.
G. I. Joe
G.I. Joe was initially introduced by Hasbro in 1964 and rapidly became a hit among children. While mass-produced G.I. Joe's have sold for substantial sums, the prototype figurine sold for $200,000 at auction in 2003. Snake Eyes from Series 2 sold for $12,900, making it a pretty pricey G.I. Joe figurine. Most antique Joe dolls don't fetch nearly that much, but a rare one might be worth hundreds or thousands of dollars.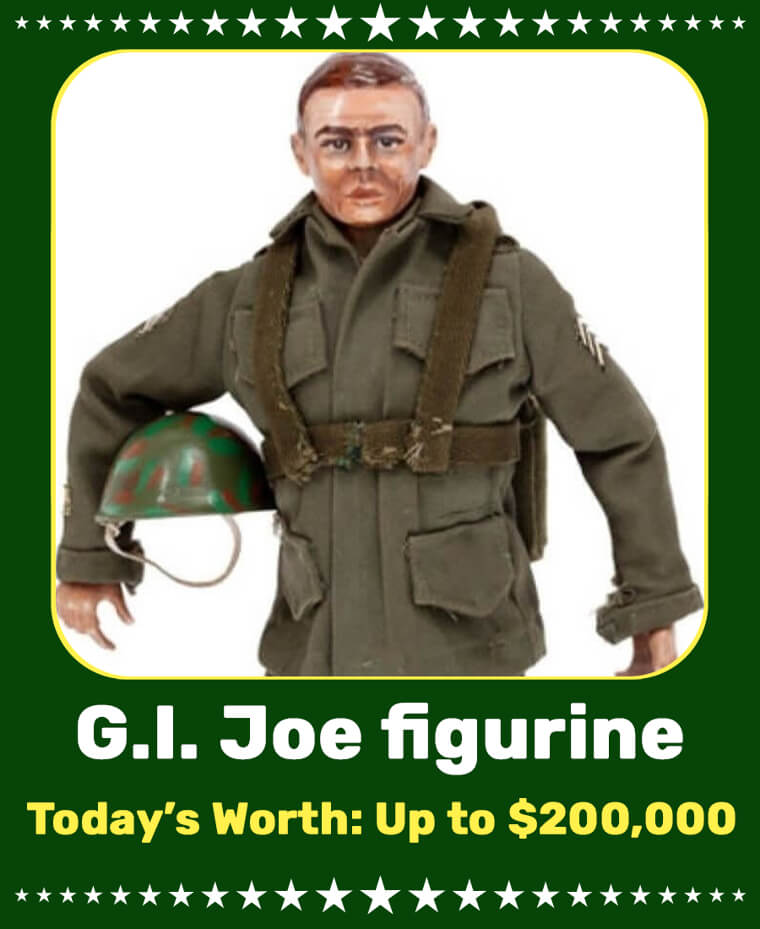 Toy manufacturers never seriously explored the idea of making dolls and action figures for boys before 1963. The sole male character was Ken from Mattel's Barbie collection.
Pogs
Who would have guessed that cardboard milk caps with images on them could cause such a stir? Pogs were all the rage in the 1980s, and if you had rare sets, you may be in for a windfall. In 2016, the entire six-piece holographic Jurassic Park set, complete with slammer, sold for $1 million. A set of 54 Jurassic Park pogs, minus the slammer and hologram, are now on eBay for $2,500.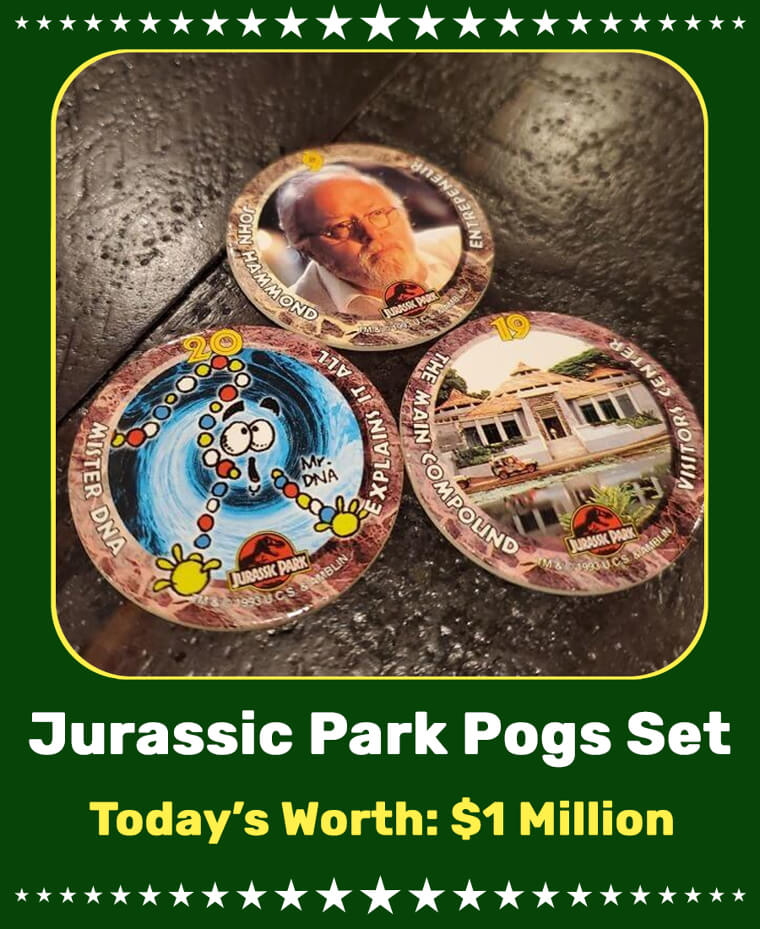 Every youngster had some pogs in their back pocket in the late 1980s. Kids were ready to throw down with these colorful cardboard caps at a moment's notice.
VHS Tapes
Some of the most expensive VHS tapes worth collecting are from Disney's Black Diamond Series. In 2021, an amazing $10,000 was paid for a Beauty and the Beast VHS tape dating back to 1991. The same year, a 101 Dalmatians VHS sold on eBay for $14,000. There is a good chance that you have a winning offer if you own VHS recordings of older movies that are difficult to locate these days.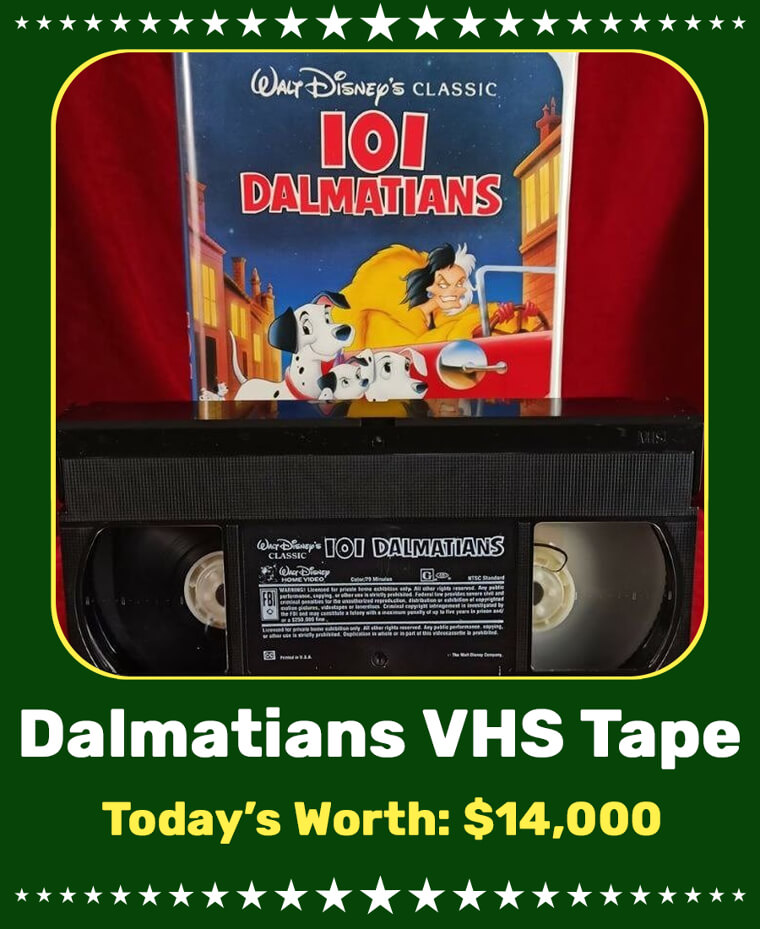 If you're like the rest of us and have some VHS cassettes buried in a closet or the attic, you should see if there are any hidden gems in there.