In a world that celebrates design brilliance, architectural wonders, and technological marvels, there's a flip side—a quirky world of design fails that make us say, "What on earth were they thinking?" From fashion choices that will make you question everything about yourself to everyday objects that are on a mission to confuse you, this article is your front-row ticket to the wild and wonderful world of questionable creativity! So, buckle up and put on your best poker face because we're about to explore some eyebrow-raising designs that must be seen to be believed!
How "NOT" to Make Your Feet Look Sexy!
It appears we've stumbled upon the latest trend in beachwear... for your feet! Behold the bikini sandal—the footwear that leaves no doubt about your commitment to summer style. With the bra portion snugly hugging the ankle and the panties daringly nestled between the big toe and its sidekick, it's a design that says, "I'm ready for a day at the beach, and my feet are in the mood to party!"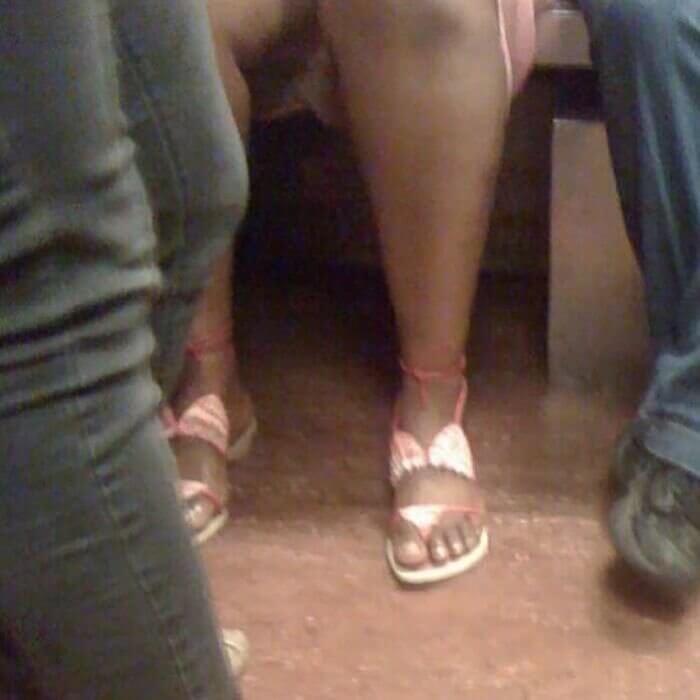 One thing's for sure, if you're looking to make a statement, these sandals will have everyone doing a double-take at your ankles. Who says beachwear can't be a little cheeky?
Poor Vlad Has a Bump!
Oh my, it seems that Vladimir Putin's face has become quite the canvas for comedy! This lady's ample assets have made the Russian President look like he's been hit by a truck! With her curves at play, Putin's forehead takes center stage, and he's transformed into the ultimate "tit"-illating fashion statement! One can only imagine the whispers at the Kremlin about this unexpected twist in Putin's image. Some might say it's an improvement!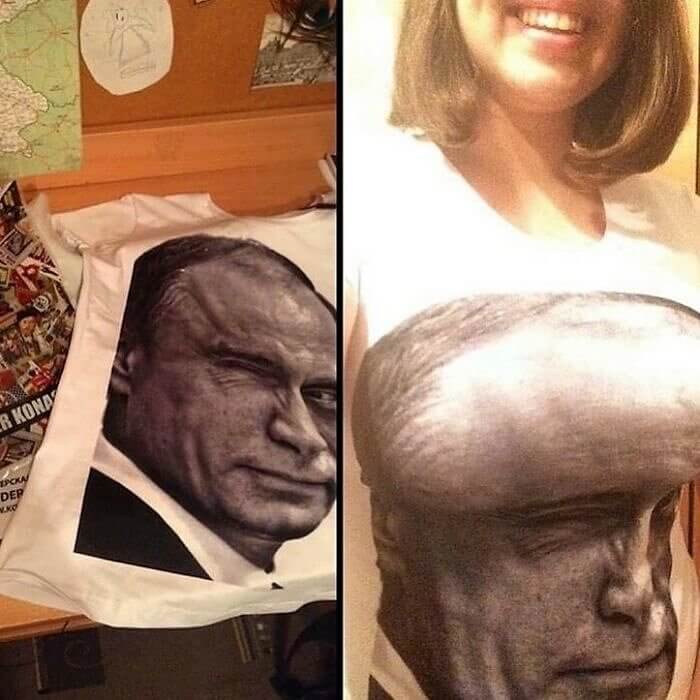 From Cold War confrontations to wardrobe malfunctions, even world leaders can't escape the effects of gravity. Putin is the new poster boy for large-breasted women everywhere!
From Slim to Full-Term Pregnancy in Seconds!
These socks are not your run-of-the-mill footwear; they are a journey through the world of optical illusion fashion. When you slip them on, it's like a magic trick for your feet – suddenly, a slim lady becomes the star of a quirky sock maternity shoot as her belly stretches over your heel, revealing her newfound pregnancy. Who knew that socks could offer such a unique form of body positivity?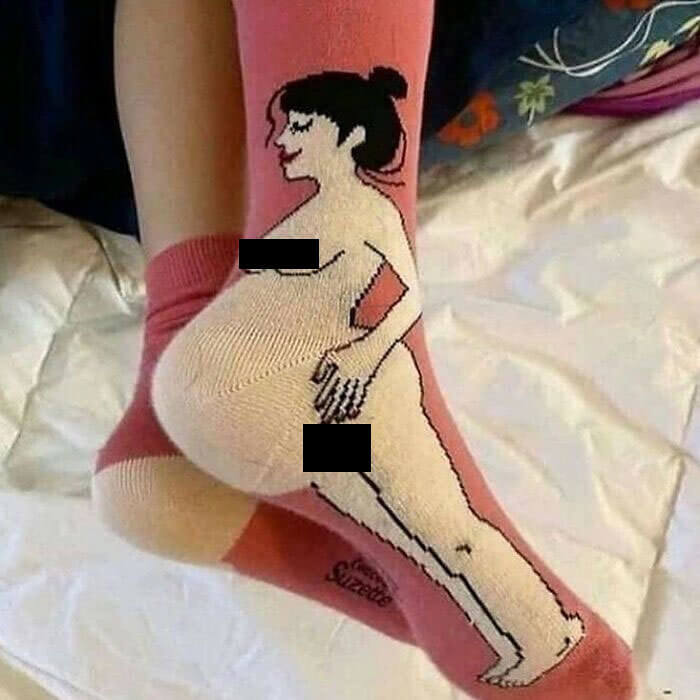 These socks are a real conversation starter, a fashion statement, and perhaps even a reminder that we shouldn't always take things at face (or, in this case, foot) value!
They Just Look Wrong!
Ah, the "heel to toe" high heels – footwear that challenges the very laws of physics and your sense of balance simultaneously! These shoes are a testament to the ingenuity of fashion designers who dared to flip the script on traditional footwear... and fail miserably! It's like trying to defy gravity with every step! Walking in these heels becomes a cross between a balancing act and a dance move!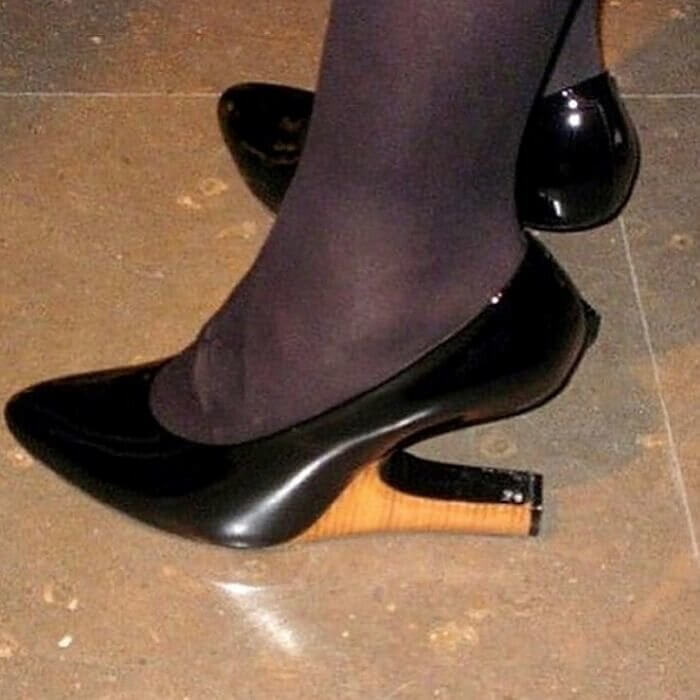 It's the perfect solution for those who want to make a fashion statement and a spectacle of themselves at any social event. After all, who needs a tightrope when you've got these bizarre wonders?
For Those Who Like to Have an Audience!
This modern kitchen may have nailed the sleek aesthetic and functionality in most aspects, but the island counter takes a slightly different approach. It's more like a podium, just waiting for you to step behind it and deliver a culinary speech. Picture yourself chopping vegetables or flipping pancakes while giving your best kitchen-based TED Talk. You might even find yourself practicing your "And for my next dish..." opening line!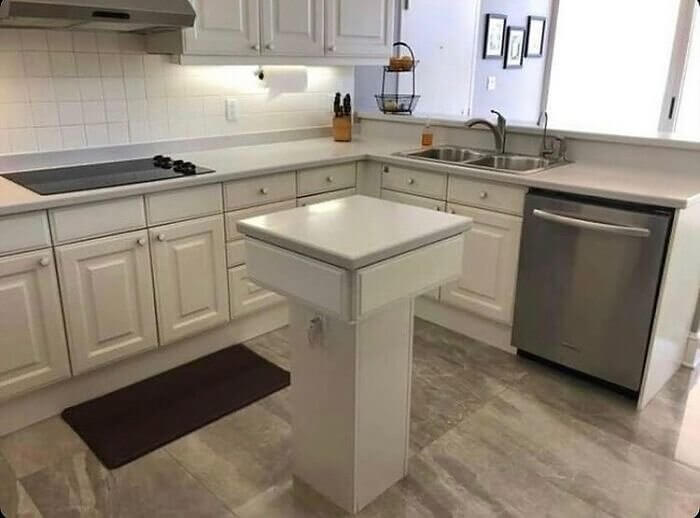 While it may not be the most conventional choice, you can't deny that this kitchen island is ready to take your cooking skills to a whole new level. All you need now is an audience!
There to Give You a Hand Every Morning!
Ah, the coffee mug that gives you an unexpected "creepy" handshake with every sip! This mug isn't just for sipping your morning brew; it's for forming a close, three-fingered bond with your favorite beverage. When you grasp it, it's like your mug has grown an extra hand to lend its support... even if it does creep you out sometimes! It's as if the Addams Family decided to join you for breakfast!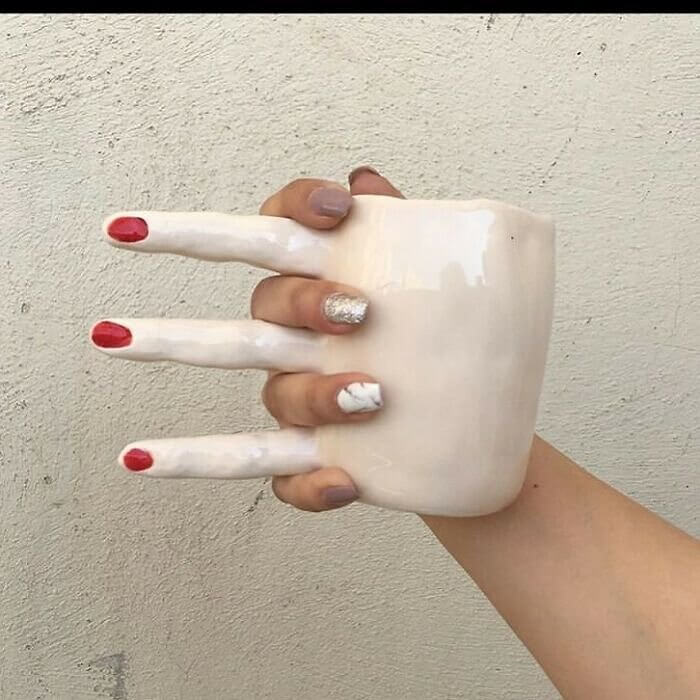 One thing's for sure: this mug will definitely keep you wide awake and alert. You never know when those fingers might decide to give you a playful poke!
I Wonder if It Smells Like Feet!
Well, it seems we've stumbled upon the Cinderella of chairs—a high-heeled seat fit for a giant's wife! This towering high heel that doubles as a chair is a blend of fashion and function that's nothing short of bizarre. It's like something out of a fairy tale gone wrong! Imagine taking a break and perching on this colossal heel chair as if you're a character in a modern-day fairy tale!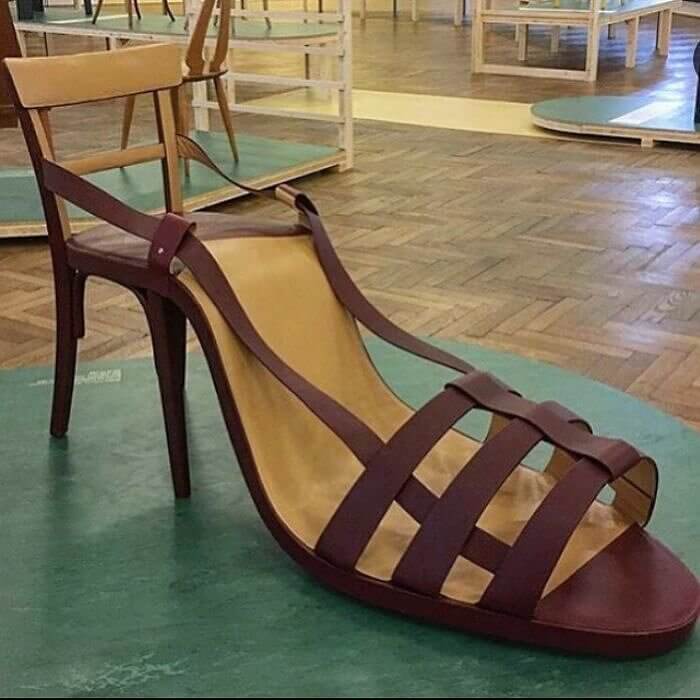 As you sit there feeling completely stupid, you can't help but feel larger than life. Who knew that high heels could take furniture design to ridiculous new heights?
Is This a Sign of Things to Come?
That's quite an interesting design choice for a conference desk! It's as if they decided to mix business with a touch of dark humor. As world leaders gather around this imposing table, they may find themselves faced with an eerie reminder of their own mortality. Did anyone even notice the creepy coffin-shaped hole right in the center? Perhaps it's a subtle reminder that even the most powerful figures are mere mortals!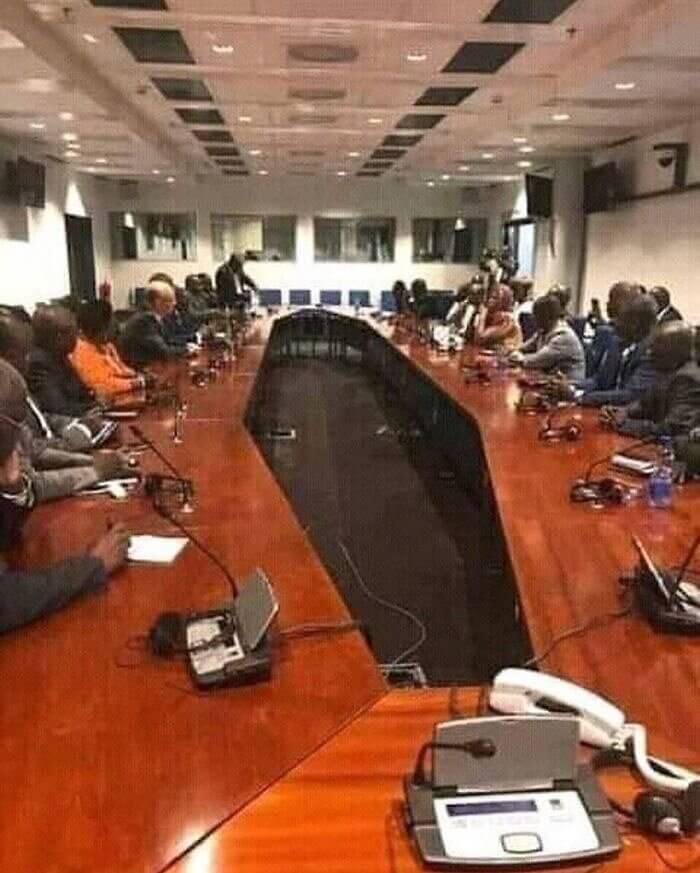 Maybe it's just a nod to the timeless tradition of "burying the hatchet" during diplomatic negotiations. I'm sure they're discussing the fate of all us mere mortals during their negotiations!
Just in Case You Missed the Misery of the Pandemic!
These facemask-shaped handbags are a constant reminder of the pandemic we all wish we could forget. It's as if someone decided to capitalize on the misery of the past by turning it into a fashion statement. It's fashion's way of saying, "Let's not move on; let's dwell on this never-ending nightmare." While some may argue that fashion should reflect our experiences, this trend takes it to a whole new level of insensitivity!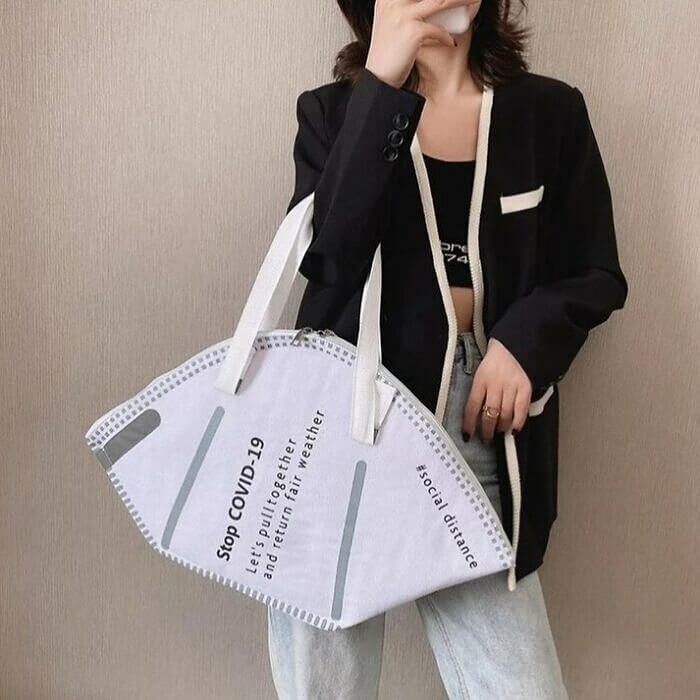 These handbags are all about cashing in on misery. Let's hope fashion designers can find more tasteful ways to commemorate our shared experiences without rubbing salt in the wound!
Adidas: Your Home Decor Specialists!
Oh, yikes, what an eyesore! The world of branding knows no bounds. Adidas, known for its sporty attire and footwear, has apparently decided to expand its horizons to the world of home decor with this wooden door. Who knew that the iconic three striped plant would find its way onto a door? Adidas may have just taken the concept of "stepping out in style" to a whole new level!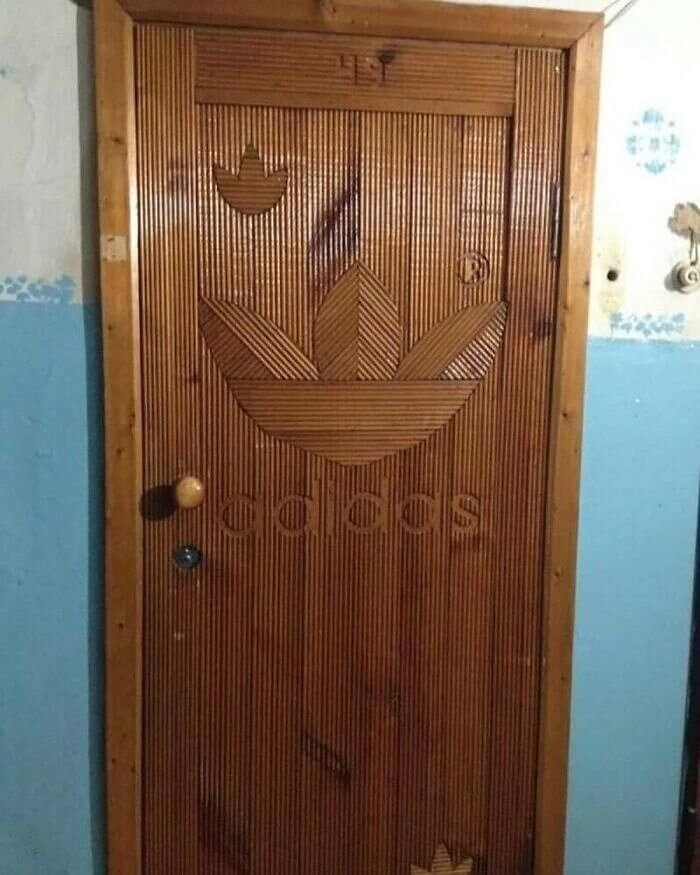 It's as if Adidas is saying, "We want to be a part of your life, whether you like it or not, and we'll carve our logo into anything we can find."
Do You Want the Best of Both Worlds?
It's hard to fathom the design logic behind these sweatpants with denim jeans stitched onto the front. It's like they couldn't decide between casual comfort and rugged denim, so they decided to merge the two in the most confusing way possible. From a distance, it might appear as if someone is wearing two pairs of pants simultaneously, creating an optical illusion that leaves onlookers scratching their heads. Are they jeans, or are they sweatpants?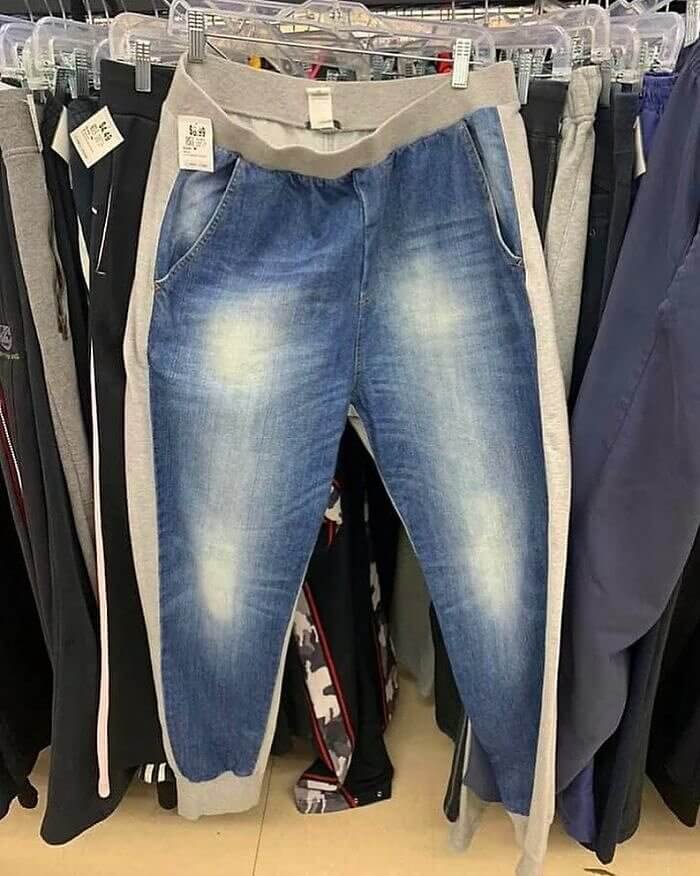 While fashion often thrives on pushing boundaries, this particular design might have taken things a step too far. Sometimes, it's best to leave experiments like this for the runway!
For People Who Like to Look Crazy in Public!
These tights are a fashion disaster waiting to happen. It's as if someone set out to create a garment that looks strange and makes you question your fashion choices. With red toenails painted on them, these tights don't just mimic puppetry; they practically scream, "Look at me! I'm wearing bizarre, creepy hosiery!" Instead of feeling confident and comfortable, you might find yourself feeling like the star of a fashion horror show!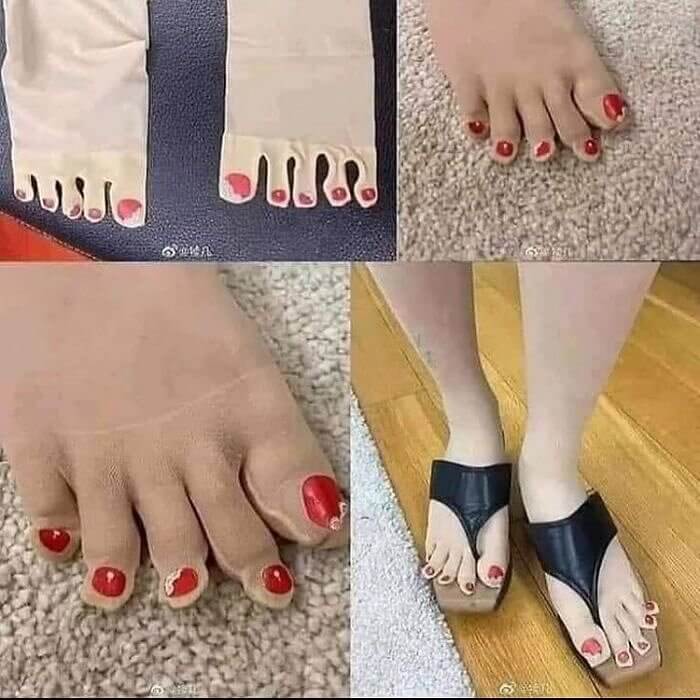 Instead of looking like you're wearing a pair of tights, you might look like you've been crafted by a puppeteer with a shaky hand. Feel free to wear them at Halloween!
Now You Can Wear Your Bike to Work!
Well, isn't this an exercise in peculiar engineering? This bike frame that straps to your shoulders like a rucksack and has you running along the ground rather than pedaling is a prime example of thinking outside the box, perhaps a little "too" far outside! Running along the ground while hanging from straps might leave you feeling more like you are auditioning for Cirque du Soleil than commuting to work!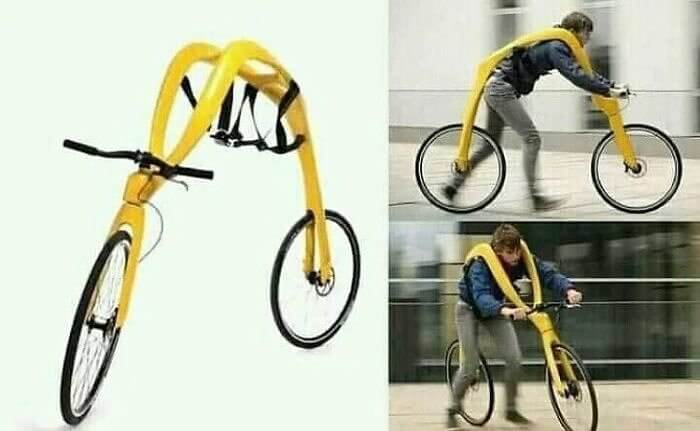 It's as if someone decided that the traditional bicycle just wasn't challenging enough, so they created this contraption to give you a full-body workout while making you look like an idiot!
Take a Tissue if You Dare!
Someone tried to turn a tissue holder into a horror show! This grotesque tissue dispenser, resembling an enlarged head louse, takes the award for the most unsettling way to store your tissues. With the tissues emerging from its back, it's like it's shedding its skin, adding an extra layer of creepiness. It's the kind of object you'd expect to find in a horror movie prop room rather than on your coffee table!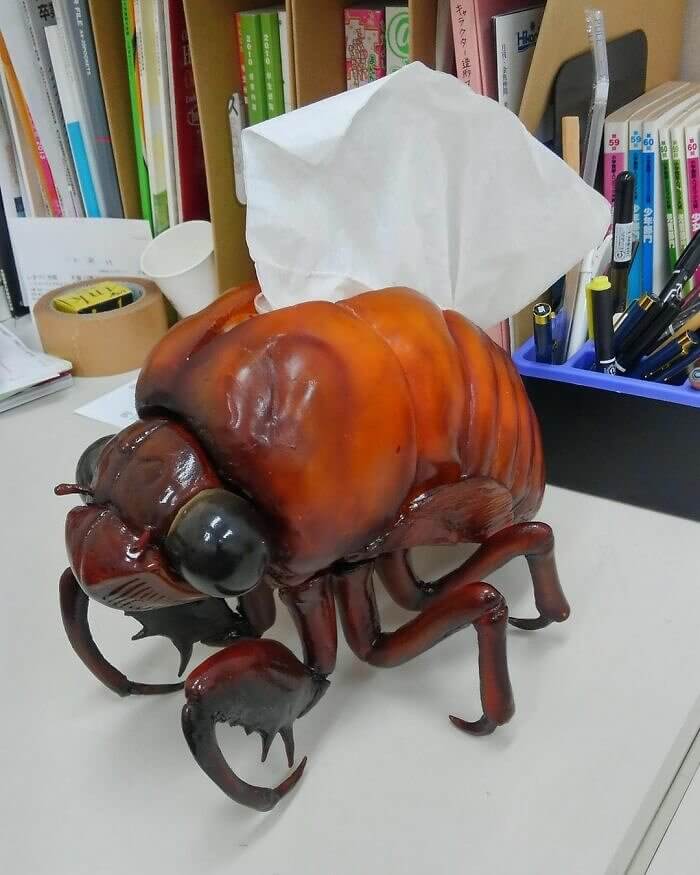 Imagine reaching for a tissue, only to be greeted by this unsettling creature. It's a surefire way to add a spine-tingling twist to your everyday tasks!
Maybe This Is Better Off in a Kid's Bedroom!
This living room rug turns the childhood game "The floor is lava" into a full-blown interior design challenge! This lava-themed rug takes the concept of playful home decor to a whole new level. Imagine stepping into your living room and feeling like you've entered the fiery depths of an active volcano. One wrong step, and you might just find yourself "burned" by the molten lava. Or could it be a slice of burned pizza?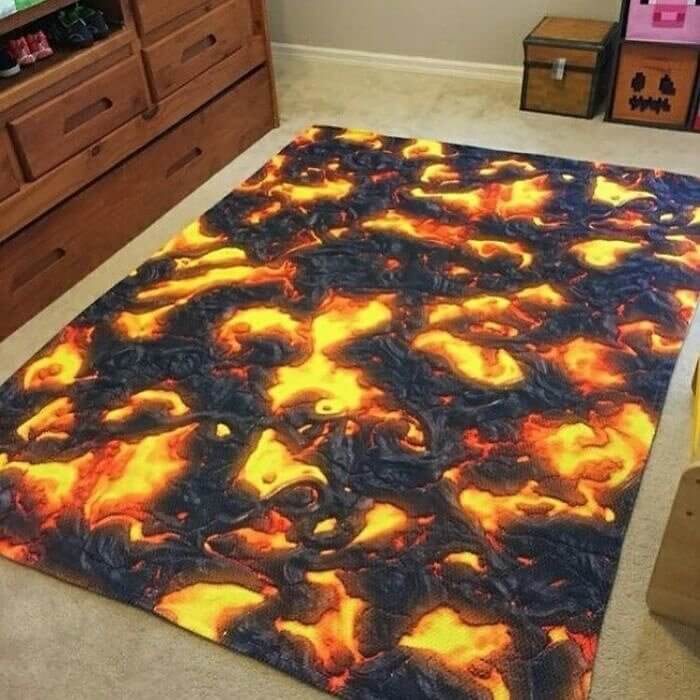 This rug might be the equivalent of a "hot mess," and not in a good way. Sometimes, it's best to leave the lava games to childhood memories!
They Should Have Used Double-Sided Sticky Tape!
What a fashion faux pas! It seems like the designer of this dress was so focused on creating an alluring look with see-through material that they forgot about the essential details, like concealing the zipper up the back. It's as if they decided the zipper could become an integral part of the dress's overall look. You feel like you're starring in a fashion show gone wrong. The exposed zipper is the star of the show!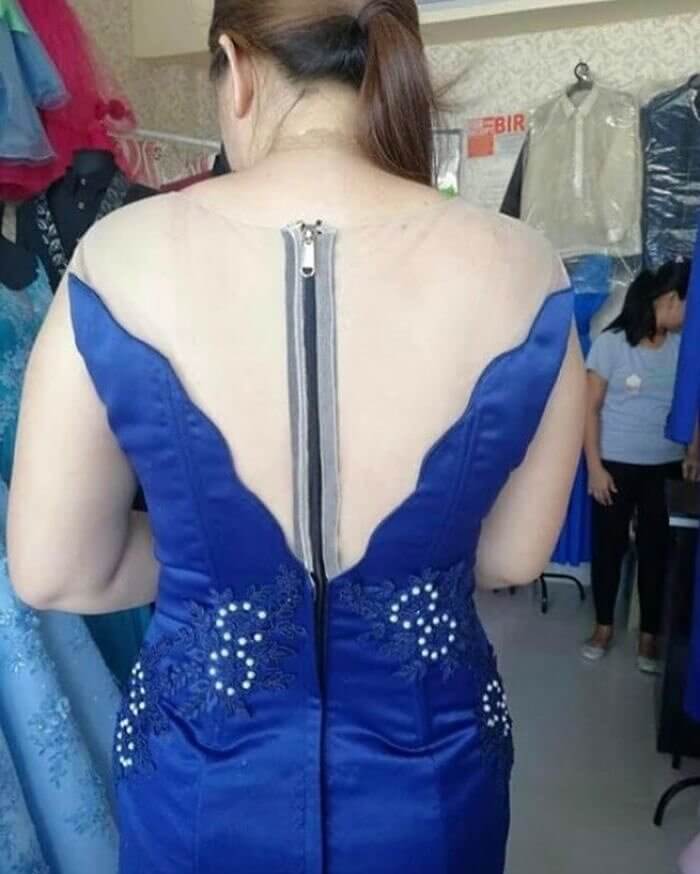 Whoever designed this dress must have been sleepwalking through the design process. It's baffling how they could forget to hide the zipper on a dress made with see-through material!
This Meat Lover Has Taken Things Too Far!
Yikes, Gaga, not again! It seems like this shower curtain is determined to turn your bathroom into a "House of Horrors" with its raw meat design. Stepping into the shower with this curtain might give you the feeling of being trapped inside a butcher shop rather than enjoying a relaxing cleanse. The raw meat design is certainly a bold choice, but it might leave you feeling more queasy than clean!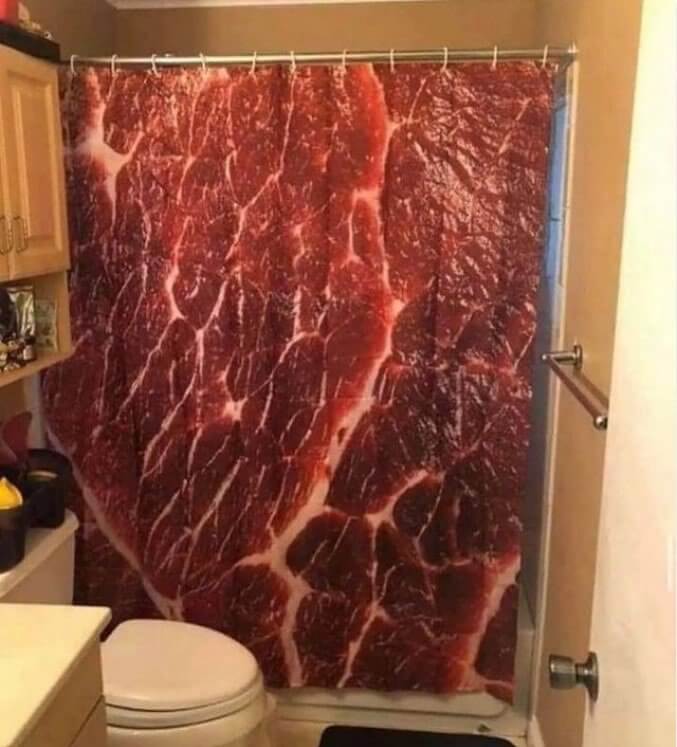 This is definitely not for the faint of heart. Sometimes, it's best to leave the horror-themed decor to haunted houses and Halloween parties rather than your daily grooming routine!
Maybe Take Out the Ball Gag When You Fall Asleep!
It's astonishing to think that someone would choose to wear a pandemic mask featuring a BDSM ball gag image, let alone wear it in public and fall asleep on a bus. If you don't have a sense of humor, this mask seems to send the wrong signals. Some individuals will go to great lengths for shock value, even if it means turning a pandemic accessory into a cringe-worthy spectacle!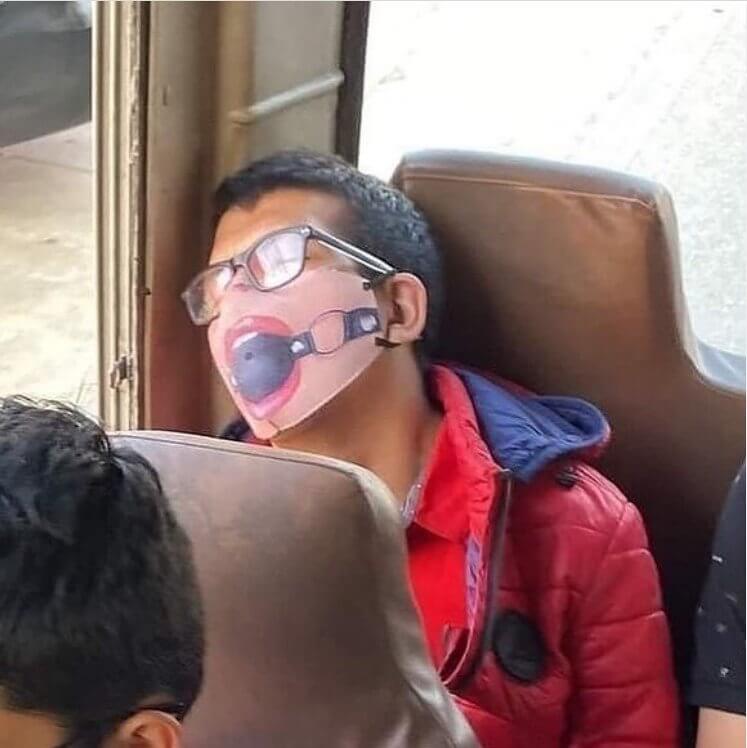 It's like someone thought, "You know what this pandemic needs? A dash of spice!" They've turned an everyday essential into a conversation starter that's more eye-popping than protecting!
Can You Take Your Hand off My Butt?
These matching white dresses with giant hands printed across the backs might have seemed like a brilliant idea for the ladies involved, but they just ended up looking weird! When these two ladies stand together, those oversized hands may form a heart shape, but they also form the perfect symbol for "What were we thinking?" It is a design that says, "We're not just friends; we're inseparable fashion disasters!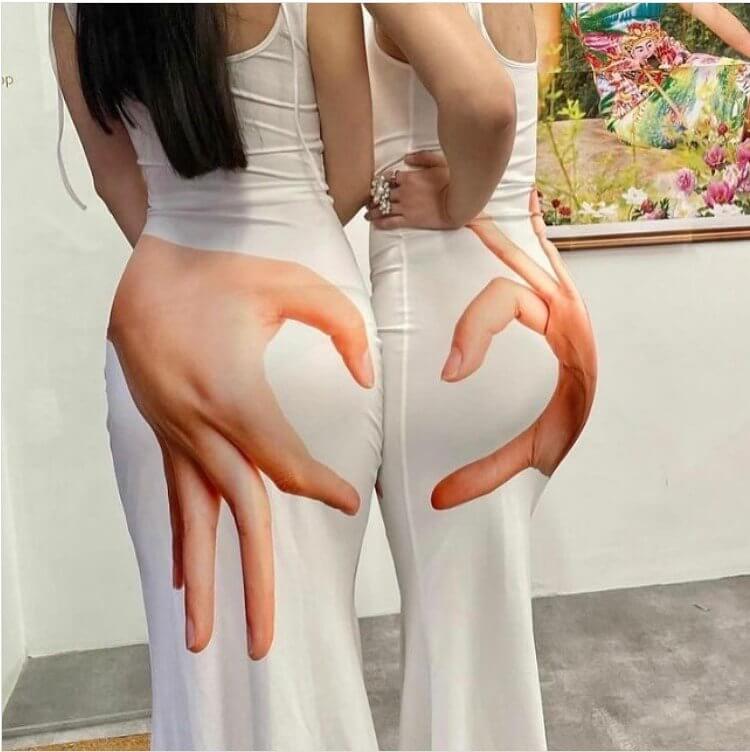 Not every idea that looks good on paper translates into a stylish reality. It's a cheeky design that frames your butt in an unflattering way. It would look so strange if they were not standing together!
Finger Lickin' Good!
Well, it appears that someone decided to take their love for roast chicken on the road! This car, with a golden roast chicken on the bonnet, is certainly a unique take on automobile branding. Forget the usual Hyundai logo; this car is all about poultry power! It looks ready to be stuffed, too. I wonder if it comes with a side of mashed potatoes and gravy? It's making me hungry!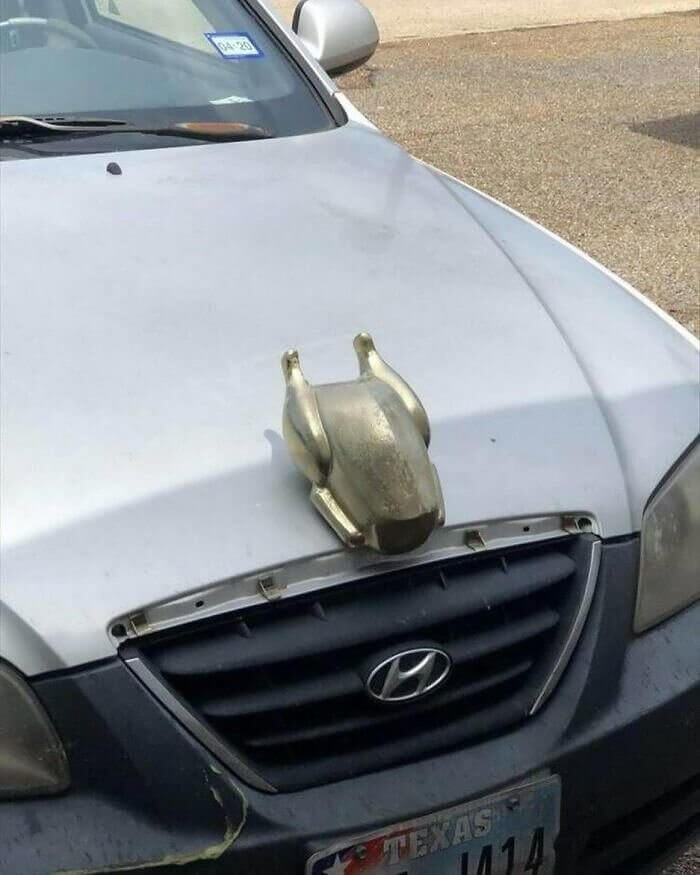 Who knew that driving a Hyundai could be such a delicious experience? Sometimes, it's best to leave the culinary artistry to the kitchen and not attempt to turn your car into a drive-thru menu!
Can You Give Me a Hand?
Oh, the quirks of car customization! The stick shift in this car appears to be quite a handful! Shifting gears must feel like a peculiar mix of driving and performing a ventriloquist act. As you grasp the doll's arm to change gears, you might wonder if you're driving a car or starring in a particularly bizarre episode of a toy-themed reality show. Maybe it's time to switch to automatic!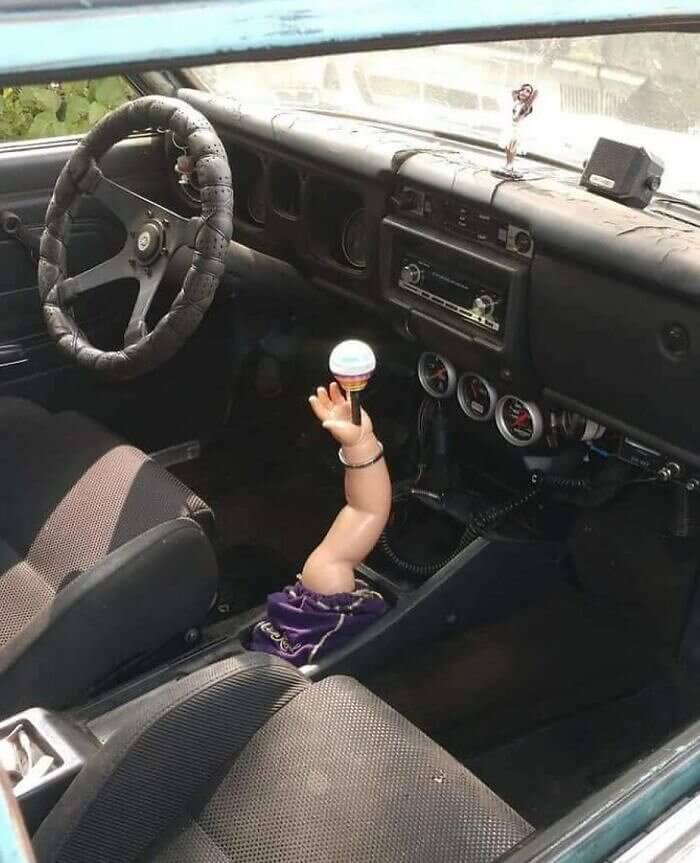 Driving with a doll's appendage as your gearshift might leave passengers more perplexed than impressed. On the other hand, every time you enter your car, you receive a high five whether you like it or not!
Watch Out Behind You!
This gym embraces a bold and unconventional approach to motivation by adorning its walls with a mural of a big, muscular, naked man. It's as if they wanted to ensure that you'd never forget your workout, even if you tried. Lifting weights at this gym can be exhausting, to say the least. As you pump iron, it might appear that the mural is trying to offer some (ahem) unconventional forms of encouragement!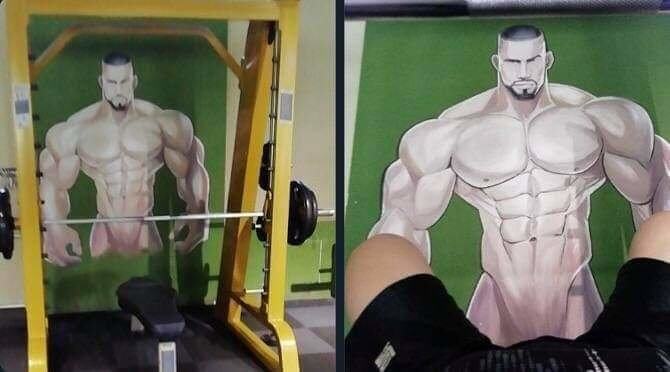 While some gyms opt for motivational quotes, this one is more like the shock factor school of fitness. It's sure to make your workout unforgettable, whether you want it to be or not!
The Builder Needs Glasses!
This porch seems to defy the laws of physics, daring you to ponder how it is still standing. It's as if the designer had a "less is more" philosophy but forgot that structural integrity is also quite important. Every time you step under that porch, you might wonder if you're going to be crushed at any moment. Maybe they ran out of money and couldn't afford that second pillar!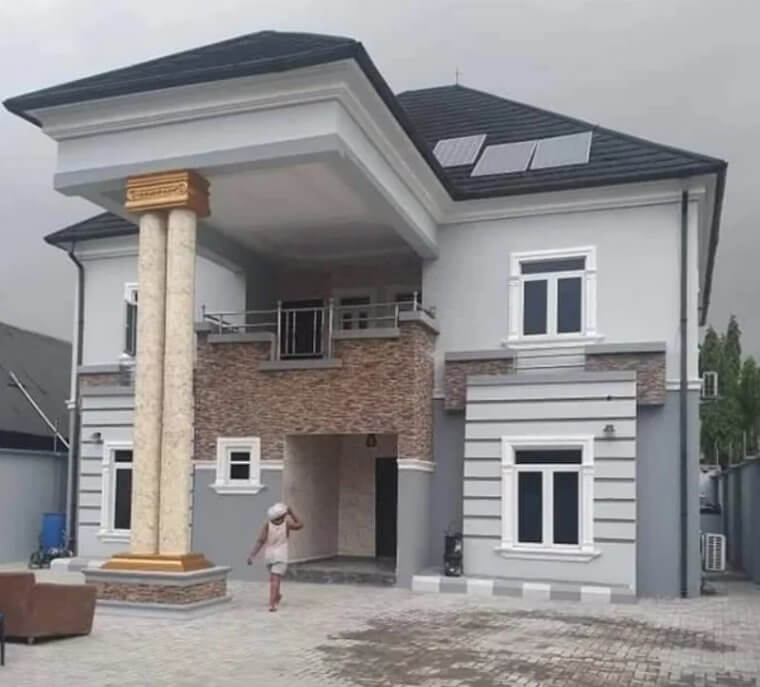 This porch's lone pillar must be the most stressed construction in the neighborhood, bearing the weight of the entire front without a partner in sight. Let's hope that pillar is as strong as it looks!
She Has a Real "Eye" for Detail!
This bus advertisement featuring a gigantic doctor takes a hilarious turn when you open the sliding windows, causing her eyes to unexpectedly wander in opposite directions. The situation is hidden from the passengers inside the bus, leaving them blissfully unaware of the doctor's playful eyes each time they move the windows. But from the outside, it looks hilarious. The doctor's eye-catching antics must put a smile on many faces around town!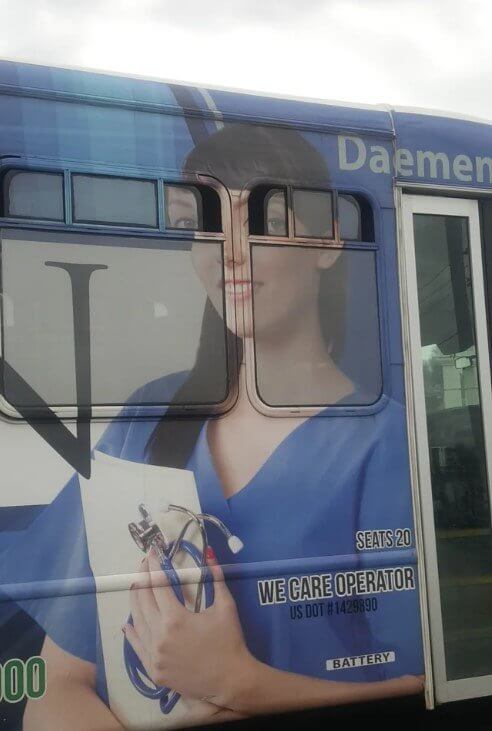 Sometimes, the best surprises are the ones that catch us off guard, even if the passengers inside don't realize how entertaining they are to the rest of us!
That's One Way to Get a Thorough Cleansing!
This toilet brush with a crucifix for a handle might leave you wondering if divine intervention is required for your bathroom cleaning routine. As you reach for it, you might feel like you're embarking on a holy mission to cleanse your bathroom of impurities. After all, there's no better way to face the dirty work than with a symbol of spiritual guidance in hand. Well, they do say Jesus is everywhere!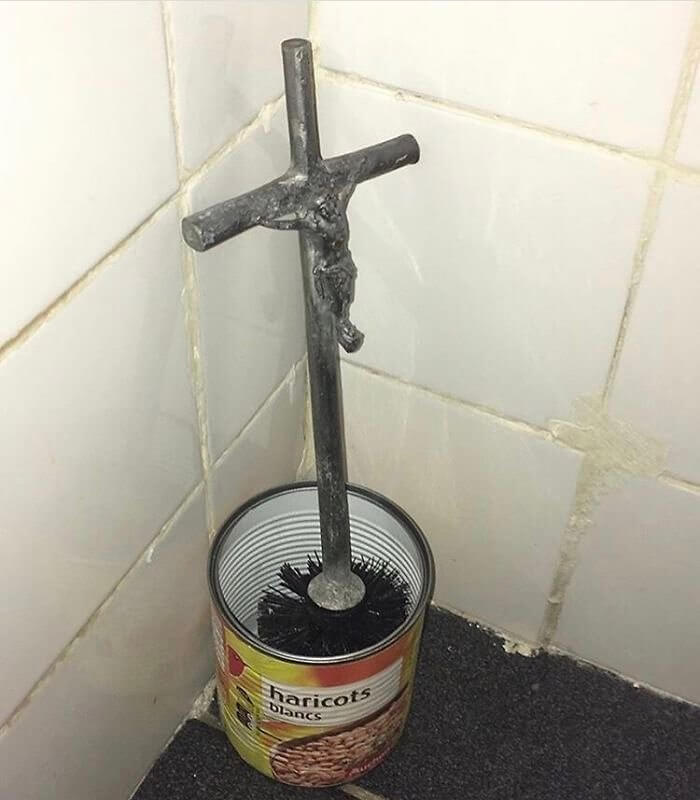 Sometimes, it's best to leave religious symbols in their rightful places and choose more appropriate decor for the bathroom. Who knows? Maybe this is in a priest's house!
She Likes Her Jeans Medium Rare!
Oh, the meaty patches on these jeans are bound to stir up quite the conversation! The wearer of these jeans might find themselves in a unique position, attracting attention from fashion enthusiasts, vegans, and vegetarians alike. They are clearly not for the faint of heart. They come with a flair that's hard to ignore. Who knew that your choice of clothing could make you a topic of dietary discussion?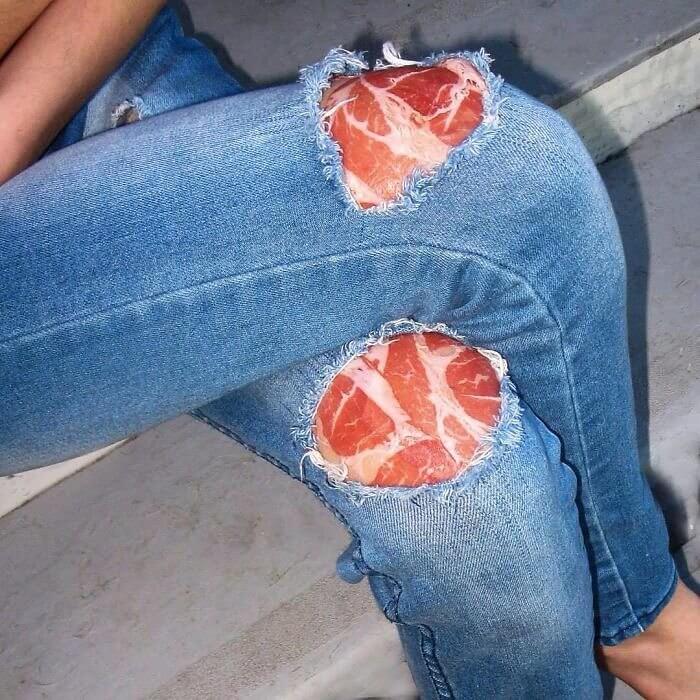 For vegans and vegetarians, these jeans constantly remind them of something they actively avoid. It's the fashion equivalent of wearing a "food fight" invitation on your legs. She obviously loves the attention!
Not Very Appetizing!
The idea of turning enormous slabs of frozen meat into an altar, stools, and even a sculpture certainly takes the concept of food art to a whole new level. It's like a culinary artist decided to combine their passion for meat with their love for sculpting. Dining here must be a weird experience. The sculpted meat pieces might leave you wondering whether to admire them or try to eat them!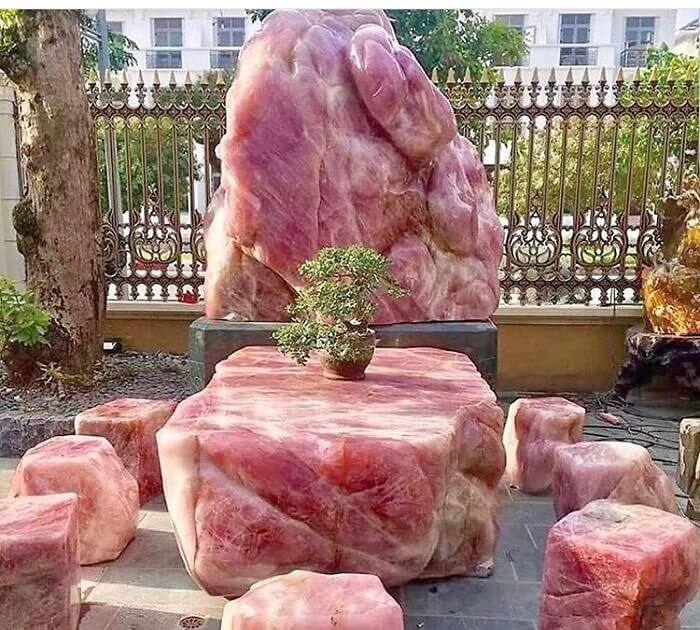 This approach to dining might not be for everyone, especially vegans and vegetarians. Some might find it intriguing, while others might consider it a carnivorous art form taken to the extreme!
Get off Your High Horse!
While sitting on these barstools, you look like you have horse's legs and a tail. It's a real attention-grabber. It's like a playful nod to the animal kingdom, right in the heart of the bar. As you take a seat, you might find yourself transformed into a half-human, half-horse hybrid. It's the kind of design that adds a touch of humor to your bar stool conversations and leaves everyone with a smile!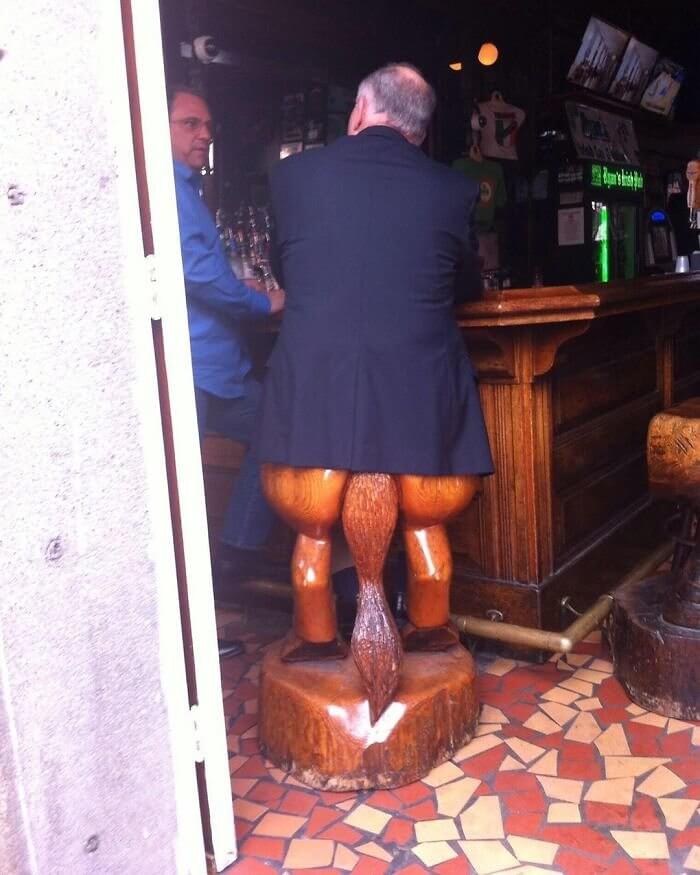 Who knew that a night out at the bar could turn you into a mythical creature? You might wonder if the designers were aiming to make patrons feel downright awkward!
That's the Wrong Place for a Splash of Red!
Oh my, that's quite the unfortunate design choice! This skirt for sale, with a white background and a large red splash in the front, appears to have taken the concept of "wear and tear" to a whole new level! While wearing this skirt, concerned friends may wonder if you've had a minor accident. It's certainly a design that makes a statement, but perhaps not the kind you want to make.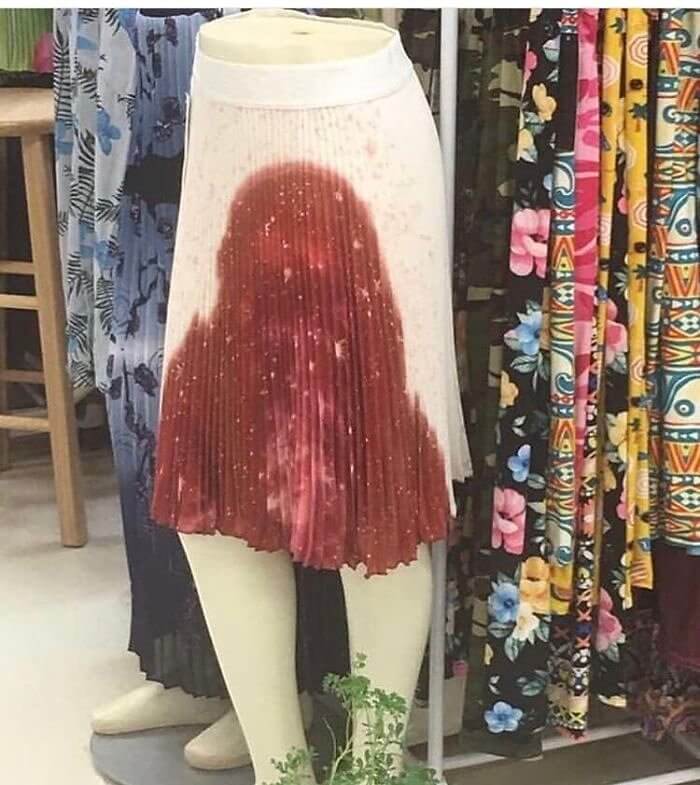 While some fashion statements are meant to be bold and eye-catching, this one might be a bit too bold for comfort. It looks like someone has been wearing it while on their period!
He's Hoping the Ticket Inspector Won't Notice Him!
Well, talk about blending in with your surroundings! While sitting on the bus, we noticed that the guy in front of us was wearing a T-shirt made from the exact same material with the exact same design as the bus seats. It's like he's taken the concept of camouflage to a whole new level. Sitting behind him was a surreal experience, almost like he's become a living part of the bus interior!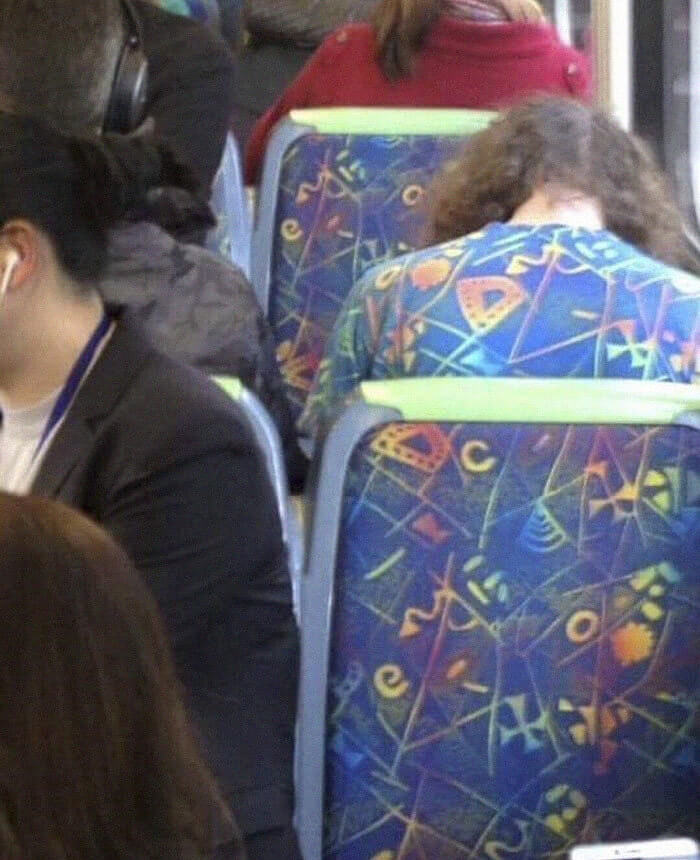 It's an amusing fashion coincidence that could land you in trouble. After all, if you accidentally blend into the upholstery, fellow passengers could mistake you for a bus seat!
There's No Doubt About His Political Preferences!
Well, it seems like this guy is the ultimate Bernie Sanders superfan, taking political support to a whole new level! With the United States Senator's face plastered all over his outfit, he's transformed himself into a walking campaign billboard. It's like he's on a mission to ensure nobody forgets Bernie's face! He's essentially turned himself into a walking political rally, ready to engage in any political discussion, debate, or selfie request!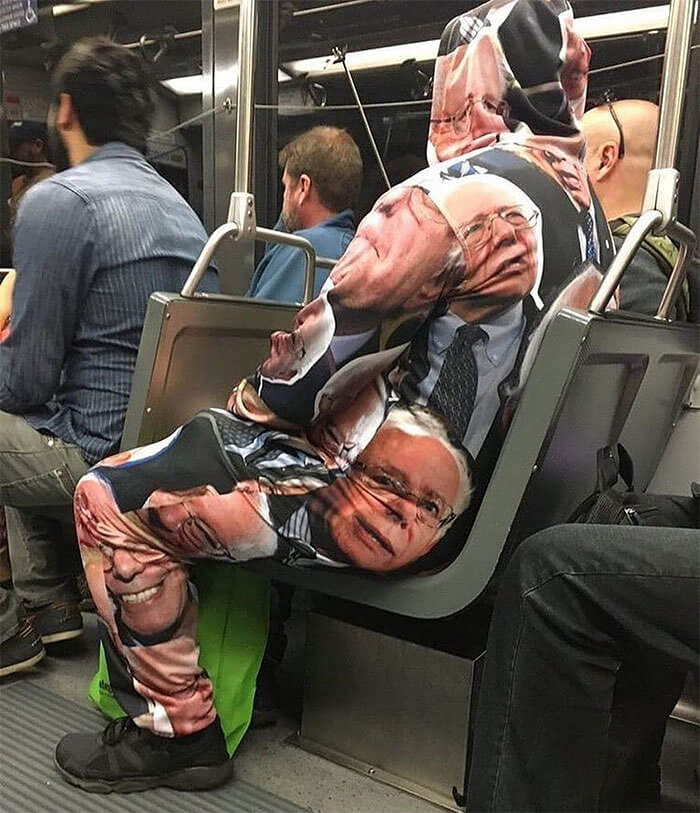 In the world of politics, anything goes, and this guy is certainly making his stance crystal clear. On the other hand, I wonder if Bernie likes it when someone sits on his face!
Does Anyone Really Want to Draw Attention to Their Armpits?
Oh dear, it seems like that white T-shirt got a questionable fashion makeover! Stitching gold beads into the armpits to make it more fashionable might have sounded like an avant-garde idea, but it appears to have taken an unexpected turn. Wearing this T-shirt might leave people wondering if you're having a bizarre wardrobe malfunction. Not all fashion experiments result in glamorous outcomes. It looks like someone with a fungal infection has worn it!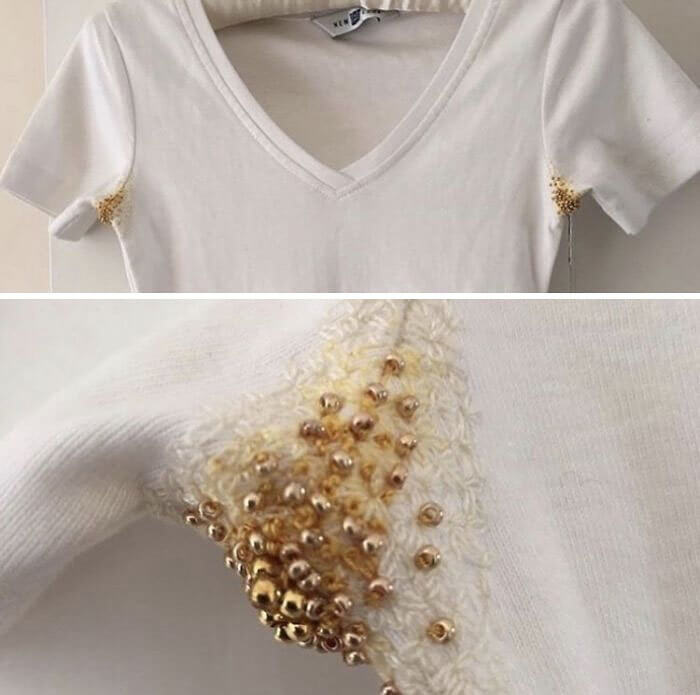 While pushing the boundaries of style can be admirable,  sometimes, the pursuit of uniqueness can lead to a more cringe-worthy outcome than a chic one. It's definitely a more natural look!
Sometimes, You Need to Feel Like a Princess!
This lady must really think she's a princess. While sitting at her computer in casual clothing, everything in the room looks normal, except for the huge pink throne she's sitting on! Every task, from answering emails to browsing the internet, deserves a royal touch. This is certainly a unique approach to office furniture. After all, why settle for an ordinary chair when you can have a throne fit for royalty?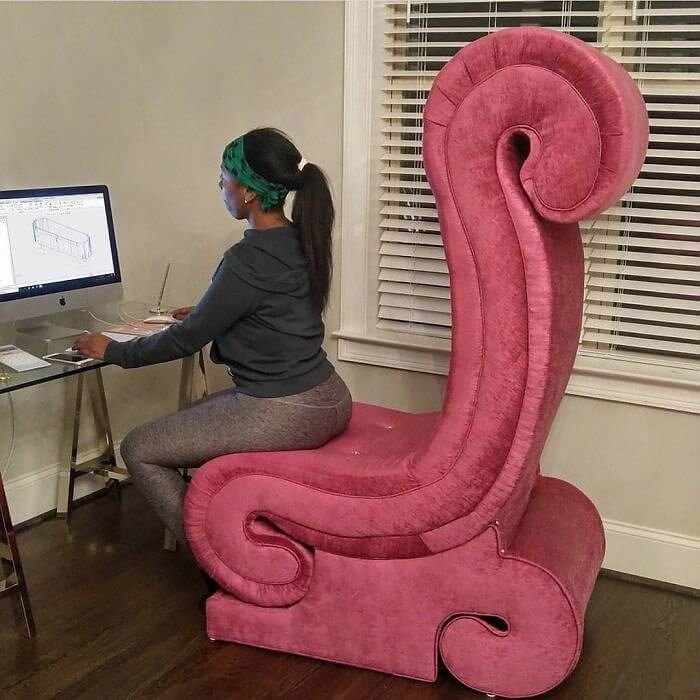 In the comfort of her own kingdom, she can rule her workspace however she pleases. Who knows, maybe she really is a princess. That pink throne does look comfortable!
Now That's a Helping Hand!
A phone cover that looks like a real, life-size hand is sure to grab attention and spark curiosity wherever you go. Imagine taking a call, and it appears you're holding a severed hand to your ear! It might lead to awkward stares and hasty retreats as people contemplate whether they've accidentally stumbled upon a scene from a true-crime documentary. It's a design choice that could easily give off the wrong impression!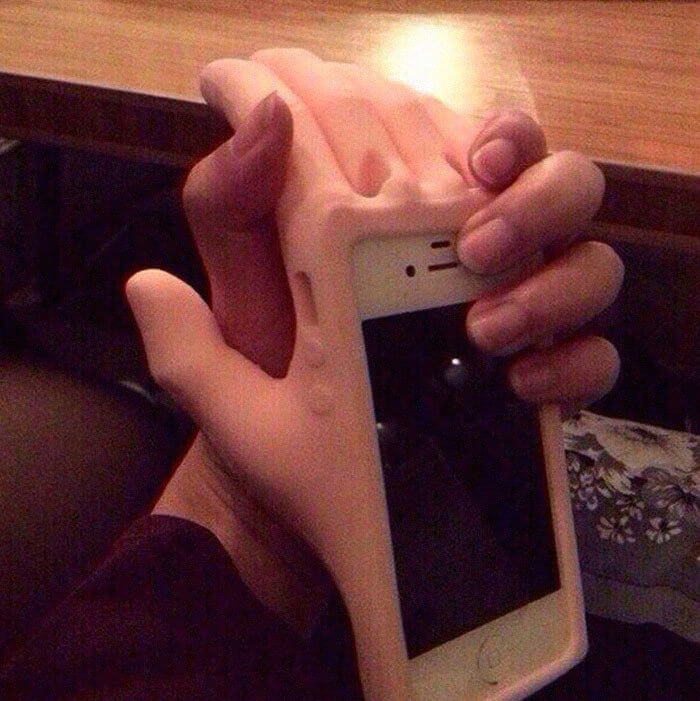 While unique and attention-grabbing, this phone cover's eerie resemblance to a severed hand might not be worth the uneasy reactions it's likely to provoke. People may wonder if you have a basement full of mannequins!
This Church Looks "Washed Up! "
Ah, that's certainly a unique and visually striking choice for a pulpit! Picture a priest delivering a sermon from inside an enormous shell. It's as if he's decided to take his congregation on a journey to the depths of spirituality. But this shell-shaped pulpit might leave parishioners wondering if they've accidentally wandered into a seaside theme park instead of a place of worship. It probably seemed like a good idea on paper!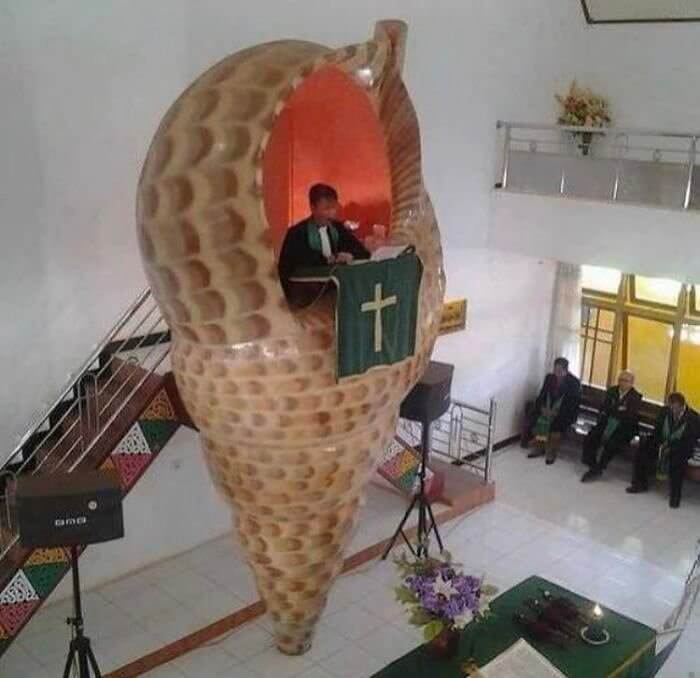 The rest of the church looks so plain against the big, cheesy shell. Sometimes, tradition and simplicity create a more meaningful spiritual experience. The priest looks lost in there!
We All Know Someone Who Would Love These!
Ah, the eternal debate of socks with sandals! These socks that cleverly mimic the appearance of sandals are a funny solution for those who want the comfort of socks without compromising their love for sandal fashion. Wearing these socks might allow you to proudly declare, "I'm a sandals-and-socks enthusiast!" They're the perfect accessory for individuals who want to make a fashion statement while keeping their feet cozy and warm!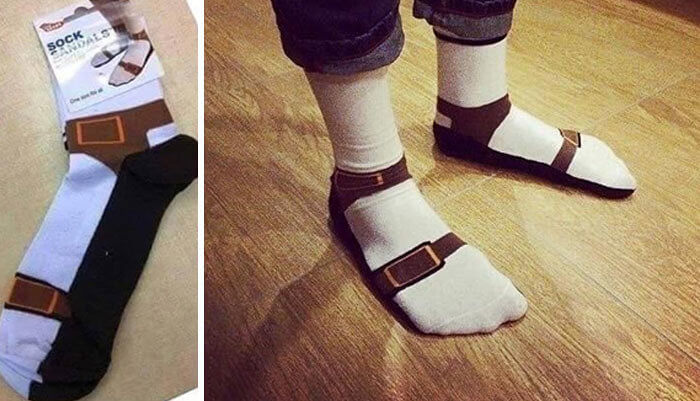 On the other hand, this is a fashion faux pas that most people try to avoid. It's like a deliberate choice to embrace a cringe-worthy style trend. It's a fashion statement that's hard to defend!
Laughter Can Be Contagious, Too!
Well, it sounds like this older lady is embracing a touch of humor during these challenging times! Wearing a knitted pandemic mask adorned with big red lips and a red rose in its mouth is a playful way to add a dash of fun to the otherwise serious task of mask-wearing. It's an unexpected accessory that makes anyone who sees it smile. A sense of humor can be a powerful tool!
While pandemic masks are primarily about safety, this lady is proving that they can also be a canvas for self-expression and a way to brighten someone's day. After all, laughter is contagious too!
That's One Way to Kickstart Your Day!
Well, it seems like this toothbrush holder is toe-tally unconventional! The idea of having a set of toes stuck to the restroom mirror as a toothbrush holder is certainly a quirky and creative choice. When my husband calls out and asks where his toothbrush is, I always reply, "It's between my toes!" For the kids, it adds fun and excitement to their daily brushing routine, making them look forward to oral hygiene!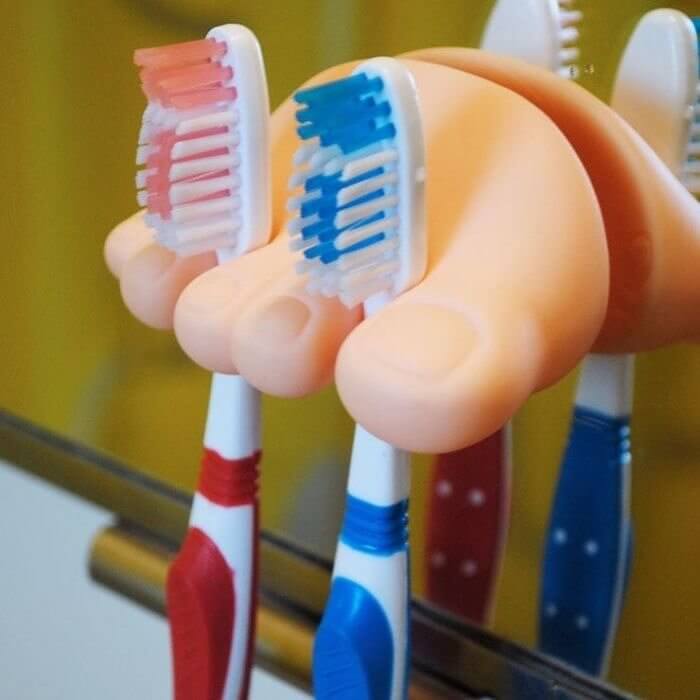 While it might be a peculiar place to keep a toothbrush, sometimes it's the unexpected and unusual choices that bring the most joy. Just don't forget to clean between the toes!
Smoking Can Cause Weird Design Choices!
The fact that the bottom third of the white curtains is an orangy-brown color creates an unexpected visual effect when they're pulled back and bunched up. The unintentional resemblance to giant cigarettes in your living room is quite an unfortunate and unwanted design feature. It's a reminder of the importance of careful consideration in home decor. You should always try before you buy. It may be an unwanted distraction for any smokers in the house!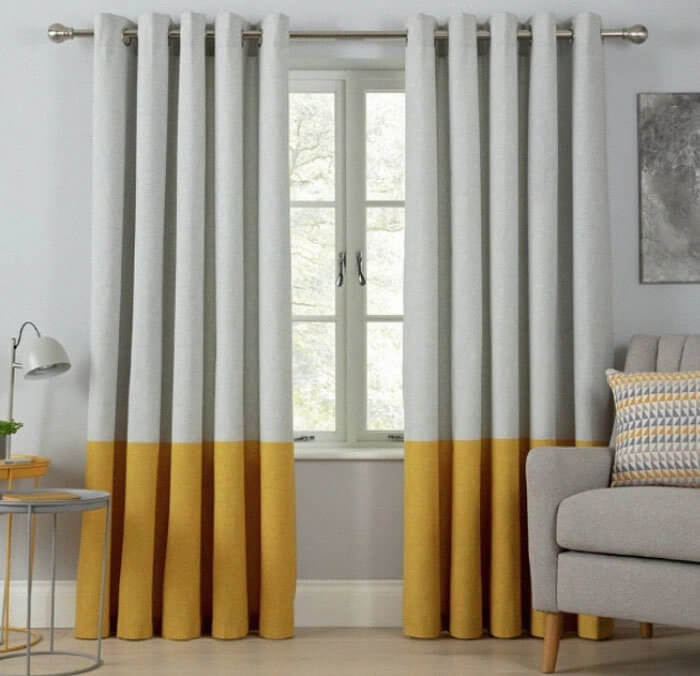 It's usually best to avoid anything that might detract from the comfort of your living space. After all, giant cigarettes are probably not the decor statement you were aiming for!
Which Is Worse? The Sink or the Pink Wallpaper!
Using this sink might leave you feeling like you're getting up close and personal with an oversized set of molars every time you wash your hands. Mimicking the bottom half of teeth and painting them black takes the concept of bathroom decor into the realm of the eerie and unsettling. It's like a piece of a horror movie set that's been accidentally placed in a restroom. I hope it doesn't bite!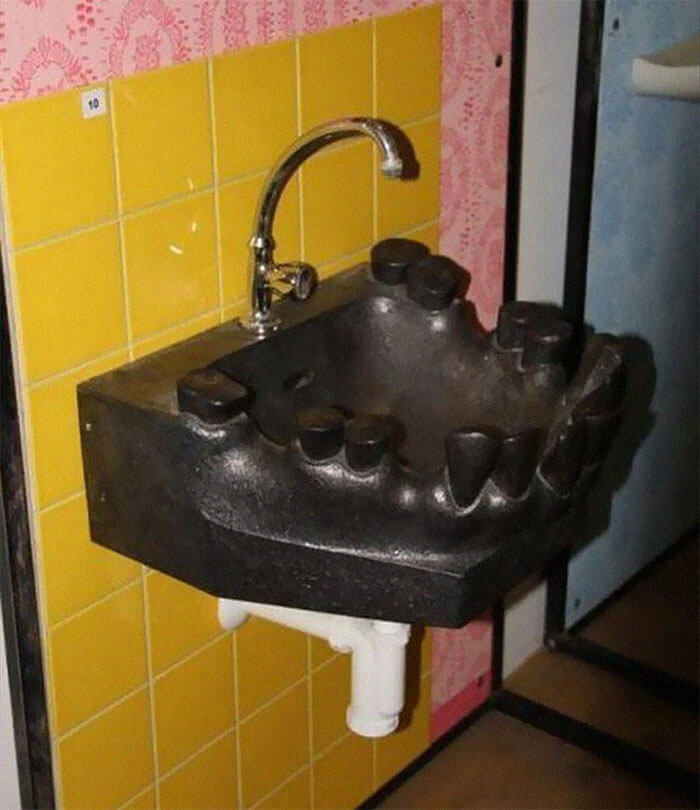 While creativity in design is often appreciated, this particular choice might be pushing the boundaries of taste and comfort. After all, not everyone wants their bathroom sink to double as their grandpa's dentures!
At Least It Looks Comfortable!
As this girl prepares to take an inflatable pink coffin out onto the water, we can only hope that she comes back alive! The sight of her about to embark on such an eerie voyage is enough to send shivers down your spine. It is like a scene from "Barbie, the horror movie!" Passersby may feel an unsettling sense of dread as they witness this surreal and disturbing situation!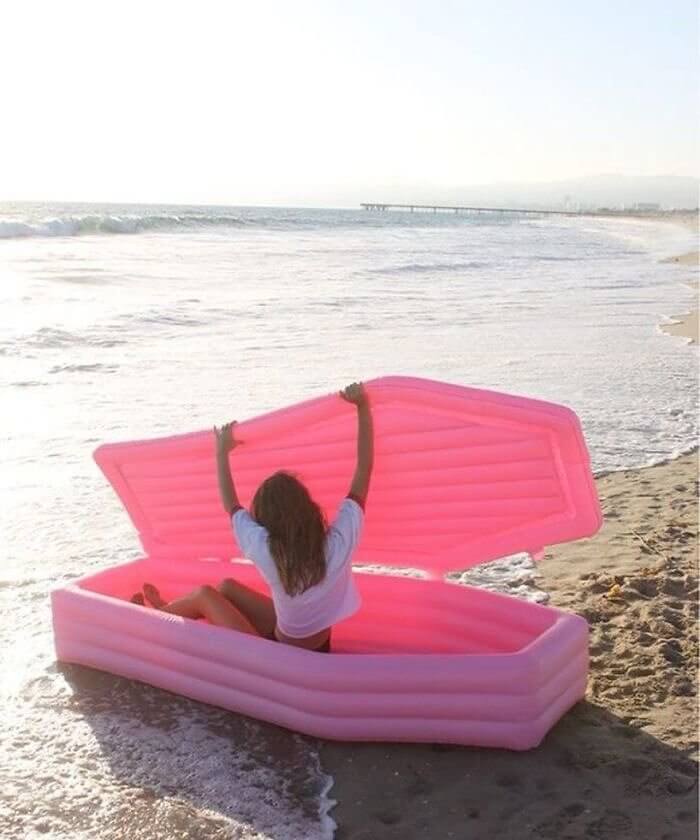 While some might interpret it as an attempt at dark humor, many would find it downright creepy and disturbing. After all, coffins and water don't typically mix in any comforting way!
I Wonder if Its Owner Is Bald, Too!
This motorcycle helmet, ingeniously designed to resemble a bald head complete with ears, takes the concept of rider protection to a whole new level of creativity. It's like wearing a disguise while cruising on two wheels. Donning this helmet, you can seamlessly transform into a convincing "biker with a bald head" character, complete with the illusion of ears. Most motorcycle helmets prioritize safety, but this one adds an extra layer of fun!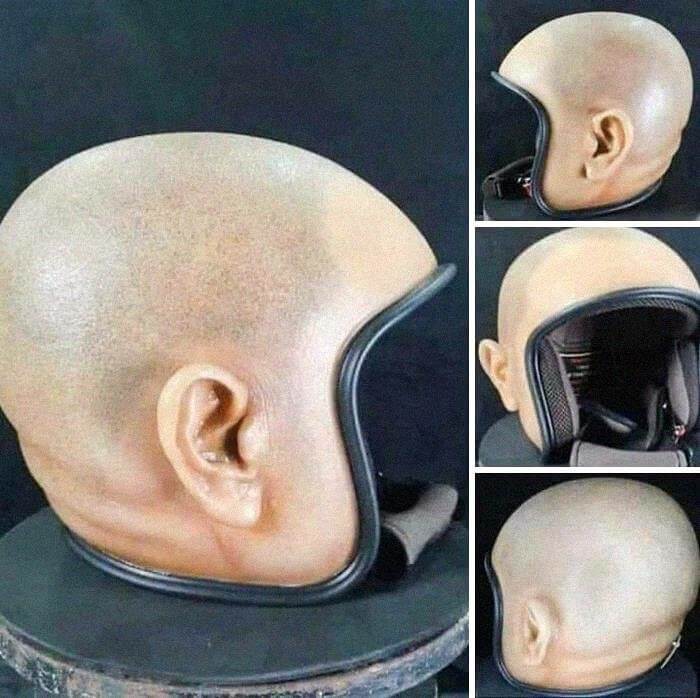 It's bound to turn heads and provoke smiles from fellow riders and onlookers alike. After all, who wouldn't want to protect their noggin while sporting a bald head on the road?
It Just Looks Weird!
Having the toilet positioned in between two sink units is a design choice that's sure to leave restroom users scratching their heads. It's like the restroom designer decided to challenge the traditional restroom layout. Using this restroom might give you a feeling of being squeezed between two sinks, which is far from the spacious and comfortable experience most people expect. It may provoke some awkward encounters and privacy concerns!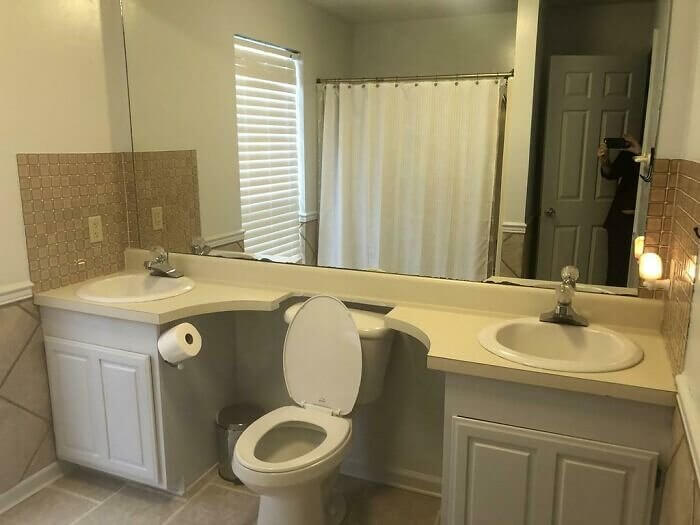 While creativity in restroom design can be appreciated, this arrangement might push the boundaries of functionality and user comfort. After all, in the world of restroom layouts, simplicity, and practicality are often key considerations!
What a Kick in the Butt!
Well, that's quite the irony! A wooden wall hanging of the American flag bearing the message "Not made in China!" would appear to express a strong preference for American-made products. However, the presence of a barcode that reads "Made in China" on the very same piece of decor adds an unexpected twist to the story. This design seems to have unintentionally highlighted the complexities of global manufacturing and sourcing!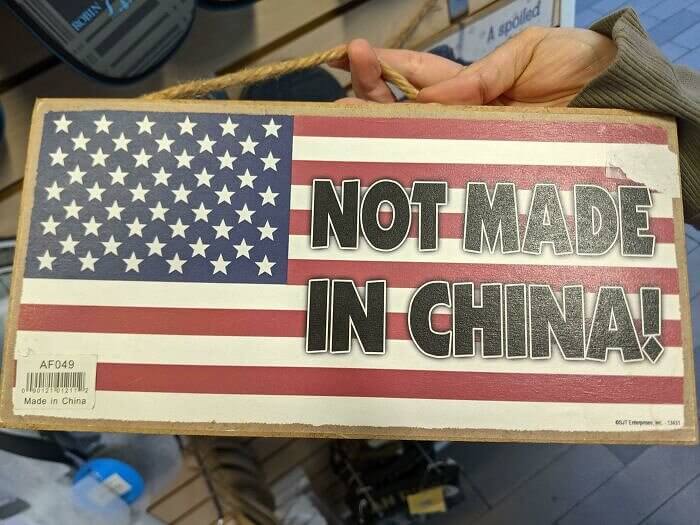 The conflicting messages on this wall hanging could certainly spark some interesting conversations about the realities of production and the challenges of maintaining a strict "Made in America" label in today's global market!
Even Father Christmas Can Get It Wrong at Times!
Oh my, that's quite a questionable choice in holiday decor! A life-size cutout of Father Christmas on the side of a bridge with the message "Jump For Joy!" underneath is a design bound to raise eyebrows and concerns. This beloved holiday figure with such a potentially distressing message is unsettling and inappropriate. Designers and decorators must consider the impact and implications of their choices, especially when it comes to public spaces!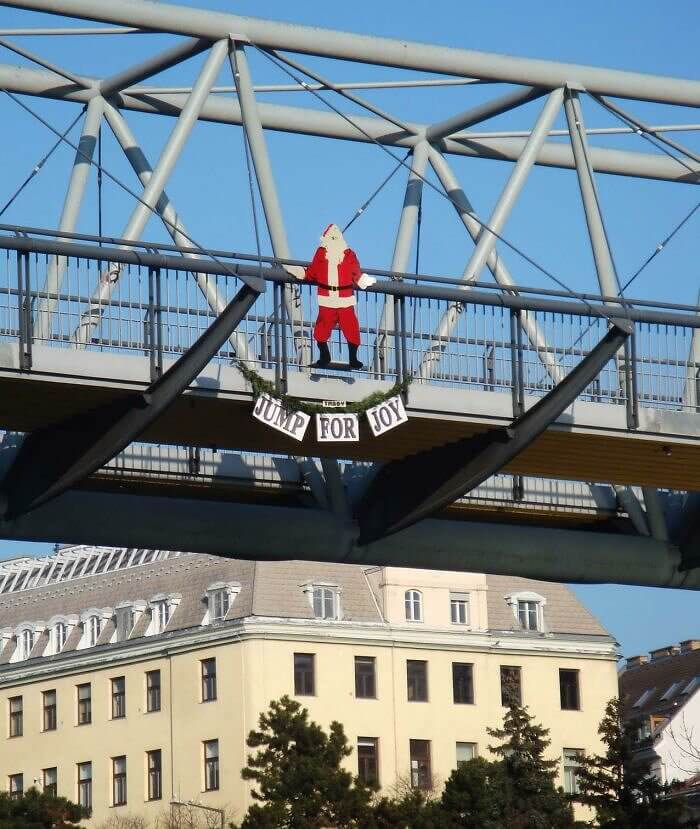 While humor is often welcome in holiday decorations, this particular combination is a reminder that some themes and messages should be handled with care and thoughtfulness, especially during the festive season!